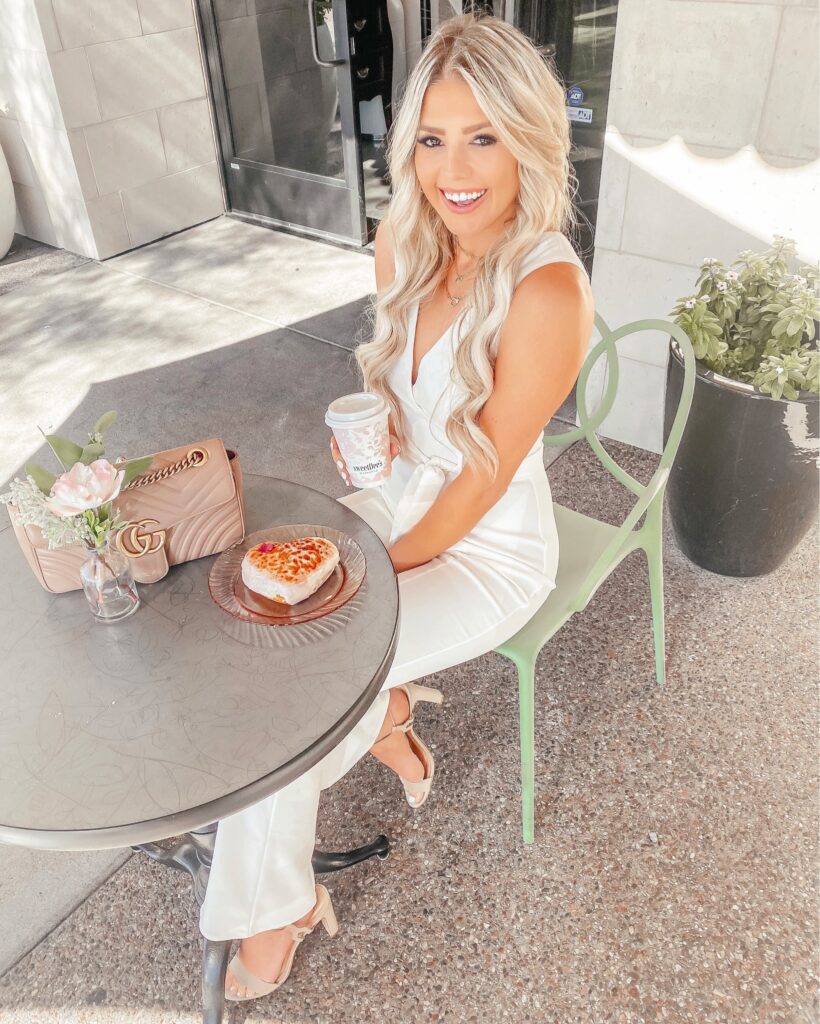 You asked. I answered.
How old are you?
32
How tall are you? 
I am 5'5
What is your sizing?
Tops/Dresses: Small
Bottoms: 26/27
Shoes: 6.5/7
Where are you from?
I live in Scottsdale, Arizona. I grew up in a small suburb of Chicago for 16 years prior to living here. However, I am definitely a person that requires warmth and sunshine to feel happy!
How long have you been married?
We have been married for five amazing years. Brad was the greatest answered prayer!
Do you have kids?
Brad and I are raising two sweet fur babies at the moment. We have been working on starting a family for the past four years. We have lost four pregnancies (natural pregnancies and with IVF) and are continuing our endeavors to become parents. We are currently looking into a gestational carrier to carry one of our remaining three embryos. You can read about our journey through miscarriage and IVF here. 
How would you describe your style?
I like to think of my style as being very eclectic. I don't hold myself to any one genre of style. I love to mix things up and try new looks. I also don't believe in breaking the bank for everything. I love to pick and choose special pieces that might be more of an investment (like a great handbag or unique pair of shoes) and compile an array of more feasible pieces to round out my closet.
Do you have extensions?
Yes, I have had extensions for a couple years. I wear EasiHair Pro tape-in extensions and see Savy at Hydrate Salon in North Scottsdale.
What is your workout routine?
I am a person that loves to stay active. I feel best post-workout and it sparks a positive and healthy attitude the rest of the day. I do some form of workout about 5/6 days a week (Sundays I usually rest). I do instructor-led classes that includes cycling, barre and personal training. I love to get a wide variety of exercises in weekly!
I currently take classes/training at:
Barre3 (use code WINKBARRE3 for a free class!)
Personal Training with Jess Hutchens Fit.
Who takes your pictures?
Depends who I am with! Brad has always taken most of my pictures, but more recently I've been doing shoots with my blogger friends.
What do you shoot with?
I use my iPhone
What is your coffee order?
Hot – Skinny Vanilla Latte with Almond/Oat Milk
Cold – Iced Coffee with Almond/Oat Milk and Stevia or a Chai Tea Latte
What is your diet like?
I am pretty clean when it comes to my diet. I eat a lot of protein, greens, fruit and veggies. Honestly, I just love a fabulous salad. Throw some shrimp or chicken on it and I'm in love! I am also a sucker for breakfast. Give me a brunch any day of the week. To be real with ya, I am not a big fan of sweets. I just don't like the rich taste of most desserts. Oh, did I mention my love for cheese?!
Why did you start blogging?
I created Wink and a Twirl in 2014 during graduate school. My husband and I were living away from home while attending school. I was craving an outlet where I could be creative. I have always loved writing and fashion. So, voila!
What advice would you give about blogging?
Everyone starts blogging for their own personal love of writing and content (fashion, travel, etc.). Never lose sight of the reason why you started your blog. It's so easy to get caught up comparing your blog's content to another.  This will bring you down faster than quicksand. Instead, revel in the fact that you are the creator of your own masterpiece! You handpicked every aspect of your blog and what it represents. Be proud of what you created. Sure, work hard and build something great, but don't ever lose sight of just how special your wonderful space is! You are amazing. Keep it up!