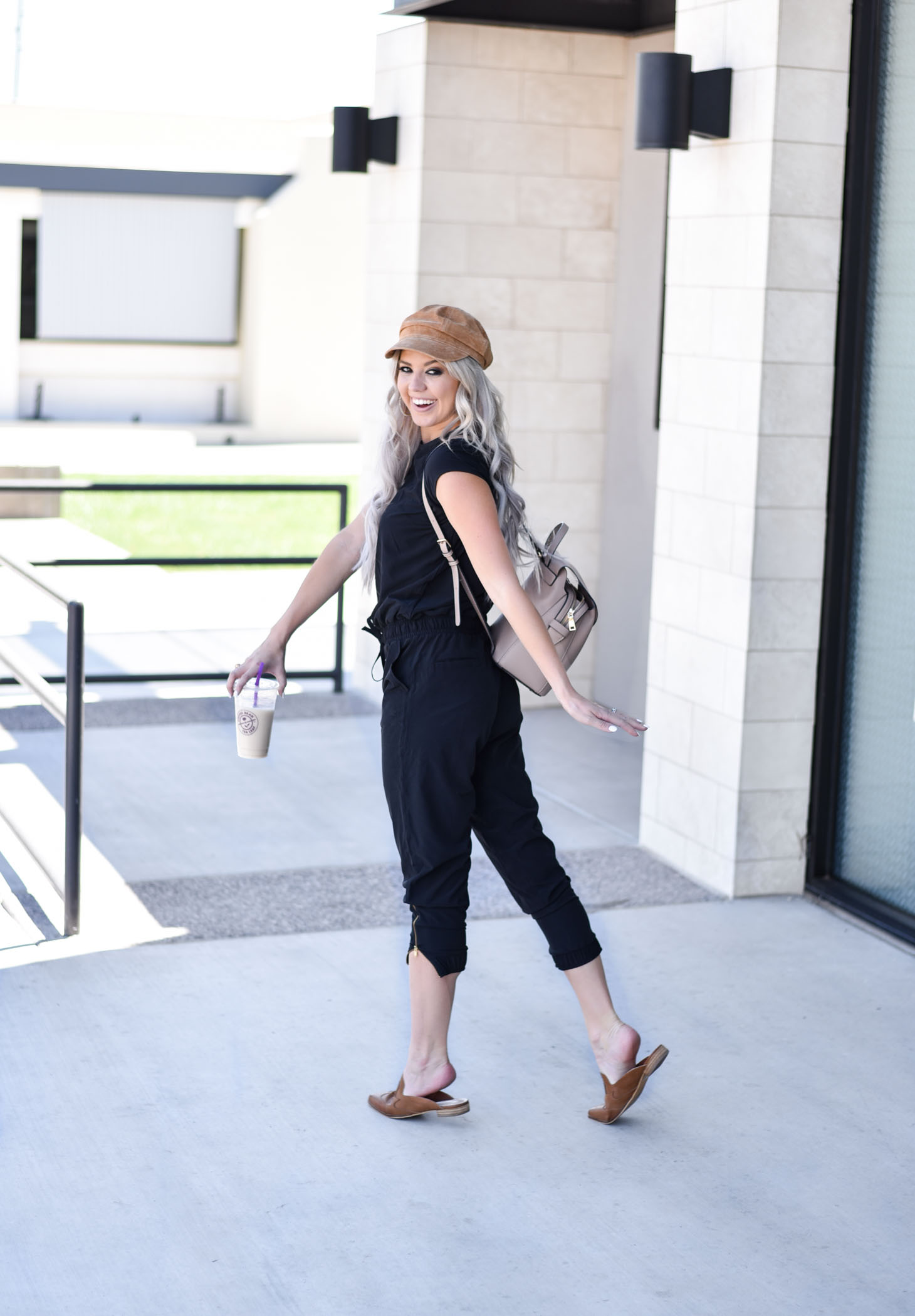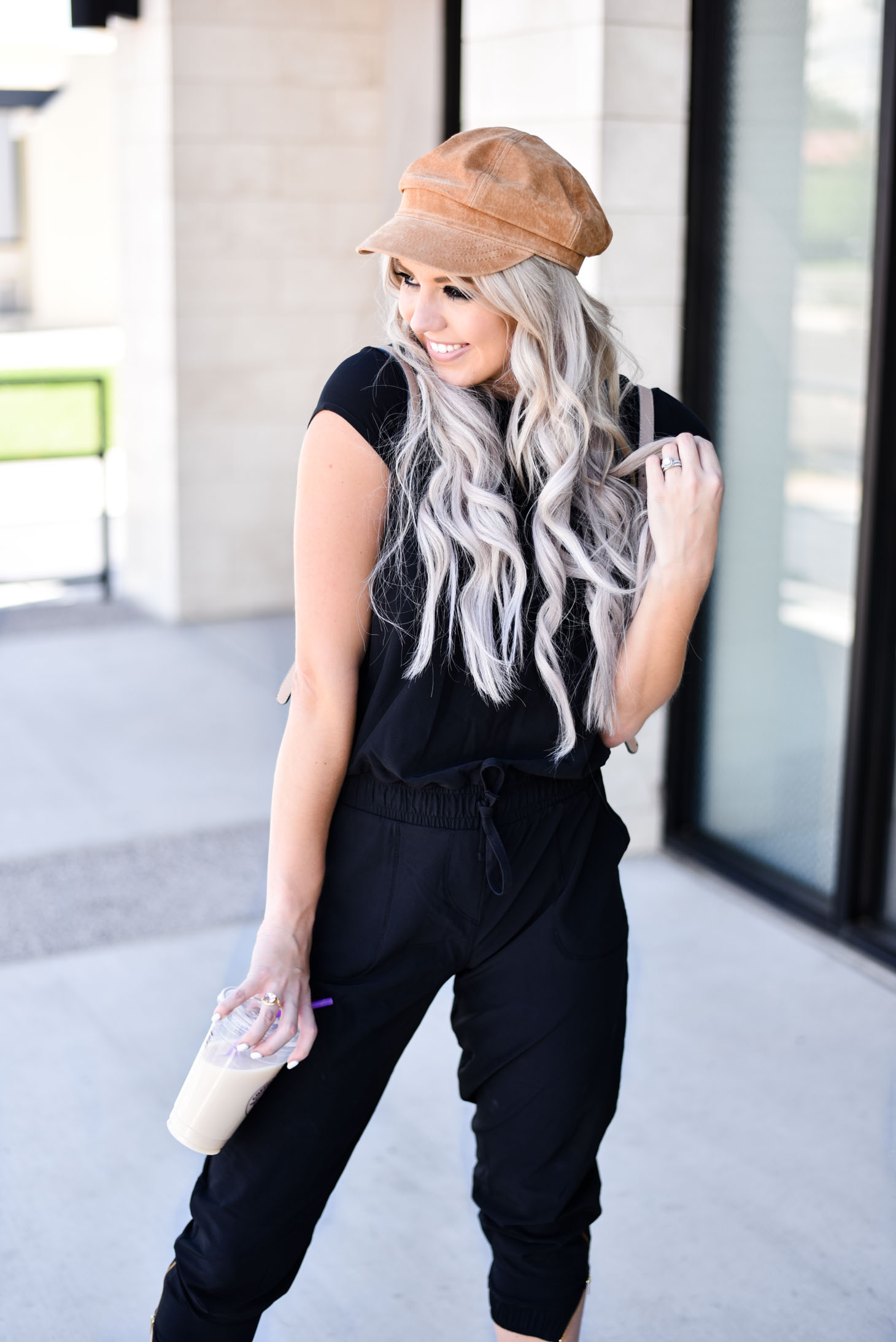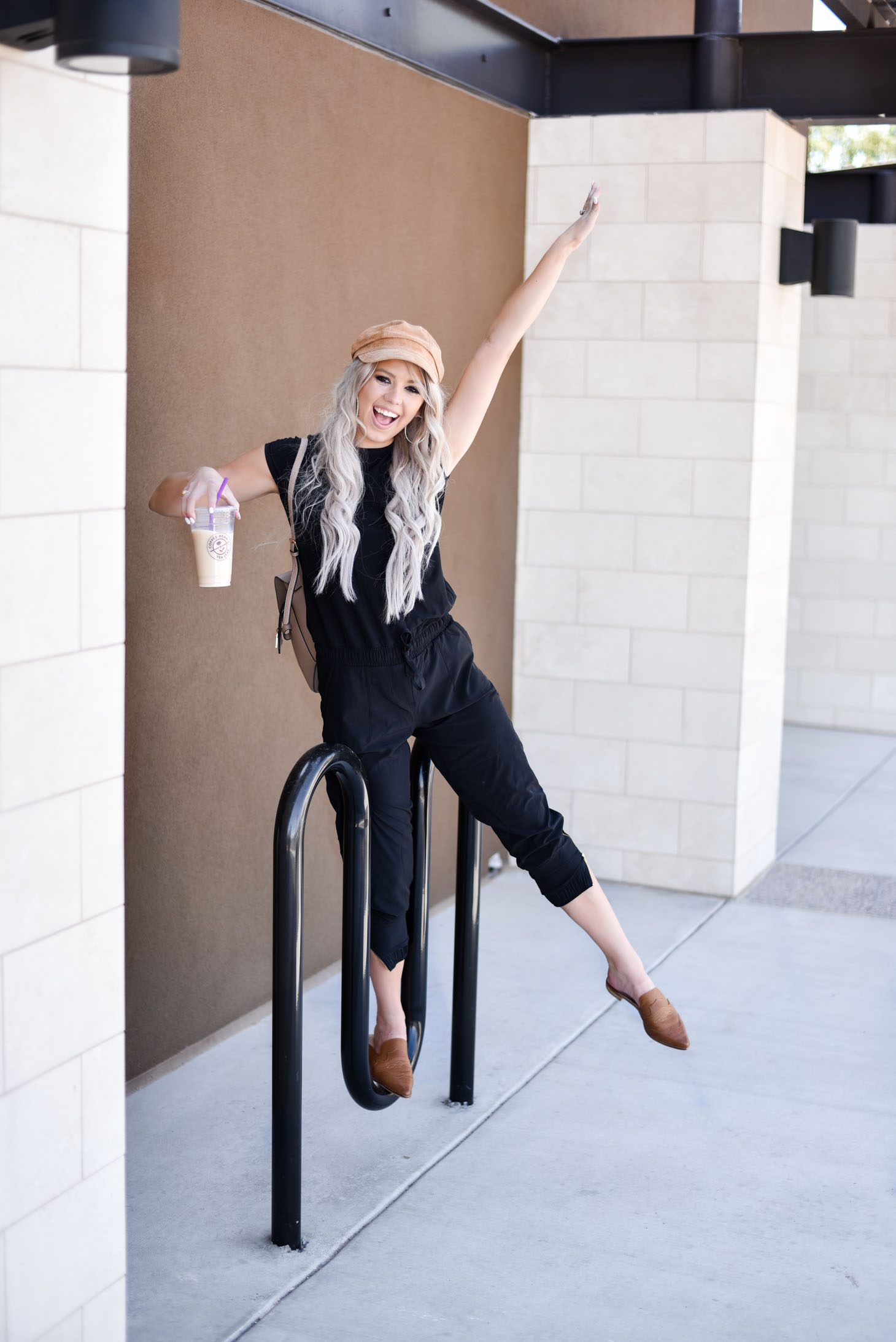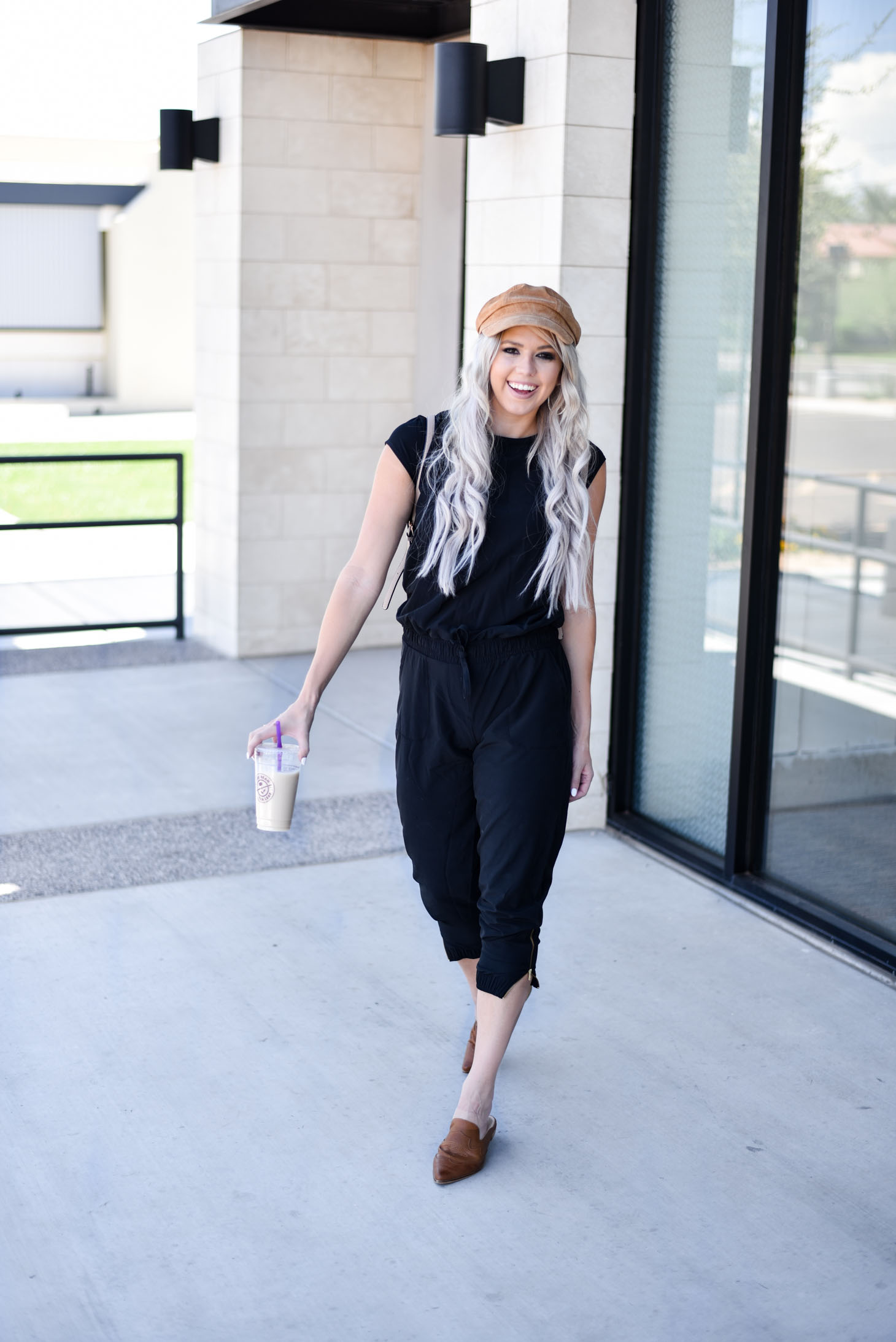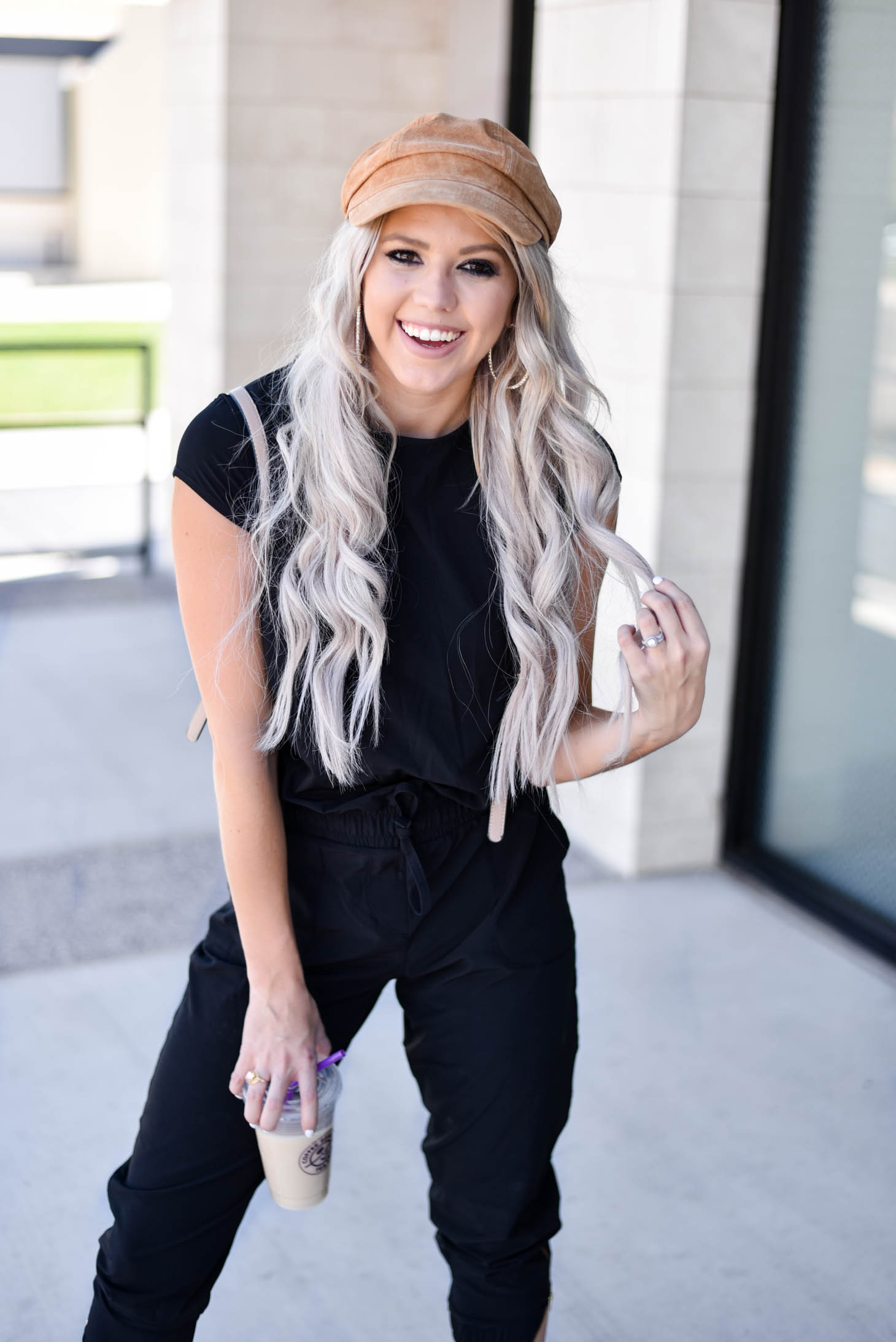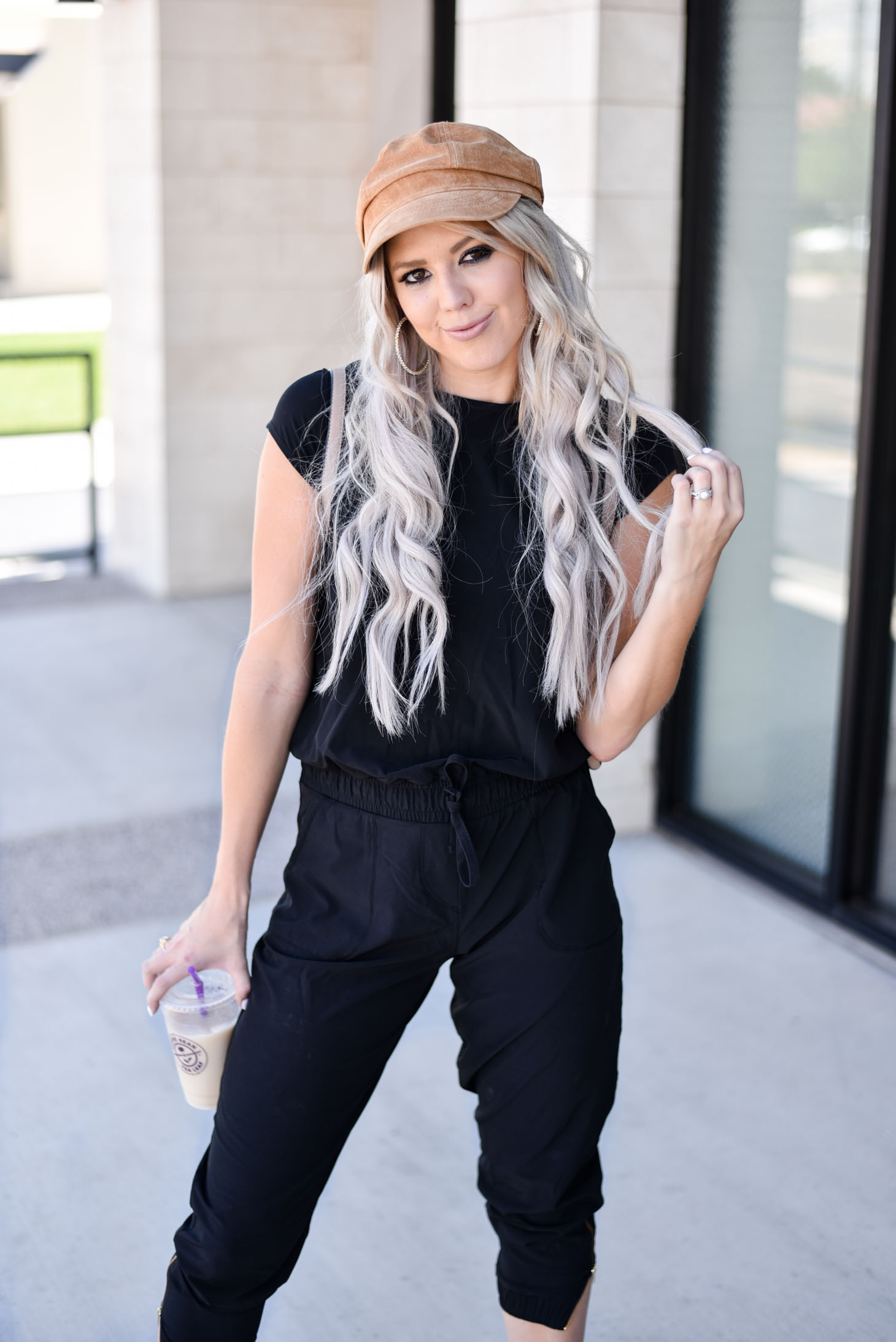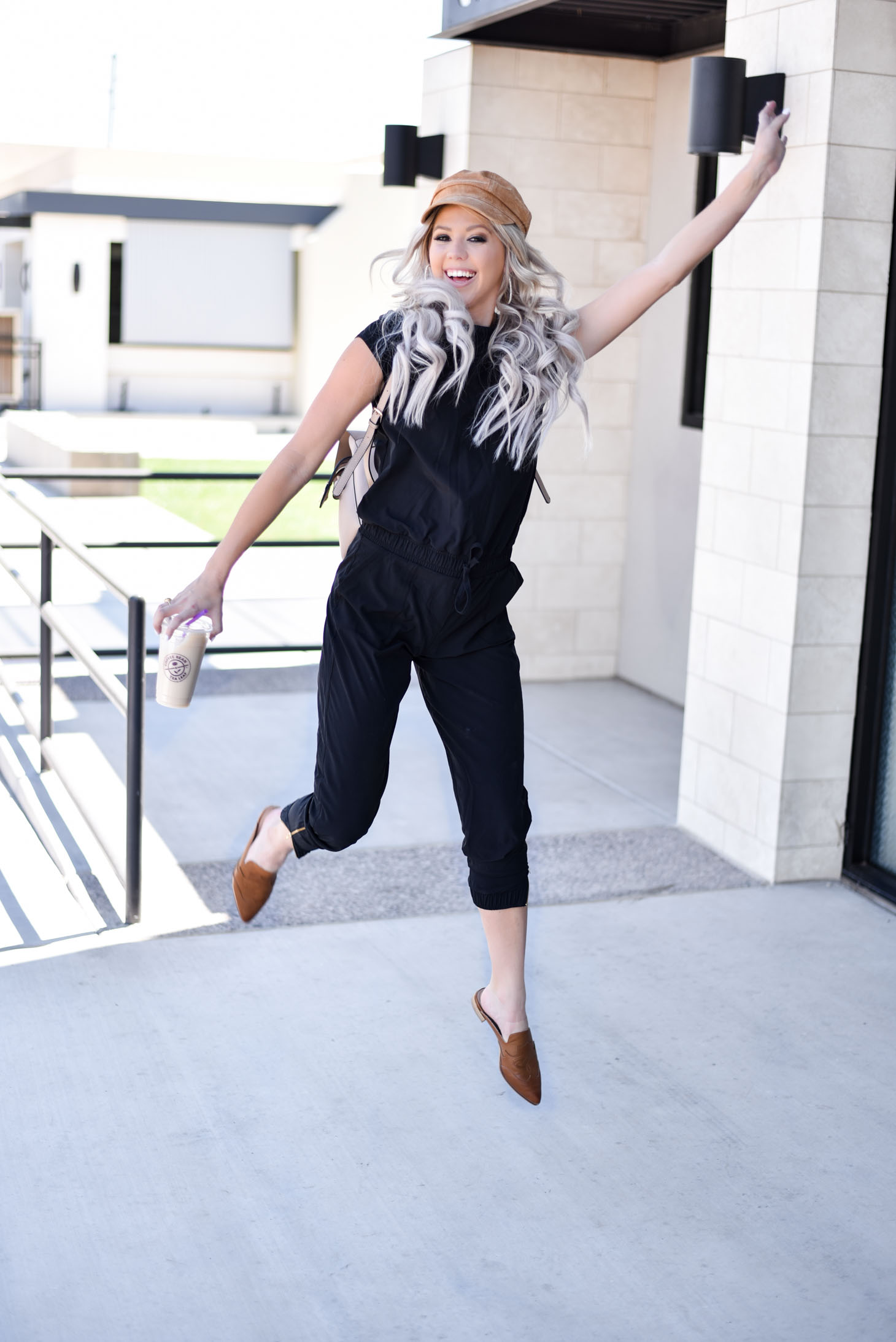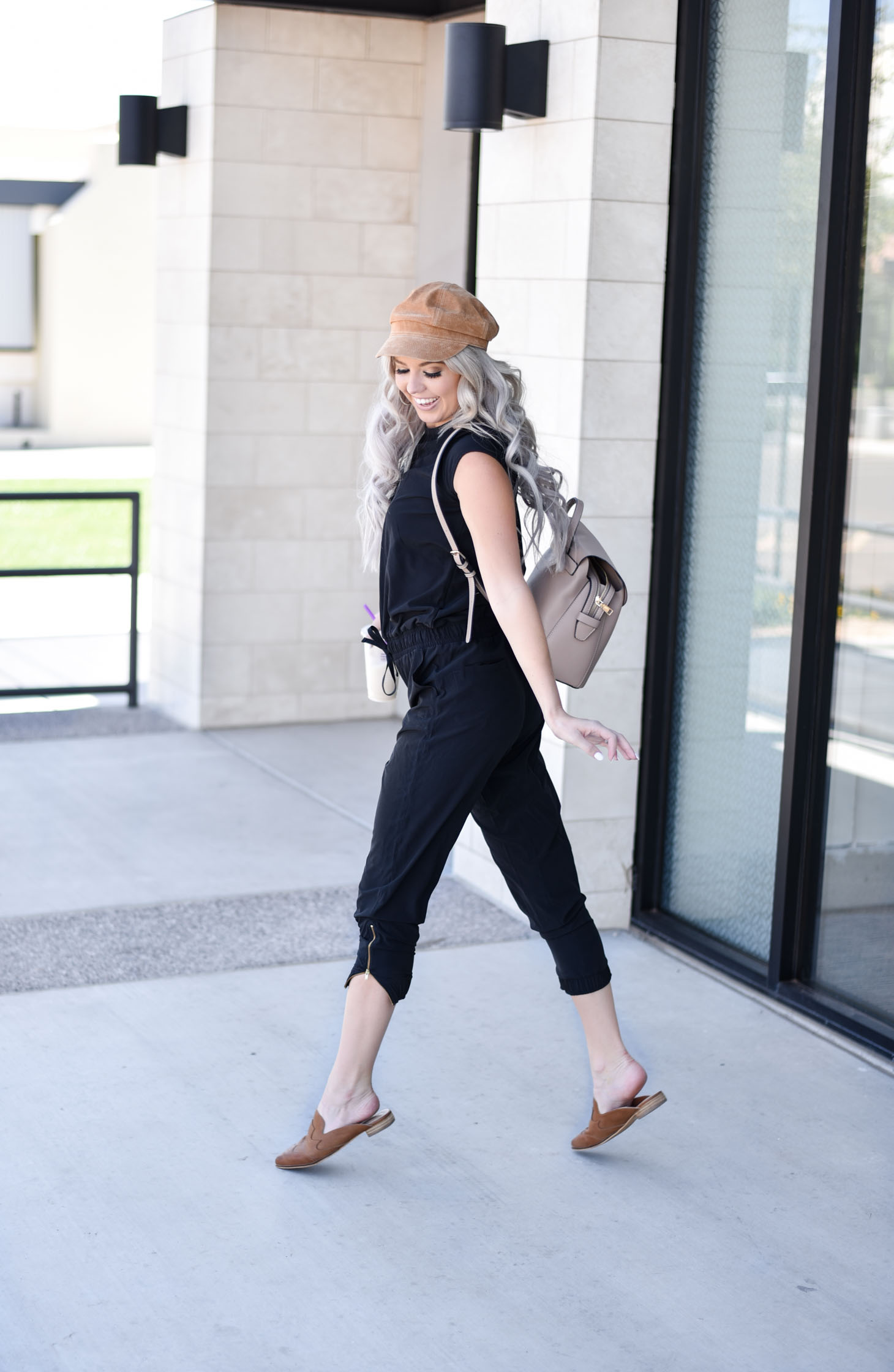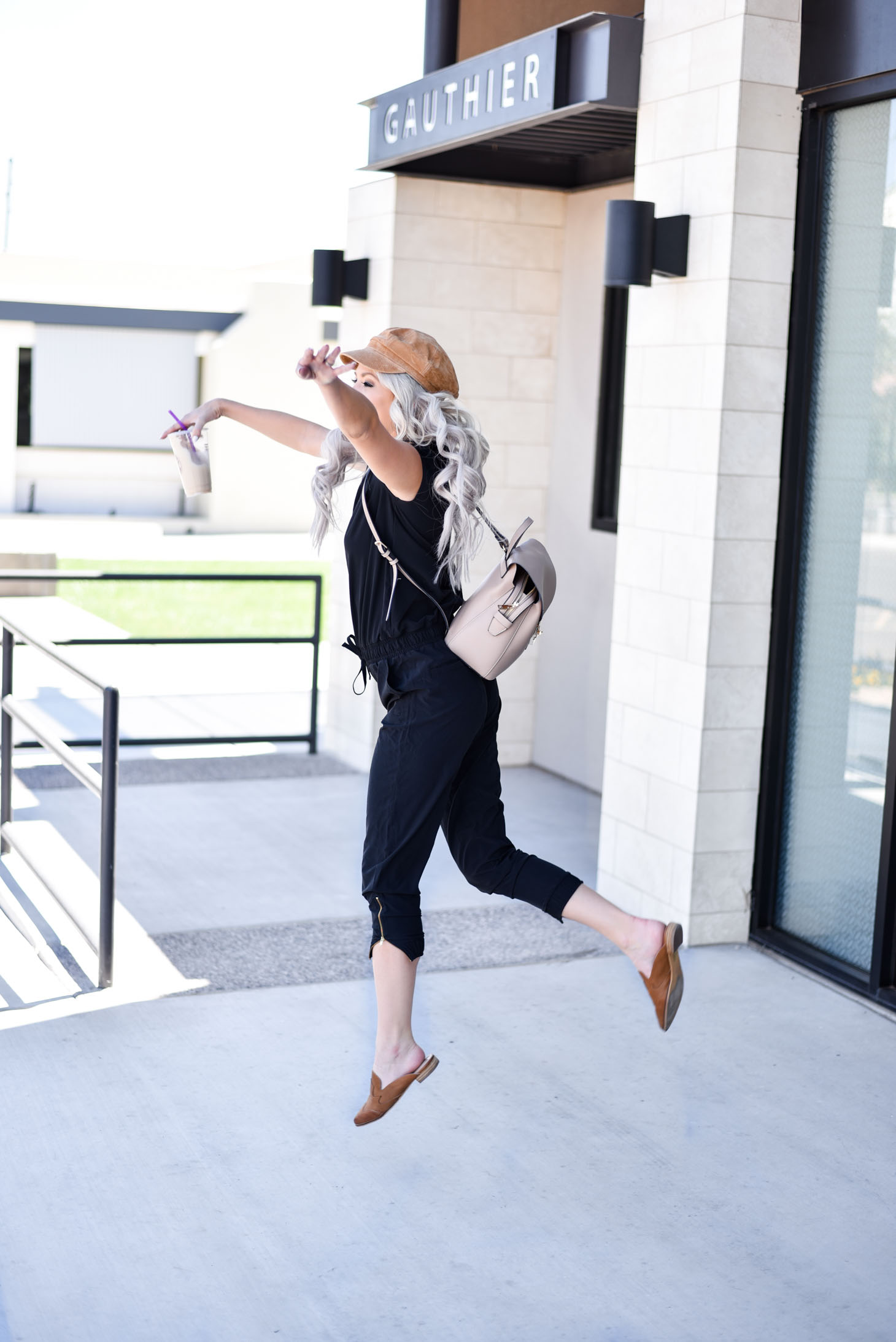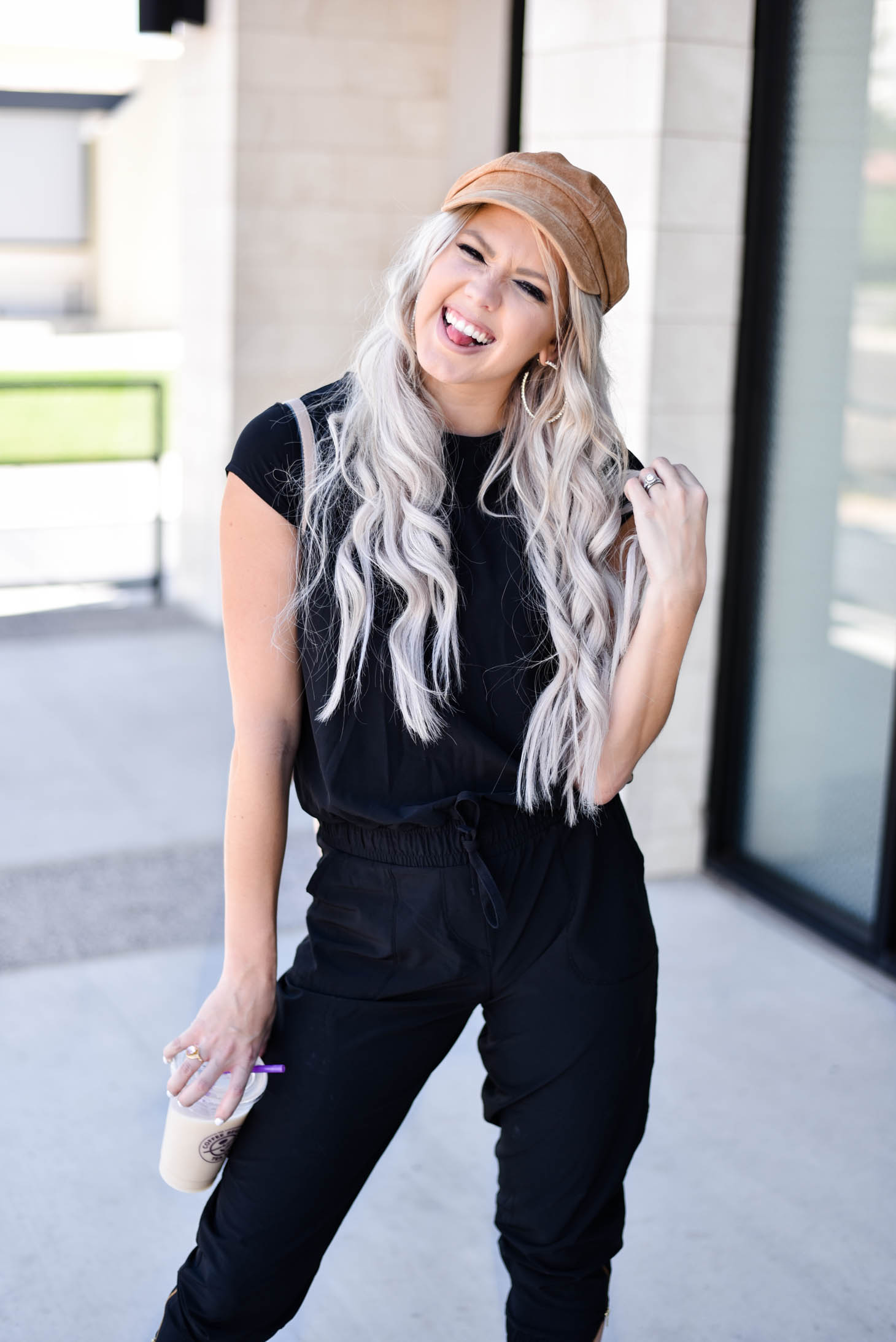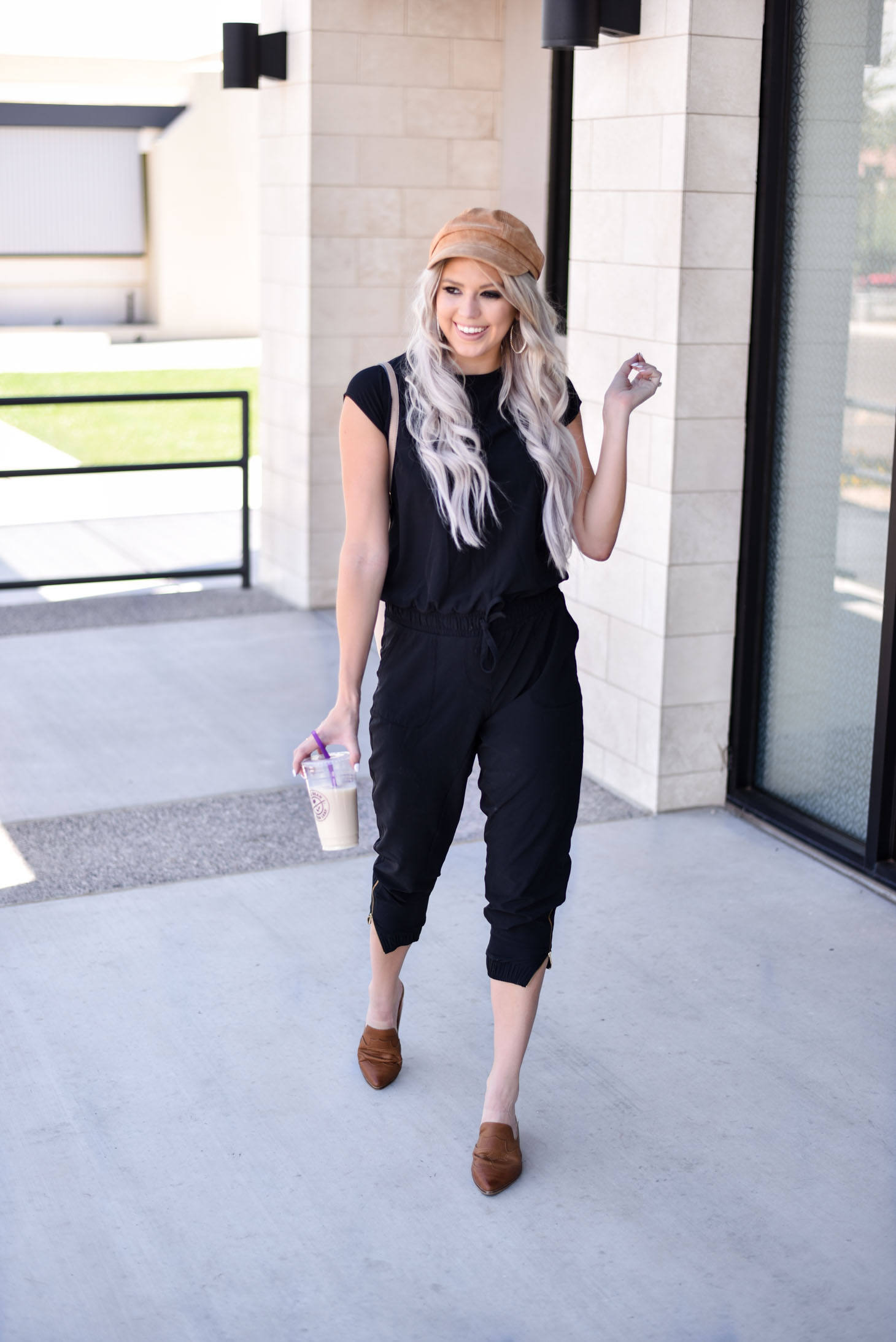 Jumpsuit ($100 with code WINKJUMP) c/o Albion Fit // Similar Hat // Similar Mules // Backpack c/o Vici Dolls // Earrings c/o Kendra Scott
Jump for Jetsetters! When Albion Fit first reached out about this fun campaign, I fell in love with the concept. Who doesn't want to spread joy to others and jump for the joyful things in life?! We all have them – even on our gloomiest and most difficult of days.
For instance, things have not been that fabulous in our household as of late. Losing our third pregnancy was shattering – something that could drive a person into a downward spiral. While negative thoughts tried to persist and many pity parties were had – we held onto the blessings around us and the little things in life that bring us joy. If you really tune in – you'll see so many!
Today, I want to encourage you to write down all the little things that bring you joy today – whether they are little or big! At the end of the day, take a look at your list and reflect on all the blessings that surround you and the joyful moments that fill your days. I promise you that you'll rest your head tonight a little more grateful and a lot happier. 😉
Here is My List of Joys from Yesterday
– Waking up beside B and the kitties and feeling so warm and snuggly
– The smell of my morning coffee when I went to take a sip (mmmm…)
– Looking out in the backyard and seeing a light breeze shake the palm trees
– Feeling sore from my workout last night (the first HIIT class I've been to since being pregnant and losing the pregnancy – such an accomplishment for me)
– Hearing one of my favorite songs (that I needed just at the right time) in the car
– Having a coffee date with my girl Jess and talking about life and blogging
– Receiving a sweet surprise and note in the mail from a sweet brand
– A mid-afternoon call with B on his lunch break just to check in with me
– Getting cat puke out of the chair cushion (hey, take the joys wherever you can…this was a win)
– Getting an email from a brand I've admired for a long time to collaborate with them
– A phone call with my best friend to set up a nail day for tomorrow
– Making plans with B for a little weekend getaway coming up soon – something we really need to unwind and recharge
– Making our favorite dinner and watching The Office with B (sweet potato gnocchi, Italian chicken sausage and cut up asparagus from Trader Joe's – the best)
– A warm bubble bath with candles and wine
– Watching Bachelor in Paradise with B and laughing at the ridiculousness of it
– Going to sleep with a roof over my head surrounded by my sweet family
+++
Thank you to Albion Fit for sponsoring this post and to Vici Dolls and Kendra Scott for contributing to this post!
Shop the Post
Jumpsuit (use code WINKJUMP)

SaveSave