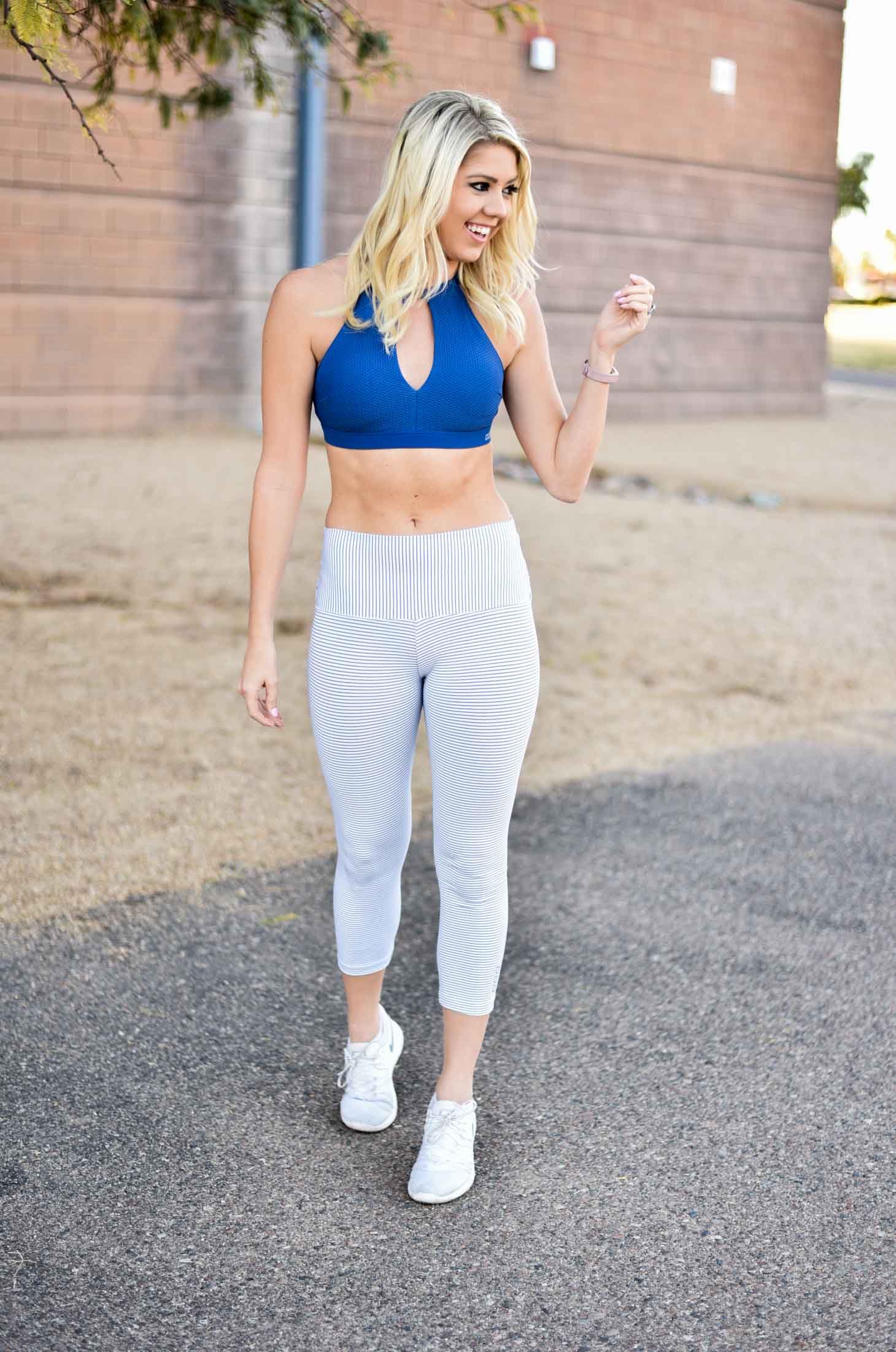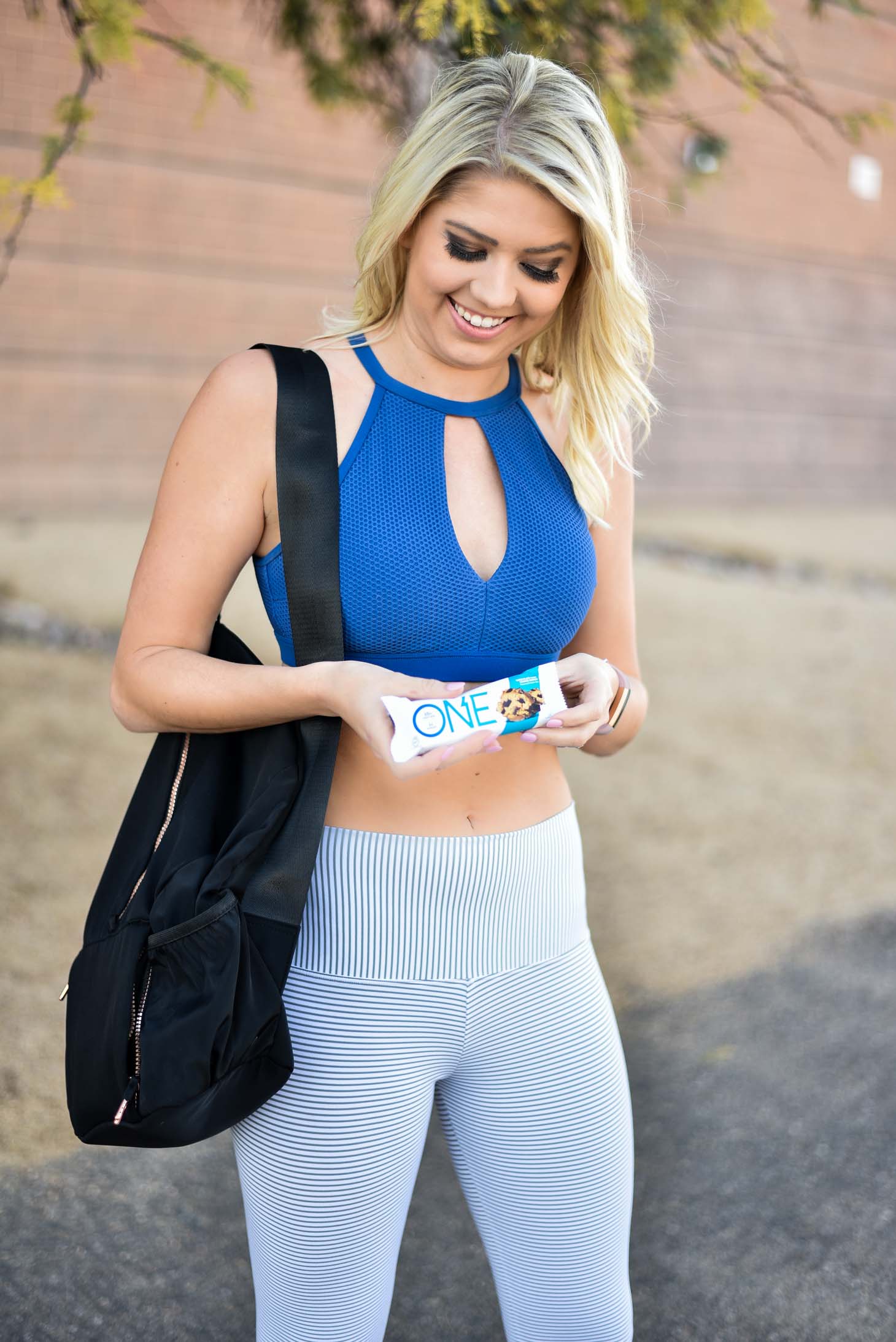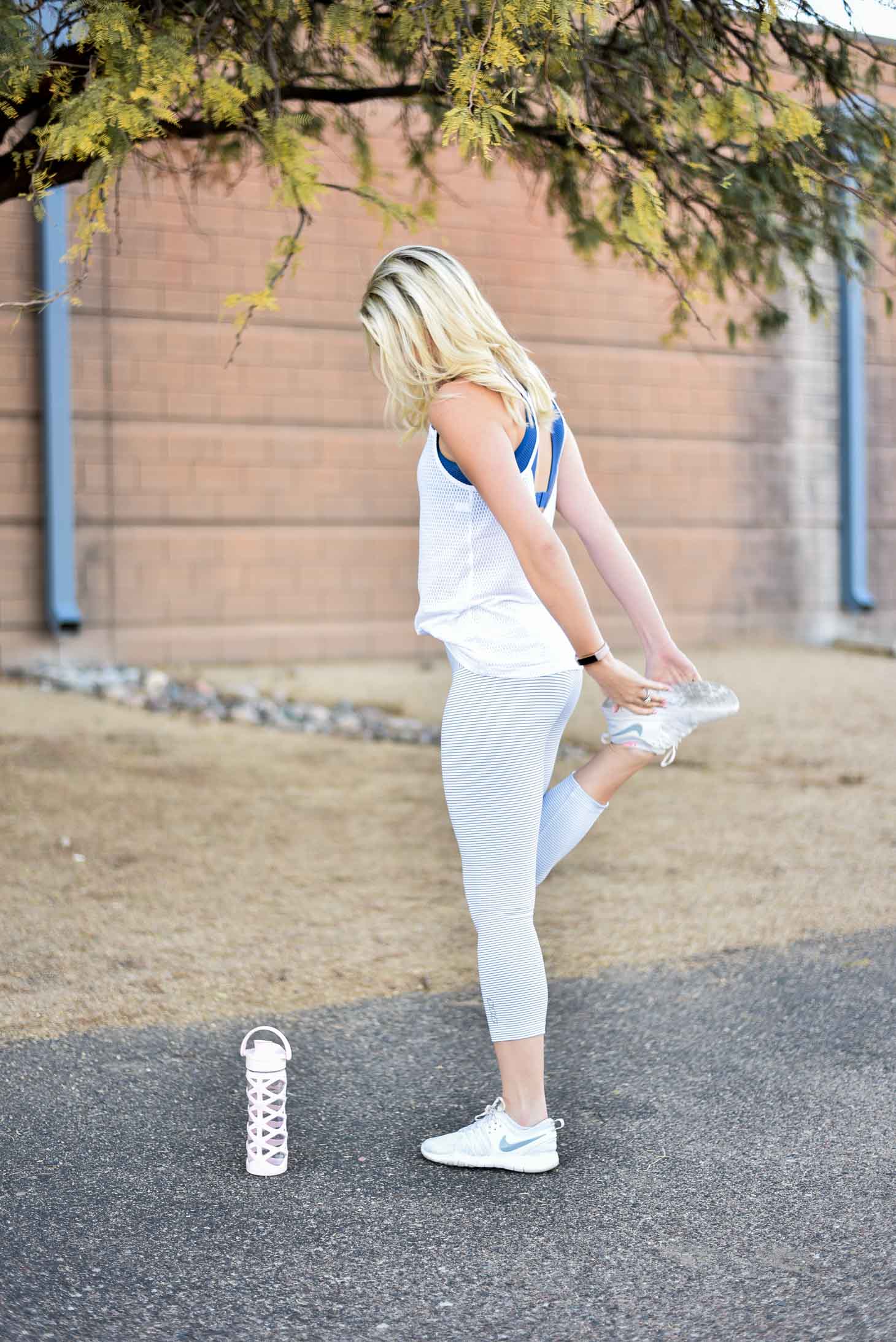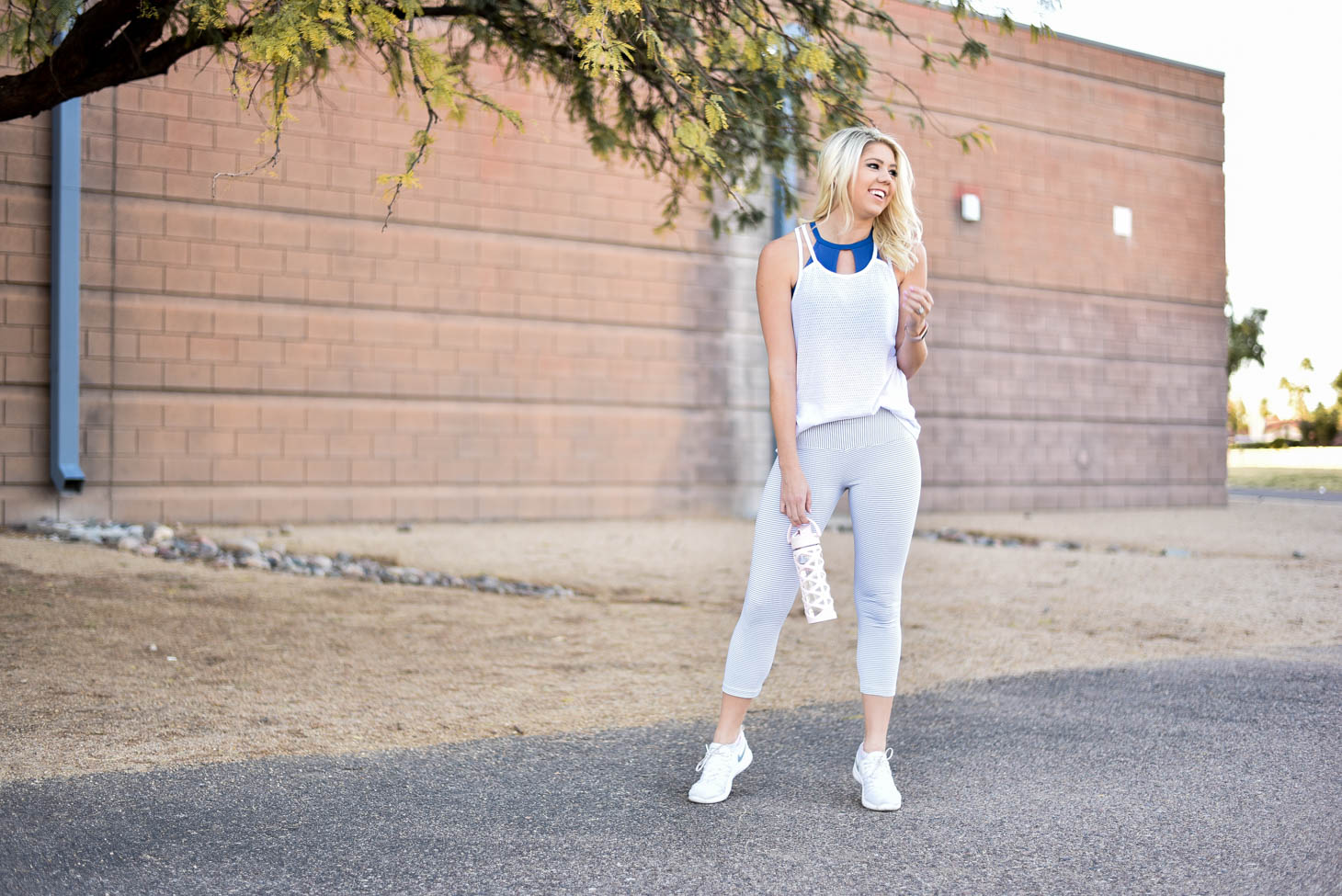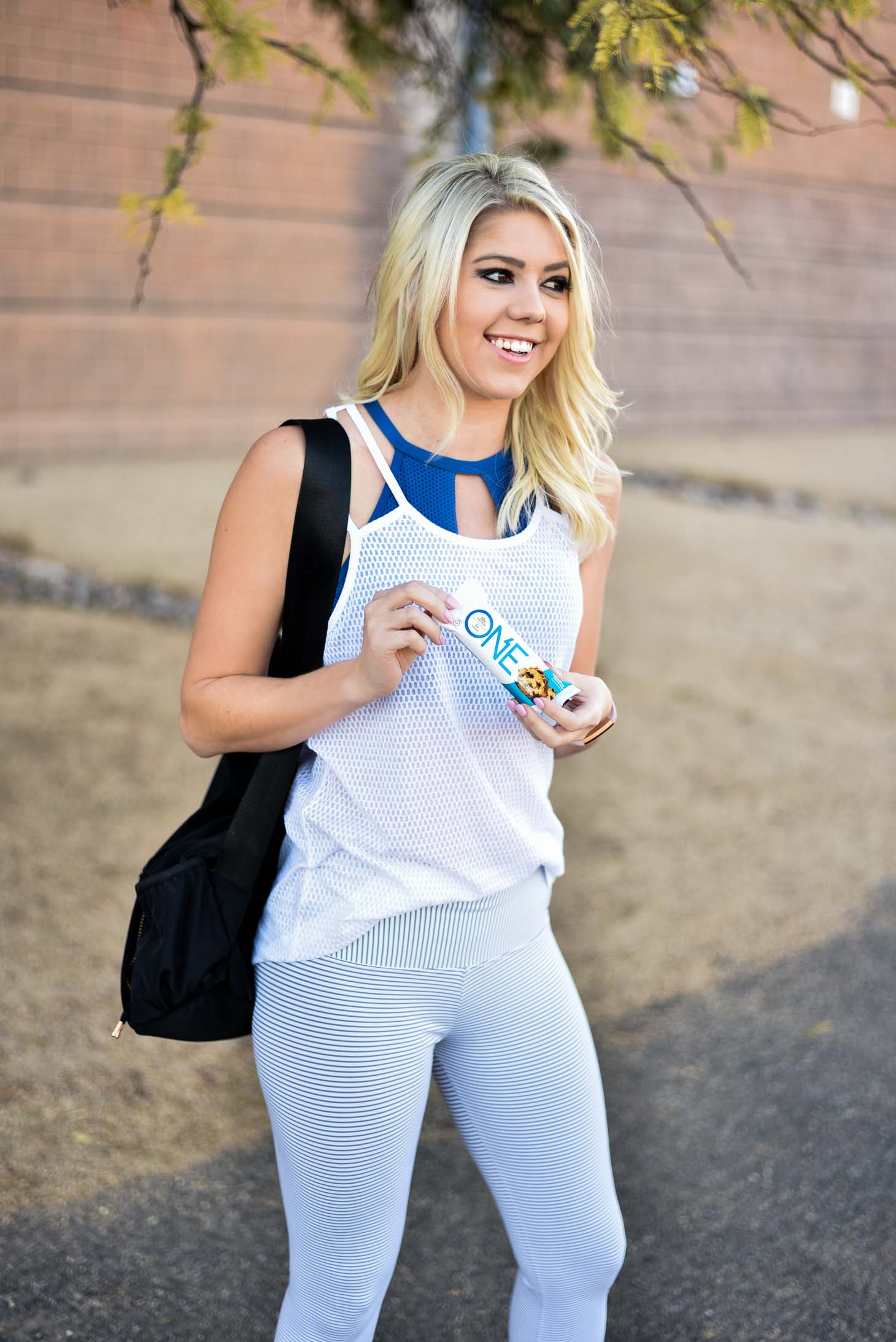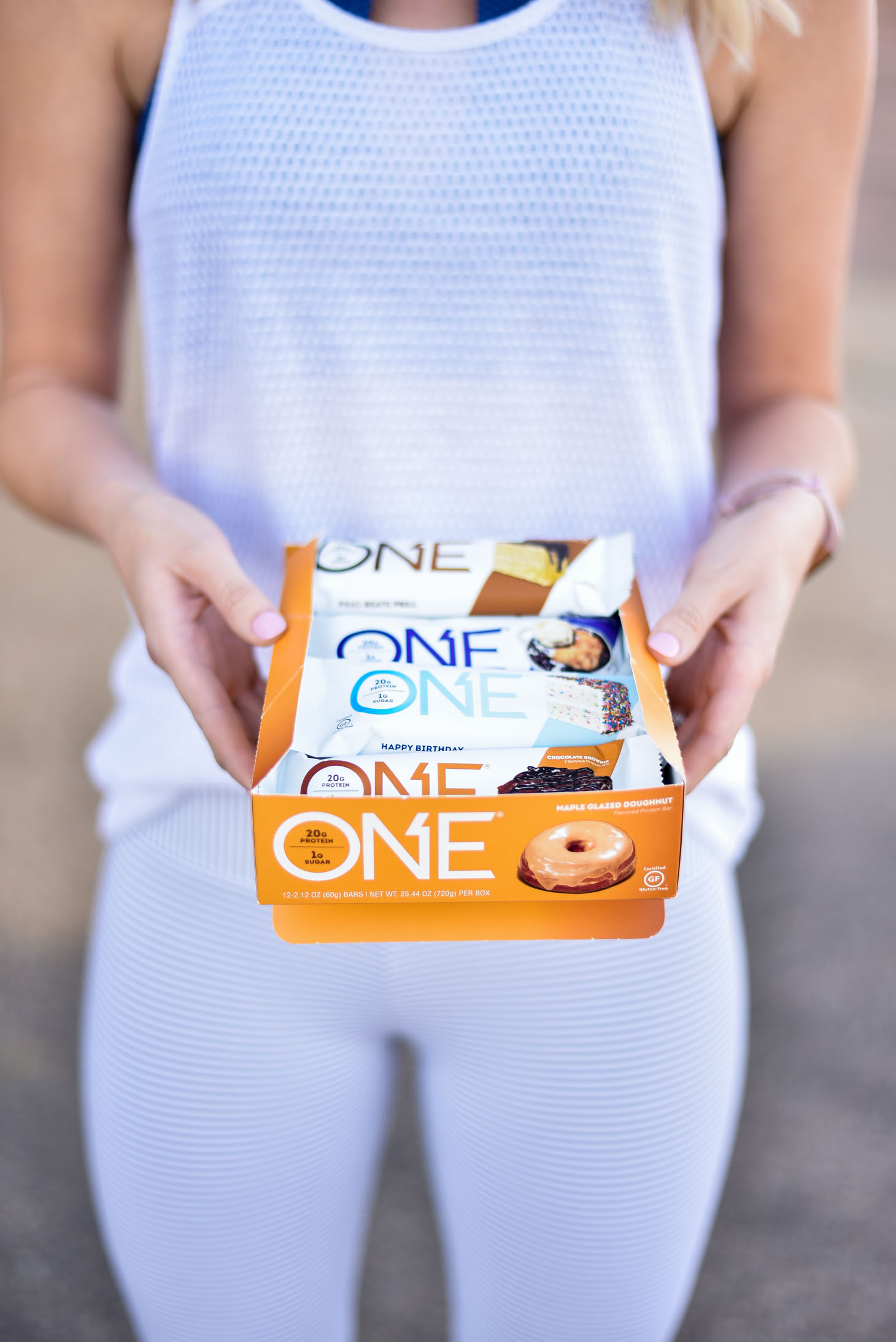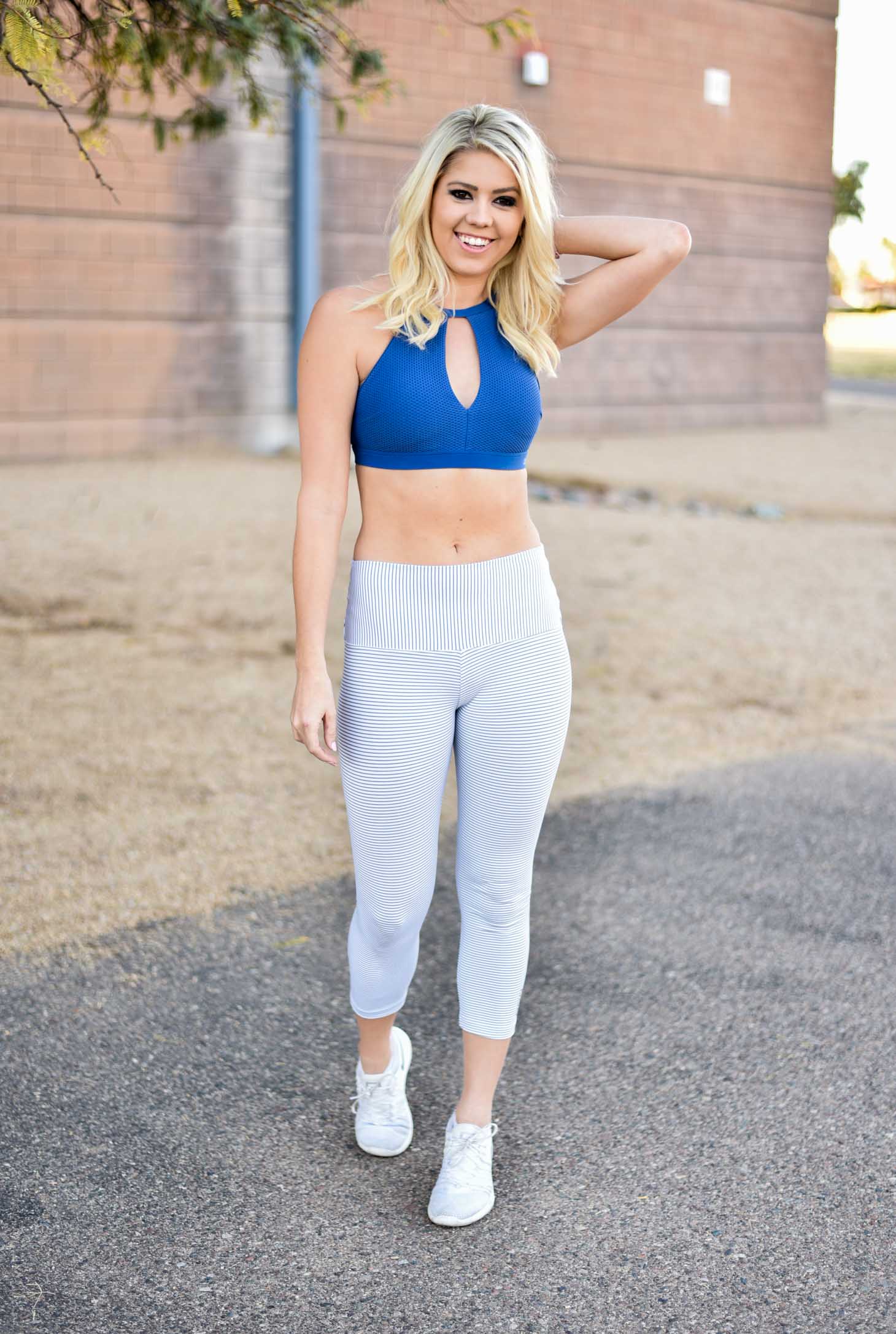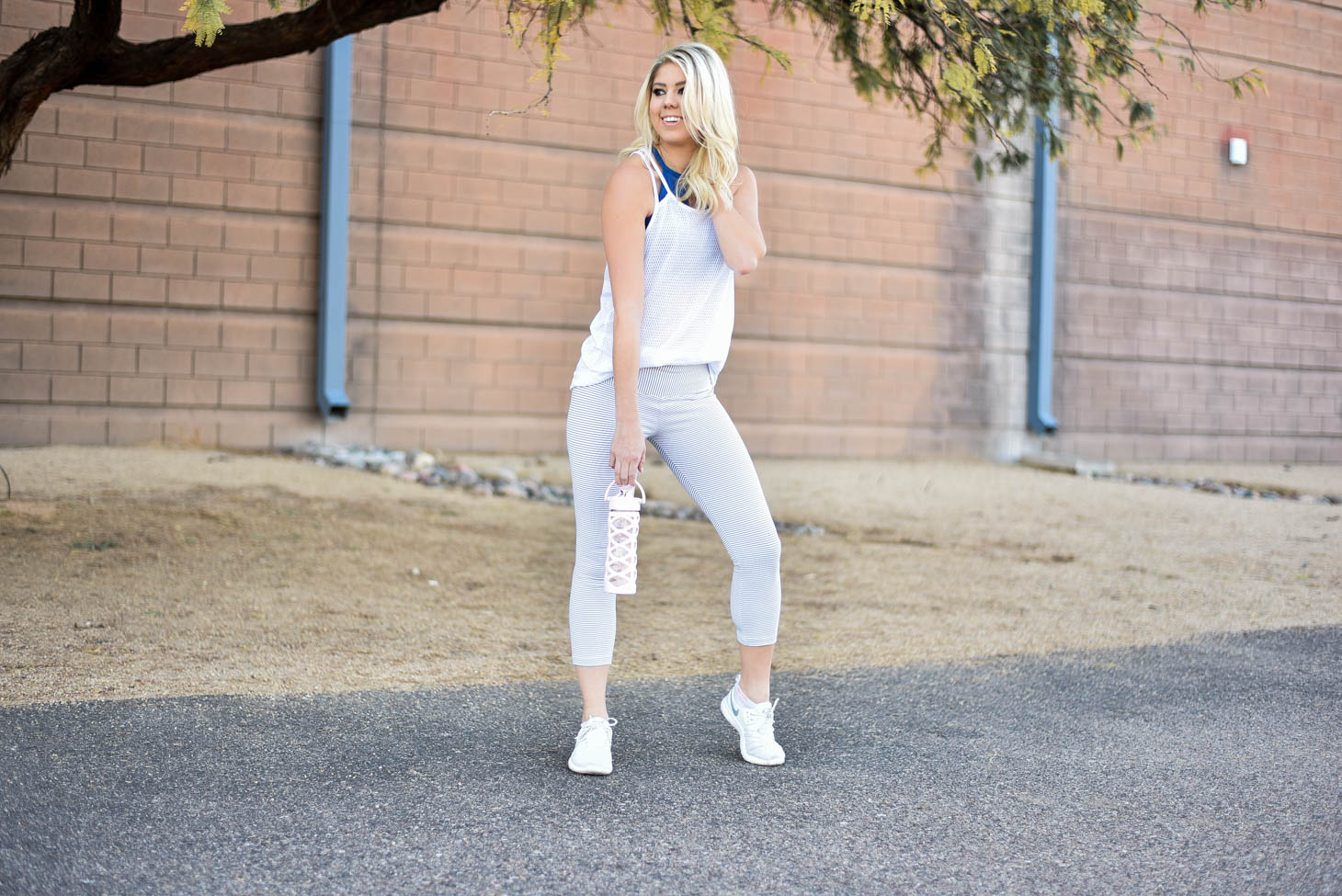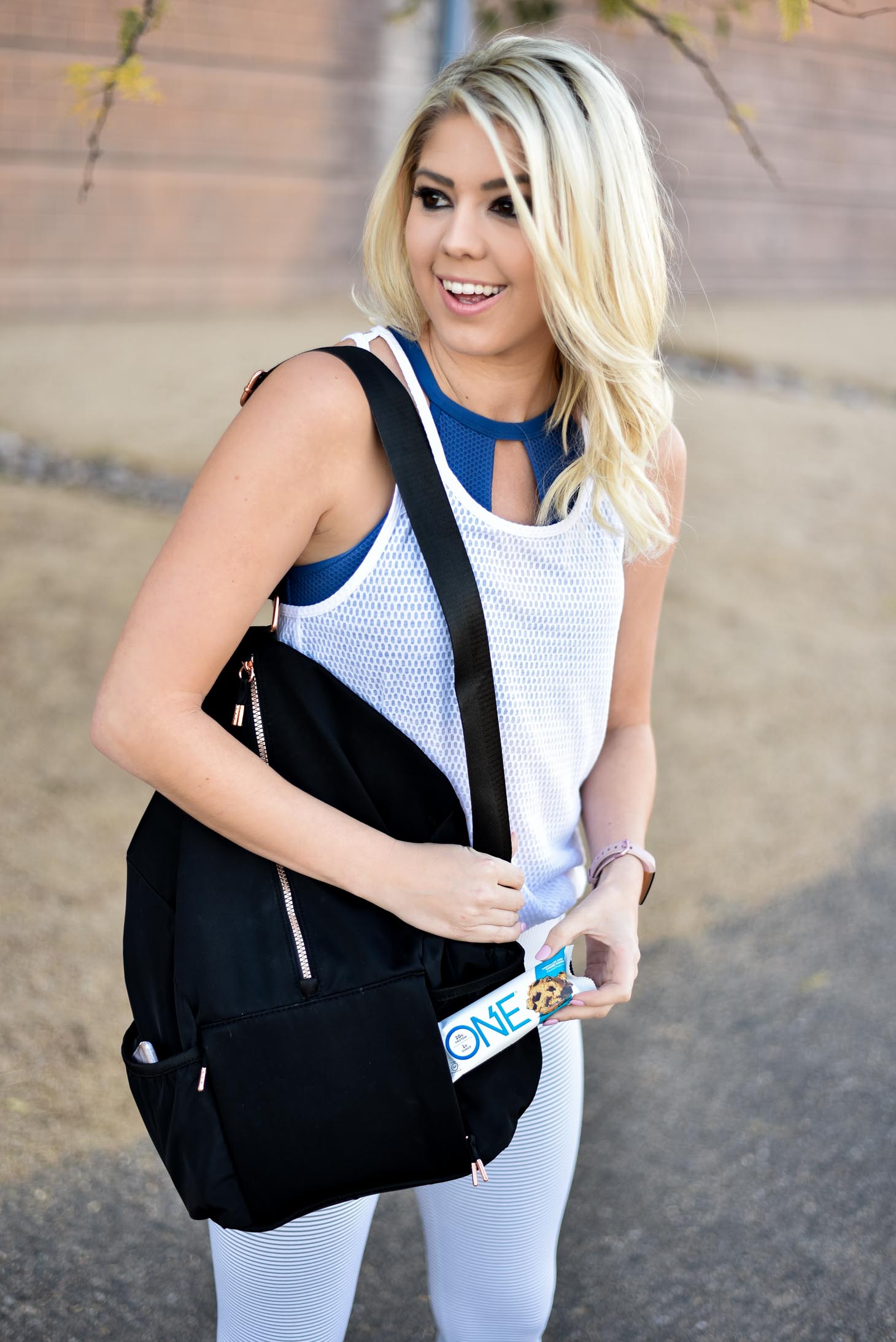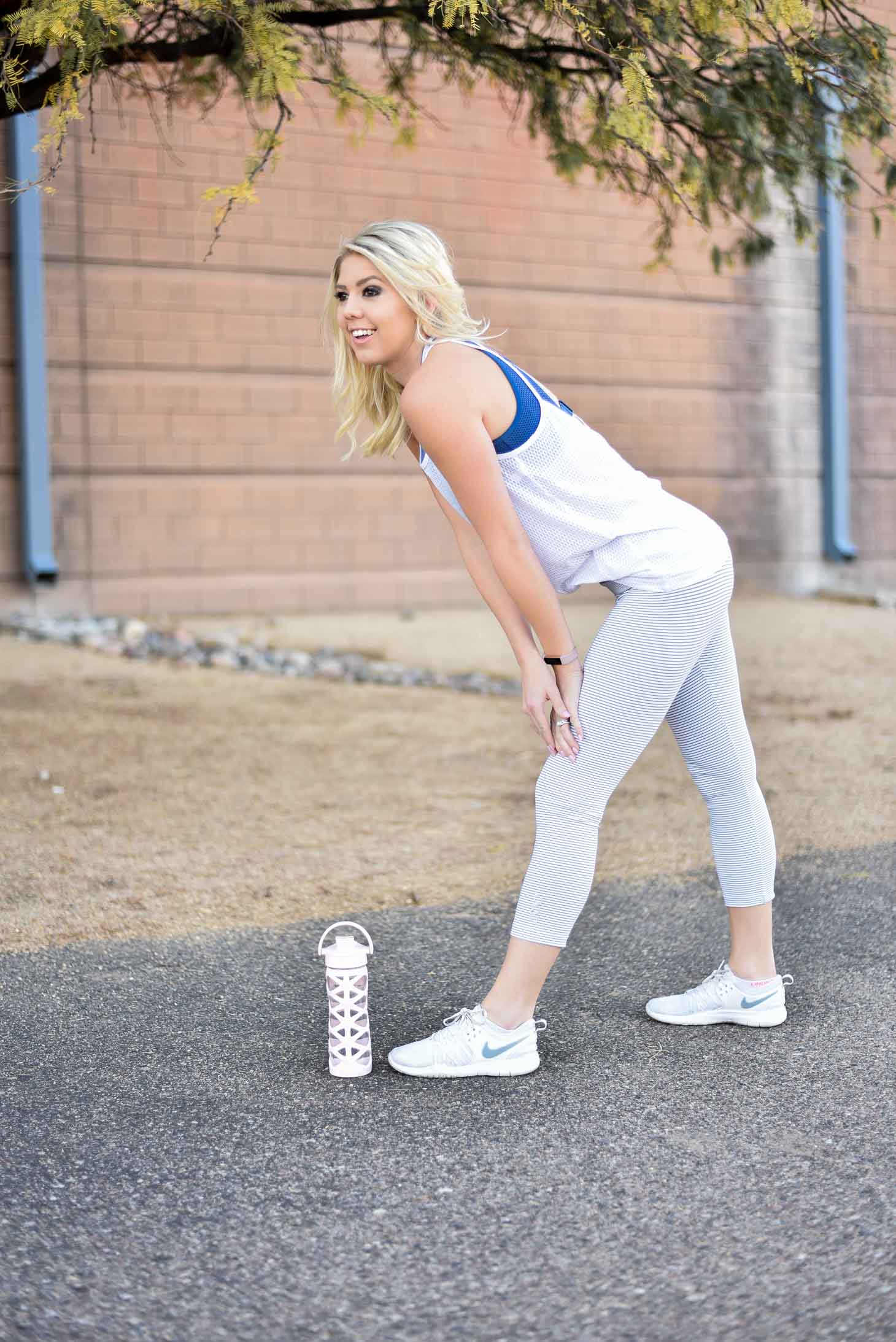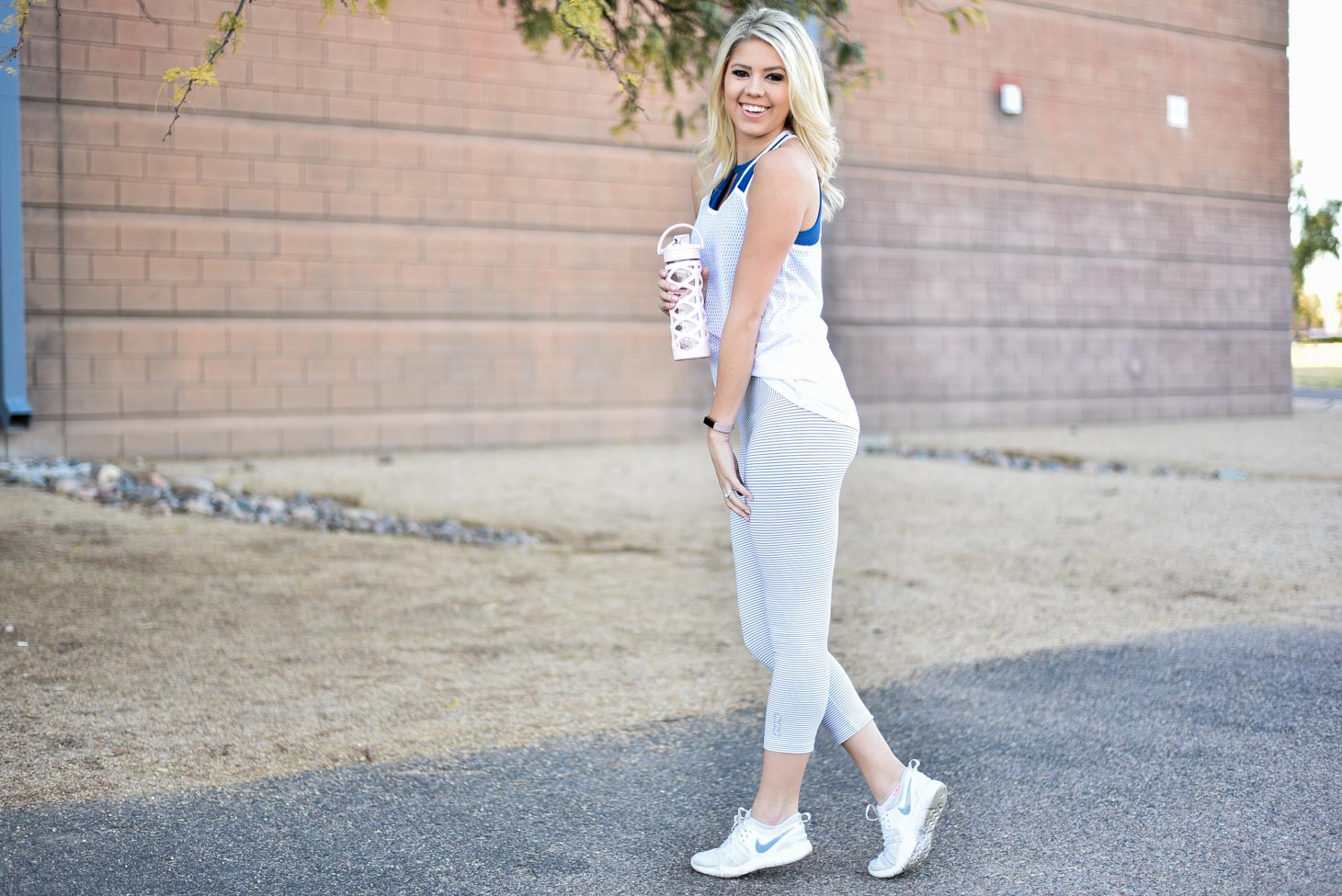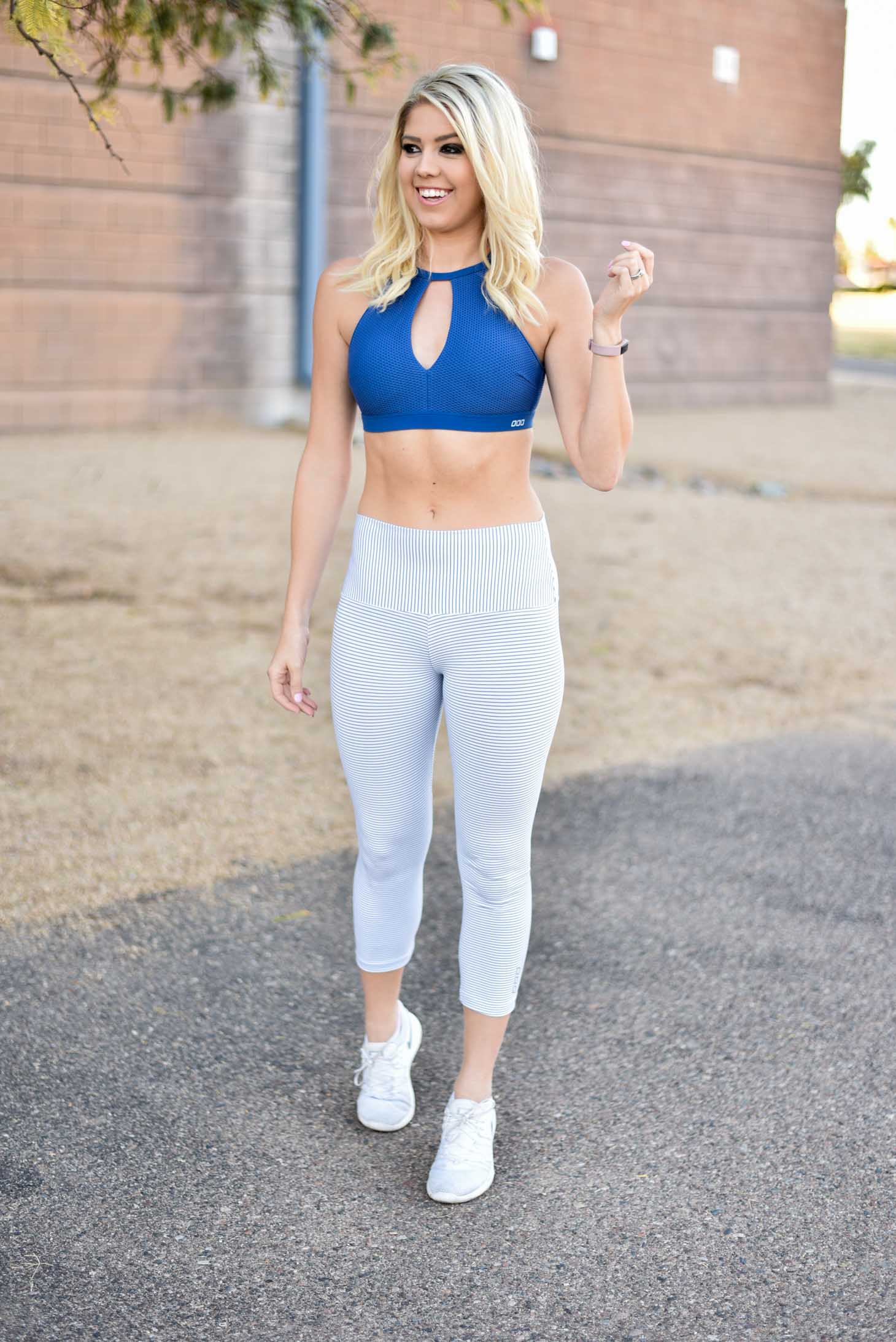 Similar Tank // Sports Bra // Leggings // Shoes // Fit Bit // Water Bottle // Backpack // Protein Bars c/o One Bar
Today, I thought I would share a little bit about my fitness history, current workout regime and what it is I do to keep myself physically and mentally healthy! Just to disclose, I am by no means an expert at fitness, but I wanted to share what I love to do and why I feel it benefits me!
Growing up, I was always very involved in athletics, playing just about every sport I could get my hands on. Not to toot my own horn, but I can still shoot three pointers better than most grown men. Ask my husband. Just saying! 💁🏼 Once high school came to end and I entered my college years (exit all group and team sports), I did not understand the importance of staying active. I fell into the slump of my freshman year and became kind of lazy! Around the age of 20, it became pretty clear that staying physically active was not just important for my body, but also for my mind and emotional well being. Insert my gym years!
When I first got into working out, I did the usual "beginner routine." Get a gym membership and show up to complete "my own" workout. This consisted of treadmill compilations, some weight machines and messing around on an abdominal ball or two. Not to say that this didn't give me a workout, it did. However, as the years passed and I began to get a little older, I noticed that this wasn't exactly working as well anymore, nor was it very fun. It became very monotonous, and I didn't look forward to it as much.
I continued on this path until I suffered a knee injury (if you've been following me for a bit, you'll know this was by no means a "cool story injury" 😂). This forced me to alter the way that I worked out and learn a lot about the muscle groups and how to properly work them out to be strong and resilient. Post physical therapy, I began going to a trainer to really get a handle on how to workout safely and efficiently without running and causing further injury to me knees.
I met the greatest group of women at Got Us Fit, an all women's gym in Scottsdale. Jodi and her girls have truly taught me the importance of varying my workout routine. Once your body gets used to a particular exercise, it begins to adapt and soon your body is not working out as hard or as efficient. This knowledge really taught me to branch out and experiment with different forms of workouts that would give me a balanced and diversified workout. This was not the easiest thing for me to do, but once I dipped my toe into different areas, I learned that I loved them all!
Currently, I work out six days a week. Most of my workouts consist of classes where I am led by an instructor and pushed further than I know I would do on my own. Here is a breakdown of my weekly workout schedule:
Monday: Pilates – I love that this class incorporates a lot of stretching and lengthening of the body. It challenges my body to become stronger, not in a muscle sort of way, but in the ability to be flexible and hold up my own body weight.
Tuesday: Cycle – My absolute favorite form of cardio. At first, I absolutely hated this form of exercise. I found it to be very uncomfortable. However, I pushed through it and now my body absolutely loves the feeling of being up and over my bike pushing myself up virtual hills and cruising down them at full speed!
Wednesday: Barre – I always get super excited for midweek barre class. I love that this class incorporates a lot of low-weight muscle building and squats. Man does this class work my glutes and thighs! Because we use the bar a lot, I always feel so graceful throughout this class. It takes me back to my cheer days and I love it!
Thursday: HIIT – This high intensity interval training class is a beast! Not going to lie, this is the hardest class to walk my hiney into! However, when I leave it, I feel so accomplished and strong. This class consists of 3 minutes cardio, 2 minutes strength training, and 1 minute of abdominals on a loop. Yes that's right… over and over again! It may be hard, but the benefits amazing!
Friday: Cycle Pump – This is a such a great workout because it mixes two of my favorite classes together. For this class, we get on and off the cycle bike to do strength training exercises. I love the diversity and feeling my body gets from moving from one to the other. So fun!
Saturday: Cycle – I end the week with another cycle class. I love doing this on Saturday mornings because I start my weekend feeling refreshed and energized for the plans ahead. Also a great way to burn off any cocktails from the night before!
Sunday: Rest/Walk – On Sundays, B and I go to church and like to take it easy. Sometimes we like to take a walk on the bike path near our house or through our neighborhood. It's a great way to relax but still get a little exercise!
There it is! Like I said, I am by no means an expert when it comes to working out, but I like to think I've learned quite a bit over the past decade of working out. The most important thing being to vary my workouts. I've seen the biggest difference since doing this, and I highly recommend it!
For me, working out is so much more than a physical training. With all honesty, not working out leaves me feeling kinda down and irritable. Physical activity is so important for our minds and emotional stability. Whenever I walk out of that gym, the sun seems brighter, all my problems smaller and the day ahead more exciting! I truly believe that physical activity works out every part of our body: physique and mind.
Post workouts, I love to grab a One Bar protein bar. With 2o grams of protein and only 2 grams of sugar, these bad boys will build up your muscles post workout and will feel like a sweet treat! They have the craziest flavors. You'll go nuts when you see them!
I've linked up all my workout gear below. I also love a great workout look because it just amps up my workouts and gets me excited to hit the gym!
Thank you One Bar for contributing to this post!
Shop the Post

SaveSave
SaveSave