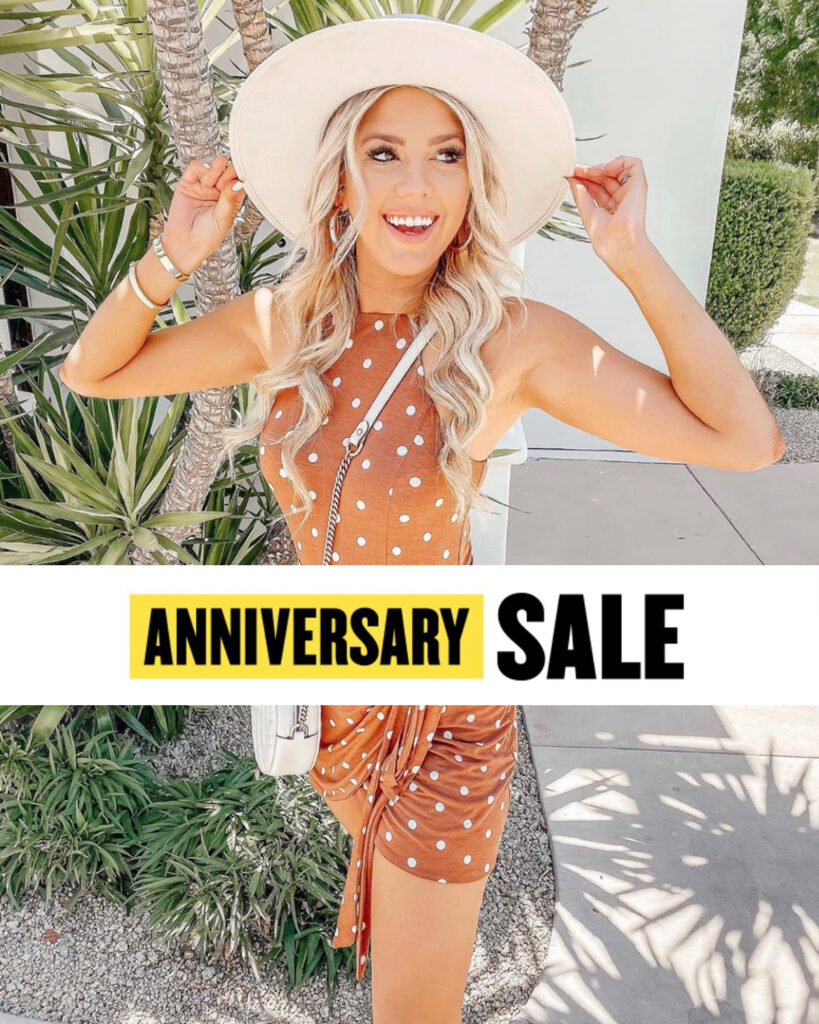 It's that time of the year again! The Nordstrom Anniversary Sale is right around the corner. It's one of my favorite sales of the entire year. Items you ACTUALLY want at a price point that makes sense. I have previewed the entire sale and wanted to share my top picks for you. No matter what you might be looking for this year, I have got you covered!
+++
What is the Nordstrom Anniversary Sale?
Each year, Nordstrom holds a sale on new arrivals by some of their top-performing brands. The unique thing about this sale is that the sale items are fresh and new! Meaning, once the sale is over, all products will go to full price and be sold for the remainder of the Fall/Winter season. So it's a great time to stock up on some necessities while they are reduced in price!
+++
When is the Nordstrom Anniversary Sale?

Important Dates
Preview: July 24th – Love that they show you what will be on sale so you can plan ahead.
Icon Early Access: August 4-18
Ambassador Early Access: August 7-18
Influencer Early Access: August 10-18
Insider Early Access: August 13-18
Everyone (Non Nordstrom Card Holders): August 19-30
+++
Nordstrom Card
A key component to the sale! Having the Nordstrom Card will help you gain access to the sale before others. The sale goes quickly and items will sell out fast. But do keep in mind that this is a credit card! It's important to remember that when you begin shopping. Be smart and remember that just because things are on sale, doesn't mean you HAVE to shop it all! Do what is best for you and truly only buy the things you may need. Don't let the sale and all the sale posts push you into anything. You're in charge!
Sign in to check your level status OR sign up here!
+++
Shopping Tips
1. Make a List
Each year, I sit down and generate a (tiny!) list of a few things I want to snag during the sale. It's usually less than five things that I know I want to get AND know I will get a ton of use out of. I DO NOT GO CRAZY WITH SALES. I only like to pick out a couple key things. Making a list makes it easier when previewing the sale and even easier to shop when the sale starts!
My List
A pair of boots
Workout top and/or leggings
Fall hat
New makeup product to try
Currently looking at some of these:

2. Set a Budget
Once you have your list, make sure it is feasible when it comes to how much you will need to spend. Setting a clear budget will keep you in line and help you to shop responsibly. You can calculate what it will cost to snag everything on your list and maybe swap out items for less expensive ones in order to keep to your budget, while still checking it off your list!
3. Shop Somewhat Quickly
While I don't think anyone should be pressured into buy something, if there IS something you HAVE to have, definitely add it to your cart and check out quickly. The top items always go fast! This is where having a list and budget ahead of time helps a ton! Makes shopping a breeze AND keeps you in line.
4. Shop Online
I have always shopped the sale online. I often find that shopping in store is a tad more overwhelming to see everything and find all the items you're looking for. Plus, your local Nordstrom might not have what you're looking for! So, I find it's easiest to shop online. Now with Covid, it's another great reason to shop the sale from home. Keep in mind that Nordstrom has the best return policy (return anything for ANY reason) and free shipping! You can also choose to do curbside pickup if your local Nordstrom has something you want right away.
These are a few of the tips that help me make my shopping experience easy and stress free!
+++
Nordstrom Sale Preview Favorites
Remember, the sale isn't live yet! I wanted to give you a little organized look into the sale to help with your lists and budget preparations!
Shoes

Tops

Bottoms

Athleisure

Lounge

Intimates

Jackets

Bags

Jewelry, Hats & Sunglasses

Beauty

Home