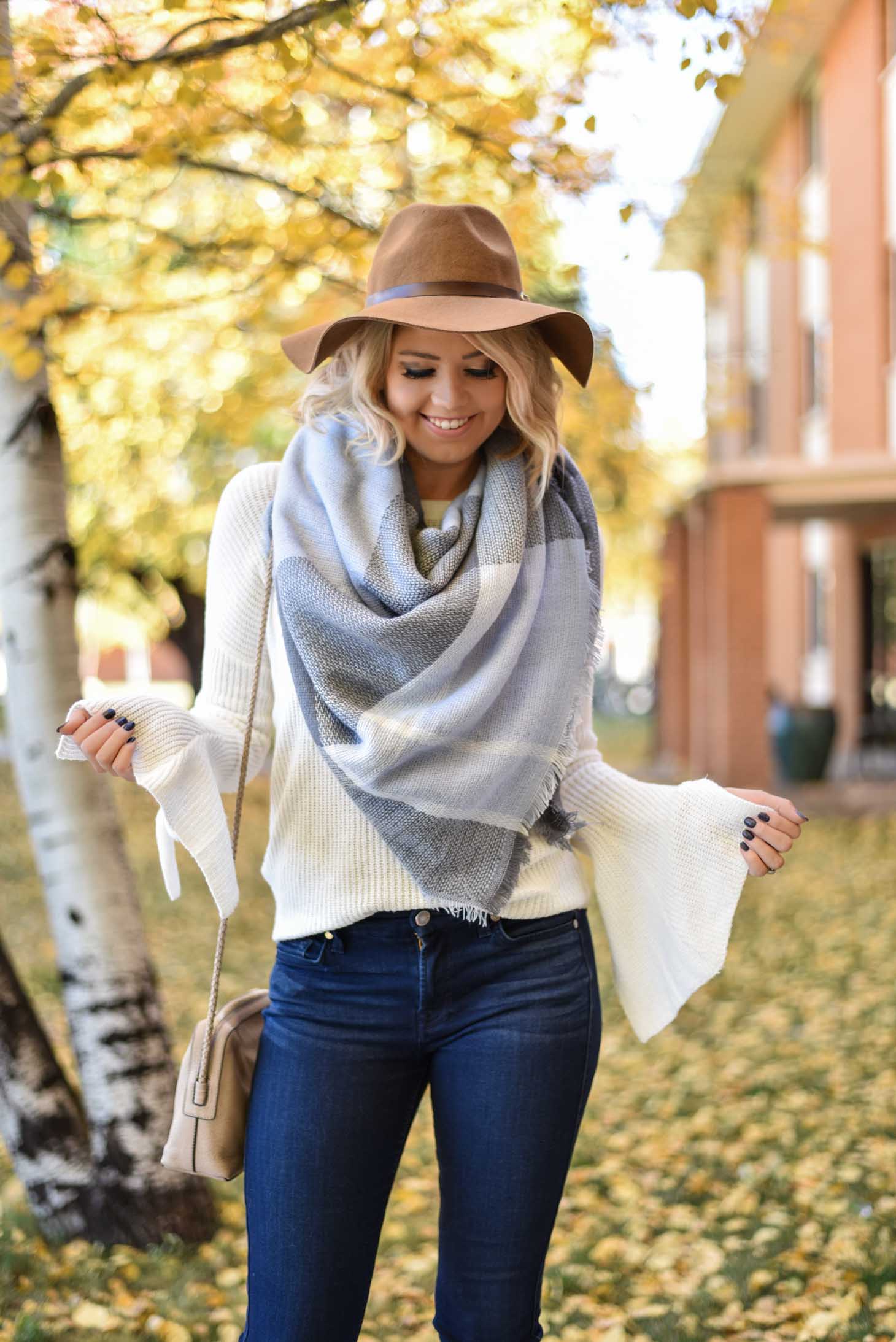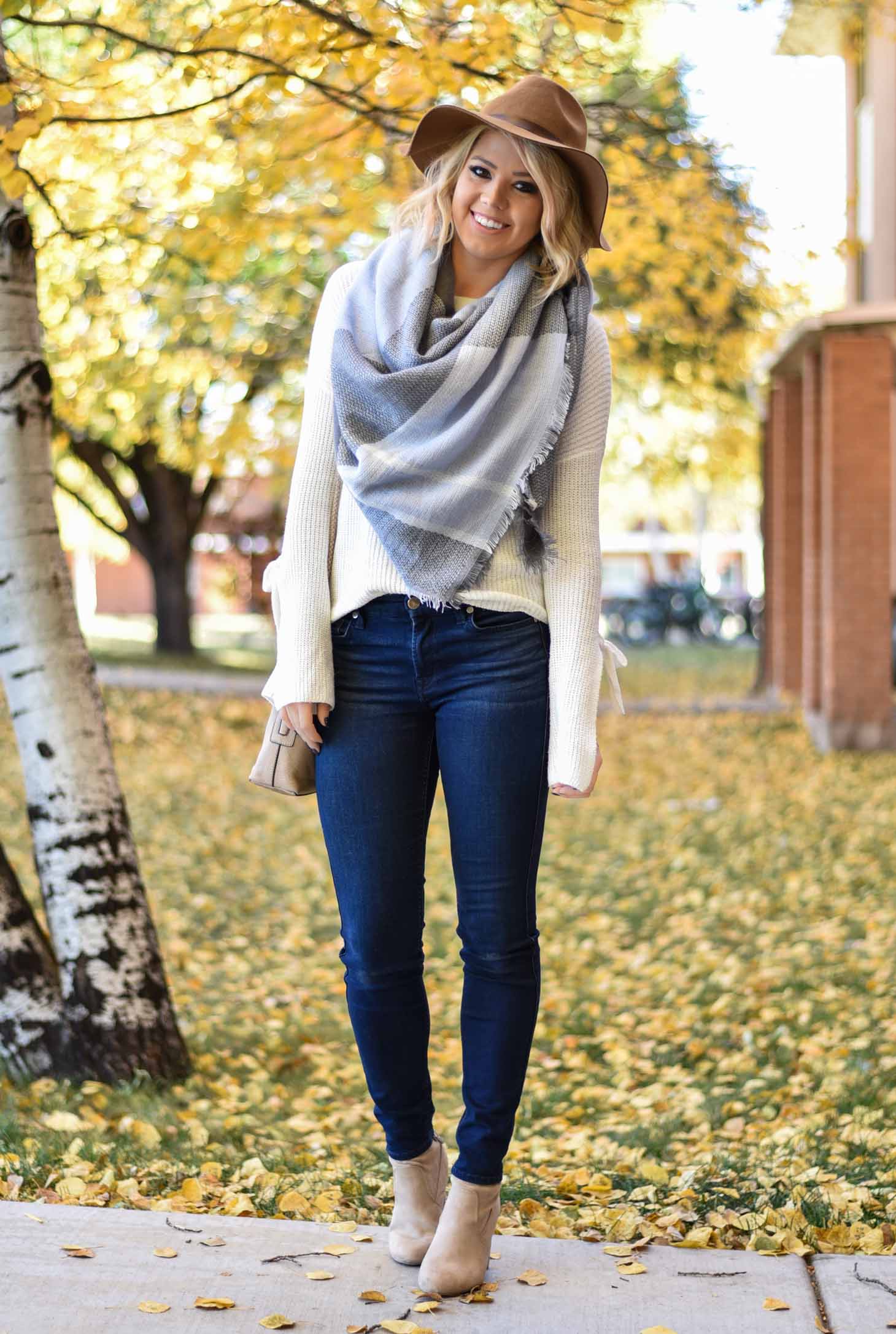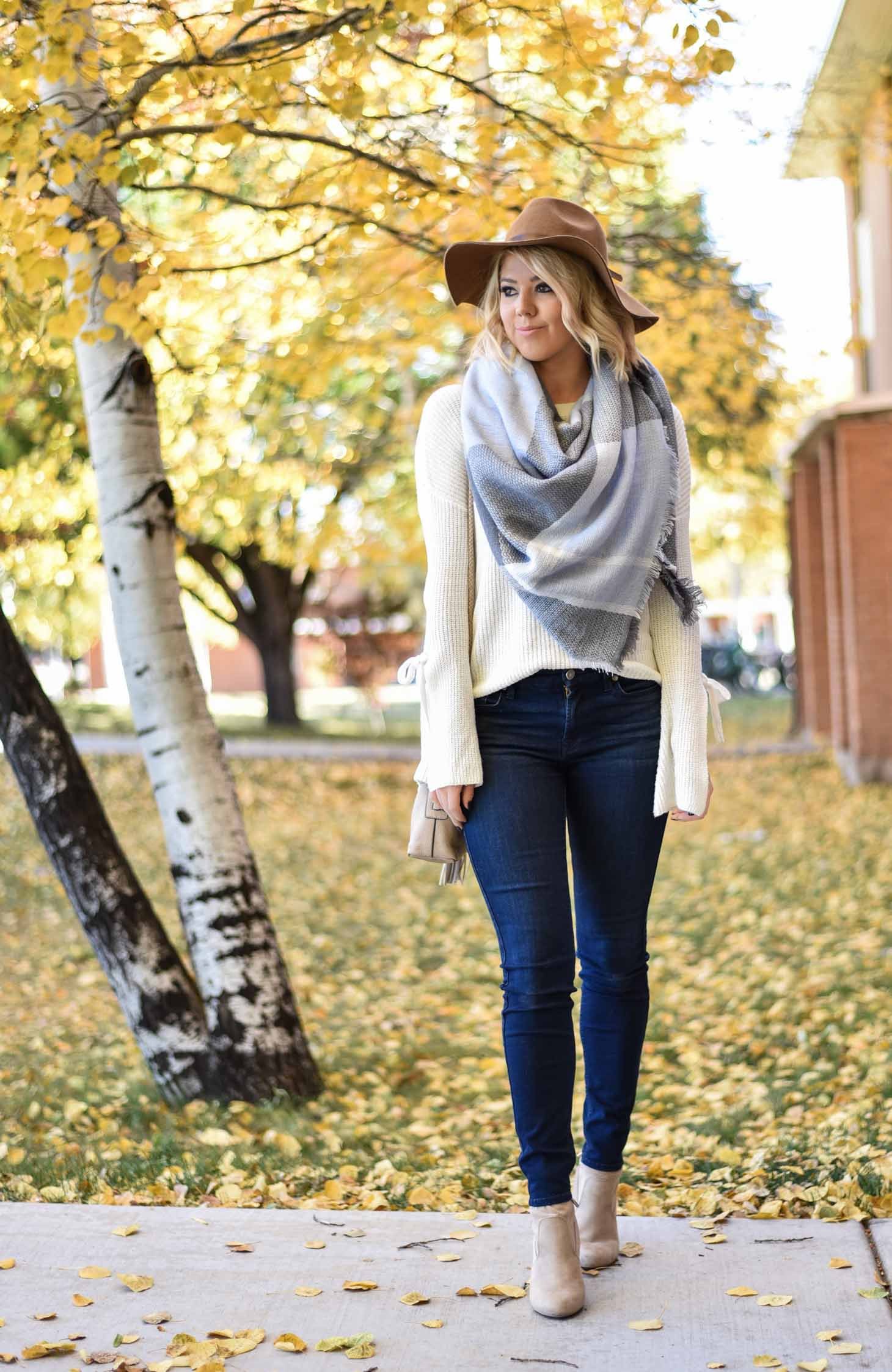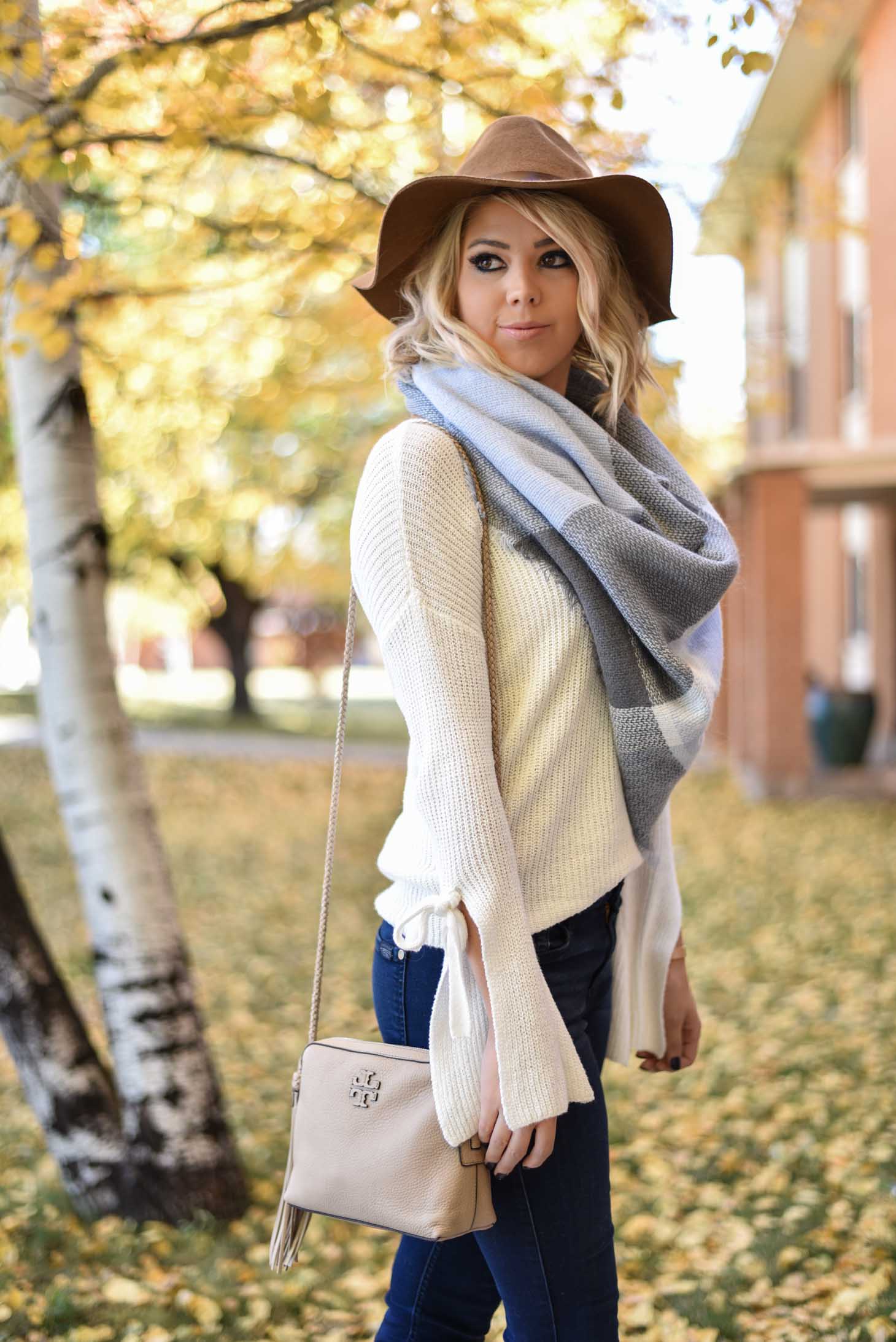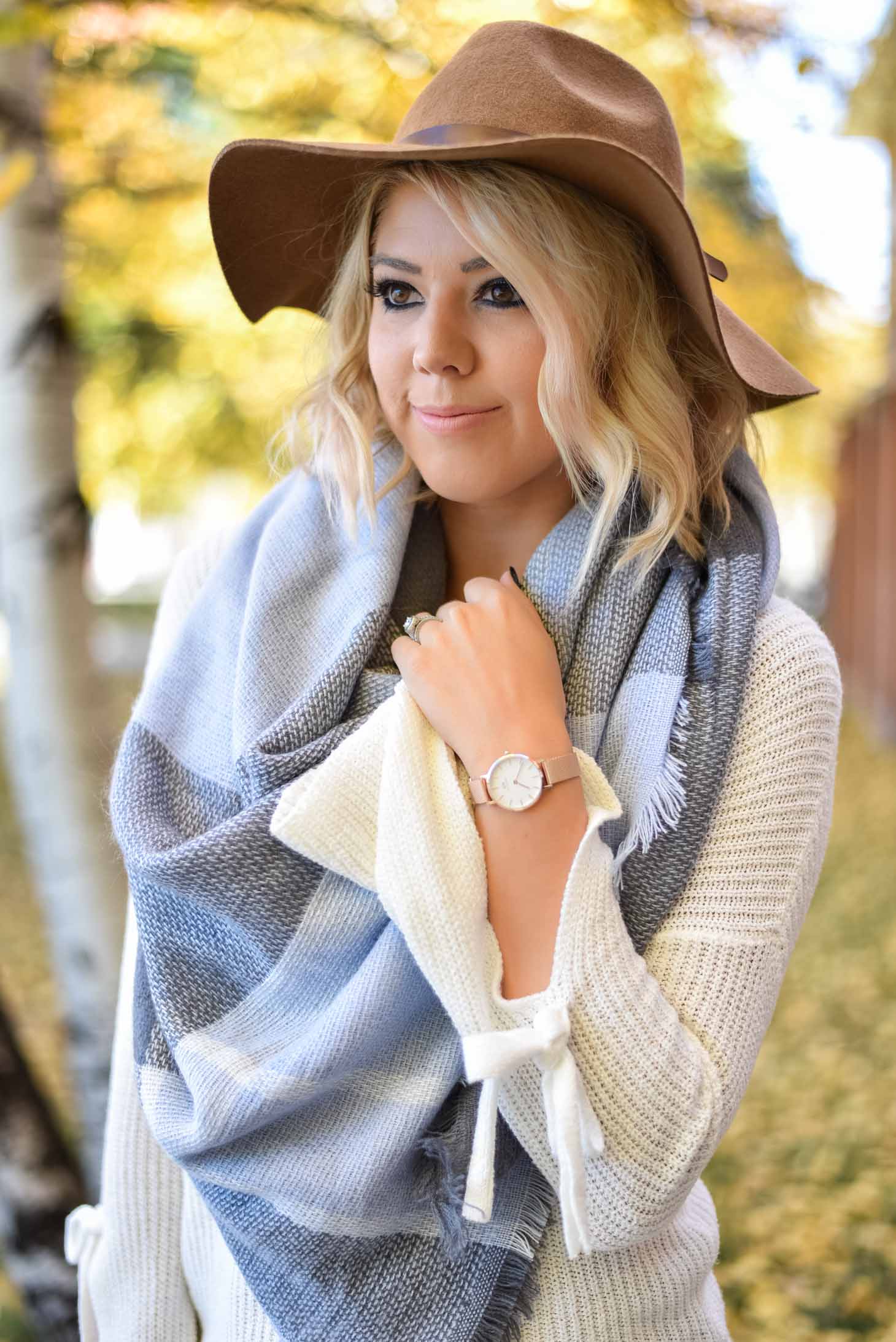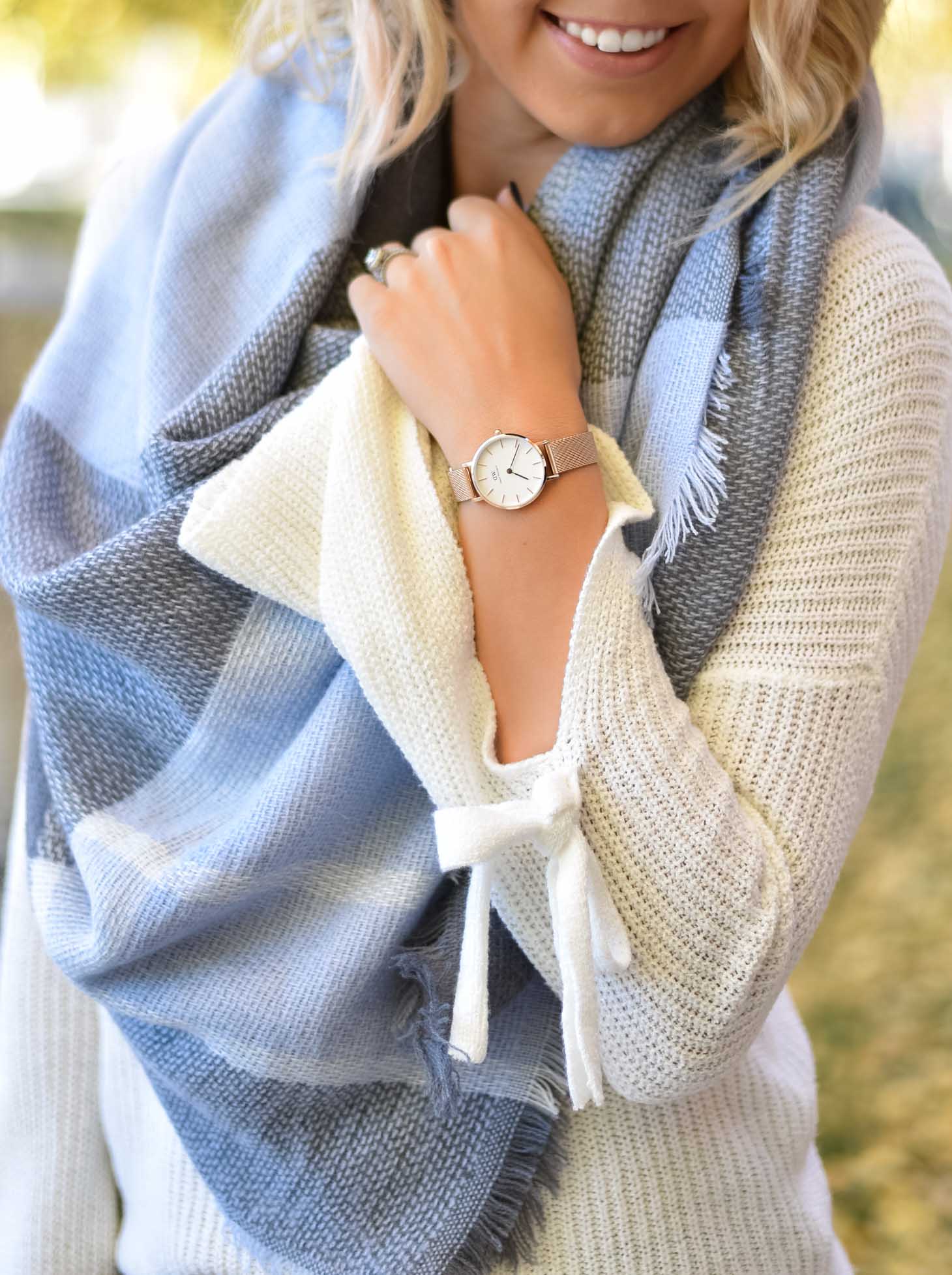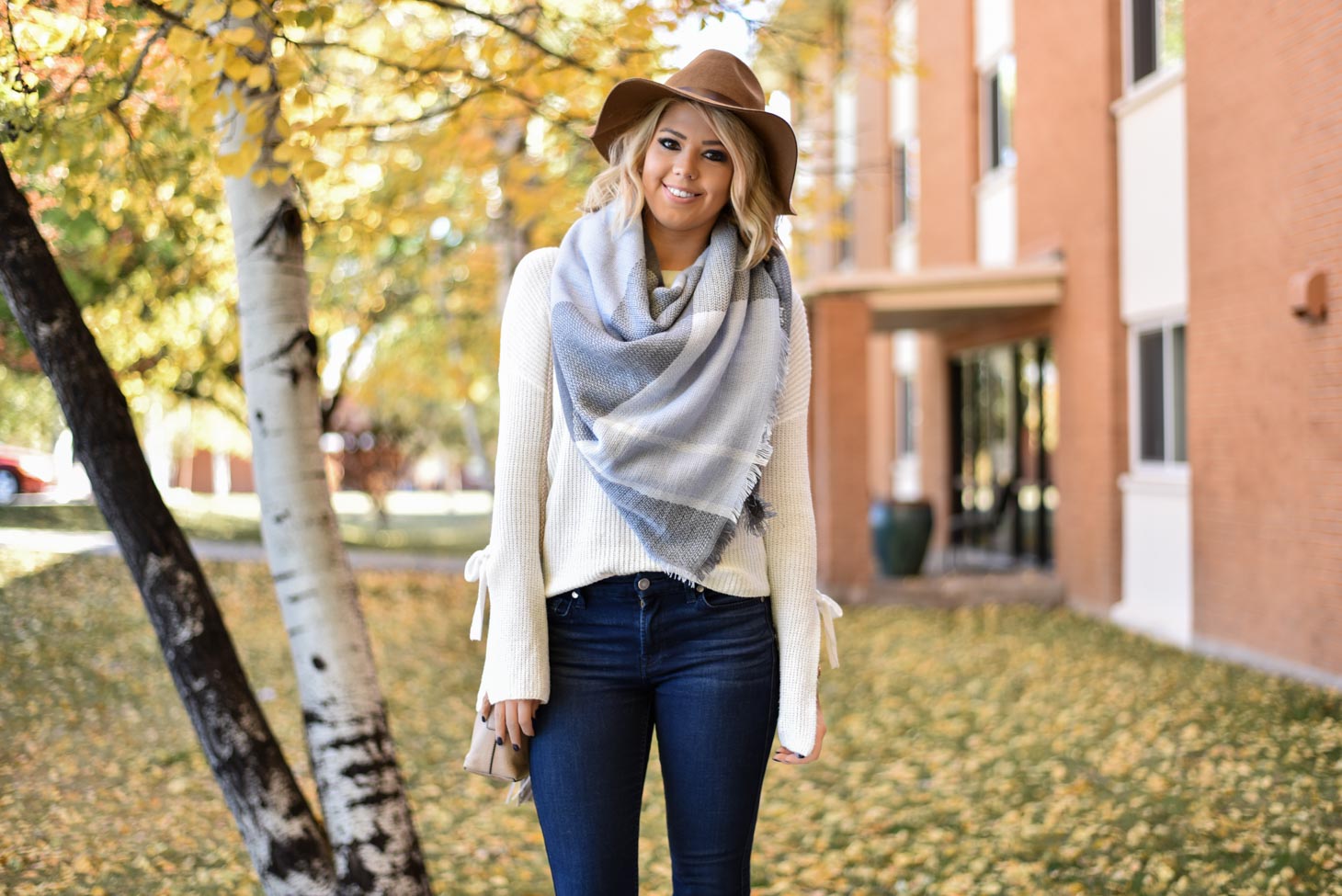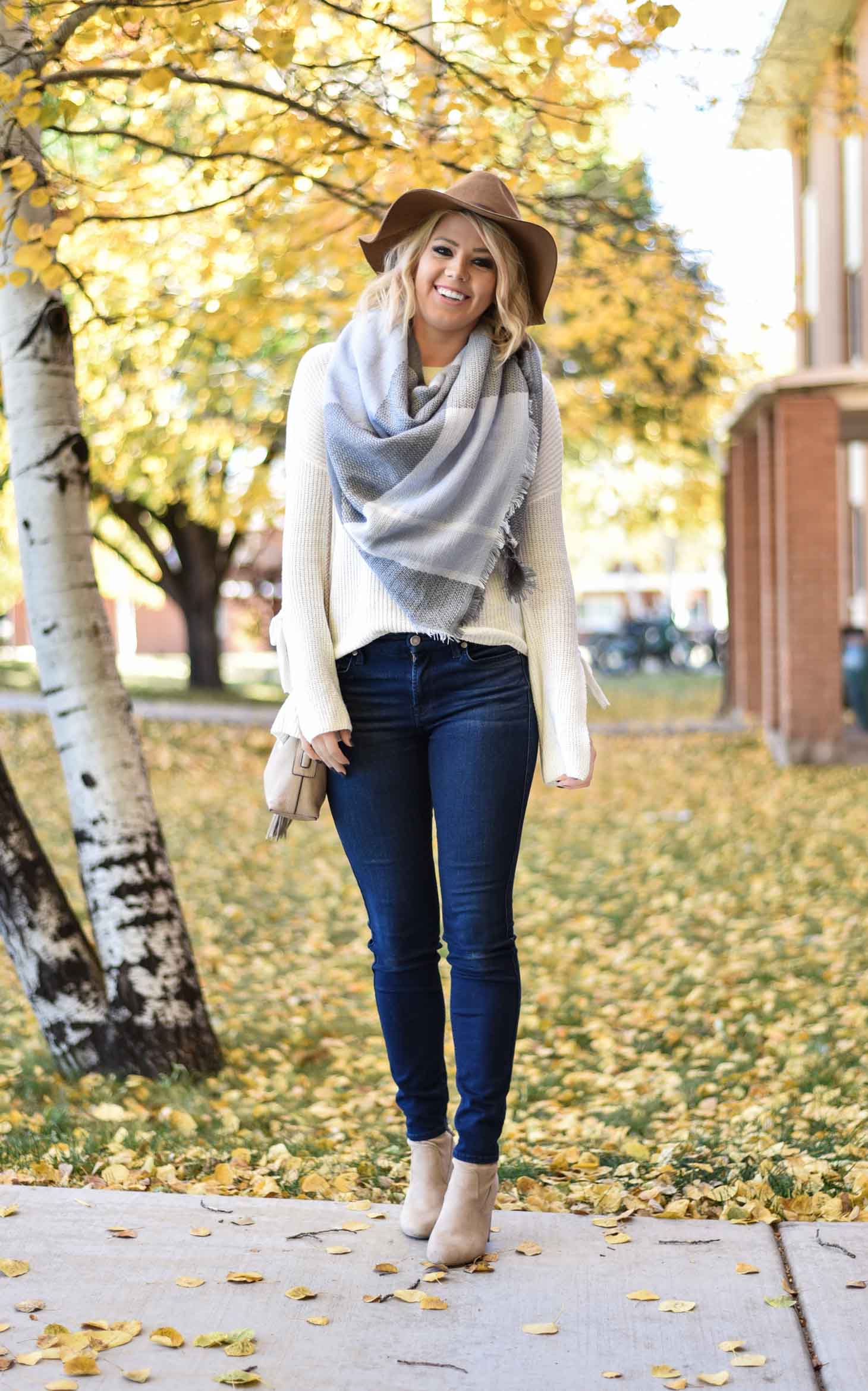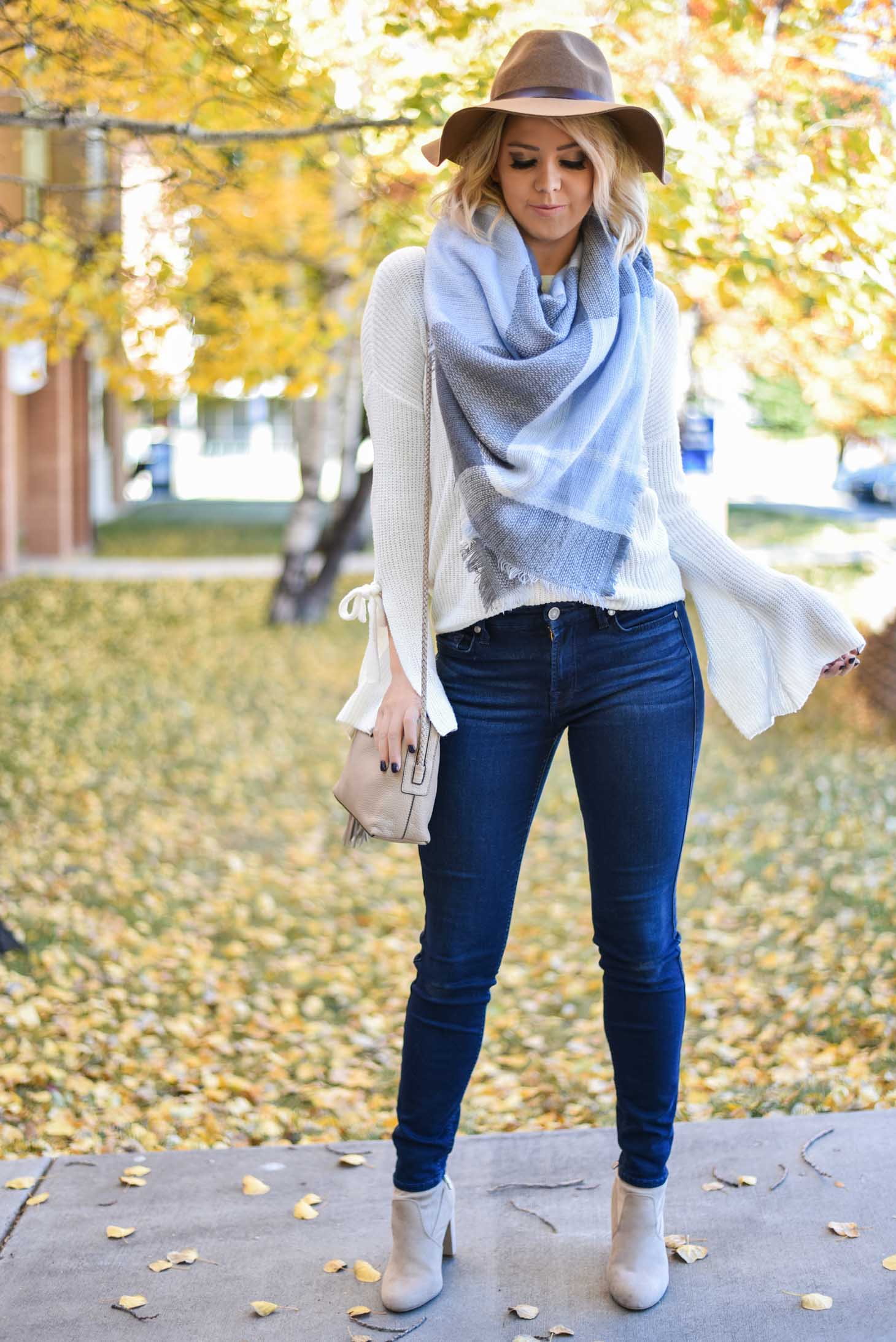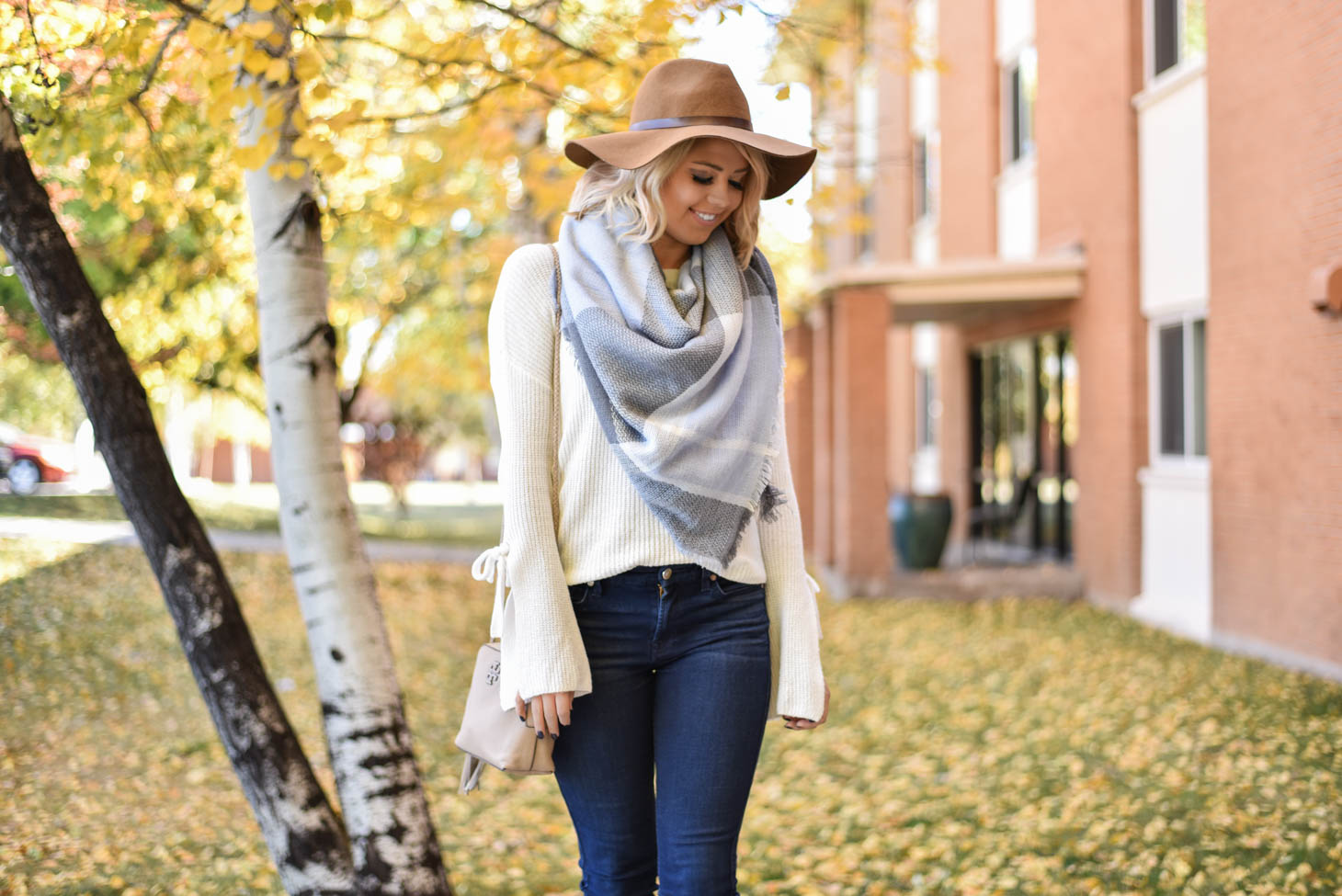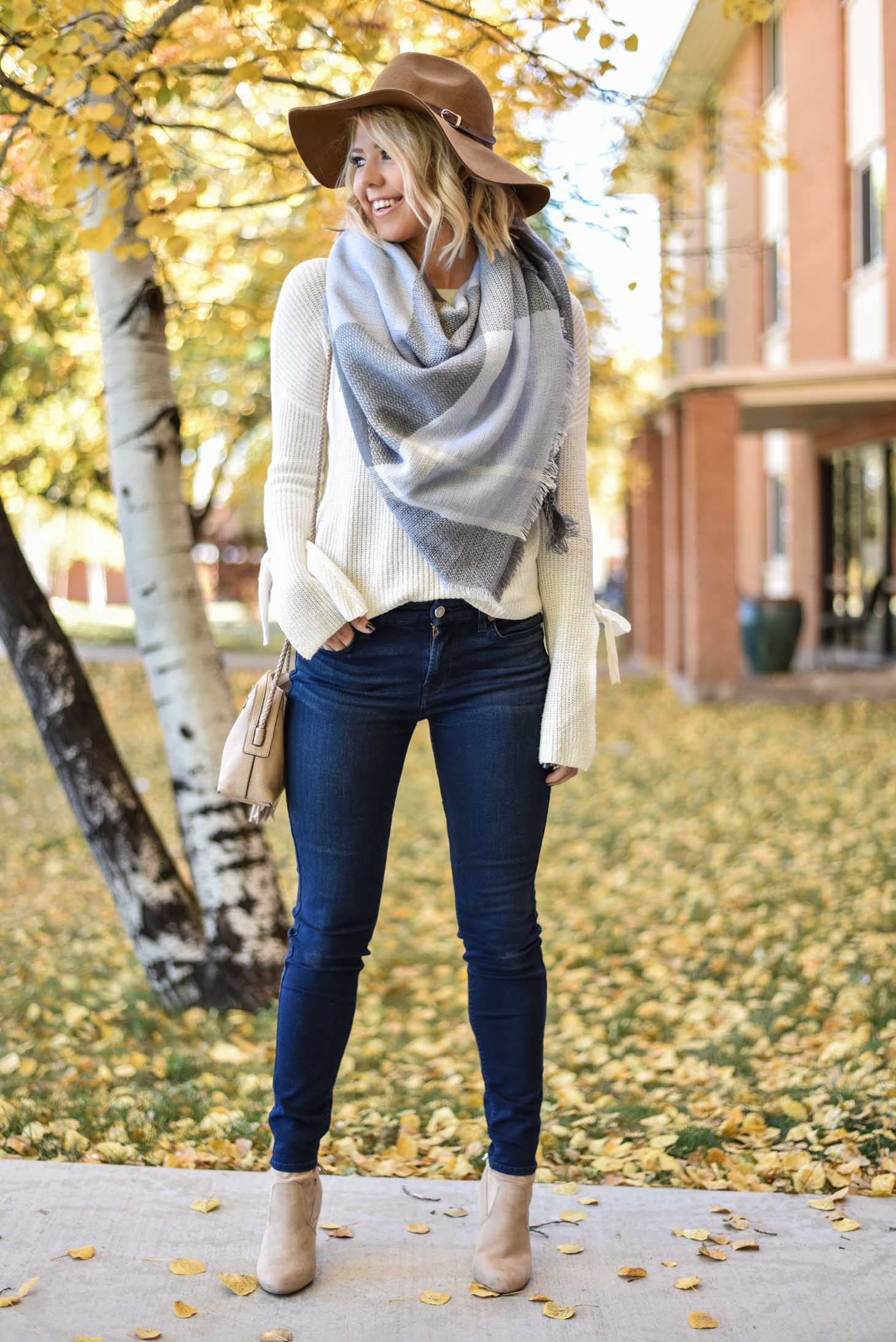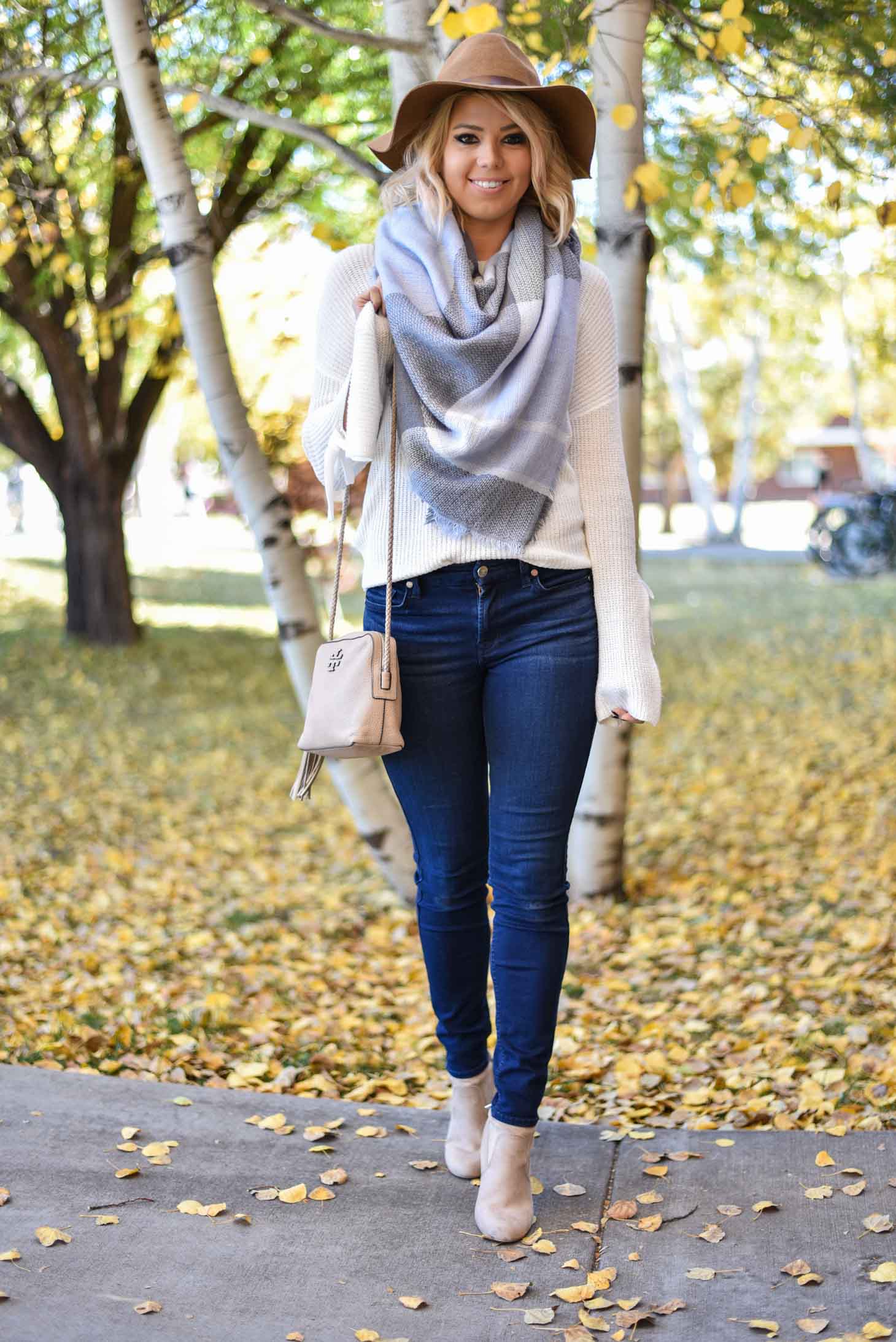 Sweater (on sale) // Similar Jeans // Scarf c/o (20% off with code TWIRL20) // Booties (under $70) // Crossbody Bag // Similar Hat (on sale) // Daniel Wellington Watch c/o (15% off code WINKANDATWIRL)
This past weekend the hubby and I drove up to Flagstaff, Arizona. This is just a two hour road trip from Phoenix. For the past few weeks, I had been really craving Fall weather. Some serious Fall fever after seeing all of the beautiful photos and posts on Instagram. This got me a little jealous of all the gorgeous cities with Fall seasons! Instead of the classic cartoon dollar sign eyes, I had leaves. Giant, lustful, leafy eyes! As we were driving, I was fixated on the outside temperature gauge. 92, 84, 73, 61… Fall air was within reach! When we were just outside Flag, I began to see the trees change color. No longer was I surrounded by palm trees and purple bougainvillea, but gorgeous yellow aspen trees. We had arrived!
When we first got into town, we hit the downtown area and grabbed some brunch and went window shopping in the cute little shops. I wanted to be casual and comfortable for our day of sightseeing. So, I wore this super cozy sweater (currently on sale) and my favorite pair of skinny jeans. To dress them up a bit, I added this awesome pair of neutral-toned booties that I recently picked up. They are under $70 and also come in black. I just love them!
It was a tad chilly when we first got there, making it the perfect time to wear my new favorite blanket scarf! I love the tones in this scarf. They are bright and cheery. Not usually the colors you see in a Fall scarf. It's also incredibly soft! You can shop this scarf, and other accessories for 20% off with code TWIRL20. Be sure to head over and take a look!
A neutral crossbody bag, floppy hat, and my favorite Daniel Wellington watch finished off this casual daytime look. This is the Classic Petite Melrose 28 mm in rose gold. It's so darling! Snag it, or any other watch for 15% off with code WINKANDATWIRL.
The rest of our day was filled with hand holding through the streets, some delicious cocktails and food, and much needed quality time with the hubby. Sometimes it's so easy to get stuck in our daily routines and schedules. Just taking an overnight trip a couple hours away allowed us to unplug, disconnect, and enjoy some uninterrupted time together. Take a drive. Go for a walk. Find fun activities that get you out and exploring with your hunny, girlfriends, or family. Cherish the times spent together! We only get to live once. 🙂
Shop the Post

SaveSave
SaveSave
SaveSave
SaveSave