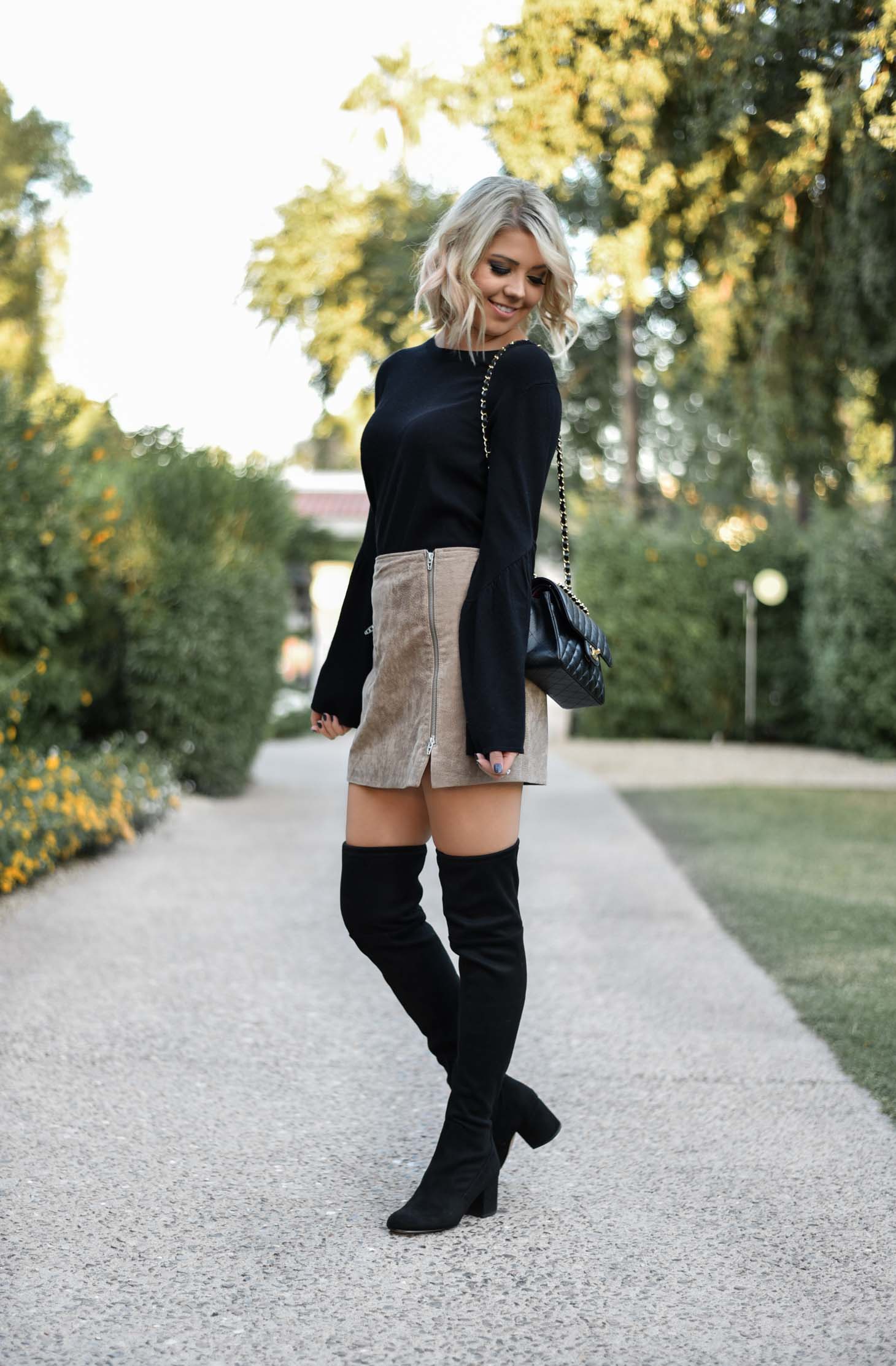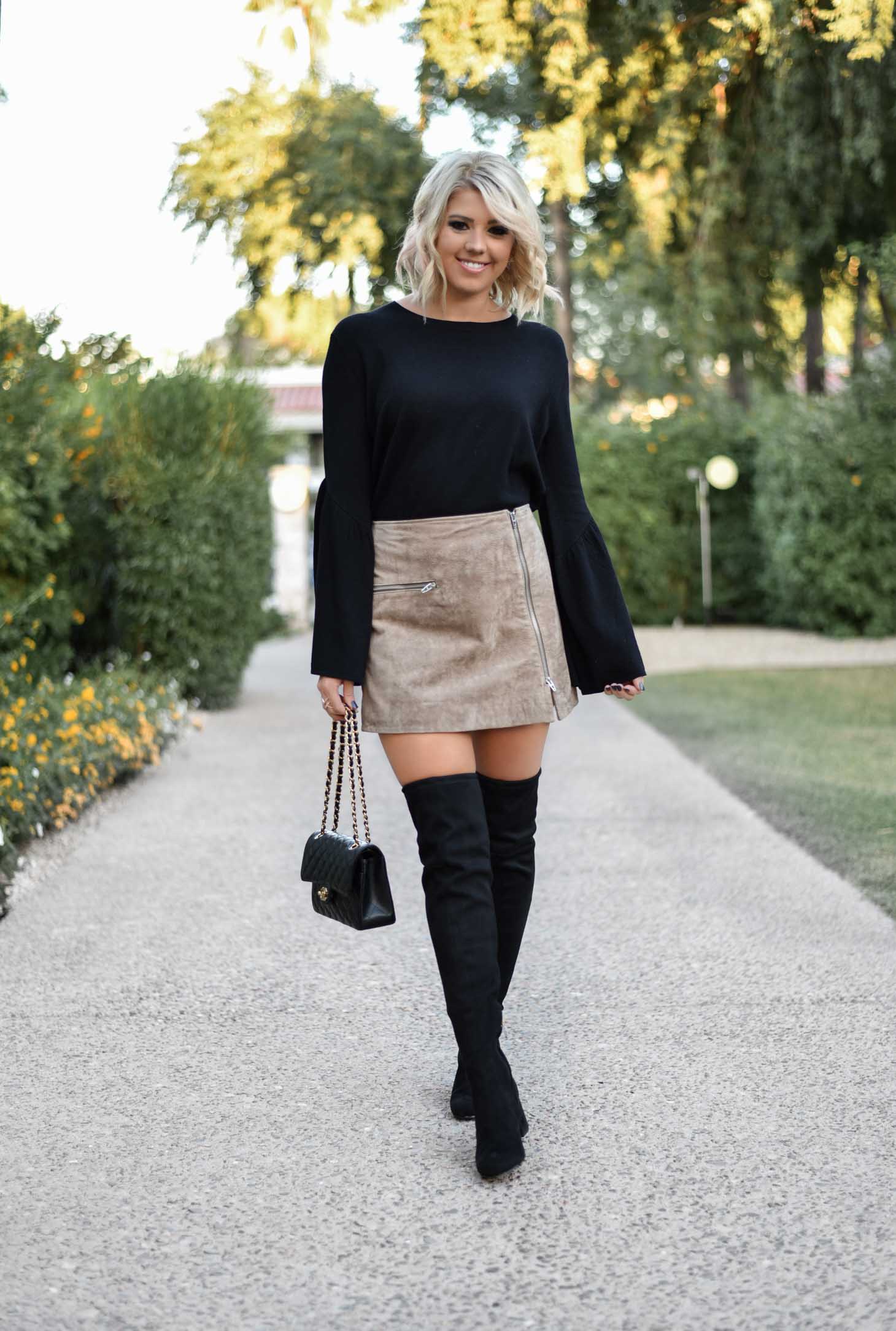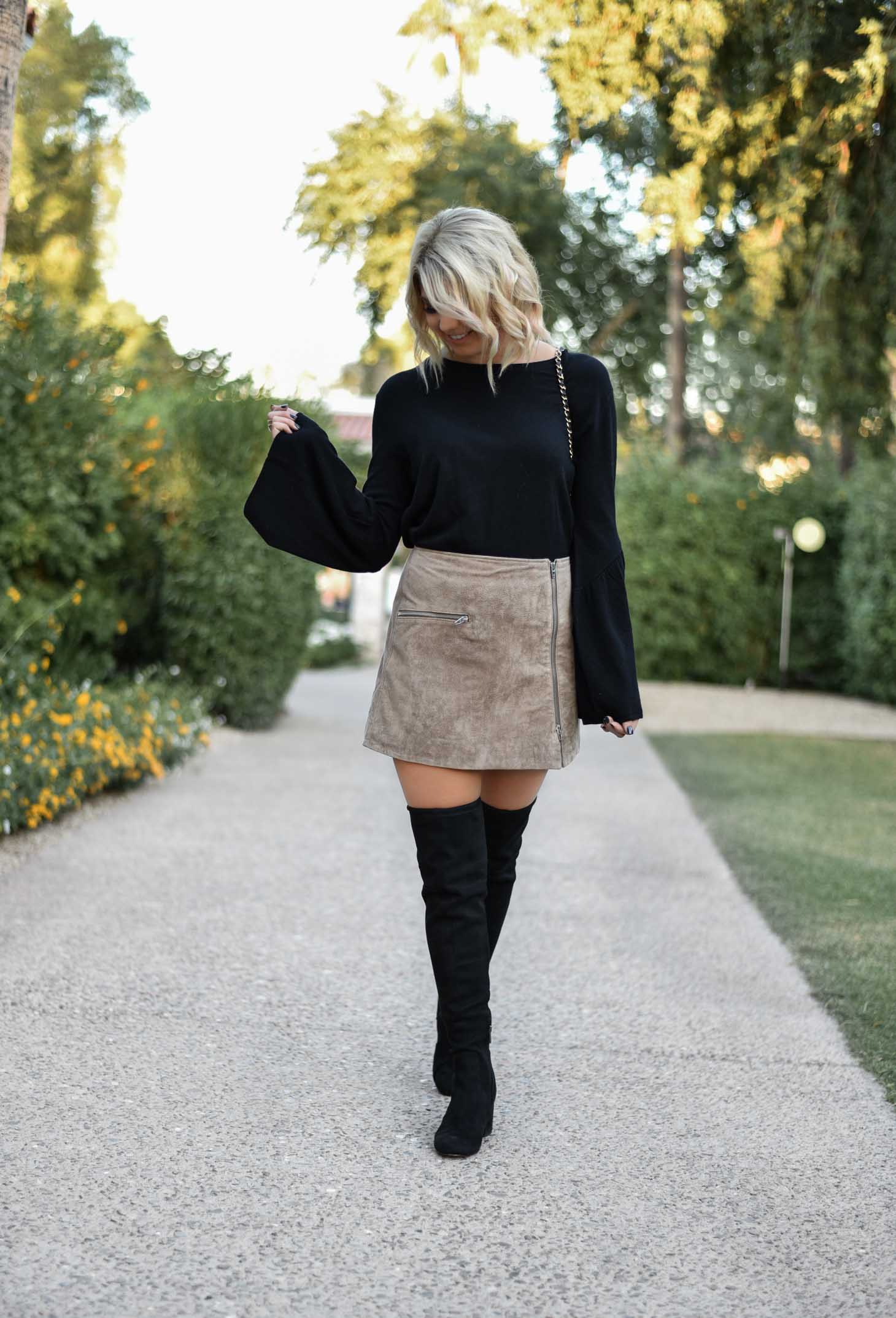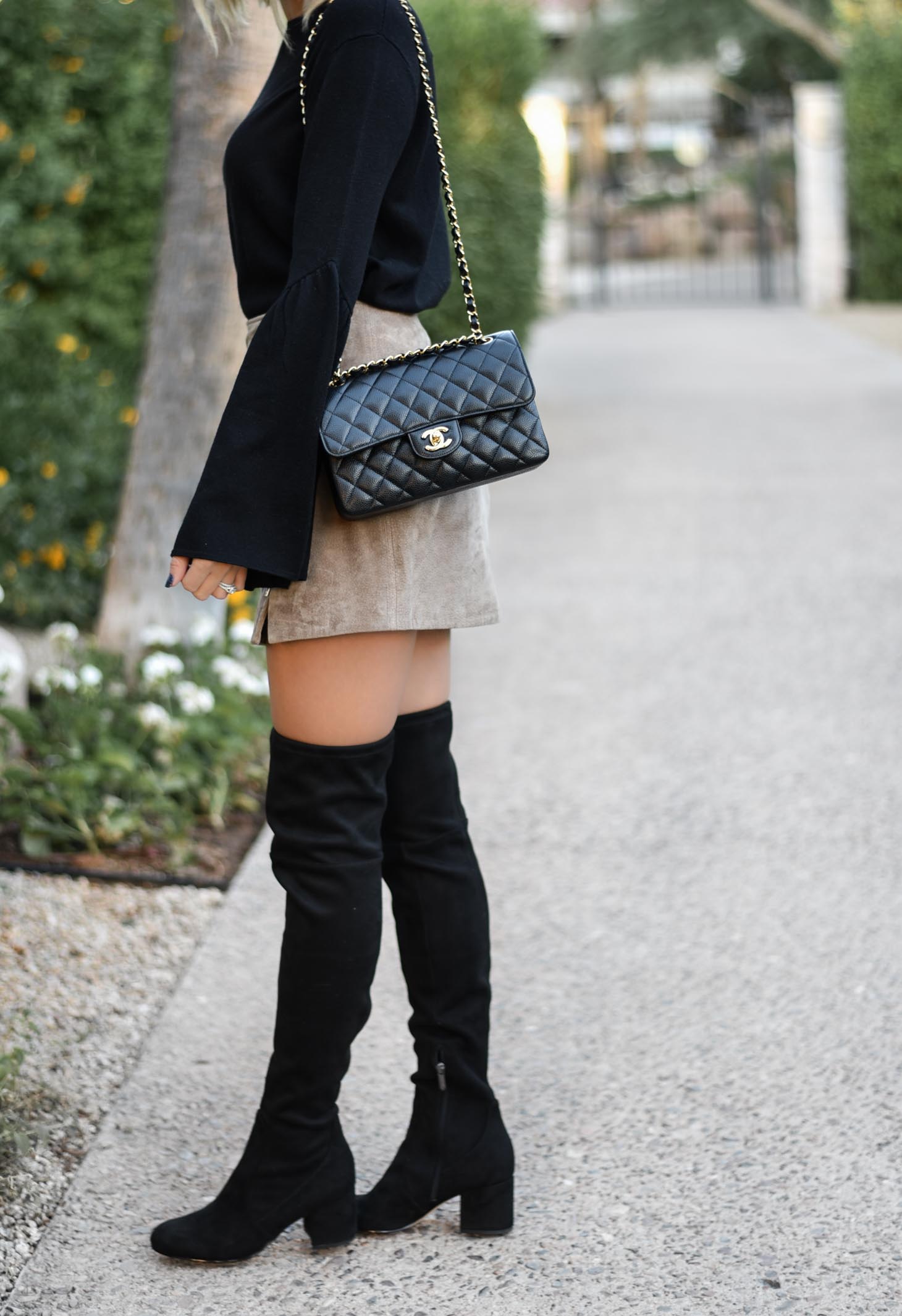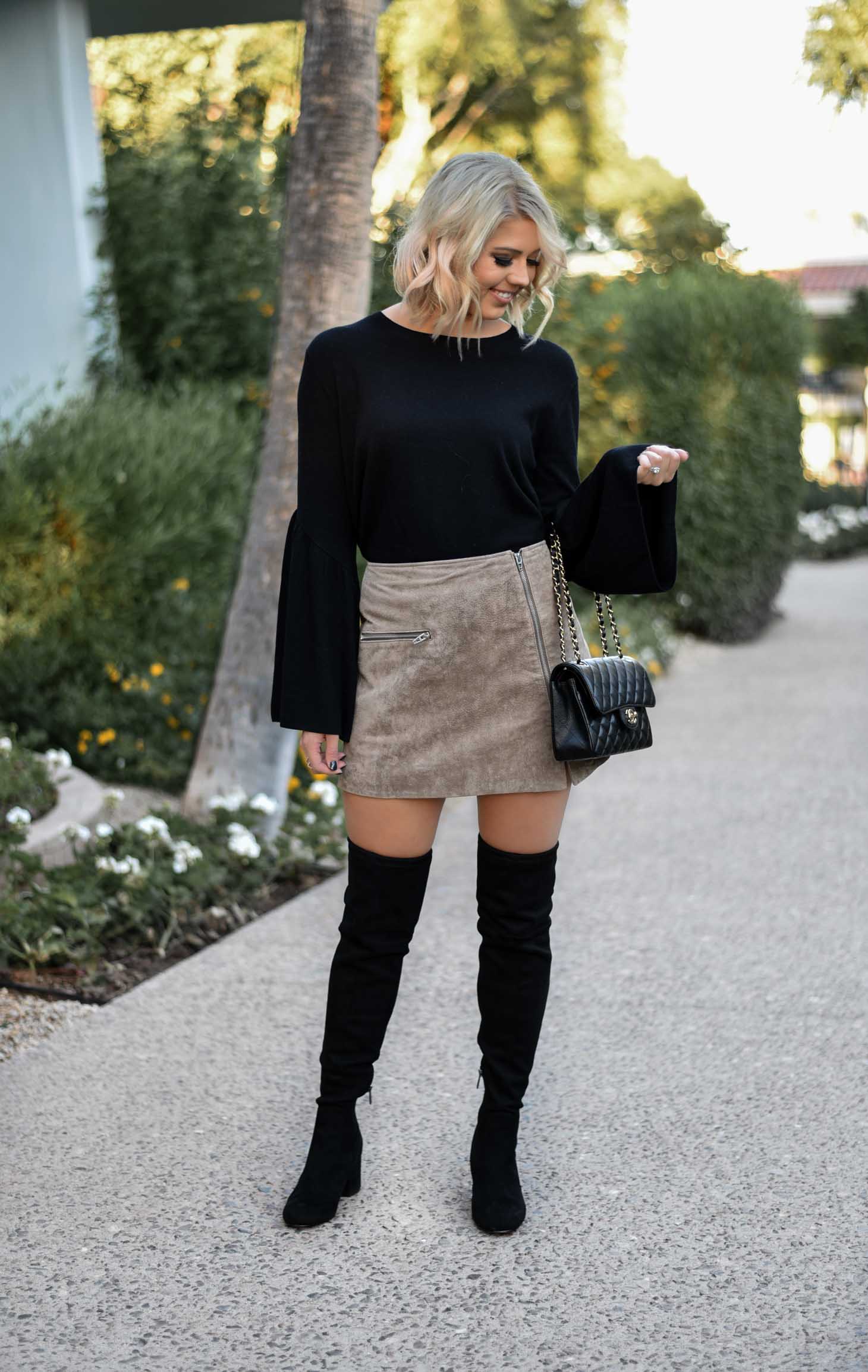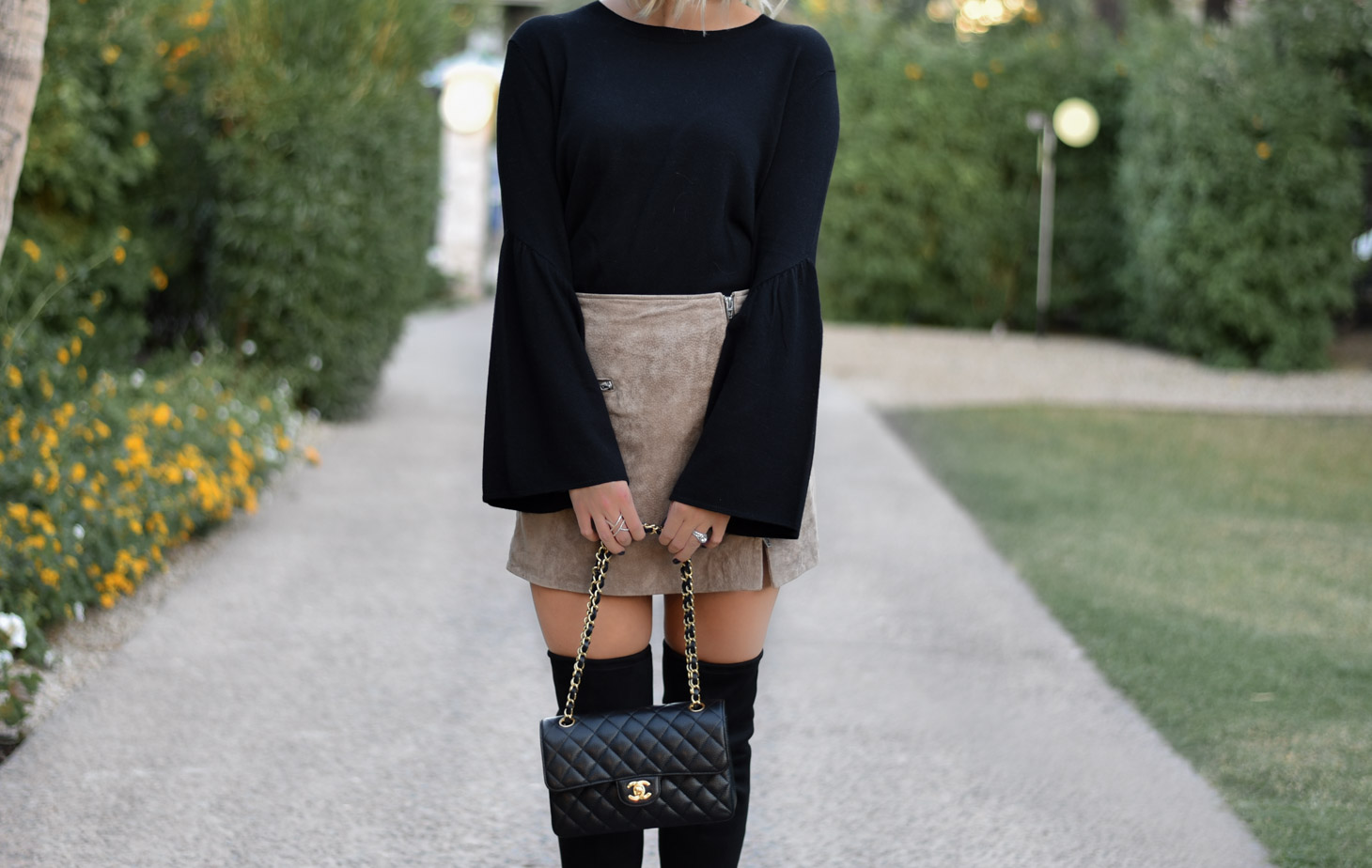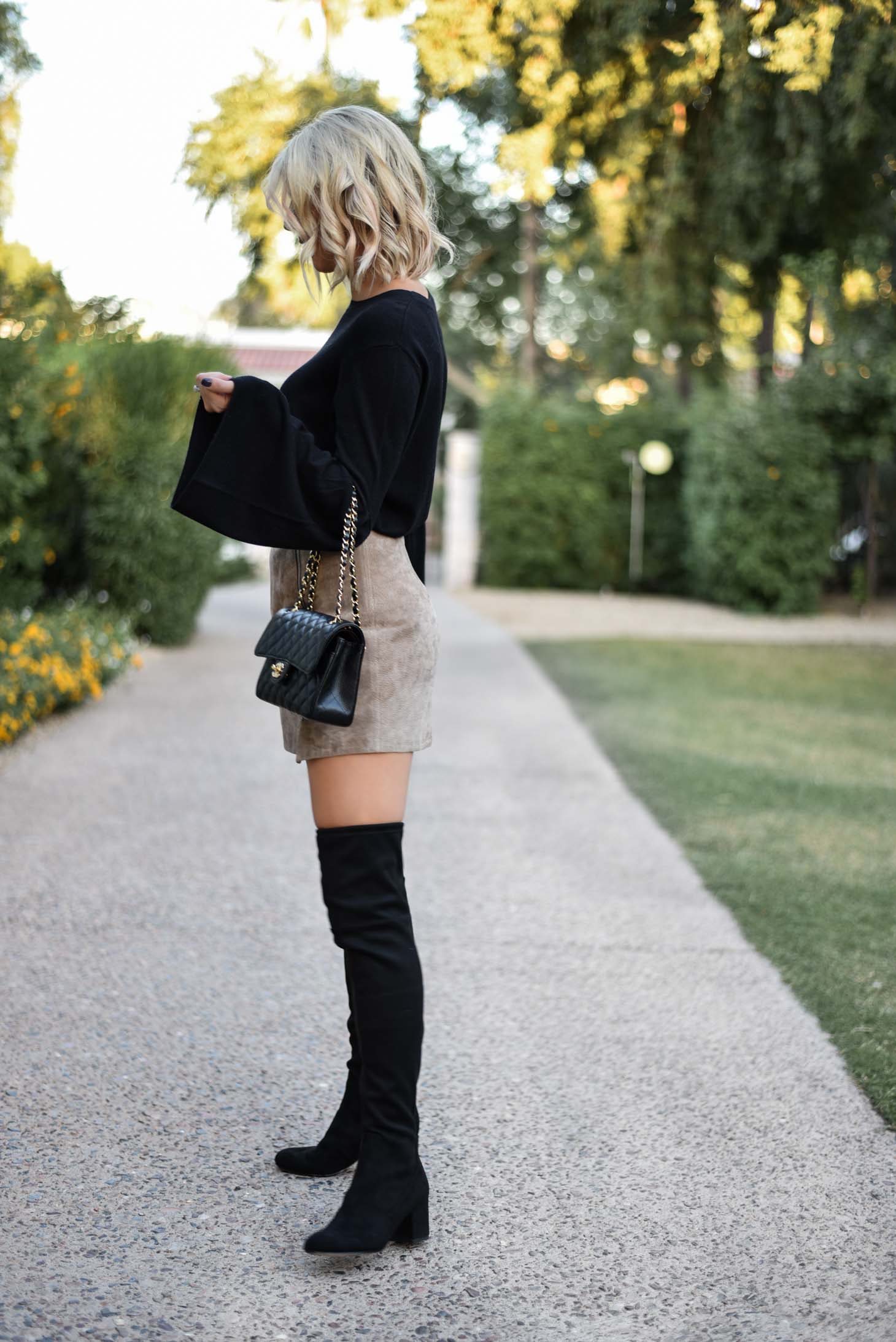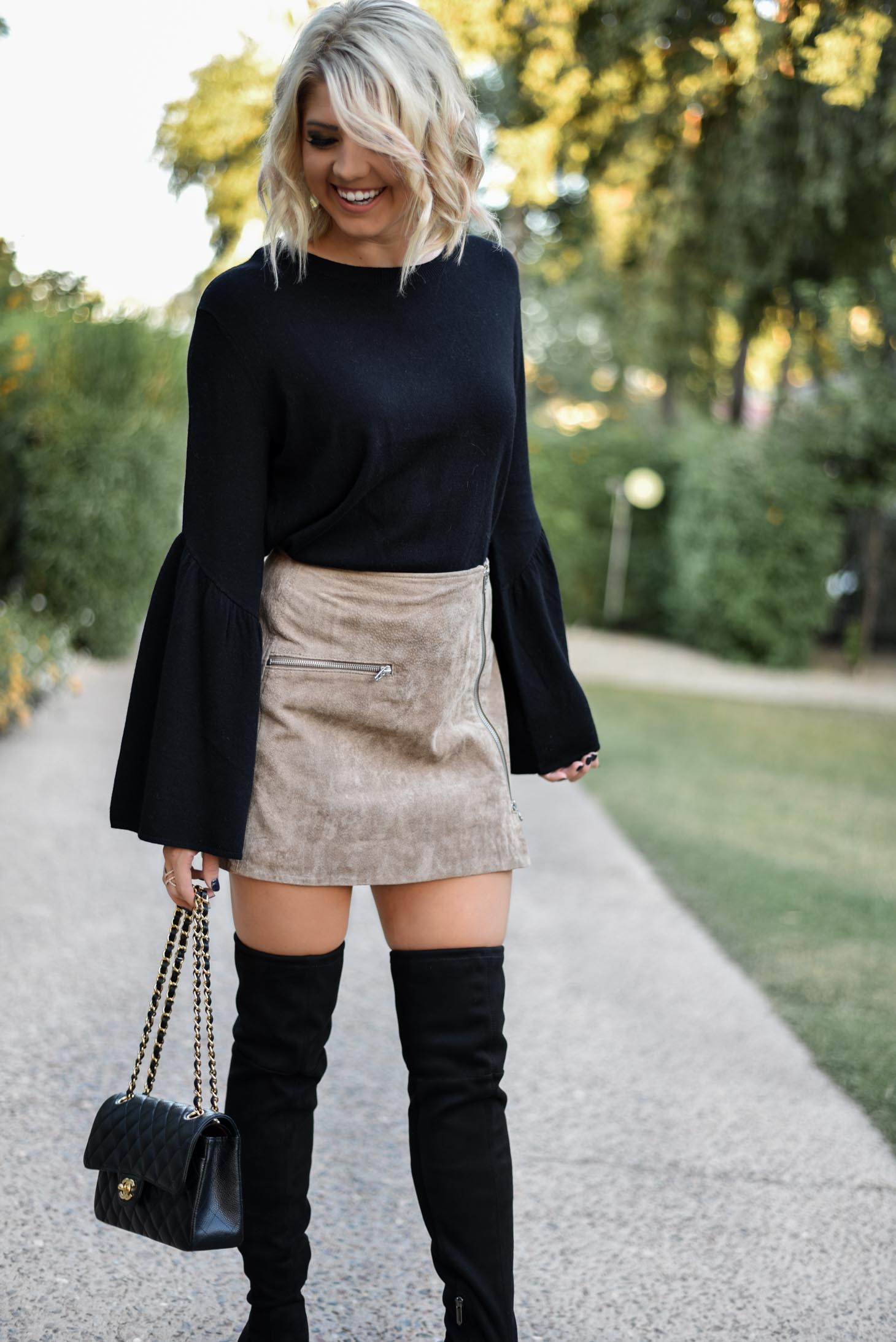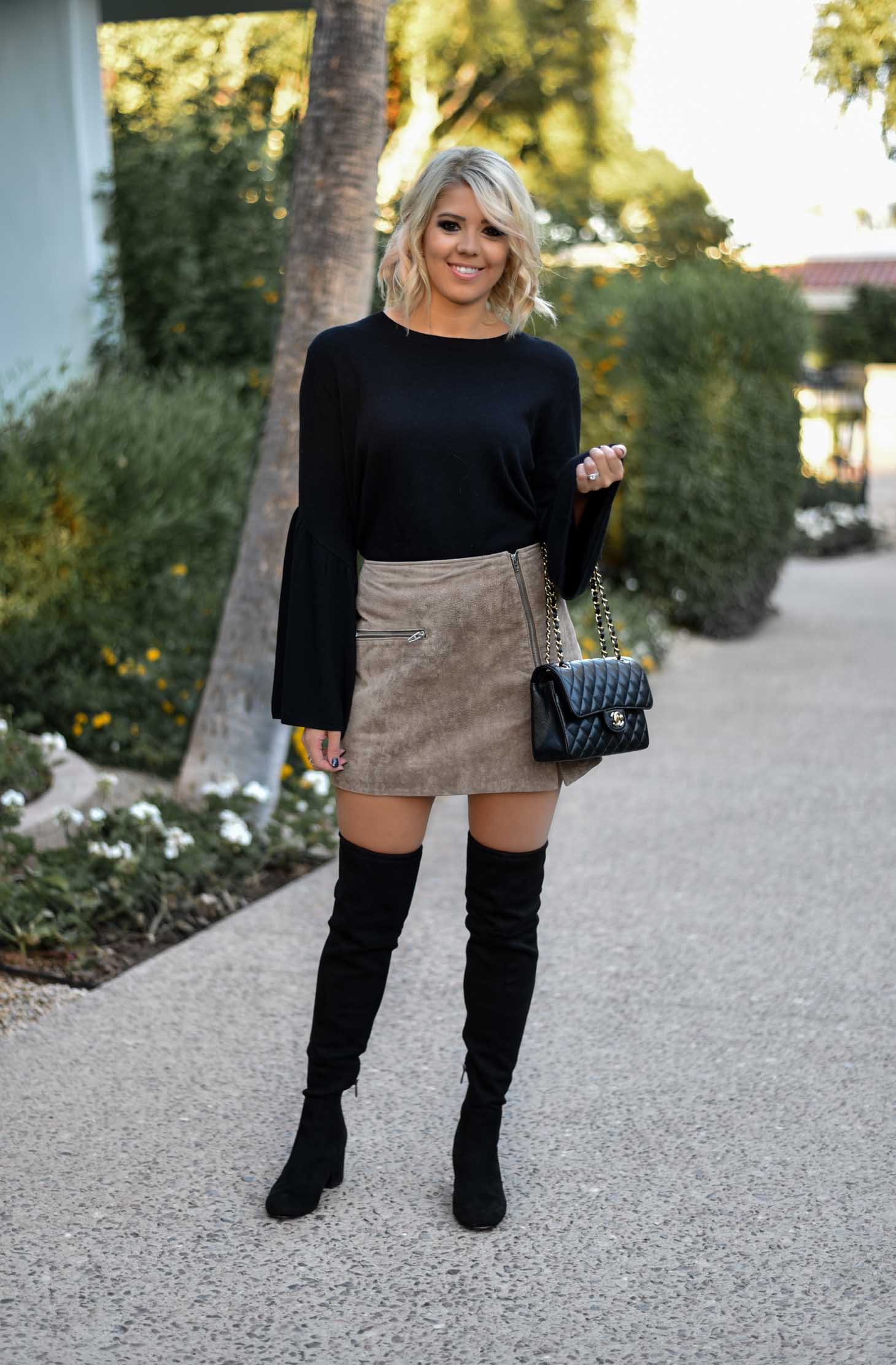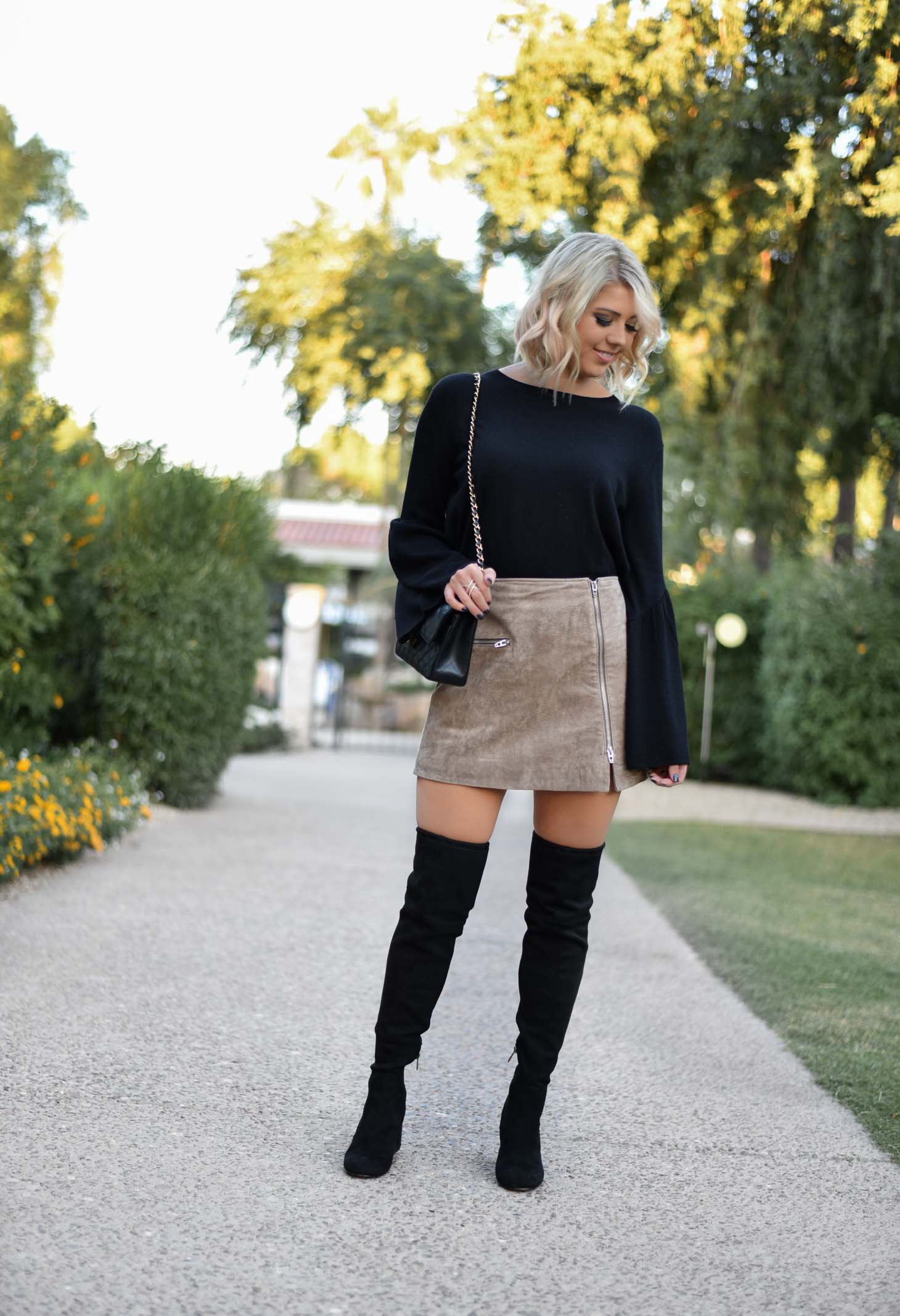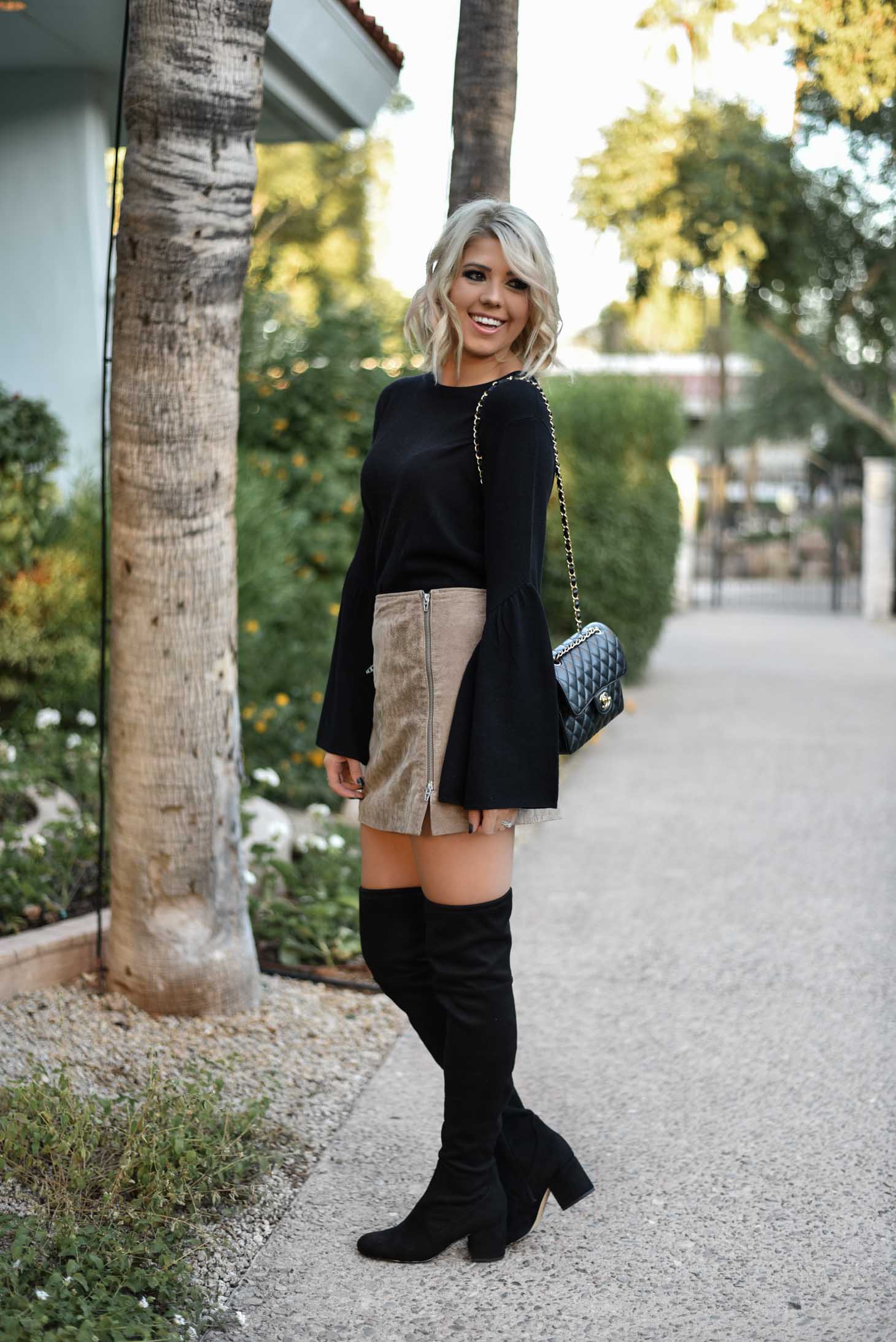 Sweater // Miniskirt // OTK Boots // Similar Earrings
These boots were made for walking was playing through my head the entire night I wore these over the knee boots for the first time. They helped me walk with confidence! To be honest, growing up, I was always the girl that would shy away from attention. I was lightyears behind my friends as far as appearance and development (I still get this today. I'm almost 30!) Growing up, I liked to think of myself as being mousy and timid. As far as fashion went, I always played things safe. I never felt that I looked like the other girls, therefore, I was too afraid to dress like them. This really affected my confidence and self-love towards myself.
As I got older, this insecurity was always a crutch I carried around with me. It was not until I graduated college that I finally began to gain confidence. It's not that I all of a sudden became a different person, but I learned to view myself in a new light and with a healthy attitude. I learned that I don't HAVE to look like the other girls. I could look like me and love it. I believe that society forces us to hold ourselves to certain standards, only to be disappointed when we don't look just like the featured model on the latest issue of Vogue. Guess what, you shouldn't! God made us exactly who we are. Down to every last eyelash and curve. Yes, we should always strive to be our best self, but be proud of who you are inside and out!
With this new found confidence (which I can still struggle with), came the desire to test the limits and push myself in new ways. I was no longer afraid to try new trends and dress the way that I always wanted to. This led to my desire to share fashion with others. I wanted to share looks and trends that could help boost the confidence of other girls out there. The other day I came across the perfect quote:
Imperfection is perfection to a beautiful perspective.
This is so true. Everyone is beautiful and deserves to love themselves for all the amazing attributes that make up who they are. There is an inner-confidence in all of us. We just need to learn to let it take over and live life with those boots made for walking. Own it, ladies! We're an army together!
So, I love so many things about these boots. First of all, they are extremely comfortable to wear. They also have the best height. They are not so tall that they make it too hard to walk, but still give you enough oomph! I love that they are easy to style with your favorite mini, dress, or pants. They can be worn in so many ways! I paired mine with this fabulous mini and bell sleeve sweater. The perfect look for a night out on the town!
Shop the Post

SaveSave
SaveSave
SaveSave
SaveSave
SaveSave
SaveSave
SaveSave