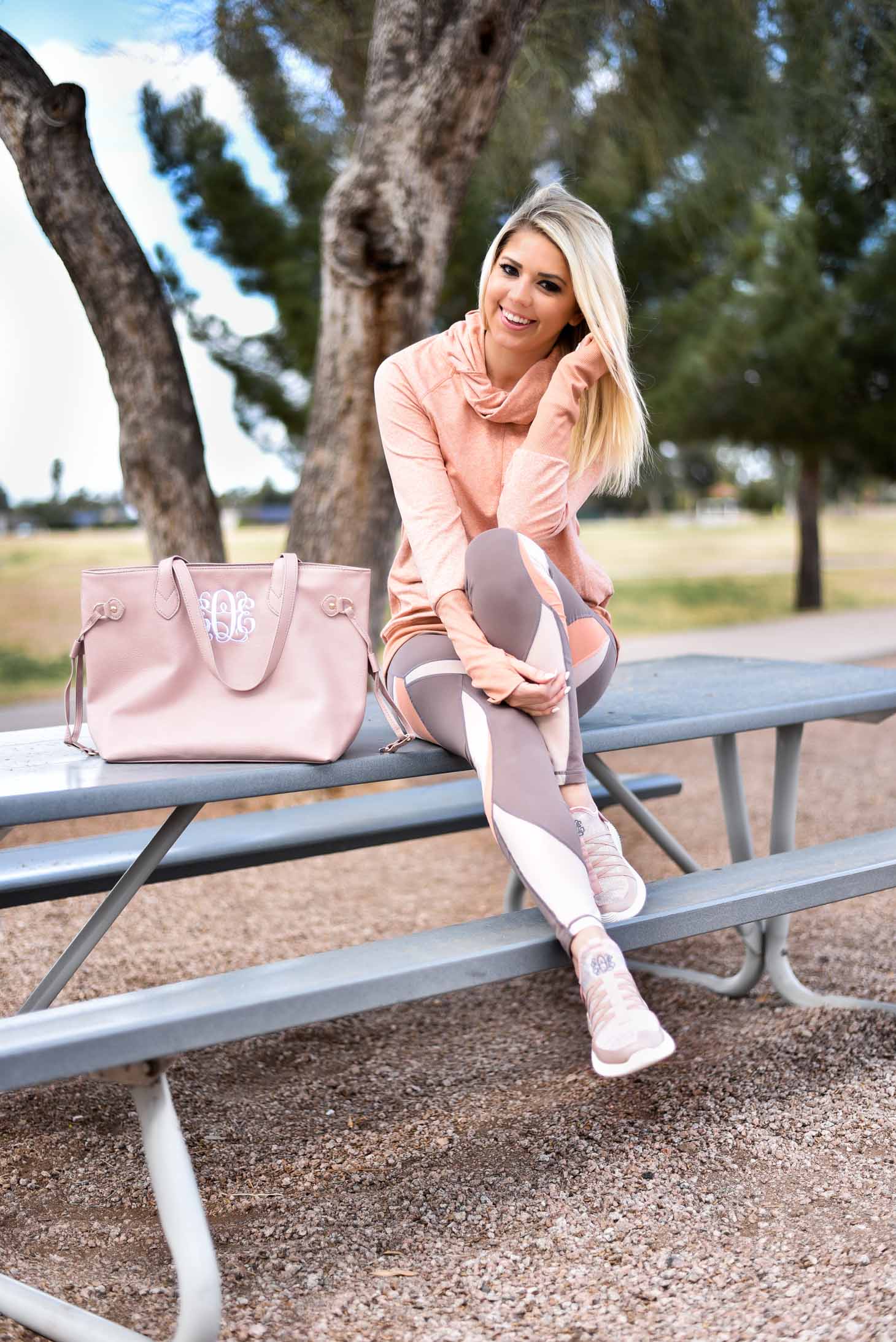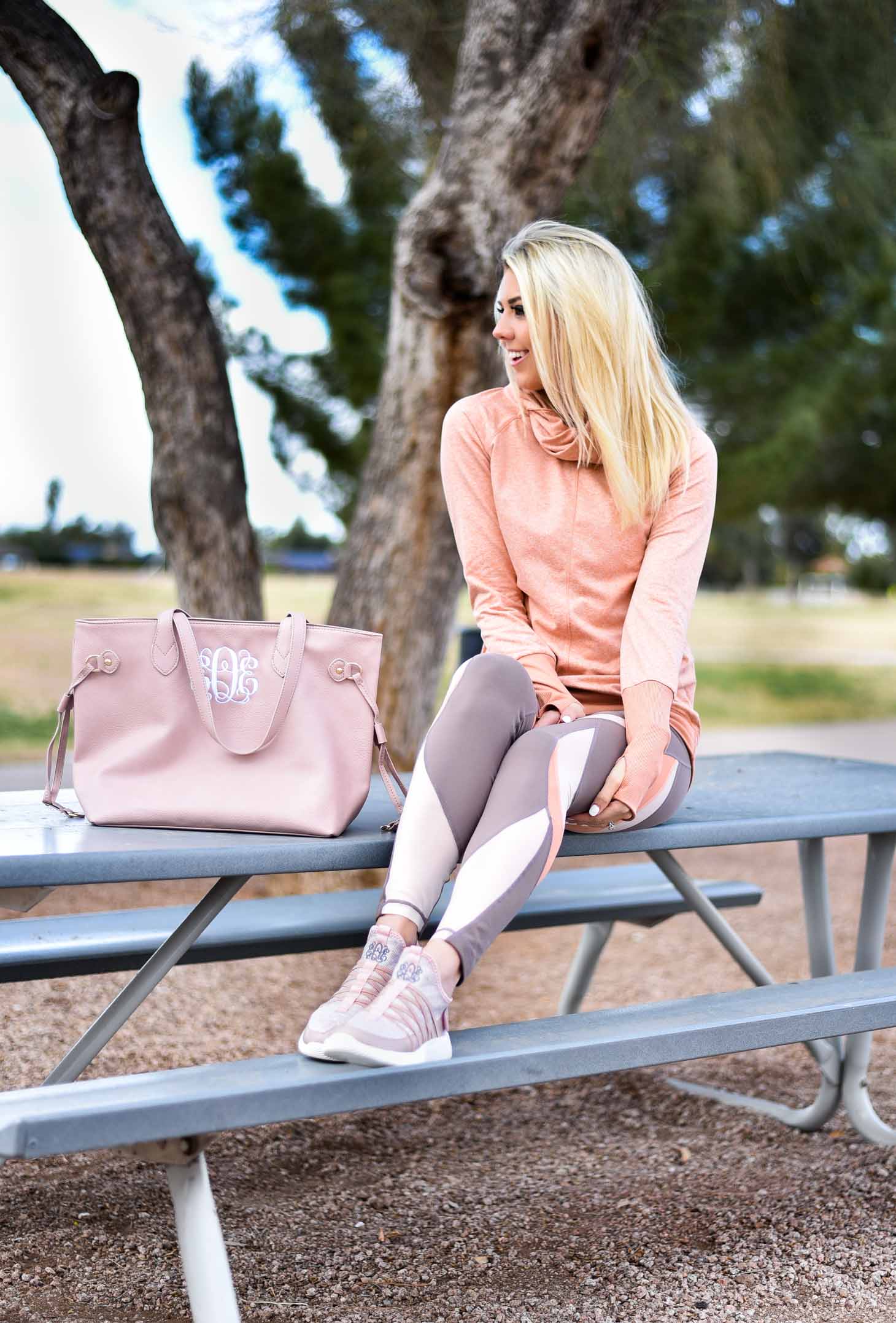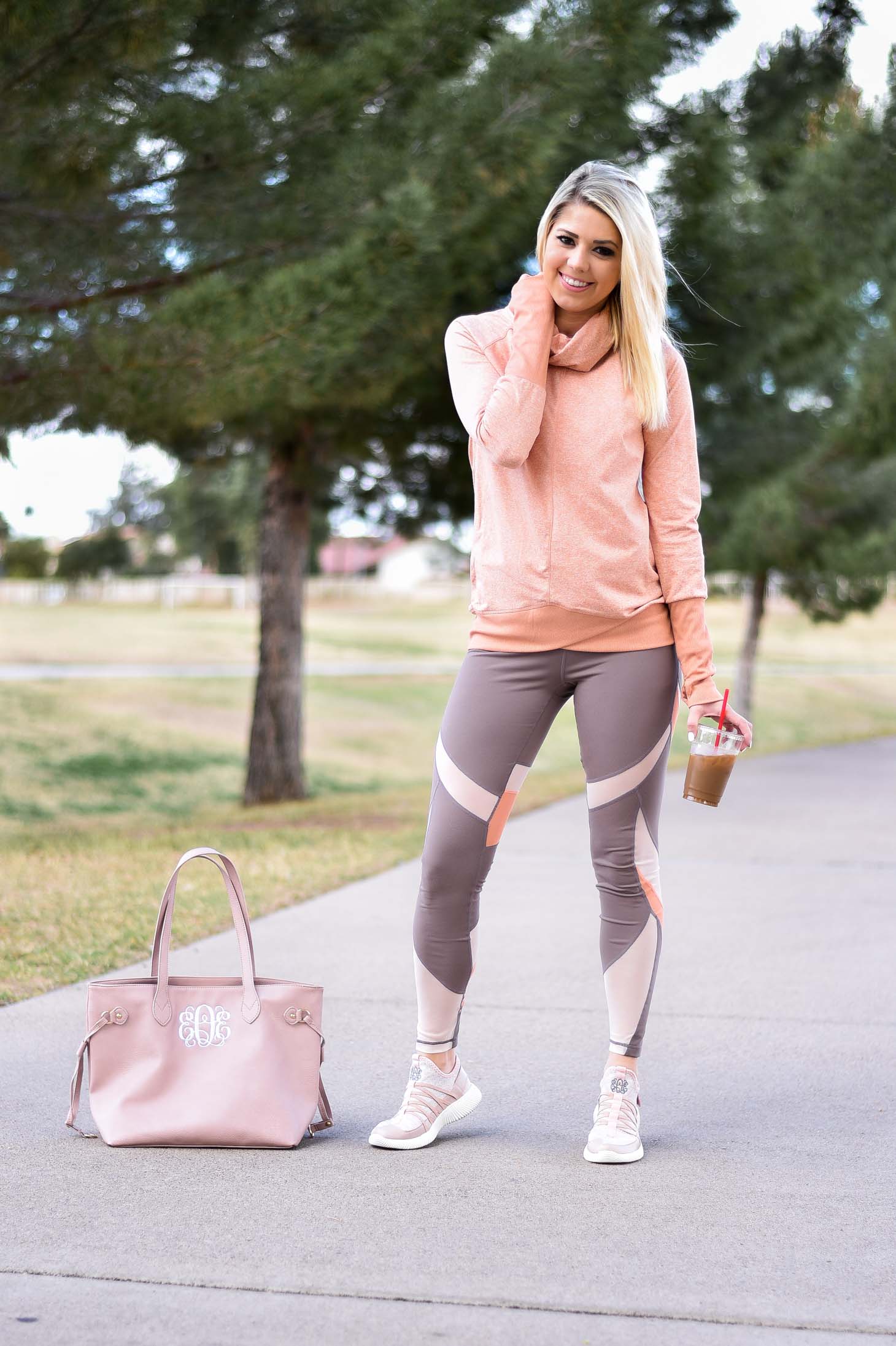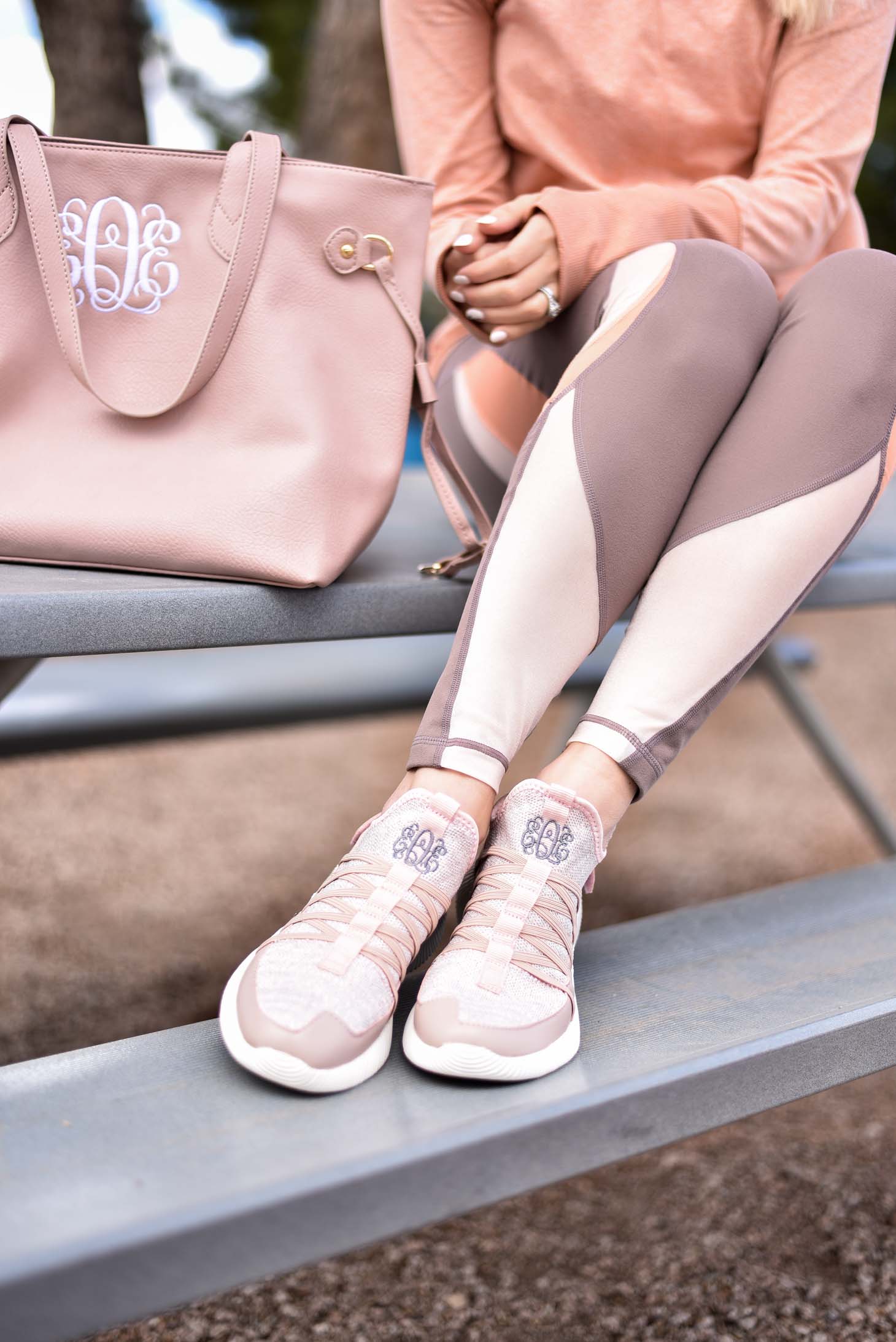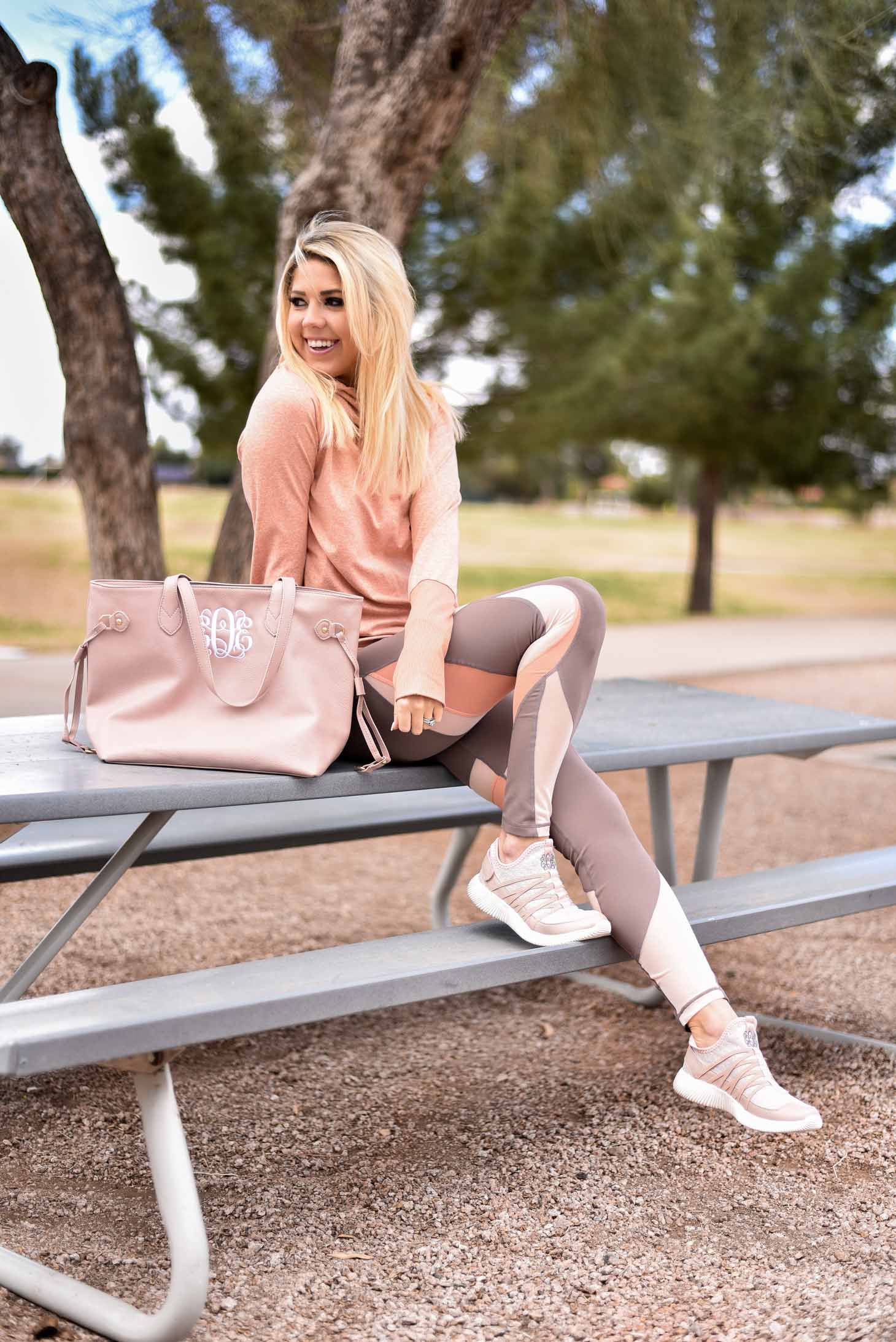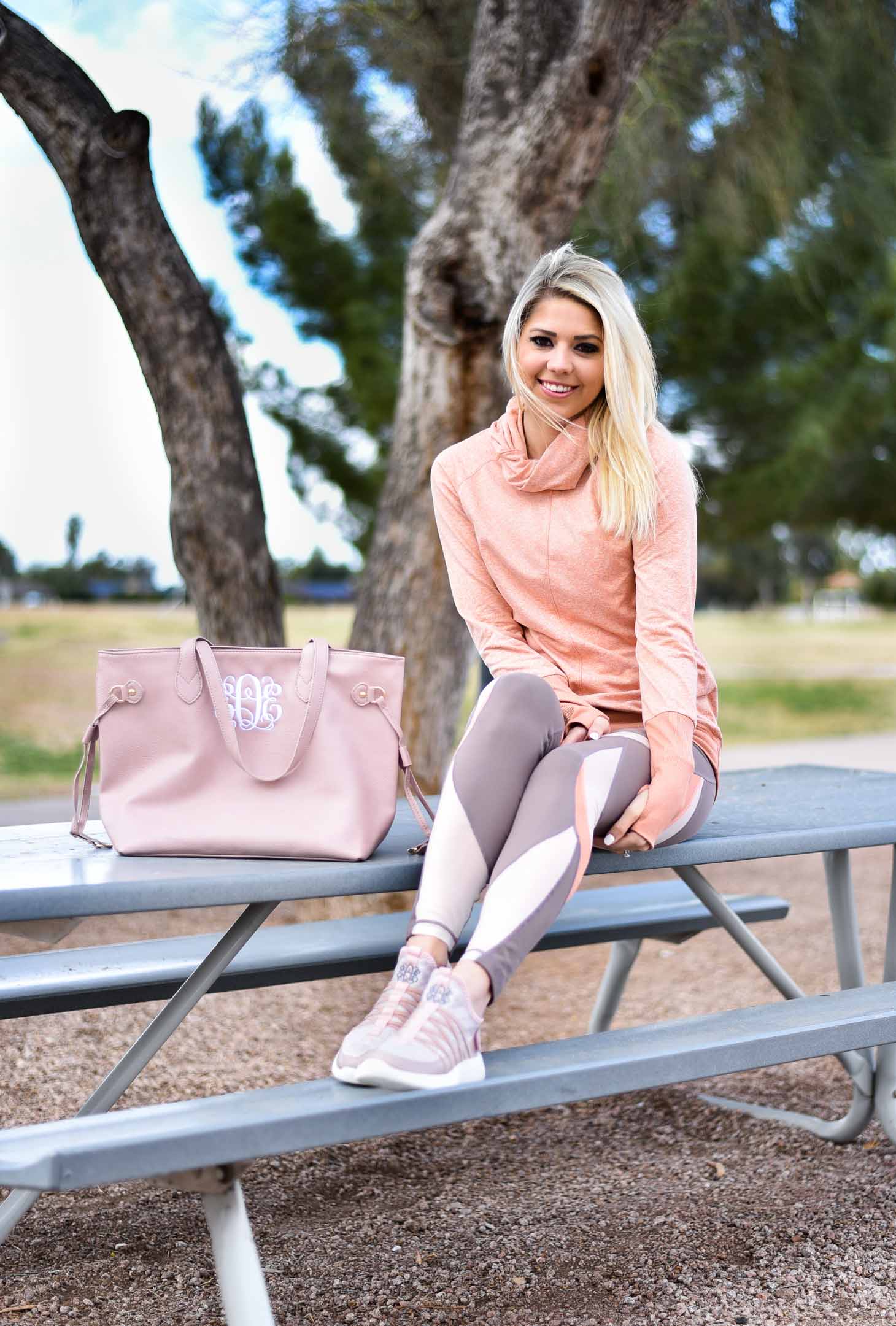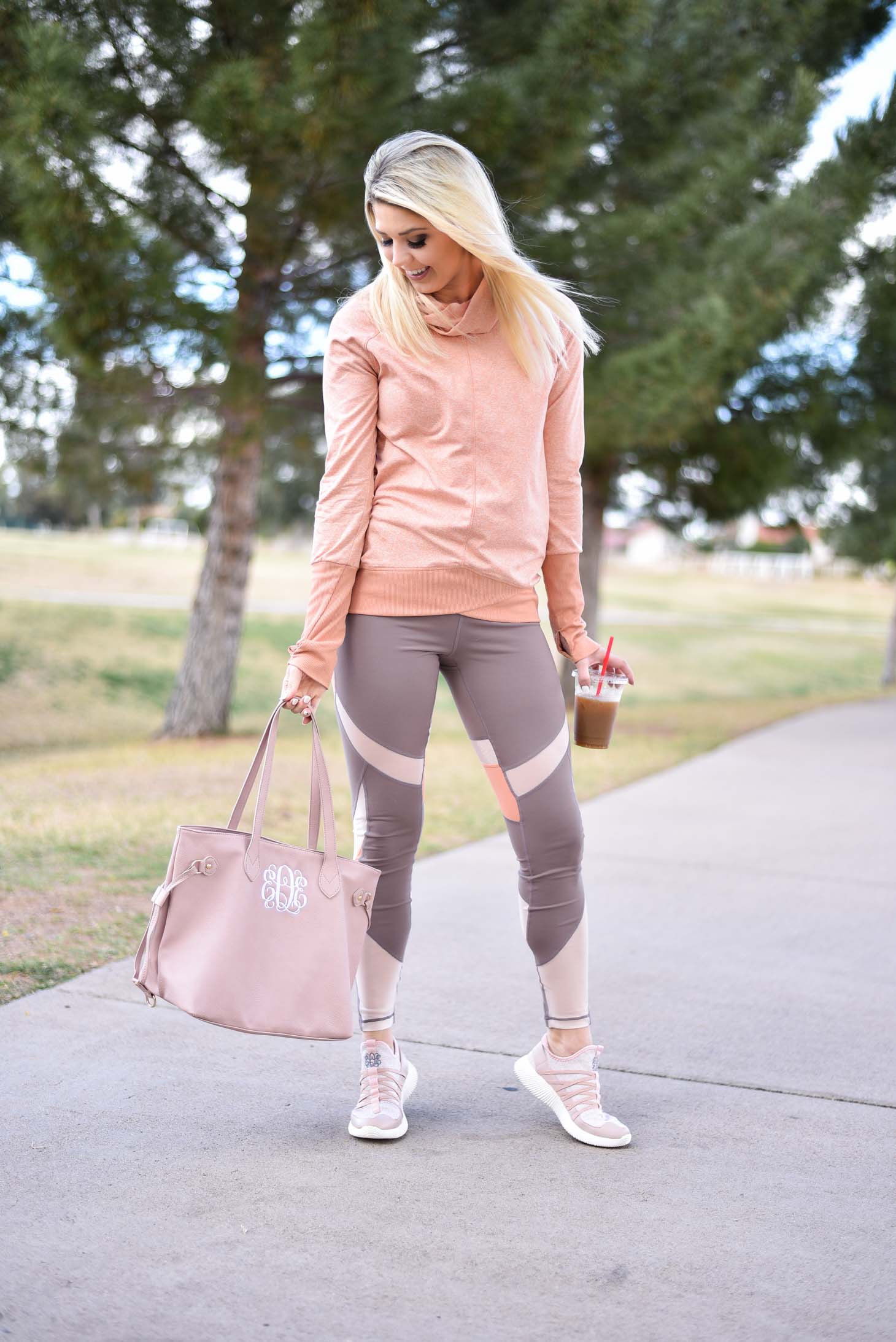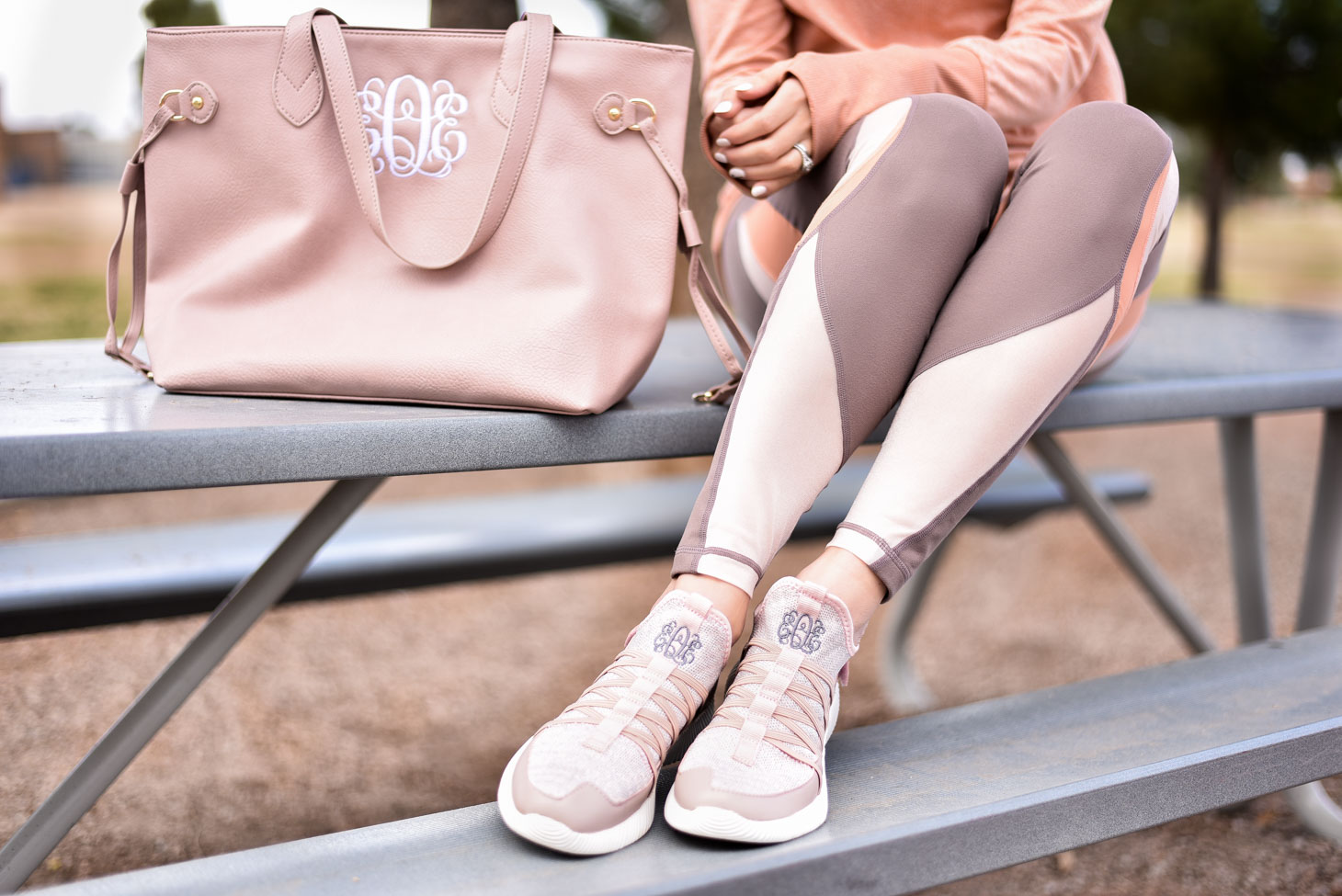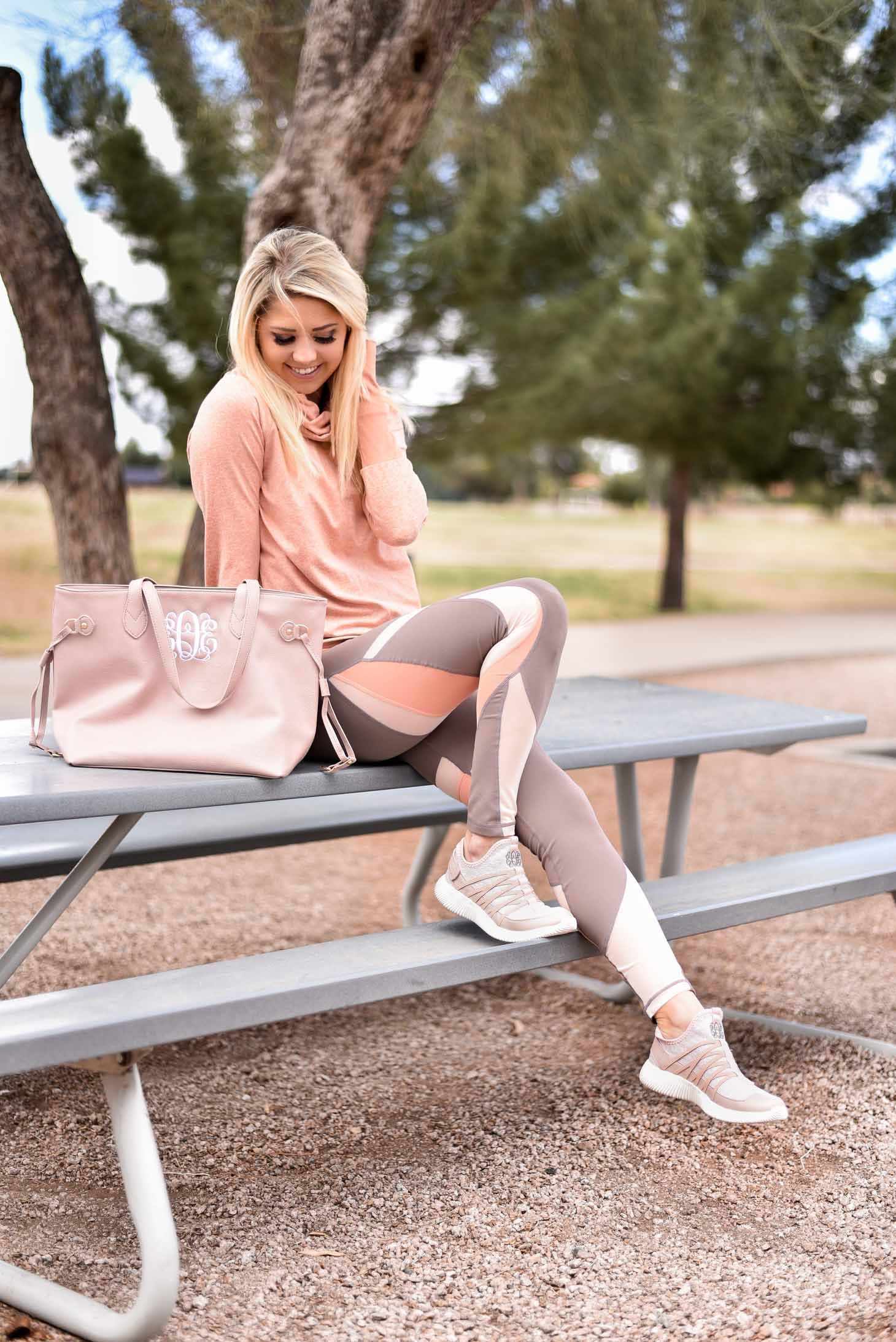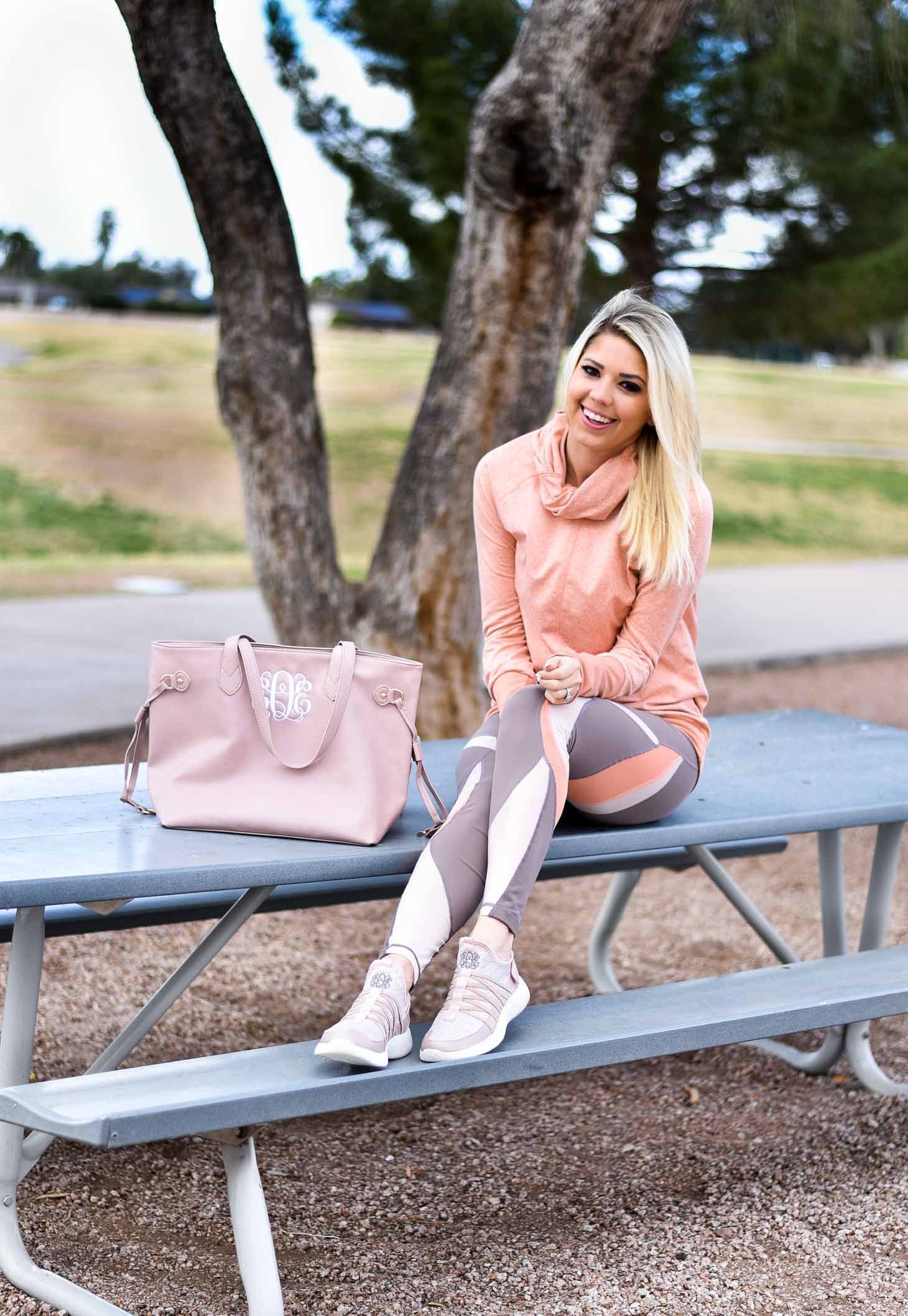 Pullover (40% off) // Leggings (on sale for under $40) // Monogrammed Sneakers c/o I love Jewelry (only $24) // Tote c/o Shop I Love Jewelry (also on sale for under $50)
If you've been following me for a little while now, you've probably read my fitness history post where I went into detail about my journey with working out and how I keep active. Yes, I am one of those people that likes to work out, but that's not to say that I don't have days where I  resent the need to work out. Let me explain…
Our bodies were designed to be active. They thrive on it. I think it's fair to say that working out does the body good. It's good for our heart, our mind, and is important for the overall function of our bodies. So, yes, we should work out to stay healthy and strong. However, the joy of this is often diluted by the want to look a certain way. Let's dive into that for a second…
Let's be honest for a hot minute. Everywhere we go, there are people we wished we looked like. Anything we watch, there are women we aspire to be. Somewhere along the line, we begin to resent who we are and wish we could be something else. Body image shame is such a prominent part of our society, and as women, we have to face the wrath even more. This is hard in itself…
Now, enter social media. I truly believe that a lot of what we see on social media is someone's best shot. Their best stance. The angle that best suits them. The top rated editing app. It's so addicting to put our best self forward all the time. Not to mention exhausting. As a blogger, this is so hard. There are shots that I think, Ugh, not this one, it makes my thighs look big. No one else would post this. We are so quick to judge ourselves and compare our bodies to that of someone else. Well, guess what ladies, we were all created differently. We aren't supposed to look the same. How boring would that be?! So, how do we stay healthy in our thoughts…
Well, I think that truly boils down to self respect for ourselves. If you are conscientious about staying active and healthy, you're doing everything you need to do. Be proud of this. When you leave the gym sweating and feeling great, give yourself a little praise, girl! Don't worry about the perfect woman you see at the coffee shop that morning or walking through the mall later that day. Tend to one, she has her own body image issues she struggles with too. We all have them. So, what's my point…
Yes, we should work out to keep our bodies healthy. Yes, we can work out to make ourselves look good. There's nothing wrong with that. It's when we lose sight of what working out is supposed to be about. It's about making you the best and healthiest version of you. It's not about trying to be someone else. You are amazing and strong. Make sure you take the time to tell yourself that!
+++
I don't know about you, but I am a fan of all things blush lately. I think it's such a pretty color! For this look, I threw on all my favorite blush workout pieces. Can we just talk about how cute these monogrammed sneakers are right now?! They are currently on sale for only $24! Yes, ya heard a girl right! Also love taking this matching monogrammed tote to the gym to throw in all of my gym essentials. It's so big and lightweight. Perfect for toting my stuff to and from classes. Be sure to take a peak at the leggings and pullover I linked up too. They are both on sale!
Thank you to I Love Jewelry for contributing to this post! 
Shop the Post

SaveSave
SaveSave
SaveSave
SaveSave
SaveSave
SaveSave