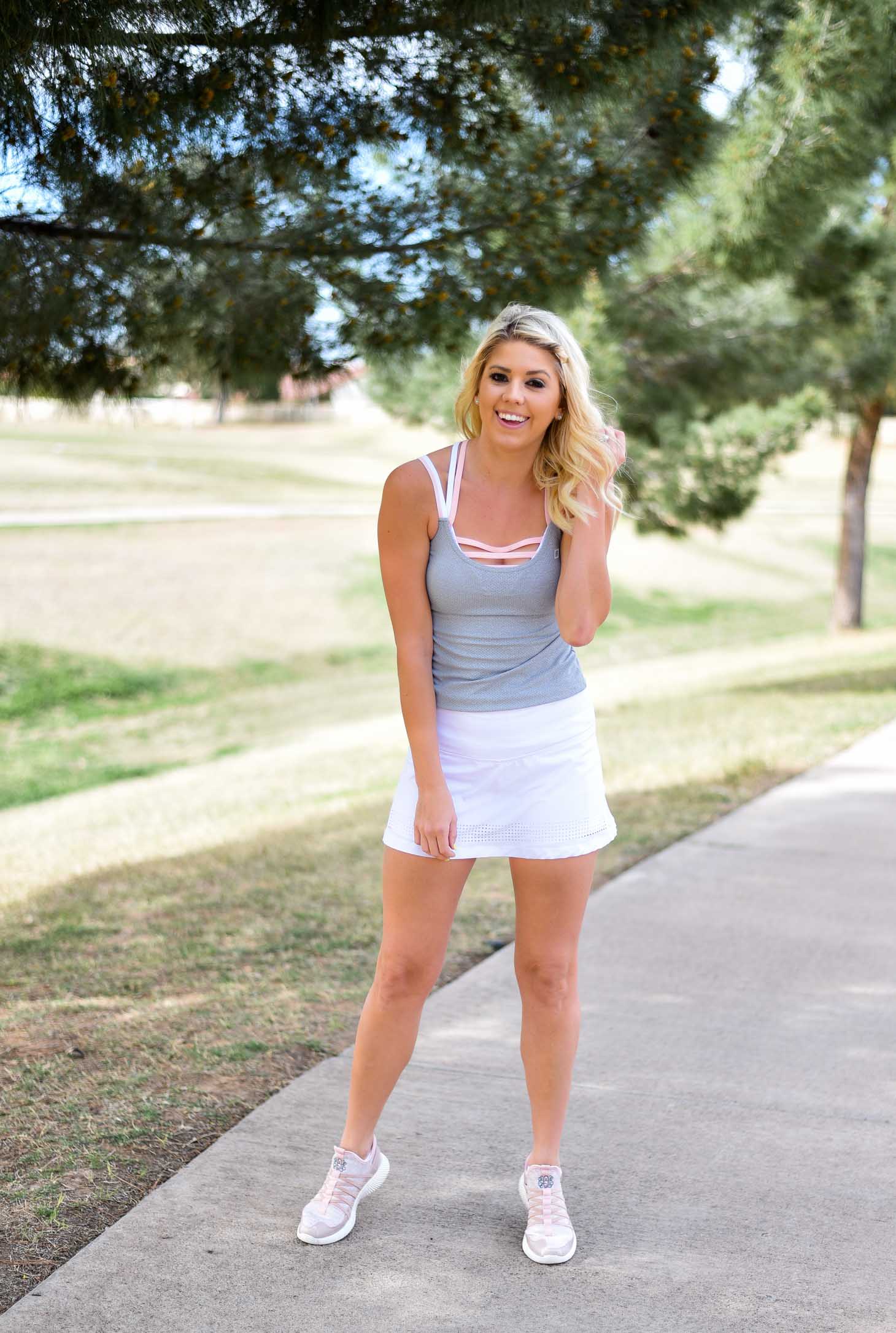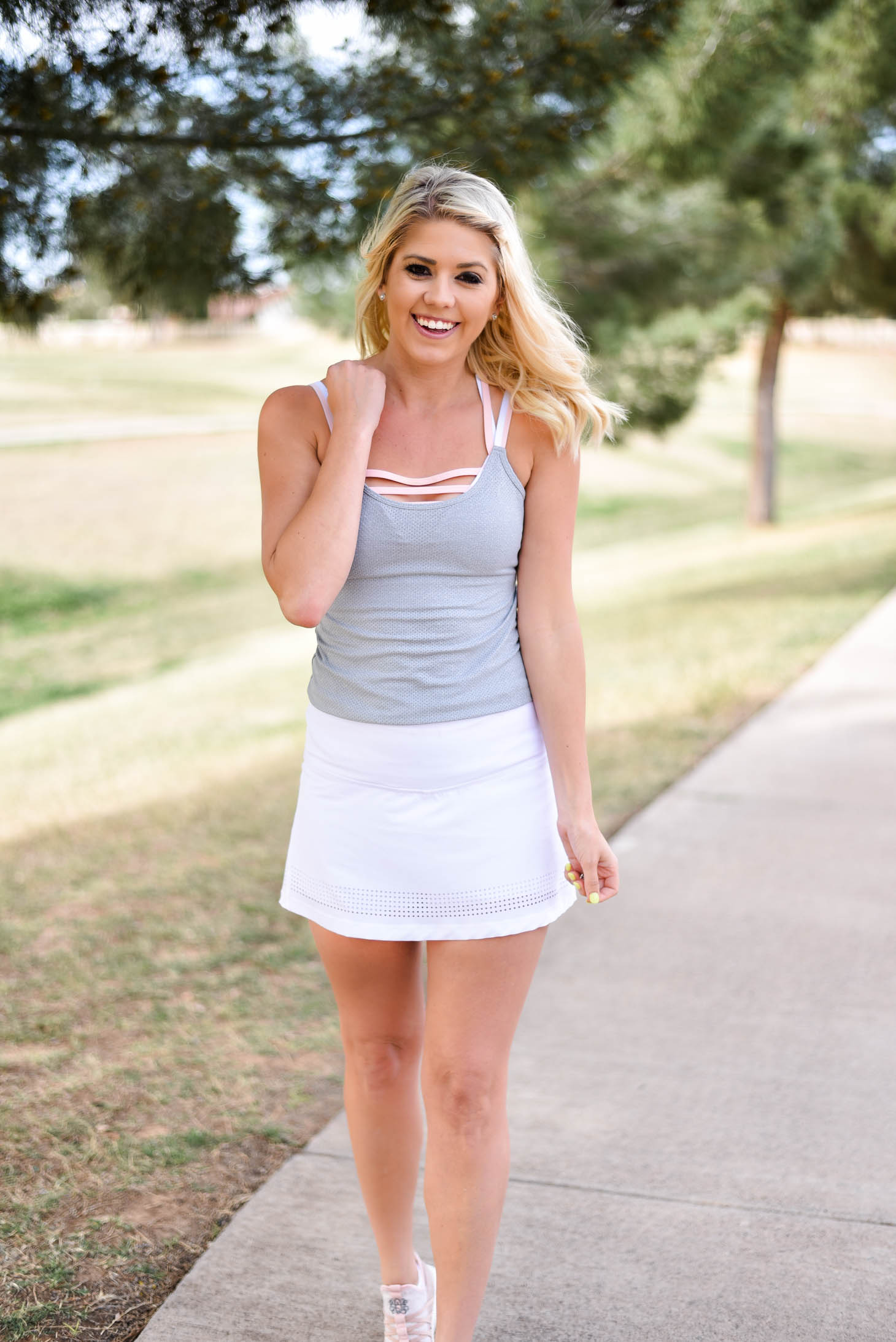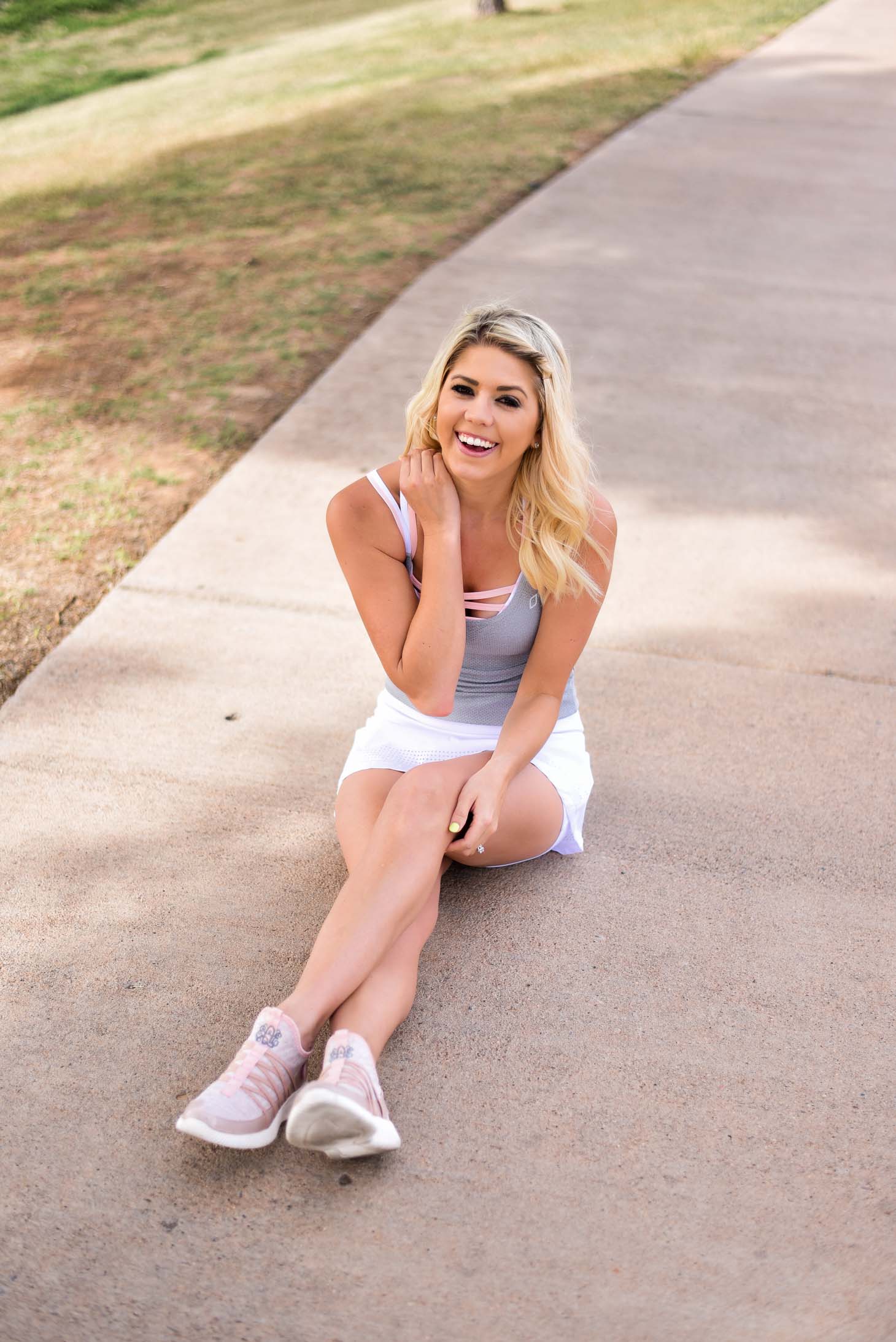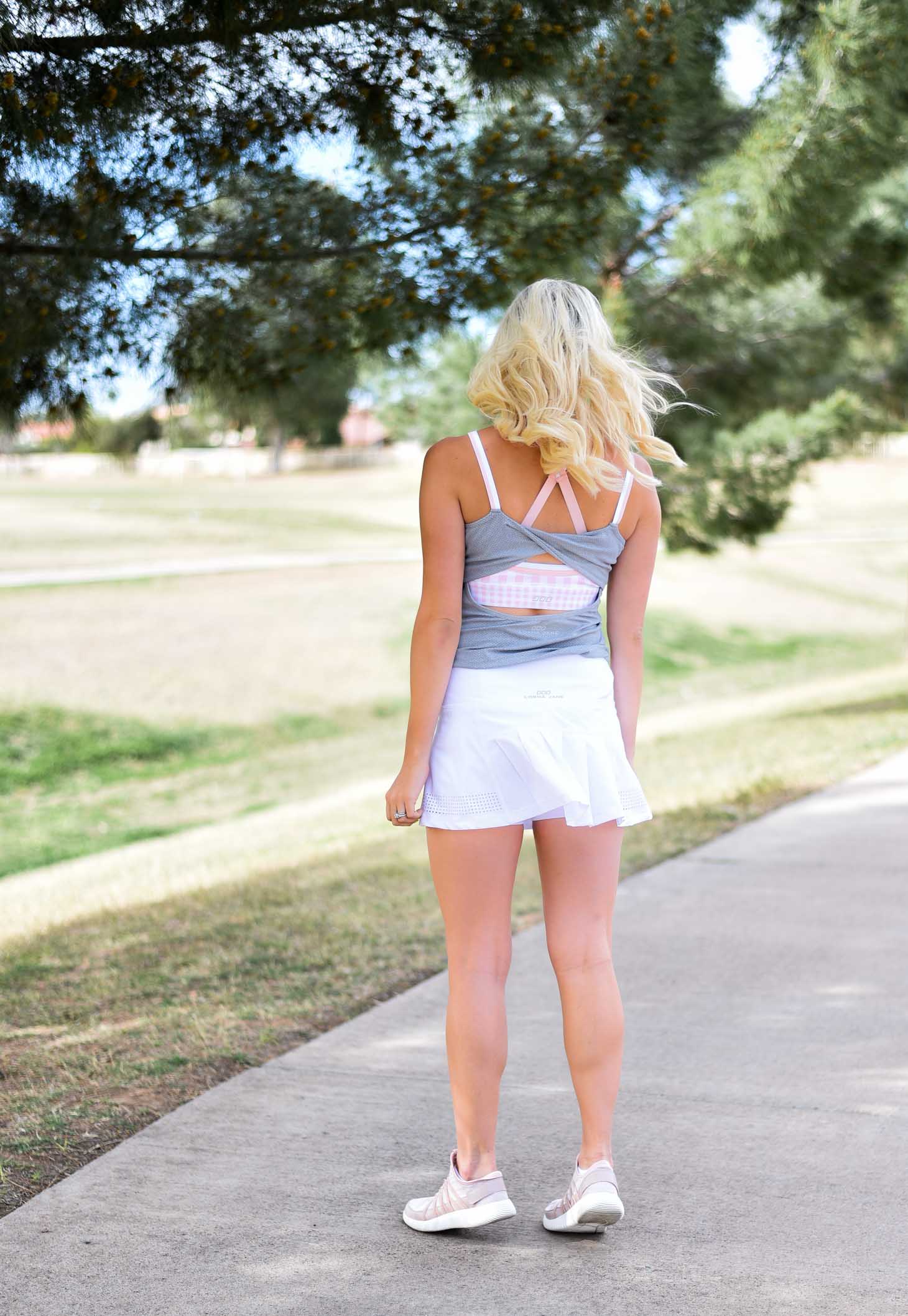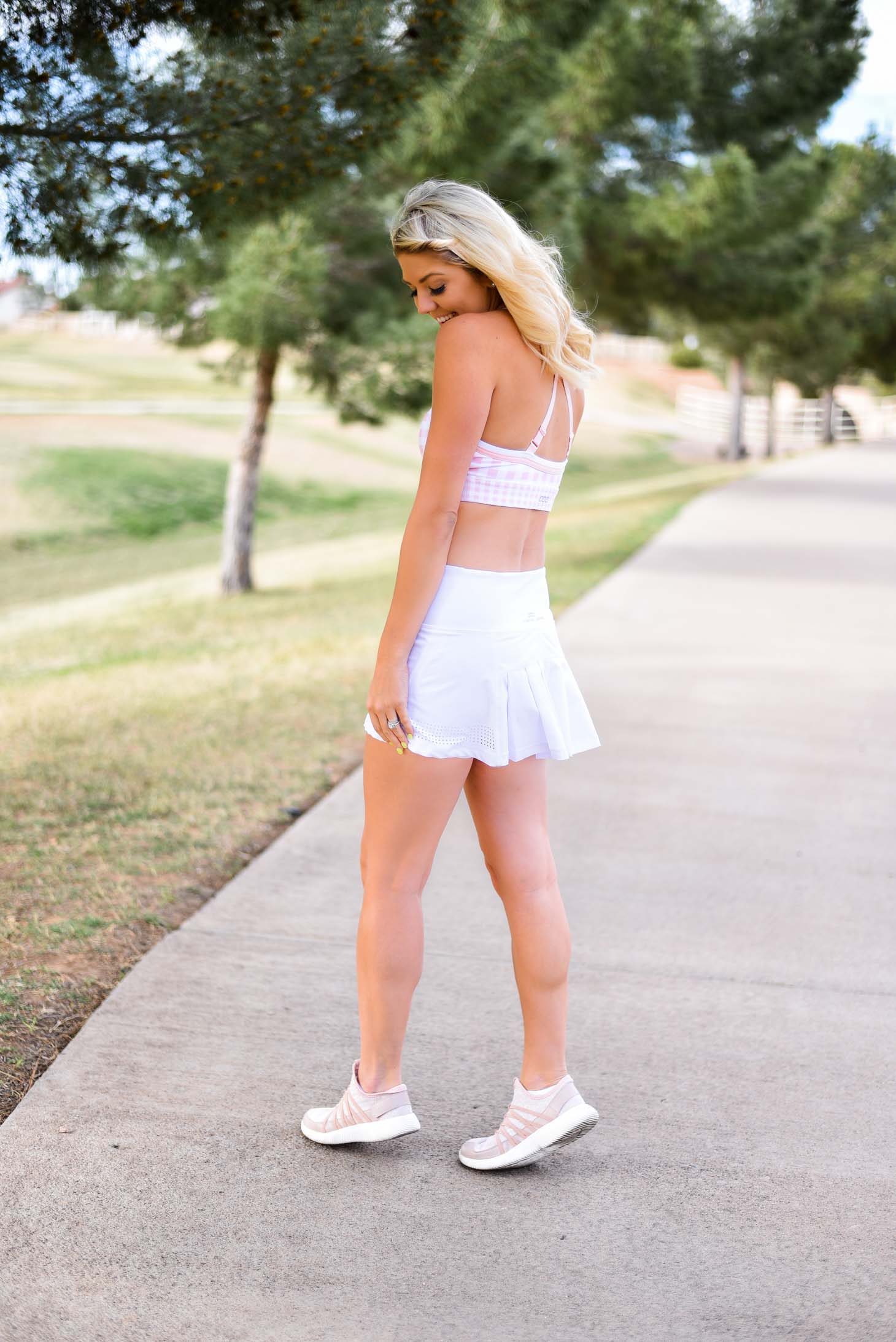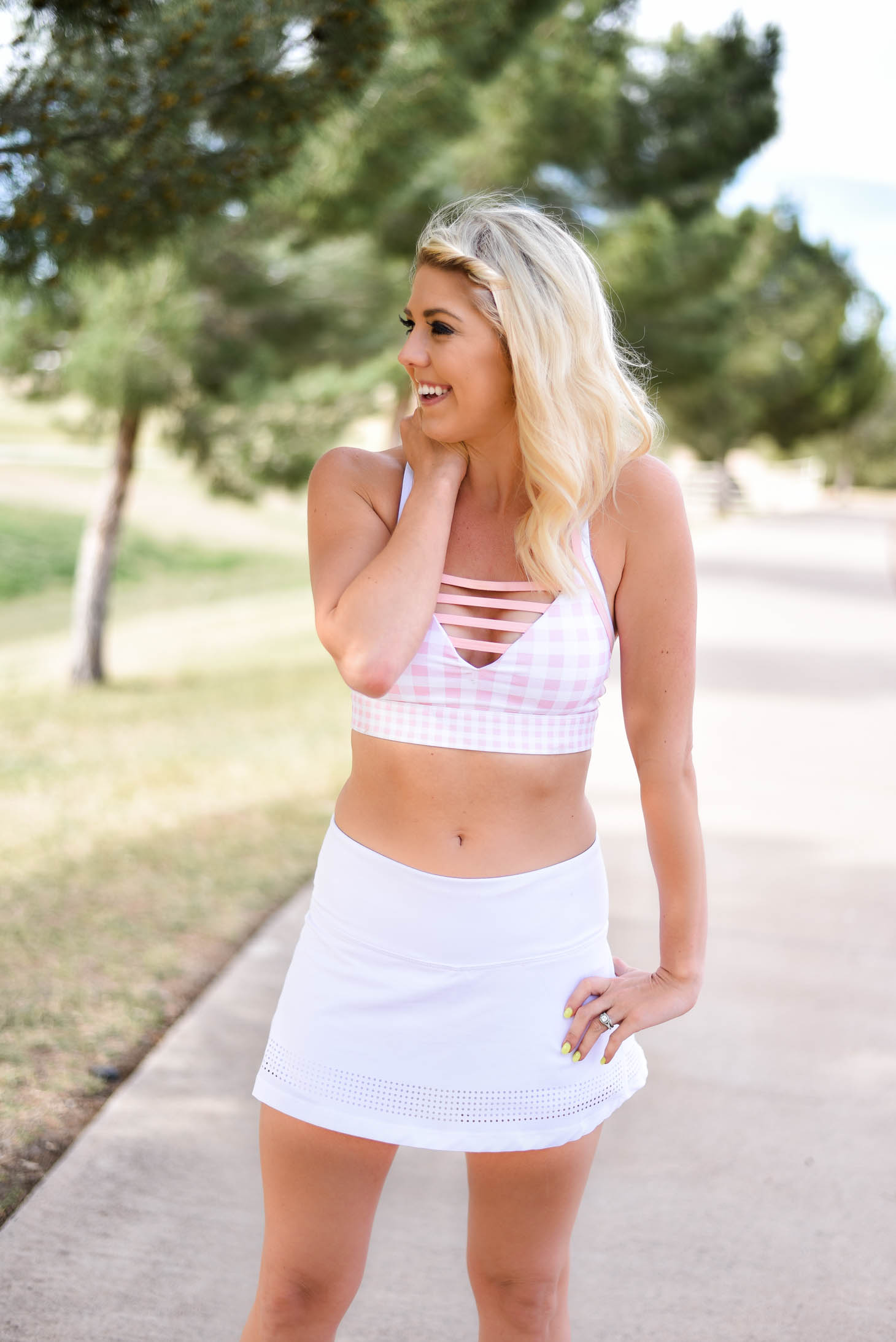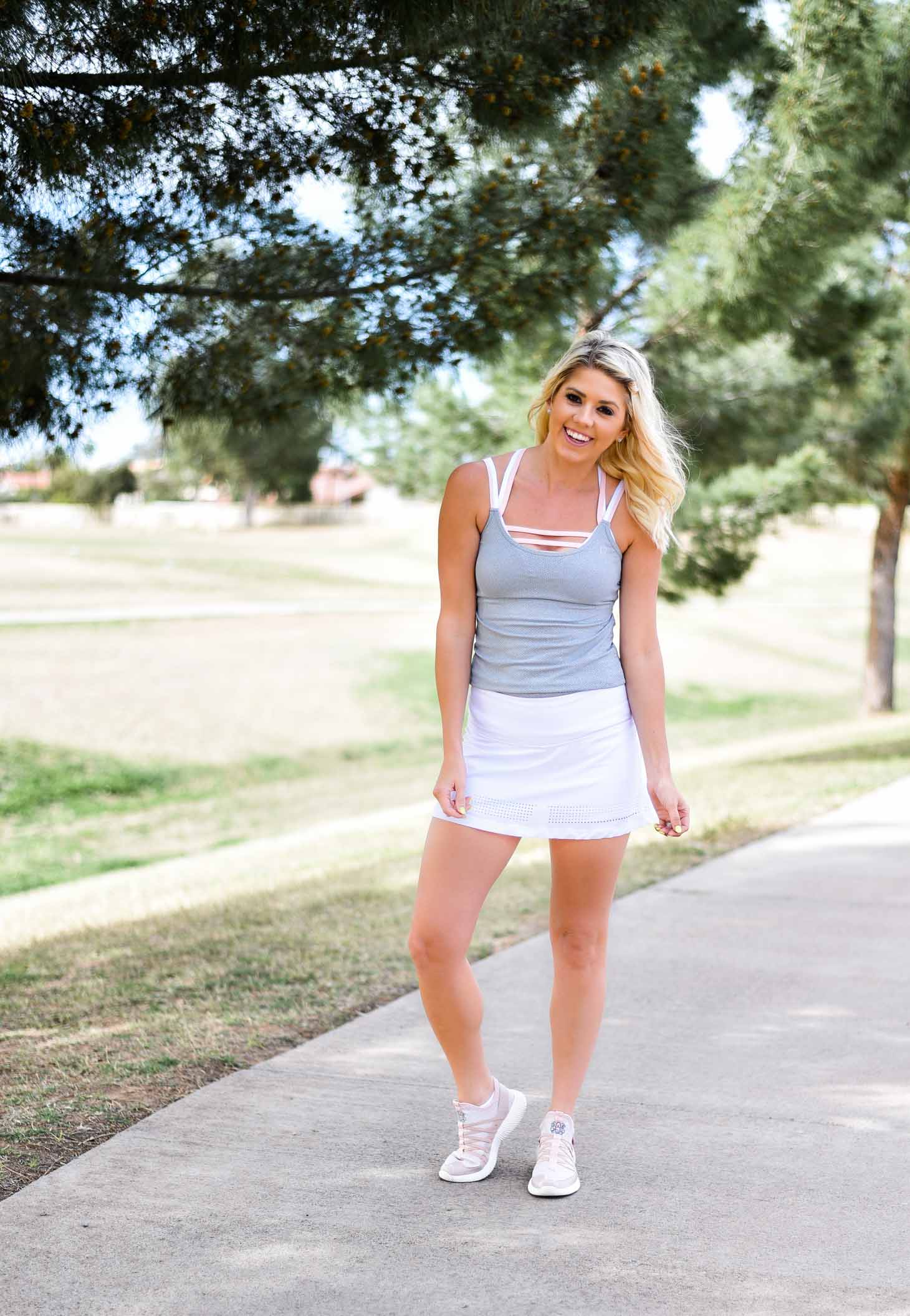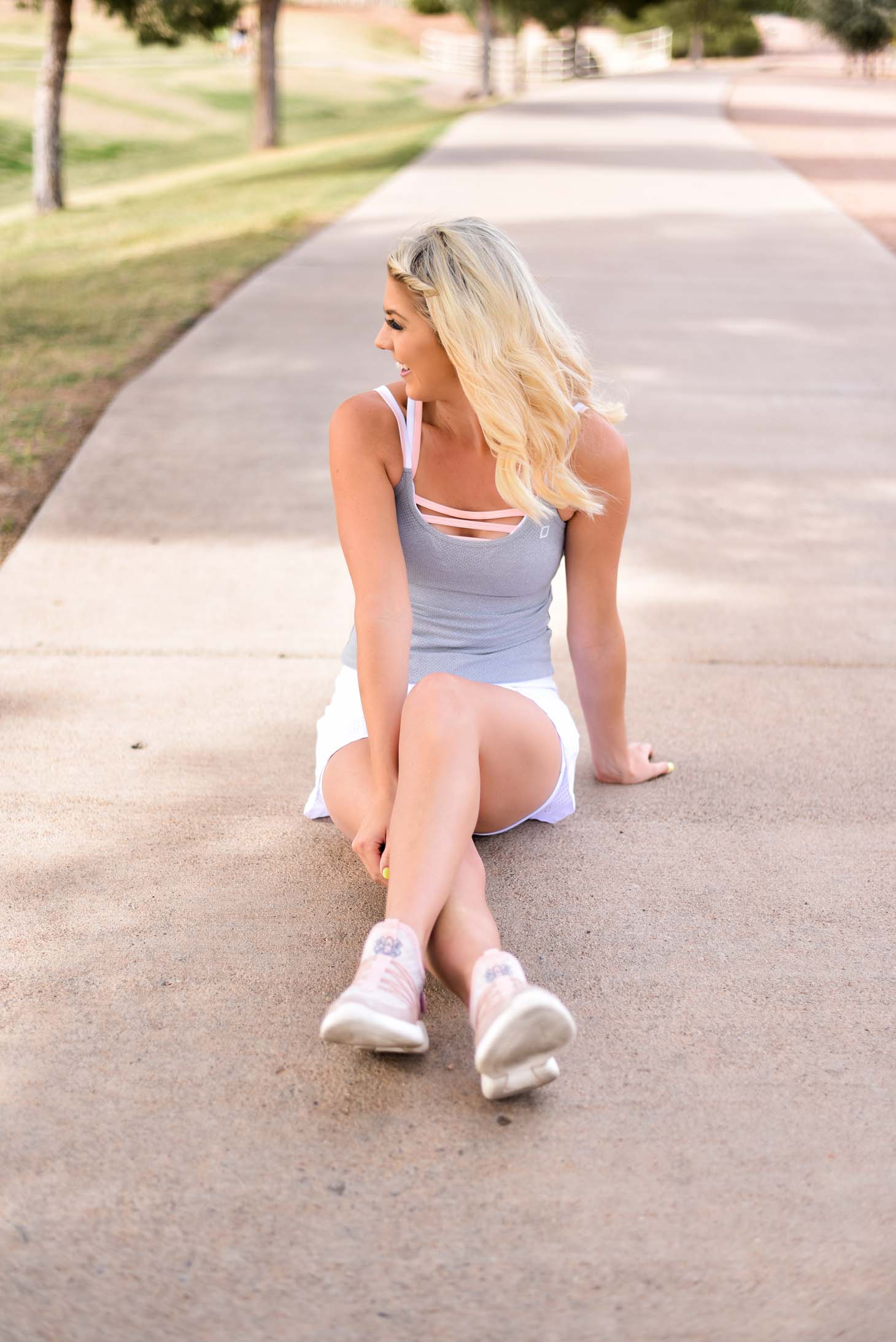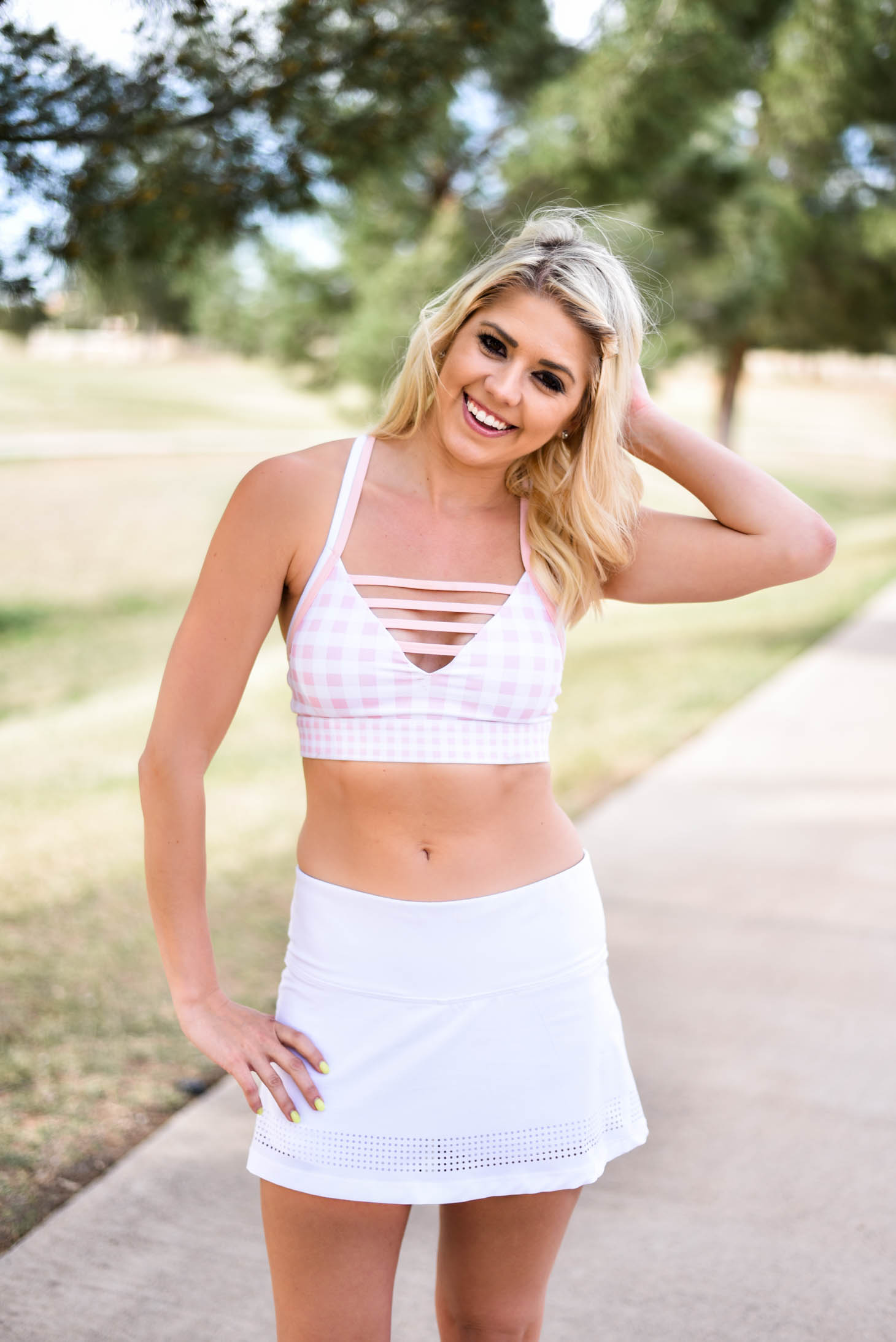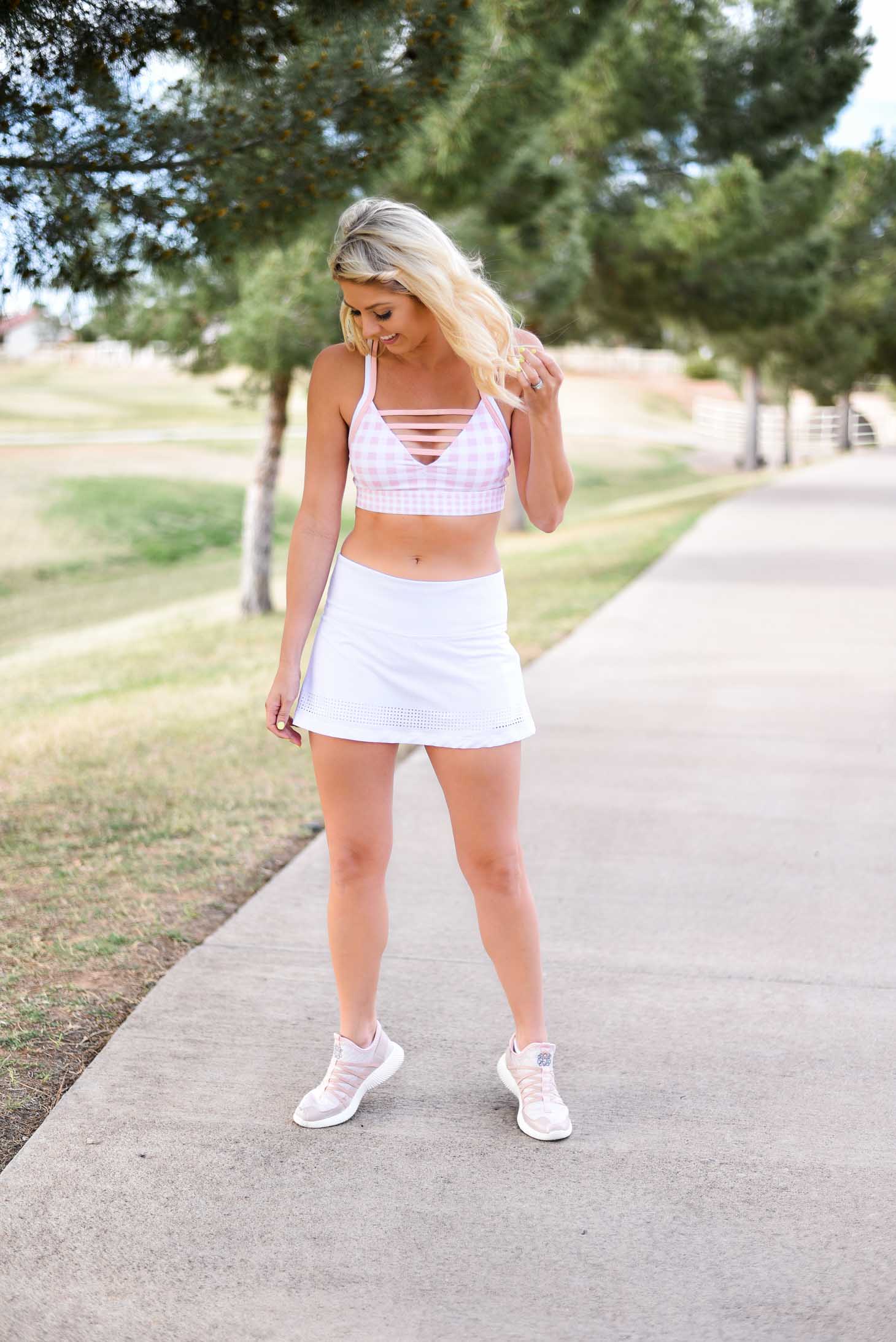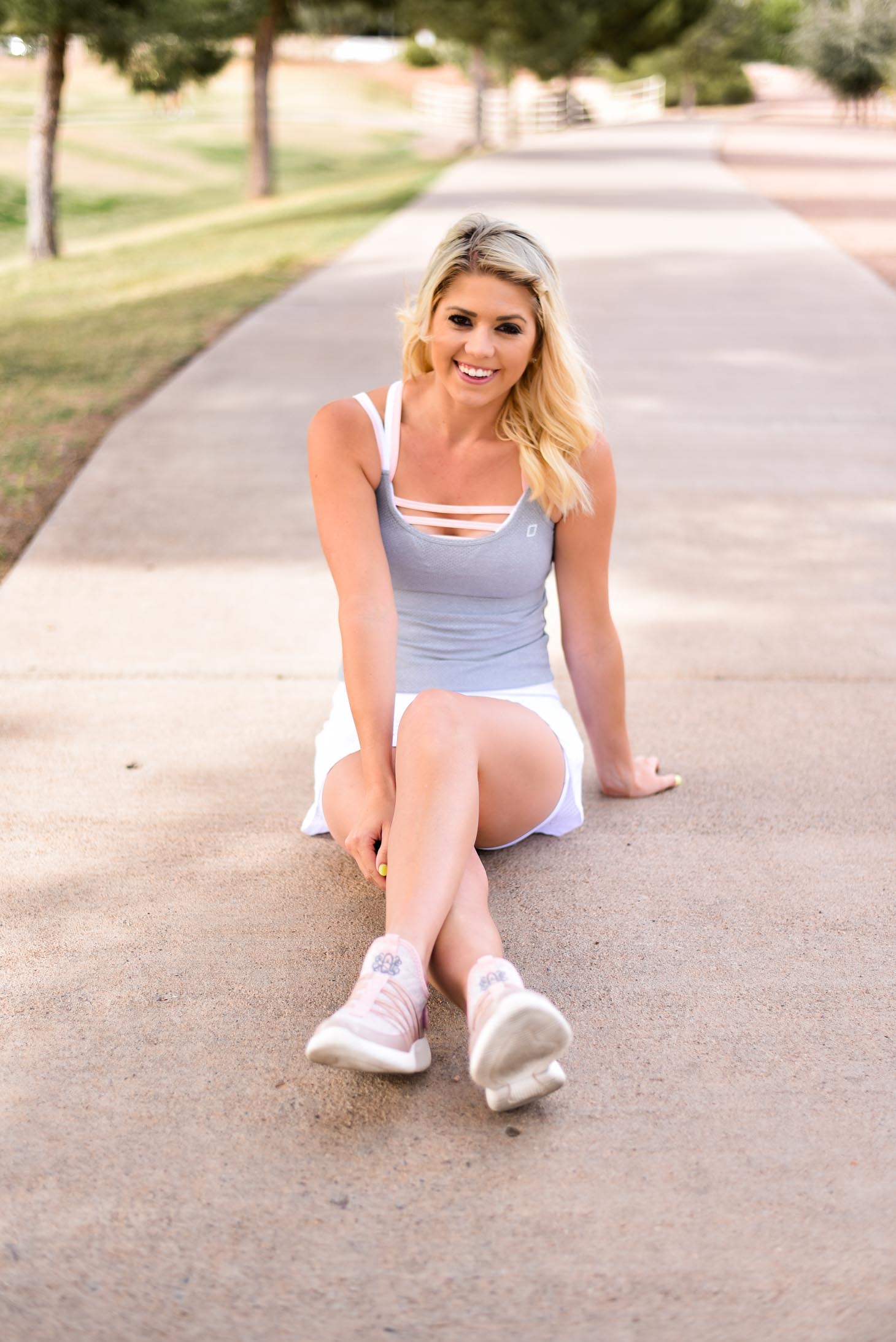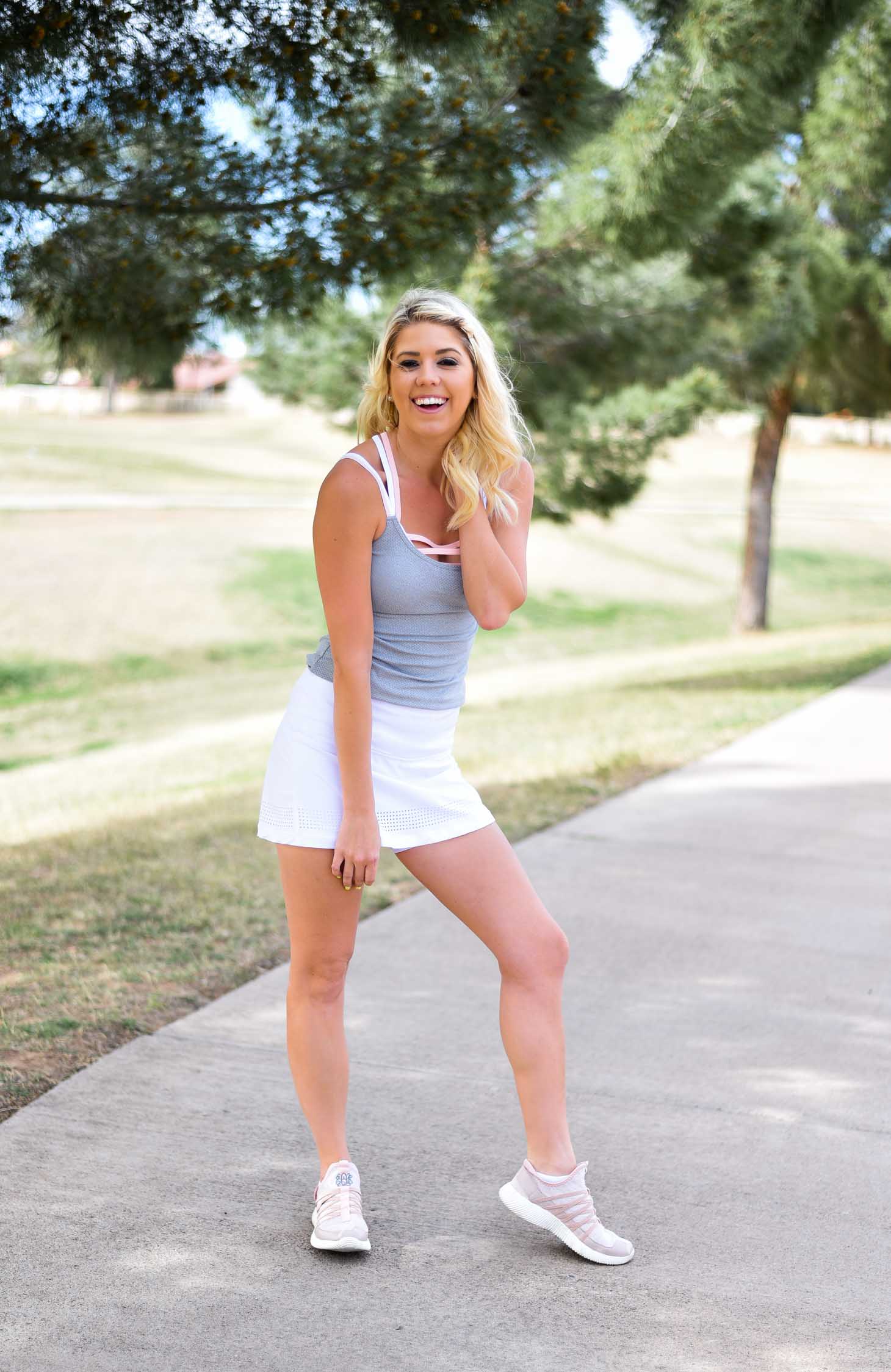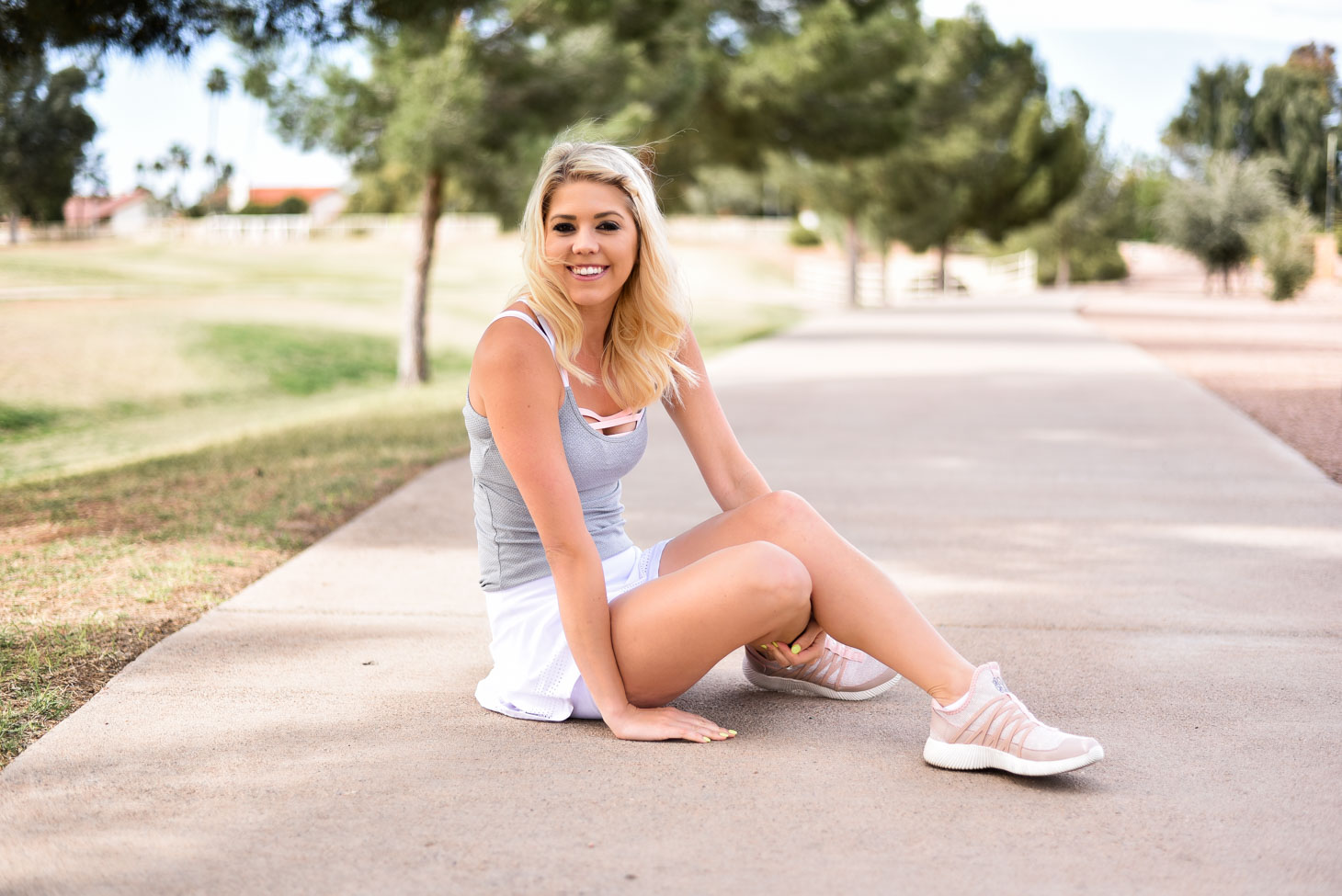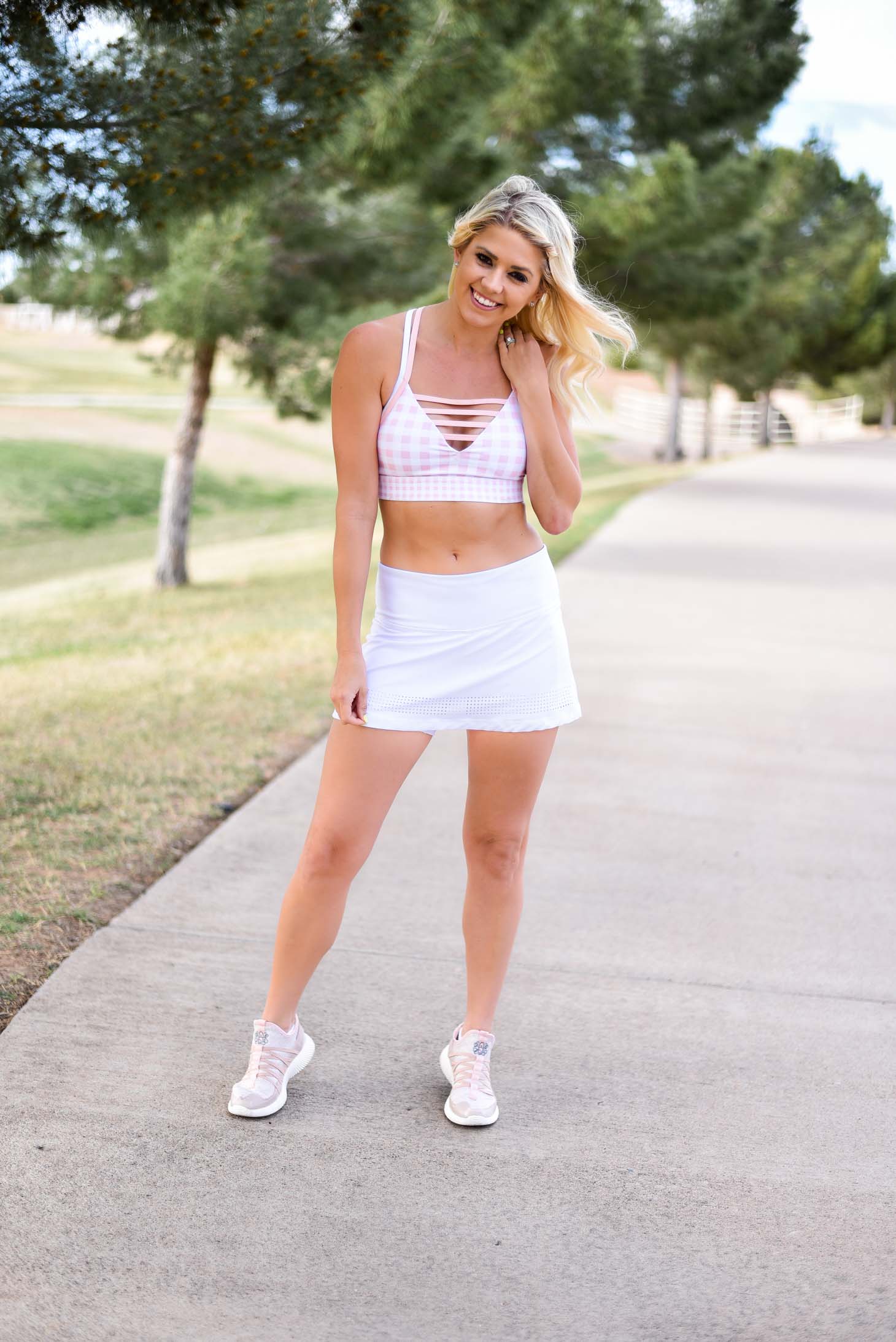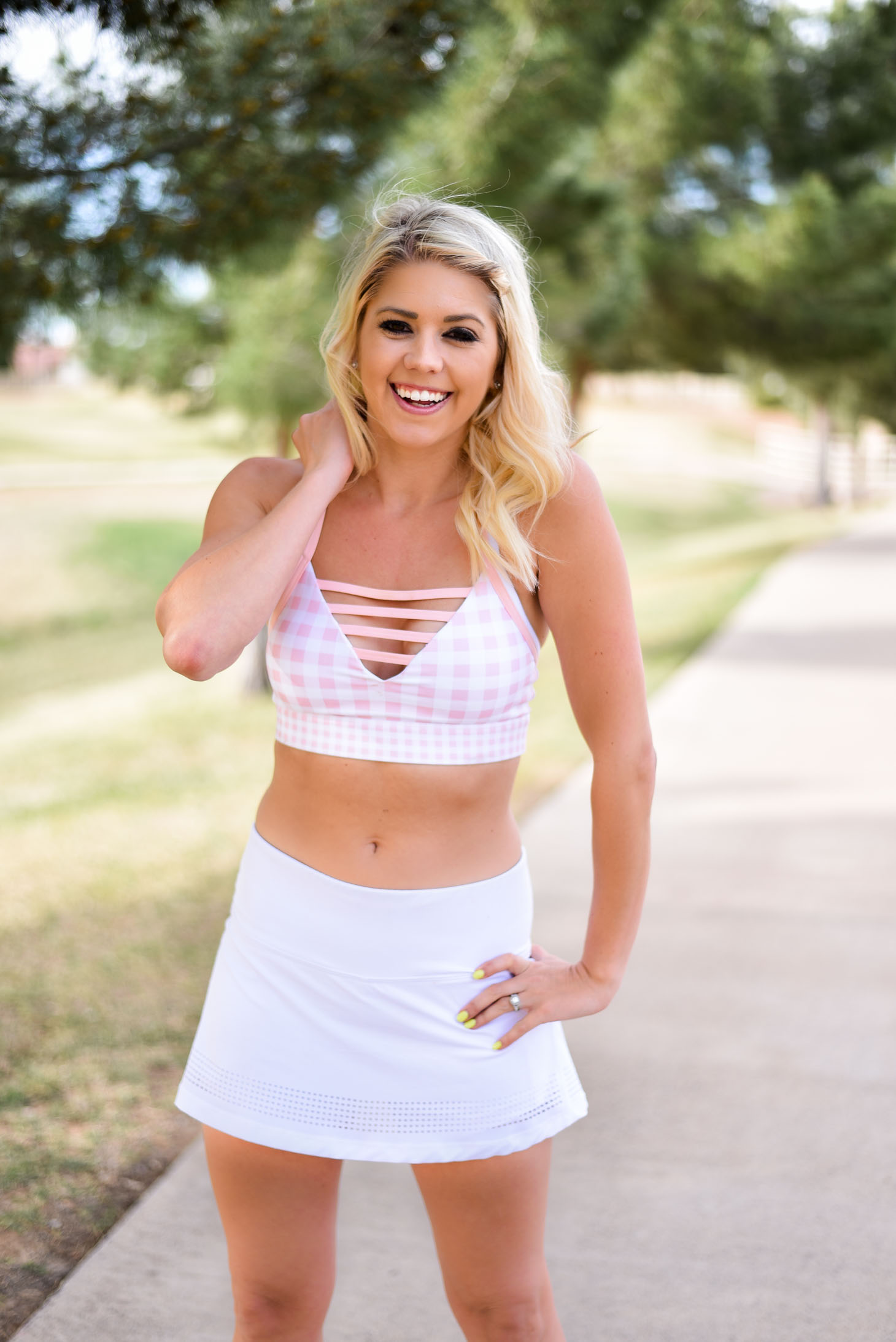 Top // Sports Bra // Skort (on sale!) // Shoes c/o I Love Jewelry (on sale for $24!)
Happy Monday! If you're like me, Monday mornings are always a day when I feel energized and pumped! If you're rolling your eyes a little bit (it's okay if you are), bear with me. Every year when Springtime rolls around, I just love being outdoors. Whether it's morning, noon or night, I am happiest when I am outside enjoying the beautiful temperatures and sunny, cloudless skies (if you live in Arizona, you know what I'm talking about).
One of my favorite things about this time of year is switching up my workouts a bit and incorporating outdoor activities into my routine! Don't get me wrong, I still go to my classes and hit the gym each day, but I like to tack one some extra (I swear they are fun!) activities to get a little more exercise and fresh air. A lot of these activities happen during the evening time or on the weekends with B. I thought I would share some of my/our favorite outdoor actives that get us moving, grooving and breaking a sweat! Some of the activities on this list are things we are looking to do this Spring as well!
Walking – Ha ha. Yes, super simple to start things off. B and I love to take evening walks around our neighborhood and the nearby bike path after dinner a couple times a week. This just allows us to wind down and spend a little time walking and carrying on conversation about our days (and it helps that food digest a little better). It's such a great activity to do with your s.o., friend or family member.
Hiking – Every few weekends, we like to get out to a nearby hiking trail on Saturday or Sunday. I love the feeling of getting outside the hustle and bustle of town and tuning into nature and our beautiful surroundings that we often take for granted. It's peaceful, refreshing and a great workout!
Golfing – B loves to golf. I am not the worst golfer, but I have a long way to go if I'm going to be playing a full 18 holes like it's nothing. Golfing is another great outdoor activity that gets you out in the sun, soaking up that vitamin d, and keeps your body moving. While it's not the most strenuous of workouts, it definitely beats sitting on the couch indoors!
Biking – I am loving that this activity is becoming quite the trend here in Scottsdale. We have multiple companies that have rentable bikes that people are taking around town instead of driving their cars. Not only does this keep the roads less packed, but it's refreshing to see people cruising around and enjoying the day! Plus, it's a great workout and gets you from point A to point B quickly!
Tennis – Not going to lie, I have not always had the greatest view of tennis. It always seemed a bit monotonous to me. B has been pushing for us to get out on the tennis court, so I think I am going to take him up on this next weekend. It's a pretty great workout too! It's definitely tiring!
Yardwork – I know what you're thinking, this doesn't sound like a workout. It may not be the craziest of workouts, but B and I spend a lot of time outside on the weekends taking care of our lawn, plants and flowers. Mowing in itself can be a workout. I always see B out there sweating hard! As for me, even spending time planting, pruning and watering flowers helps me to get a little bit of a workout. Like I said, anything that gets me up and on my feet, is a win in my book! Plus, I get to soak in the beautiful weather while I'm doing it.
Basketball – Growing up, I have always been a girl that could play some hoops! My husband love this about me. A great thing about basketball is the outdoor courts nearby. On a beautiful Spring day, it's great to walk over to the nearby park and spend a little time shooting around. This also goes for other outdoor sports like sand volleyball, soccer, baseball, etc.
Parking and Walking – So, not necessarily an activity, but one thing that B and I always do. Whenever we run out somewhere, we always find a good parking spot far away to promote more time spent walking and being outdoors (plus it helps avoid door dings). We find this to be so natural to us now that we don't think twice about it when we park!
Anyways, these are just some of the outdoor actives that we enjoy in the Springtime! Let me know what other activities are out there for us to try as well!
Thank you to I Love Jewelry for contributing to this post!
Shop the Post

SaveSave
SaveSave