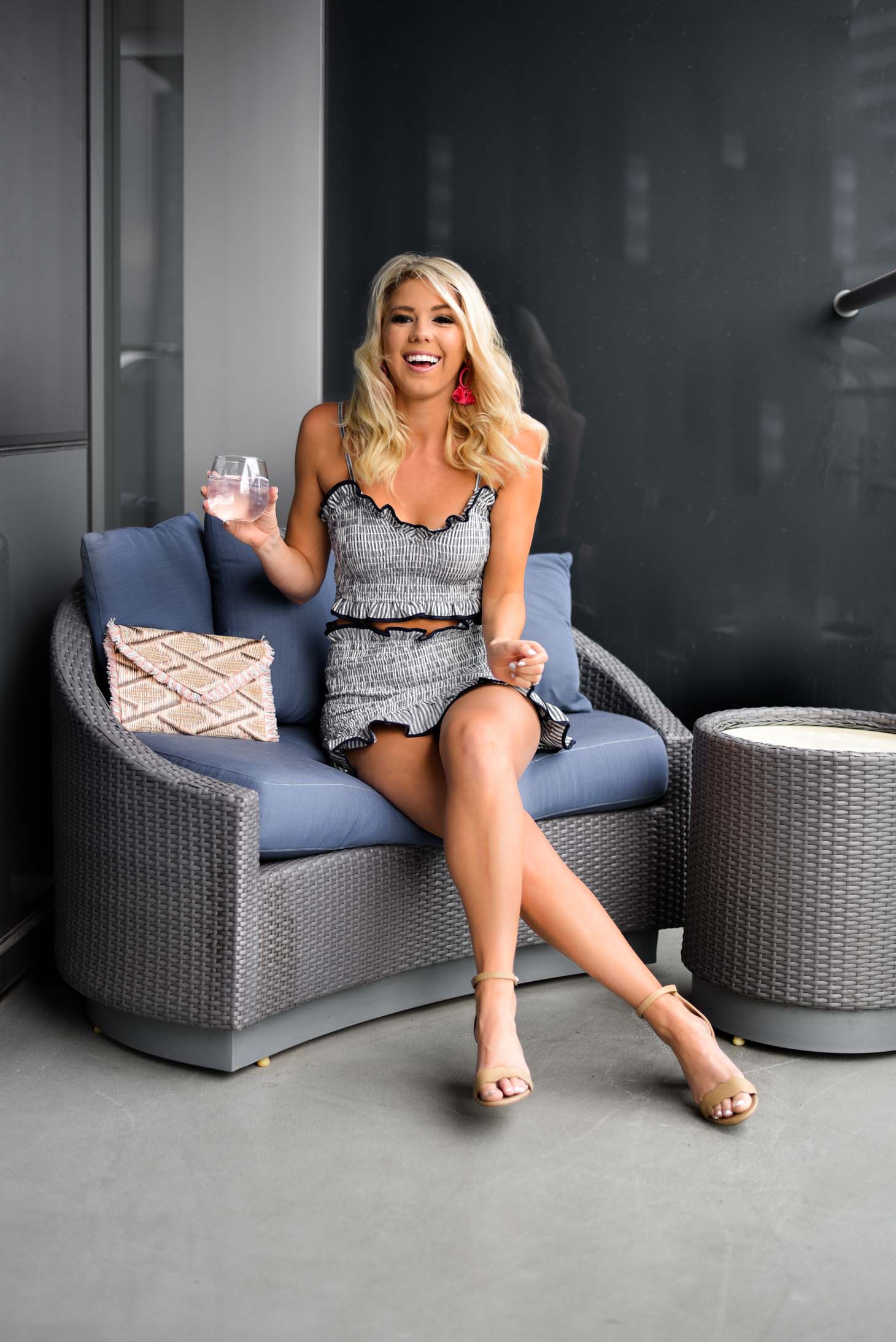 Top // Skirt // Heels // Clutch // Earrings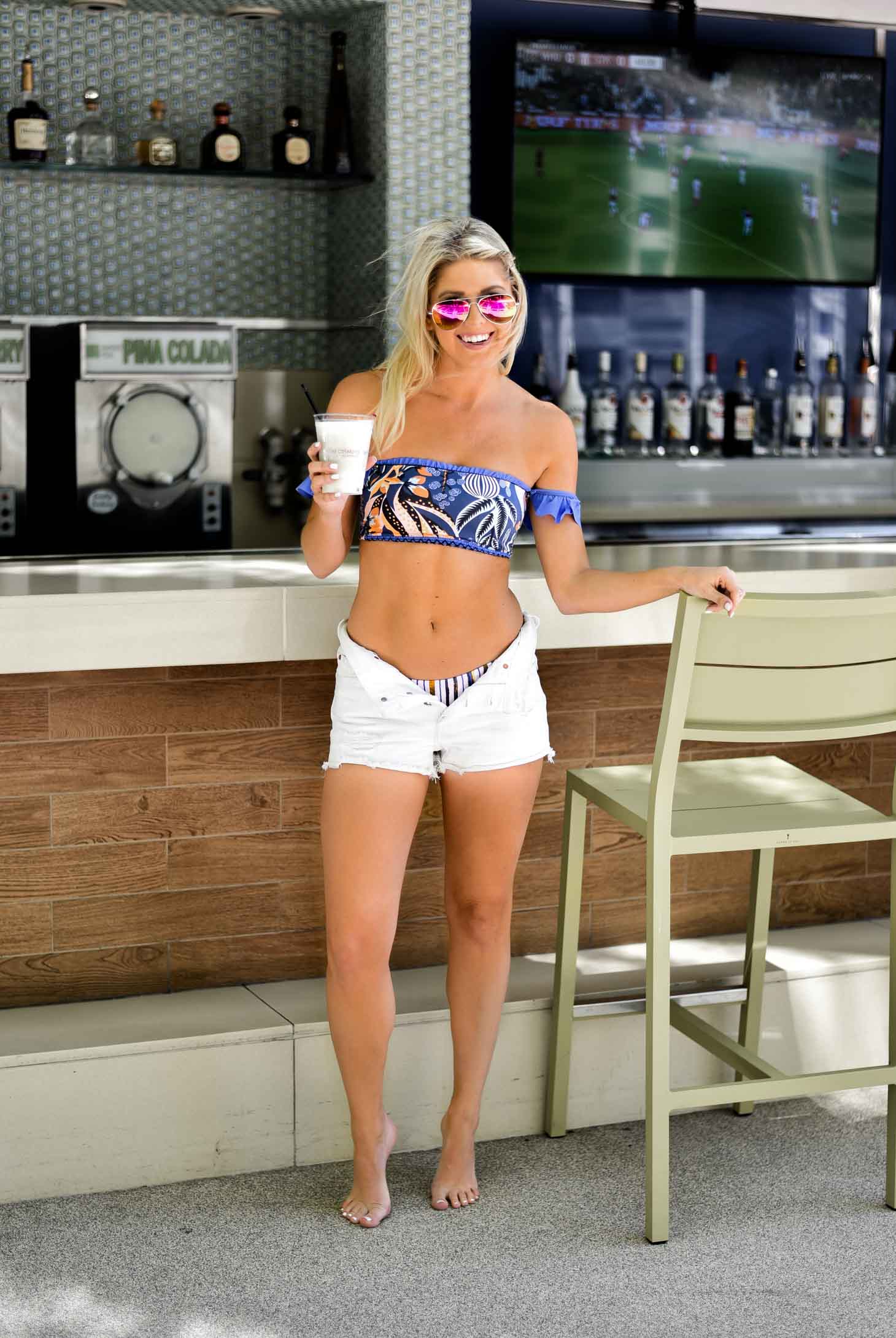 Swimsuit Top // Swimsuit Bottoms // Shorts // Sunnies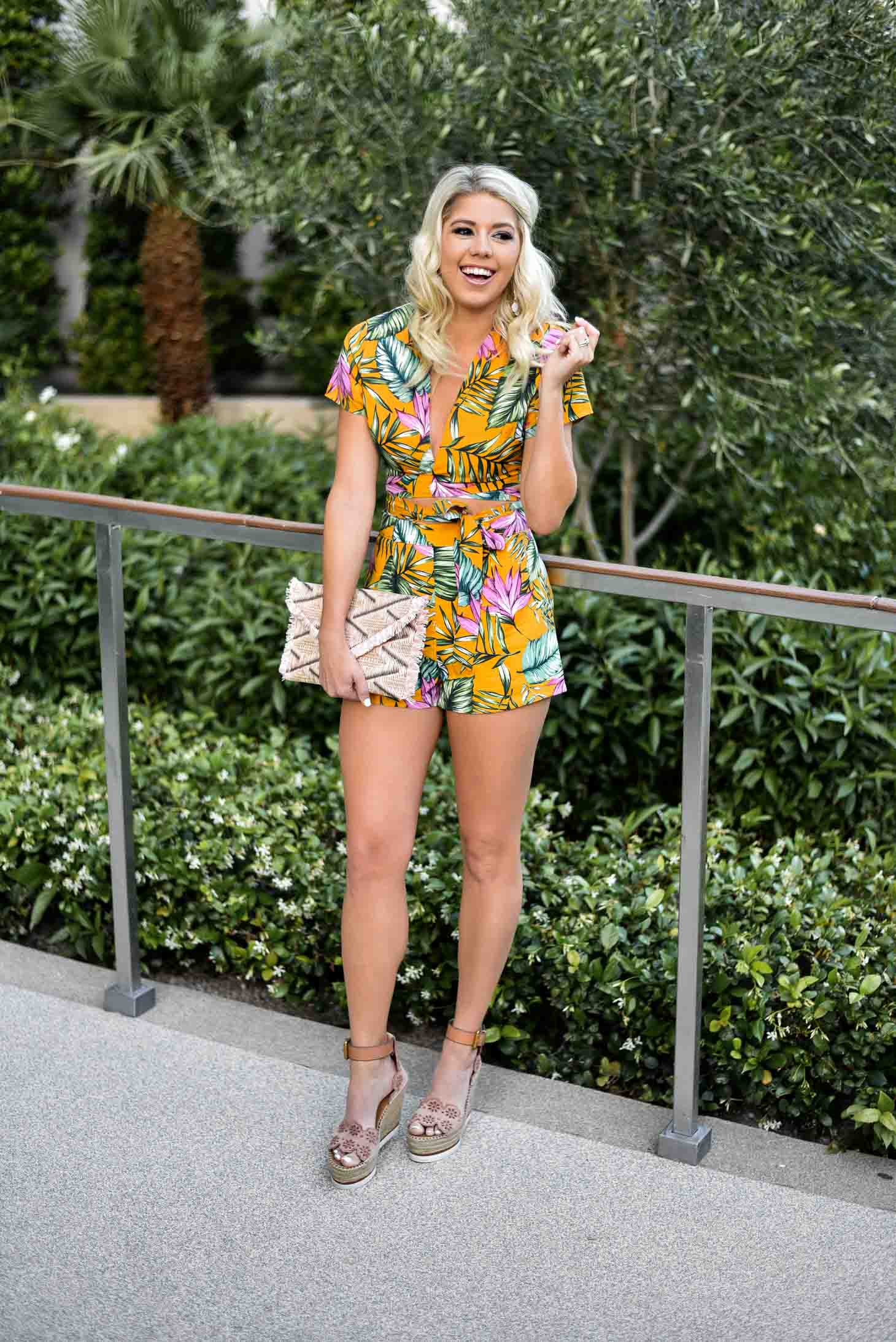 Two Piece Set // Wedges // Earrings // Clutch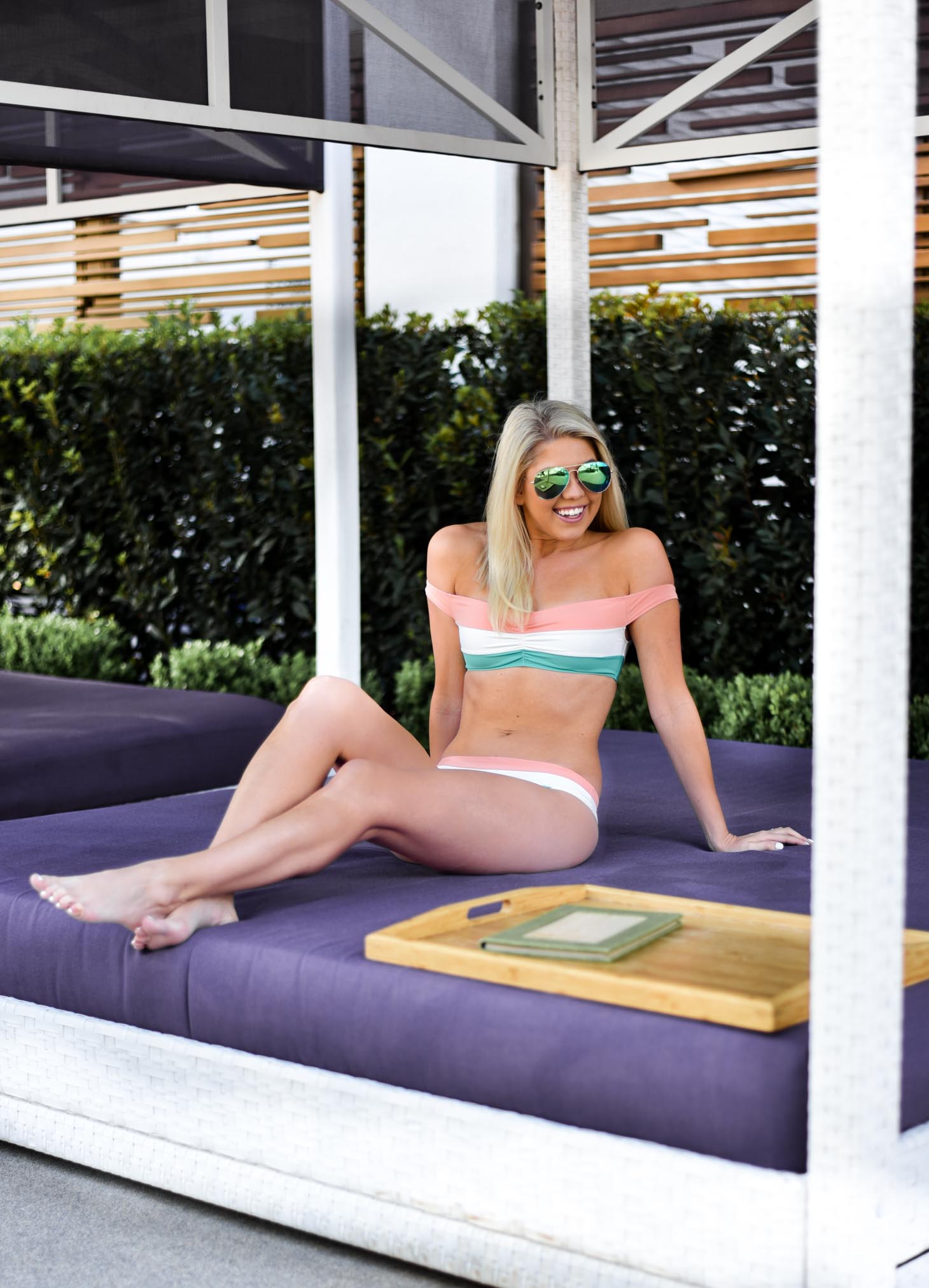 Swimsuit Top // Swimsuit Bottoms // Sunnies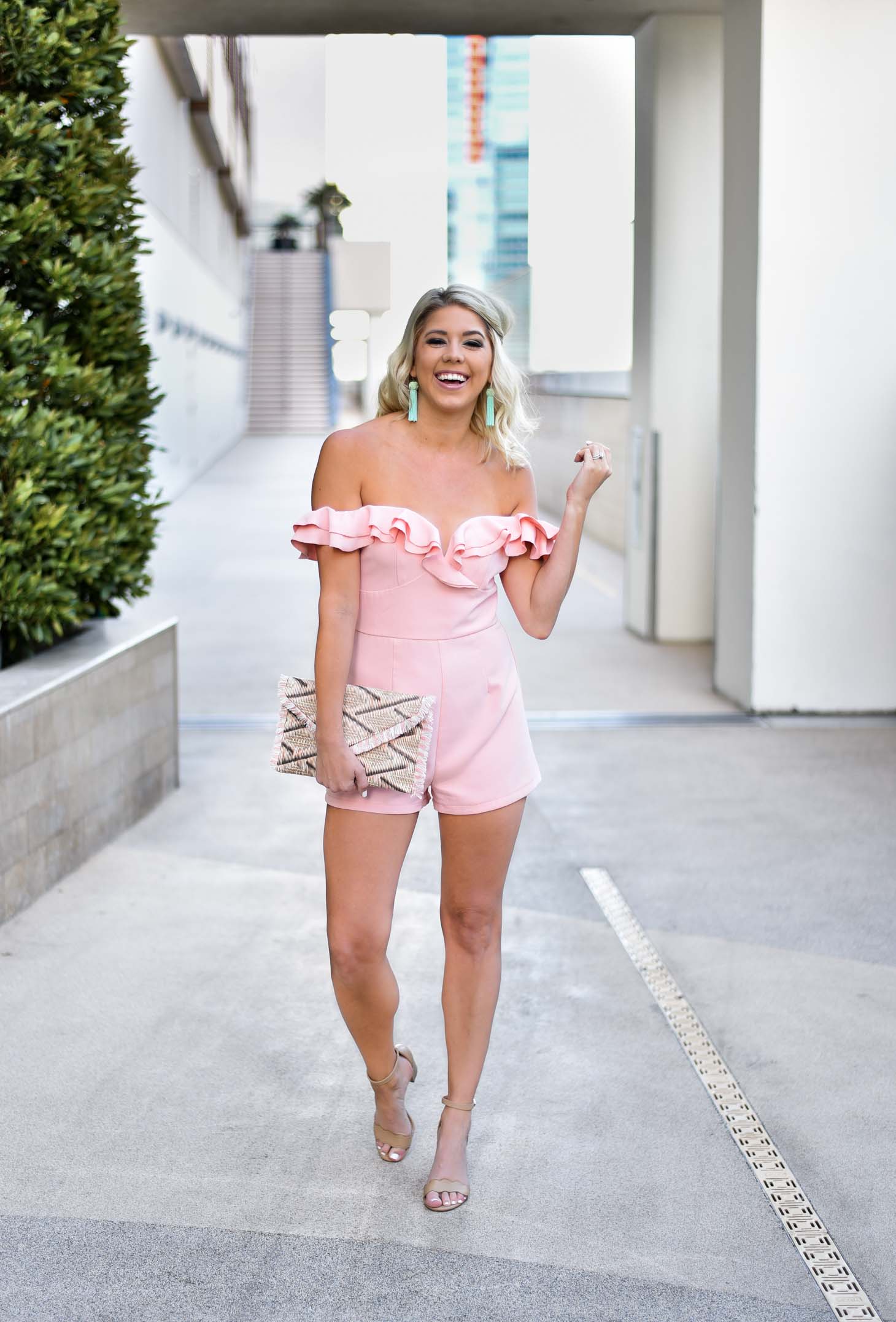 Romper // Heels // Clutch // Earrings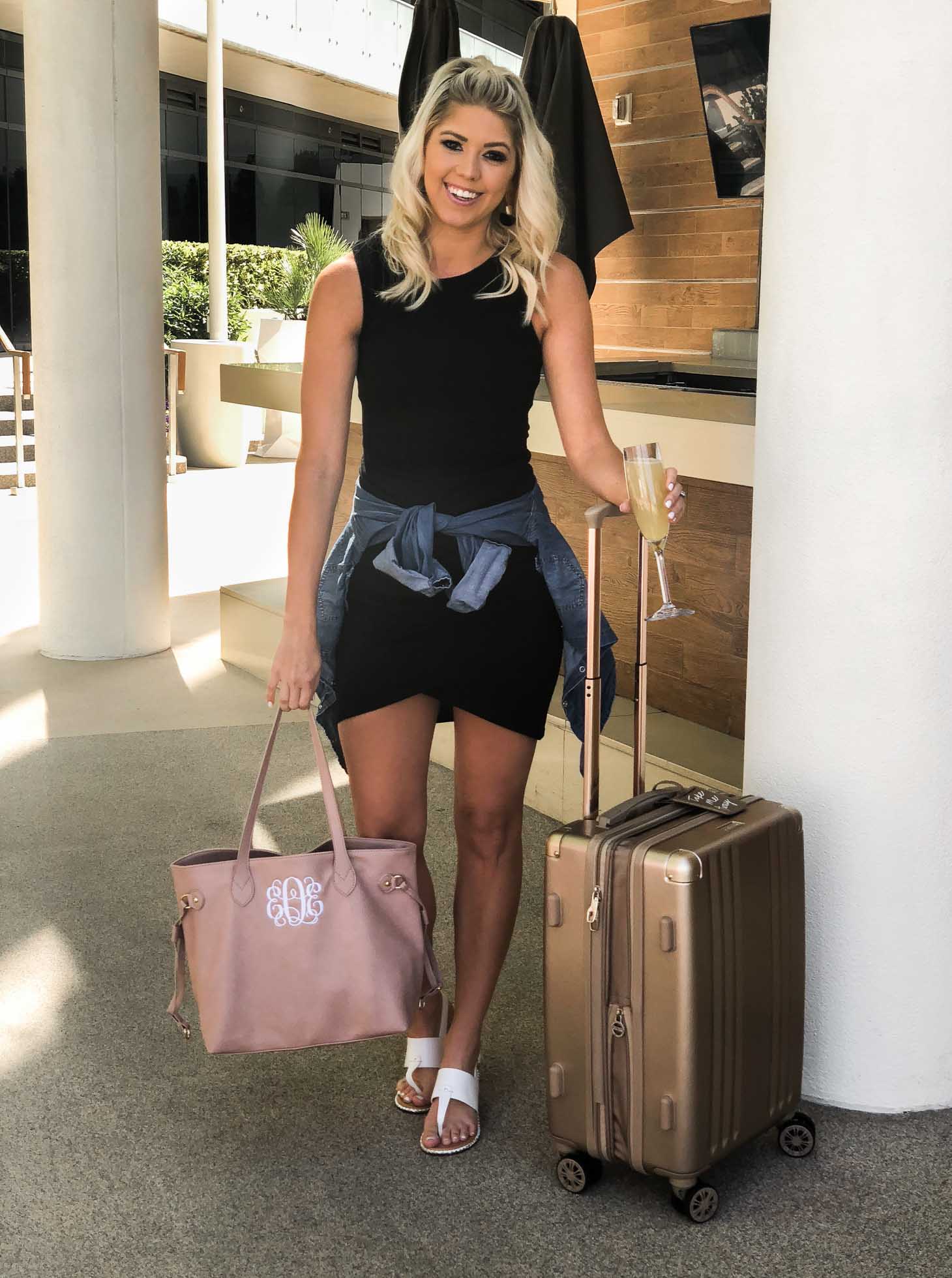 Dress // Denim Top // Sandals // Tote c/o I Love Jewelry (on sale!) // Suitcase // Earrings

Viva Las Vegas! If you follow along with me on Instagram, you probably saw several posts from Brad and my trip to Las Vegas last week. We were feeling the itch to get away and decided on Vegas since it's been several years since we had been there. We booked our trip through Costco Travel. They have some pretty amazing discounts on flights, hotel stays and they like to throw in some extra perks. We received two free buffet trips to the hottest buffet spot on the Strip, as well as a $50 pool credit for our hotel. I never would have thought to look on their website, but I'm so glad we did. If you're feeling the itch to get away, be sure to check out trips booked through them!
Hotel
Brad and I stayed three nights at the Cosmopolitan of Las Vegas. Each time we visit Vegas, we like to stay somewhere new (our past trips have included stays at Rio, Paris and the MGM Grand). We picked the Cosmopolitan because we were looking for a hotel that was centrally located on the Strip. That eliminated excessive walking at nighttime in heels, as well as avoiding any type of Uber or shuttle trip. We loved the close proximity to the Bellagio as well. One side of the hotel has beautiful views of the Bellagio fountain!
For this trip, we were also looking to stay somewhere a little more trendy and swanky. The Cosmopolitan is just that! From the beautiful, well-known "Chandelier" and the amazing rooftop pools, you will be surrounded by beauty and first class entertainment and fun!
Restaurants
If you can believe it, the only restaurants we ate at were within our hotel. That just shows you how amazing this hotel was (or how lazy we are). Now, our meals were more on the pricy side compared to other meals we've had out in Vegas, but they were absolutely amazing! I'm going to list the different places we ate at on our trip and a little about each one.
Breakfast/Brunch
Wicked Spoon ($$$) – Deemed the best buffet in Vegas! This breakfast and lunch buffet is out of this world! They take buffet eating to a whole new level. While I think this place is amazing, it's a bit pricy if you are not going to take full advantage (no pun intended) and really eat a ton!
Eggslut ($)- This is a quick and fun place to eat breakfast. You just walk up and order your food at the counter. They have some delicious egg sandwiches that are fun and unique. We grabbed this for a snack when we arrived from the airport.
The Henry ($$) – We ate at the Henry for two breakfasts. This is a more casual restaurant with some serious Instagram worthy pics of your food. Their presentation is amazing and the food is top notch!
Dinner
Beauty & Essex ($$$) – This place is gorgeous inside! I love the vibe and feel of the decor and service. Most of their food is ordered as shareable plates. You order several things and share it amongst your table. You can opt to get an entree, which is more than enough to eat. They have some seriously amazing drinks and food. I loved the mood of this place a ton!
Blue Ribbon ($$$) – This was probably my favorite dinner of the bunch! We had a very quaint and quiet table that really allowed us to have good conversation and sip on the tastiest drinks. The food was beyond words. Hands down a must!
Scarpetta ($$$) – Bring on the Italian food! This restaurant had by far the best view of the bunch. With window views of the Bellagio fountain going off and the beautiful Vegas skyline, this place is absolutely beautiful for a date night! The food was delicious and the service top notch.
Hidden Pizza Place ($) – There is a "secret" pizza joint that is hidden and without a name. If you look hard, you'll be sure to stumble upon it no problem. A great place to stop in late at night or for lunch and grab a great New York slice!
Can you believe there are still a ton of other restaurants to choose from at the Cosmopolitan?! It was so hard to choose. I do always recommend making a dinner reservation no matter what night you are going. We made ours around 8:00.  They have a ton more dining options here.
Things To Do
Walk Around – One thing Brad and I love to do when we go to Vegas is walk the Strip. We usually walk one half one day and the second half the following day. We sip on our morning coffee and stop in at our favorite hotels and casinos. We love to just look around and explore!
Pool Time – We are definite pool time people! We love to explore the different pools where we stay (the Cosmopolitan has two), soak in a little sun and drink some yummy pina colodas or margs!
Hit the Gym – I don't know what it is, but I love checking out hotel fitness centers. I think it's so fun to see the different amenities and I always love to find one with an incredible view. While the Cosmopolitan fitness center lacked Strip views, it was fully stocked with everything you need for a great workout!
Visit the Spa – Man, I wish we had done this on our trip! You are likely going to spend more for a spa day in Vegas, but some of these hotel spas and services are out of this world!
Casino Games – While we are not big gamblers, we do love to hit the craps and roulette tables when we go to Vegas. They are the most fun to play in my opinion!
See a Show – While we did not go see a show this trip, trying out one of the hotels' shows is a must! We love to see the Circ de Sole shows. They are amazing!
I hope you enjoyed this travel guide! Let me know if you would like me to share more travel guides in the future! Until next time, Vegas!
SaveSave
SaveSave
SaveSave
SaveSave
SaveSaveSaveSave
SaveSave
SaveSave
SaveSave
SaveSave