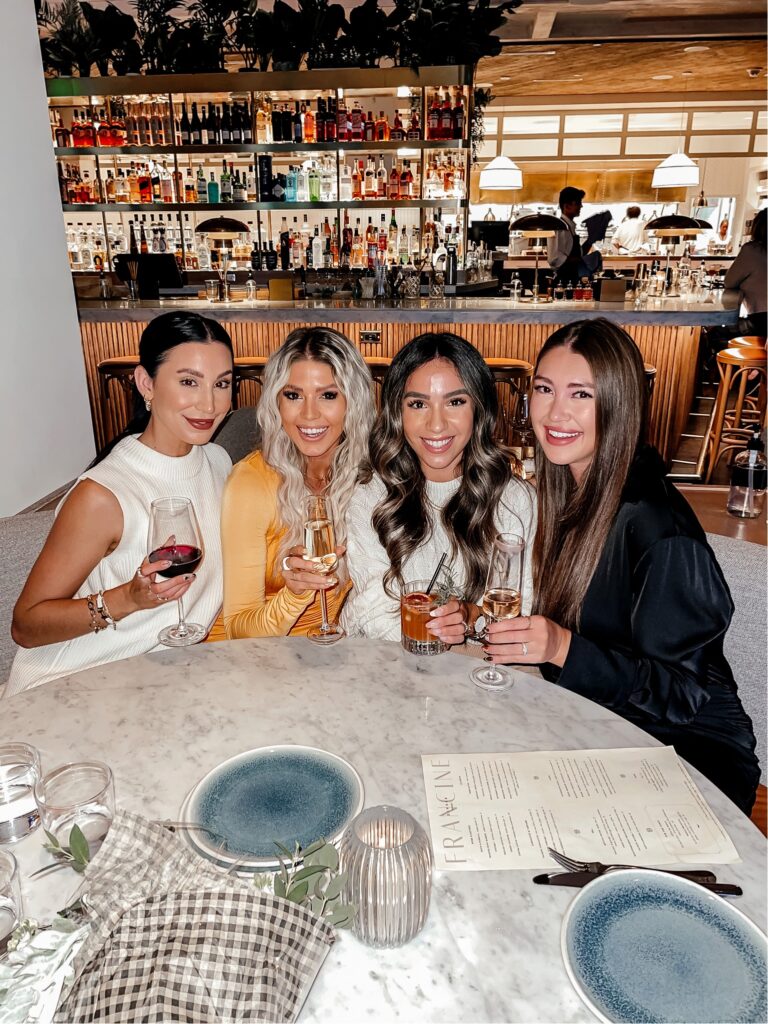 This may just be my most HIGHLY requested topic I get asked to cover on my Instagram! Everything from coffee shops to brunch spots, dinners out to places to stay in town. Even where to go for hair treatments, nails and shopping. ALL THE THINGS. So whether you are local and looking for new places to try out or traveling and need some itinerary help, I've got you covered! Also sharing the best places to go for services around town too! Here are my top picks.
+++
Best Time to Visit ScottsdaleI
In my opinion, the "best time" as far as weather is October-May. Our summers can be brutally hot and while it's not the most "ideal" time to visit, it's still going to be fun no matter what! But, I recommend coming when it's nicer and you can be outside the entire time.
How to Get Around Scottsdale
If you're staying at any of the resorts in our "Old Town Scottsdale" area, you can get around on foot or via Uber. If you plan to visit other areas around town, hiking, etc., I would suggest having a rental car.
+++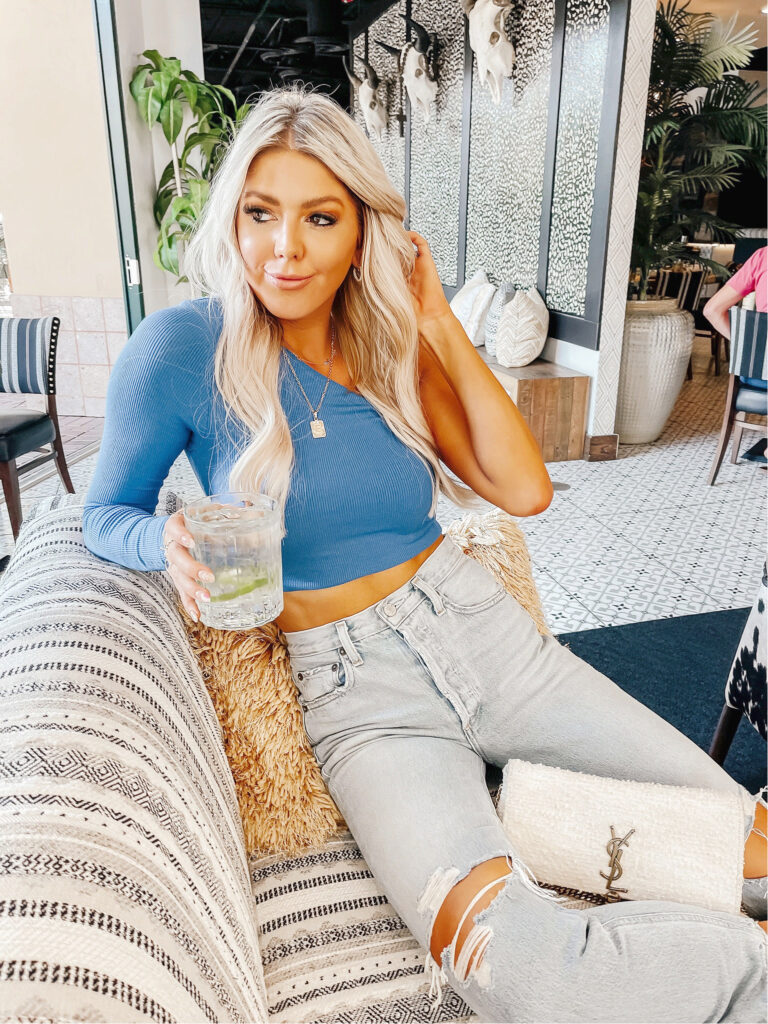 Where to Eat in Scottsdale
You all know that I am a major foodie! And Scottsdale is any foodie's happy place. There are endless places to try. Here are some of my favorites broken down into categories (when I like to eat at them).
Coffee/Tea Spots
$
The cutest walk up coffee spot in Old Town Scottsdale.
Love their unique house made syrups!
$$
A coffee shop with drinks – It's a great place to meet a friend for coffee, a work date
or grab pre-dinner drinks. They have a separate bar to grab cocktails.
$$
A staple around Scottsdale with multiple locations.
Not my favorite place to hang out but the coffee is good.
$
A hard spot as far as sitting inside, but their coffee is delicious.
$
Tea fan? This Insta-worthy spot is located in Downtown Phoenix. So cute in there!
$
Good coffee and the cutest little outdoor patio by the lake.
Great to grab a coffee and go for a walk!
+++
Brunch Spots
$$$
The most beautiful French restaurant. It's so stunning inside and the food is perfection.
I recommend snagging a table by the bar. It's so pretty!
$$$$
A serious upscale brunch vibe for sure! It's a total experience when you head to brunch here!
Great for special occasions like bachelorette trips, anniversaries, etc.
$$
A cute little brunch spot! They have amazing pastries, great coffee and a menu that appeals to all.
$$
One of our most famous brunch spots! Known for their giant bloody mary bar,
mimosa flights and weekend djs. A little party!
$$
Probably one of the largest menus I've ever seen! Everything is so good. There are a few locations.
$$
One of my favorite outdoor brunch spots. Snag the sofas by the fireplace
and order one of their unique cocktails!
$$
A brunch staple in Old Town Scottsdale! One of the coolest patios
and some super fun kombucha cocktails!
$$
Such a cool spot to meet for brunch. The food is so good and the atmosphere is a vibe.
They also have a coffee bar and lounge and it's really good.
+++
Lunch Spots
$$
Authentic Mexican food with the best margaritas! Love their staff. They feel like family.
$$
A great, quick lunch spot! Order at the counter and sit in their cute dining area or patio.
I love to make my own plate.
$$
A great spot to grab lunch and shop in Old Town Scottsdale. Love how clean their ingredients are!
$$
A great neighborhood spot with some of the yummiest soups and salads.
$$
A fun Mexican spot in Old Town Scottsdale. Definitely recommend the patio seating. It's so fun!
$$
A great spot for wine and bruschetta! $5 wine and beer all day until 5 too!
$$
Another quick spot to grab a salad, wrap, smoothie, etc. Clean and natural ingredients!
$$
A mega vibe! Located at The Scott Resort.
Whether you sit in the bar area, in the dining room or on the patio. Delicious drinks!
$$
A major hot spot at Scottsdale Quarter (outdoor shopping area). A great healthy spot!
$$
One more quick lunch spot. Love to build my own plate or salad here.
+++
Dinner Spots
$$$
Had to name it twice. Not only is it great for brunch, but it's also a great dinner spot.
You feel like you are whisked away to France.
$$$
Located at Camelback Resort, this is one of my fav spots.
Comes with mountain views and amazing food!
$$$$
Another mention for this one! Not only is brunch top notch, but so is their dinner!
Great for bachelorette parties, special events, etc.
$$$
A serious vibe you can't miss out on! The later you stay, the more fun is to be had.
Their Mexican food is so good and they light their cocktails on fire. So, yeah!
$$
Located at Sanctuary Resort, this is another fabulous dinner spot with a view!
$$
A neighborhood favorite of mine. Owned by the sweetest family. Such high quality food!
$$
Love this little Mexican food spot for happy hour or dinner. Such a trendy vibe inside too!
$$$
Brad and I got married at Omni and we love going back to dine at Prado for our anniversaries.
Top notch and love their changing menu.
$$$
A swanky little Italian spot with a super cool vibe and really good pasta!
$$$
A favorite Mexican spot for many! With two locations (that are really different vibes),
either one is amazing!
$$$
A great staple to Scottsdale that has been around for a long time!
We had our rehearsal dinner here. So good!
$$$
Located at the Phoenician Resort, this outdoor patio mountain view with your dinner is incredible!
$$
If you love Italian, you'll love Parma. Their pasta is SO good!
$$$$
An upscale steakhouse with all the fixings. Definitely for a special occasion!
$$$$
Such a cool steakhouse as well! Be sure to ask to sit upstairs by the pool (Scottsdale Quarter location).
+++
Sweet Treat Stops
$$
The cutest little bakery and coffee shop in Old Town Scottsdale. Their sweets are little works of art!
$$
Great little insta-worthy spot for macaroons and delicious teas/coffees with cotton candy on top!
$$
An Old Town Scottsdale staple. Great for an ice cream stop!
$$
Little neighborhood spot to grab a cone or bag of assorted candies!
+++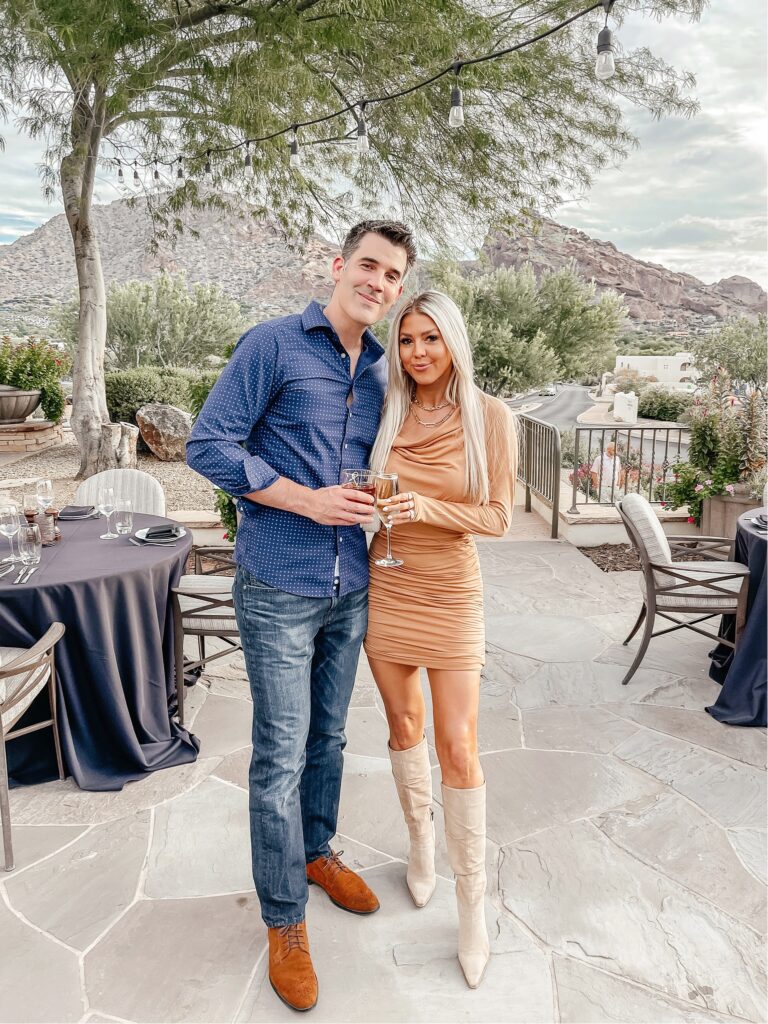 Where to Stay in Scottsdale
I swear… Scottsdale is a resort wonderland! There are endless choices to choose from and you truly cannot go wrong with any of them. From boutique hotels to full-blown mega resorts, there is something for everyone when it comes to what you look for in a stay. Here are some of my favorite spots!
Omni Scottsdale Resort & Spa at Montelucia
$$$
Literally one of my favorite resorts! Probably because Brad and I got married here.
Some of the prettiest views in all of Scottsdale. Amazing grounds, food and staff.
Andaz Scottsdale Resort & Bungalows
$$
This is such a cool resort. Some of the largest rooms I've seen
at any resort and it has an awesome pool and restaurant.
This trendy little boutique hotel is a super fun spot to stay.
They are known to have weekend pool parties too if that's your vibe!
$$
Probably one of our most famous resorts in town.
This entire resort is such a vibe and totally insta-worthy.
$$$
Scottsdale Camelback Resort & Spa
This larger resort has everything you could need in a stay! It's really a beautiful resort!
Their spa might be my favorite in town.
$$$
Another more boutique-style resort (it's not super big) but one of my favorite pools in Scottsdale!
The views are seriously so good.
$$
The Westin Kierland Resort and Spa
A truly mega-resort! This resort is huge and very popular for it's pools and lazy river.
$$$
Civana Wellness Resort and Spa
A true oasis in the desert. This wellness resort is the perfect spot to unplug and recharge.
Love all their fitness classes and activities!
$$$
+++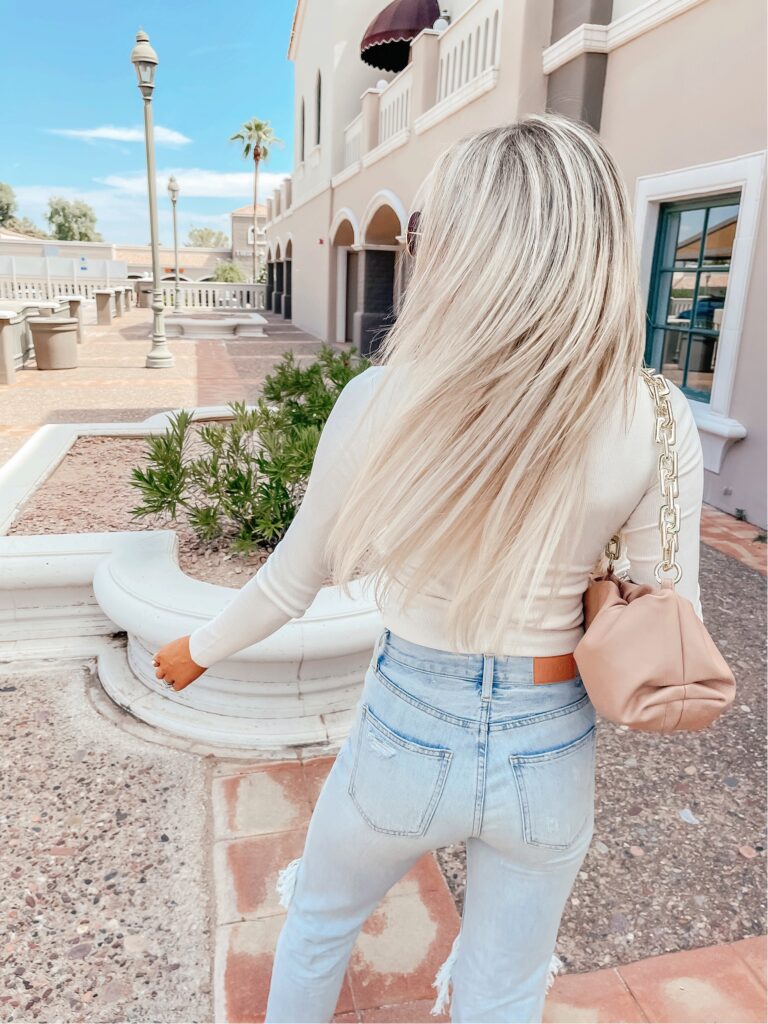 What Salons and Estheticians to go to in Scottsdale
Another hot topic I get on Instagram is where I go for all "the things". Rounding up where I go for hair, nails, skincare, lashes, etc.
Hair
Hydrate Salon – I see Savy
I've been going to Savy for over 10 years. She does my tape in extensions and color.
I love to get blowouts done here. You can also get your nails done at the same time!
Another spot I will get a blowout at too.
Nails
I found the best nail artist ever! Ask for Jenny.
Skincare + Facials
Marie has been doing my facials for a couple years now.
We do the HyrdraFacial with dermaplane.
Injectables
I've been going to Meagan for a couple years too.
She did my kybella treatment and does my botox and lip filler too.
Eyelash Extensions
Jenn is the best! She has been doing my lashes for a couple years. I get volume extensions.
Spray Tans
I've been so happy with my spray tans and the owner is just the sweetest!
Brow Laminations
Been going here for a couple years. I see Brit or Sammmy!
+++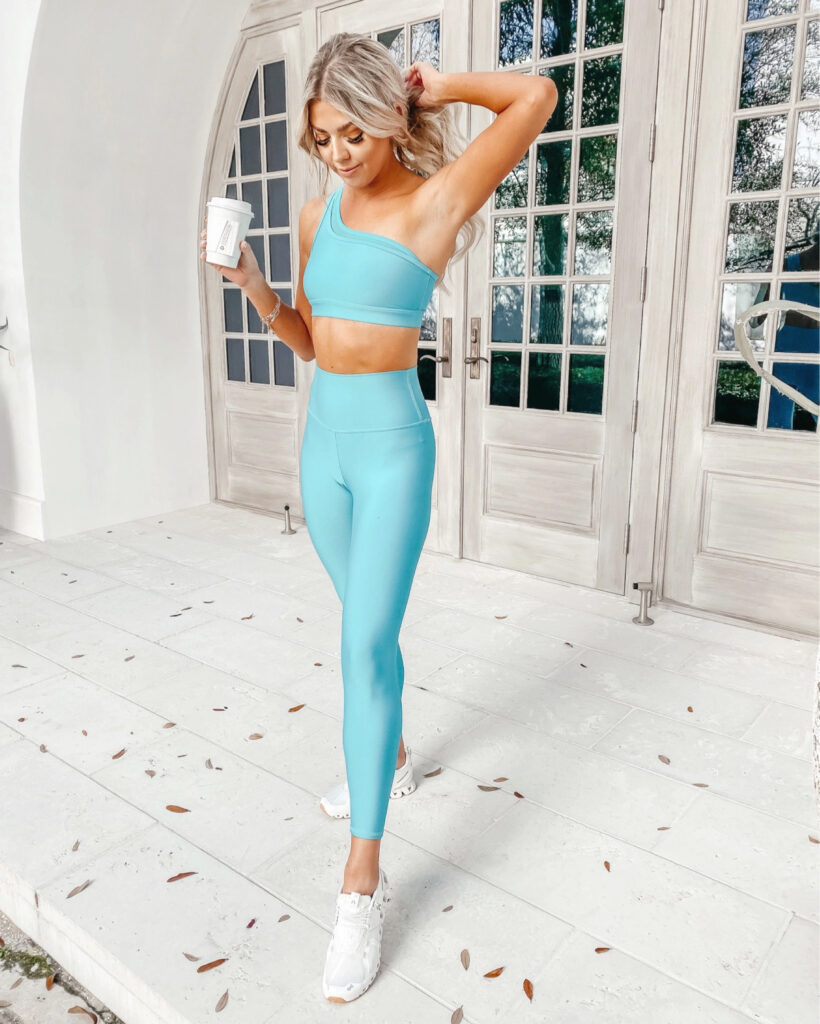 Where to Work Out in Scottsdale
You all know I love me a good workout! Here are my top workout picks. I don't go into a gym facility to lift but I go to/have gone to other studios for other forms of workouts. They are listed below.
Barre
My favorite! I've been doing Barre3 for several years and highly recommend it!
Pop in and try a class if you're in town.
My code is WINKBARRE3
Personal Training (online)
Jess started out as my in-person trainer and when she fully went online,
I started her at home online program. She's the best!
Spin
Love a good spin class! And I've always loved Cyclebar.
High Intensity
I haven't taken one of these classes in a hot minute but need to start again.
They seriously kick my butt!
+++
Where to Hike in Scottsdale
Here are a few of my top picks for hiking locations.
+++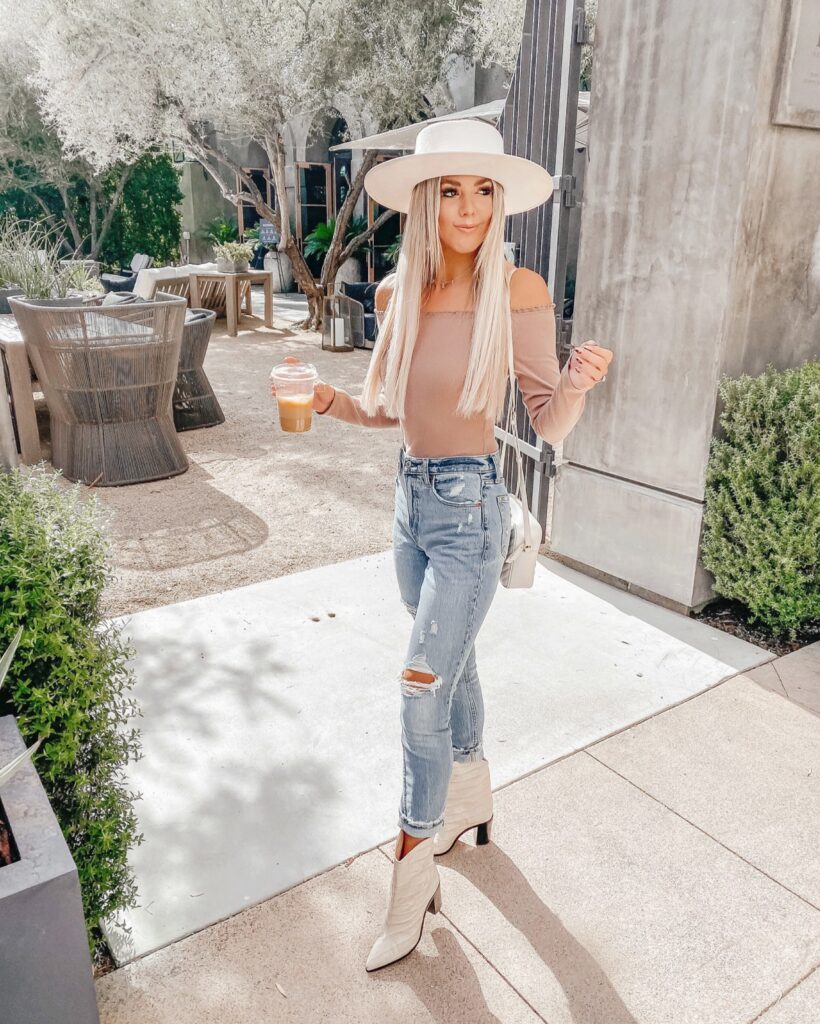 Where to Shop in Scottsdale
Listing my top three places to walk around and shop. All three spots are full of cute coffee shops, delicious food and all the shopping you could ever need! The first two are outdoor areas and the last is completely indoors.
A great outdoor shopping area (right across the street from Scottsdale Quarter)
with stores, restaurants and more.
Another outdoor shopping area directly across the street from Kierland Commons.
Lots of places to shop and eat!
Our ginormous indoor shopping mall packed full of stores and restaurants near Old Town Scottsdale.
+++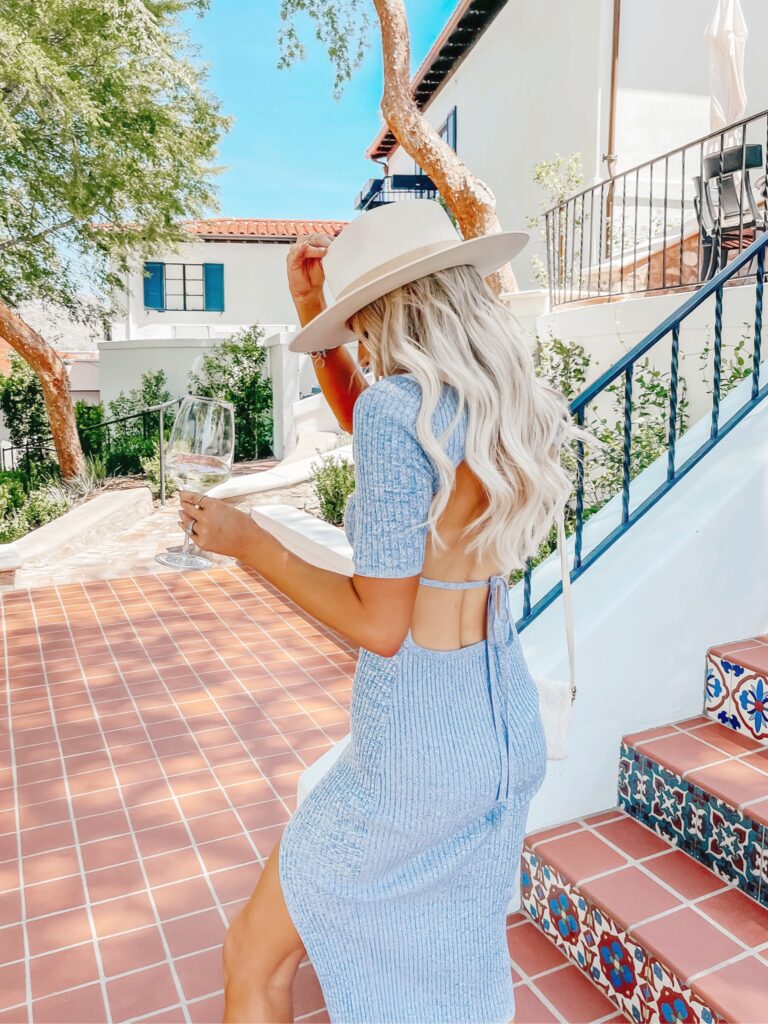 What To Do in Scottsdale
Aside from all the eating and drinking I know you'll do, here are a few other popular activities to check out when you are in town.
A great activity for large groups. Compete at their outdoor driving range and enjoy food and drinks.
A beautiful place to walk and observe all of the beauty in Arizona!
Take a balloon ride up to see stunning views of Scottsdale and the mountains.
Saddle up and take a horseback ride on this guided experience.
Walk around and check out all the shops, galleries and restaurants/bars
Pro Sports Games
There are a ton of pro sports teams to check out while you're in town! Here is a list of our teams!
Phoenix Suns
Arizona Cardinals
Arizona Coyotes
Arizona Diamondbacks
Seasonal: Waste Management Phoenix Open
If you happen to be in town during Waste Management, snag some tickets and check out the open.
Besides golf, there are concerts, food, drink and more!
Seasonal: Spring Training
If you come during spring training, be sure to check out a game at
any one of the ballparks set up here during spring training.
+++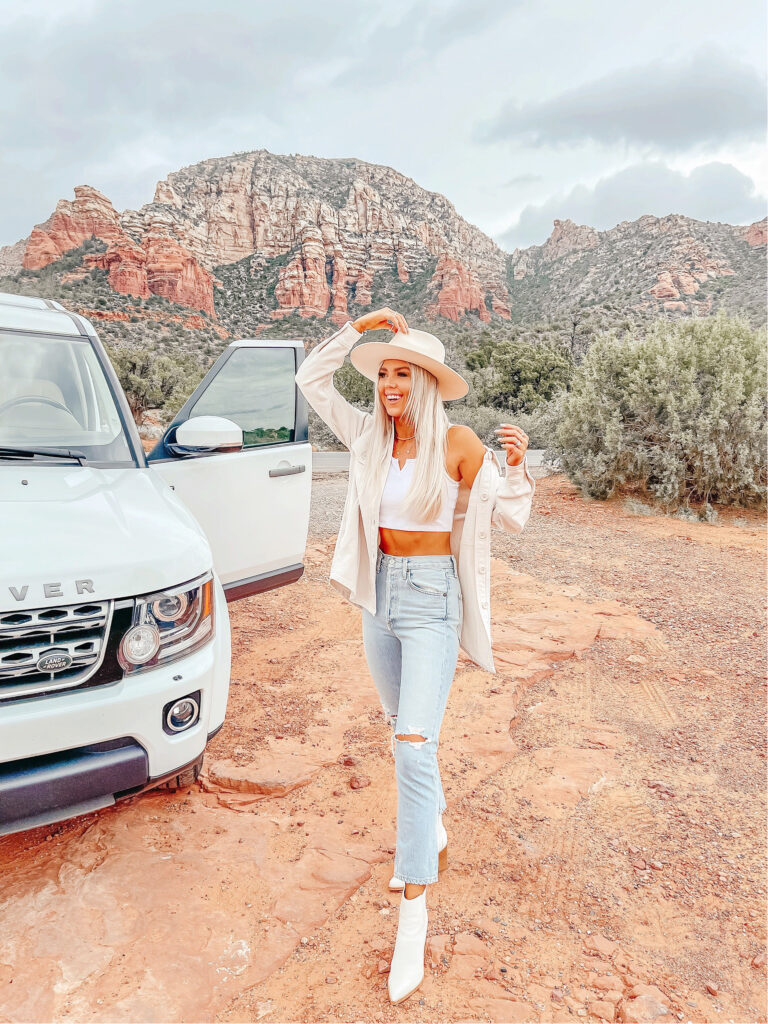 Where to Explore Outside Scottsdale
Aside from spending your time in Scottsdale, I highly suggest jumping in the car and heading to one of our nearby cities/attractions for a change in scenery, temperature and activities. There are so many beautiful places to explore just 2-3 hours outside of Scottsdale!
Sedona
Just a short two hour drive from Scottsdale, Sedona is home to some beautiful red rocks. It's a great spot to hike and is nearby to Cottonwood. Cottonwood has numerous wineries to visit and explore. If you stay in Sedona, I recommend Enchantment Resort ($$$$) or Amara Resort and Spa ($$).
Prescott
Another two hour drive outside of Scottsdale will get you to Prescott. The sweetest town with all the charm. It's probably Brad and my favorite place to road trip in Arizona. We recommend staying at The Grand Highland Hotel ($$).
Jerome
Better believe that another two hour drive can also arrive you at Jerome. A historical copper mining town with quite the view. It's super small but has a ton of cute restaurants to dine at. We recommend staying at The Clinkscale Hotel ($$).
Flagstaff
A little further away but still under 2.5 hours, Flagstaff is the coolest (as far as temps) of the other options. Home to Arizona's tallest mountain and lots of forest, there are a couple places to ski and snowboard. We recommend staying in Downtown Flagstaff at Hotel Monte Vista ($$).
Tucson
Located two hours south of Scottsdale and home of the University of Arizona (where I started off college), this city is a college town full of restaurants, hiking and more. We recommend The Westin La Paloma Resort ($$$) or the Arizona Inn ($$$)
The Grand Canyon
Take a four drive and you can find yourself exploring The Grand Canyon –
one of Arizona's greatest wonders!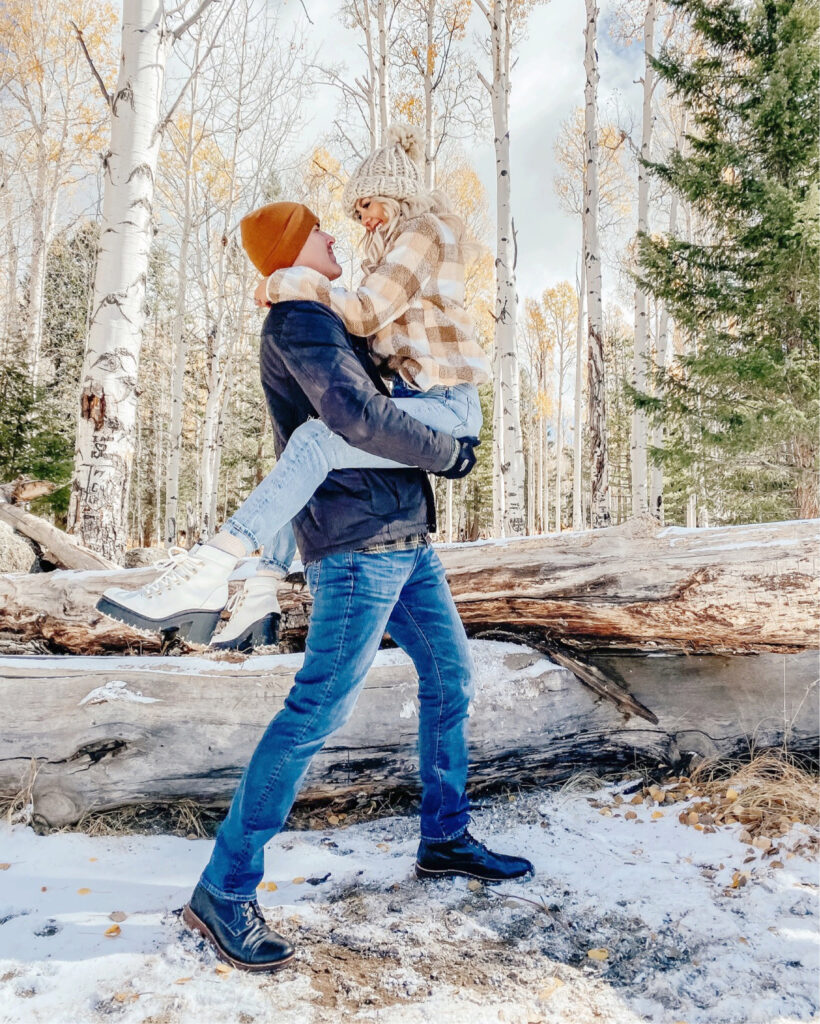 +++
This is just the tip of the iceberg when it comes to Scottsdale and all that it has to offer! These are just a few of my favorites for you to check out. 🙂