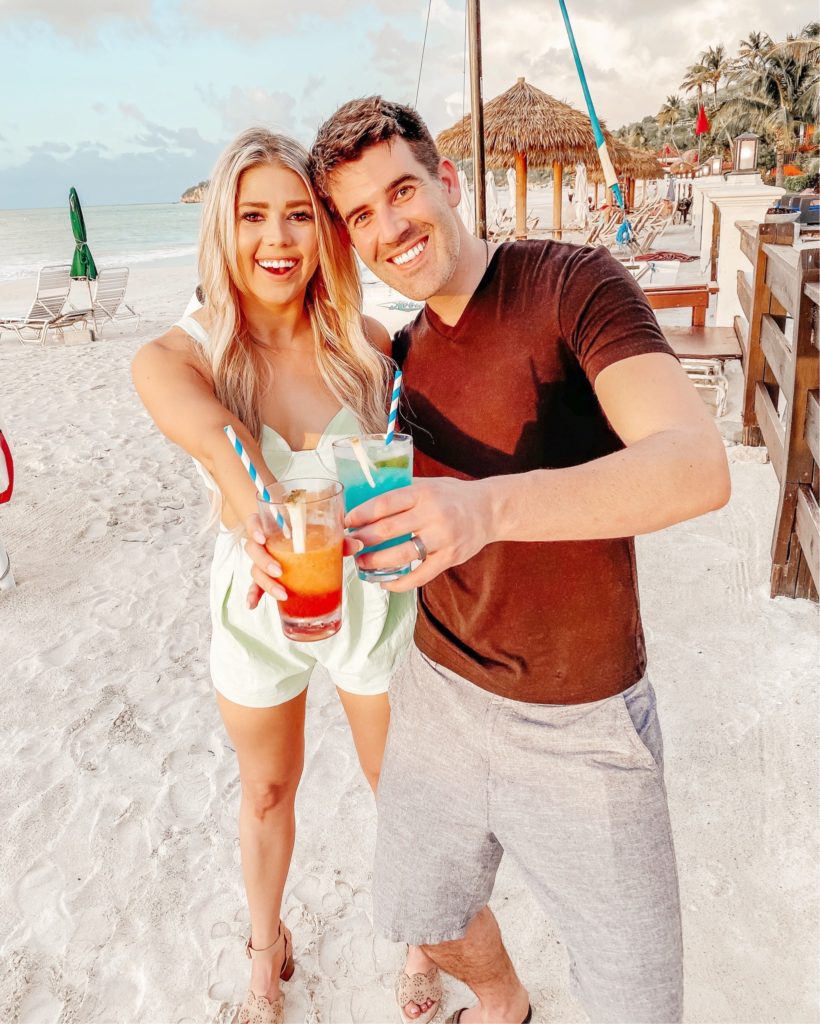 WOO HOO! Brad and I just celebrated our FIVE YEAR WEDDING ANNIVERSARY on January 3rd of this year! We knew that we wanted to do something special to celebrate and have always dreamed of returning to Sandals, a dreamy all-inclusive, luxury resort. We experienced Sandals on our honeymoon at Sandals Great Exuma and absolutely loved our experience. We have been talking about returning to the Caribbean for several years and finally decided that this was the perfect occasion for a little fun and sun!
+++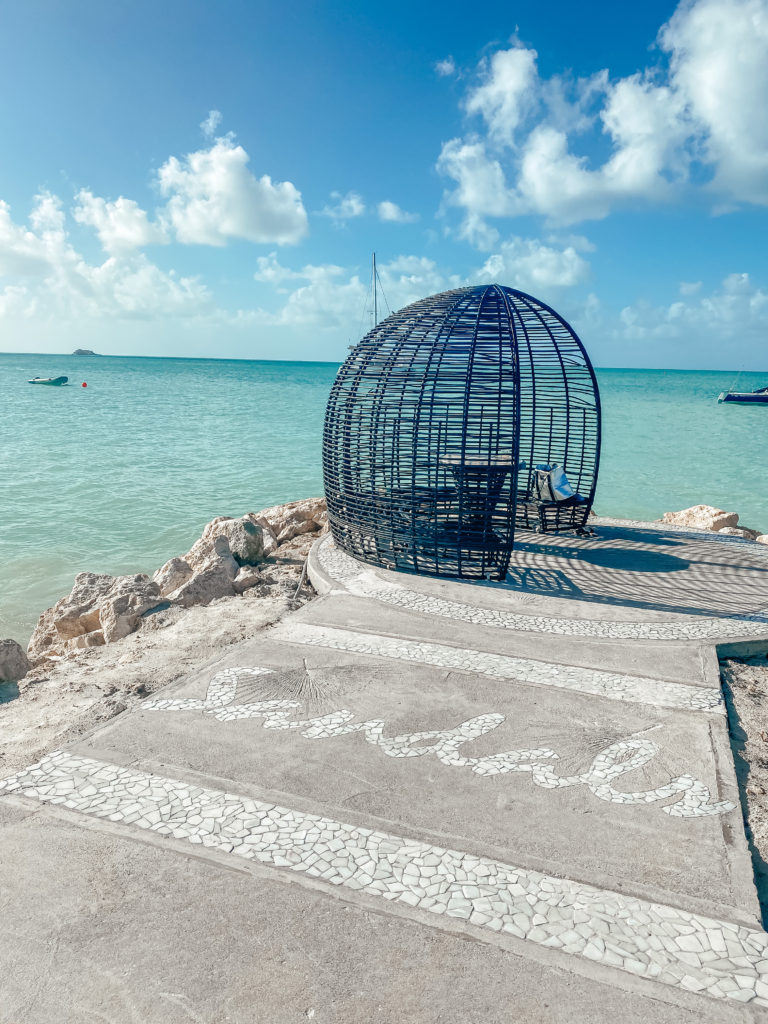 WHY SANDALS?
If you're looking for a wonderful escape from the hustle and bustle of everyday life and need a little pick me up, Sandals is for you! This adult-only resort provides unlimited food, drinks and fun. And you don't need to leave the resort for any of it! The staff is also accommodating, friendly and truly seek to know their guests. Our experience is always top-notch when we are there and leave us raving about our time when we get home. It is a seamless, relaxing and unforgettable stay that will leave you saying… "When can we go back?!"
+++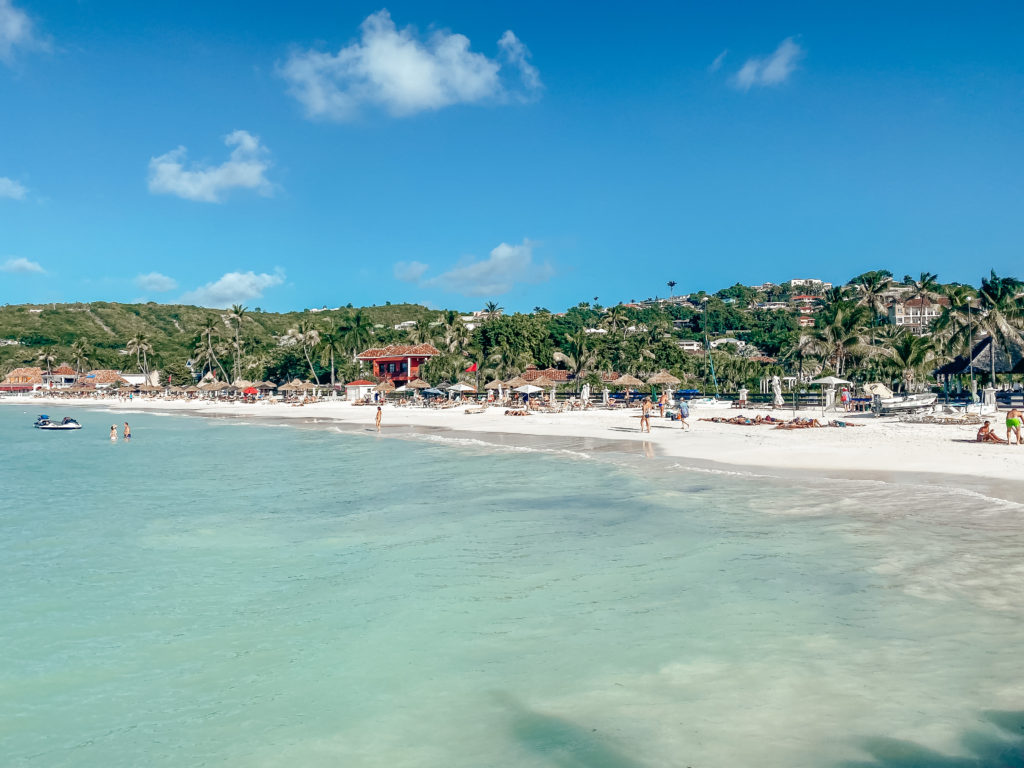 WHICH SANDALS DID WE GO TO?
We chose to visit Sandals Grande Antigua located in St. John's Antigua. Located on Antigua's best and most famous beach, Dickenson Bay, you are surrounded by breathtaking waterfront views of the Caribbean Sea and the beautiful white sand beach that spans the length of this couples-only resort. It is literally SO dreamy!
+++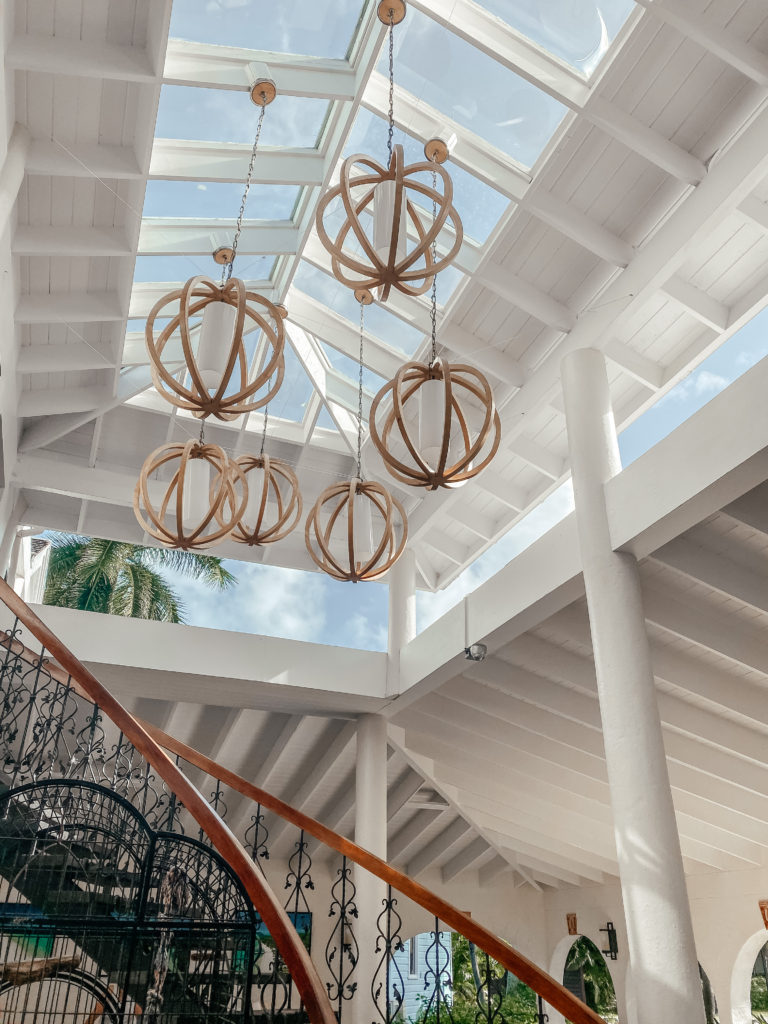 ARRIVAL
Arriving at Sandals is like being whisked away to a land of luxury of the highest caliber. When our car pulled up to the entrance, we were greeted by the most welcoming staff, accompanied with glasses of champagne and a sweet toast to our stay. It's the little things, right?!
Within minutes, we were checked in and making our way to our room. The resort has two sides: The Caribbean side and the Mediterranean. The Mediterranean side has a more new, modern-like exterior with a more contemporary feel inside, while the Caribbean has that vintage, beach vibe that is undeniable. Whatever your preference is, you can't go wrong!
+++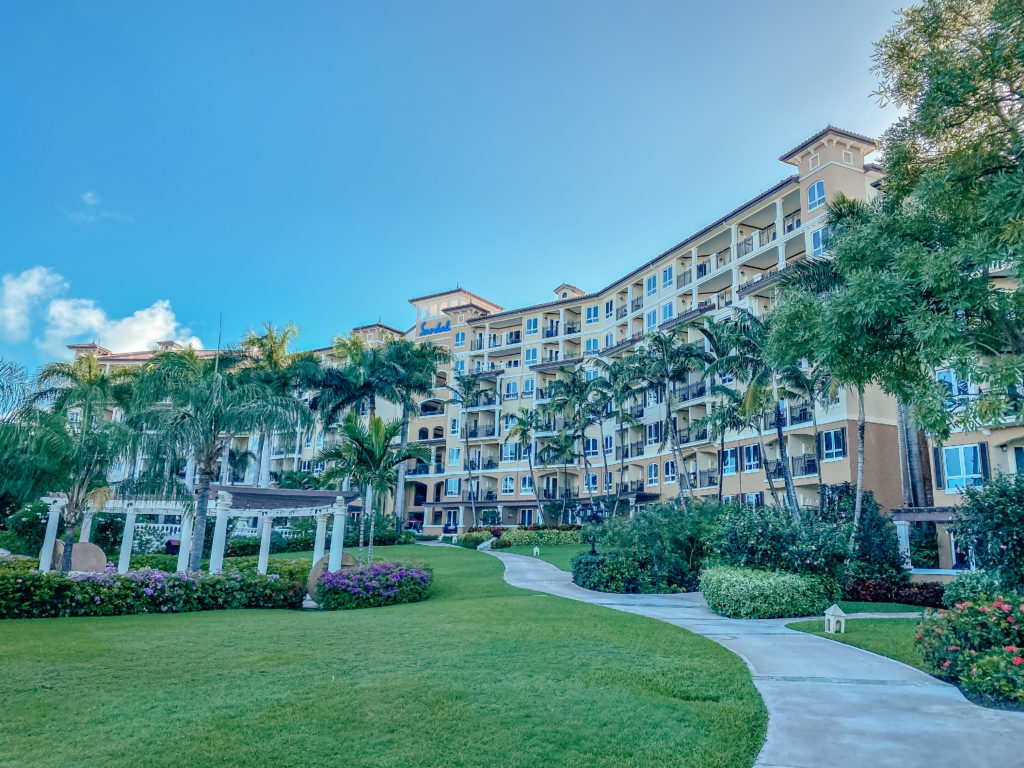 OUR DIGS
For our stay, we were located on the Mediterranean side of the resort on the top floor of the Almond Tower in the "Honeymoon Romeo and Juliet Ocean View Penthouse Suite." This suite, equipped with the Butler Service, provides panoramic views of Dickenson Bay, the Mediterranean Oceanview Village Pool and the lush resort gardens. It is also comes with an oversized private balcony off of the living room and bedroom. The outdoors are truly brought indoors! We could have sat out there for hours!
BUTLER SERVICE
This particular suite comes with the Butler Service; something we highly recommend. We had this service on our honeymoon and enjoyed it very much. During our Antigua stay, we enjoyed the pleasant company of three butlers. They truly take that extra special step to make your stay even more enjoyable (if that's even possible) and provide services like:
Reserving your dinner reservations at specific restaurants (only the butlers can do this at specific locations)
Reserving your beach/pool chairs (again, only they can)
Provide you with a cell phone to reach them with ANY needs you might have (food/drink orders to wherever you are, questions, etc)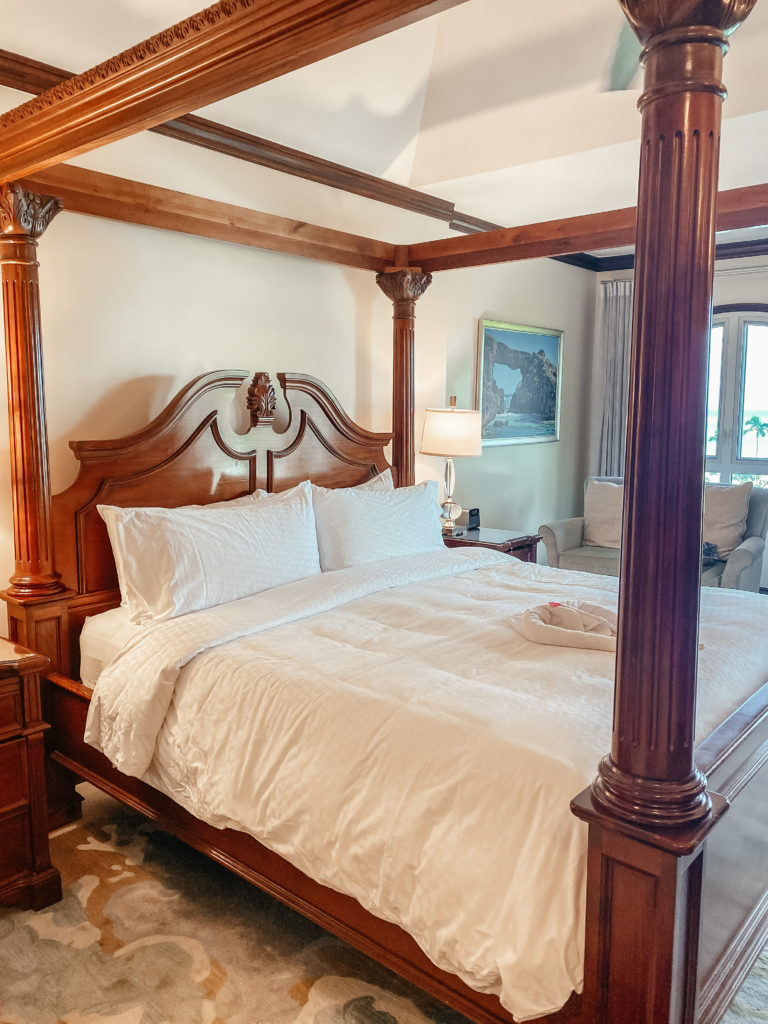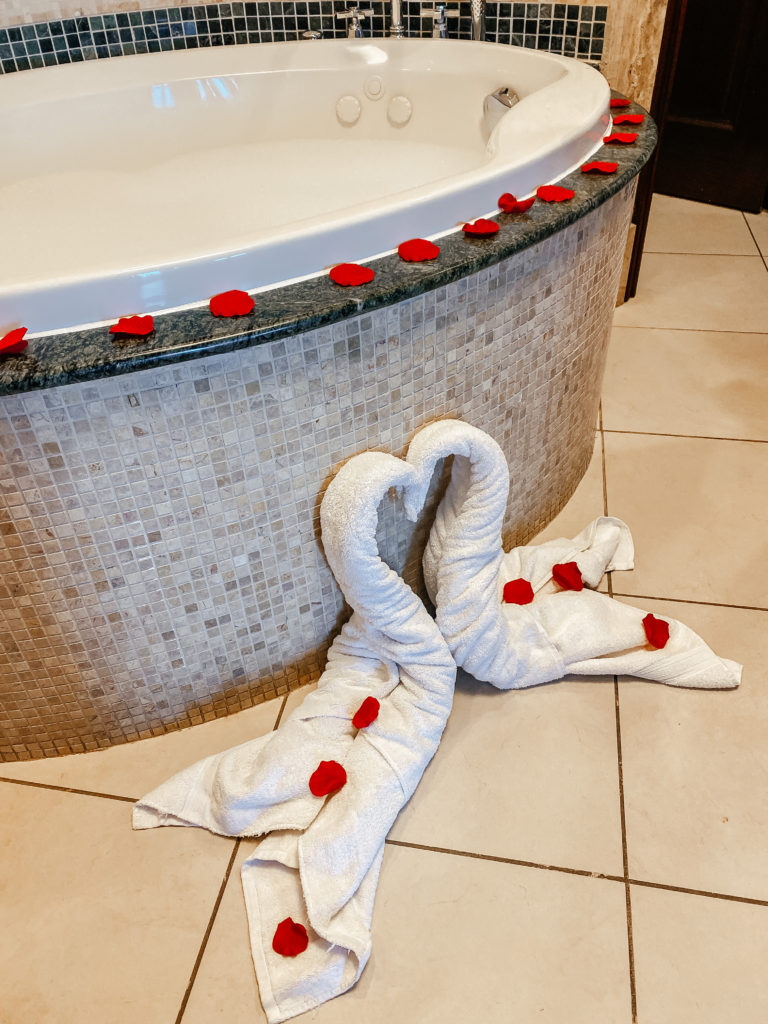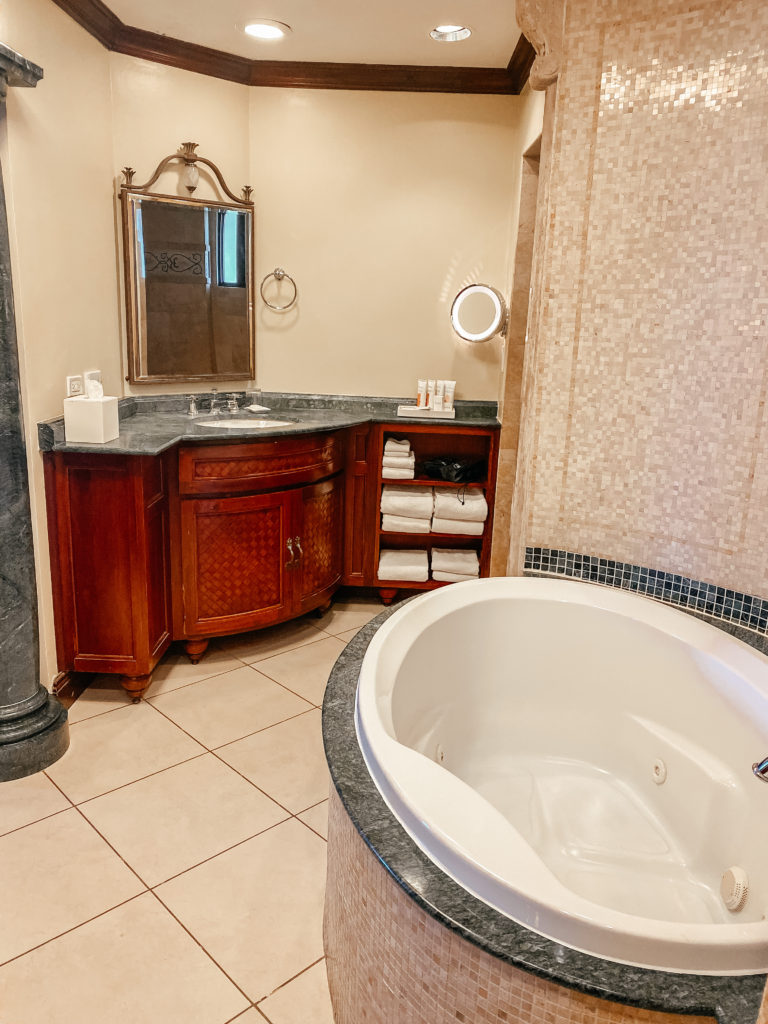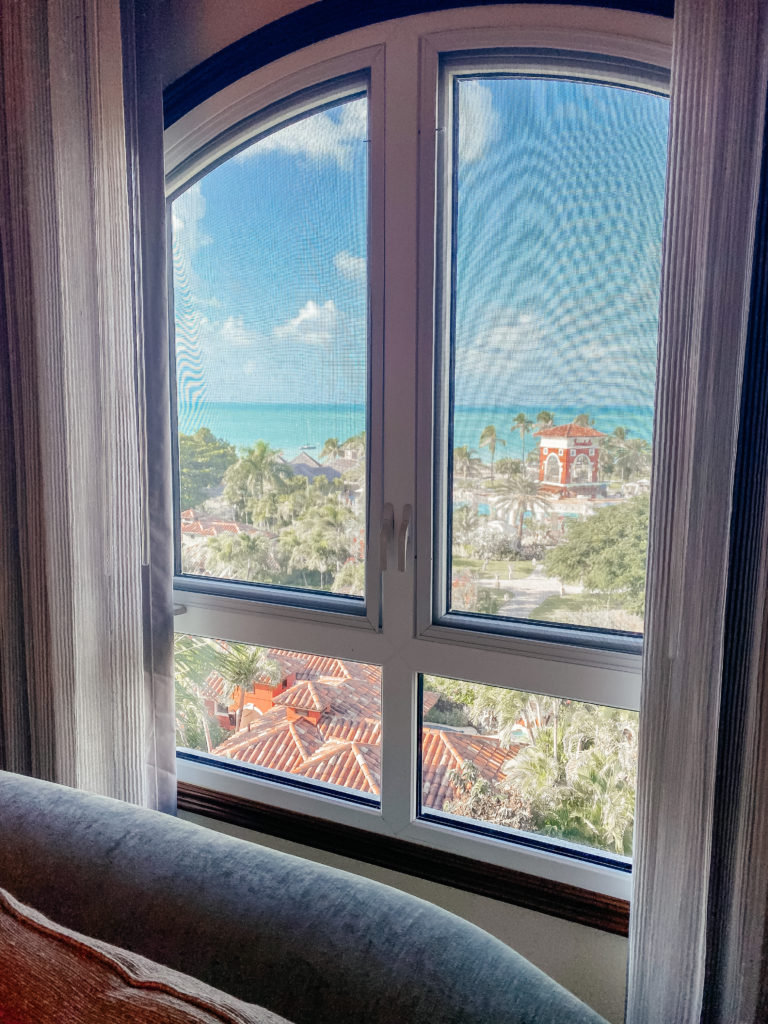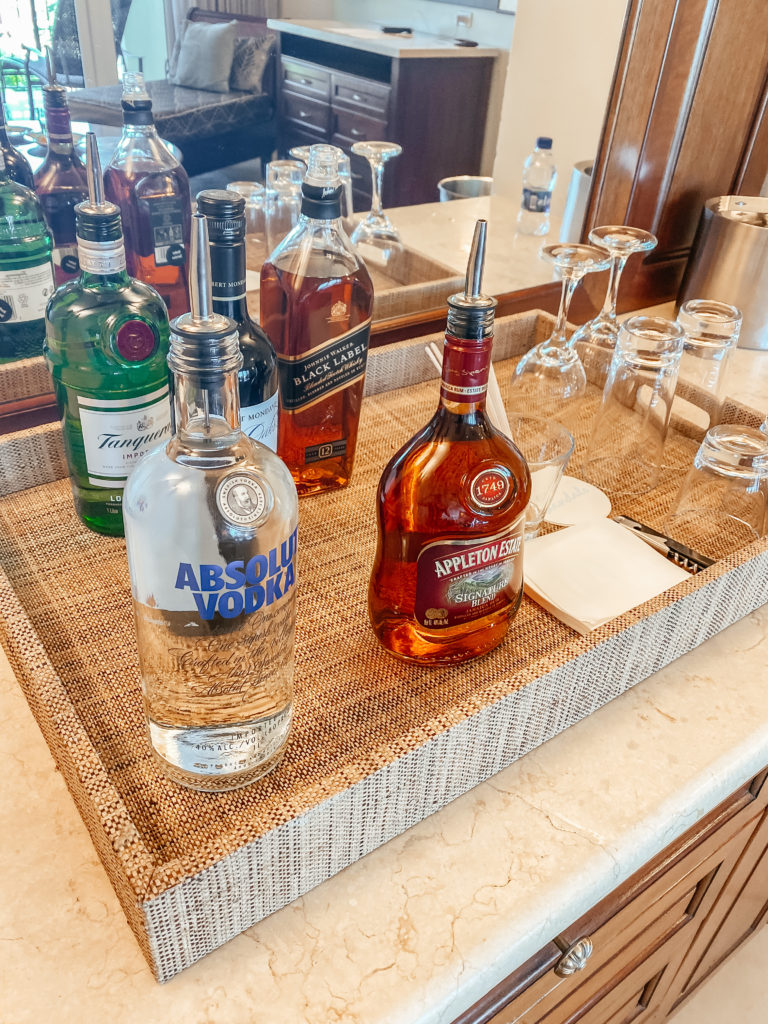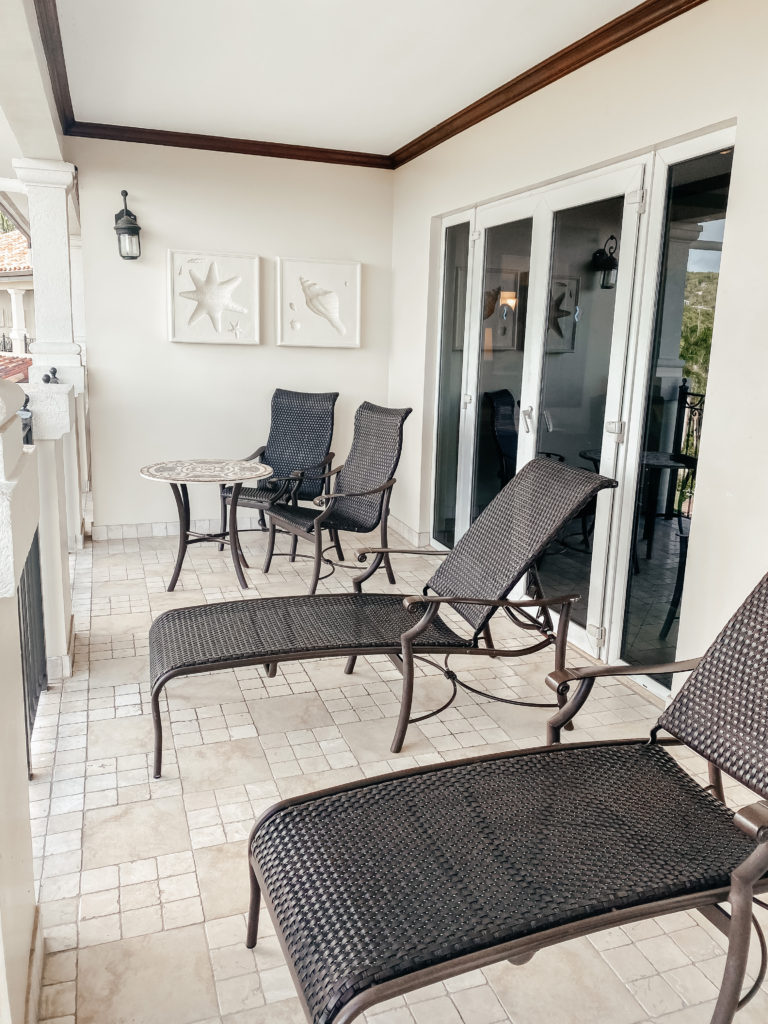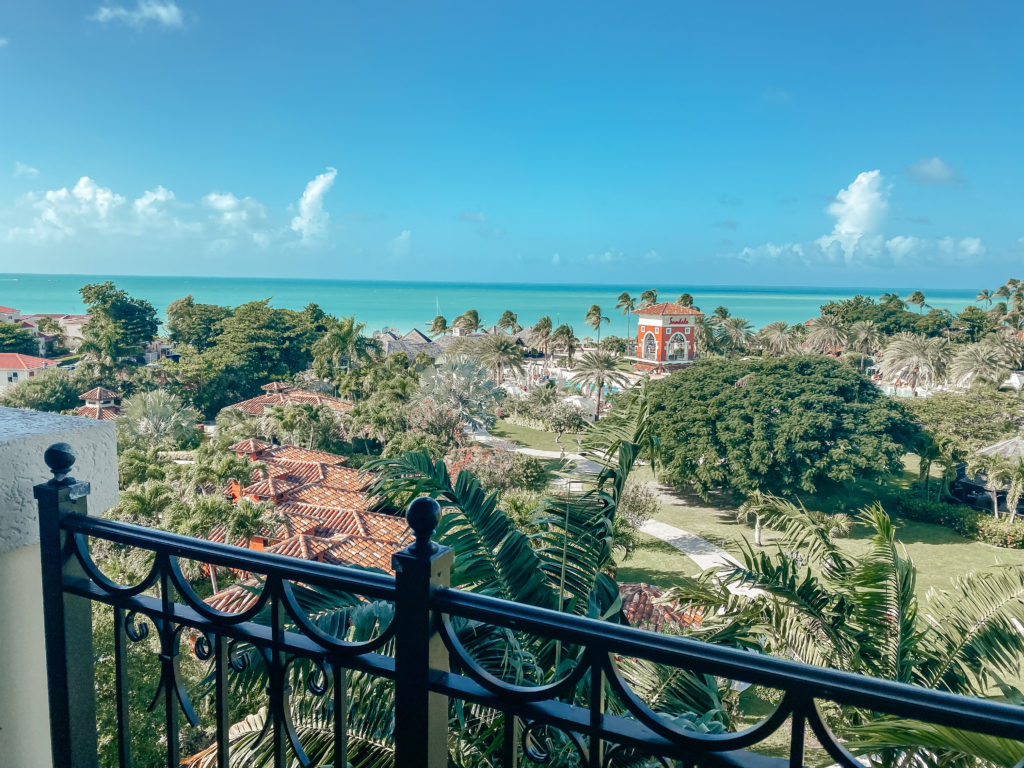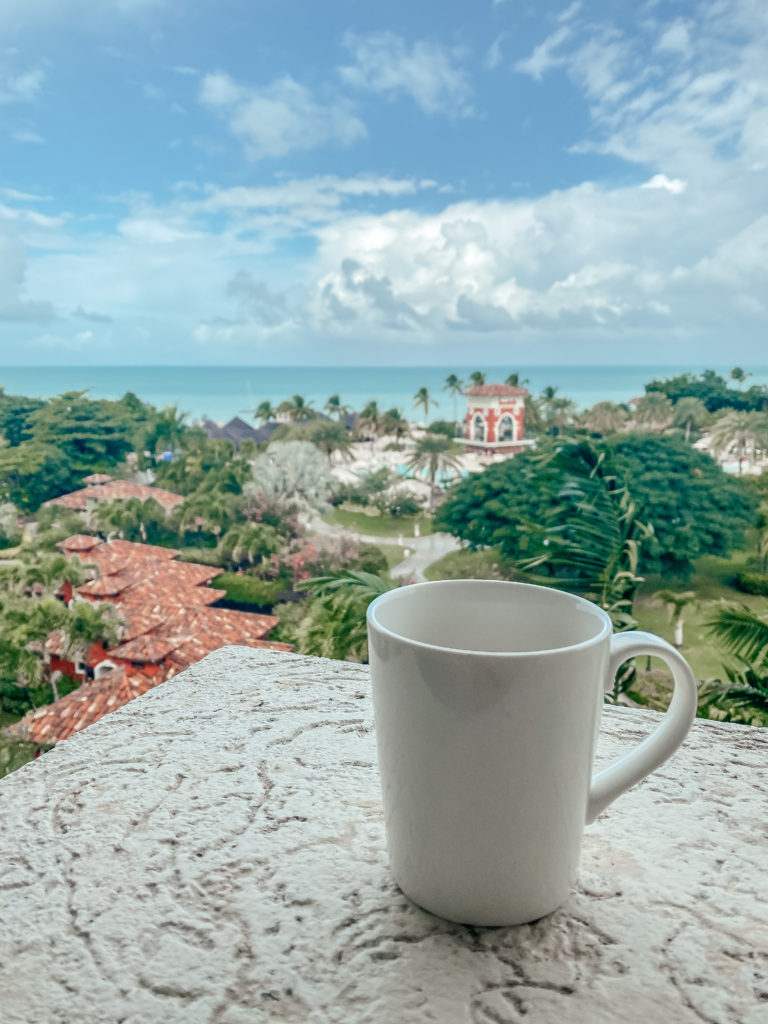 +++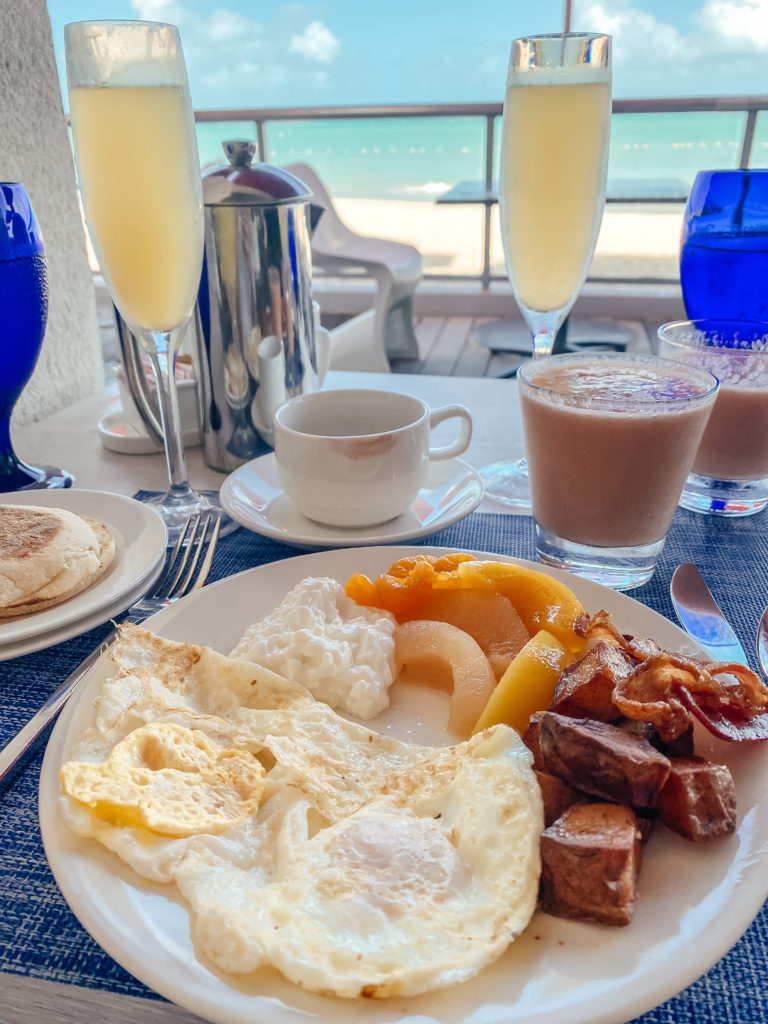 MORNING RITUAL: BRUNCH AT BAYSIDE + POOL
Brad and I are creatures of habit. We love schedules and having a game plan each day. The great thing about Sandals is that everything is available to you whenever you want it, so you have free reign over what you want to do and when you want to do it. You feel just a tad bit spoiled!
Each morning we would head to brunch at Bayside. They offer a buffet-style breakfast and lunch right on the water. The views are stunning and the open-air concept truly makes you aware of your surroundings. It is light, airy and absolutely delicious! From custom smoothie creations to a full-service omelet bar, it has everything you could possibly want. You literally don't have enough time to try everything!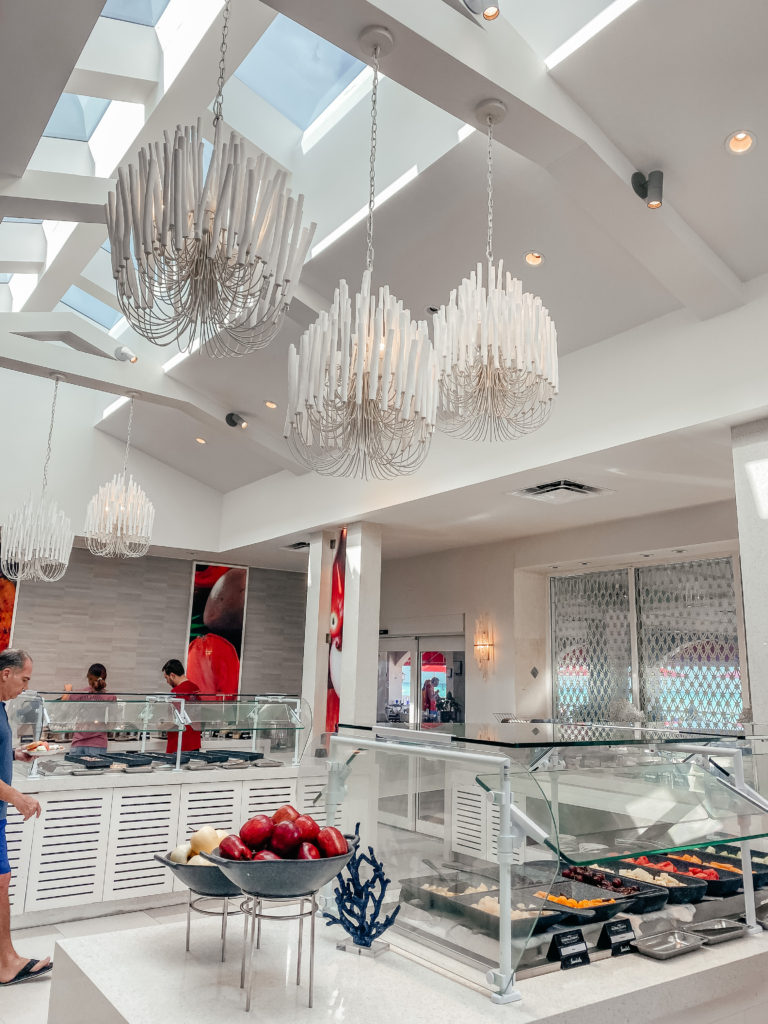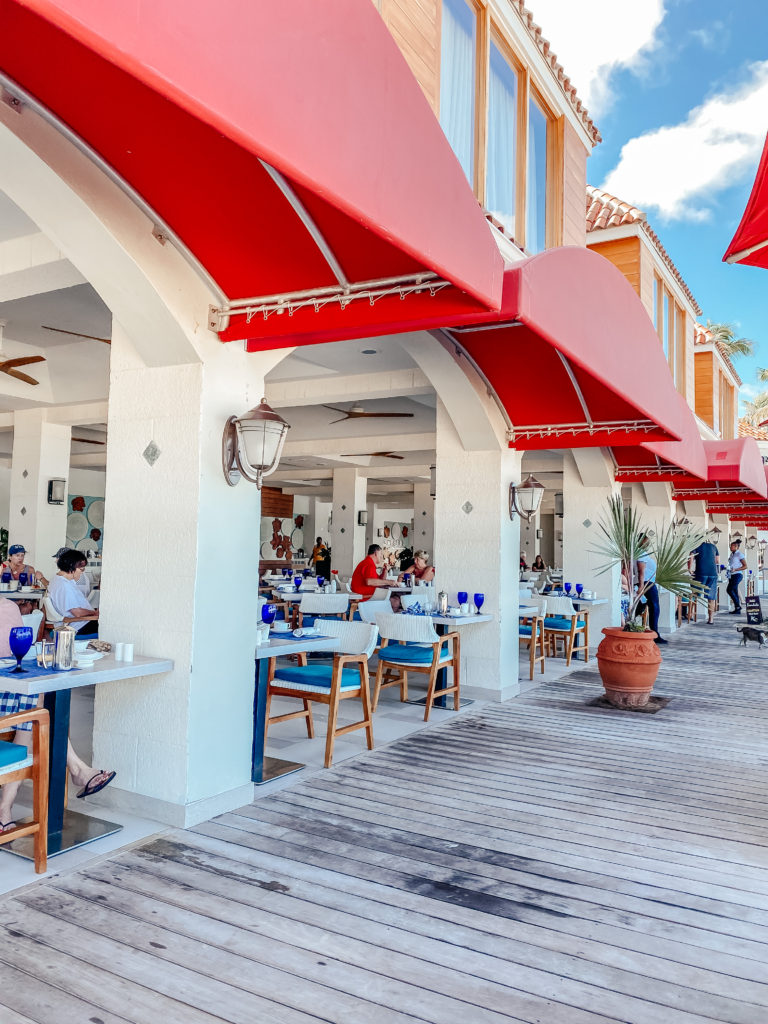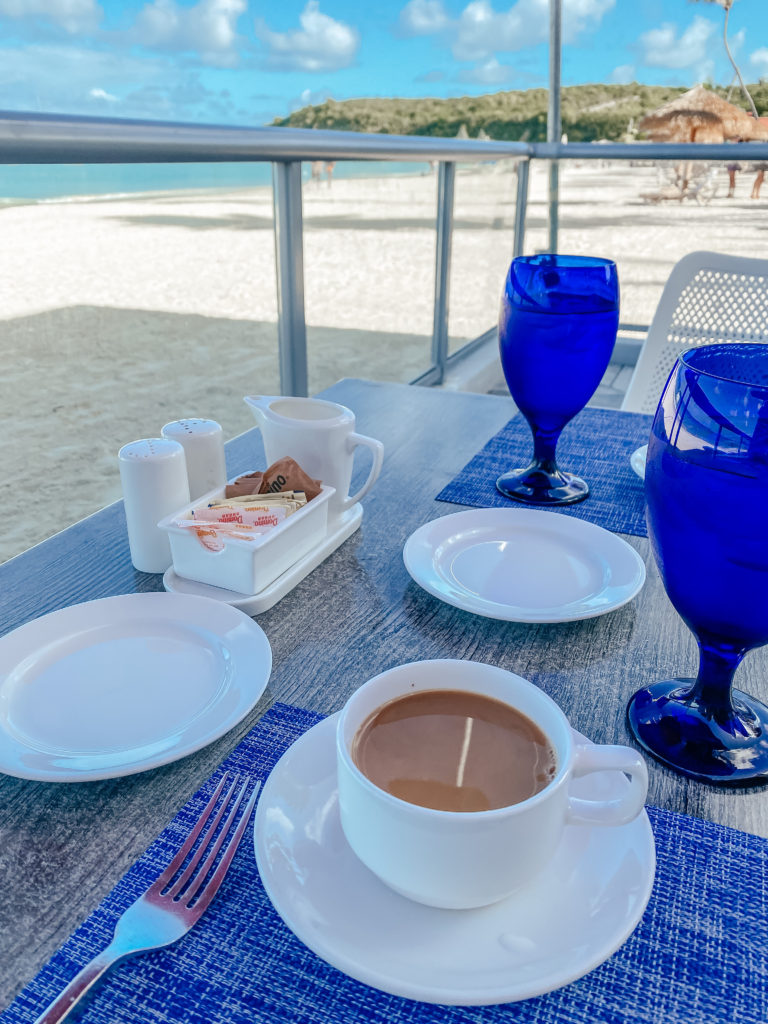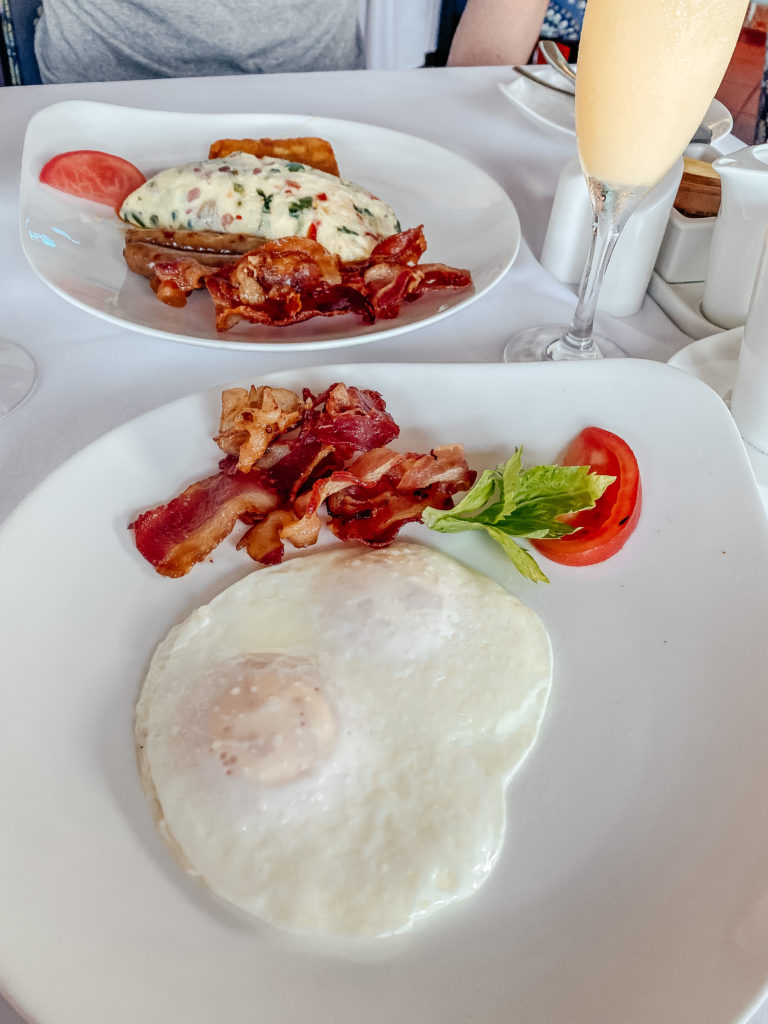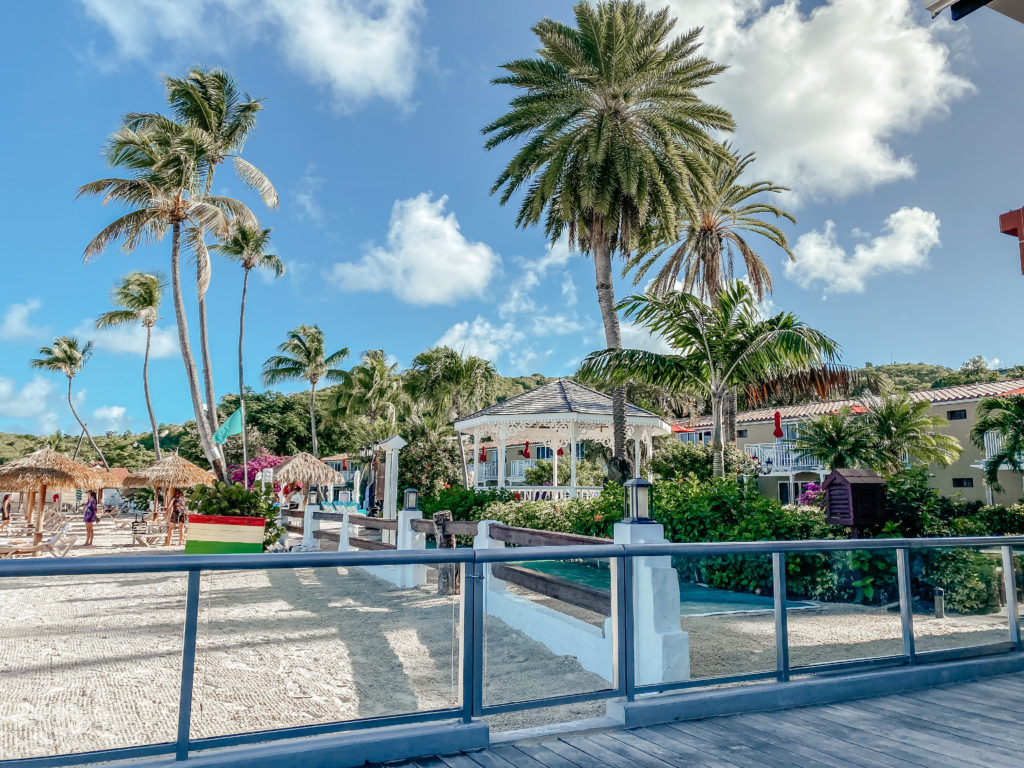 +++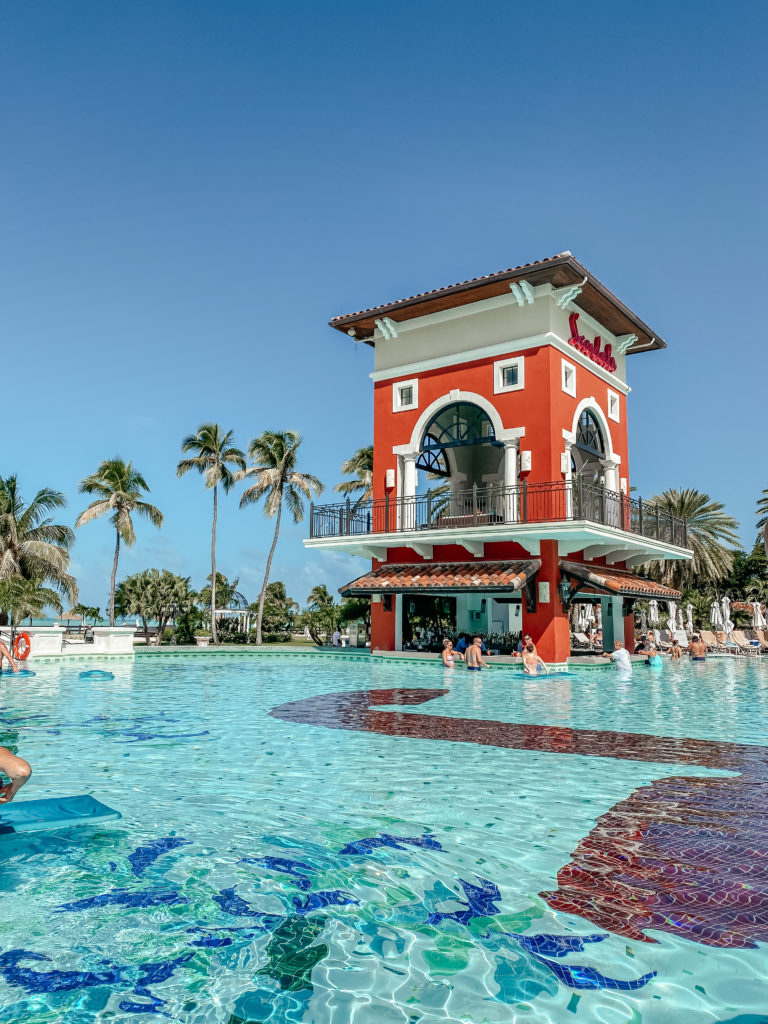 MEDITERRANEAN OCEANVIEW VILLAGE POOL
With our full bellies and a slow swagger (you know, from all the food), we would make our way to the Mediterranean Oceanview Village Pool to snag our pool chairs (courtesy of one of our butlers each day) and grab some drinks and lunch. With a swim-up bar and the most entertaining bartending staff, the pool is such a fun way to relax and mingle with other resort goers. Plus, the views of the ocean from your poolside chair… you just can't beat that!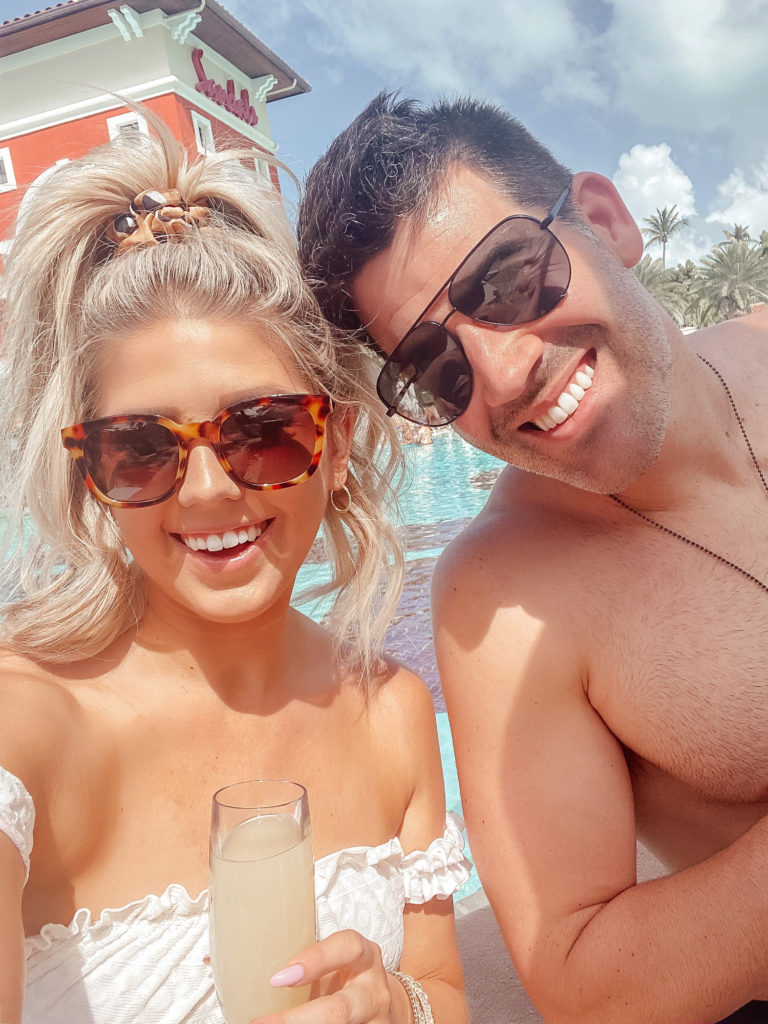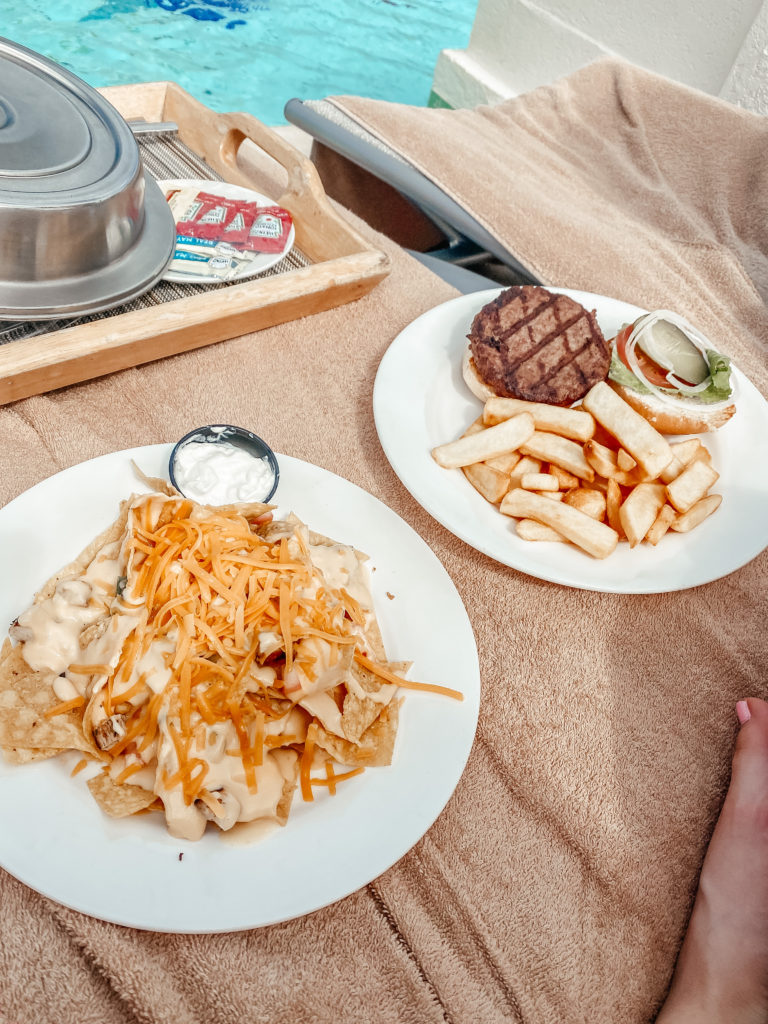 Have a butler? Simply use your "Butler Cell" and place a lunch order. Not only will they bring you your tasty poolside snacks, but they always come bearing fun drinks you didn't even ask for. As they would say, "You're on vacation."
In the mood for pizza? You can literally swim over to a little outdoor pizza place called Bella Napoli, a short thirty second walk once you cross the pool. We were obsessed with this cheesy goodness!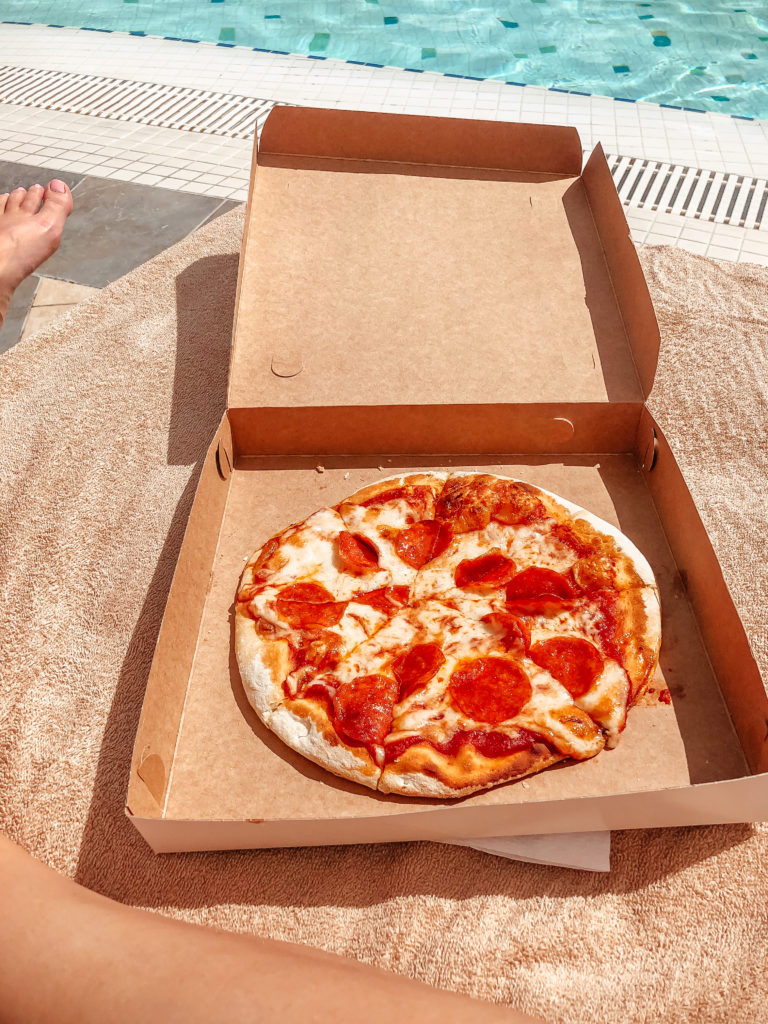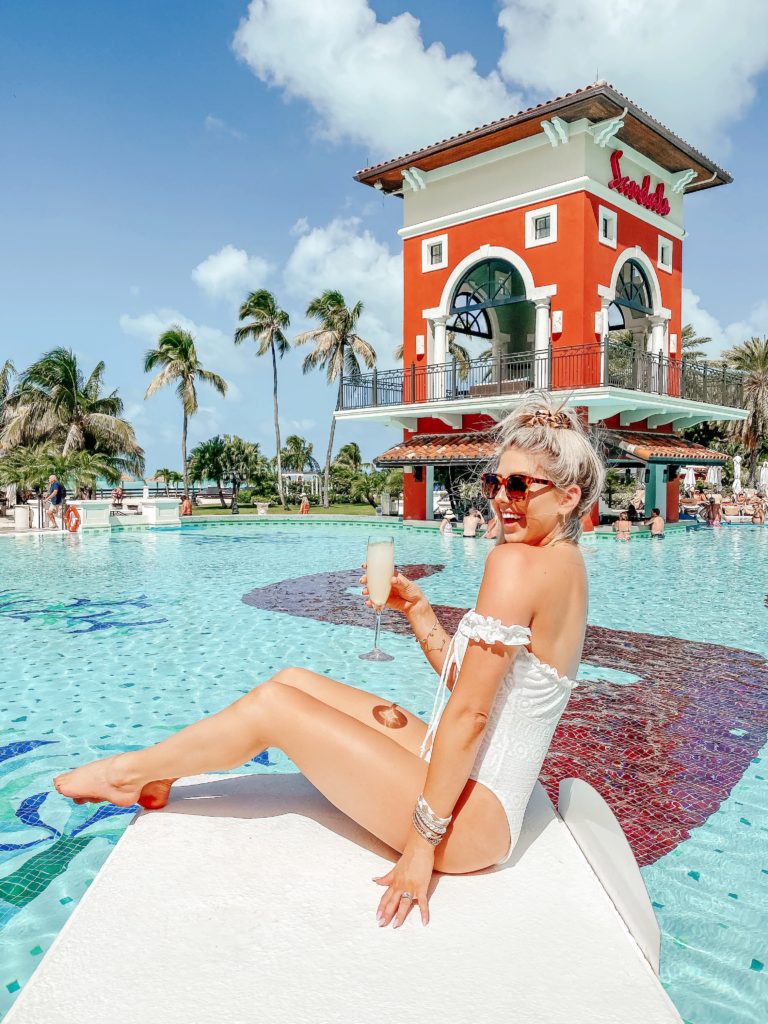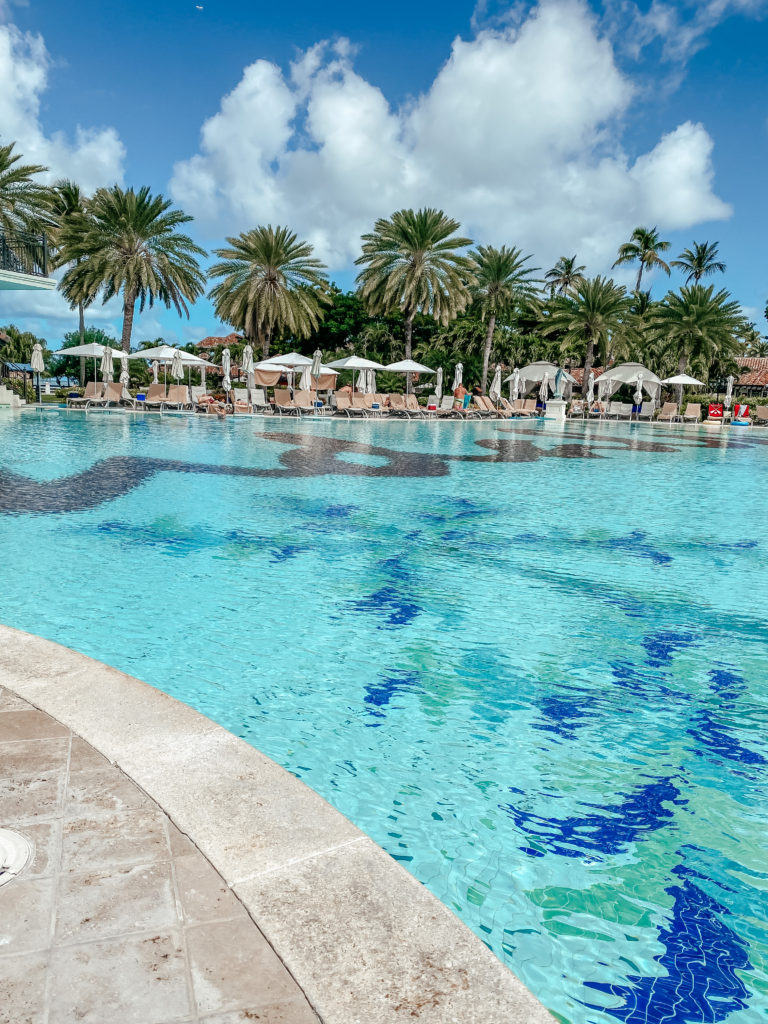 +++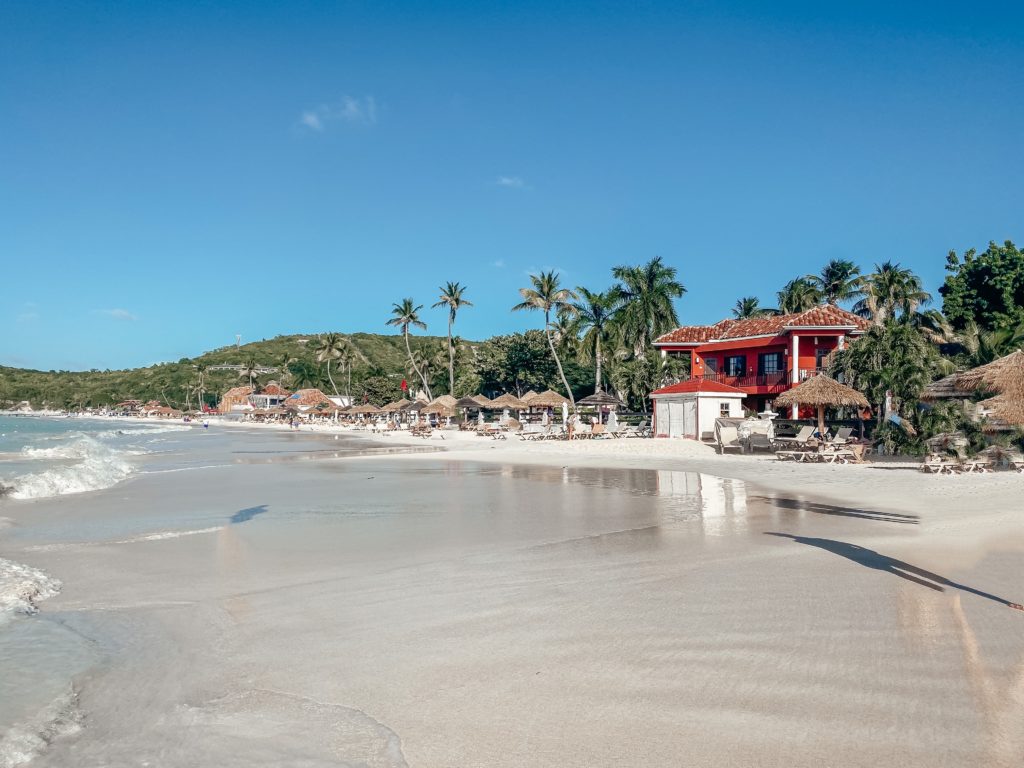 AFTERNOON PLANS: BEACH TIME + SUNSET
From the pool, we would make our way to the beach for a little ocean swim and some relaxation on the beach chairs. Even though we didn't have our butlers set aside chairs, we were always able to find some. That is another great thing about Sandals; It's not overcrowded!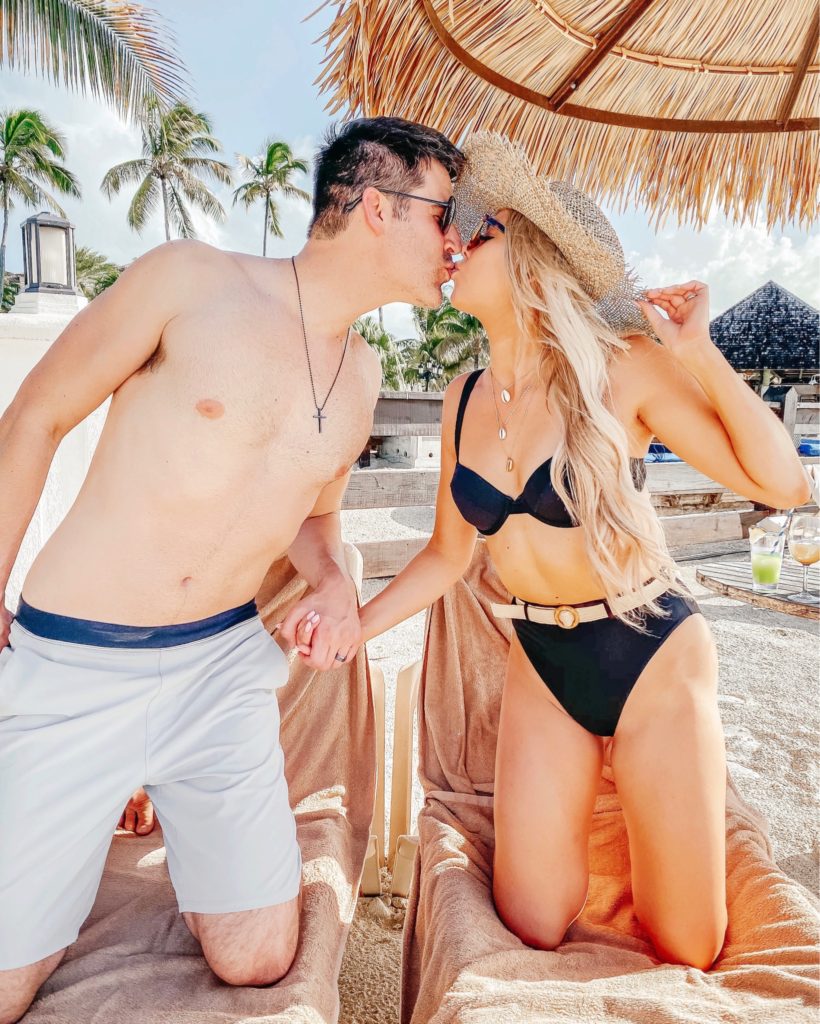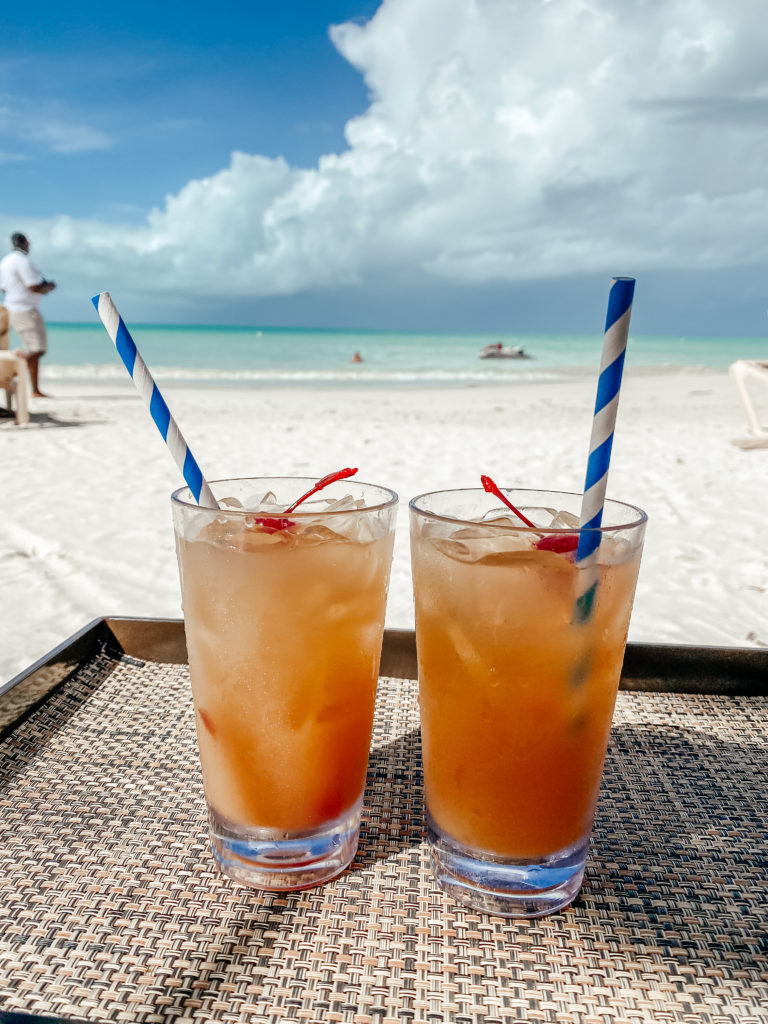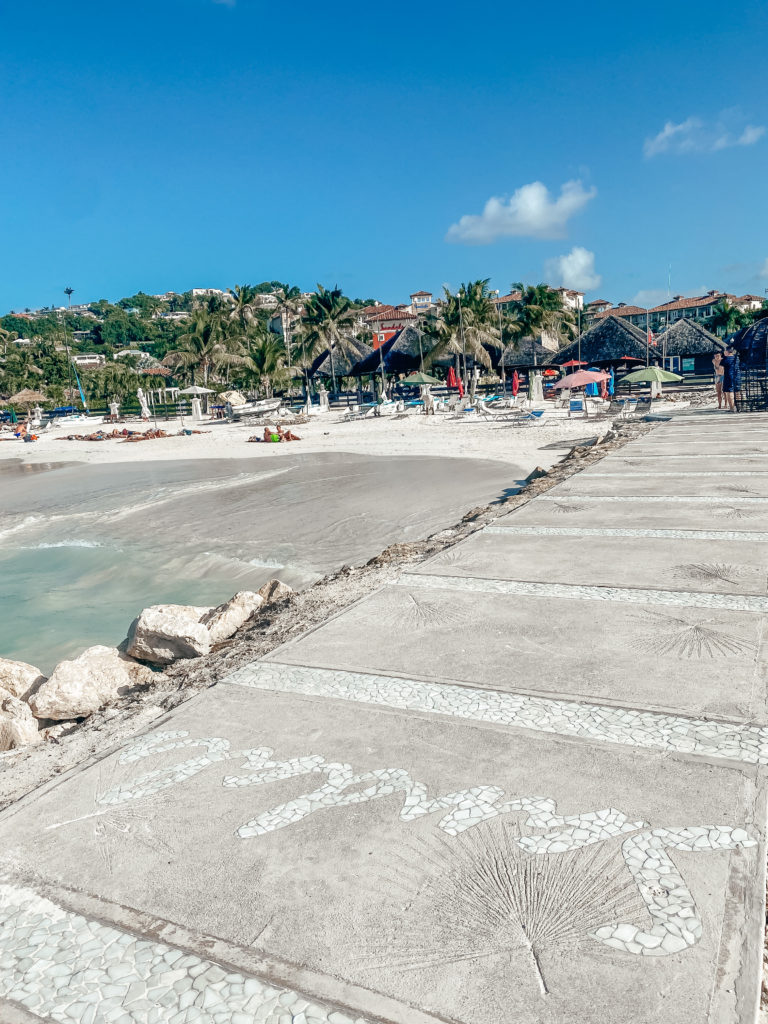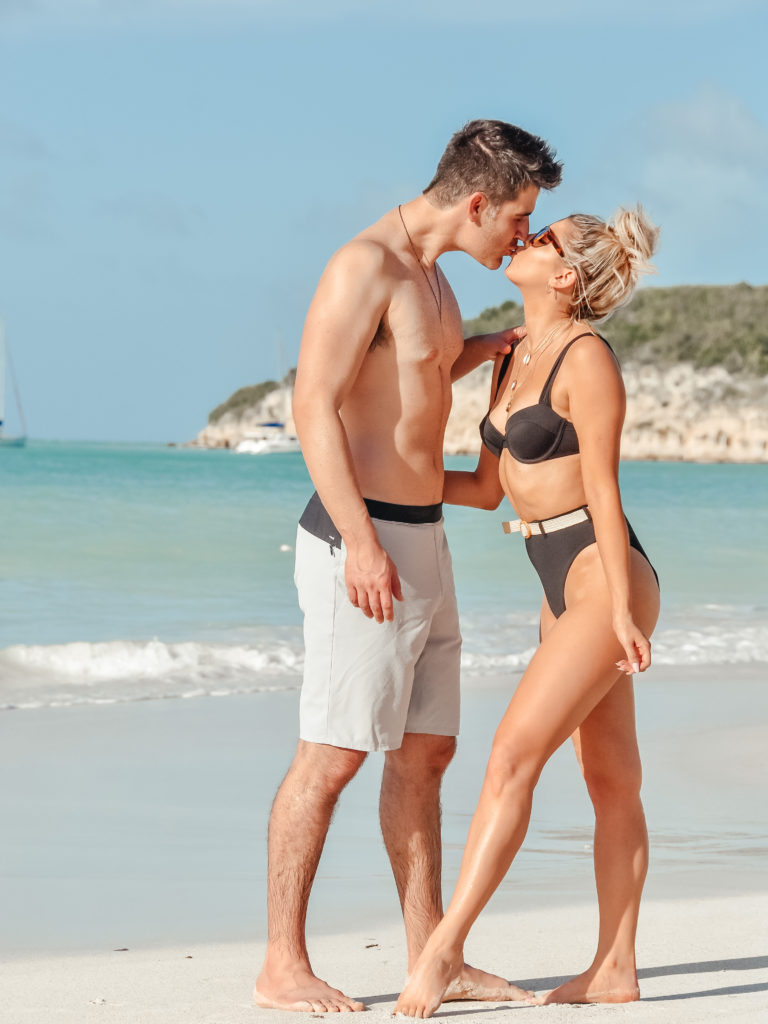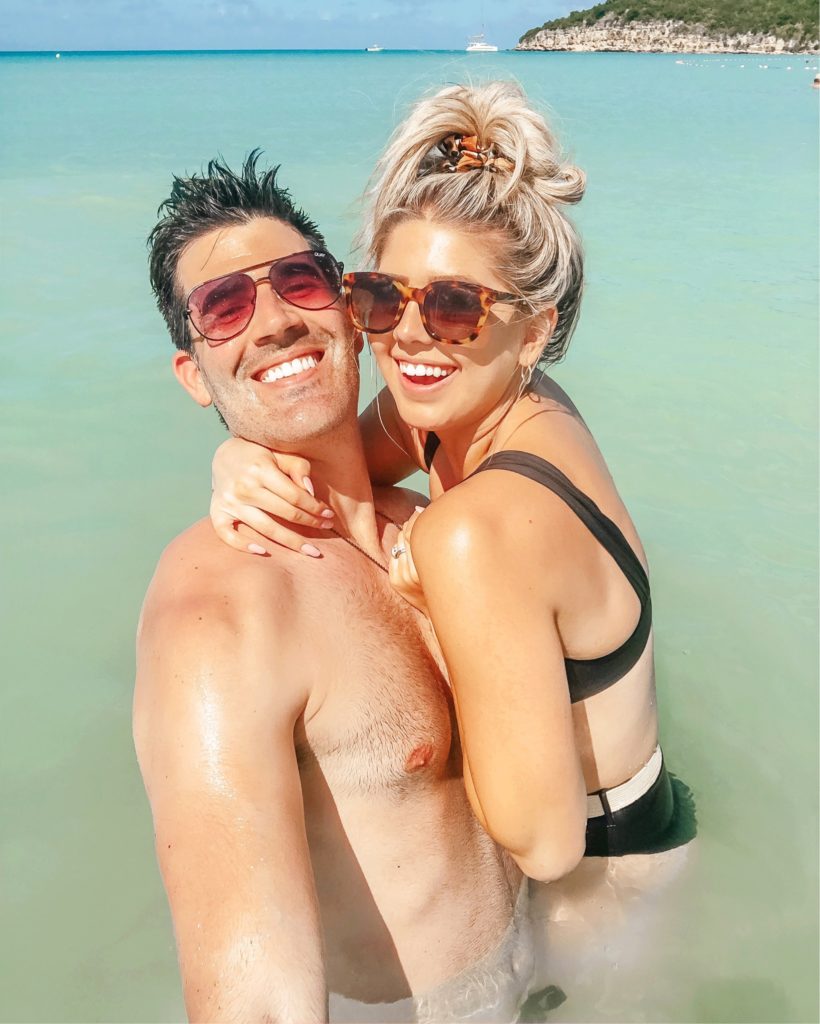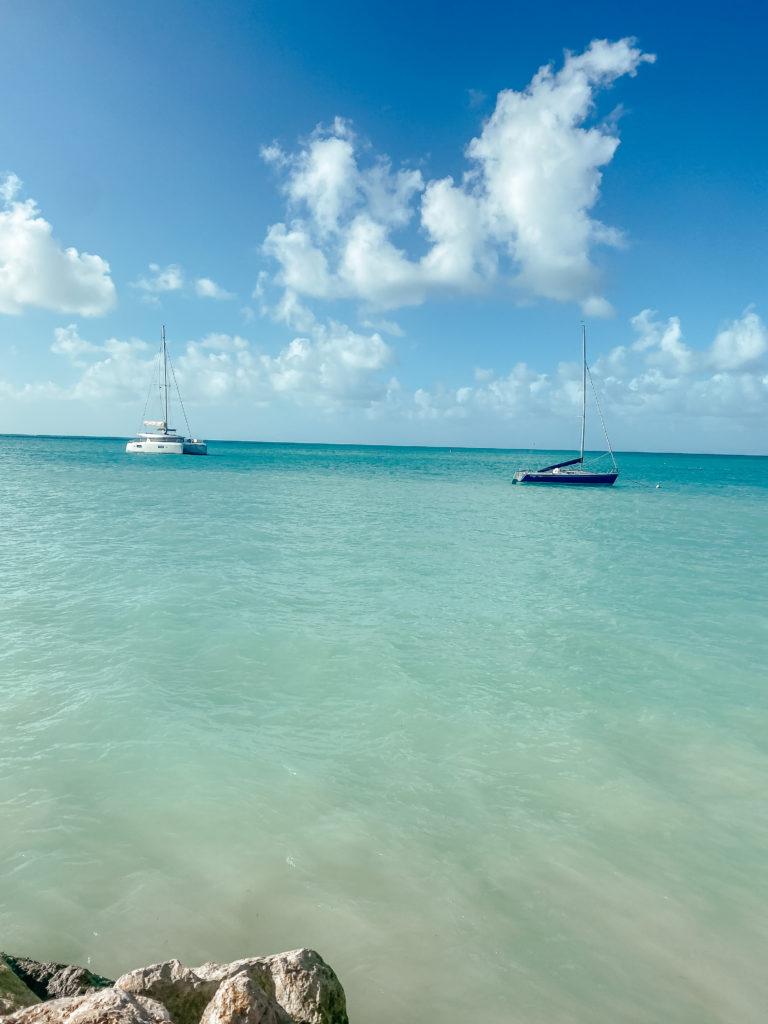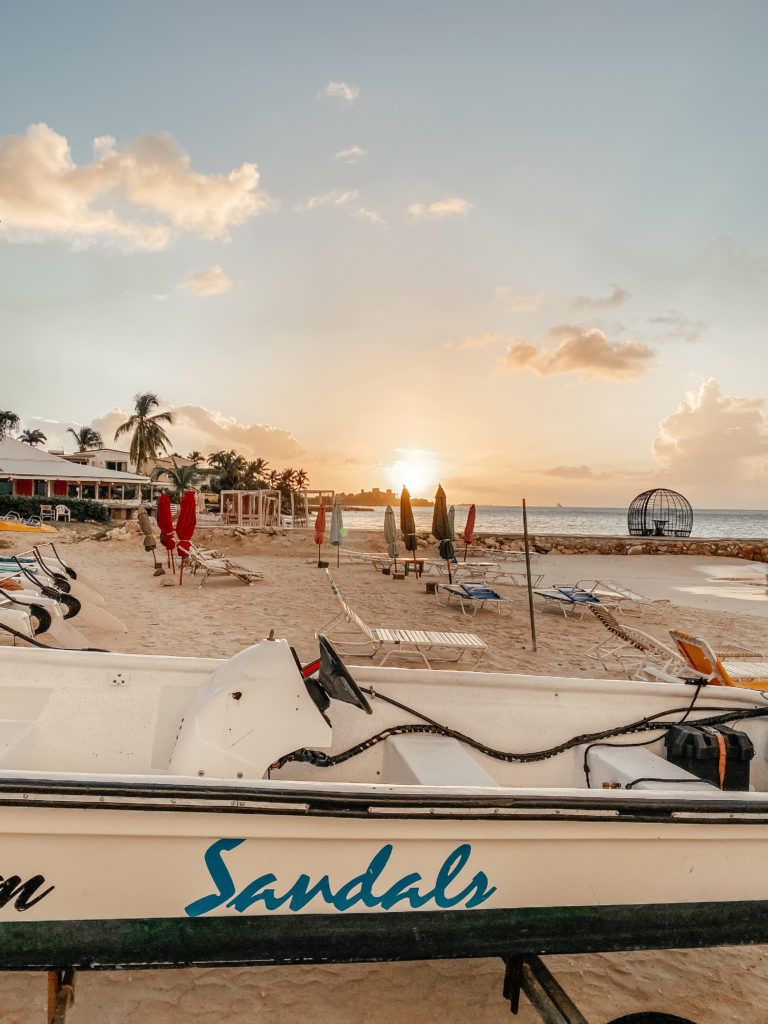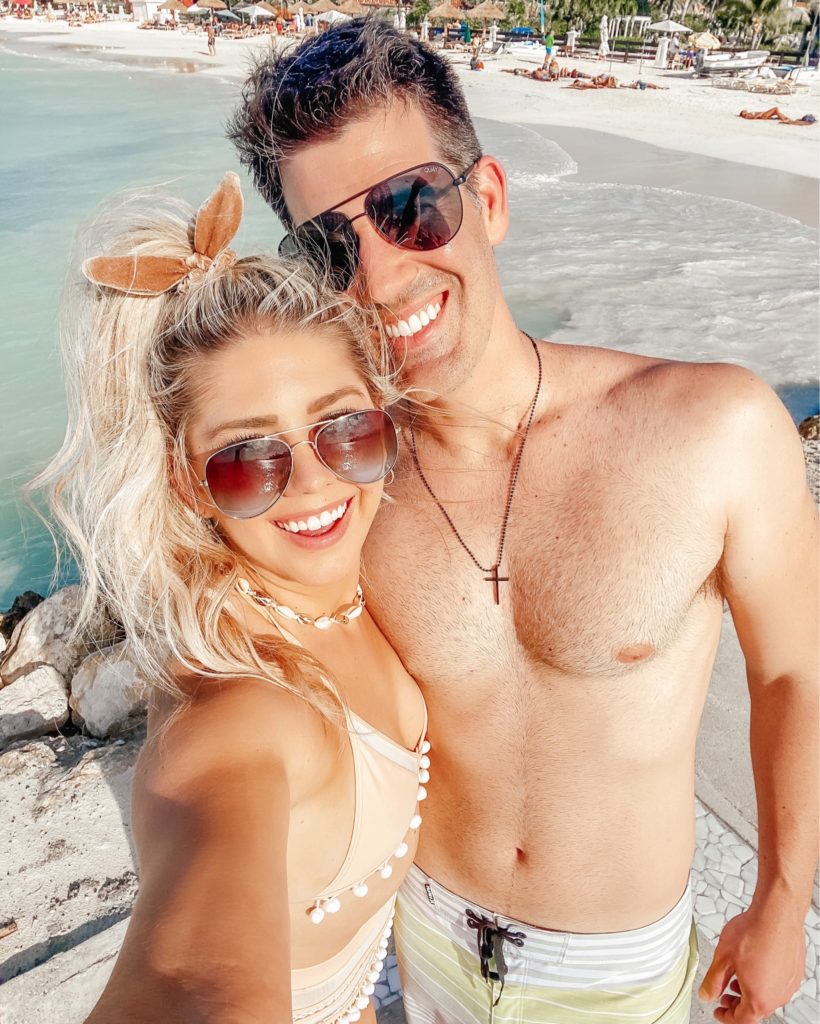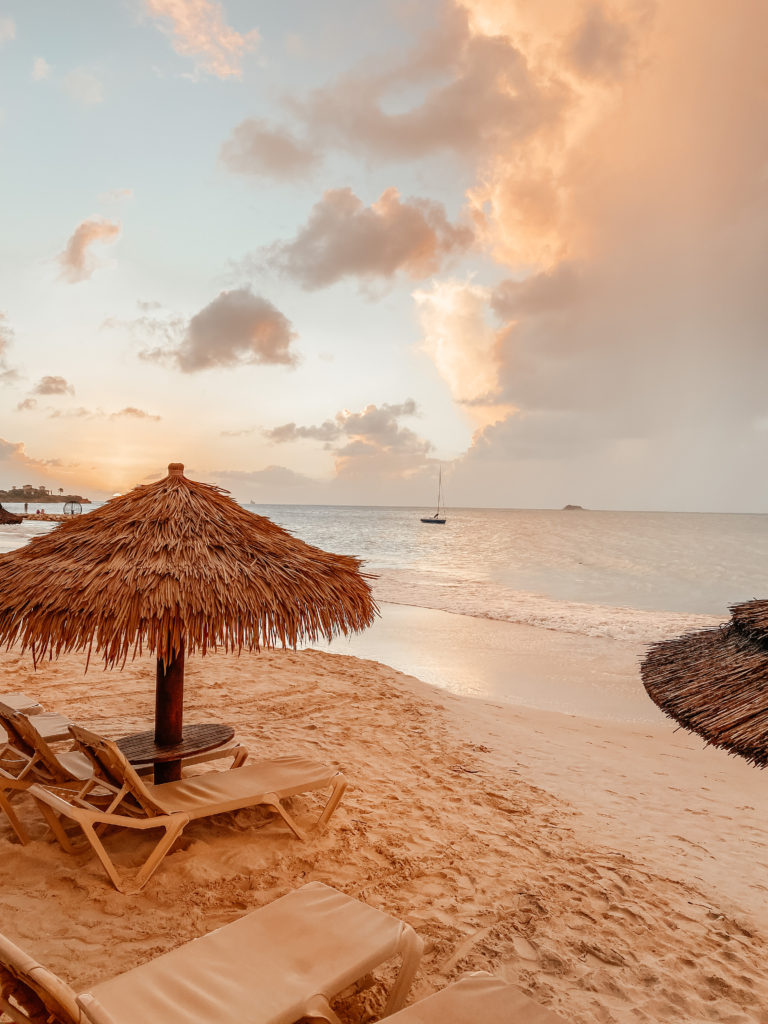 +++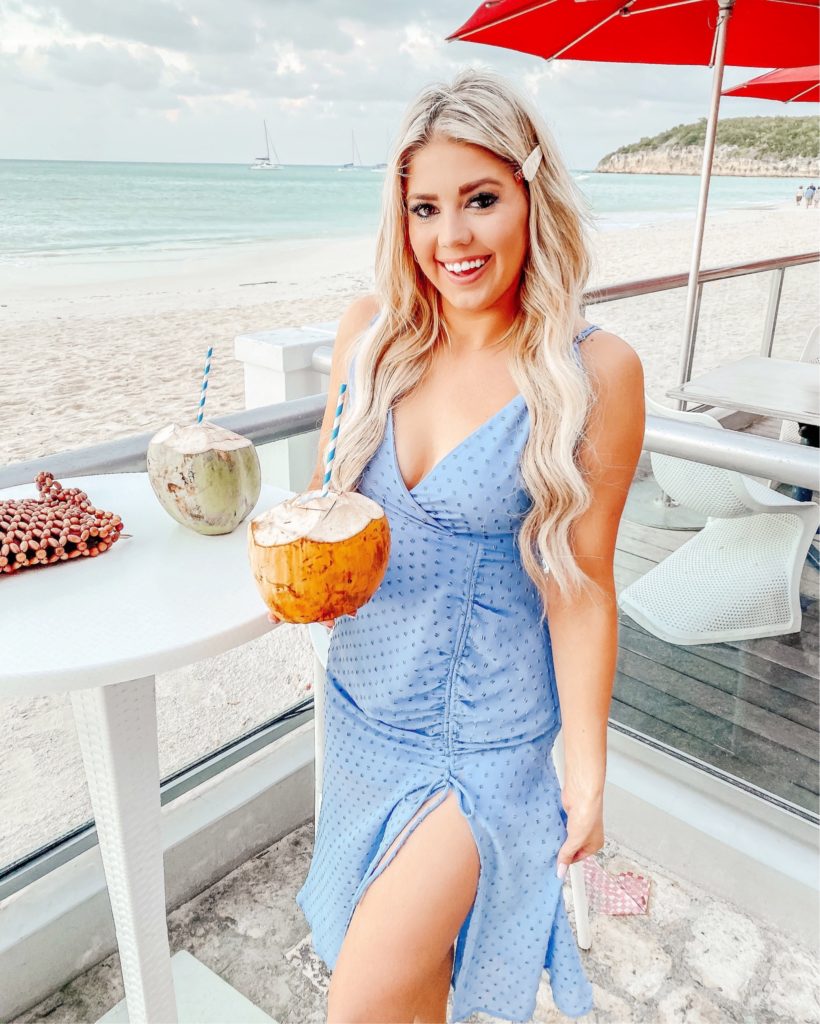 EVENING ROUTINE: COCKTAIL HOUR + DINNER
After we were cleaned up for the evening, we always began the night with a little cocktail attire. Sandals does a great job with entertainment and always have pre-dinner cocktail hours with a little swagger. One night there were flamingo dancers with cocktails straight out of the coconuts! It was a great way to transition into the evening hours!
Now let's be real… who doesn't love a fabulous dinner?! Brad and I get pretty pumped to eat out and we loved all the amazing options Sandals had for dinner. Here's a little glimpse into some of the restaurants we ate at!
+++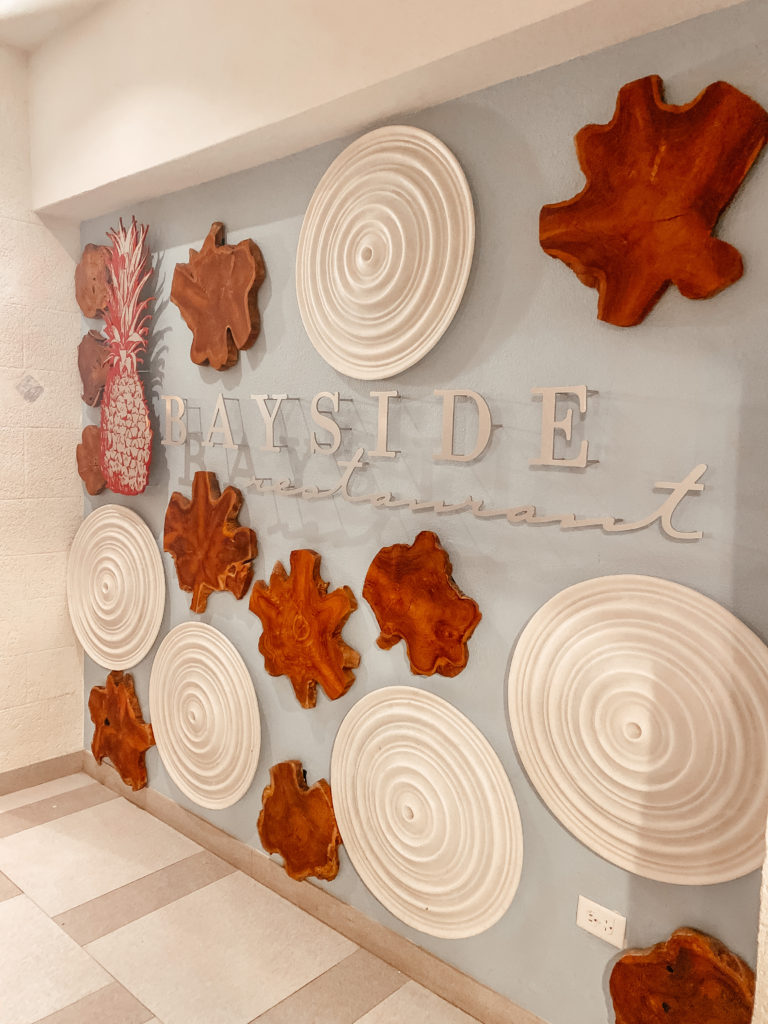 BAYSIDE RESTAURANT
On our first night in Antigua, we dined at Bayside. Caribbean flavor among the stars. This is the spot to indulge in all your seafood favorites or steaks. In the same restaurant as the buffet-style brunch, this open-air dining experience truly captures the essence of dining in the Caribbean. With the waves as your ambiance and the moon providing the backlight, it's a very romantic and delicious spot!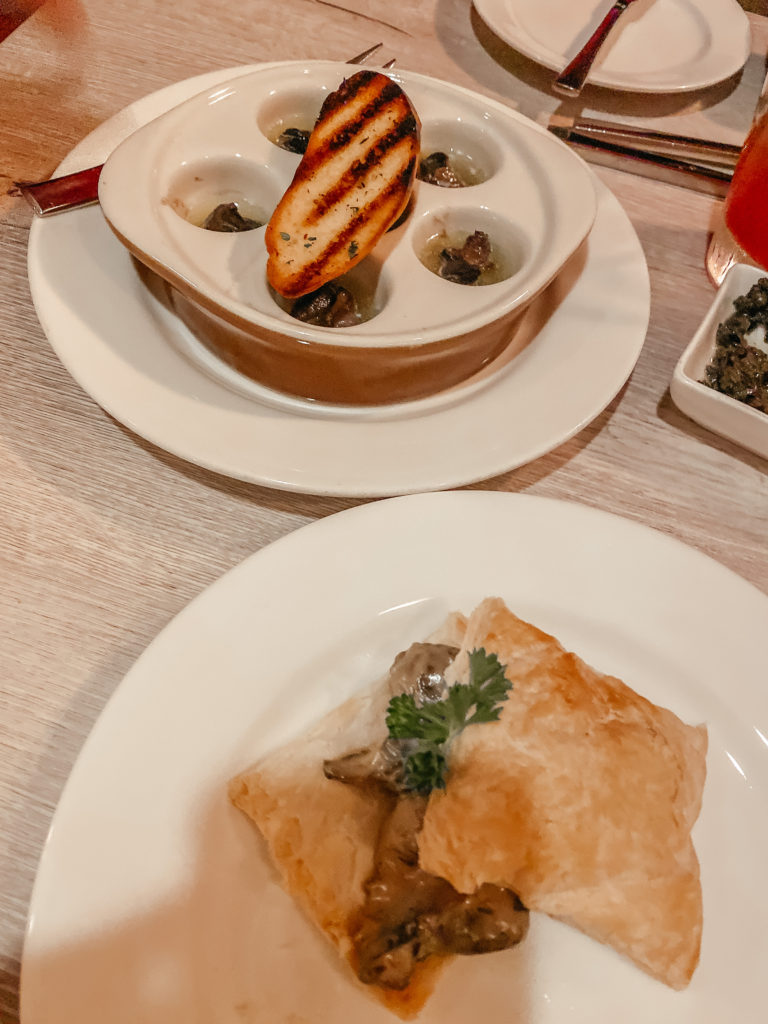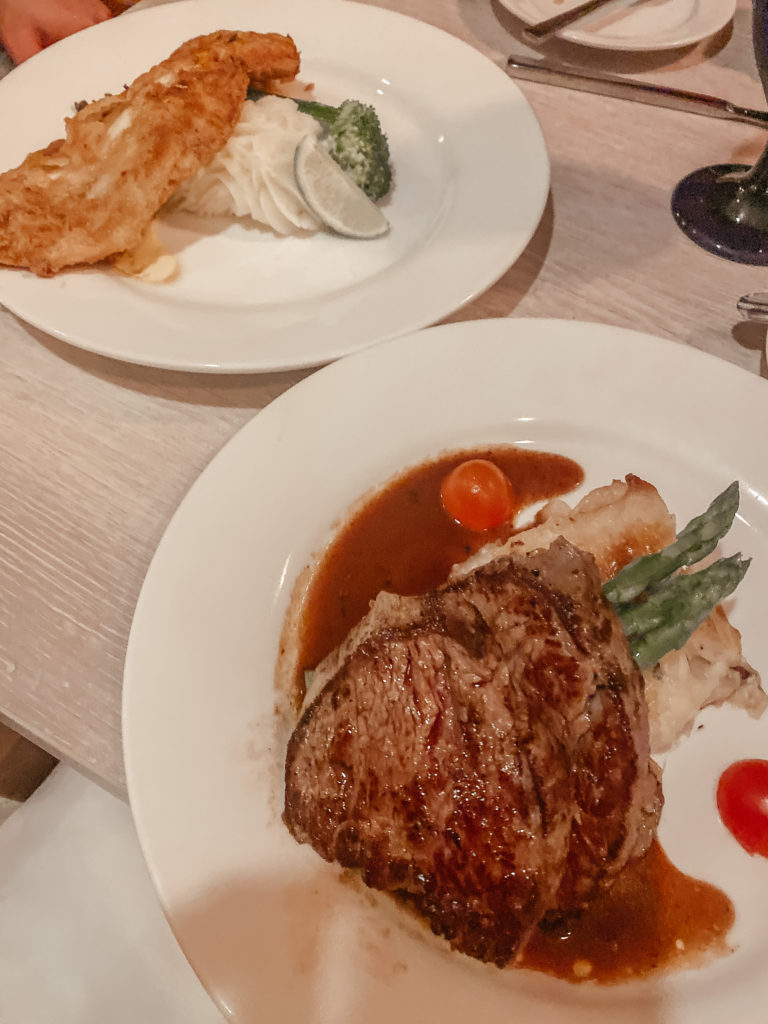 One of our favorite things we ate at Sandals on our honeymoon was the escargot. Yes, snails! They are SO good. We had to order them again. We also tried the mushroom ragout as an appetizer as well. Cause in Sandals, you don't have to choose!
For our entrees, I chose a cut of steak and Brad tried one of the seafood entrees. They were absolutely delicious.
+++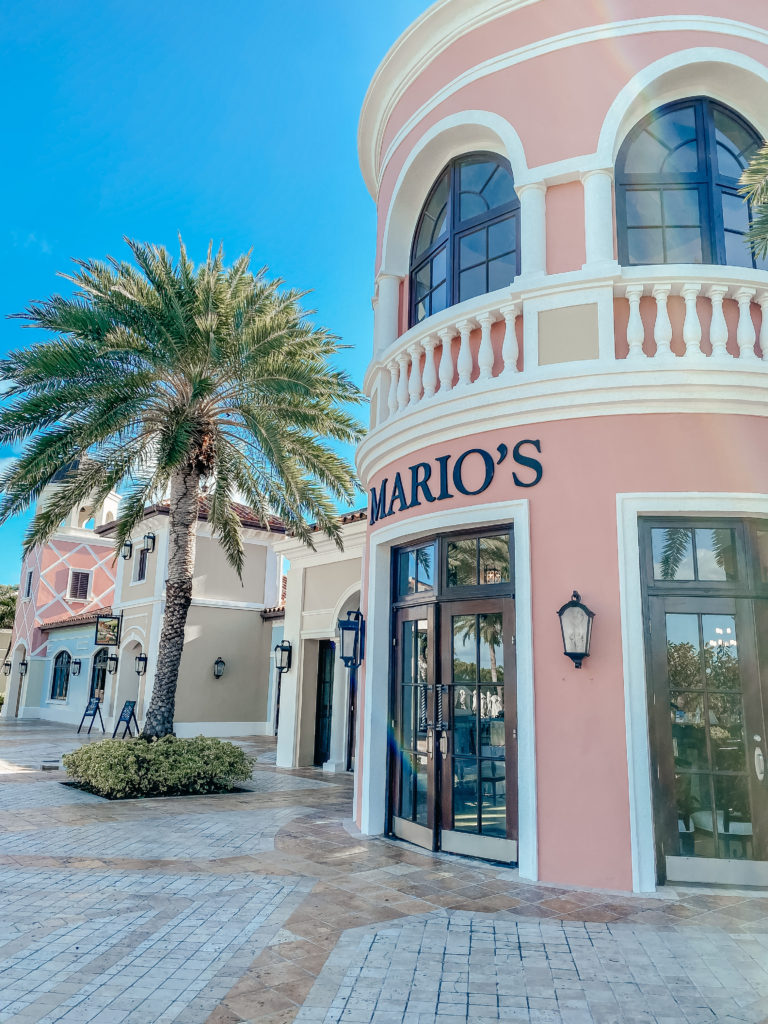 MARIO'S ITALIAN CUISINE
Cause everyone needs some Italian cuisine on vacay! Mario's is just that. A great indoor dining experience that includes a buffet-style soup, salad and appetizer bar bigger than anyone could ever need. This is just BEFORE the meal! From there, entrees are ready to be ordered off the menu.
I am a sucker for gnocchi! This creamy and doughy dish was insanity. I clearly ate every single bite. Brad enjoyed the Spaghetti alla Carbonara. We were in a food coma when we left!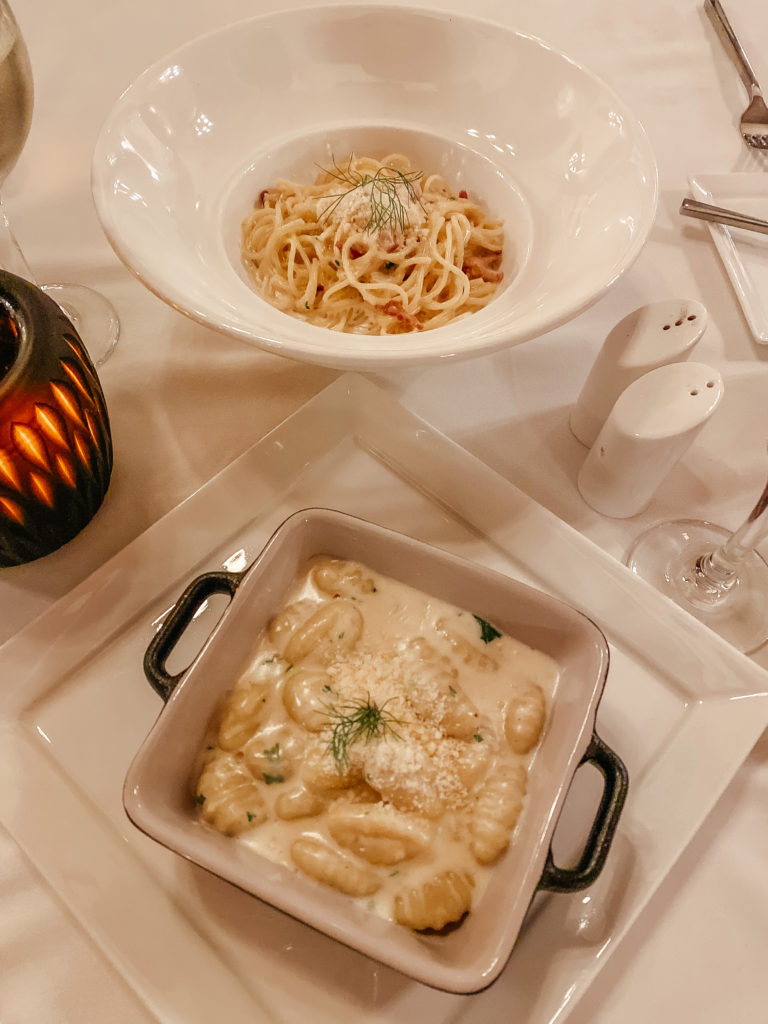 +++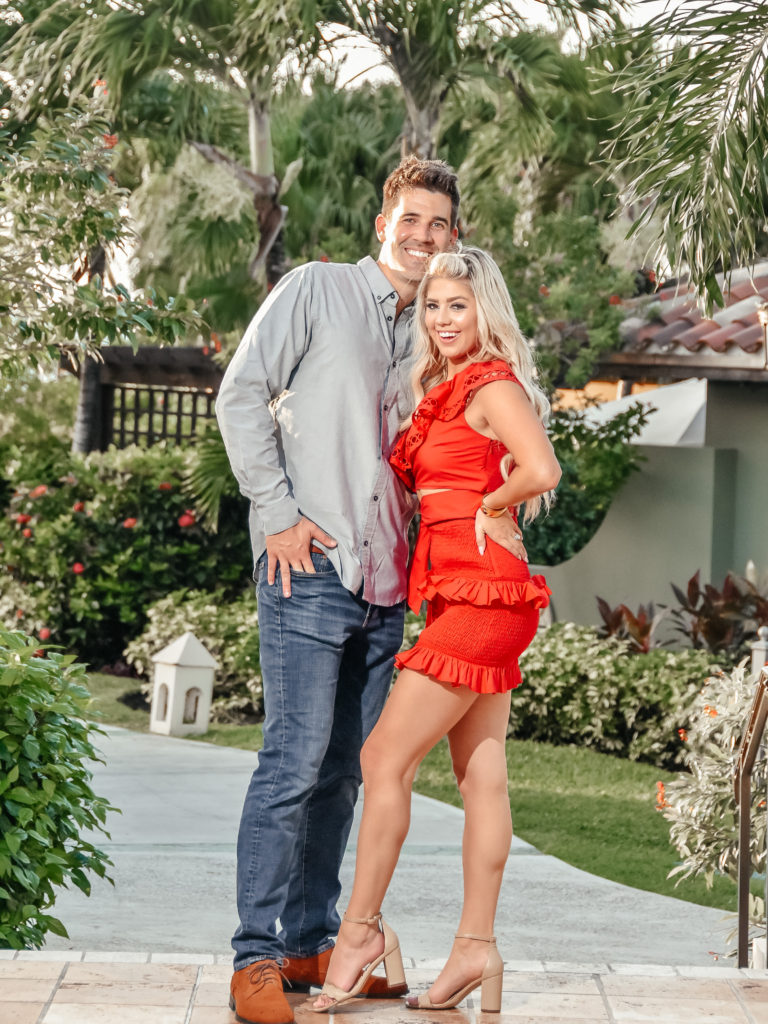 CAPTURING THE MEMORIES
Sandals does a great job capturing all your special moments! With an on-staff photography crew, you are able to catch glimpses of your special stay without even realizing it. This picture was captured just before we dined at Kimono's Oriental Cuisine! Be sure to check out your captured moments before checking out. We snagged a few special pics!
+++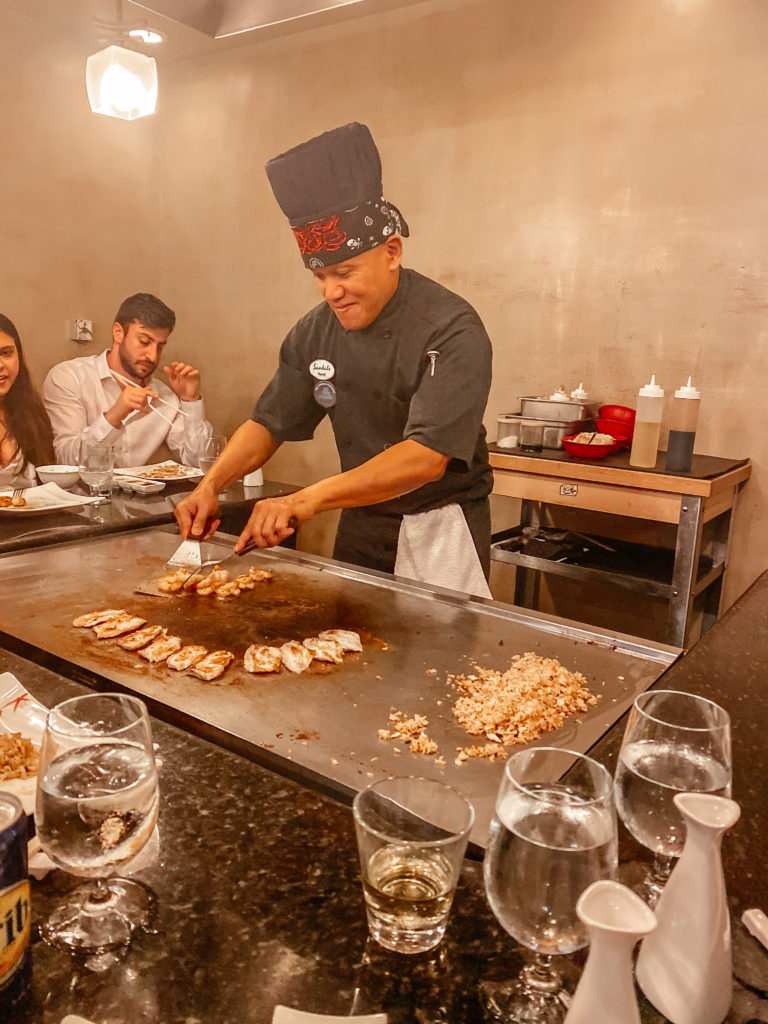 KIMONO'S ORIENTAL CUISINE
Brad was pretty dang excited for this next stop! This group-dining experience at Kimono's took place in the swankiest little private room in the neatest little restaurant. Served teppanyaki-style, this multiple-course meal was fun and engaging. Plus, our chef was too dang cute! He had the biggest smile and was so much fun.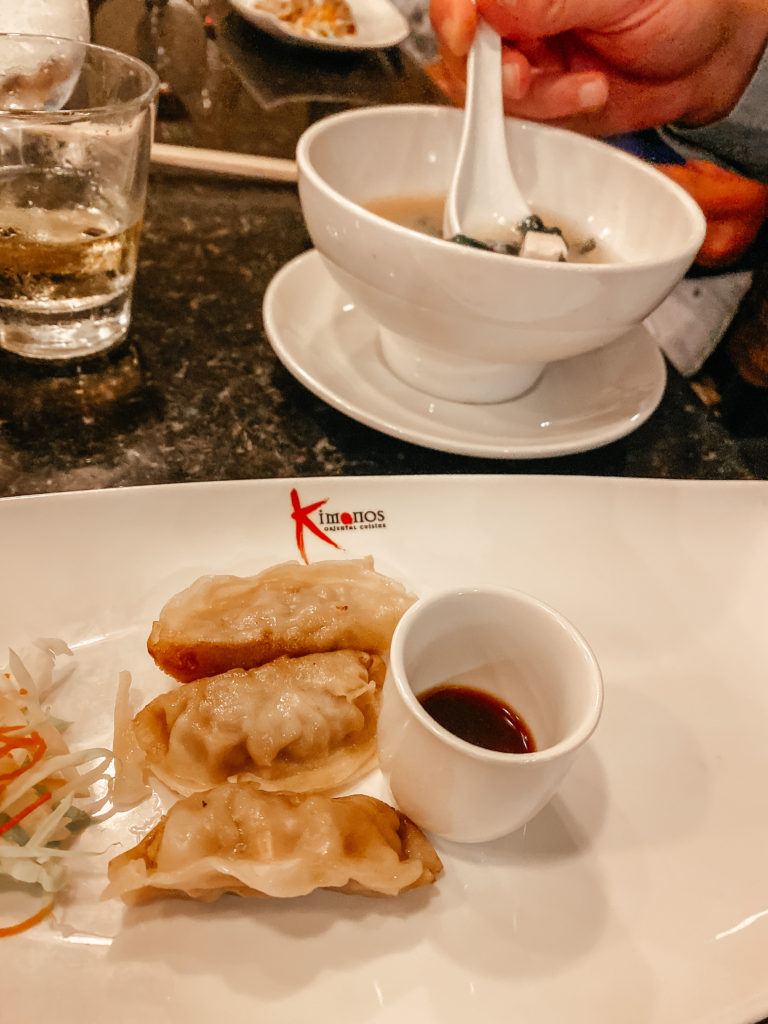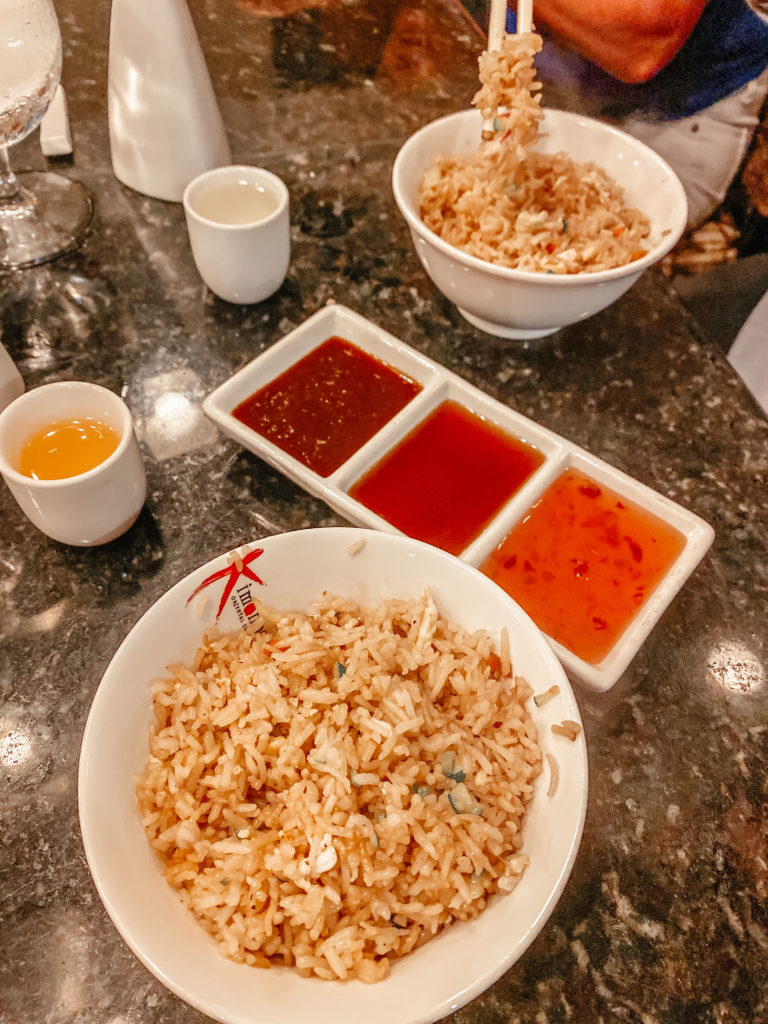 I don't know what I loved more… The potstickers or the fried rice. It's a tough call! This was such a fun dinner because we were able to mingle with other couples and chat about who we were and where we all came from. A nice change of pace from our romantic, private dinners throughout our stay. It was such a fun time!
+++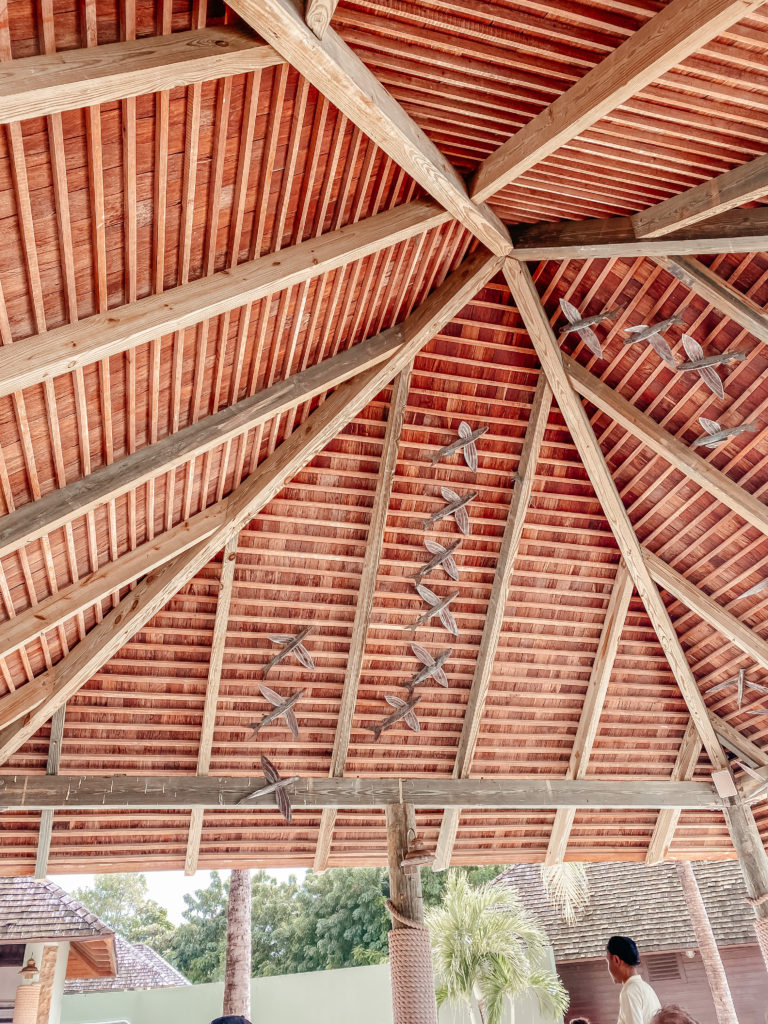 BAREFOOT BY THE SEA
The perfect spot for a quick bite in-between pool and beach time! Barefoot by the Sea offers a casual, beachside experience. You don't even need shoes, hence the name! The ocean views (and the friendly cat visits) made this quick lunch relaxing and not to mention, yummy!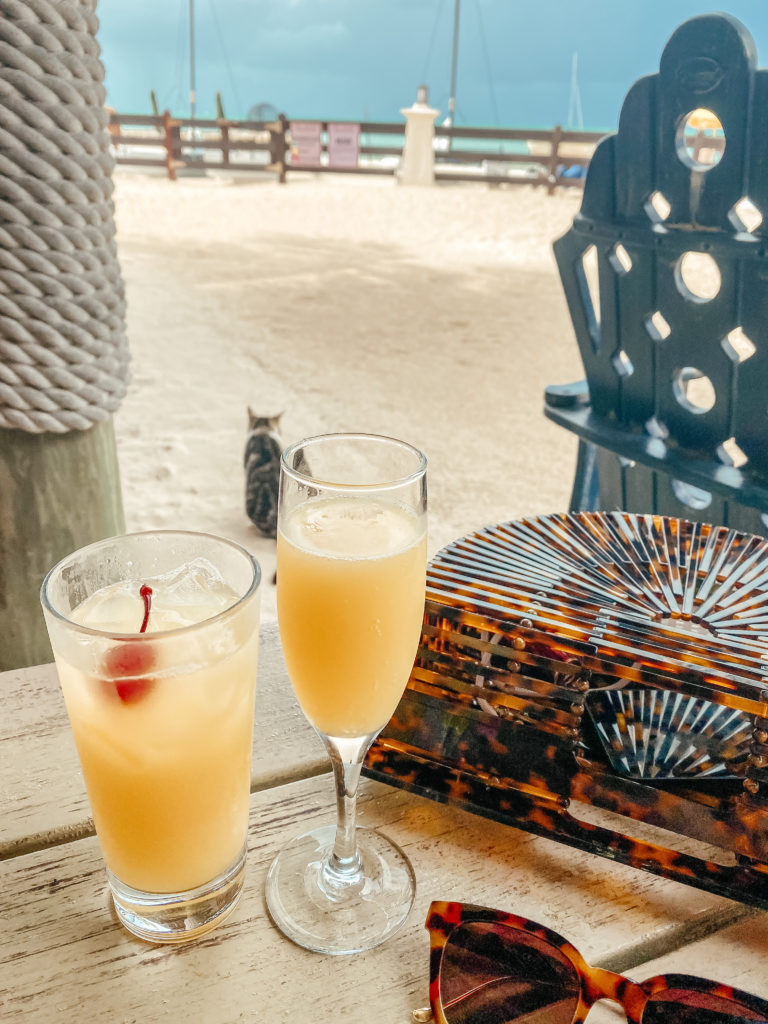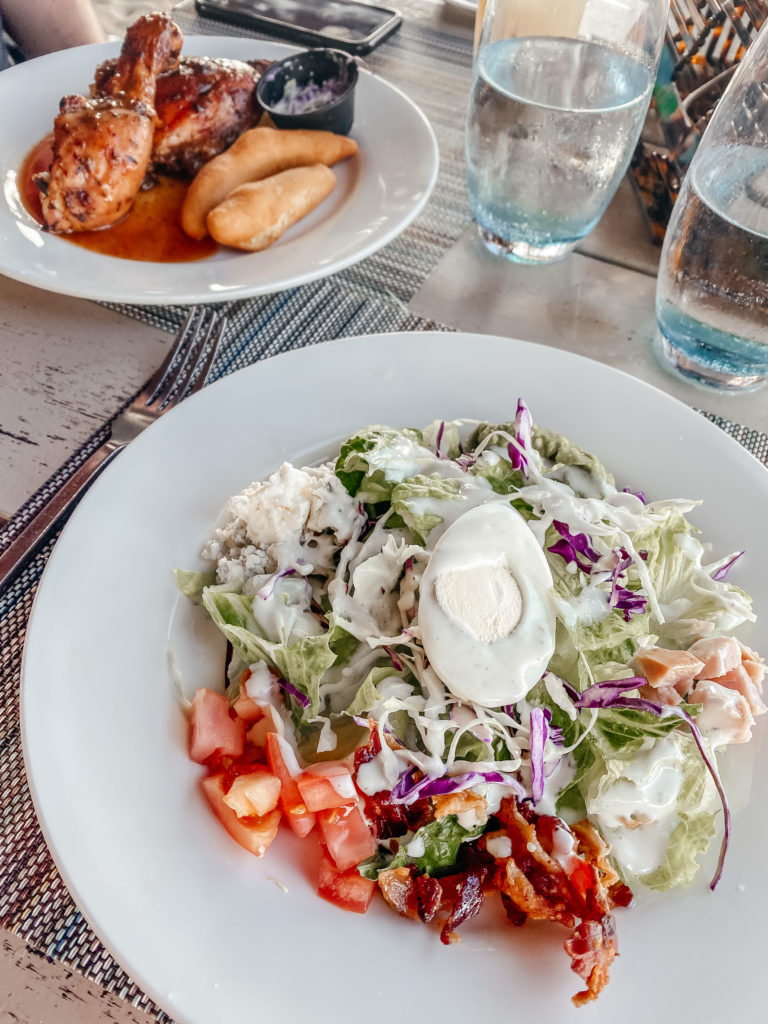 +++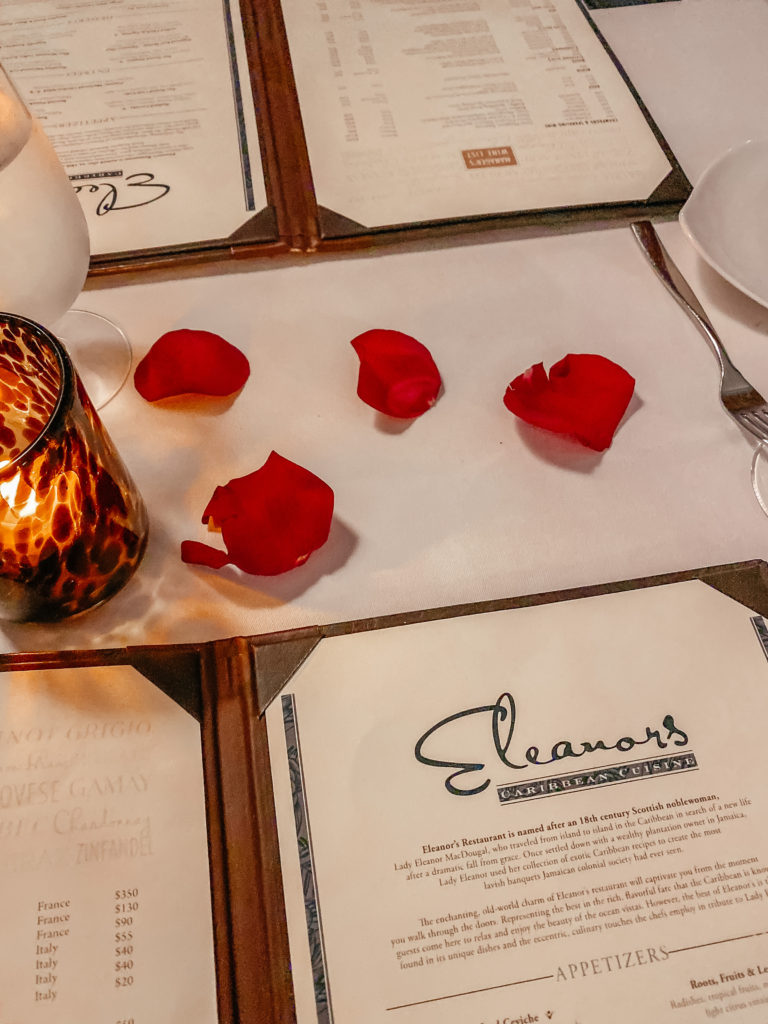 ELEANOR'S CARIBBEAN CUISINE
All the class and romance can be found at Eleanor's. Inspired by a Scottish noblewoman named Lady Eleanor MacDougal, this spot provides all the rich, flavorful Caribbean cuisine. Located right off the beach, this atmosphere provides all the dreamy, beach vibes as well!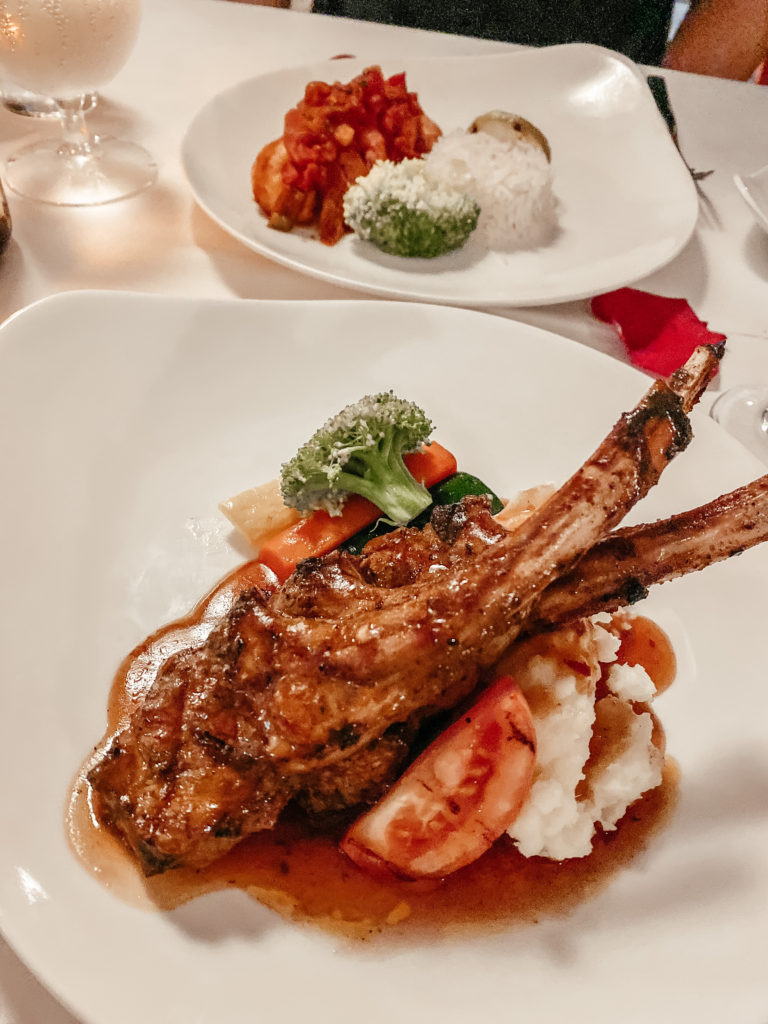 The Rosemary Marinated Grilled Lamb Chops was my entree of choice, while Brad enjoyed the Peppered Reef Shrimp. The elegance of Eleanor's combined with their insane flavors, made this dining experience one to remember!
+++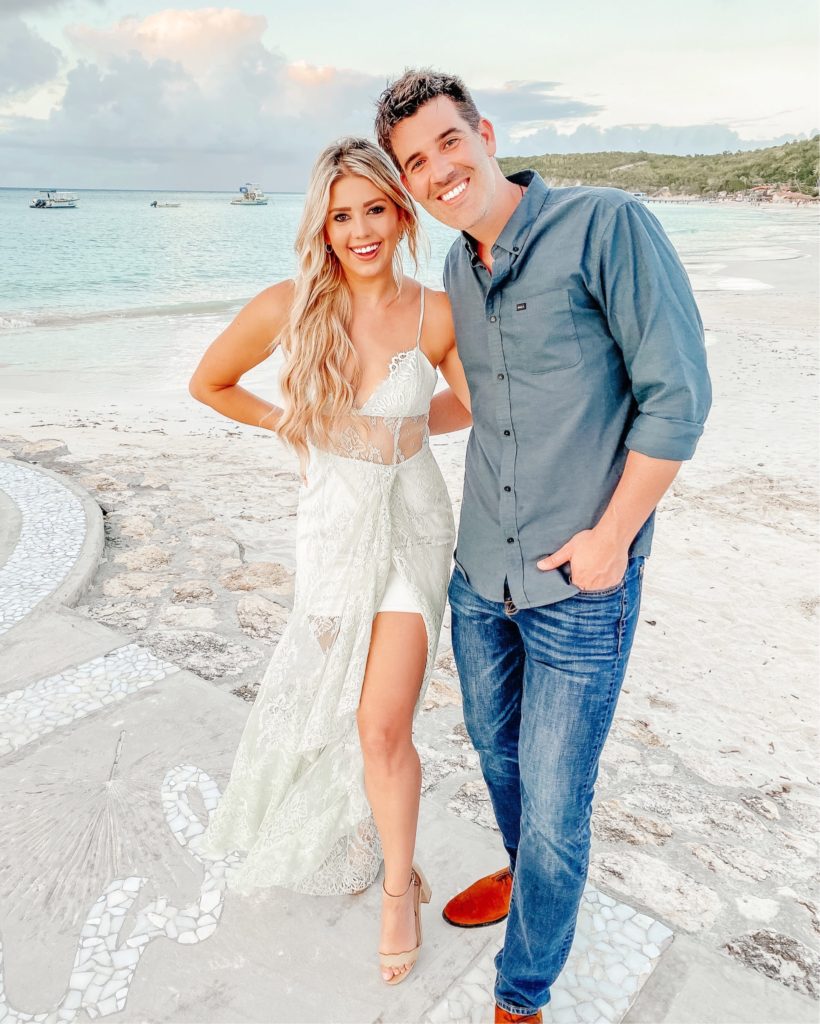 PRIVATE CANDLELIGHT DINNER
One of the dreamiest nights of our Sandal's experience was our private, candlelight dinner we had on the beach. While this is an add on, it is one that we would highly recommend. It has all the "Bachelor One-on-One" feels for sure!
This three-course meal could not be more romantic. Set alongside the ocean and lit by only candlelight, it was insanely romantic and one of those unforgettable moments that you won't forget!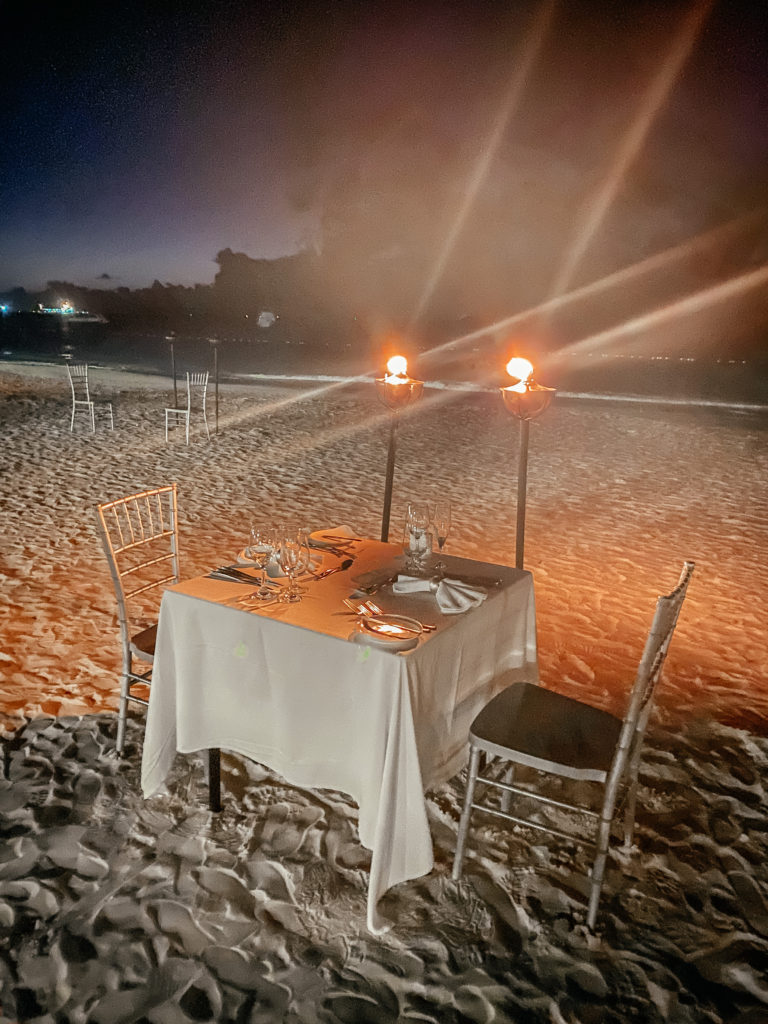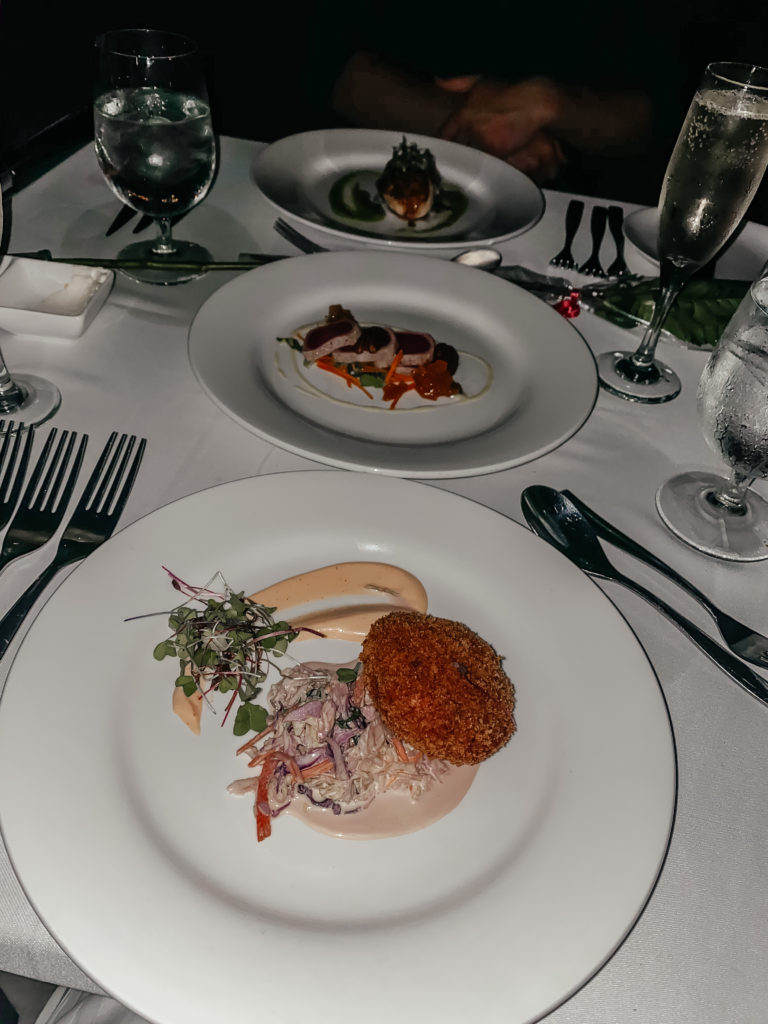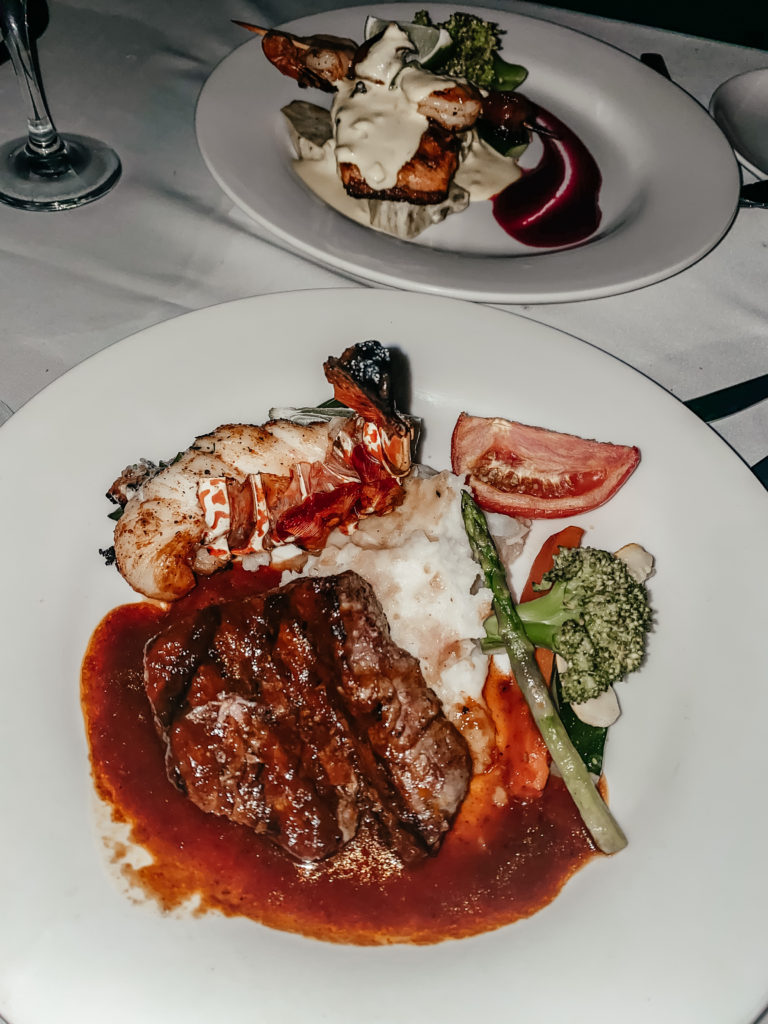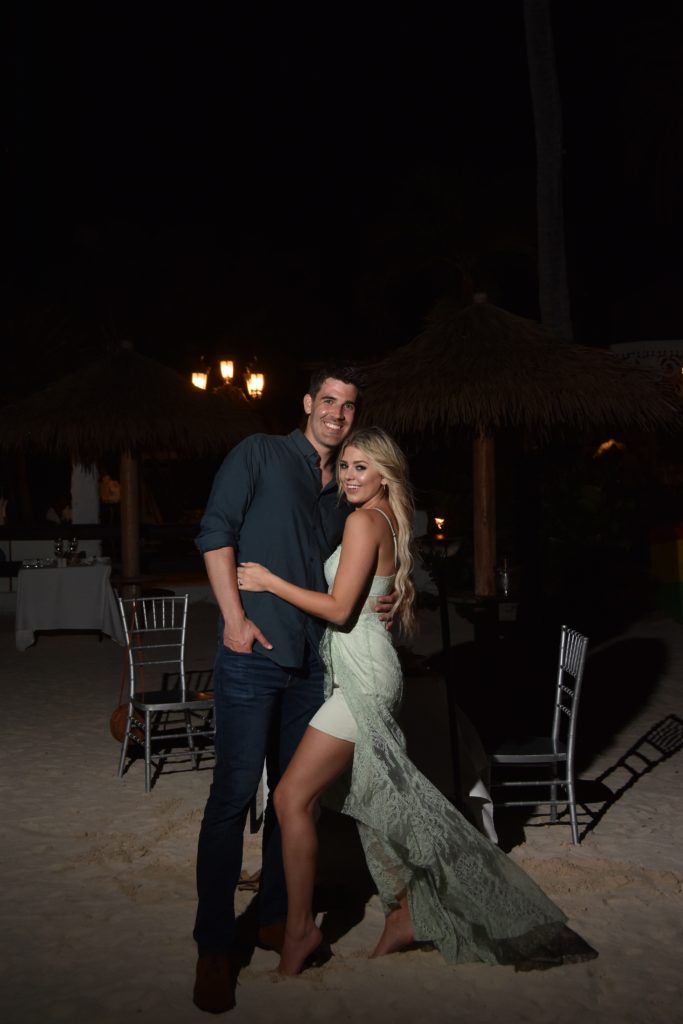 The most perfect night. So thankful that we got to experience the beauty of this place, the flavors of this dinner and the romance that came with it. A total must if you are going to Sandals!
+++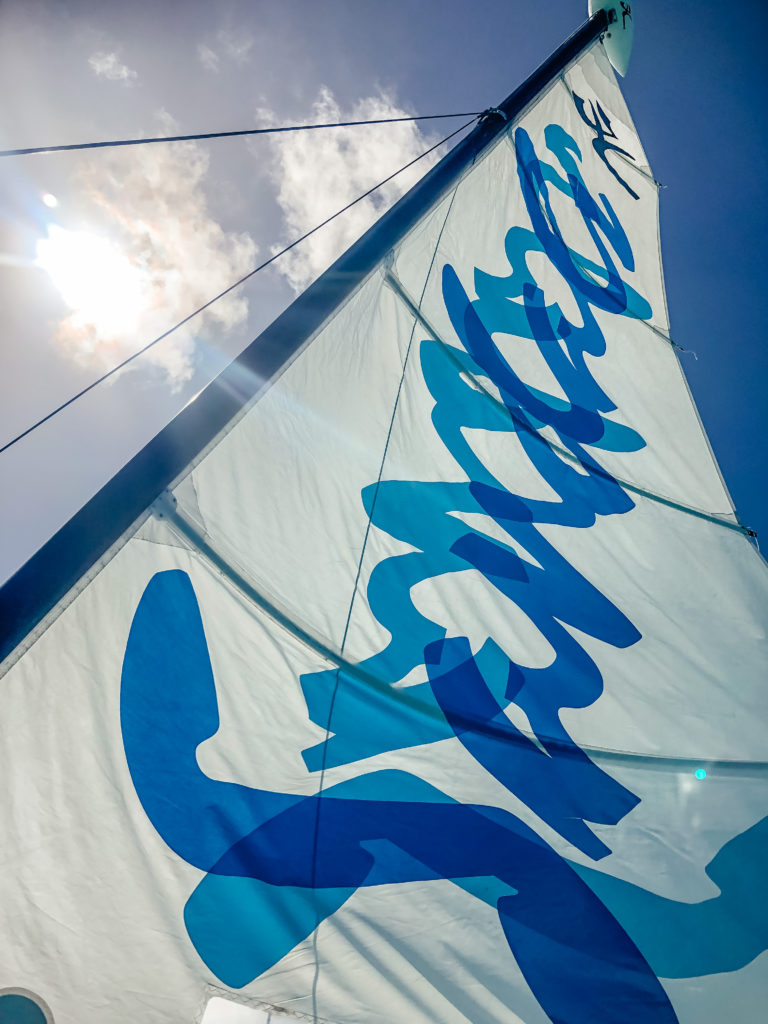 WATER ACTIVITES
Sandals offers a wide variety of water activities and excursions. While some are included in your stay, others may be add ons. There are so many options to choose from! Some of the included water activities are:
Kayaking
Sailing
Snorkeling
Scuba diving
Windsurfing
Paddle boarding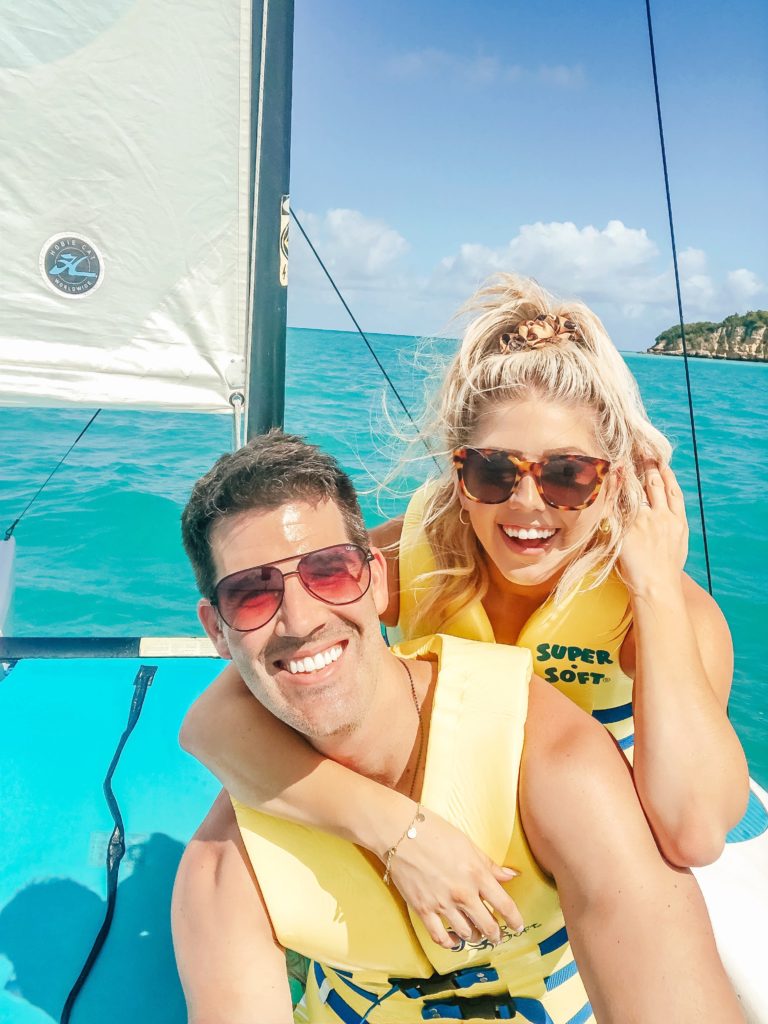 SAILING
The first water activity Brad and I chose was sailing on a Hobie cat. Anything that gets Brad outdoors, on the water and in charge… he's game! It was so fun watching him in his element. The water was insane. So turquoise and calm. We had the best time sailing around the bay and spending that time together. Plus, the man looks good sailing! 😉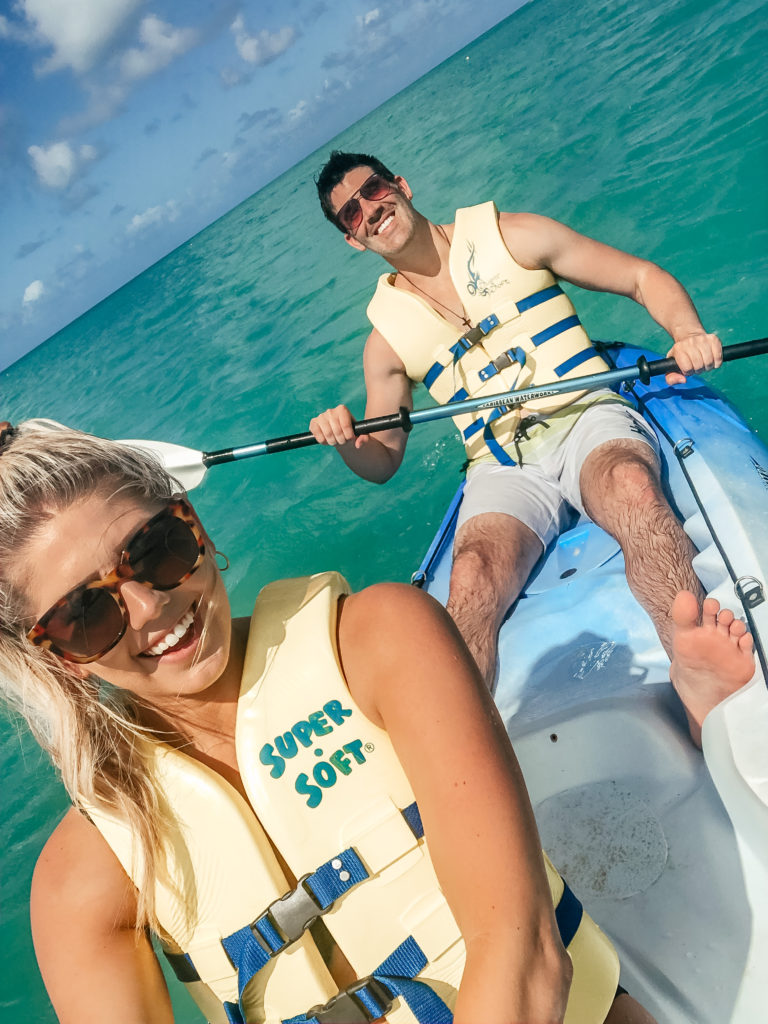 KAYAKING
Our second water activity was kayaking. Something that Brad used to spend a lot of time doing in his younger years. It was so peaceful and was a great way to get a little arm workout in too! After a lot of rest and relaxation, it feels so good to be out on an adventure and exploring together. I love the balance that Sandals provides. You can choose when you want to relax and when you want to be adventurous.
+++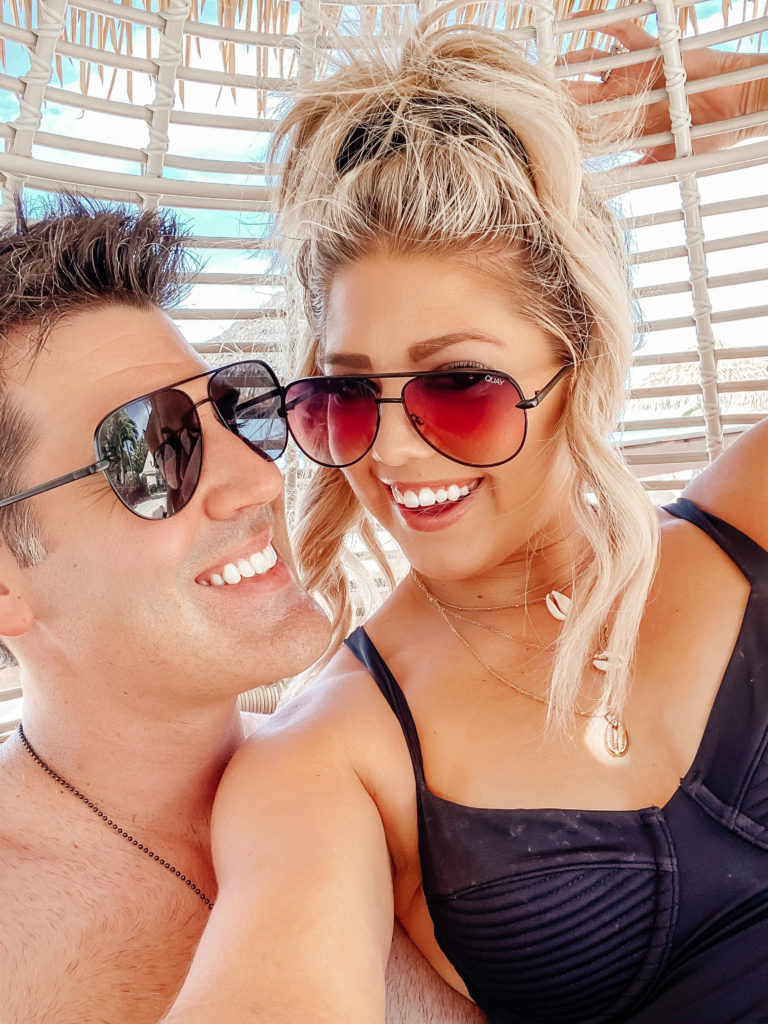 OVERALL EXPERIENCE
Honestly, I don't know where to begin. Sandals truly holds a special place in our hearts for multiple reasons. First and foremost, it's where we spent our honeymoon. We literally flew out ON our wedding night and arrived less than 24 hours later. It's where we truly became a Mr. and Mrs. Where we had some of our first memories as a married couple. That trip will forever be such a special experience to look back on forever.
Fast forward five years, and this trip was like coming up for fresh air. If you've been following along with us for a while, you know how much we have been through in the venture to become parents; the hope, heartache and acceptance that comes with all of the loss, uncertainty and fear of the future. We knew that we wanted to whisk ourselves away from it all. To a place that would truly force us to disconnect from our present reality and be transported to a place that feels safe. We immediately thought of Sandals. Cause it's just that. It's a special place. A safe place; a calm in the storm.
We are so thankful for the experience that Sandals provided and for all the love, care and generosity that came with it. If you are thinking about taking a trip and would love to experience a romantic, all-inclusive, dream that feels like you've escaped to another reality, Sandals is it. You will fall in love with the beauty, staff and overall essence that makes Sandals what it is.
Whether you are celebrating a new marriage, a big anniversary or just need a little R&R and to get out of dodge, you will fall in love with your time at Sandals. That's a promise. Scouts honor!
Ready to take the trip?! BOOK NOW!
+++
Want to see more from our trip?!
We documented the whole experience on Instagram. Be sure to head to my Antigua 1 & Antigua 2 story highlights to follow along!
+++
Thank you to Sandals Luxury Resorts for hosting us on this epic and unforgettable experience.