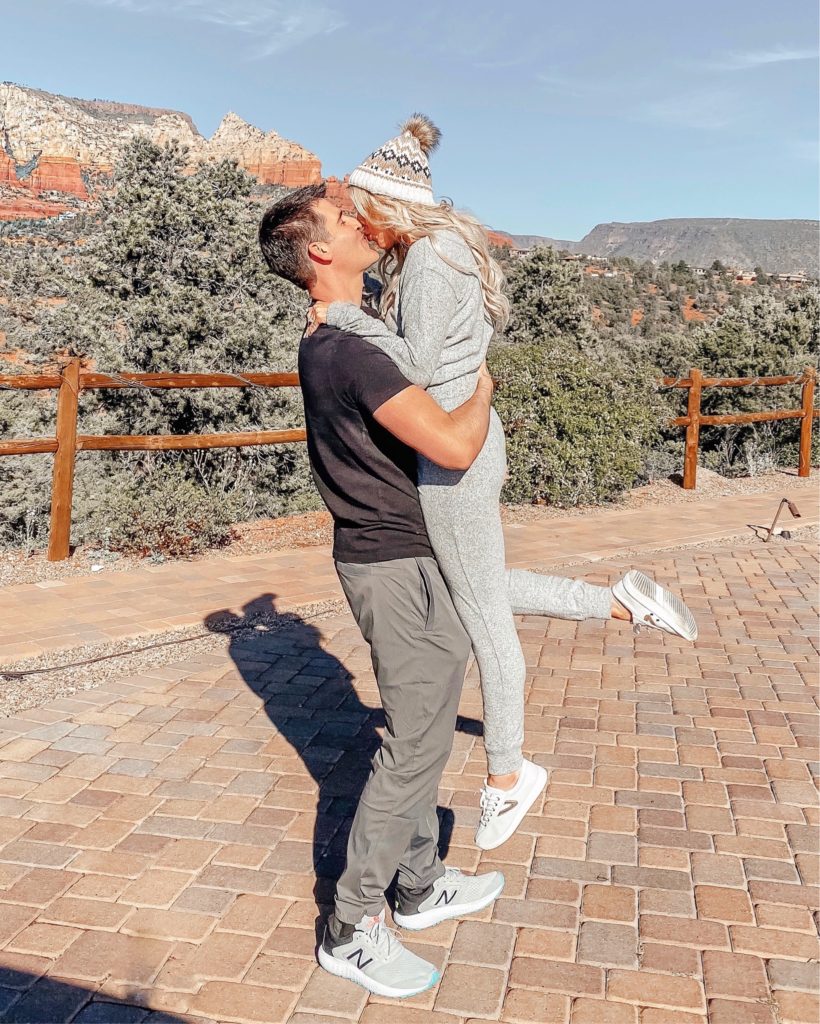 Last weekend Brad and I got out of Phoenix for a couple days to explore Sedona. We love heading up North this time of year to get a taste of cooler weather and new scenery. We love that Sedona is only a short two-and-a -half hour drive away and easily accessible.
We stayed at our absolute favorite spot in Sedona: The Amara Resort and Spa. We have stayed there one other time (you can check out that stay here) and absolutely loved it. Nestled beside a beautiful creek and beneath the Red Rocks, you feel like you are secluded and able to truly disconnect and relax.
Not only is Amara an ideal spot for relaxation, it is also incredibly advanced in their cuisine and mixology. Some of the most amazing food and cocktails come from their restaurant: SaltRock Kitchen. Not only are both so unique; but you get to enjoy them among the beautiful mountain backdrop. It's an absolutely stunning resort.
Here's a little peek into our weekend.
Our Room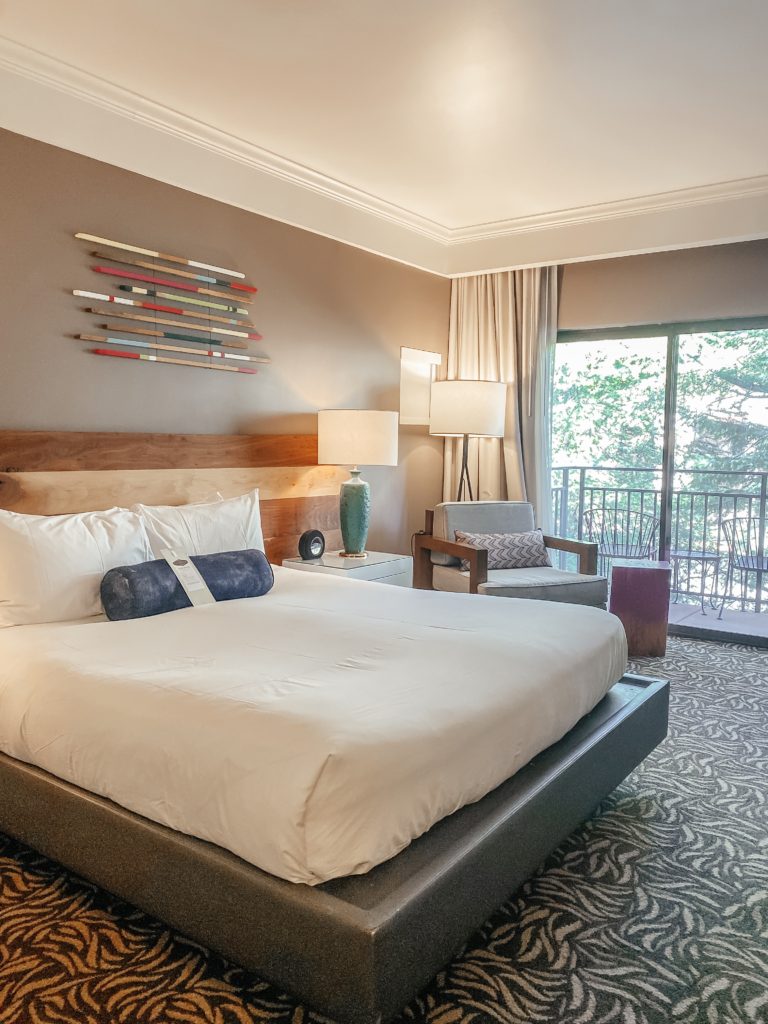 While the whole point of being up in Sedona is to spend time outside, we love the Amara digs! If you HAVE to be cooped up inside, it might as well be in a room that is updated, modern and beside the beautiful trees and creek that run alongside the resort grounds. With just the opening of a slider door, the outdoors are brought indoors. We loved sitting on the balcony and soaking up God's masterpiece!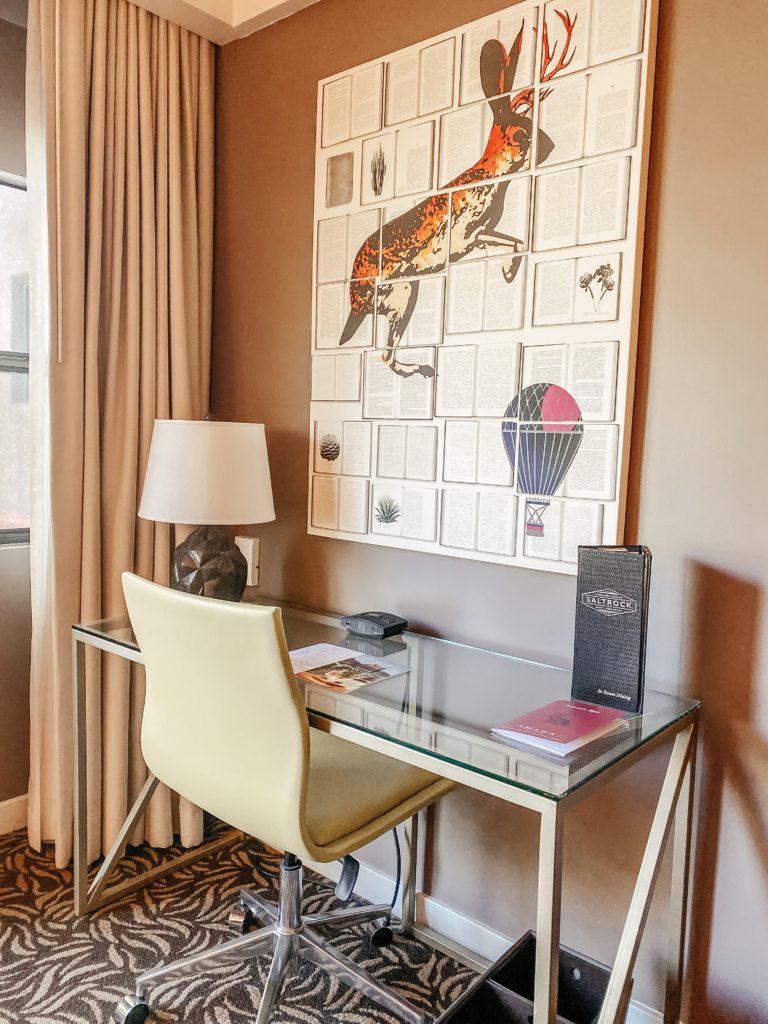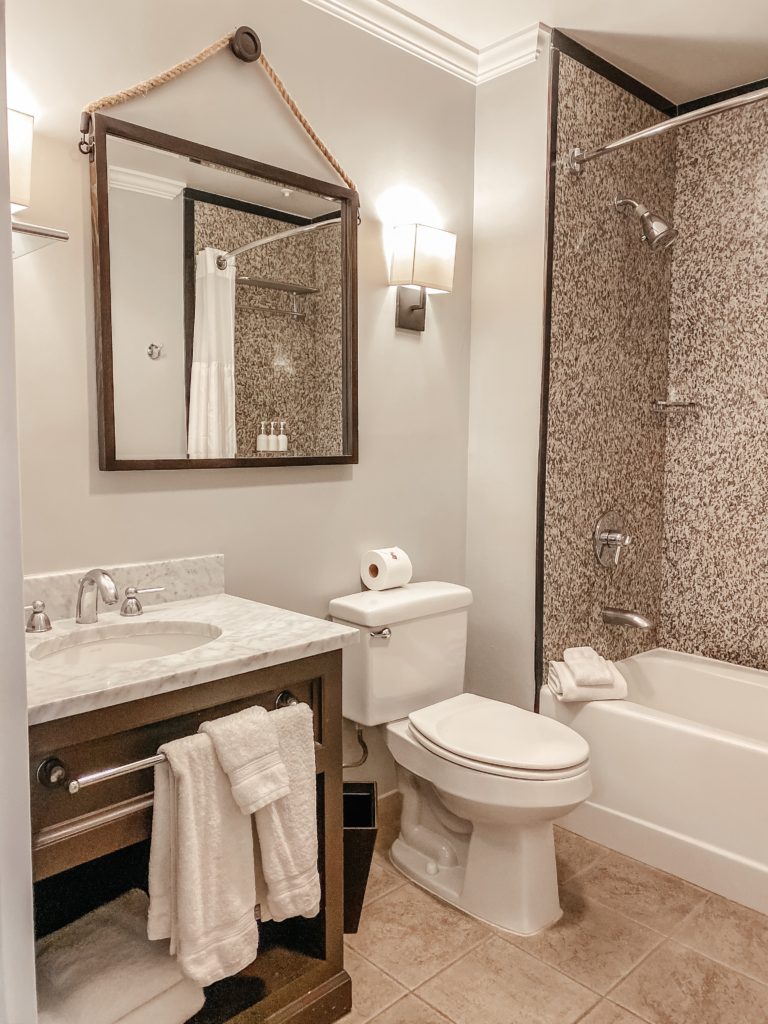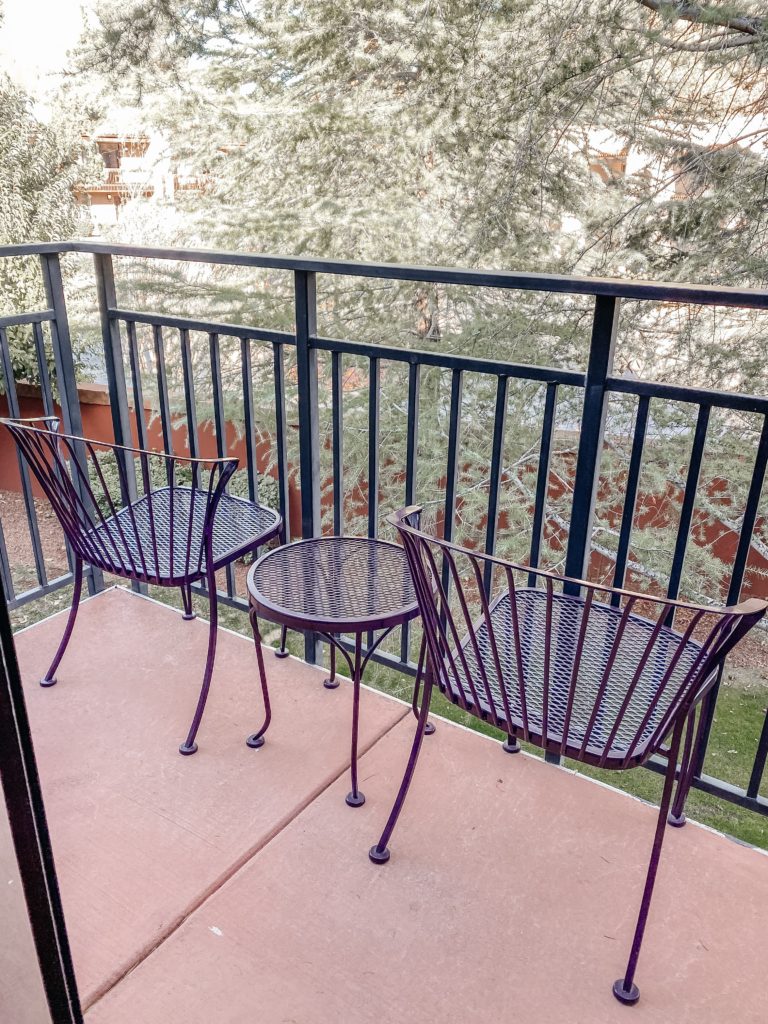 SaltRock Kitchen Cocktail Tasting & Dinner
Tasting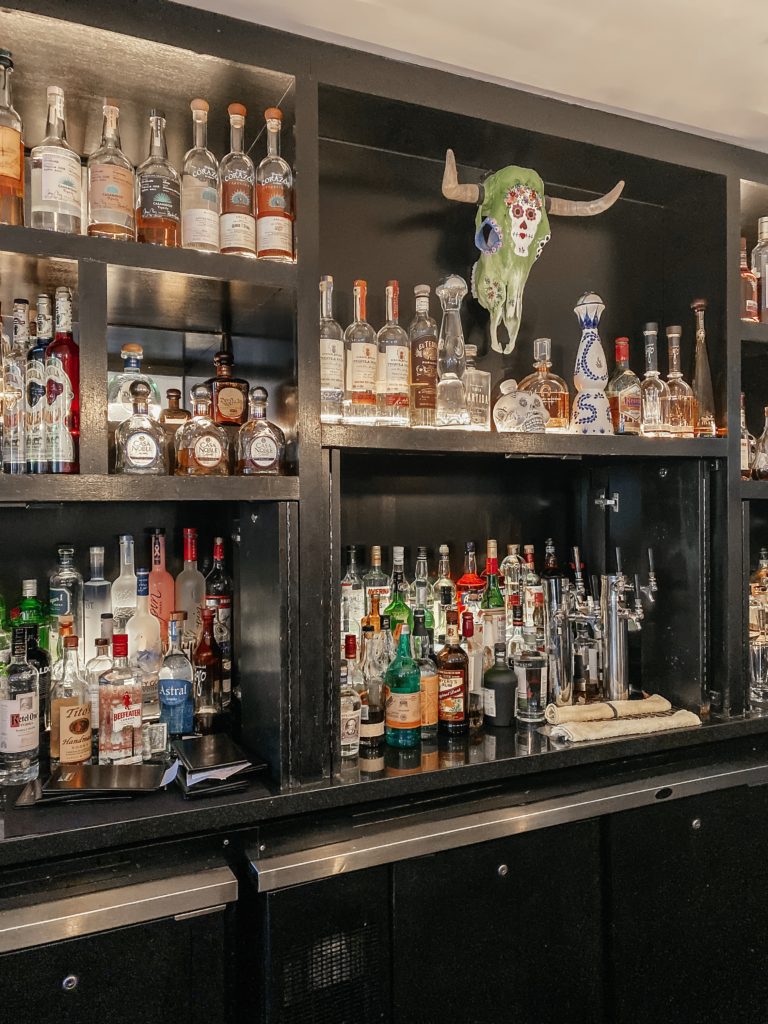 After we got checked in and settled, we made our way down to the SaltRock Kitchen for a cocktail tasting. It was OUT OF THIS WORLD. I have never seen nor tasted so many amazing cocktails. Their agave-based drinks are so unique and special. Here is a little look into just how amazing they were!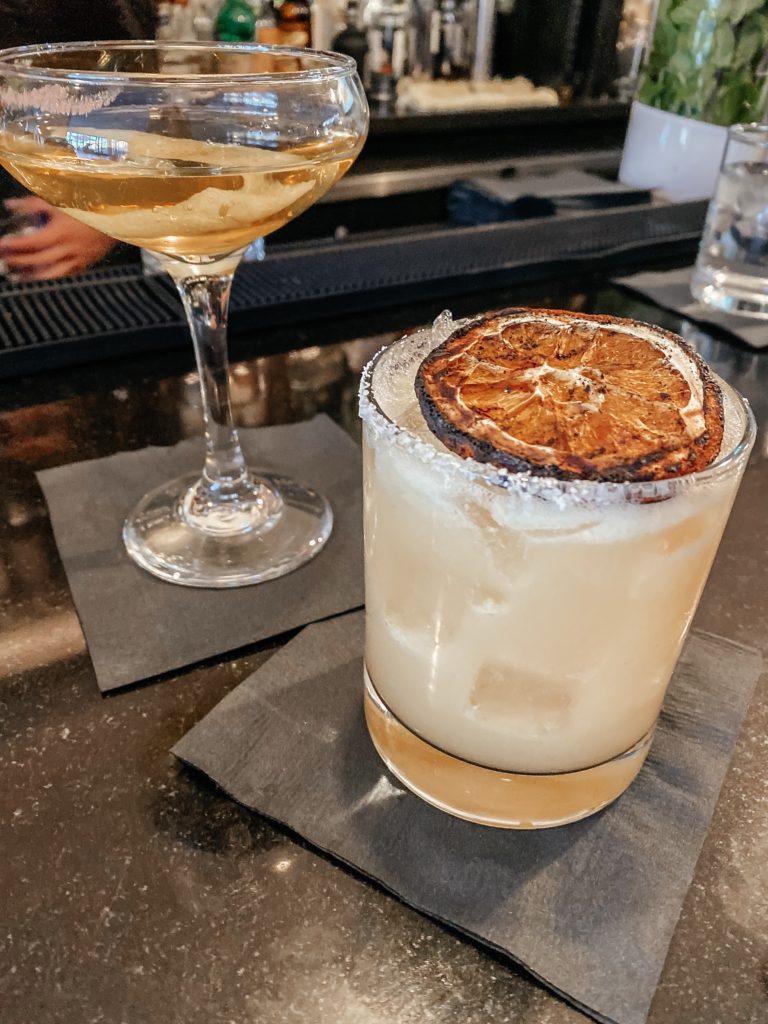 To the left we have the "Milk & Honey" – a blend of infused gin, elderflower liqueur, sage honey syrup, lemon and milk-washed.
On the right is the "Autumn Harvest Margarita" – made up of charred orange-infused tequila, spiced agave syrup, fresh orange and lemon.
And this was just the tip of the iceberg…. We were already blown away!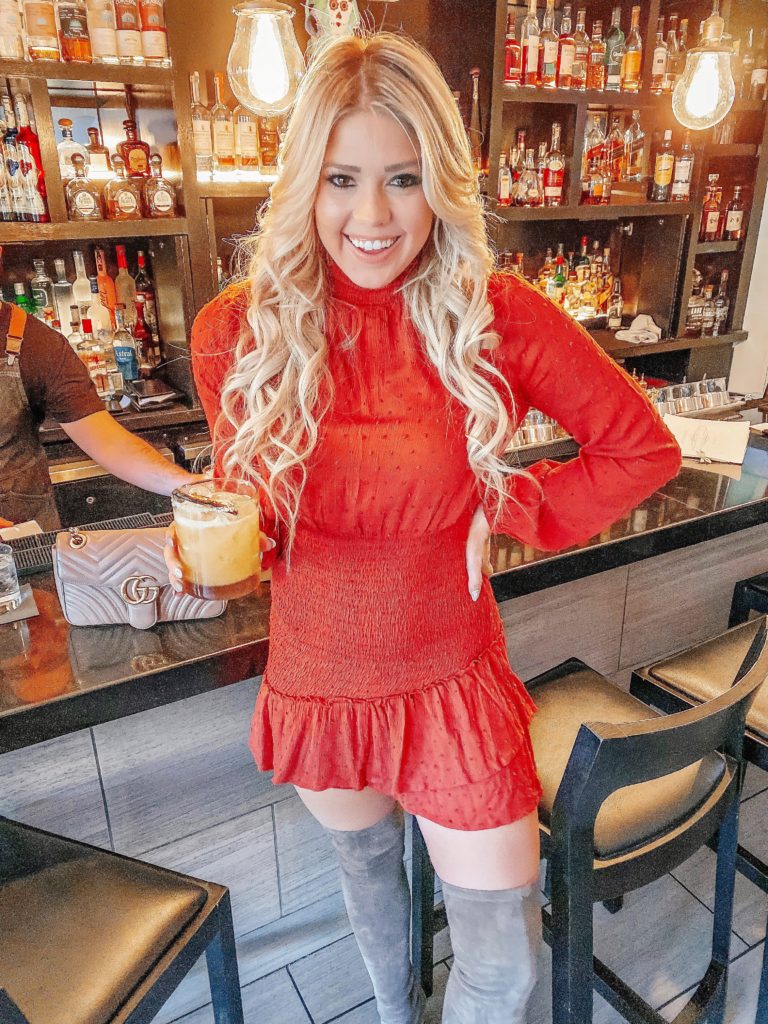 Wearing Shop Sadie and Sage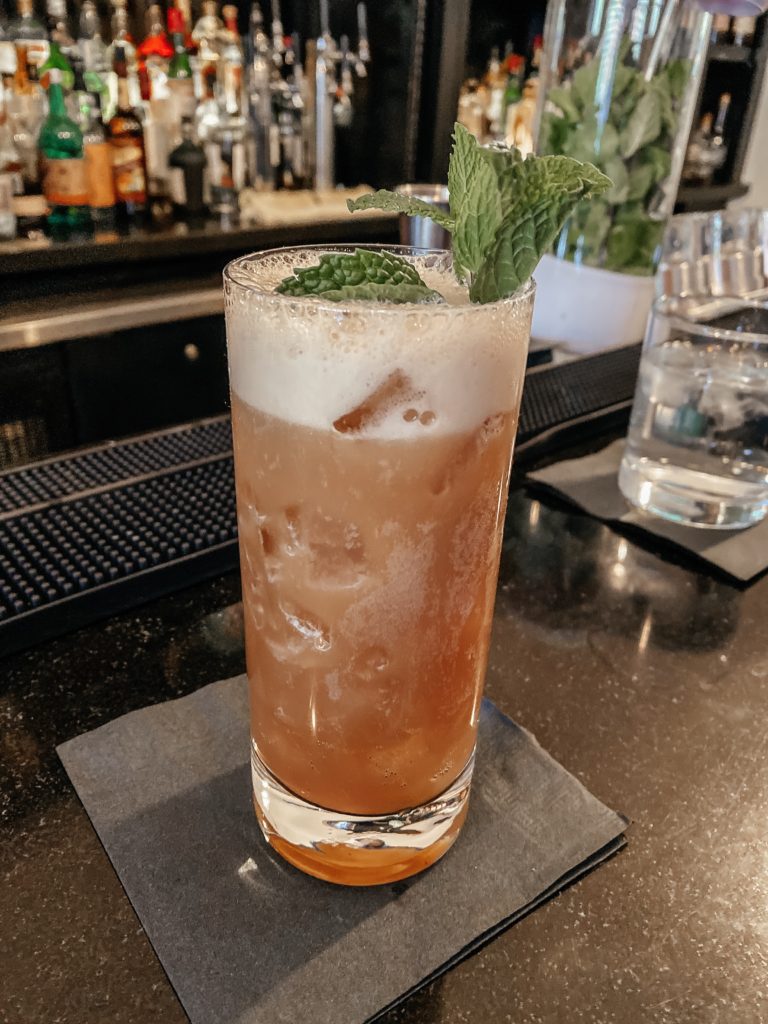 The "Broken Arrow Brew" was amazing. A blend of vodka, sherry, house made orgeat, cold brew coffee and walnut bitters. It was the perfect little caffeine pick me up!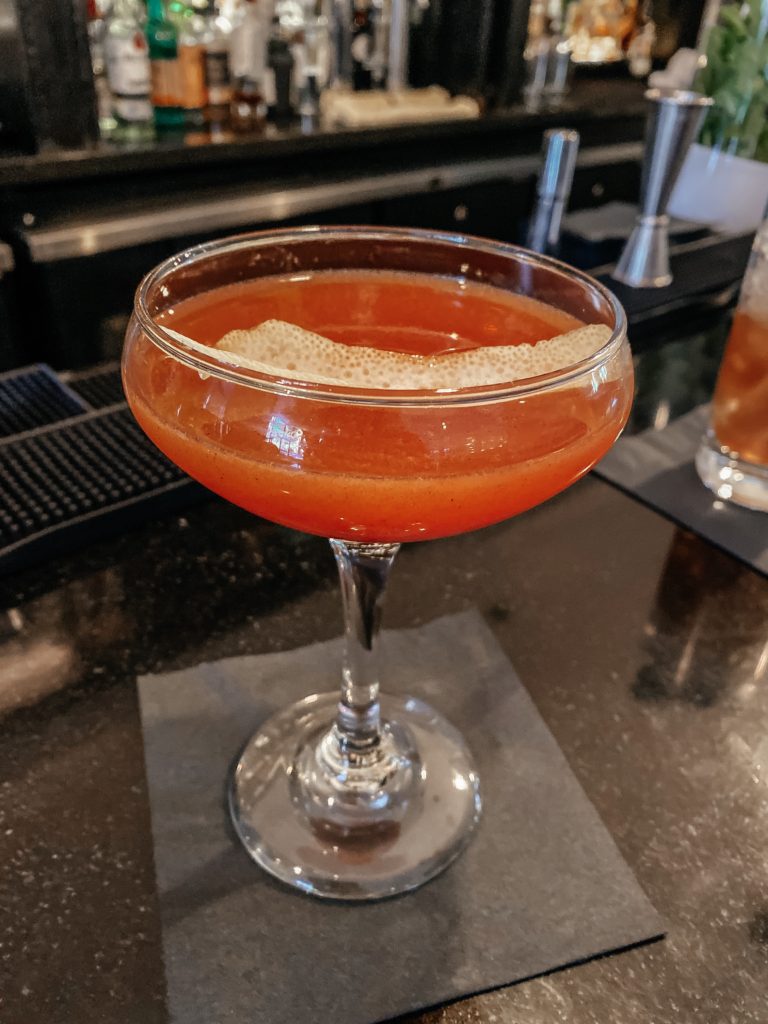 Next up was the "Red Rock Cardinal" – consisting of rye, amaro nonino, aperol, red bell pepper syrup, lime and laphroaig. It was such a beautiful color and tasted delicious!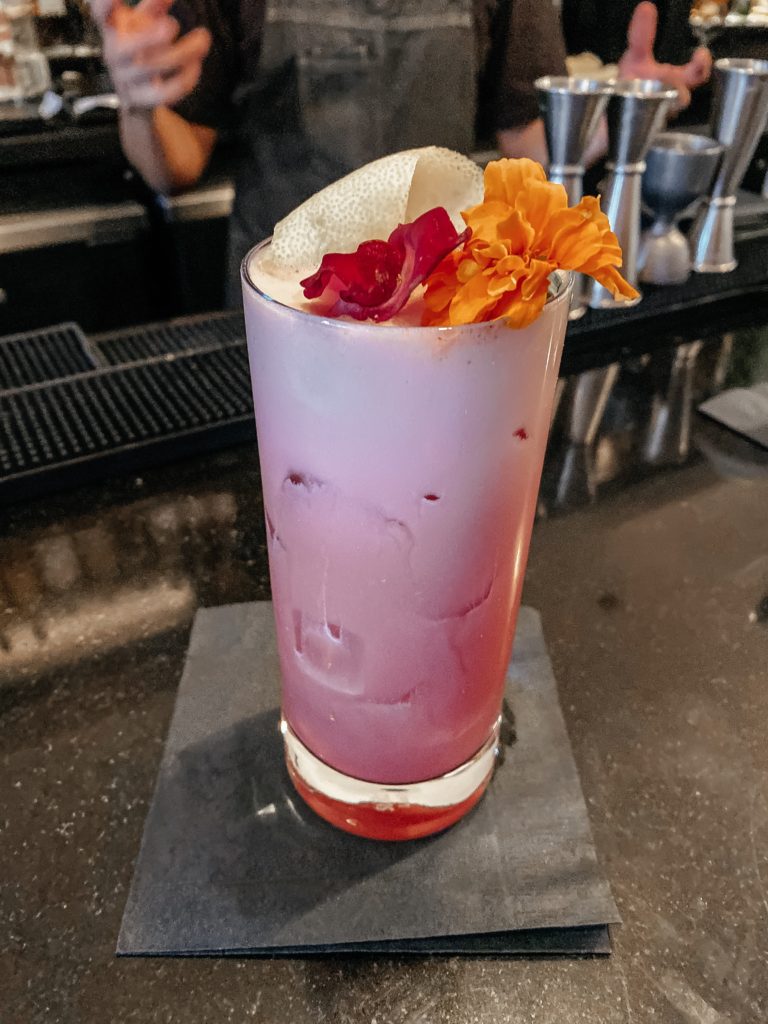 Then came the "Crescent Moon" or better known as "Thanksgiving in a glass." Made with cranberry-infused vodka, bourbon, aged wine syrup, egg white and lemon. I could not get over how it tasted like a Thanksgiving meal!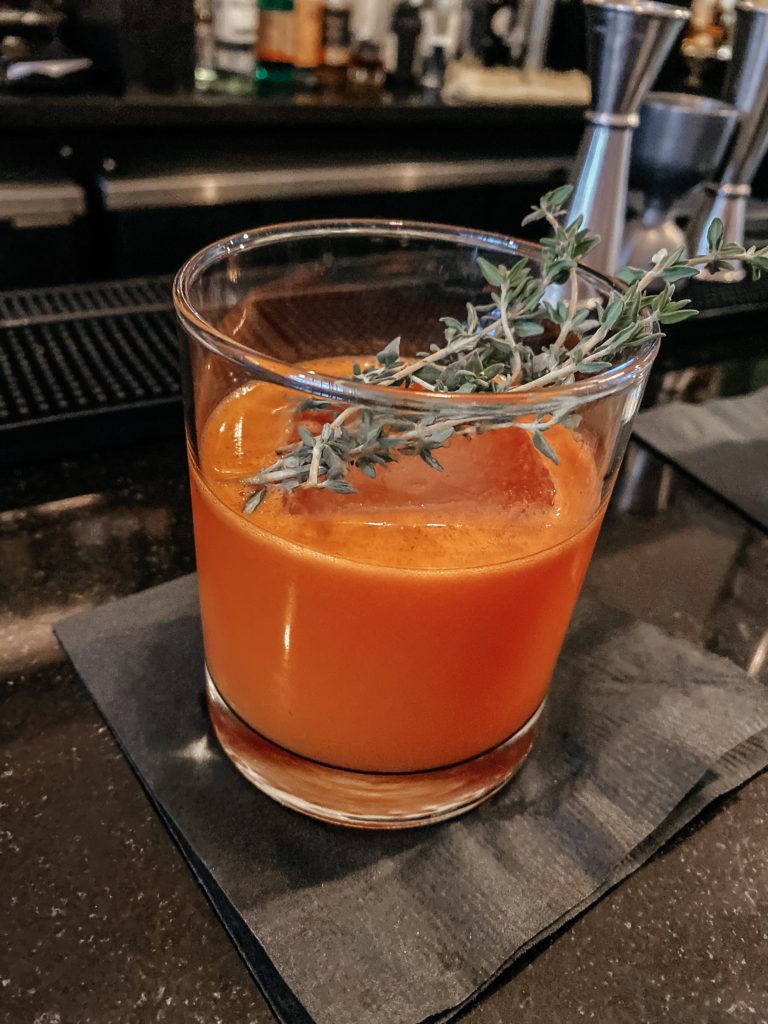 We finished up the tasting with the "What's Up Doc" – a blend of bourbon, fernet branca, carrot ginger juice, lemon and thyme. It was out of this world. Loved the hint of thyme that took this drink to the next level!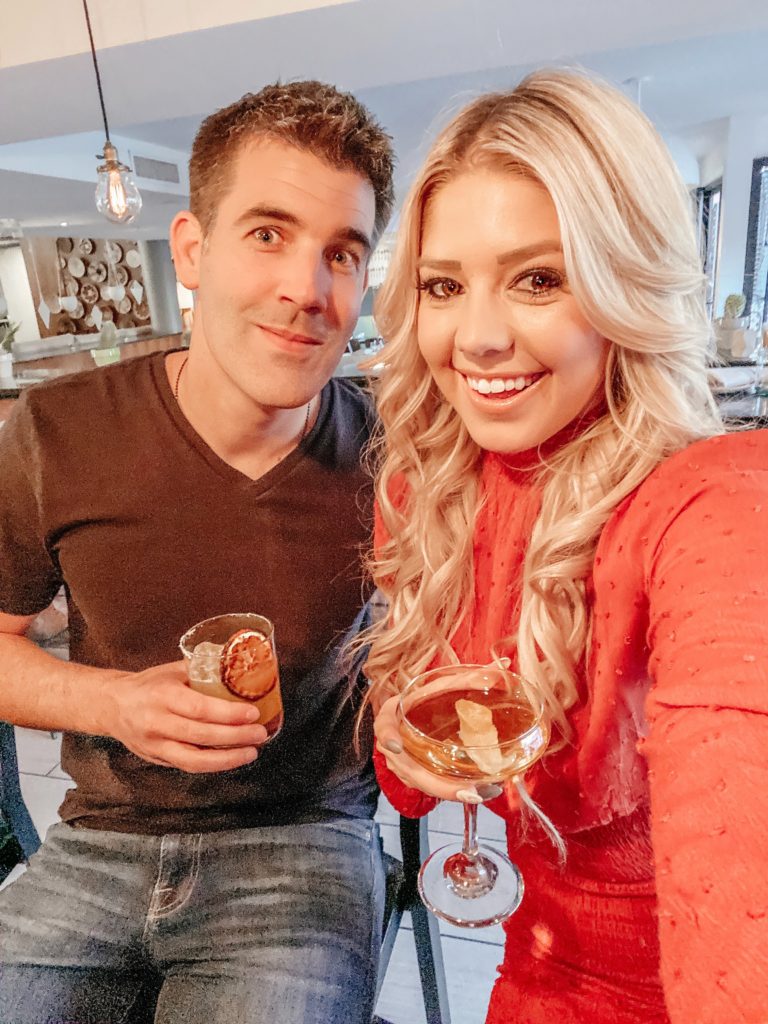 Dinner
After our tasting, we made our way out to the patio of SaltRock Kitchen. I cannot imagine a more perfect or romantic setting for a dinner date with your hunny. 😉 Take a look for yourself!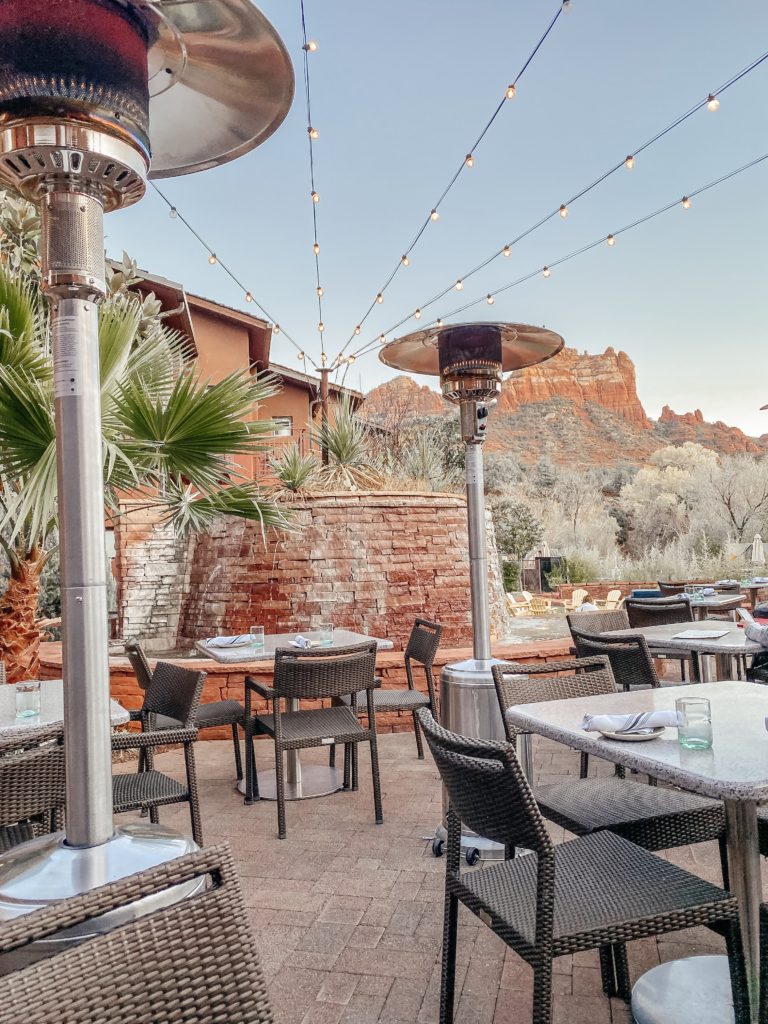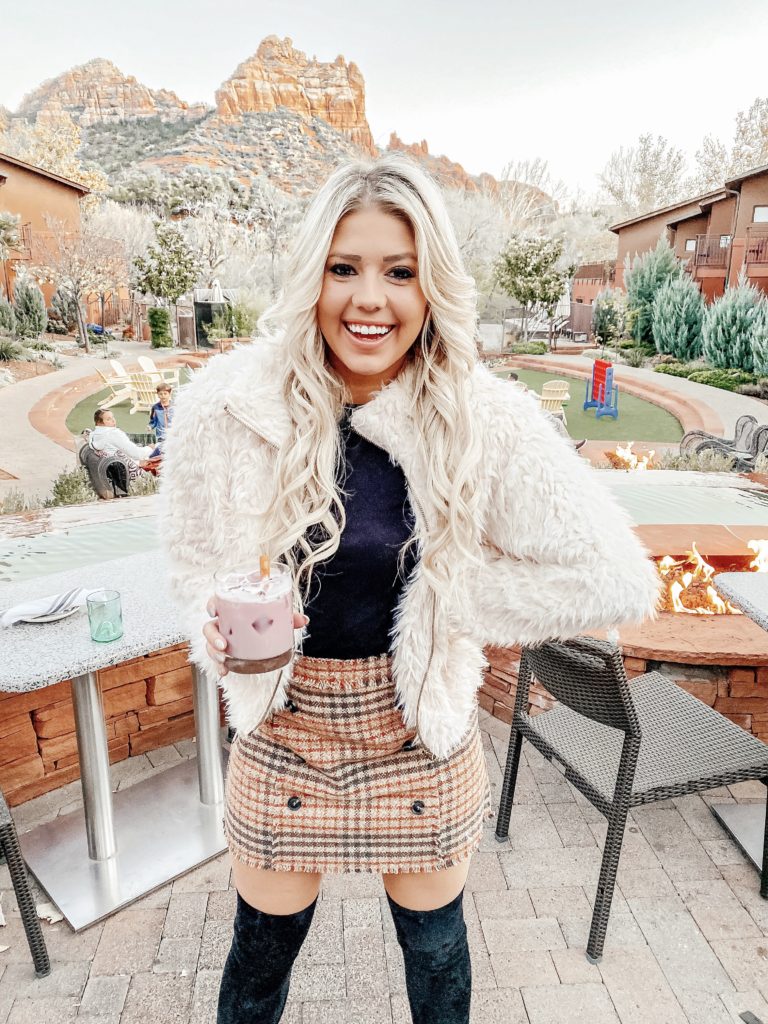 Wearing Shop Sadie and Sage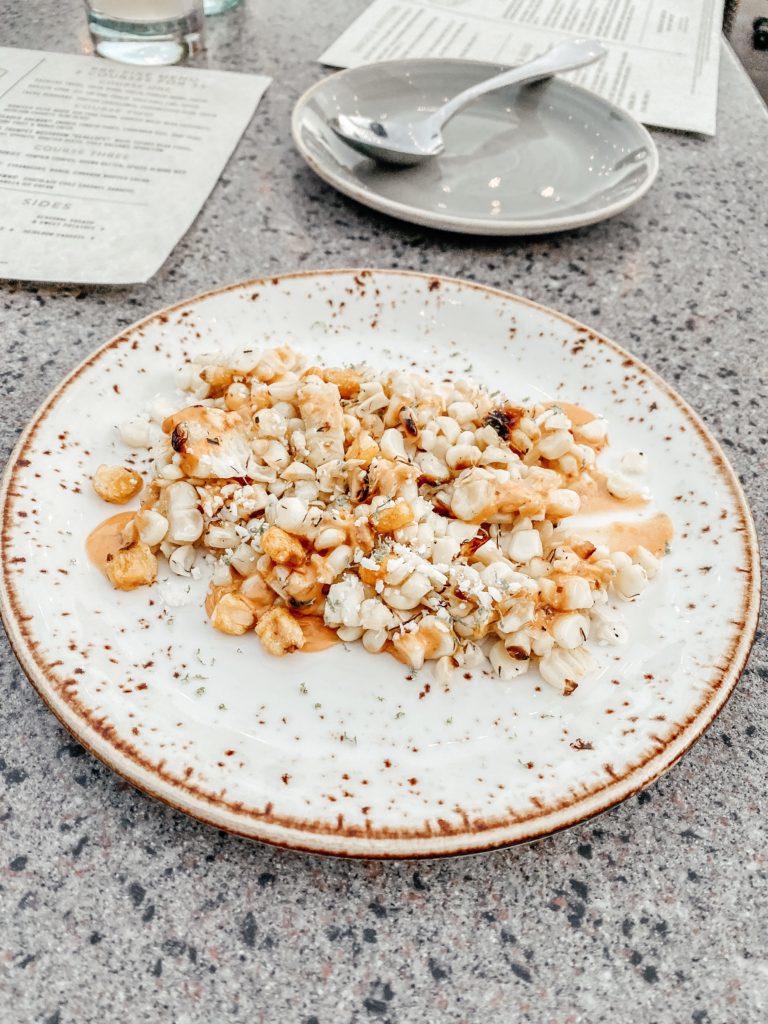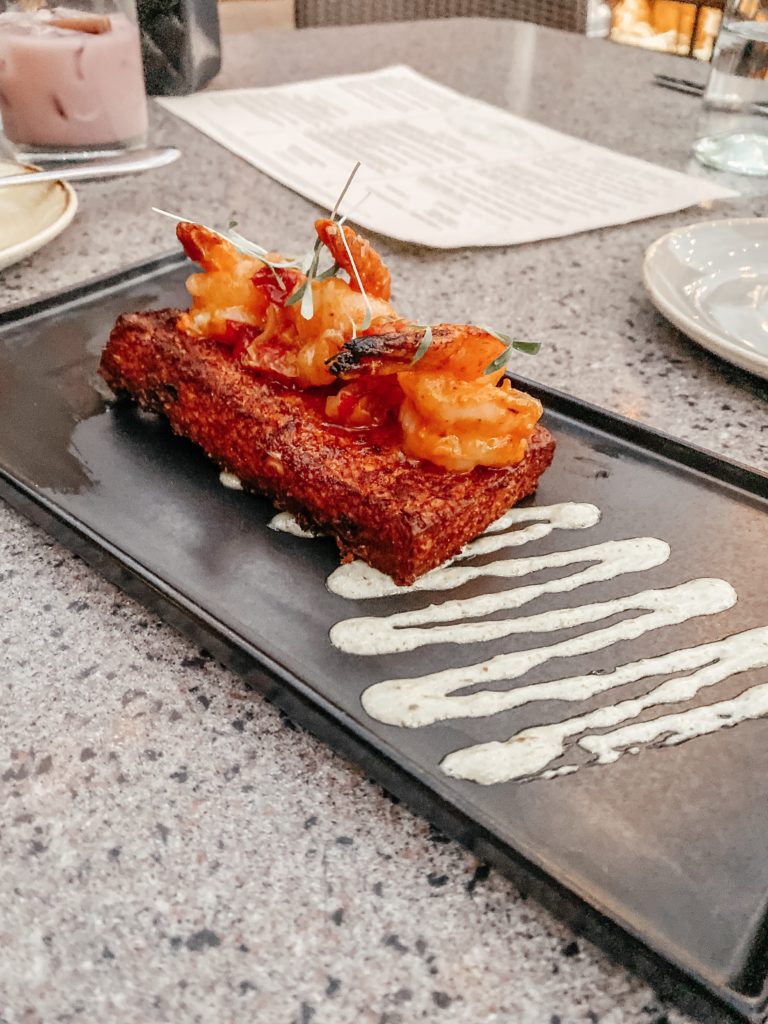 Our first course consisted of a couple of appetizers. We ordered the "Grilled Corn" and "Shrimp and Grits" because we couldn't choose. Chef Lindsey and her team are seriously beyond talented with flavors and presentation. These appetizers were sensational!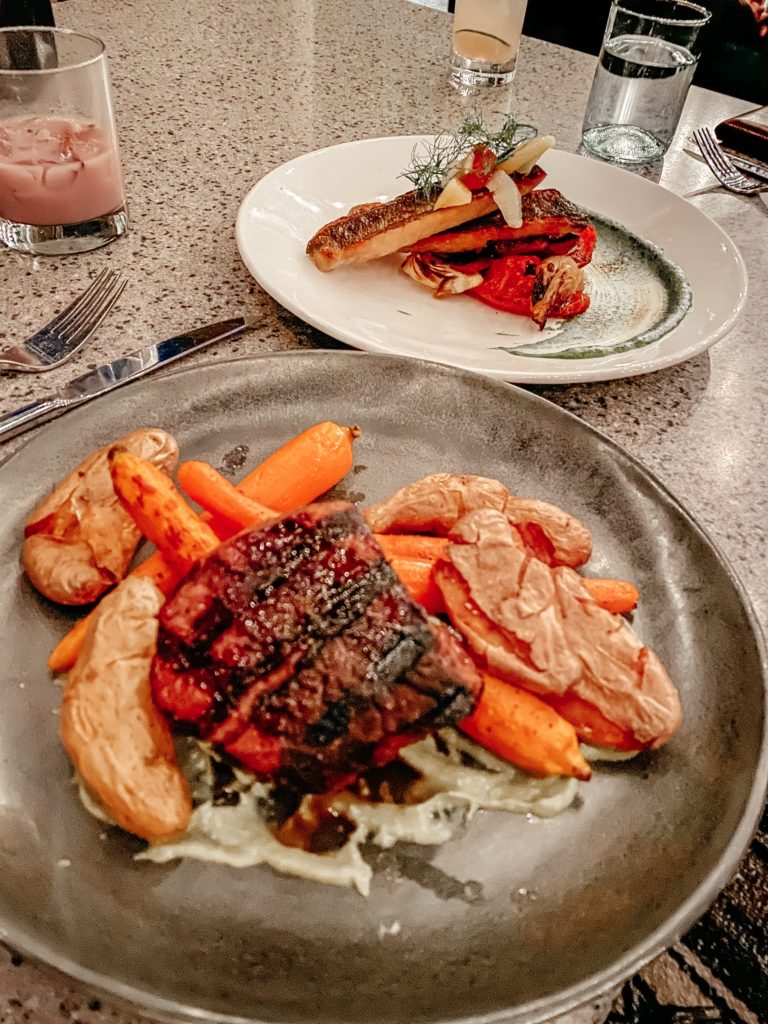 For our main course, we ordered two different meals and shared. It was too hard to resist the other! I ordered the "Filet Mignon" with a tomatillo cilantro puree, fingerling potatoes and roasted baby carrots. The filet was cooked to perfection and I was basically licking this puree off the plate!
Brad ordered the "Crispy Skin Branzino" with charred avocado, roasted heirloom tomatoes, chorizo, roasted fennel and a citrus salad. The pairings on this plate were exquisite. Absolutely delicious.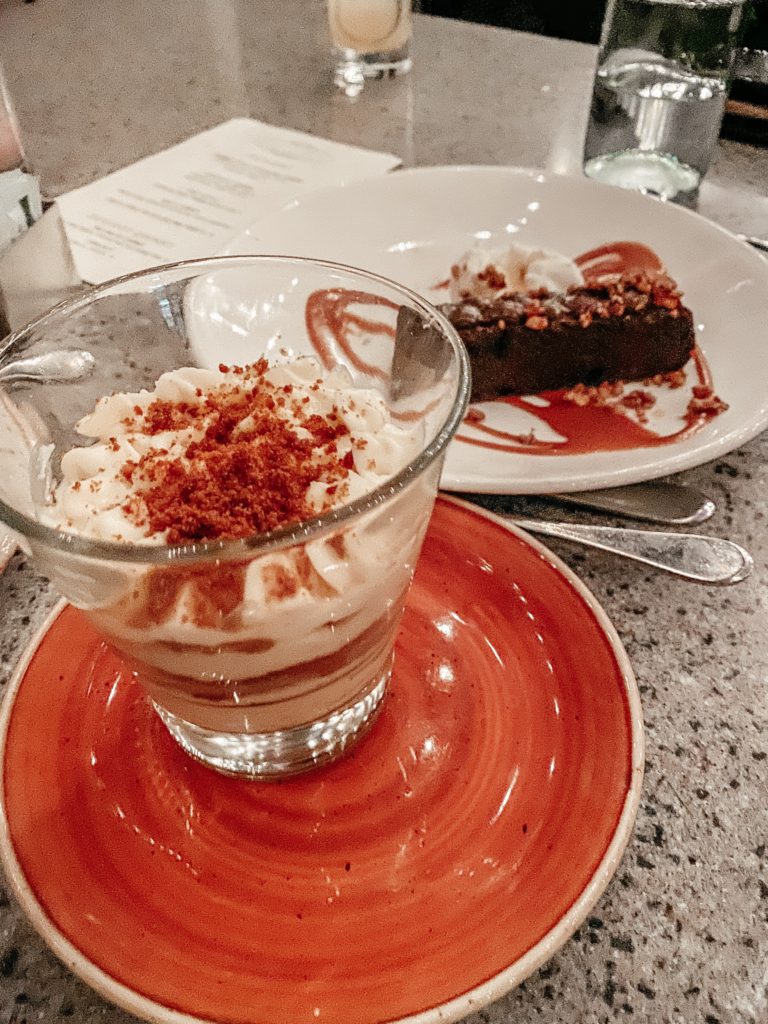 Our last course, dessert, came with two delectable choices (again.. we couldn't choose!). We enjoyed the "Cheesecake" and "Chocolate Brownie" and we were left 100% satisfied! We were beyond full… but man was it worth every bite! Such an amazing dinner experience!
After dinner we sat beside the outdoor fire pits and enjoyed the cool, crisp air. It was perfect.
Brunch at SaltRock Kitchen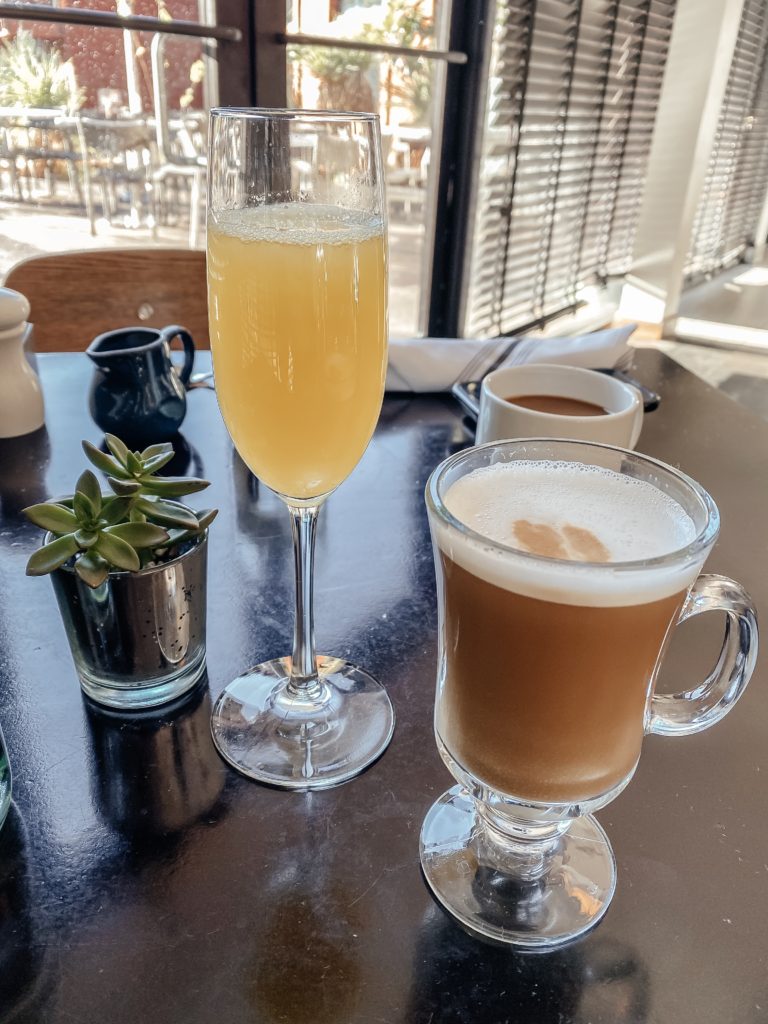 We enjoyed two amazing brunches during our stay at Amara. Both were at SaltRock Kitchen and I can't choose which was my favorite!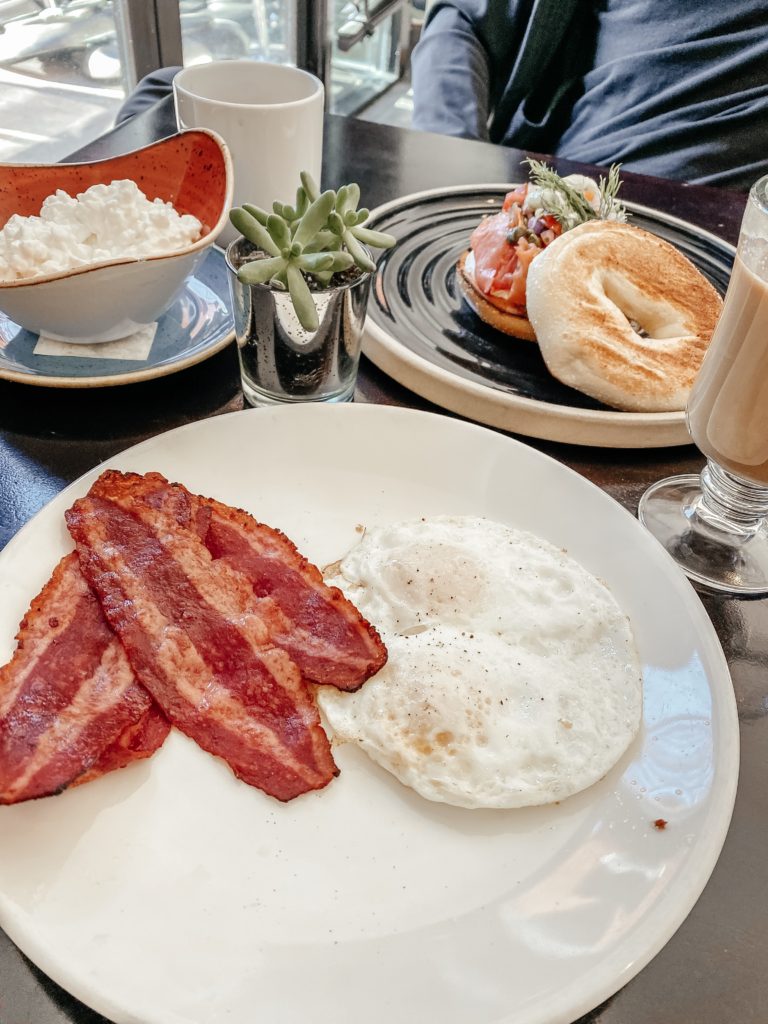 For our first brunch, I ordered two eggs and a side of turkey bacon and cottage cheese. Brad ordered the "Smoked Salmon Bagel" and I kept trying to steal bits of the salmon because it was amazing!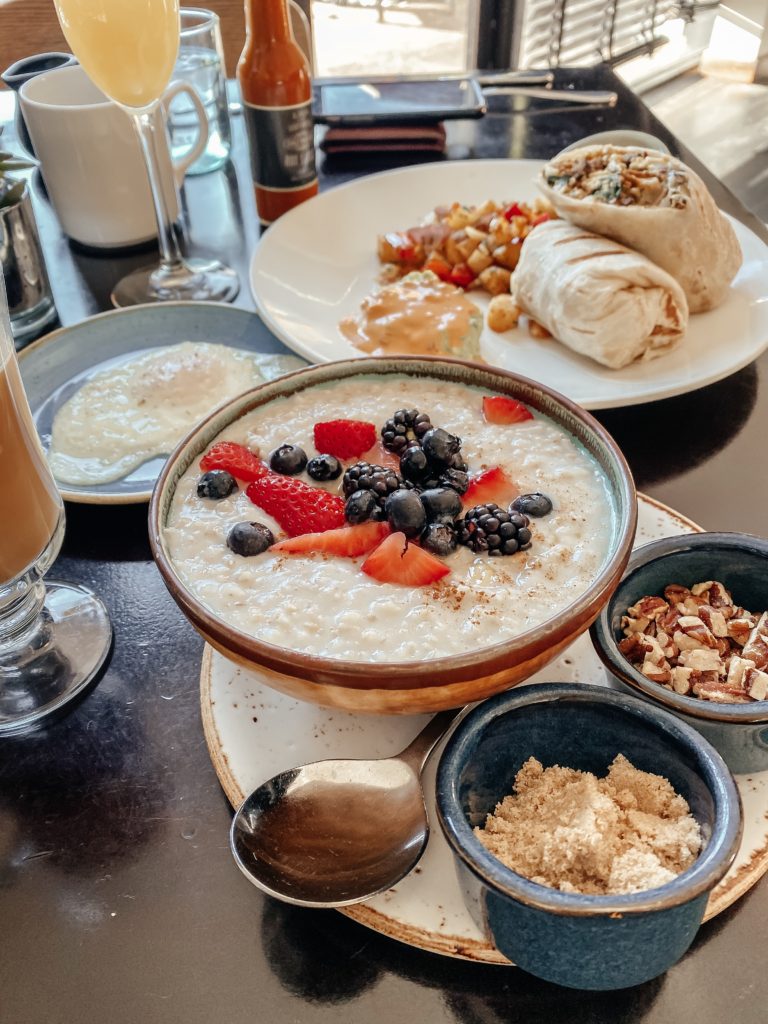 For our second brunch, I ordered the "Steel Cut Oatmeal" with berries. Brad ordered the "Breakfast Burrito" with eggs, chorizo corn, black beans, spinach, pepper jack, chipotle-guacamole and herb-roasted potatoes. Oh. My. Word.
We are so impressed with the level of cuisine at SaltRock Kitchen and Amara Resort!
The Grounds and Resort
We are also so impressed with the beauty and draw of the resort. Here are a few snaps of just how beautiful and serene this gem of a spot is.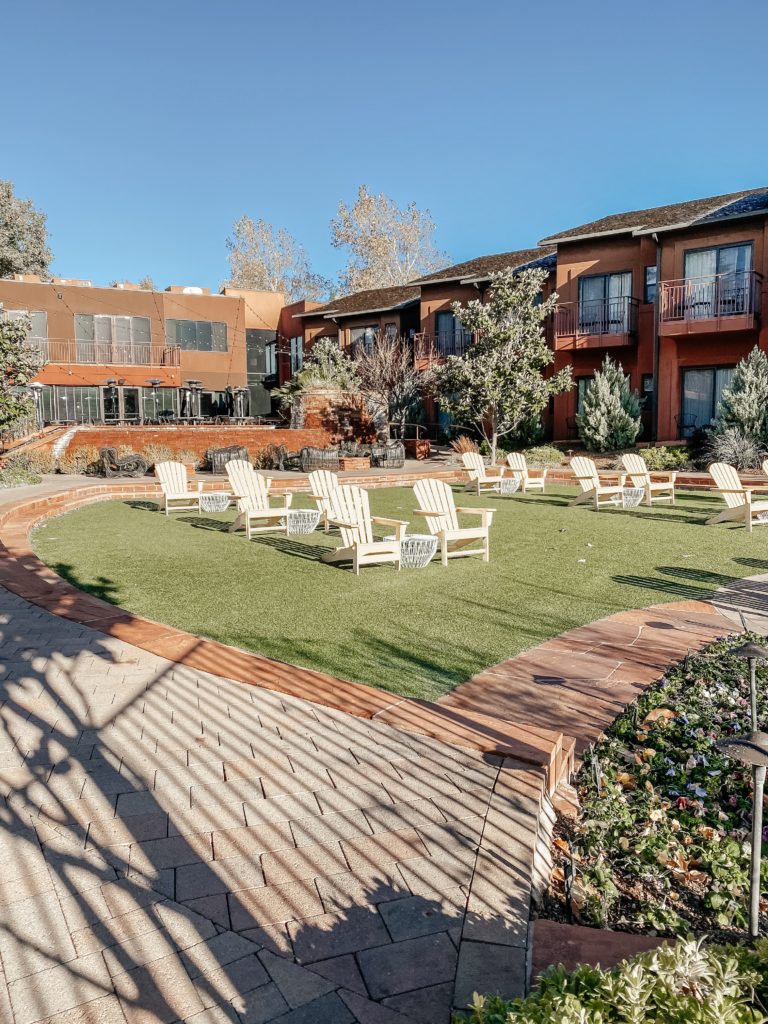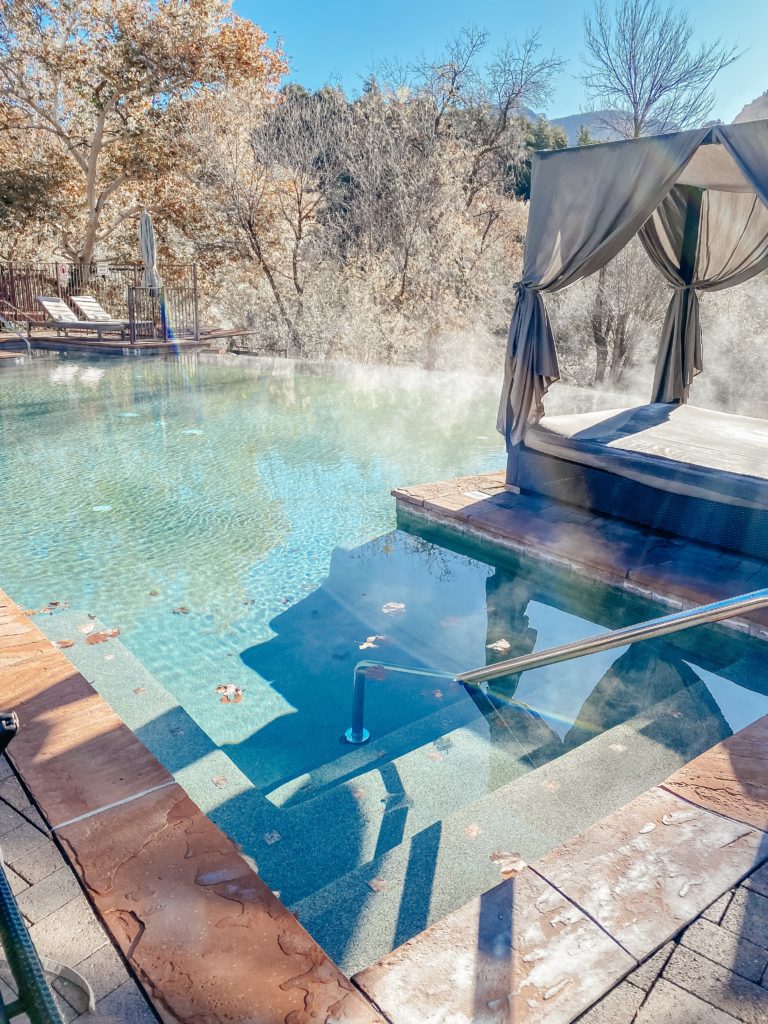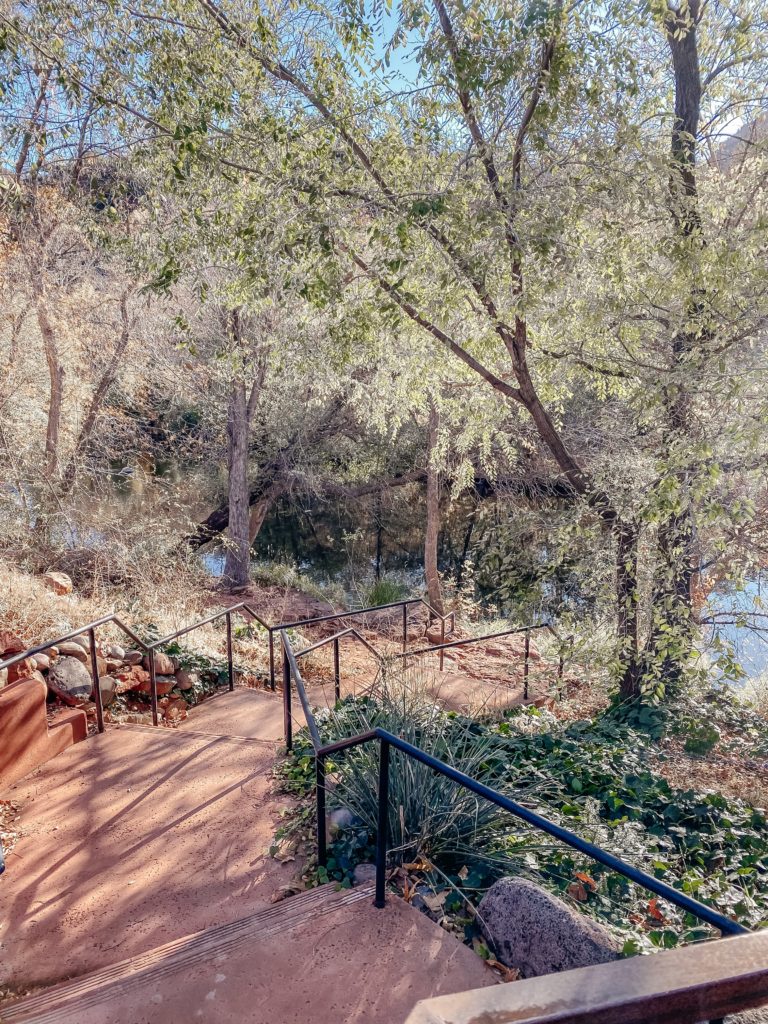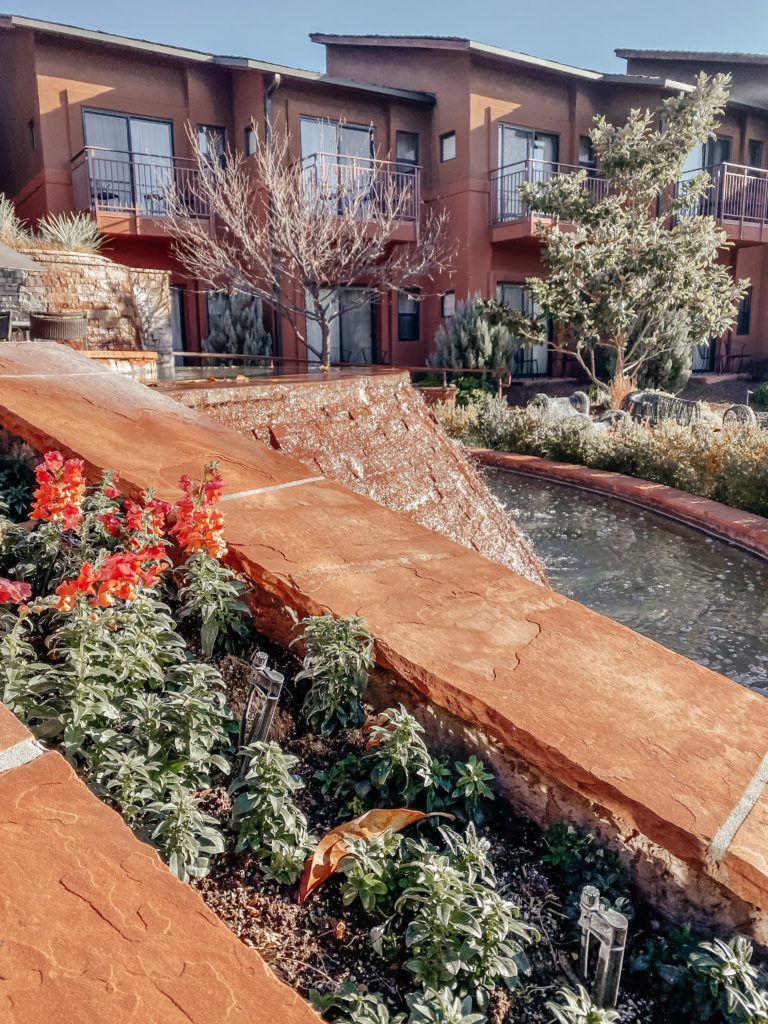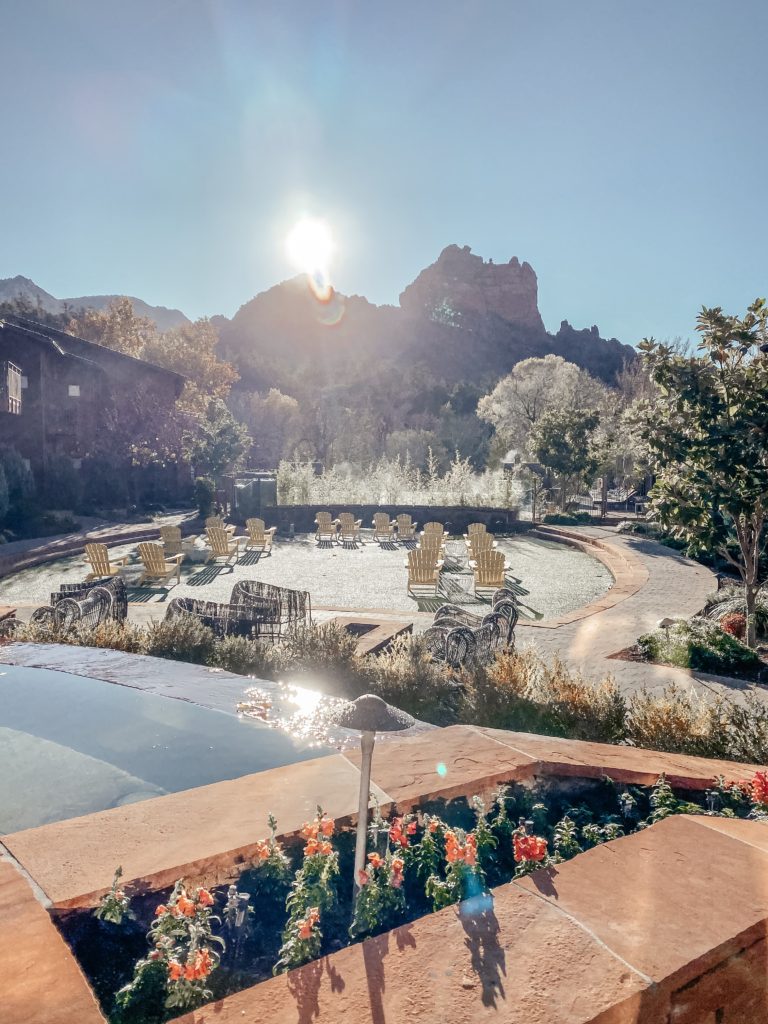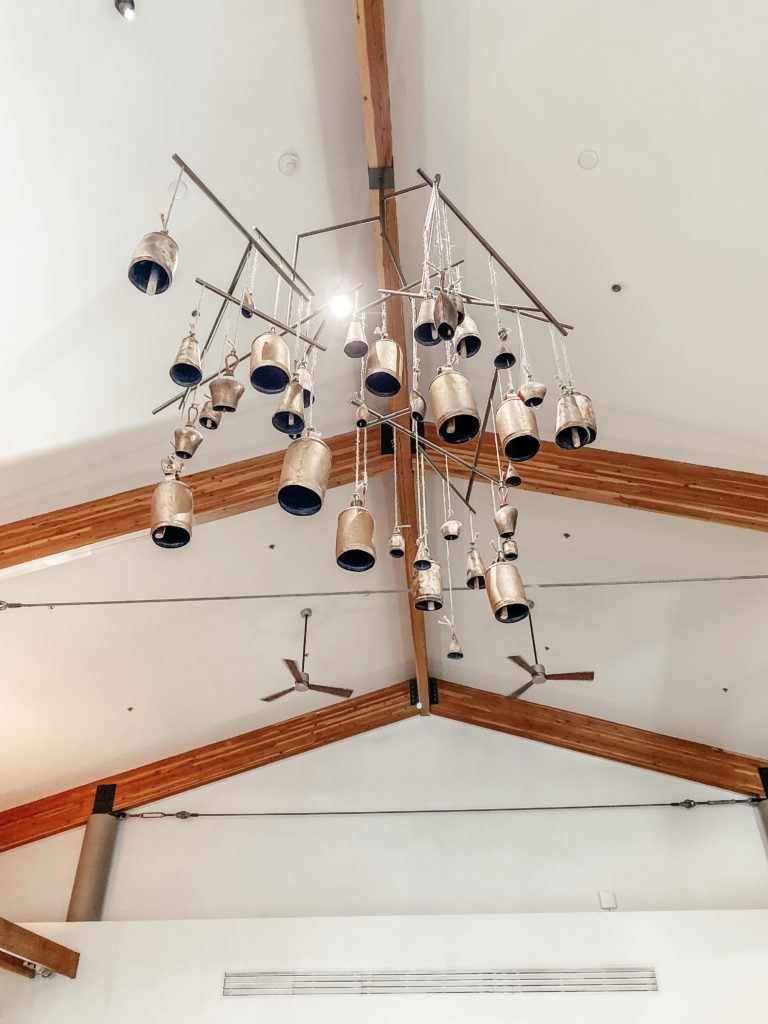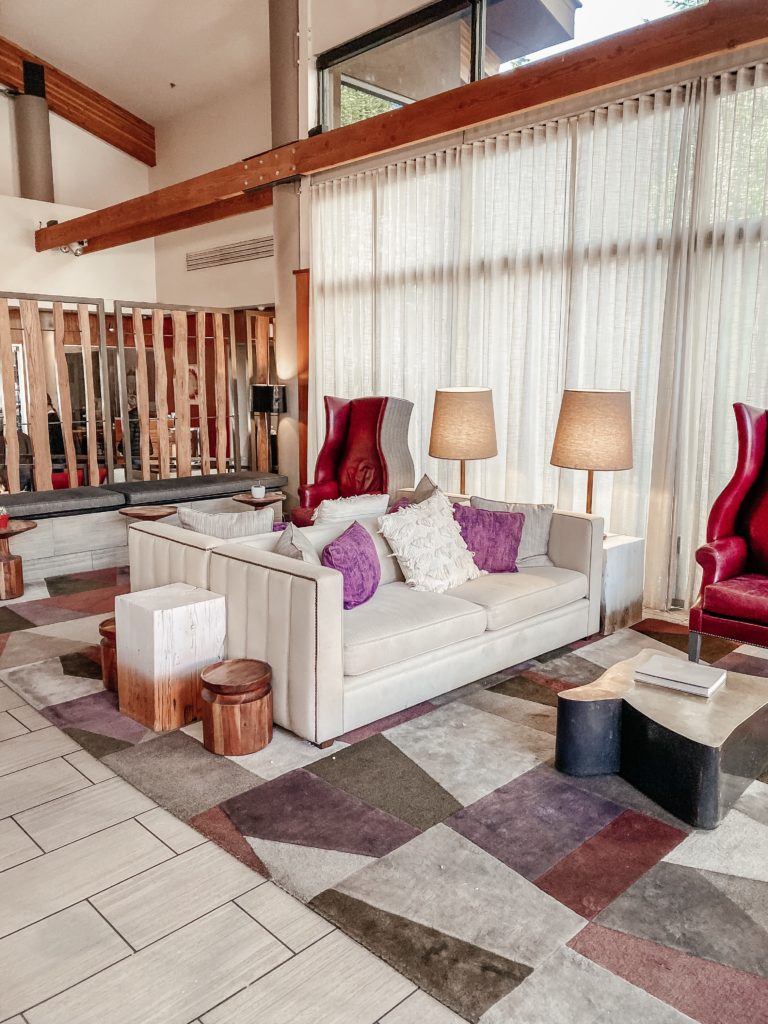 Things To Do Near Amara
Feel like venturing out of the resort? There are so many fun things to do just a short drive from Amara. We love to check out the local shops in town and the wineries in Cottonwood.
Tlaquepaque Arts and Shopping Village
Such a great little spot to stroll and shop just minutes from Amara. It has a fantastic little coffee shop, art galleries and specialty shops. It's especially dreamy at this time of the year. They have beautiful holiday decor and live music.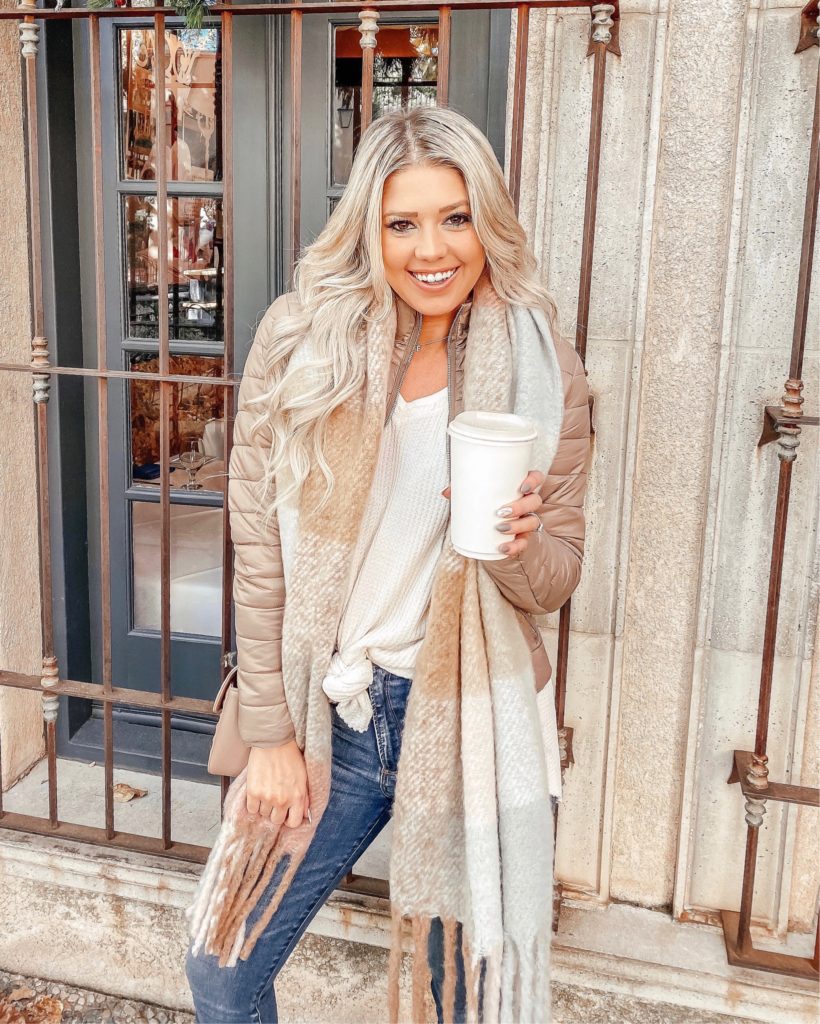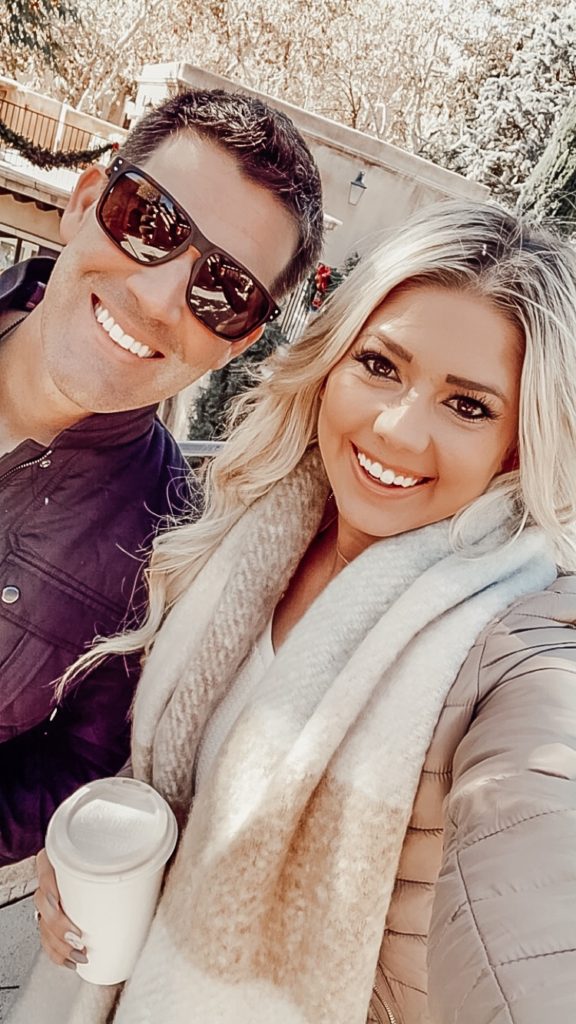 Winerires
Just less than thirty minutes from Amara, there are several quaint and rustic wineries to visit and explore. Brad and I had the best time taking in the beautiful scenery and trying all the delicious, local wines. We even spent little time on a swing. It was such a special afternoon!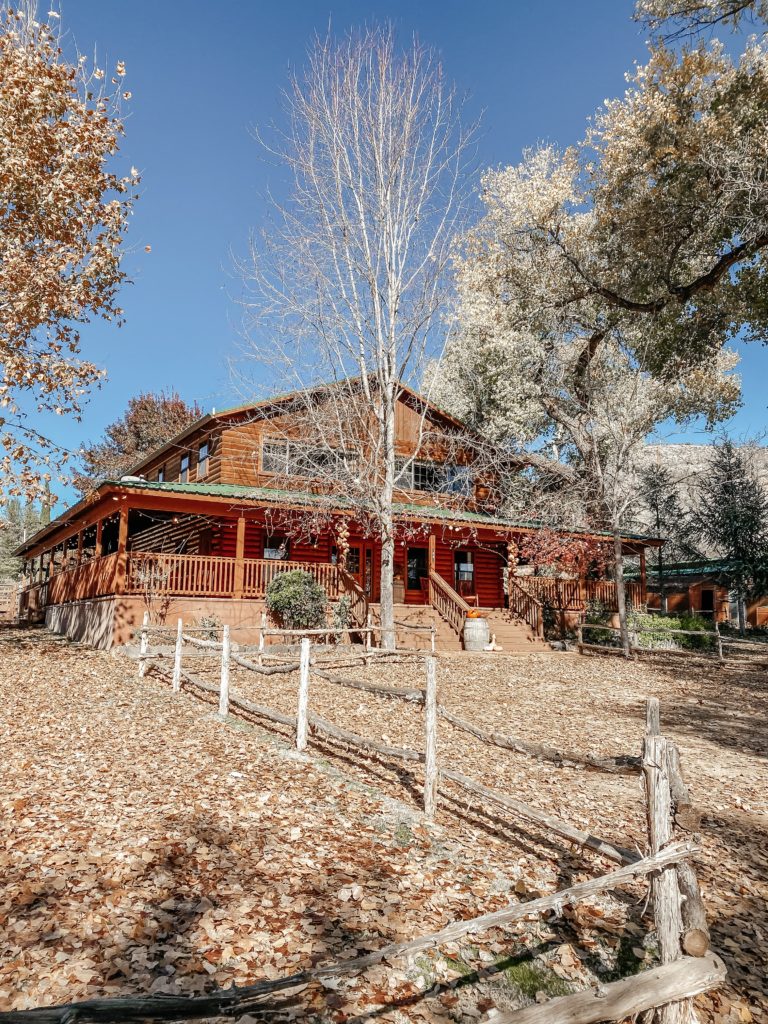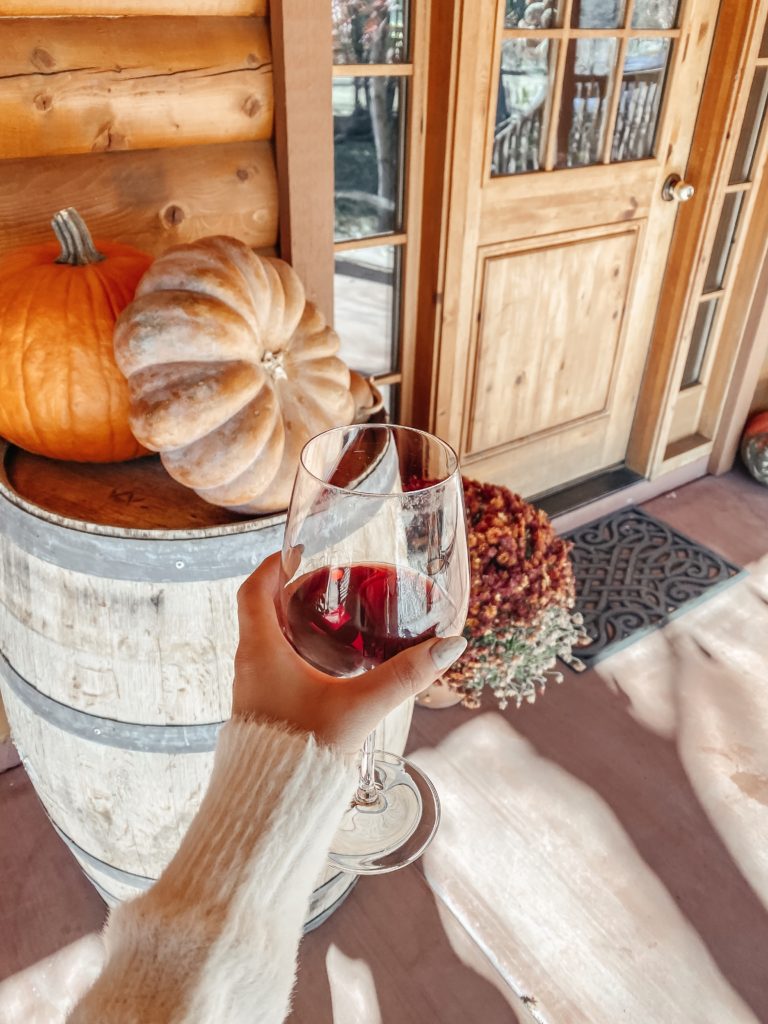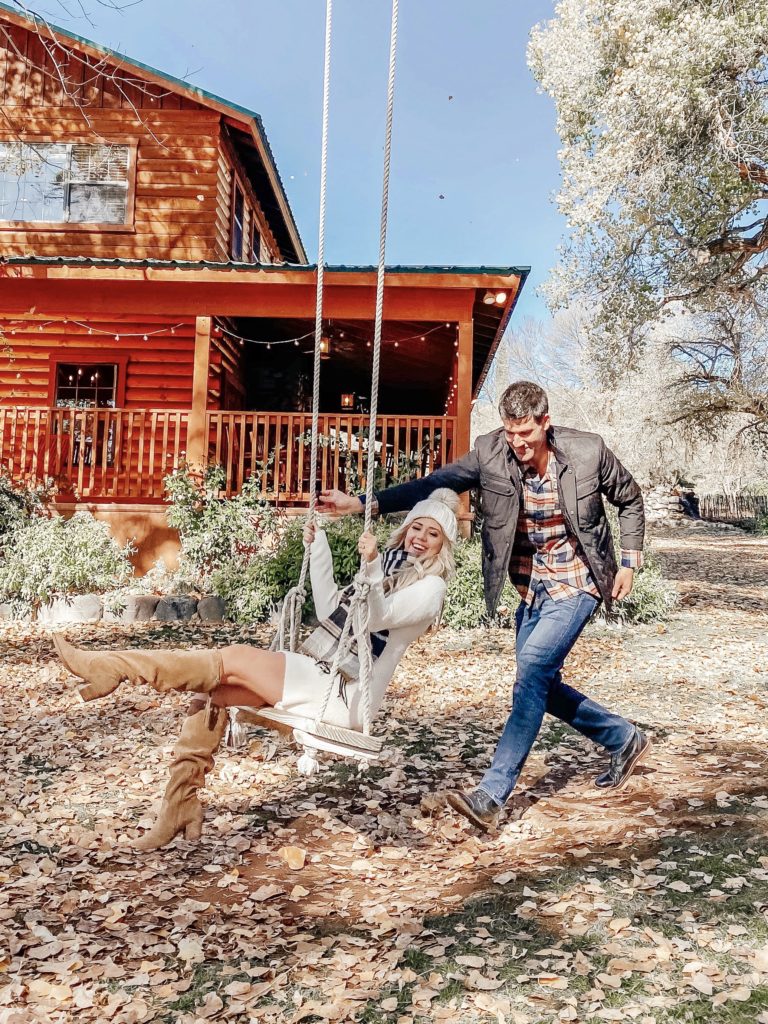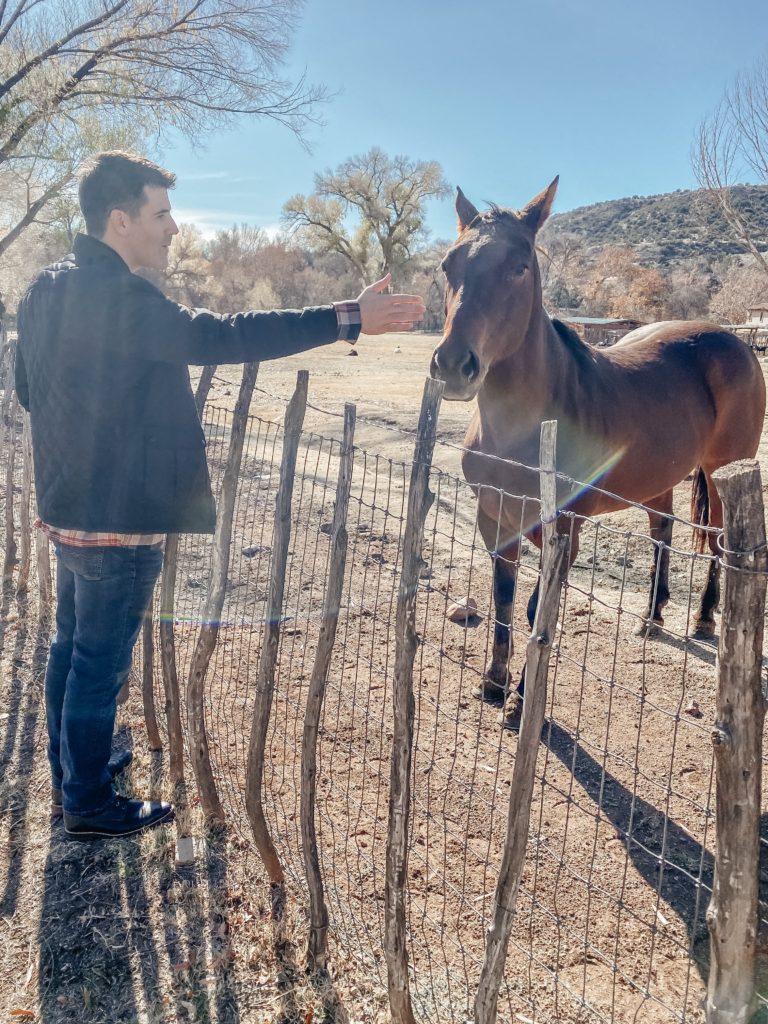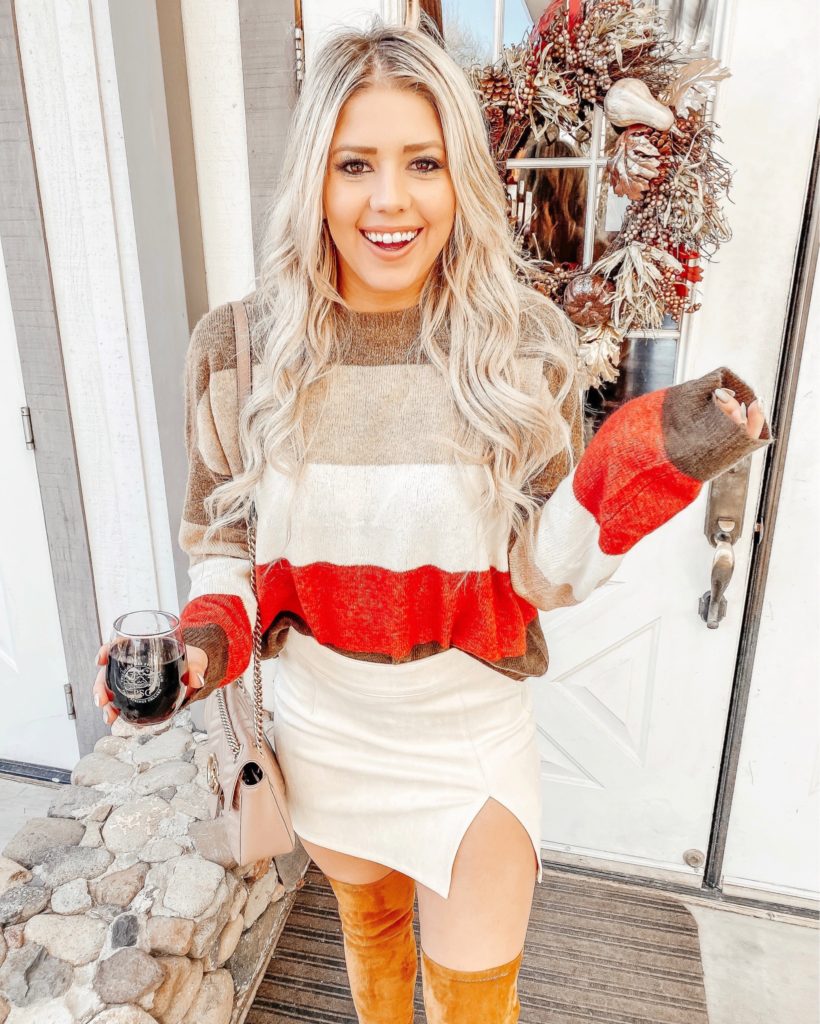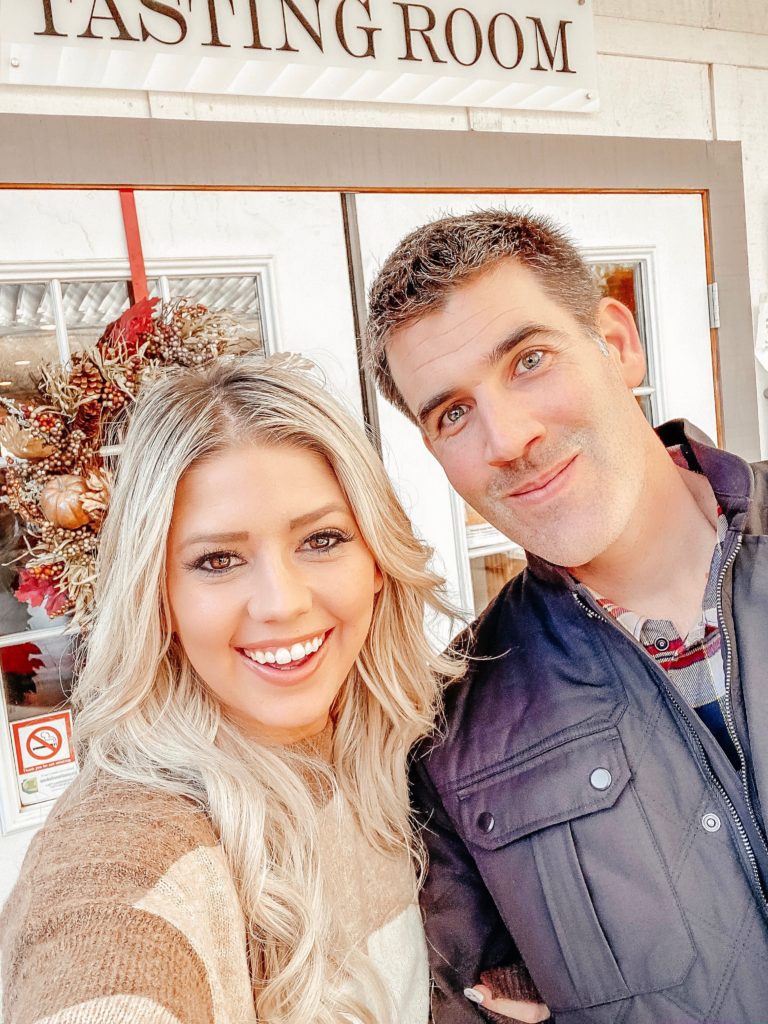 Overall Experience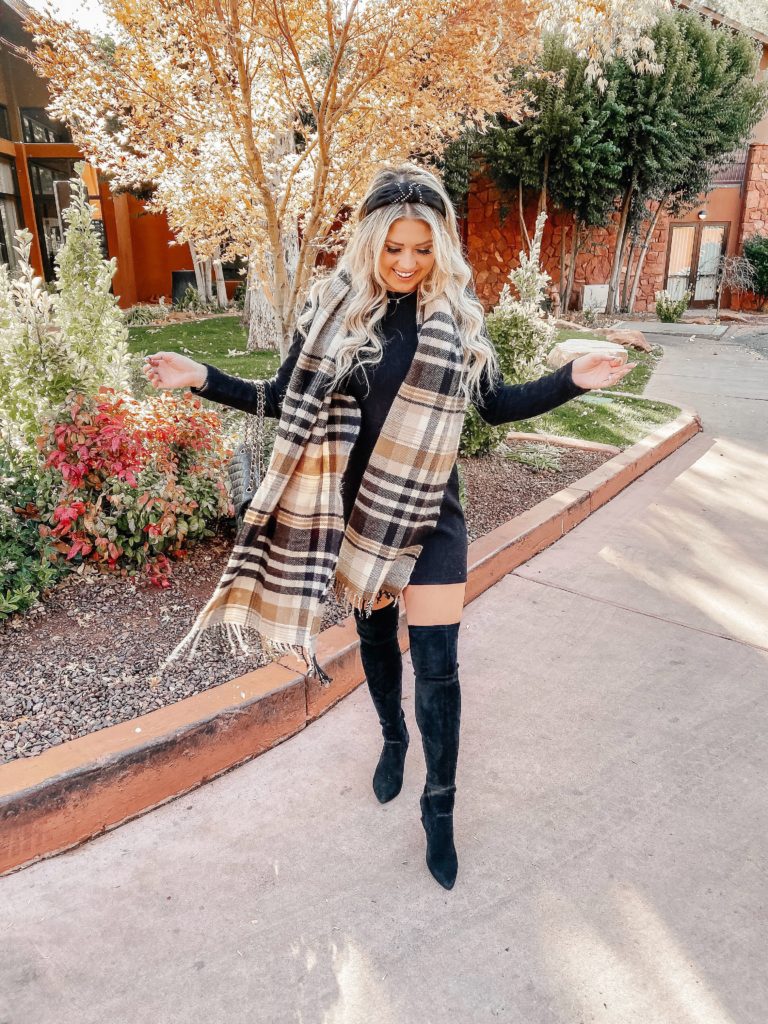 We had the most relaxing and special weekend up in Sedona at the Amara Resort and Spa. Each time we stay there, we only fall in love more and more. From the beautiful Red Rock backdrops to the out of this world cuisine and drinks at SaltRock Kitchen, we find ourselves falling more in love each time!
Thank you to the Amara Resort and SaltRock Kitchen for hosting us!