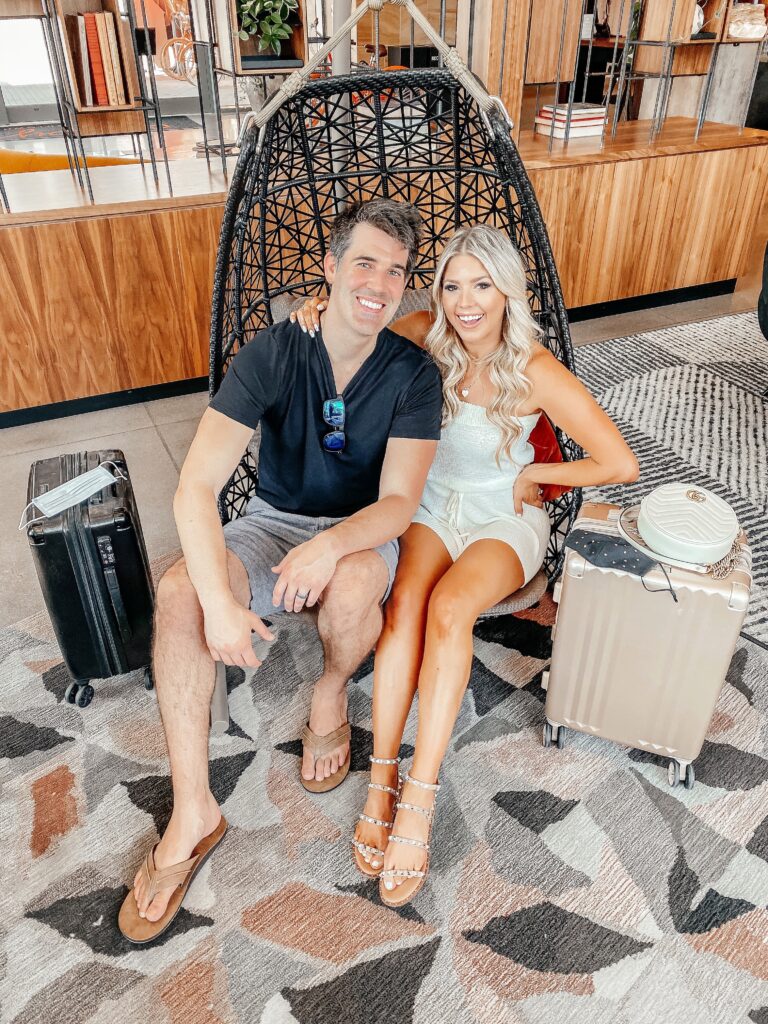 This was a hosted stay by The Canopy by Hilton Tempe Downtown
Last weekend, B and I were in need of a little staycation and R&R. We knew we wanted to stay at a boutiquey, trendy hotel with a view and a good pool. So, we picked a new, fabulous hotel in Downtown Tempe.
Where: We stayed at the Canopy by Hilton Tempe Downtown. This is just a short 20 minute (or so) drive from Scottsdale. It's nestled in the heart of Tempe and it's close proximity to Arizona State University and Mill Avenue makes it a great spot to be right there in the action. From the moment you step out of the hotel, you can be immersed in the fun of Downtown Tempe with restaurants, bars and various nightlife.
When: We stayed there last Saturday night and checked out Sunday. It was a one night stay that left us feeling rested and recharged for the week ahead. Even though our stay was in the middle of the blazing Arizona summer, the hotel provides numerous ways to stay cool AND have fun while you're doing it. The Canopy is a great hotel to stay at no matter what time of the year you may be visiting.
Why: With all the extra time being spent at home, sometimes a little staycation is just what you need. It was an easy way to get "away" from the house and have a little fun without going too far. A great little local escape!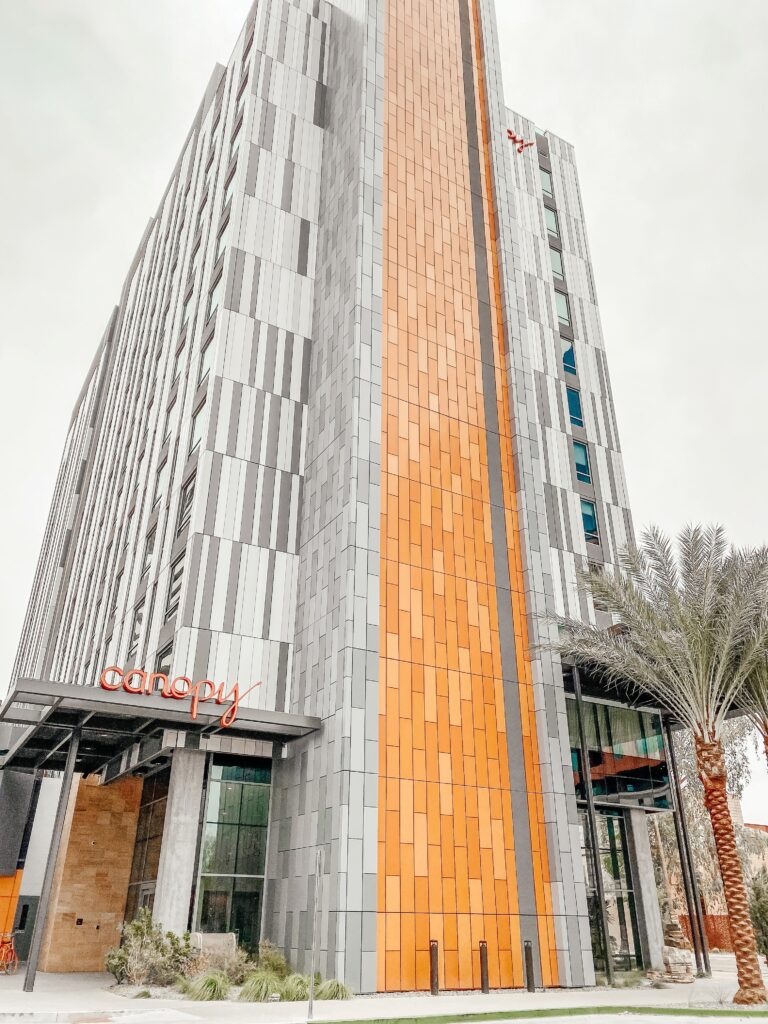 Arrival + Hotel
We arrived at the Canopy on Saturday afternoon and were instantly taken back by the architecture of the building. Downtown Tempe is doing a lot of new construction and creating some really beautiful buildings with unique and modern architectural flair. Absolutely loving the vibes down there!
From the moment we stepped out of the car, we were greeted with a friendly valet driver and front desk attendant. Everyone was super accommodating and made us feel very welcome! They even snapped some pics for us. 🙂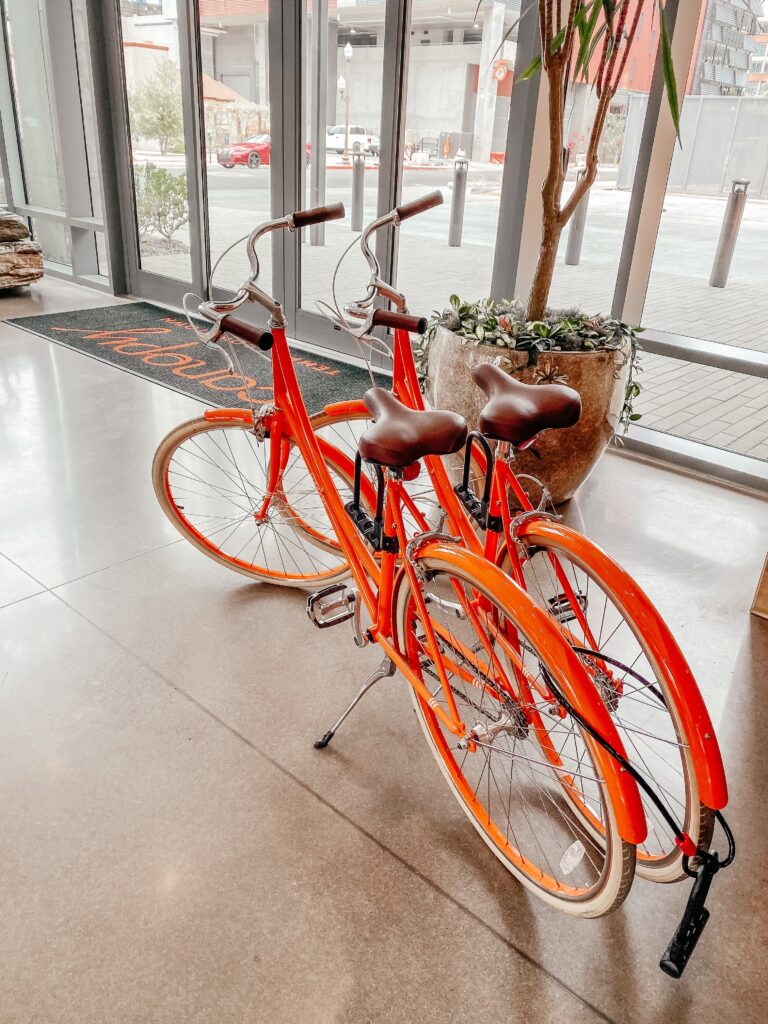 One cool thing that we noticed when we arrived was the orange bikes outside and near the front desk. The Canopy provides complimentary bikes for you to take out and explore Downtown Tempe. I love this amenity!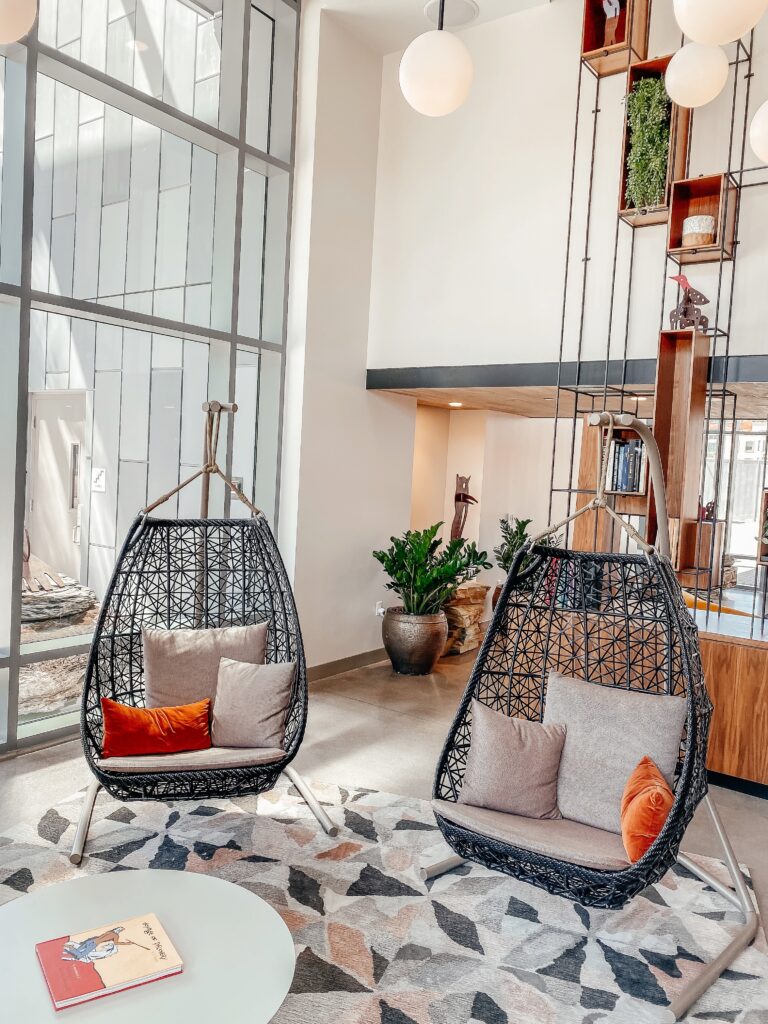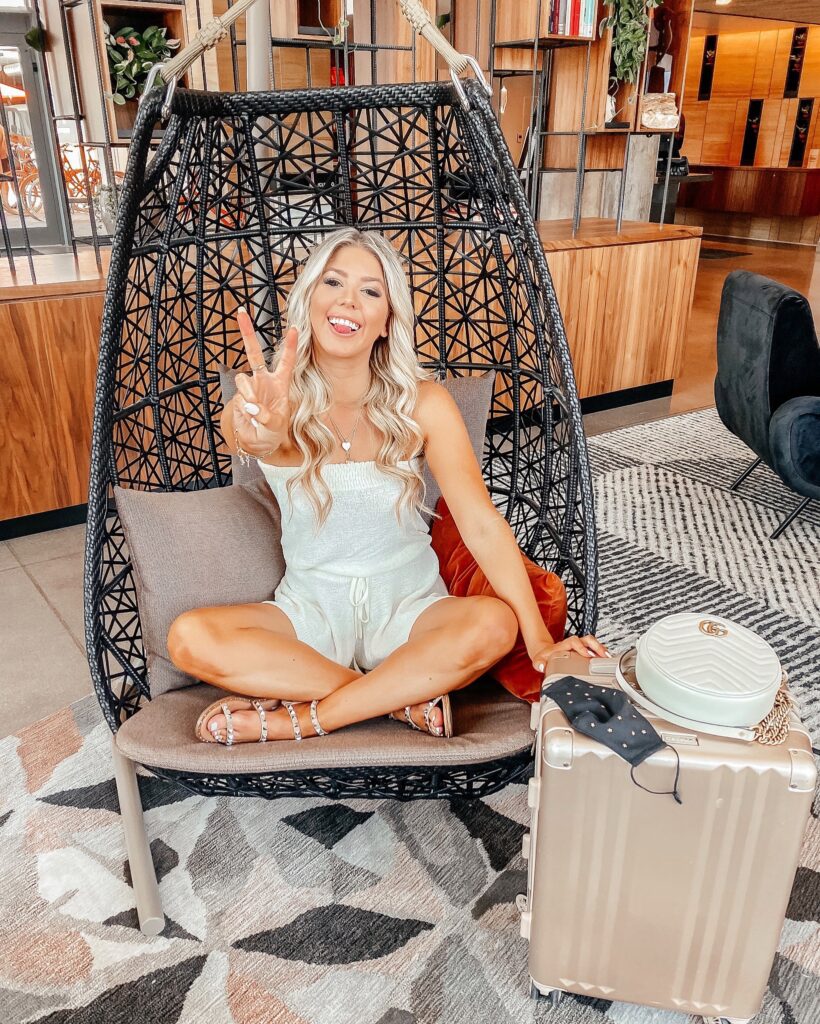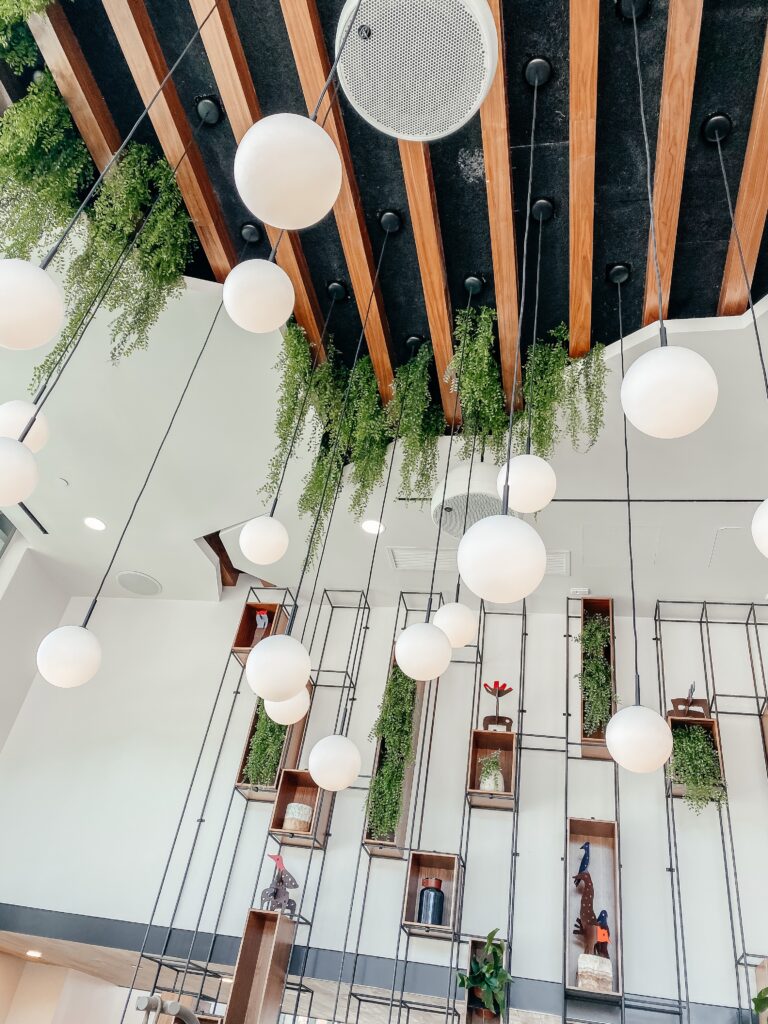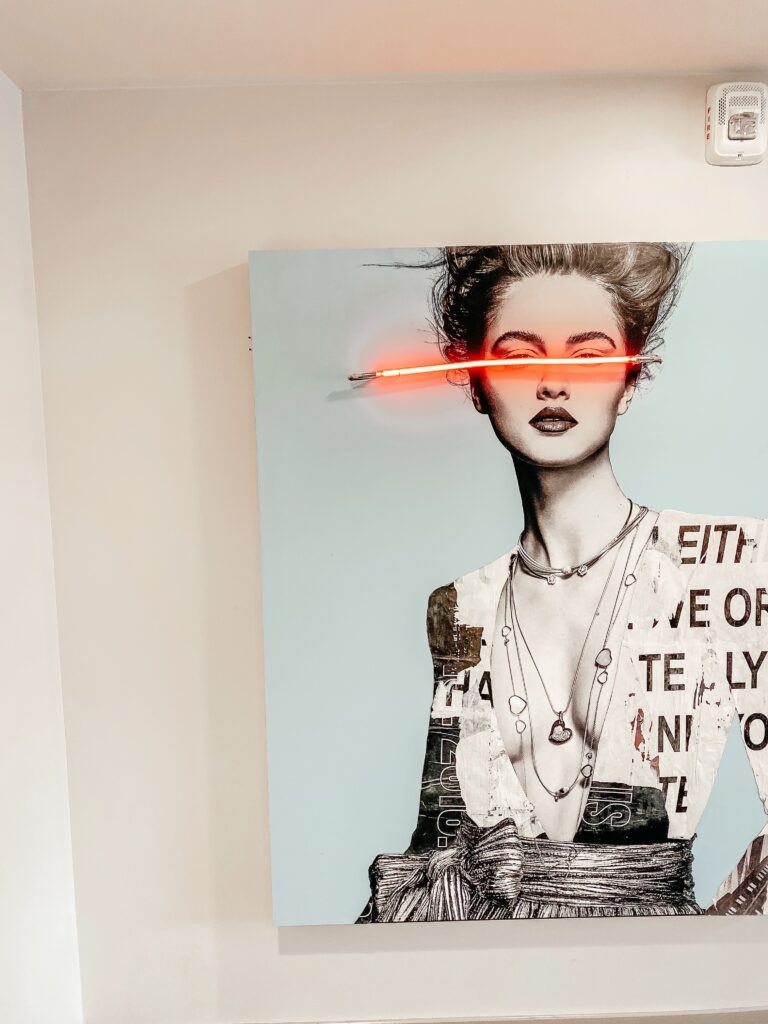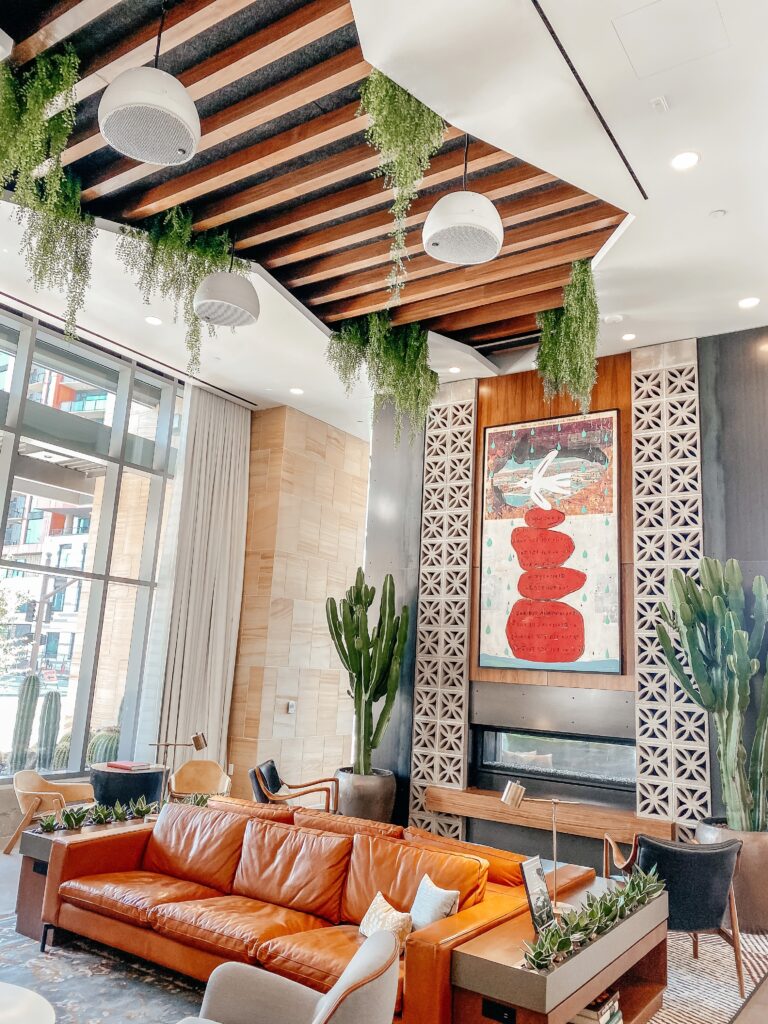 Absolutely in love with the vibe and aesthetic of the lounge area. From the dreamy, neutral color palette to the cacti and succulents, the space is very relaxing and homey. The comfy leather couches really make you feel like you are nestled in a living room and provides a very comfortable feel. I could have sat in this space for a long time. Which isn't always true of a hotel. We were super impressed with the feel of the hotel.
Alter Ego Bar + Lounge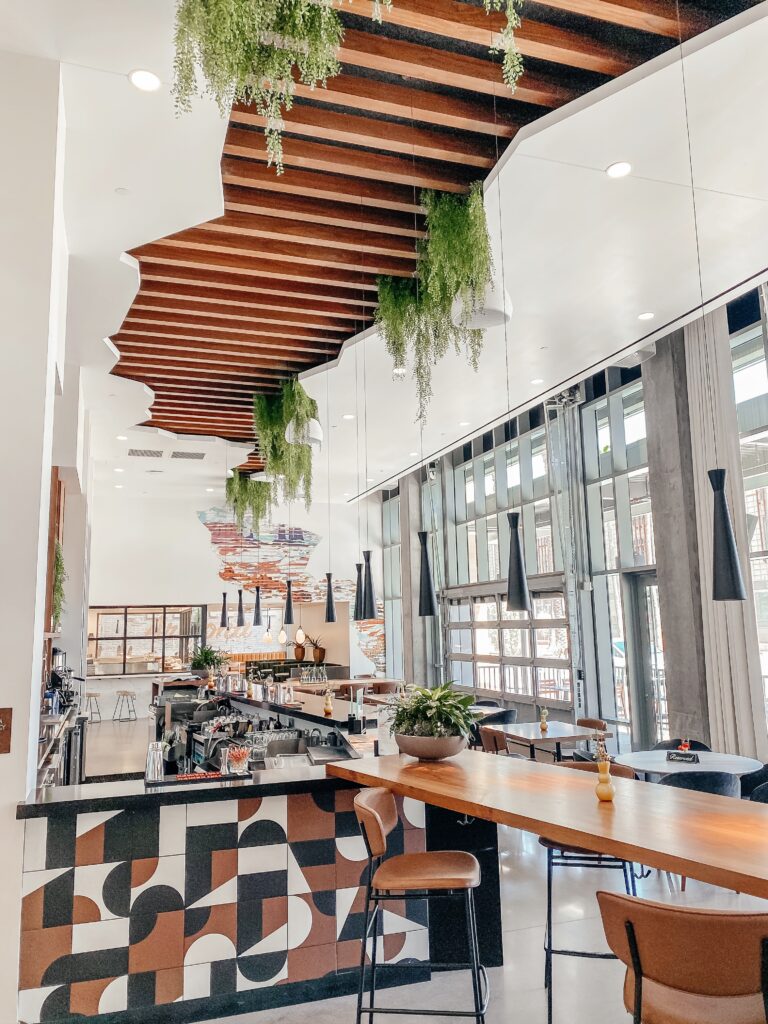 Our room was already ready when we arrived (love that!) but we were looking for a little snack and drink to kick off our stay. We sat down at the Alter Ego Bar, which is adjacent to the restaurant. The bartender was so friendly and welcoming.
The drink list was fun and unique. I loved the different options. Brad had a mai tai and for the life of me I can't remember the name of mine. But it was absolutely delicious! For a snack, we shared a panini and fries. Both were very gourmet and out of this world. I am pretty sure I ate most of the fries myself (my weakness) and could have eaten another order! So good.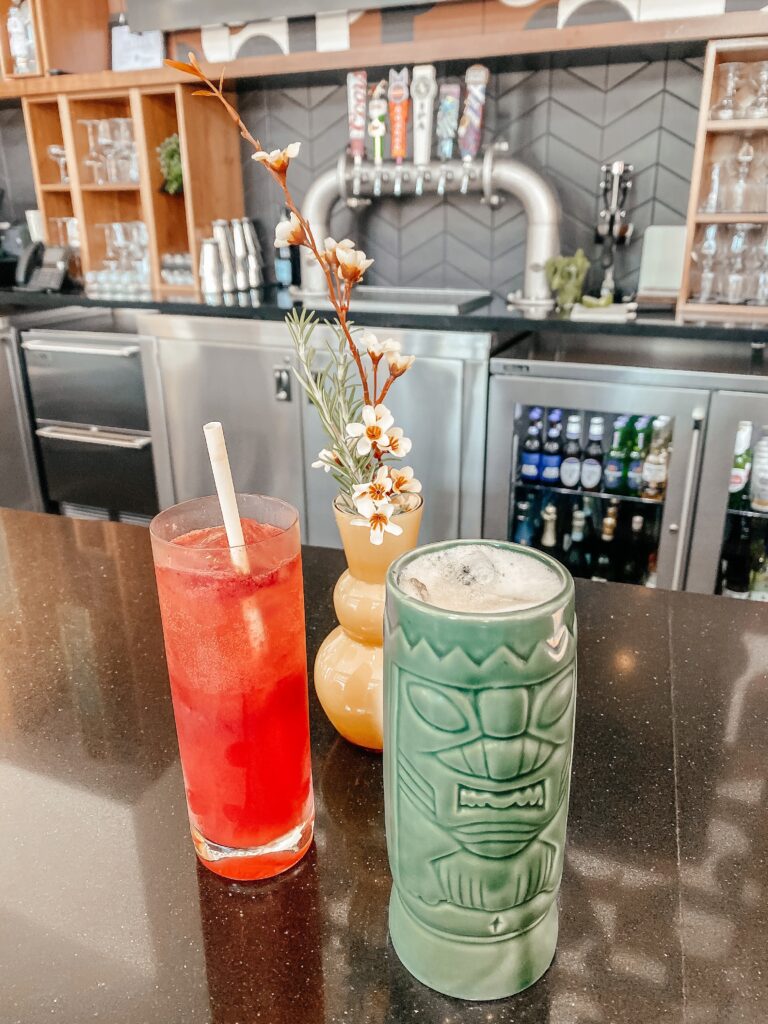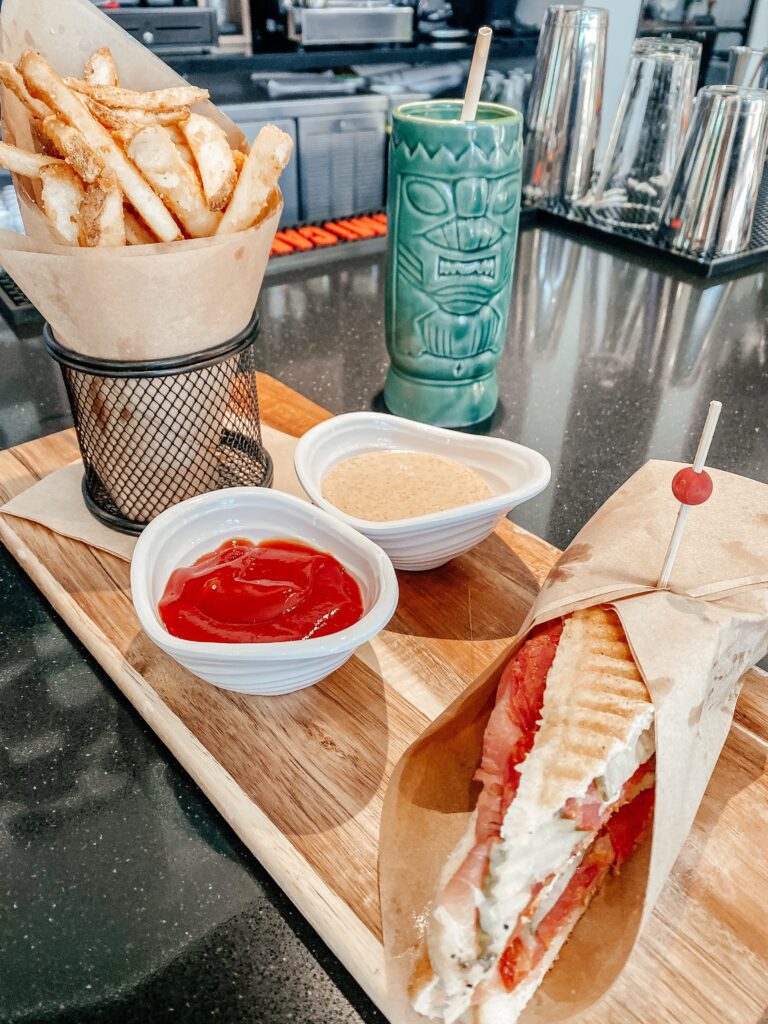 The Room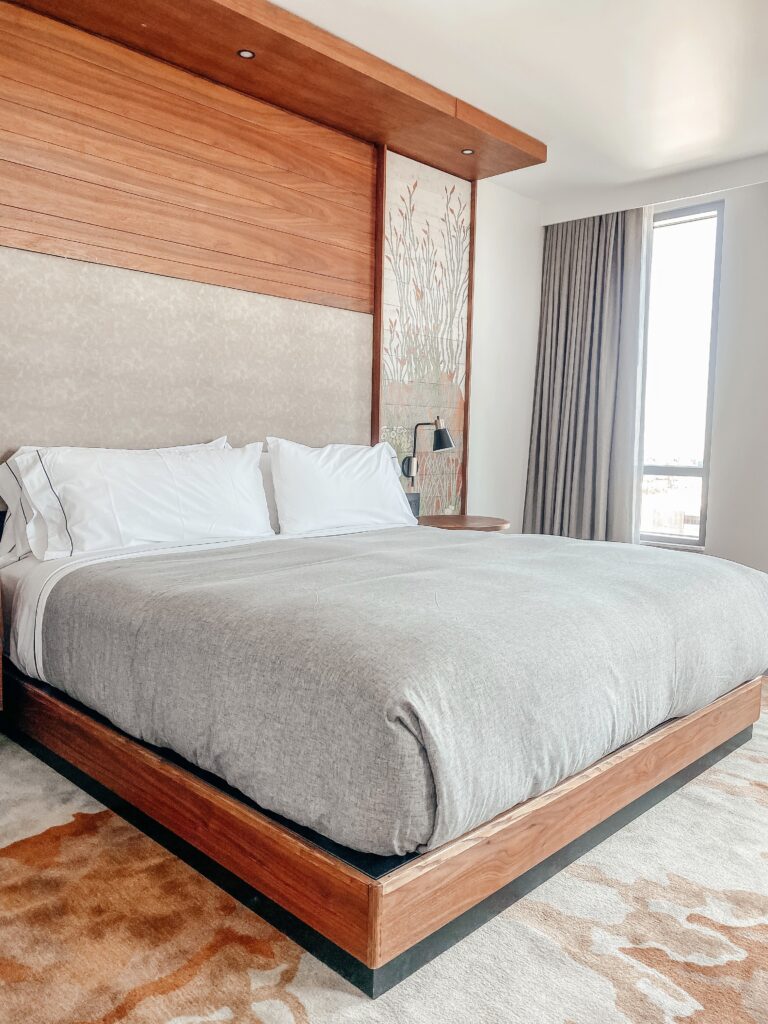 After we finished up our snack, we went up to our room. We were located on the 11th Floor and had a great view of Downtown Tempe.
The room itself was clean and had a great flow and feel. The neutral colors and natural light that floods the space made for a peaceful and airy feel. We loved the big windows and city feel that this space provides.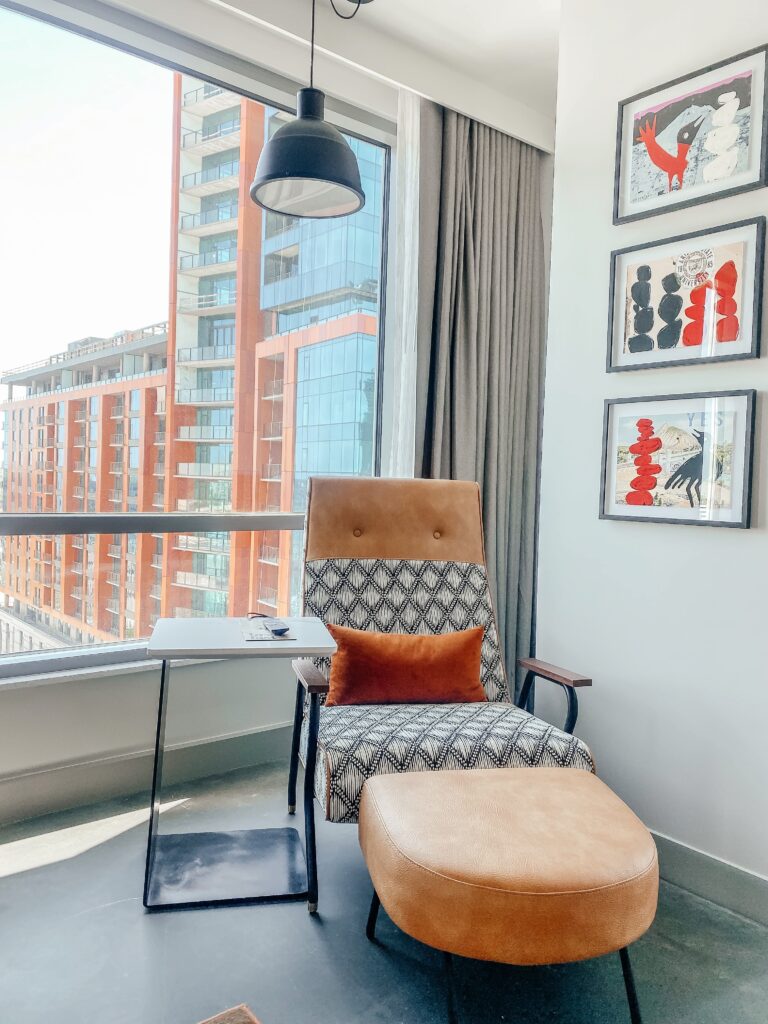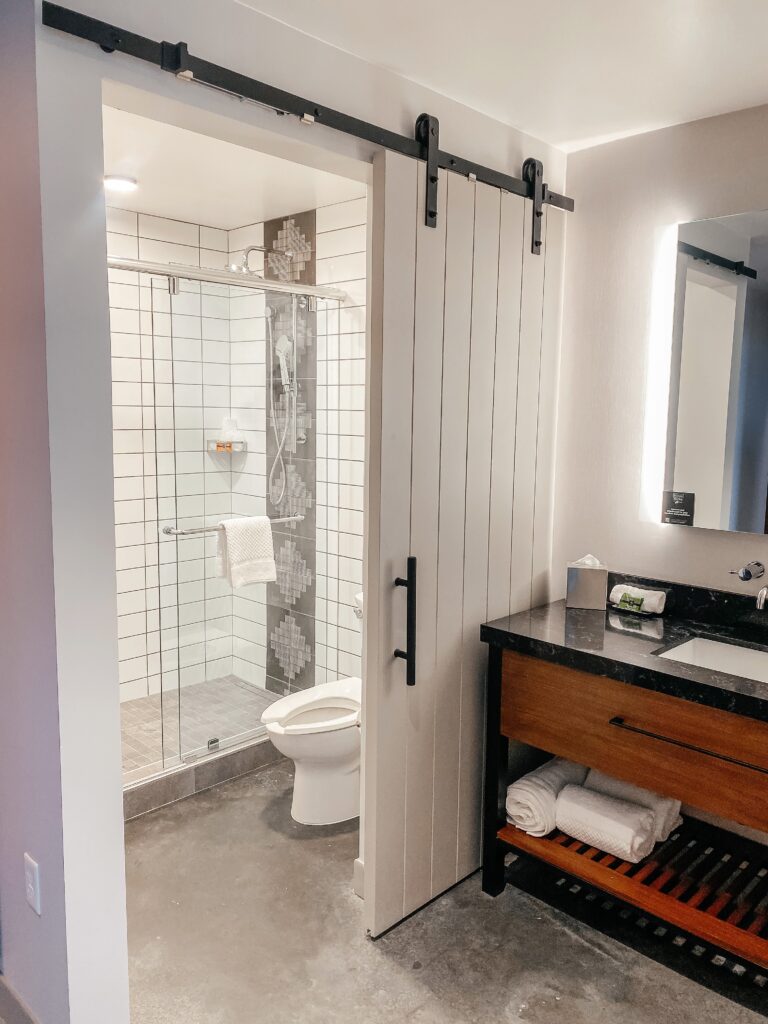 I can always appreciate a good barn door too! The room had two. One separating the bathroom from the bedroom, and one for the shower/toilet area. Such a cool modern flair and feel.
The room also had a great closet area equipped with good storage, robes & socks, a large mini fridge, safe AND a Nespresso machine. Which I thought was so cool! I haven't seen a Nespresso machine in a hotel until this stay. Loved that. Oh, and the robe was the softest thing. I wore it constantly when I was in the room.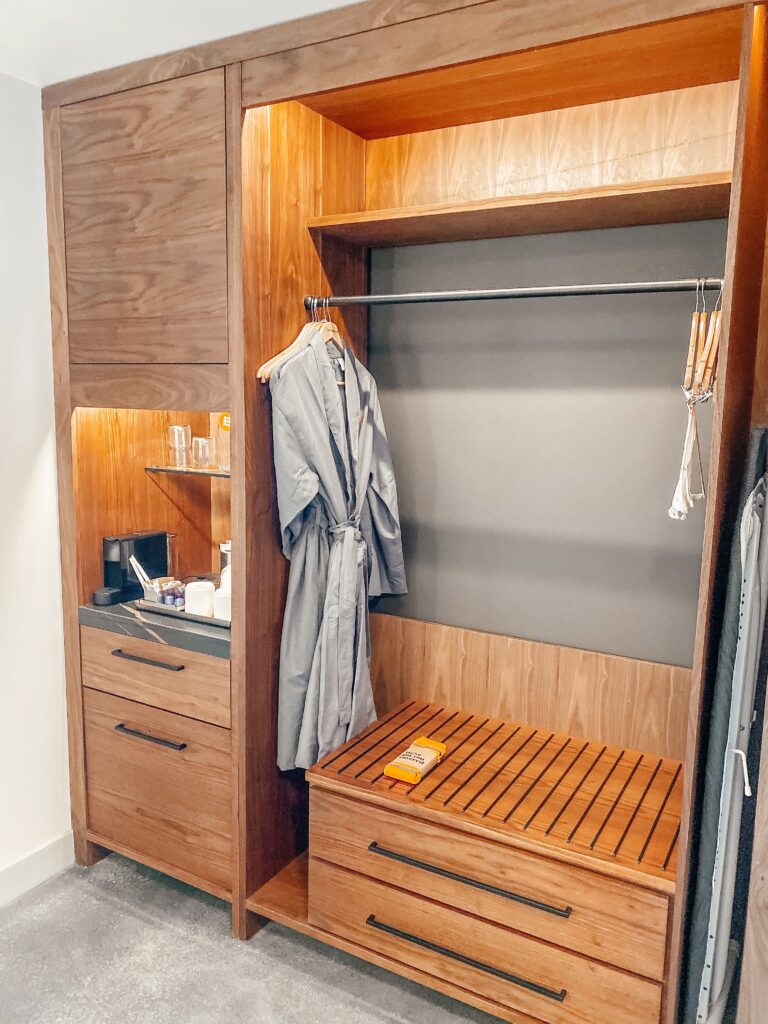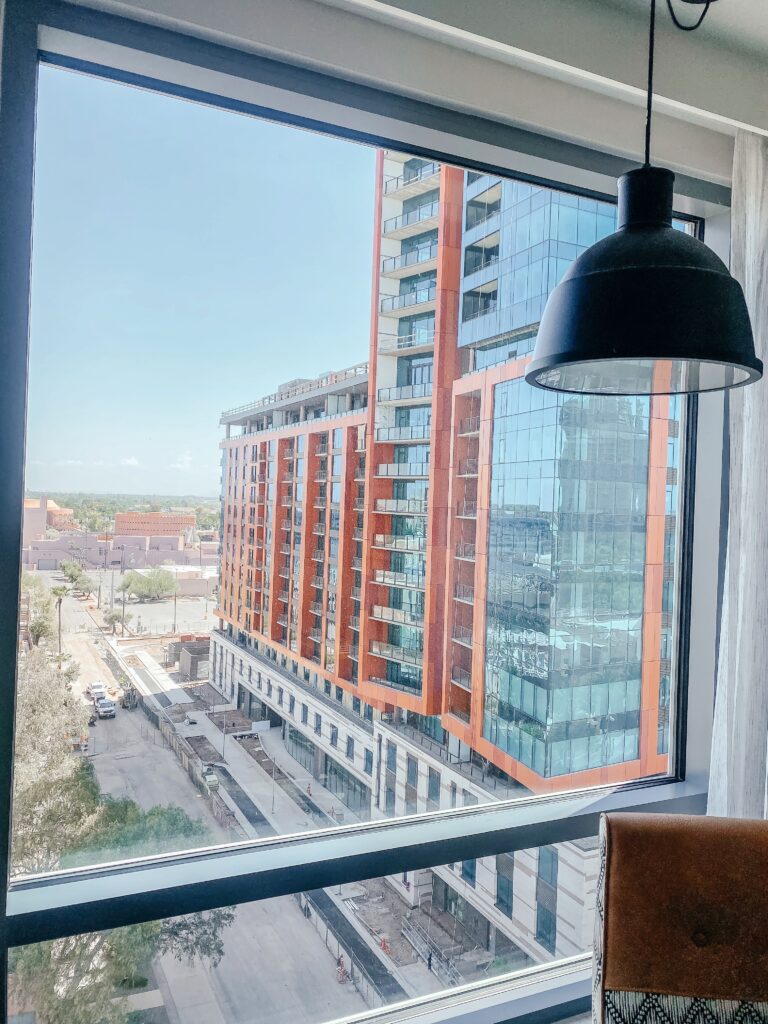 Alter Ego Dinner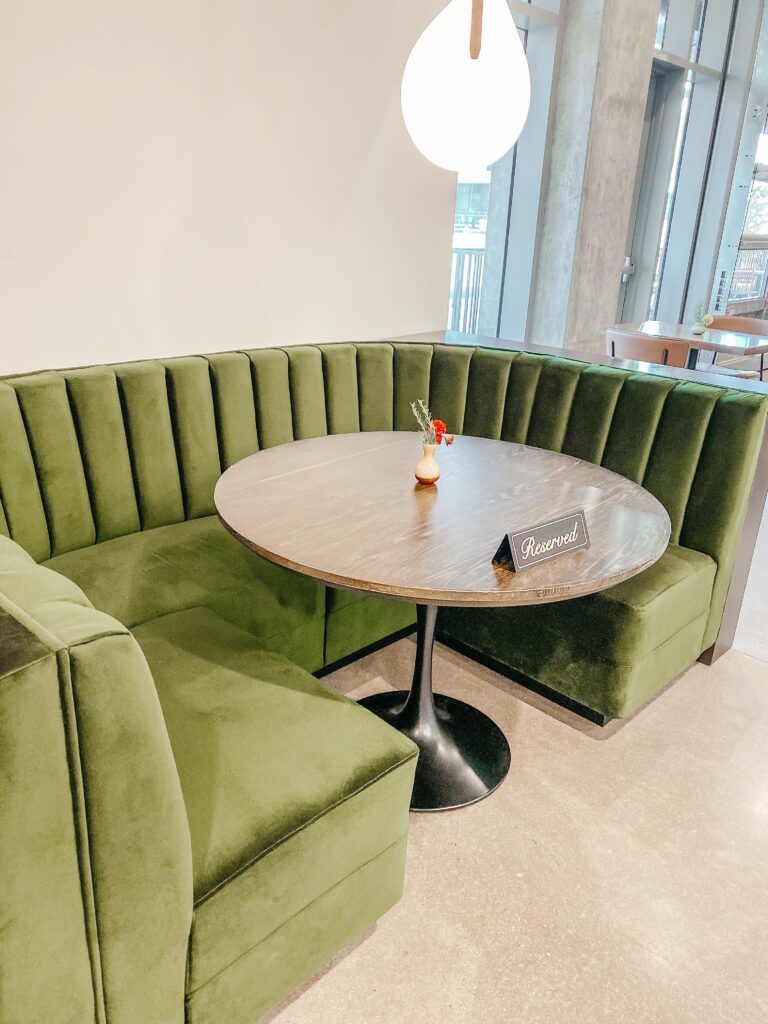 After we freshened up, we made our way back downstairs for dinner at Alter Ego. We sat down at the dreamiest little green, velvet booth and were instantly greeted by Chef Tim – one of the sous-chefs at Alter Ego. We were in for a treat!
We loved the proximity to the kitchen and the open kitchen feel. We were able to see Chef Tim at work and watch his culinary expertise throughout our dinner. The vibe of the restaurant was chill yet upscale.
Alter Ego serves an elevated fusion cuisine made with "fresh locally and regionally sourced ingredients" and a killer cocktail menu!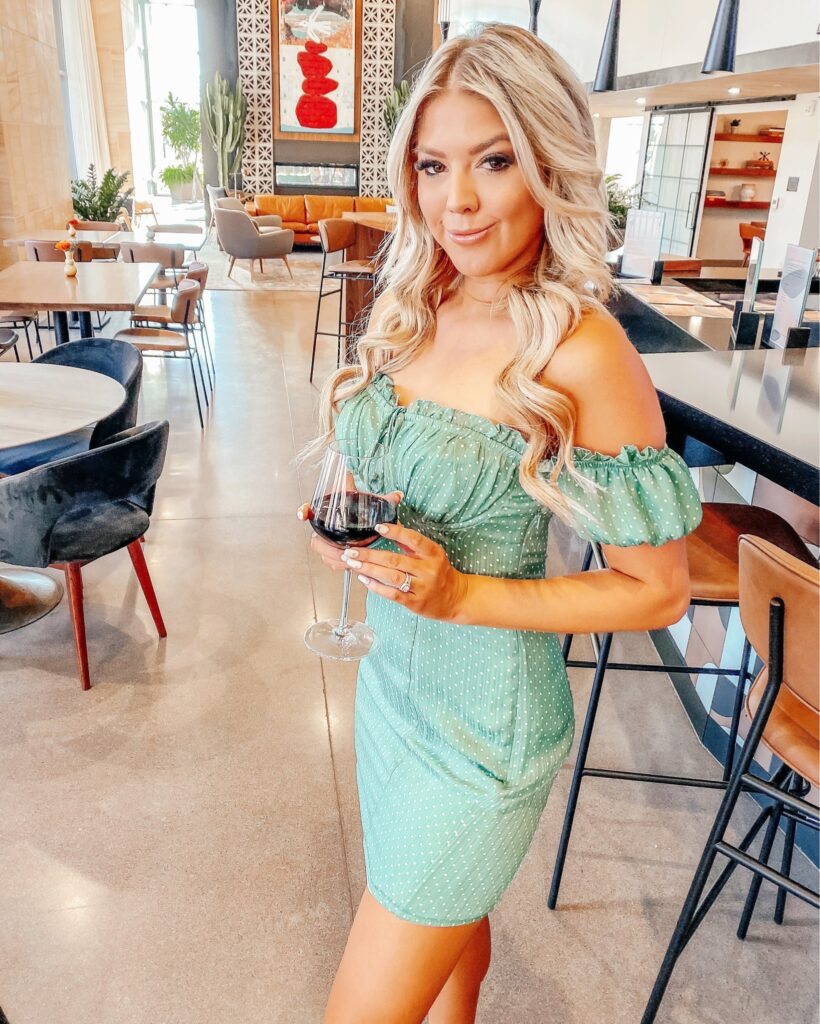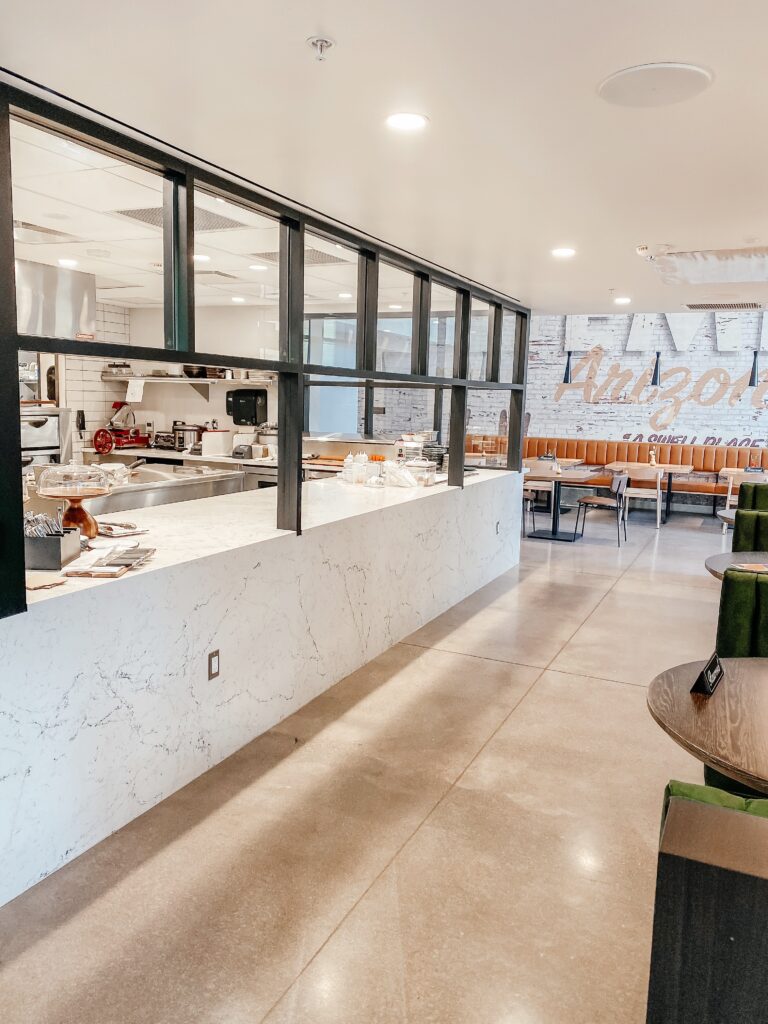 The Dinner Courses
Pork Adobo Empanada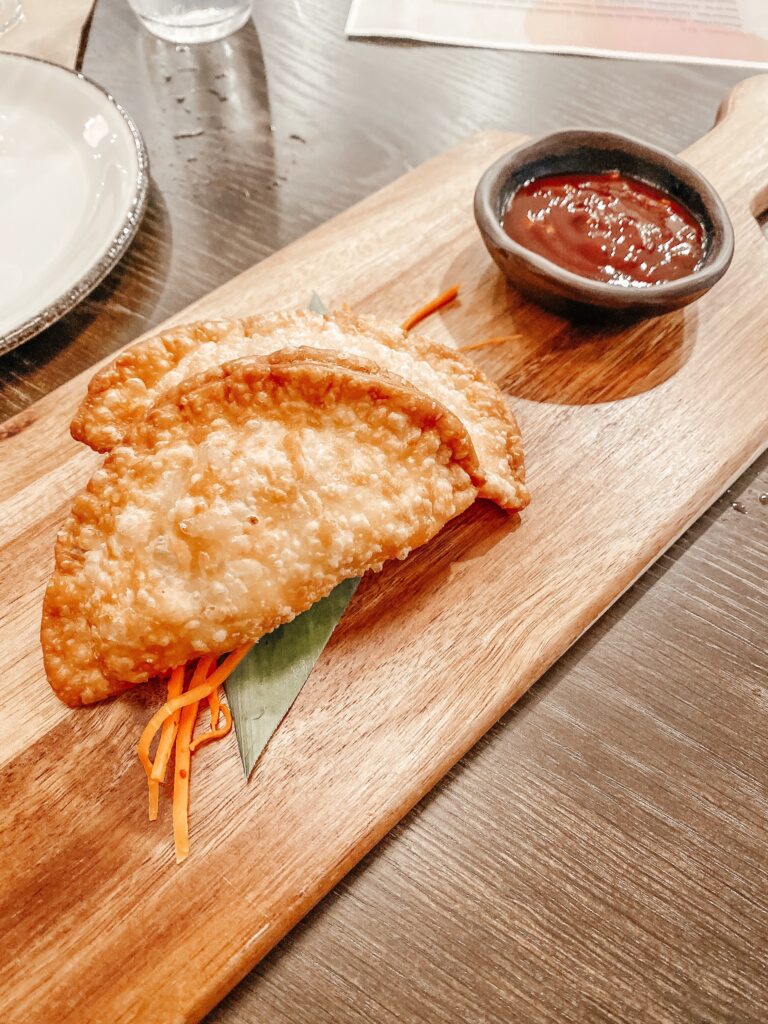 Salmon Belly Poke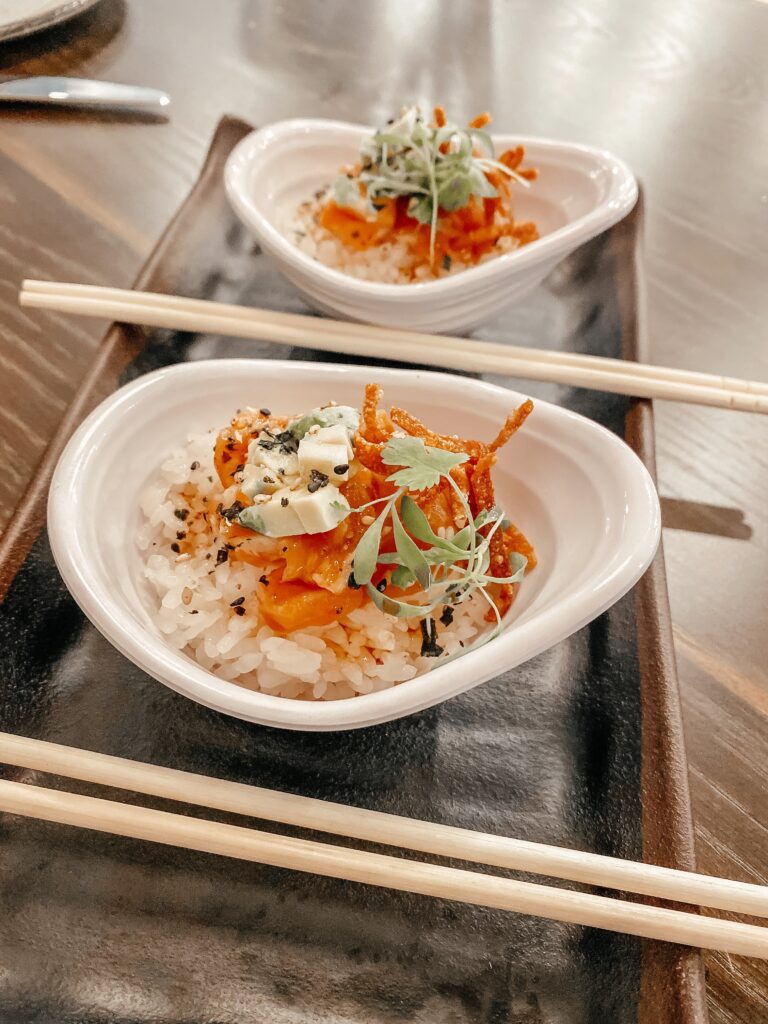 Pork Steam Buns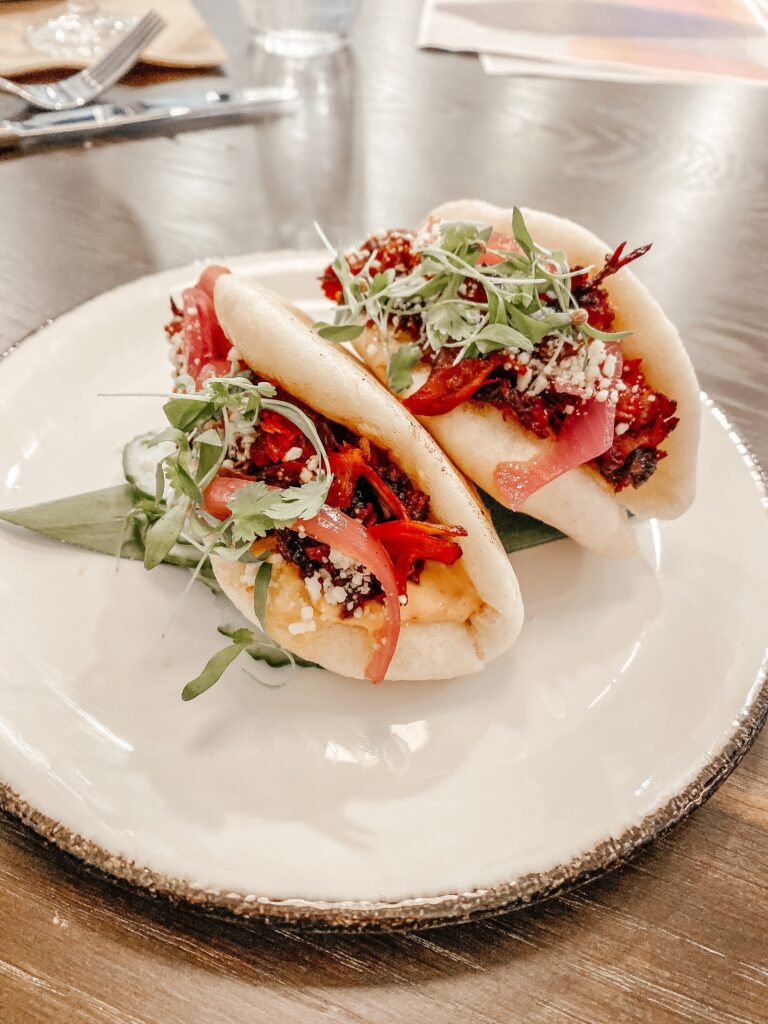 Sweet Pear Salad with Chicken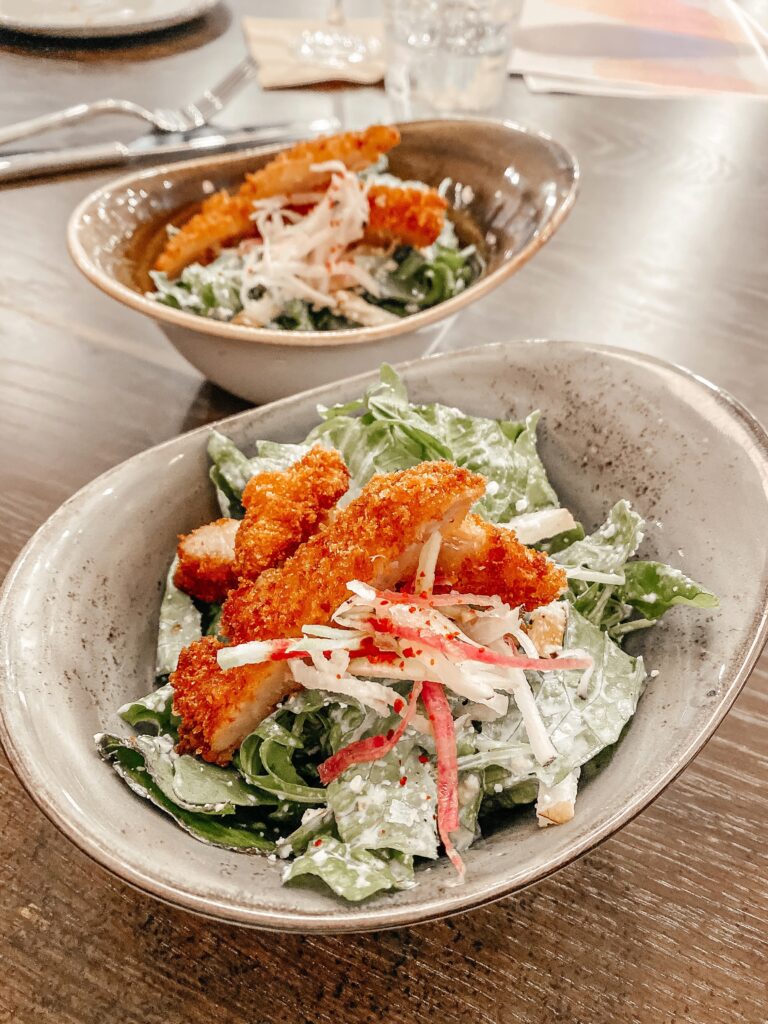 Skirt Steak Chimichurri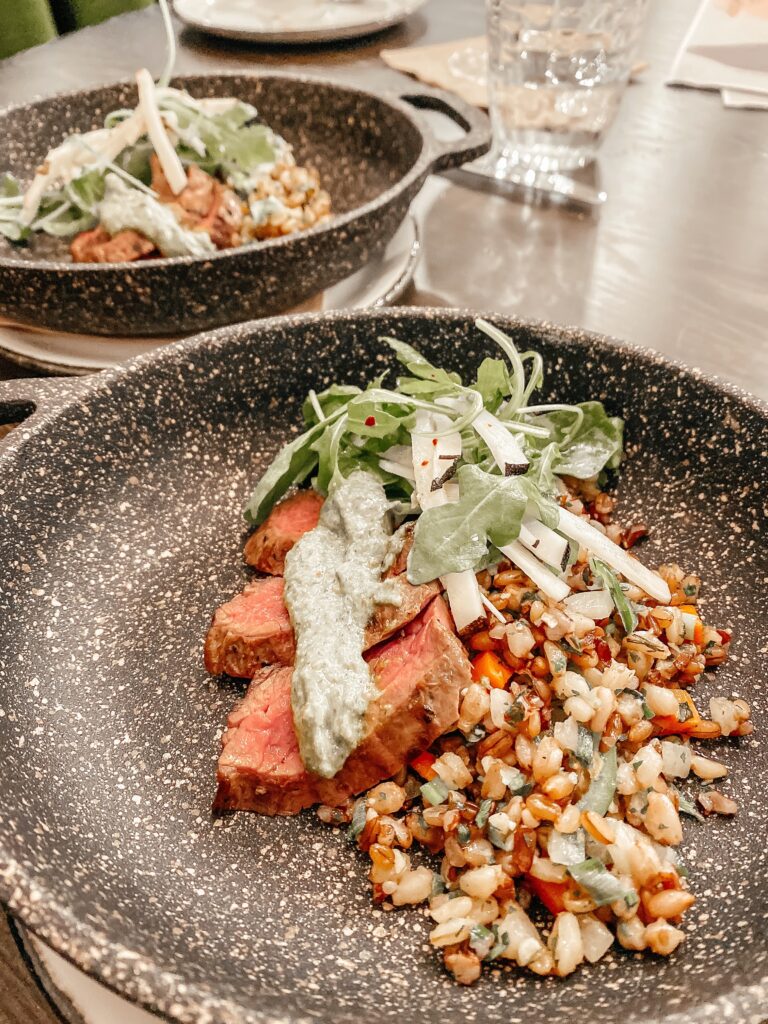 Ponzu Glazed Seared Salmon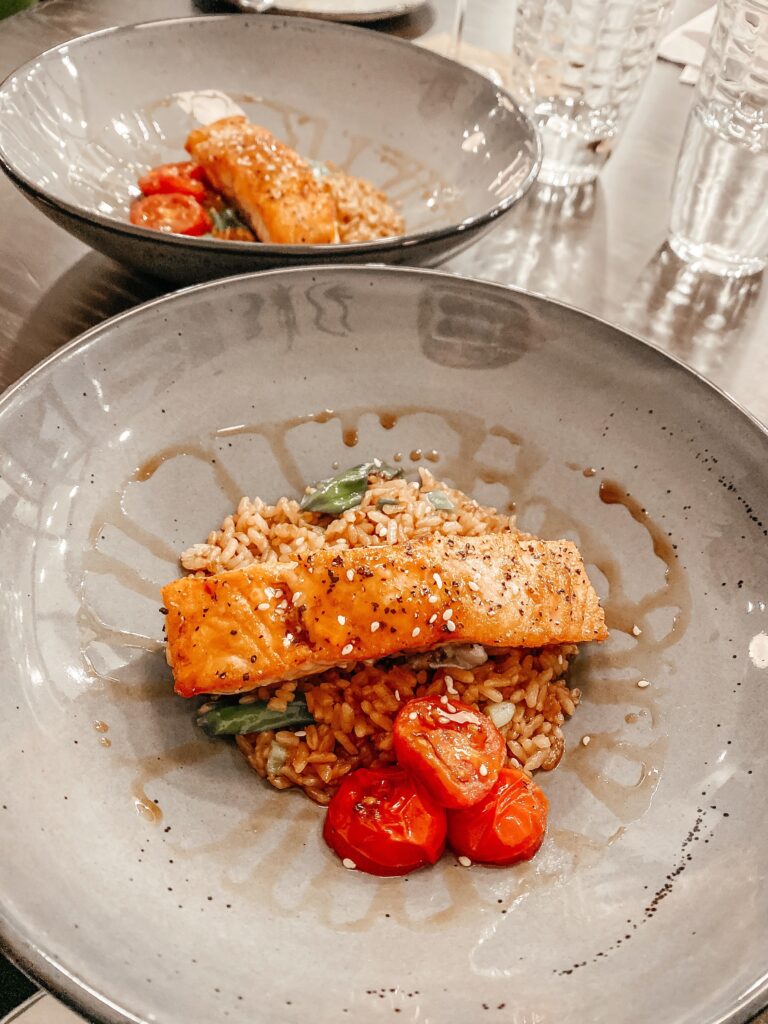 Alibi Rooftop Dessert + Drinks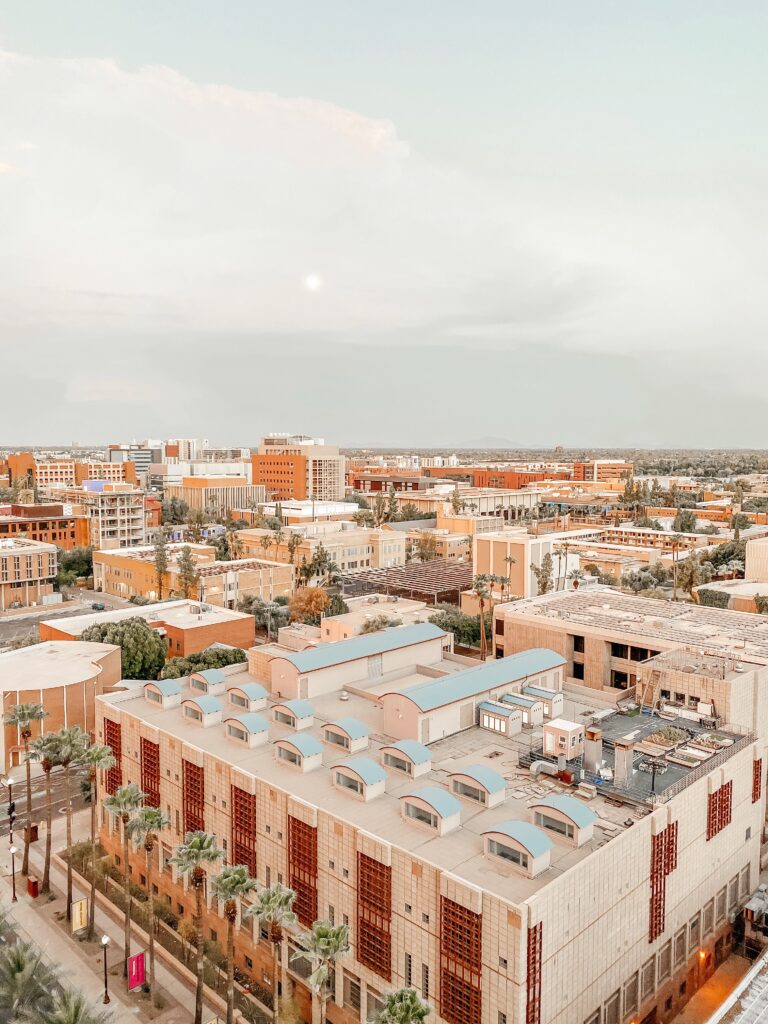 After dinner, we made our way upstairs to the 14th Floor. There is a second restaurant/lounge called Alibi adjacent to the rooftop pool. We grabbed a round of drinks and watched the sunset on the patio. The views of Downtown Tempe and the valley were stunning. While we watched from the patio, other guests did so from the pool/ lounge area. Love that you can be laying out by the pool AND watch the sun go down. Pretty cool!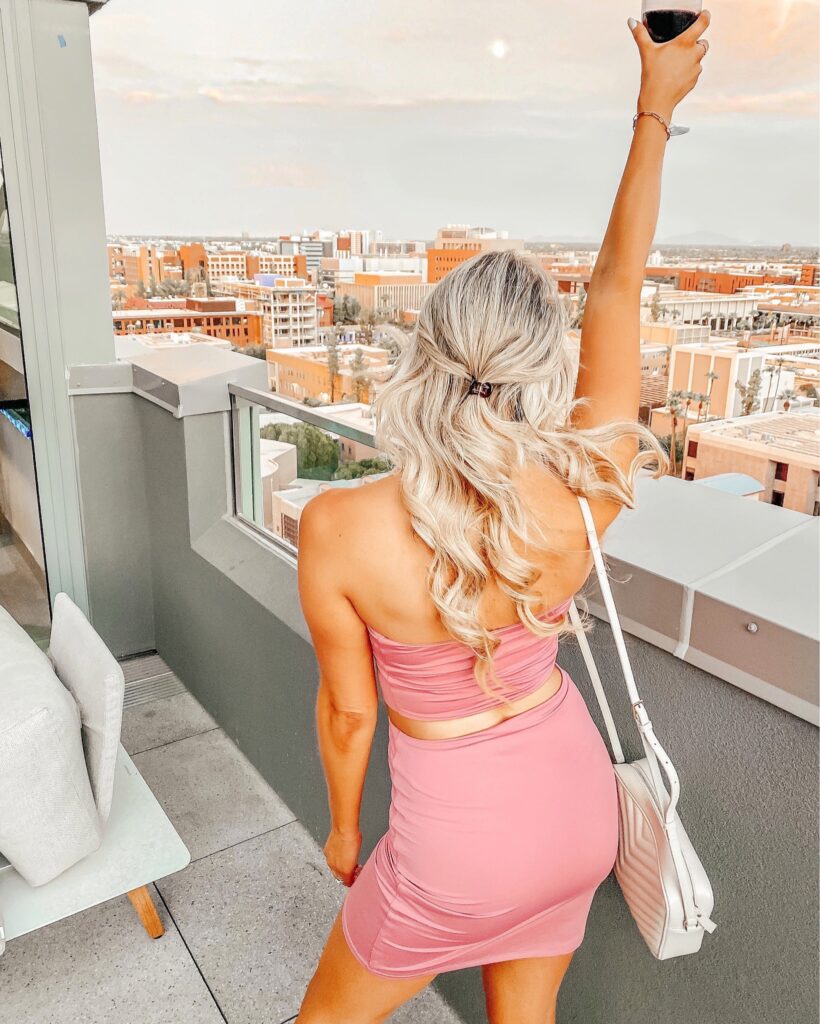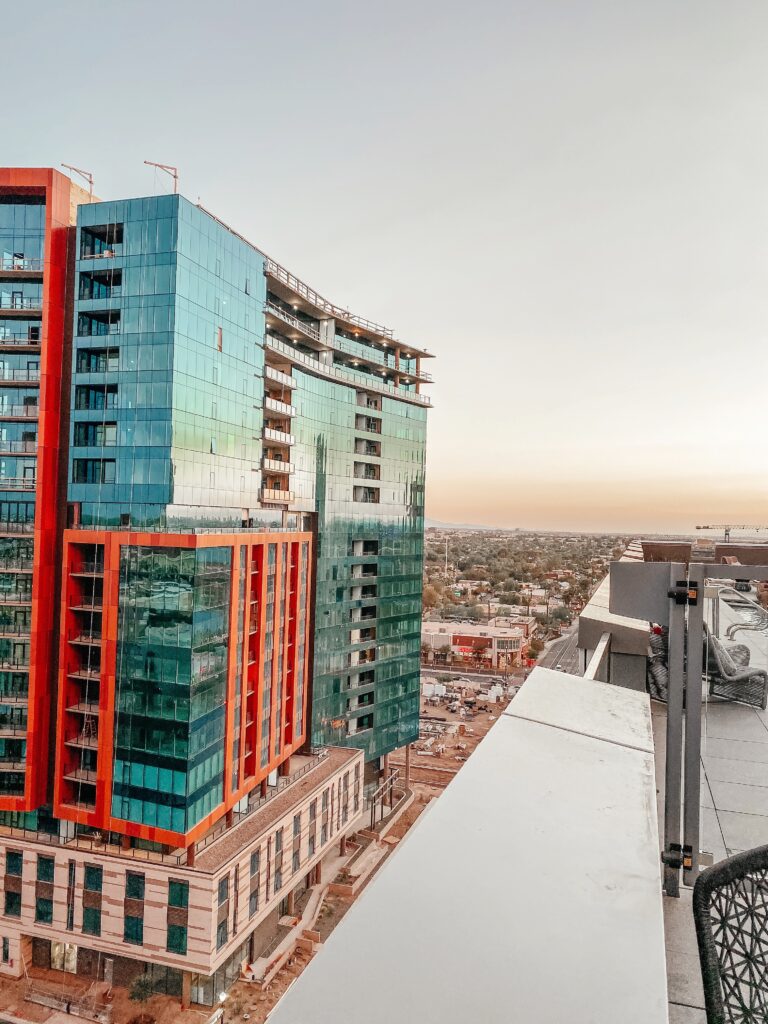 The night wouldn't be complete without a little dessert. We sat at the Alibi bar and enjoyed a trio of yummy treats. The berry cobbler was definitely my favorite!
It was such a perfect evening. We felt relaxed and happy the entire time. We went back to the room and got a good night's sleep and ready for more fun in the morning. 🙂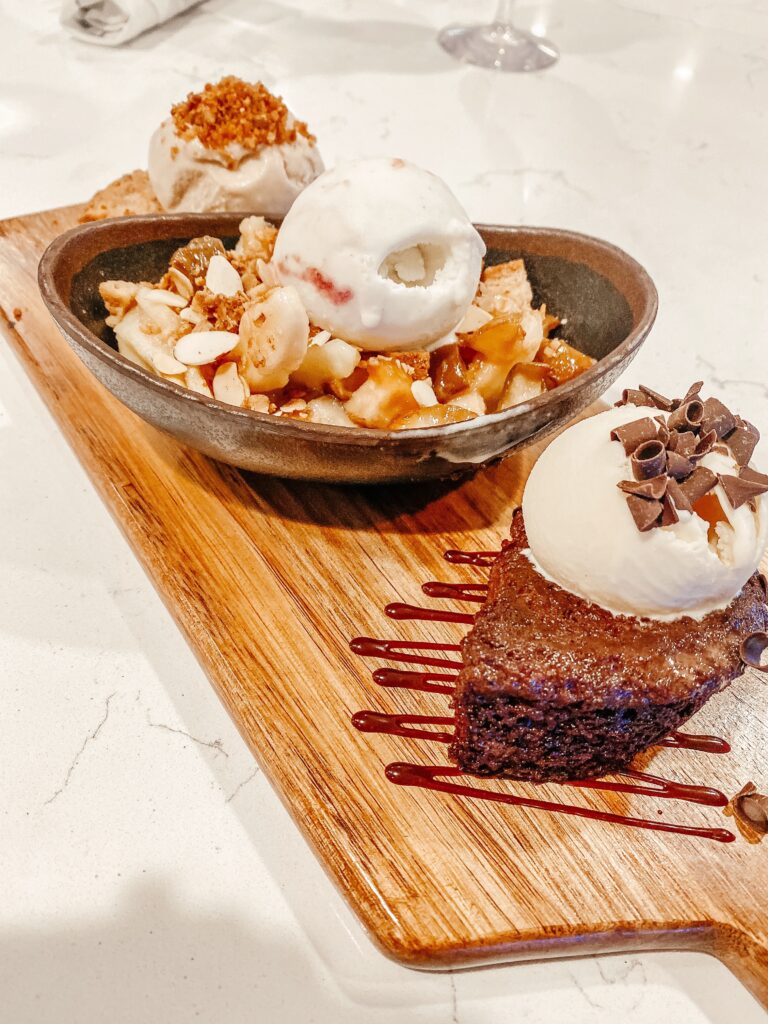 Alter Ego Brunch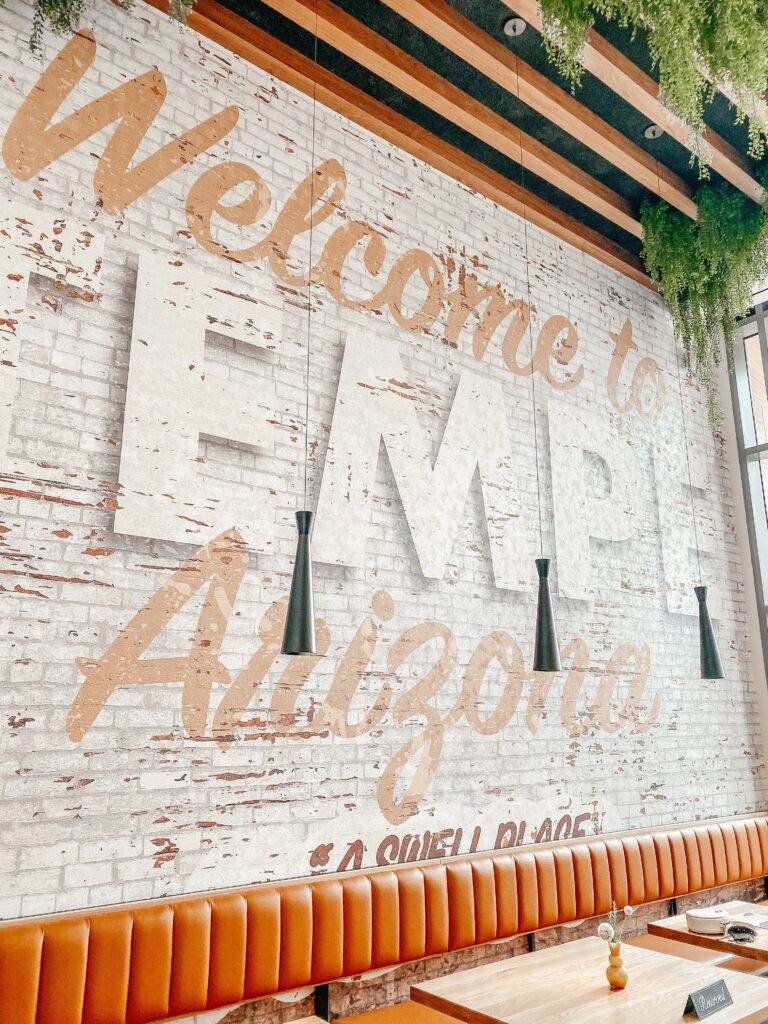 We woke up Sunday morning feeling rested and ready for brunch. We went downstairs and found a cute little table near this gorgeous mural. Love that Alter Ego has different areas to dine in. It allows you to experience a different feel depending on where you sit. This nook of the restaurant was perfect for brunch!
We sipped on coffee and mimosas and placed our order. The food was so fresh and hot. I enjoyed a build your own skillet with poached eggs and Brad did the egg breakfast. I was obsessed with the homemade jam for our english muffins! So many personal and unique touches in their cuisine. Love that they support local businesses too.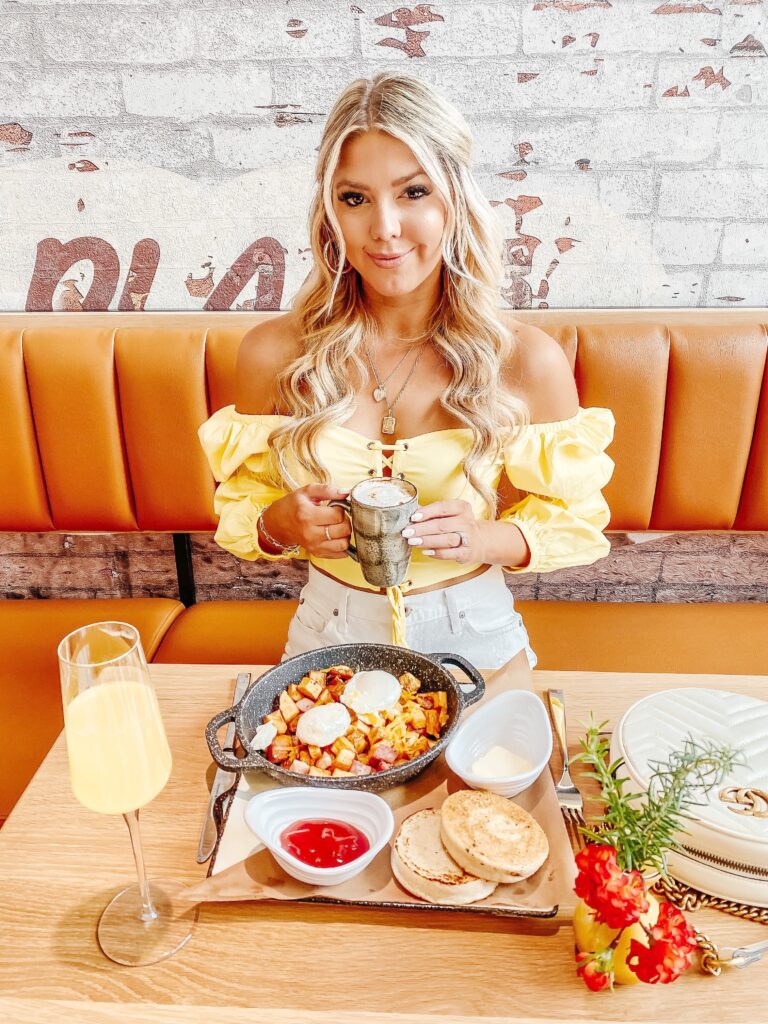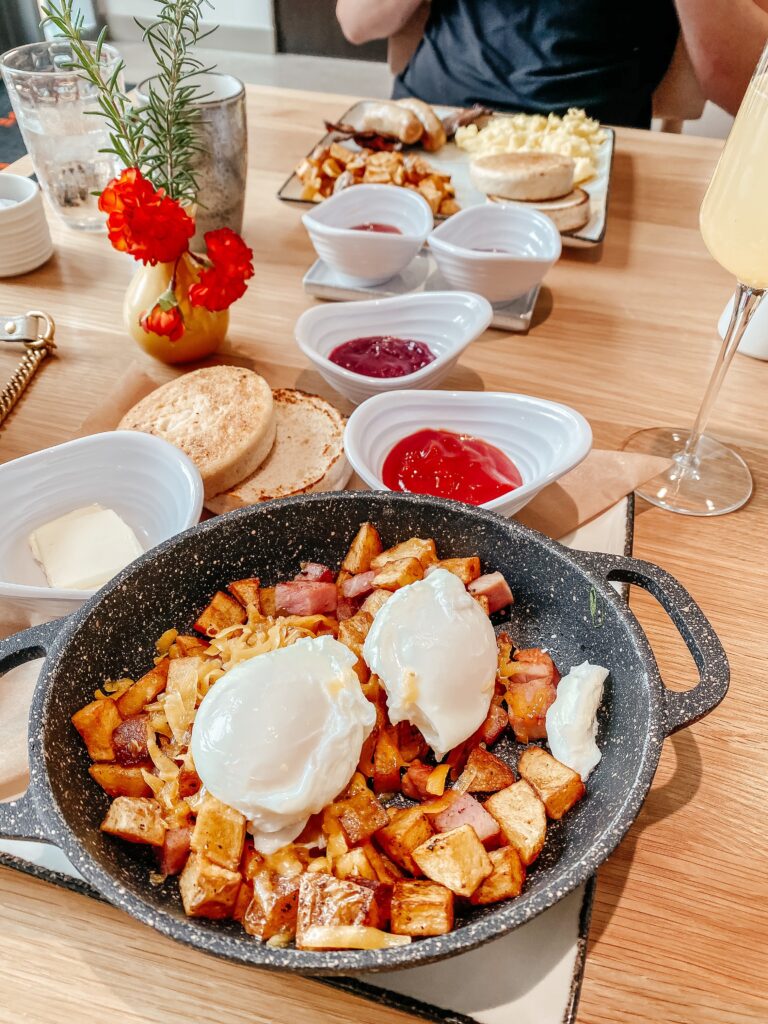 Rooftop Pool
After brunch, we changed into our swimsuits and made our way back to the 14th Floor to sit at the rooftop pool. I love how open and airy the space is – truly allowing the view to be the focal point. Also loved the breeze that you got while sitting up there! Made for sitting by the pool in the Arizona heat much more enjoyable!
The pool area comes equipped with an adjacent restaurant/bar (Alibi) with pool service, as well as cabanas WITH mister fans and lots of seating. This is definitely a great spot to mingle with friends on a hot day!
We were really impressed with our experience at the pool and enjoyed sipping on mimosas/local beers and catching some rays up in the sky!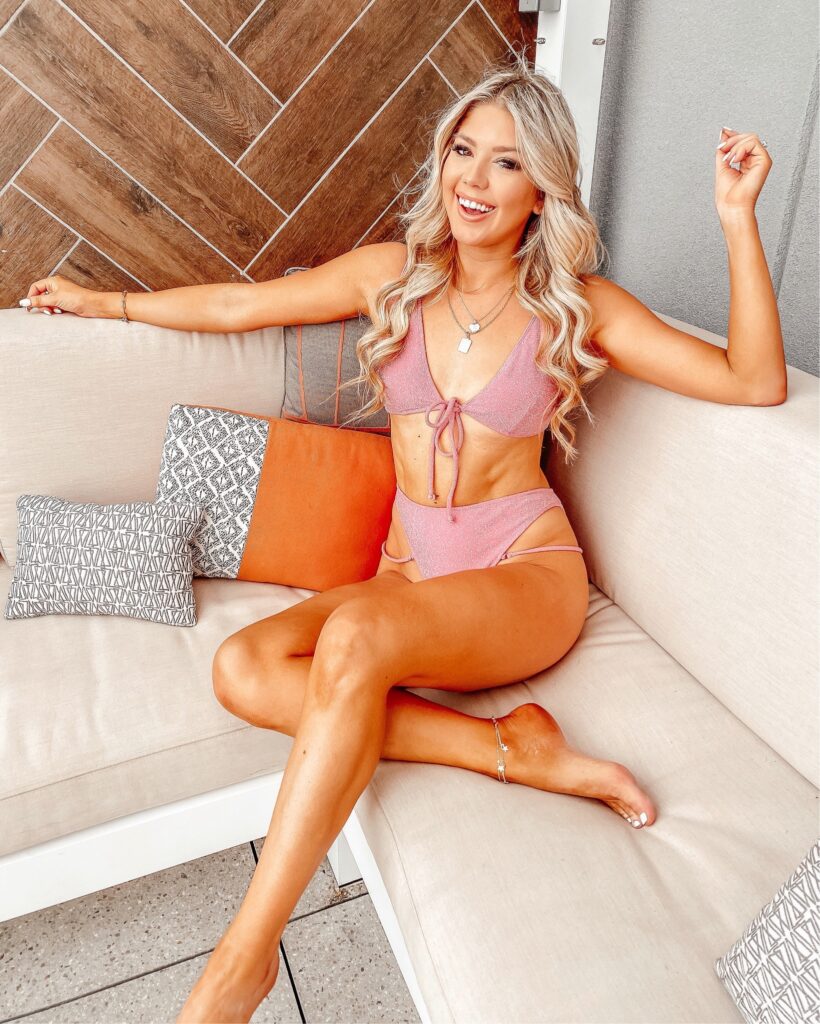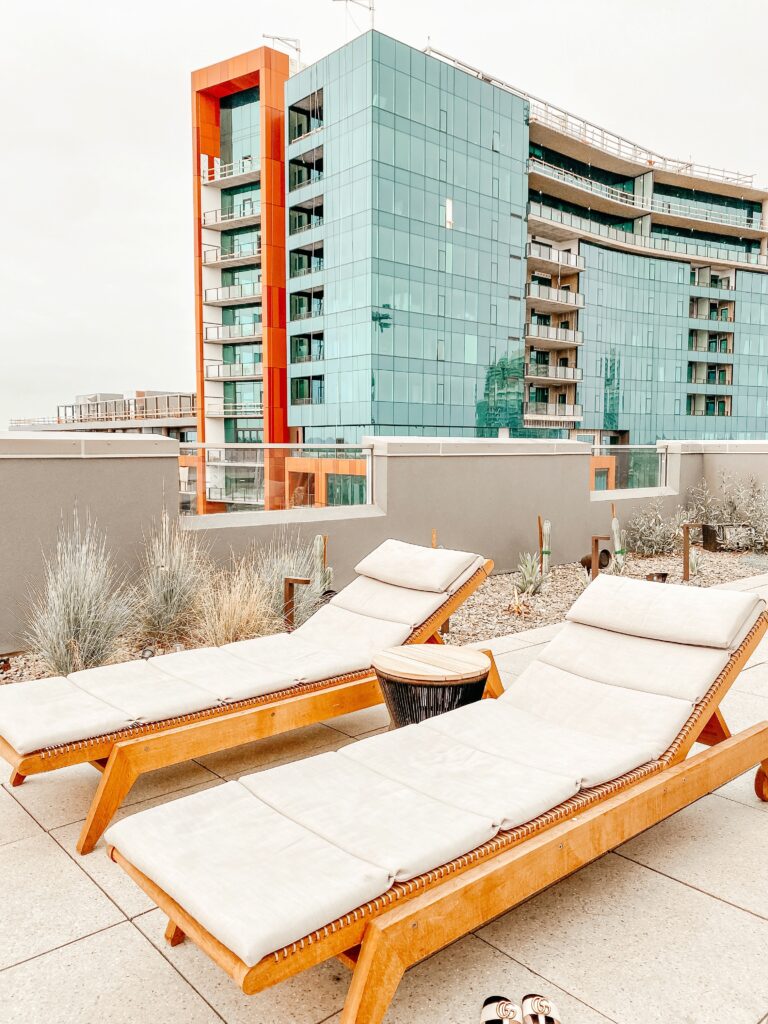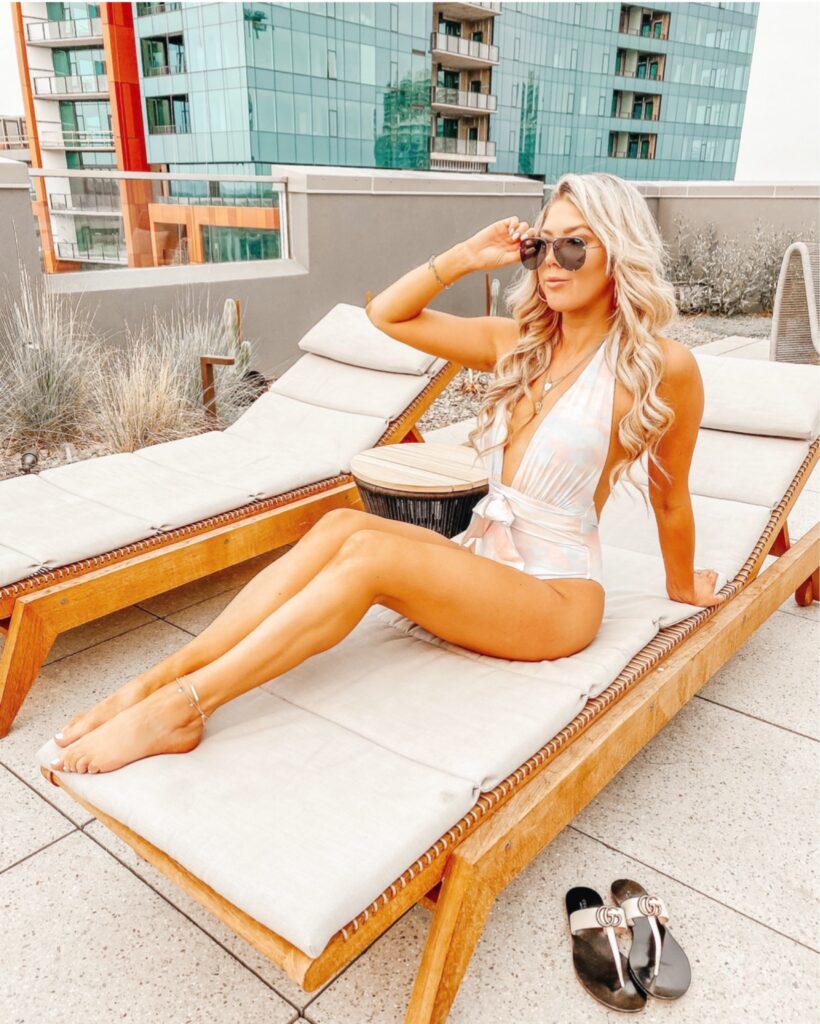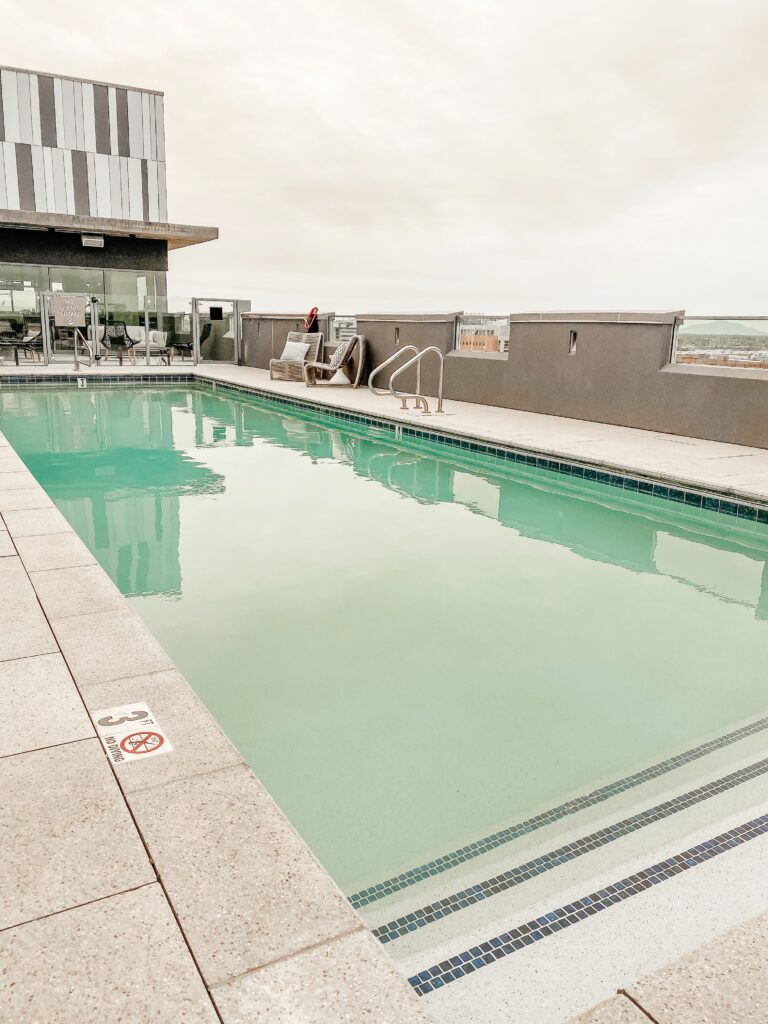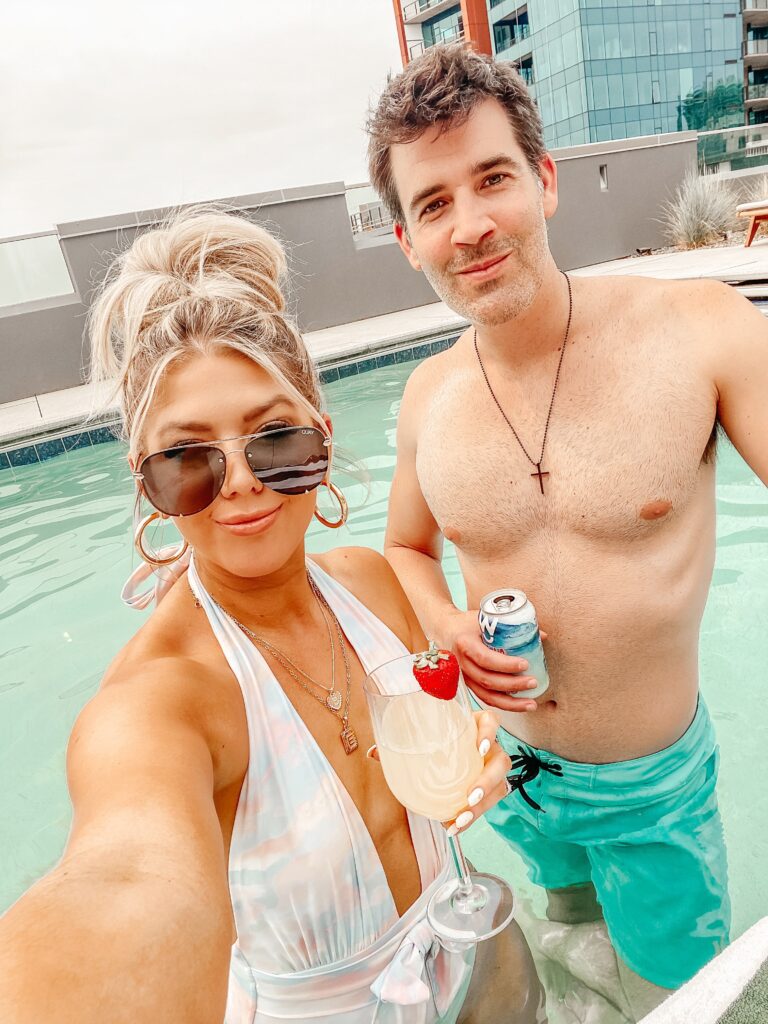 Overall Experience
Brad and I truly enjoyed our stay at the Canopy Tempe. We were overly impressed with the quality of the hotel and all the amenities they offer. The gourmet cuisine and crafted cocktails were impressive and the unique rooftop pool and lounge truly set this Tempe hotel apart from the rest. We will definitely be back!
3 Reasons Why You Should Book Your Stay
1. It's Instagram Worthy – Everywhere you turn, the Canopy Tempe provides a great photo spot. The entire property is Instagrammable and you will love the pictures!
2. Elevated Fusion Cuisine – We didn't try a single thing we didn't like. We were blown away by the elevated options and the unique and local flair that Alter Ego has created. Highly recommend dining there!
3. Rooftop Pool – This was totally cool! There is something really special about being at the pool on the 14th Floor. This isn't a common find at Arizona hotels and resorts – which is something we can truly appreciate! So fun.
Book your stay at The Canopy by Hilton Tempe Downtown today!
Thank you to Canopy Tempe for our stay and all of your kindness and hospitality.