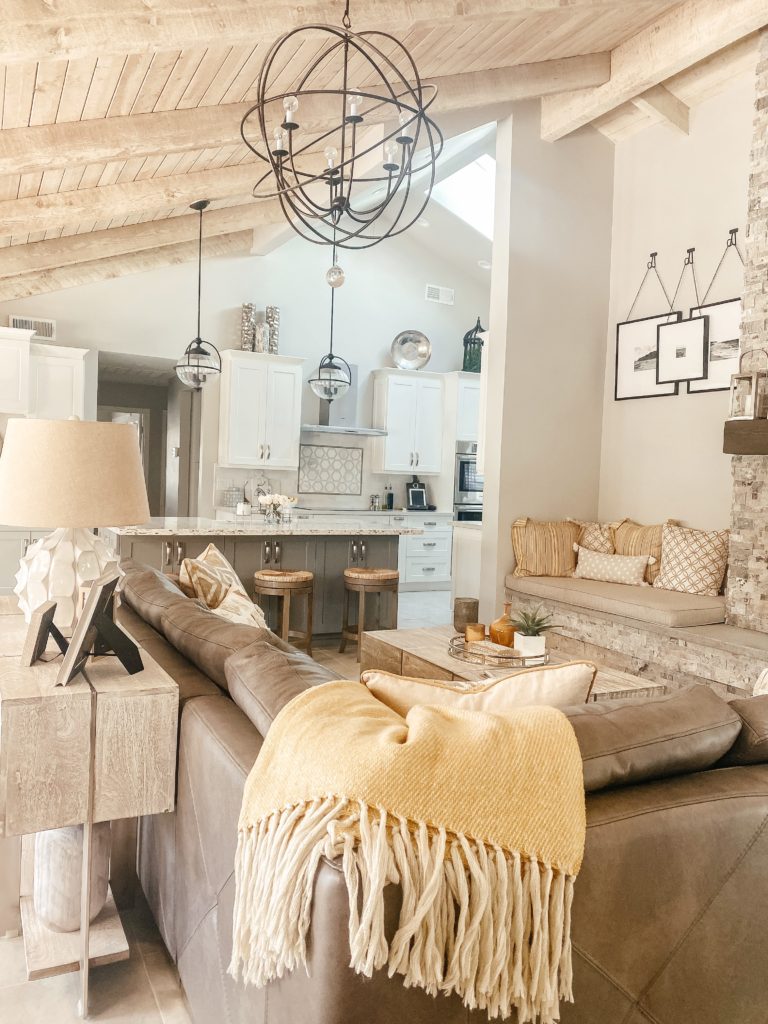 My most highly requested topic is FINALLY here! I've thought a lot about how I wanted to share our home renovation with you and I've decided to take it room by room! Today, I'm starting with my favorite space in the house: the kitchen and family room space.
Brad and I bought and renovated our home in the beginning of 2016. We actually signed off on our formal offer Christmas Day, 2015! While I can say that it was one of the most stressful experiences of our lives, it was 100% worth it.
Before + Afters
Wall + Flooring
The biggest change you will notice is the wall that we tore down to open up the kitchen to the rest of the living space. It was absolutely life changing when we did. It created the perfect space for entertaining. Even if you are cooking, you are right in the center of conversation.
You will notice the ceilings instantly! They are original to the home and the entire REASON we fell in love with this house. They are so rare in this area and we were so excited about them when found the house!
As far as flooring, we actually DID replace the tile. The tile previously was a lot darker and muted. We opted to replace it with a lighter and brighter tile. In hindsight, we wish we had put in wood floors, but that's okay! When we have children, they will hold up SO WELL!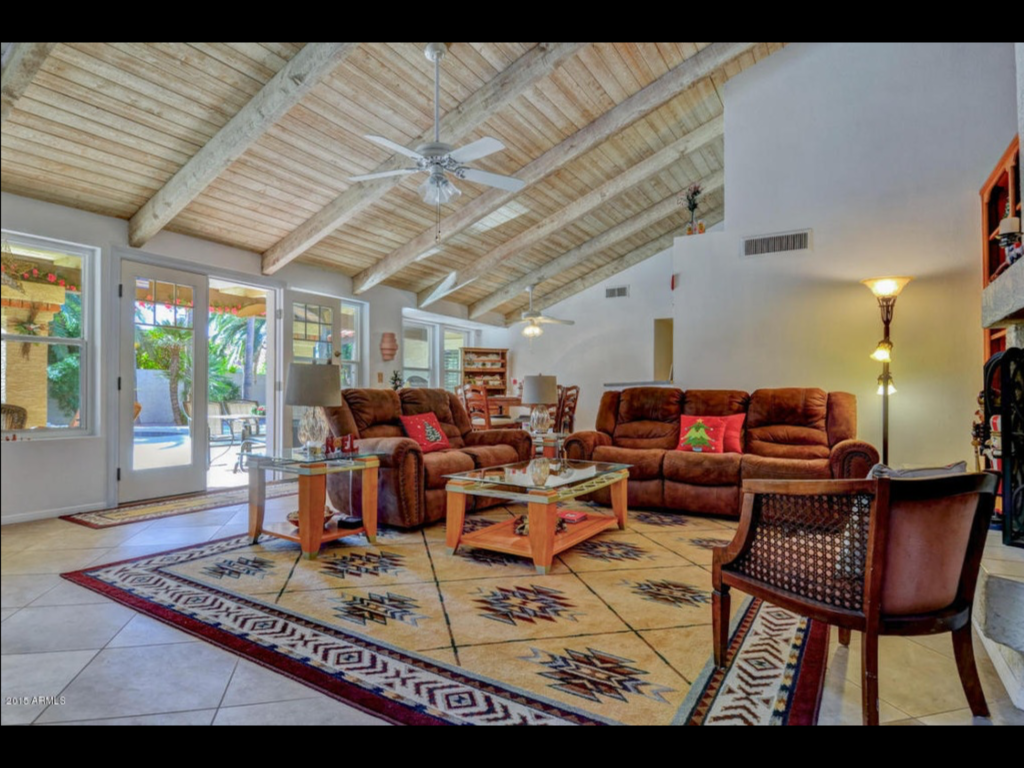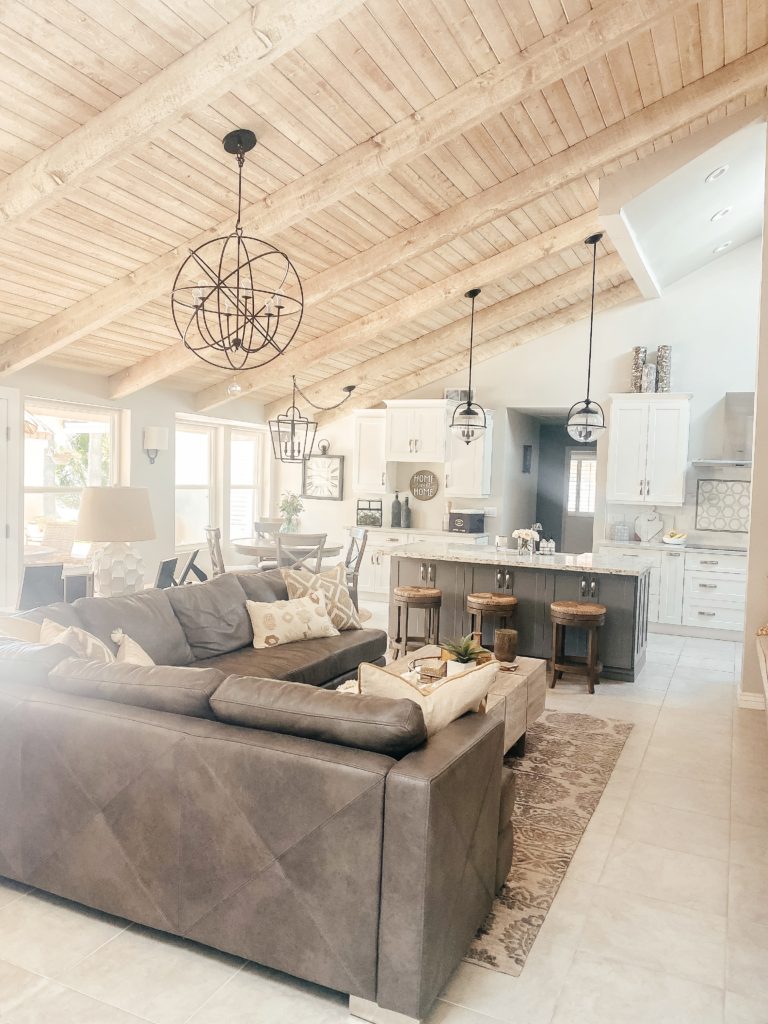 Ceiling Height + Skylight
Another major change to this space was the ceiling height in the kitchen. Prior to the renovation, the ceilings were low and we knew that we needed to take them up to give this space a more open feel. Extending the ceiling higher throughout the space completely transformed the kitchen. We also added a giant skylight to bring in a ton of natural light!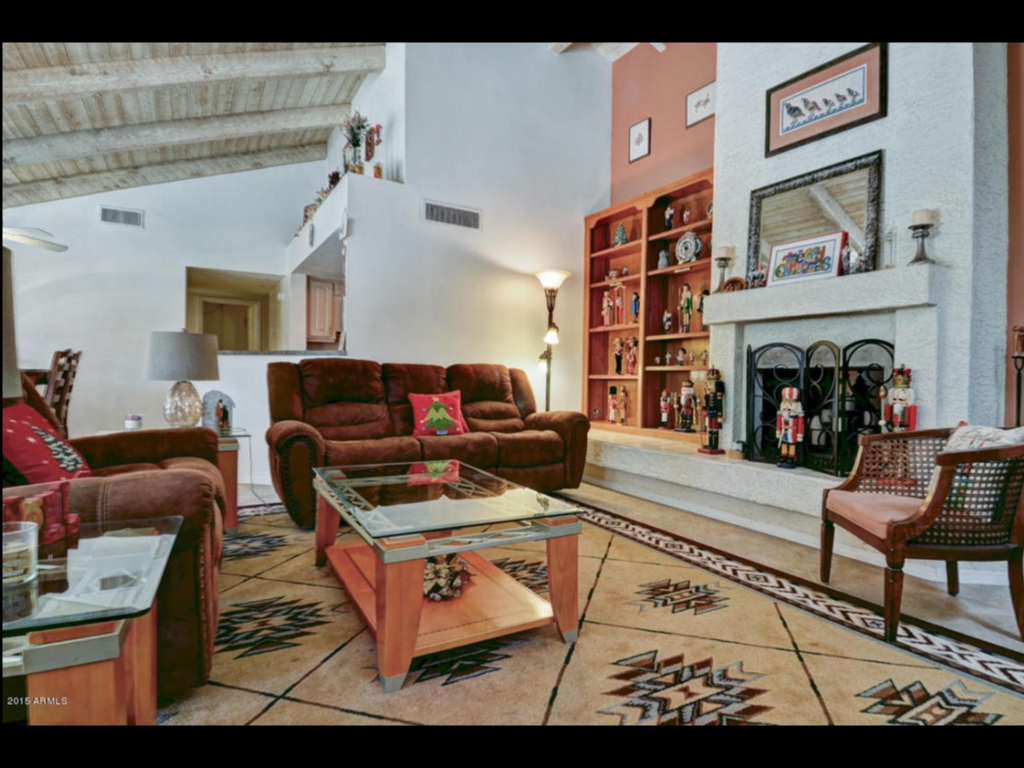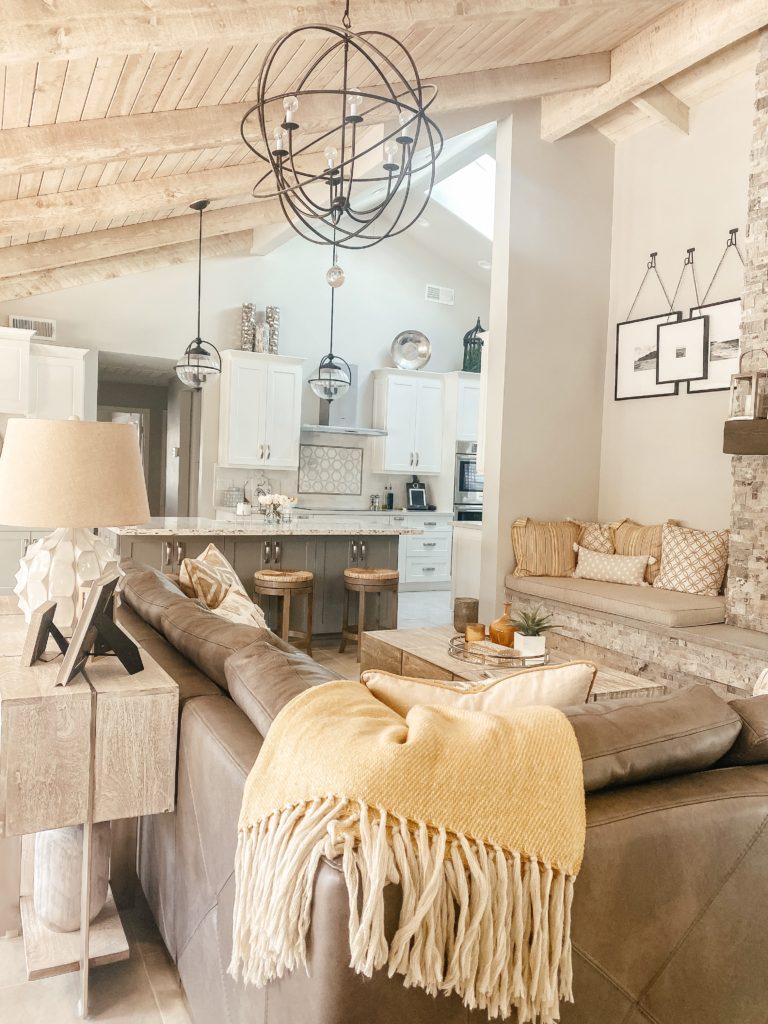 Breakfast Nook "Piece"
I knew that I was going to want more cabinetry than what was allowed for in the "kitchen space" and always envisioned cabinets that resembled a little piece of furniture. Hutch-like of some kind. So we extended the kitchen by adding these cabinets near our breakfast table area. It really added a lot to this space and created a more homey feel.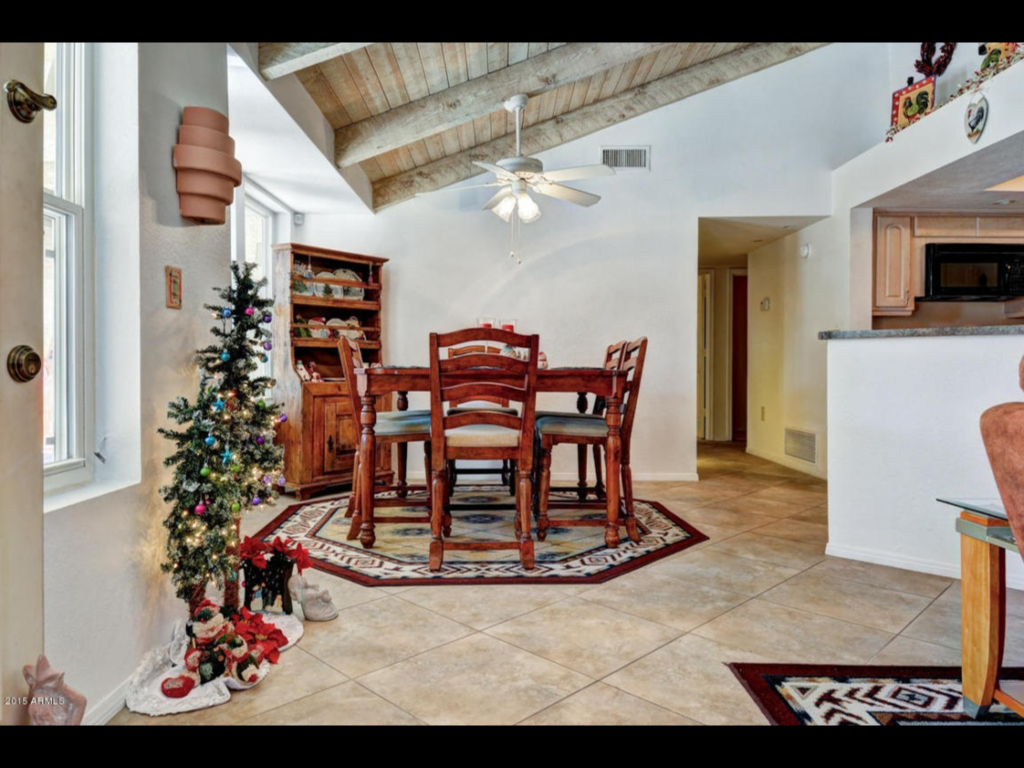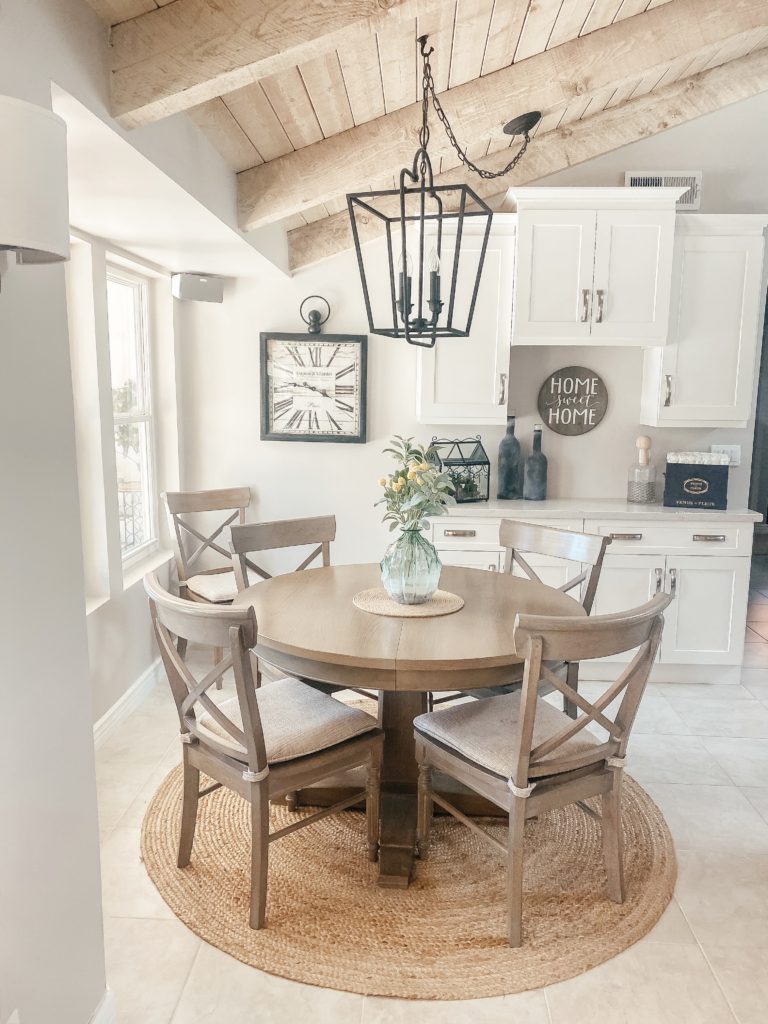 Kitchen Pantry/Garage Entry Reroute
One major change to the kitchen space came with the rerouting of the garage entry/pantry area. In the before picture, you can see that there was an opening next to the ovens. This was how you entered the house from the garage prior to the renovation. There was also a pantry in there. We closed off that entry in order to gain more space for the kitchen, and relocated the pantry and entry from the garage. It has such a smooth flow now! More to come on the pantry/laundry/garage entry area.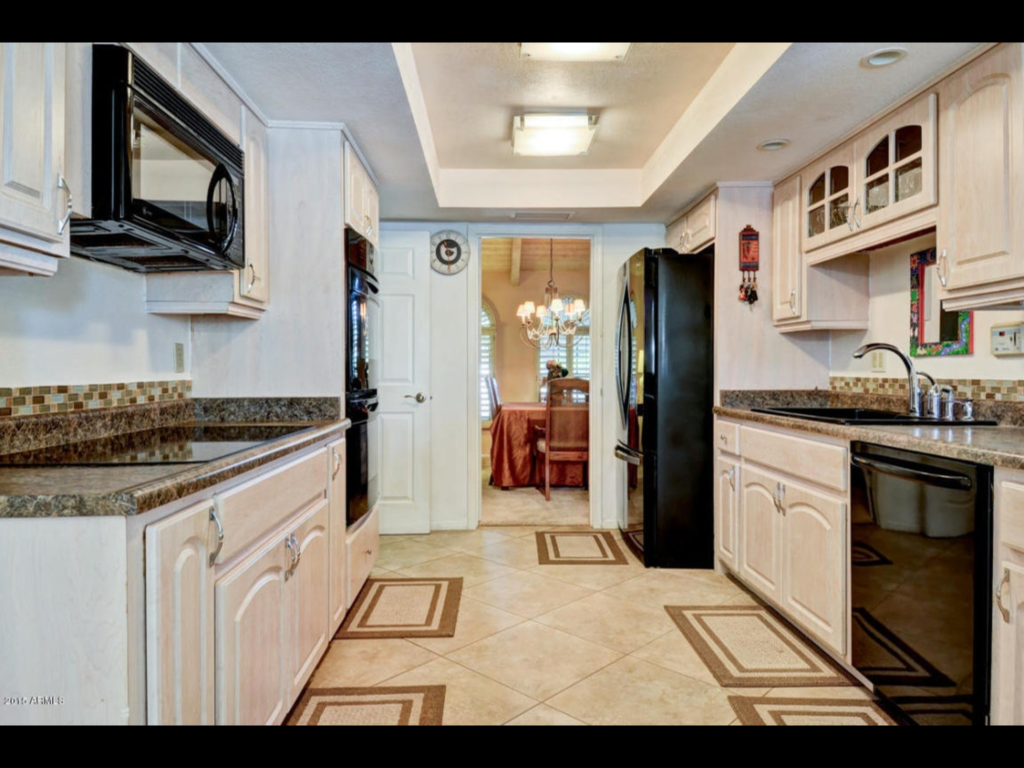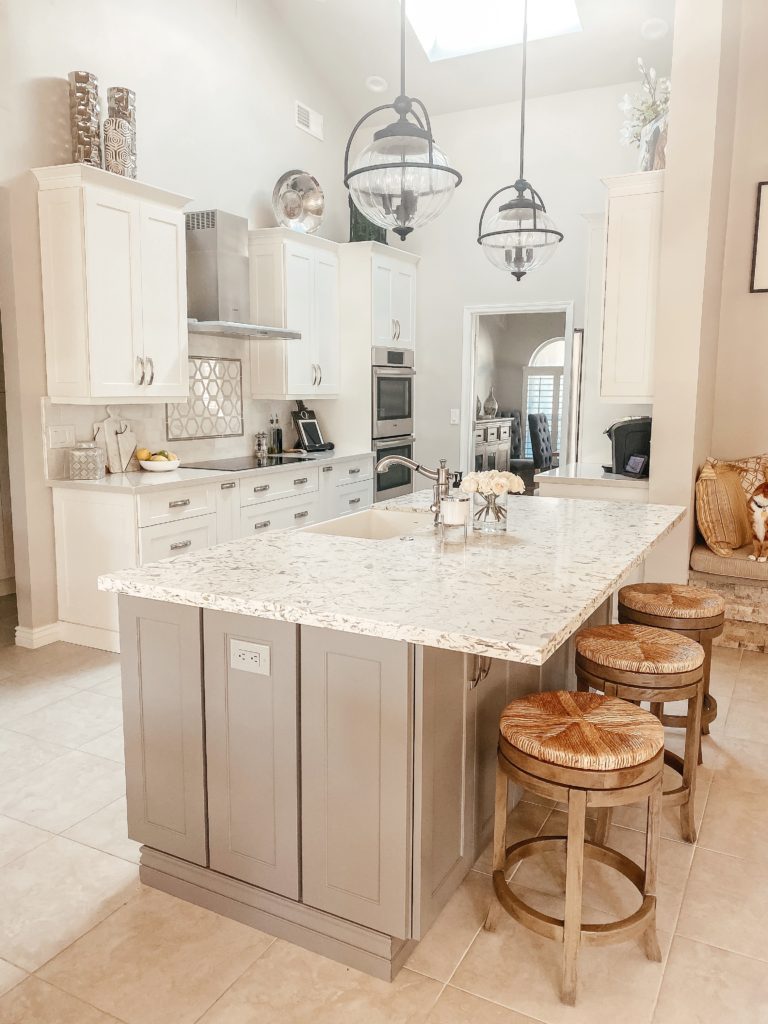 Appliances
One of the things I loved about the kitchen, was the hookup for two ovens! Having a double oven is life-changing in my opinion. So, we kept the existing hookup and added new ovens, as well as all new appliances throughout the kitchen. Our home didn't have the option for gas, so we have an electric cooktop. It works amazing though. It has a speed boost feature that helps to boil water so quickly! We have Bosch appliances and a Sharp microwave. We got our appliances at Allstate Appliances but they are now closed.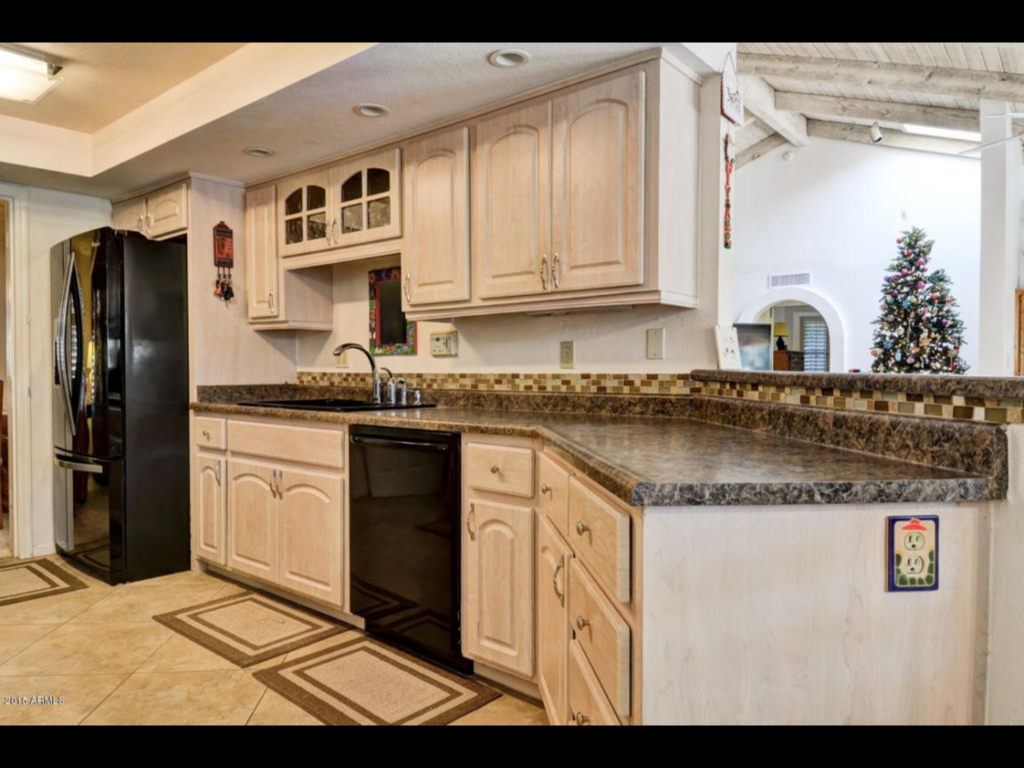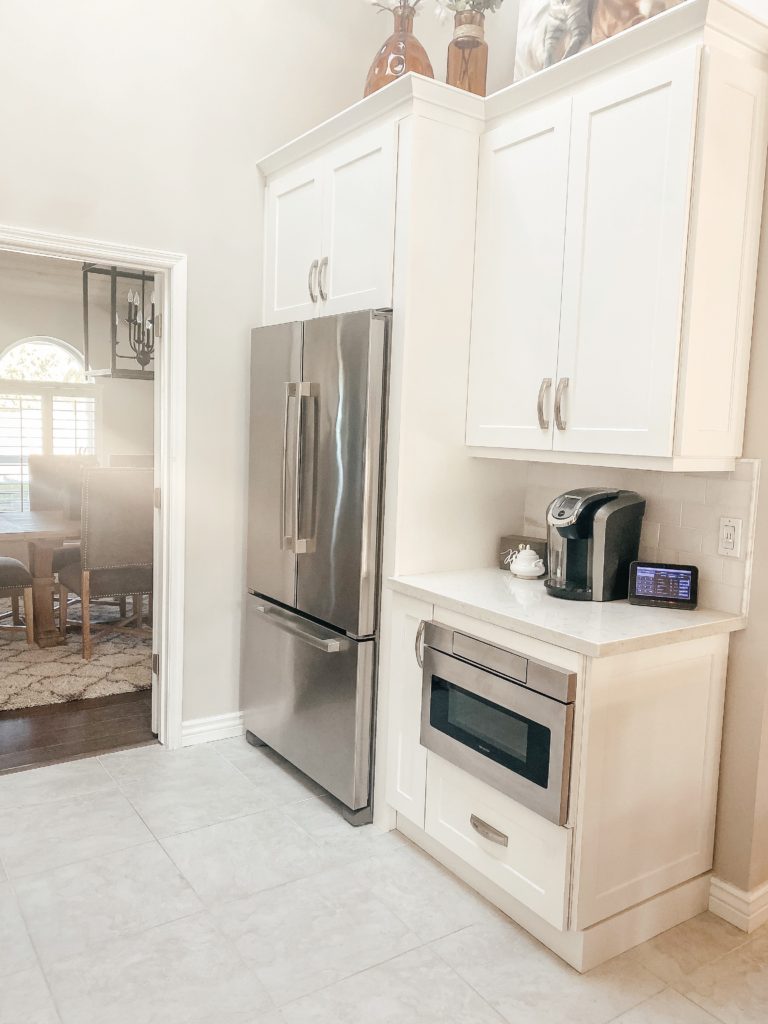 Counters + Backsplash
We went with all quartz counters for the house. While I loved the look and feel of marble, it just isn't as durable (hello, red wine stains!). One unique thing we did was to not have the same quartz on the island as the surrounding counters. I love the contrast. It really allows the island to pop and be a focal point in the room! We also got our counters at Cabinet & Stone.
For the backsplash, we did a soft subway tile. I love the muted vibes of this tile. I wanted to have a statement over the cooktop, so we created a little picture-like tile work to frame out this area. Love how it turned out! We found the tile at Villagio Tile & Stone. This was one of our little splurge items in the house, but one that was totally worth it!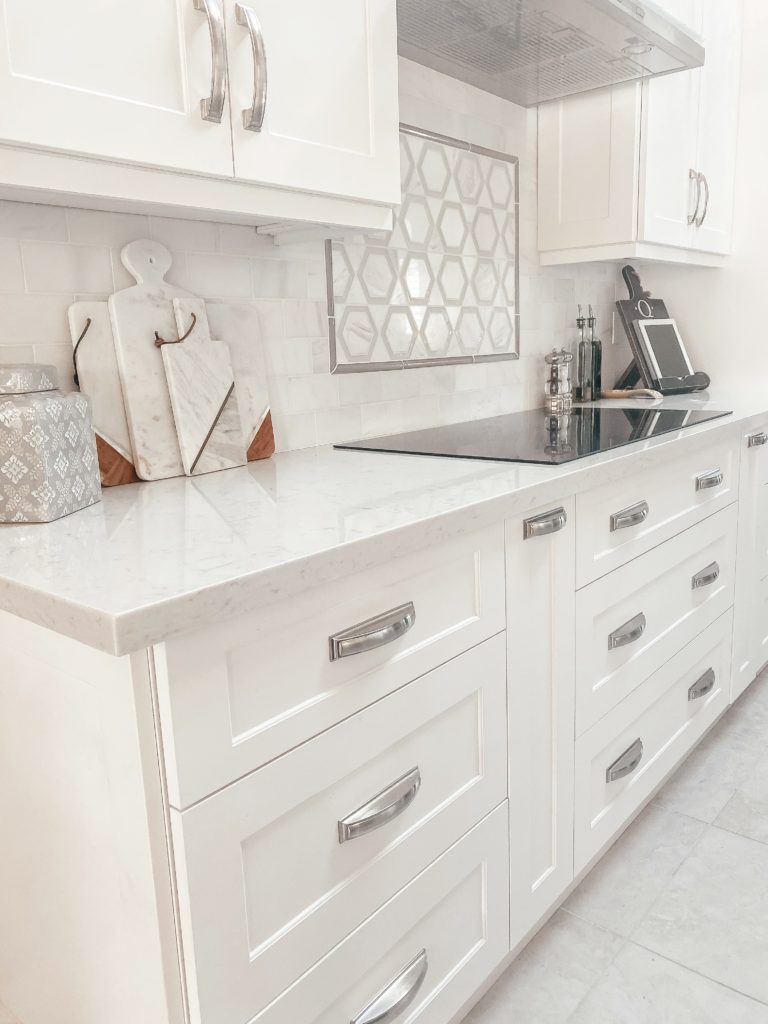 Kitchen Cabinetry and Hardware
I always knew that I wanted a white kitchen. It's such a timeless look, one that really helps make a space look larger and airy. So, we went with all white, with a grey island. I love the contrast and pop of warmth that comes with this soft grey. We got our cabinetry from Cabinet & Stone. The cabinets are Sollid Cabinetry. Love the quality and design!
When we designed the kitchen, I loved the idea of drawers. They are so functional and look so pretty! We added two spice drawers as well as a pull out dual-garbage drawer. One of my favorite drawers (right below the cooktop) stores all of my cooking utensils and sharp knives. It makes cooking such a breeze! Love these additions!
For hardware, I wanted something timeless. I didn't want to get sick of them! So, we went with a soft silver pull. I used different pulls for the cabinets than the drawers. Love how it turned out!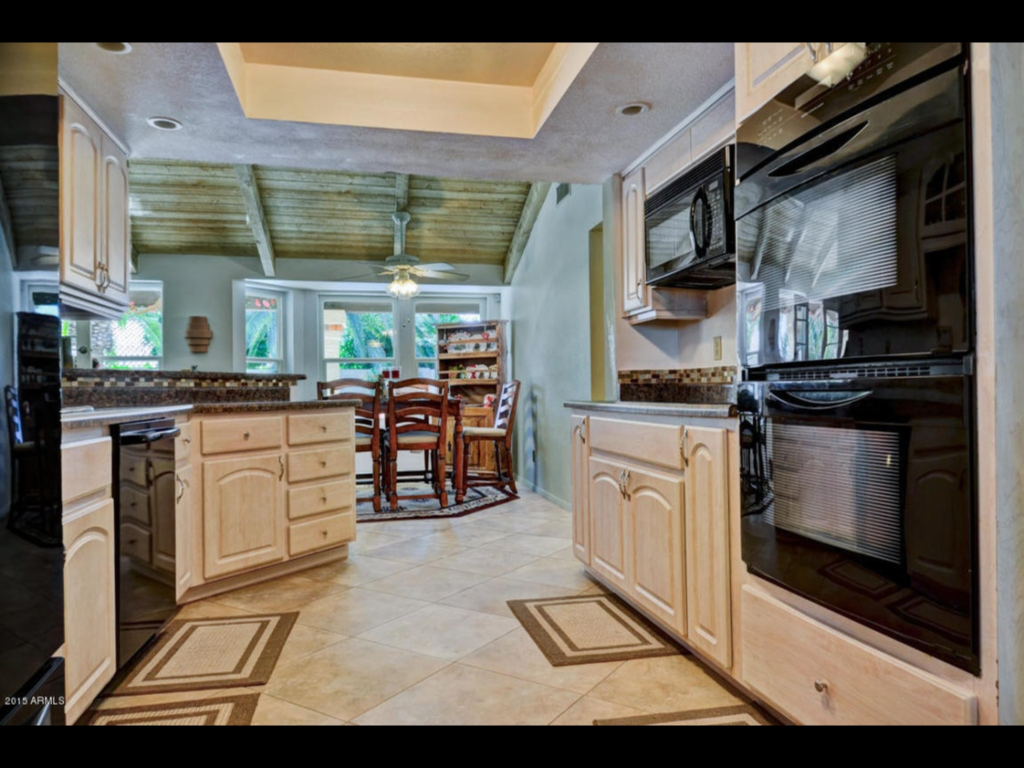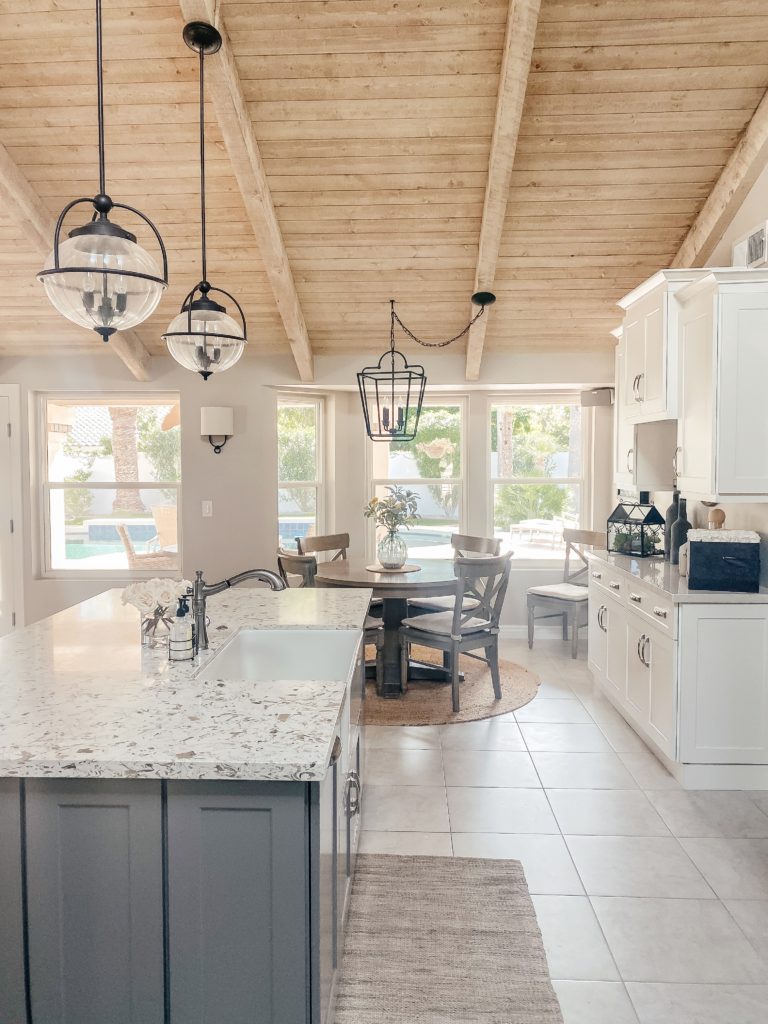 Fireplace Wall
The original fireplace wall consisted of a stucco fireplace and a built-in wooden shelf. We knew that we wanted to strip the fireplace and add stone. We created a cement fireplace hearth as well. It gave the fireplace such a natural feel! We also decided to remove the wooden shelf because it made the room seem unbalanced. It was a quick and easy fix!
We found some inexpensive stone from Floor & Decor and gave the fireplace a little facelift. We created a little extra seating space where the bookshelf used to be. I had a local upholsterer create a custom cushion and pillows to fit the space perfectly!
We decide to place the tv to the right of the fireplace because mounting it on the fireplace was just too close for the size of the space. Talk about a neck ache! While it may not be the most ideal layout, it works for us!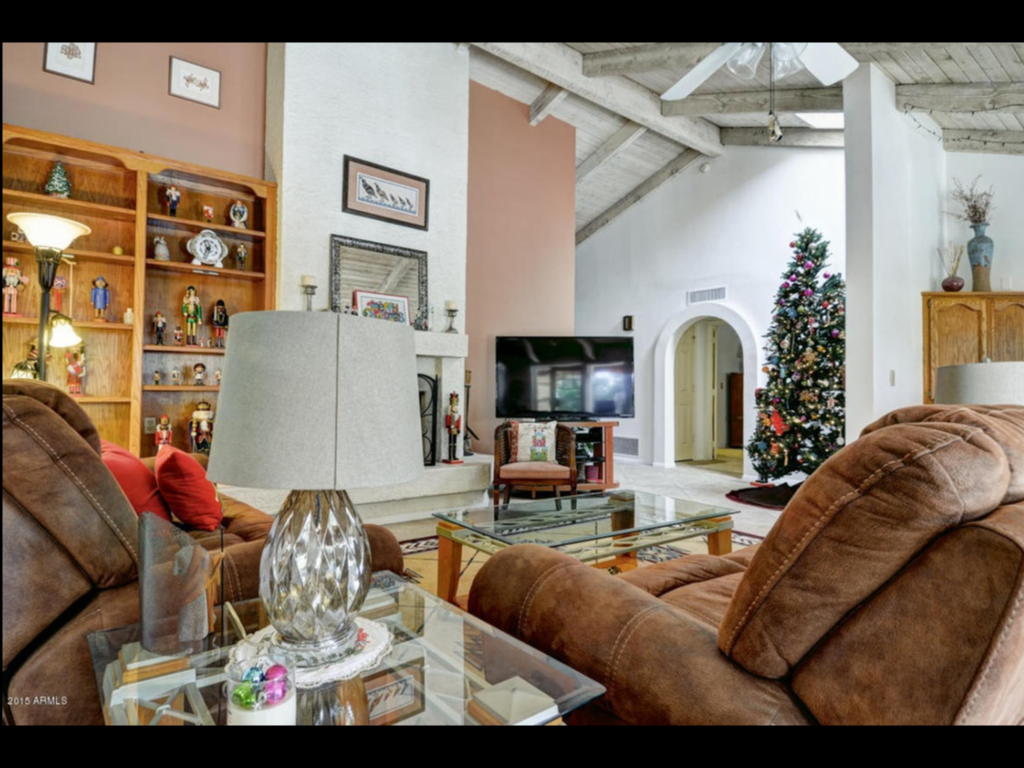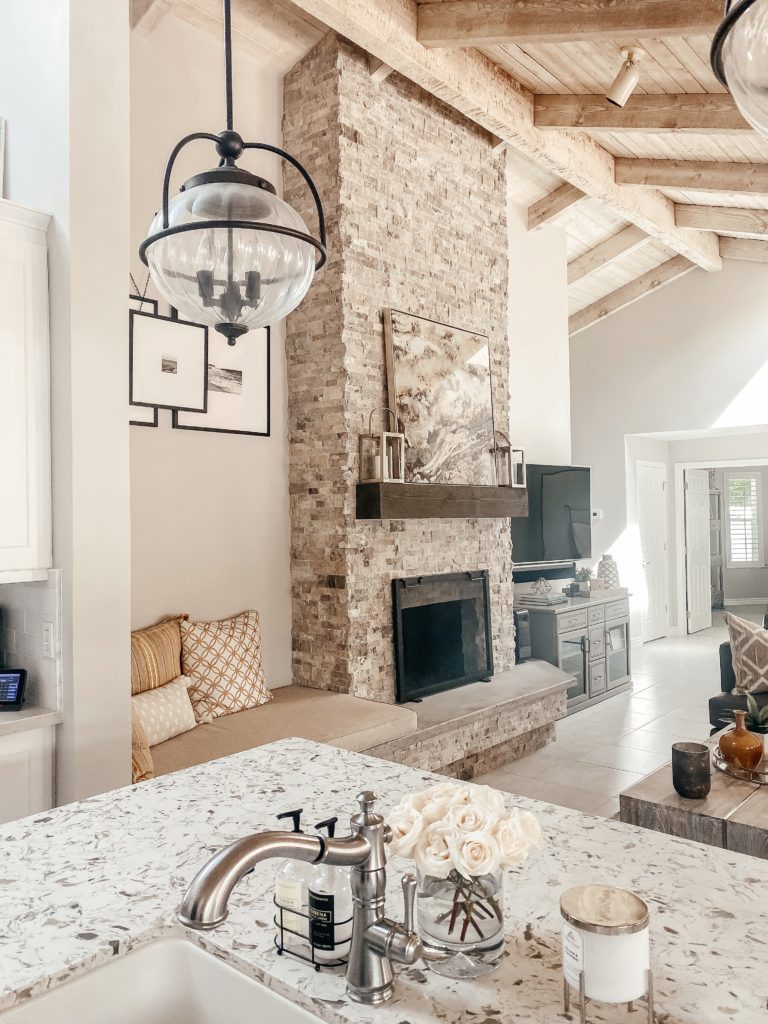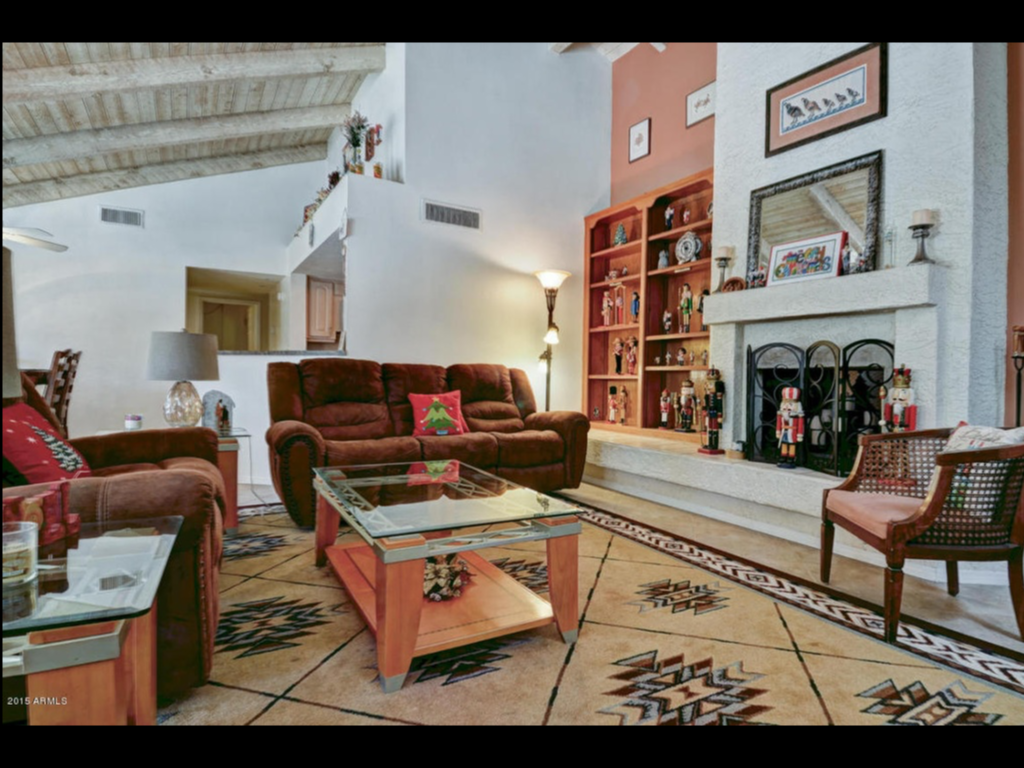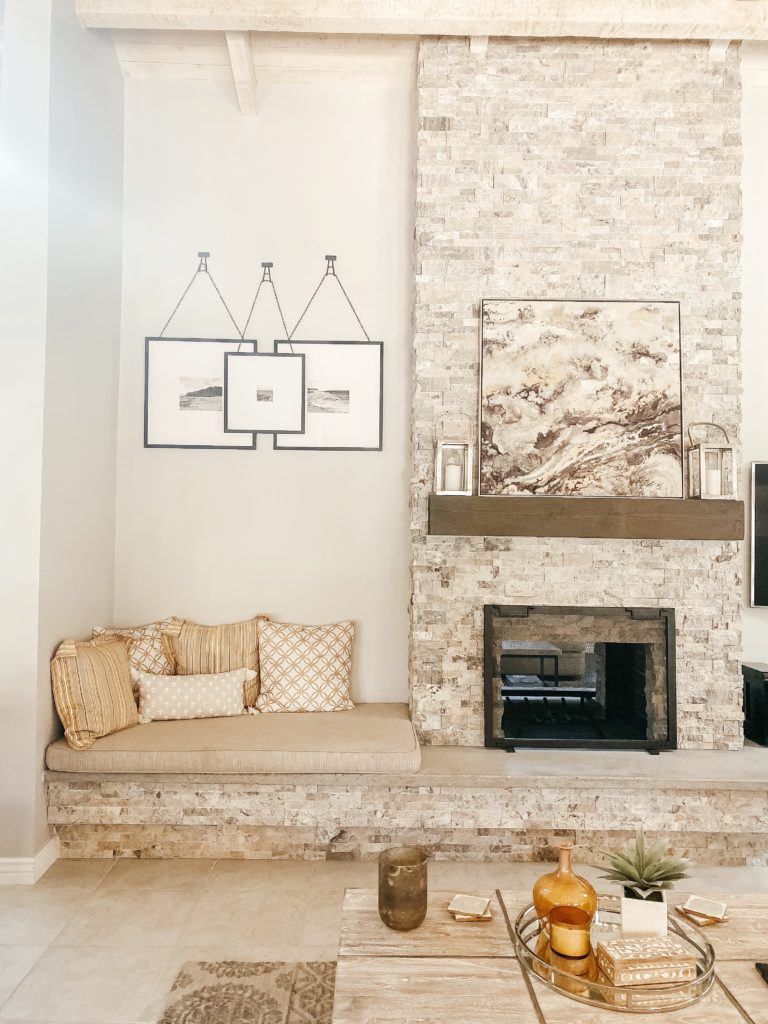 Bar Area
This area definitely needed some TLC! The original bar layout was great, but we knew we wanted to update the look and feel. I didn't want the bar to be "matchy matchy" with the kitchen so I opted for a different color stain. I love this brown/grey color. We also chose to use this color in our master bath as well.
We removed the the built-in wood cabinet and added some sleek bar shelving. Still looking for some artwork/some kind of piece to the right of the shelves. A work in progress still!
Due to the amount of space between the bar and the couch, we opted to not put bar stools. With all the seating space in the kitchen and family room, we never feel like we don't have enough space for people when we entertain. Works perfectly!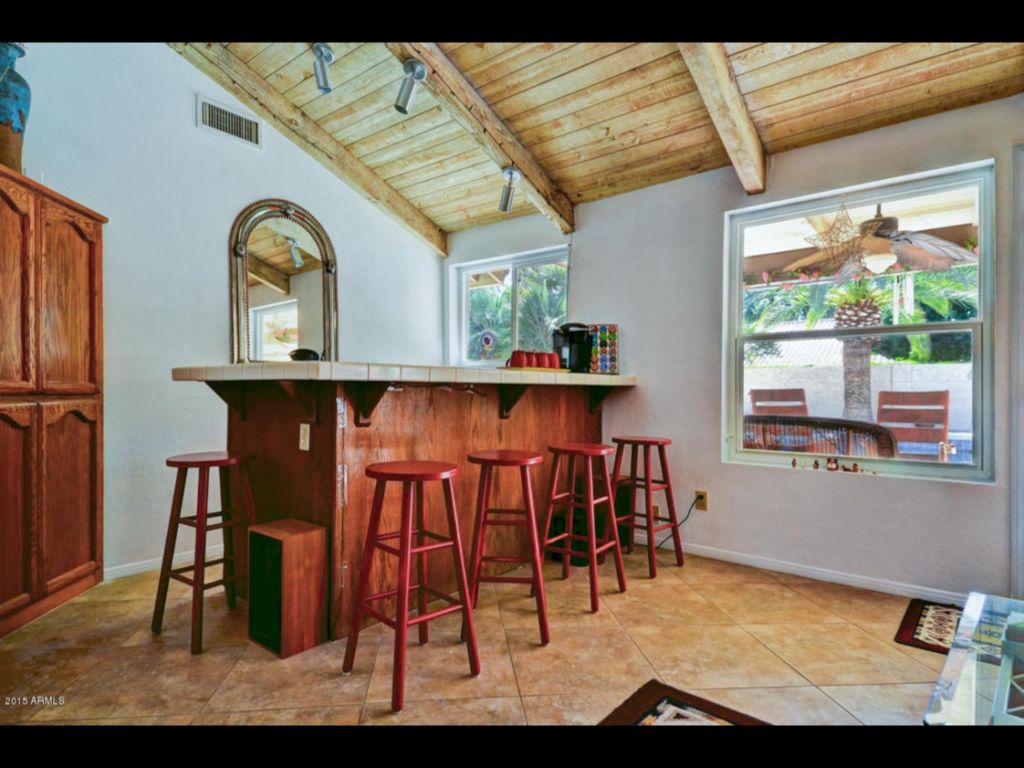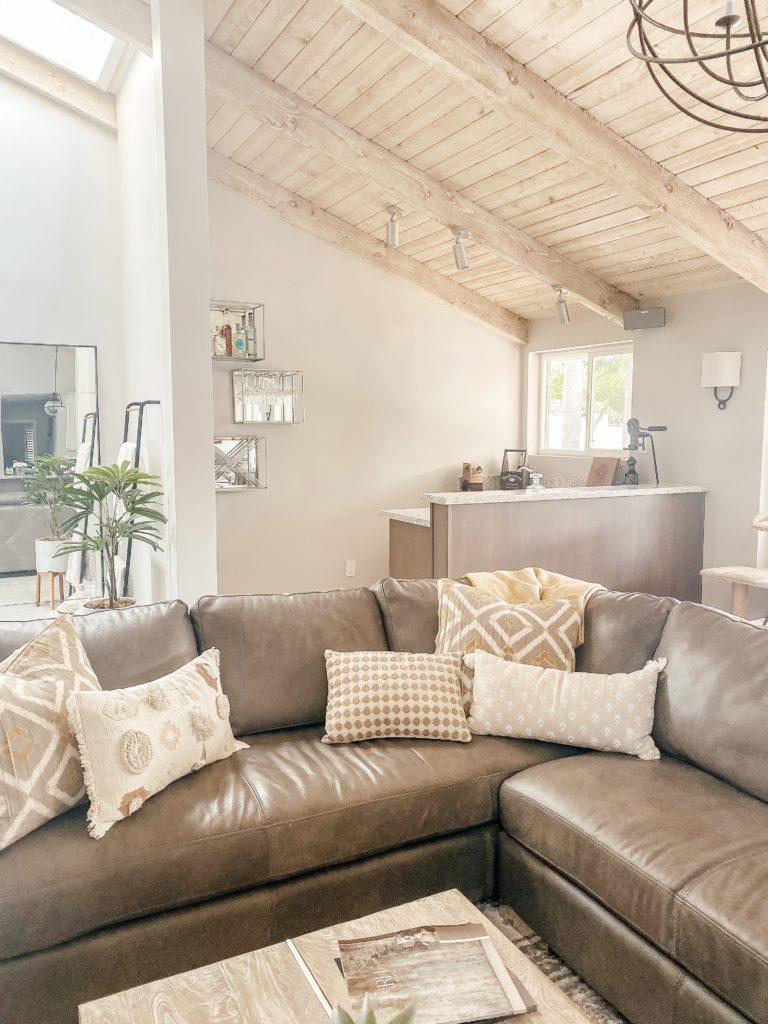 Lighting
For our lights, we went to Valley Light Gallery. I knew that I wanted to contrast the light, bright feel of this space with a darker light. Love how it helped to ground the space and create a dramatic feel to the room. I still love them now as much as a I did then!
Shop the Space
We did a lot of our shopping locally! I will do my best to link as many items, or try and find similar items, for you as I can. I hope you enjoyed taking a little peek into our first renovation space. More rooms to come!
Couch: Arizona Leather (Custom)
Kitchen Table: Bassett Furniture (Custom)
TV Console: Salt Creek Furniture (Custom)
Here are some similar-inspired pieces to get the look!