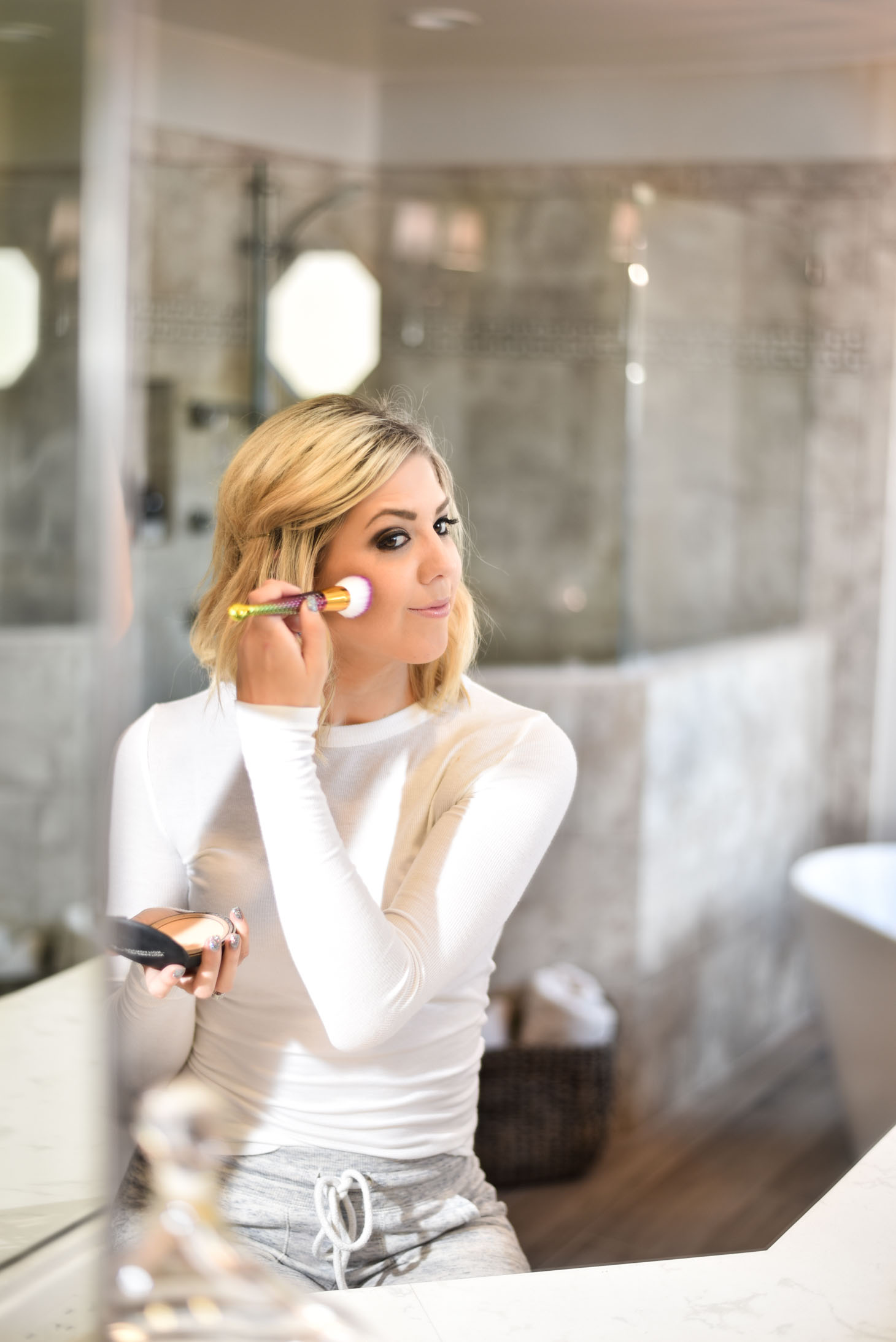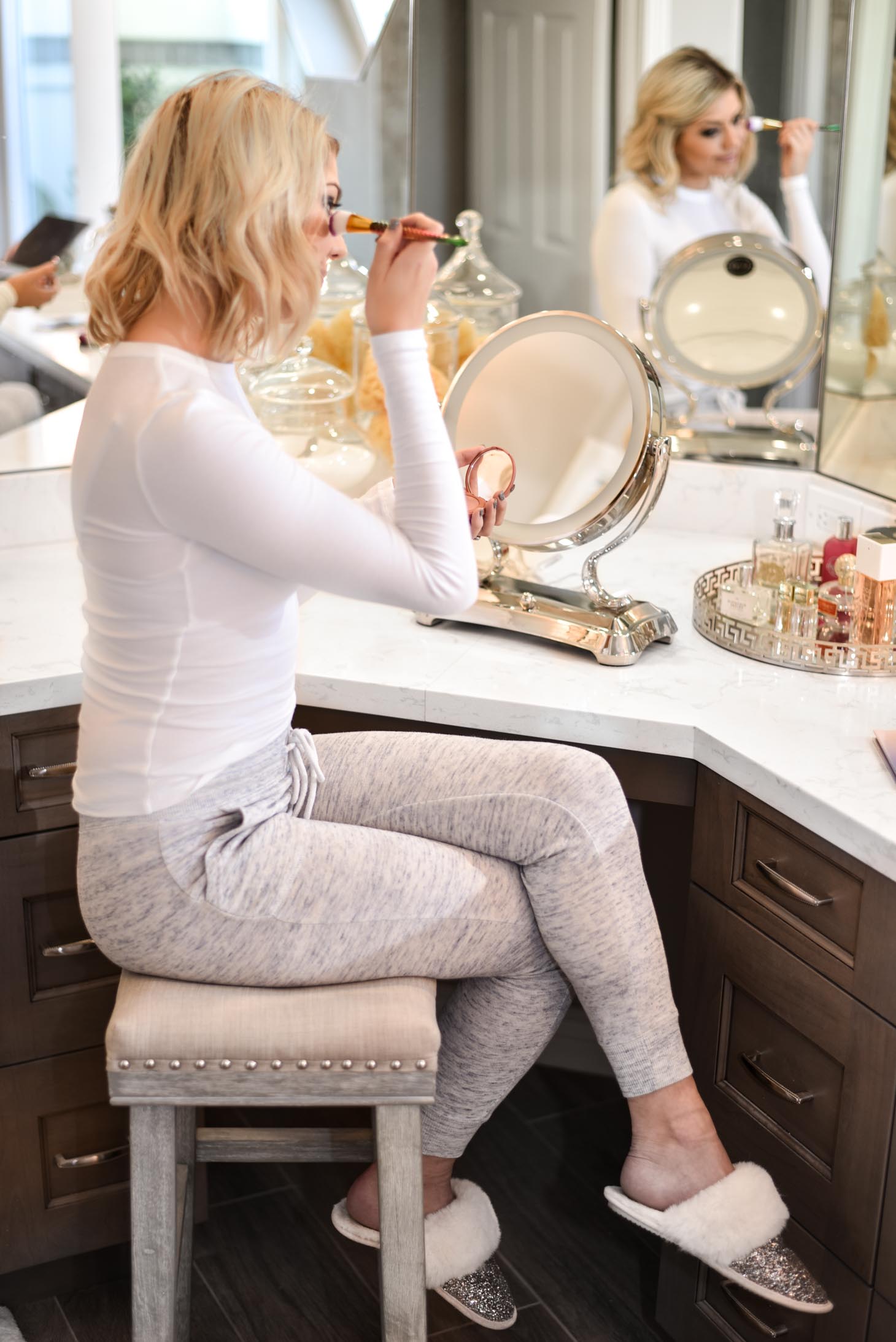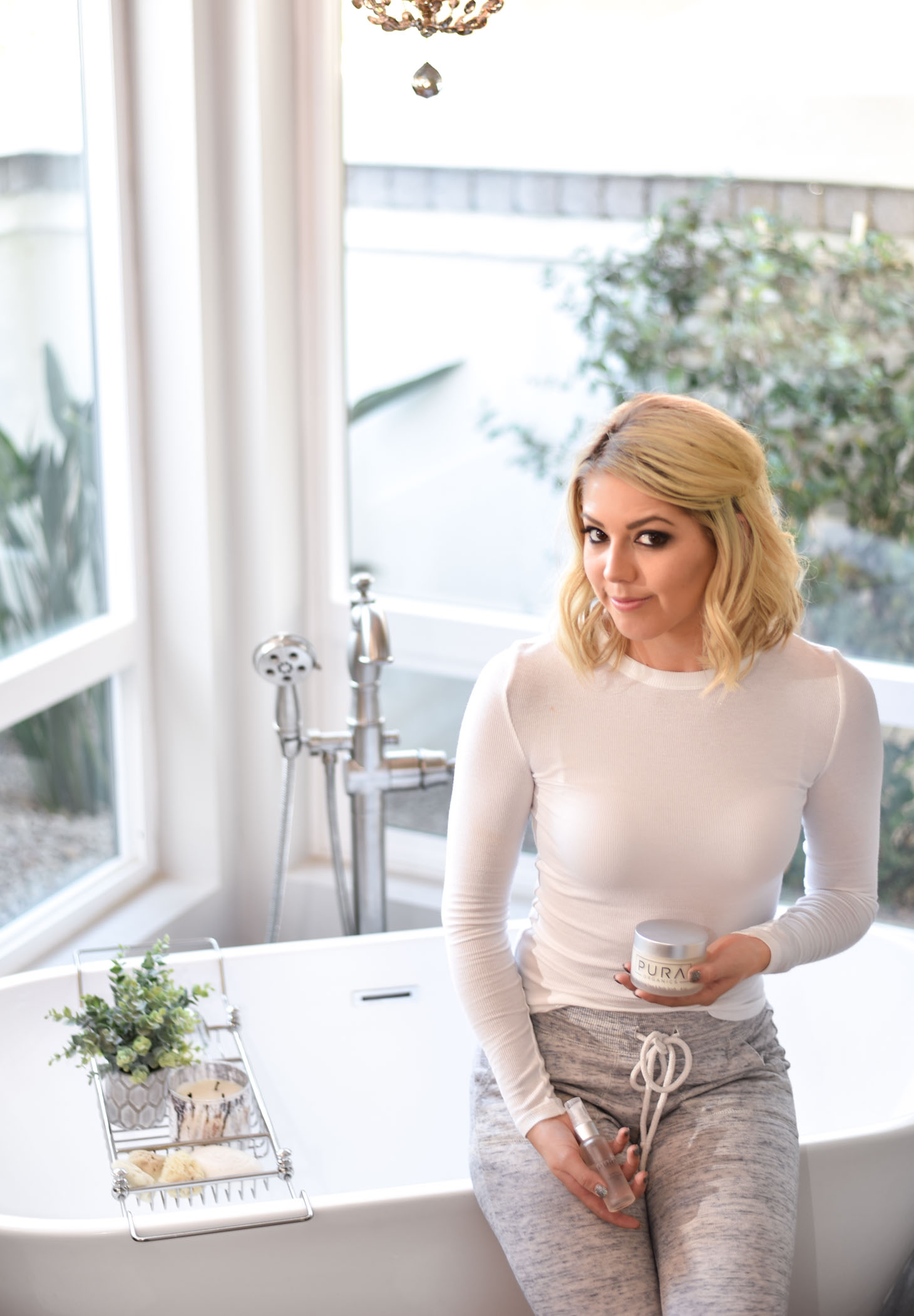 Nourishing Face & Body Scrub // Advanced Lift Neck Cream // Rejuvenating Cleanser // Firming Night Moisturizer // Under Eye Tightening Gel
Skincare 
"I regret taking such good care of my skin," said no-one ever.
To be perfectly honest, I have never been one to focus on skincare regimes in the past. However, in the last couple of years, I am becoming more aware of the fact that I'm aging! Just a month and a half shy of my 30th birthday, is all the more reason to focus on keeping my skin youthful and healthy!
For the past several months (although I still get into lazy ruts 😏) I have been using the Pura Organics line. Their products are made from all-natural ingredients and do not only help decrease the sign of aging, but actually help prevent it! This post is not sponsored, nor have I been in contact with the brand. I just really love their products!
I always begin by cleansing my face with an all-natural makeup removing wipe. This helps to prepare my skin for cleansing. I use my Clarisonic Cleaning System a few times per week with the Pura Organics scrub. I love that it helps to get deep into my pores and clean out the dirt and bacteria!
Aside from the skin on my face, I also like to pay close attention to the skin on my lips! I have always suffered with really dry and chapped lips. I used to sleep with vaseline on them at night, but after discovering Emuaid Cream, I will never apply any other product! It helps to keep my lips feeling nourished and healthy. It's also great for cuts and scrapes…hubby and I think it's a miracle product!
Shop Skincare Products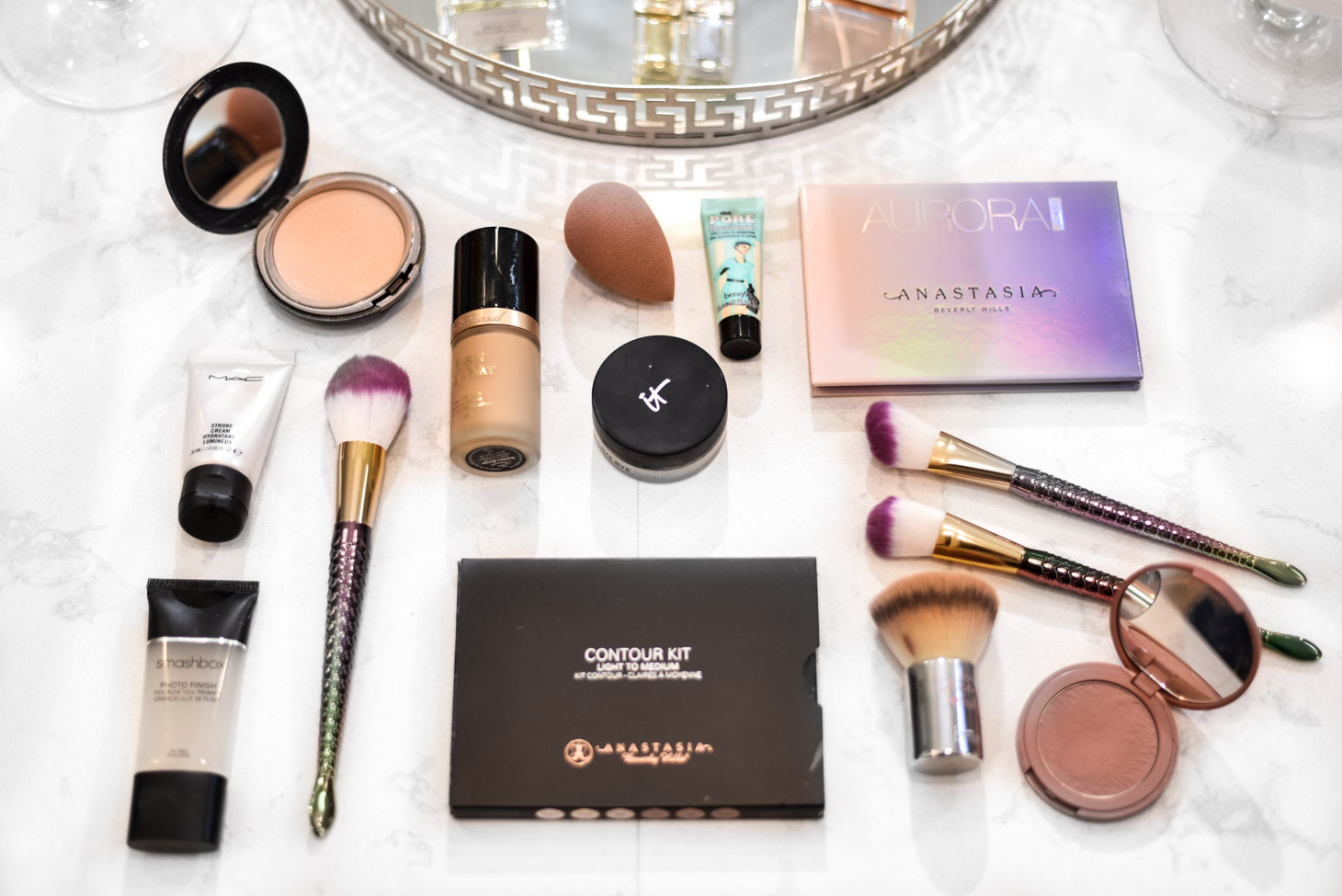 Mac Strobe Cream Moisturizer // Smashbox Photo Finish Primer // Benefit Pore Face Primer // Too Faced Born This Way Liquid Foundation (I wear Golden Beige)  // It Celebrate Foundation Powder (I wear Light) // Beauty Blender // It Bye Bye Pore Powder // Anatasia Countour Palette // Anastasia Glow Highlighter Palette // Tarte Blush (Seduce) // My Brush Set Mermaid Brushes (10% off code SAVEWITHWINK_AND_A_TWIRL)
Face
Foundation is like Spanx for the face. -Lynnette Cole
When it comes to my face makeup, I love to start with a great primer! I use a couple different products to help prep my skin for foundation. I tend to gravitate towards foundations and powders that are lightweight and easy to wear. I don't like products that are thick and heavy. I have been wearing the Too Faced Born This Way Foundation for awhile now and love it! It doesn't make my skin breakout, offers great protection, and doesn't feel caked on. A winner in my book for a reasonable price! I love to set my foundation with the It Celebrate Foundation Powder.  As far as contouring and highlighting, I am pretty simple! I throw a little bronzer on from the Anastasia Countour Palette and highlight my face with the new Anatasia Glow Palette. I don't like to look too overdone! To finish off my face, I always use the It Cosmetics Bye Bye Pores Powder. It leave your skin looking airbrushed and pretty!

Shop Face Products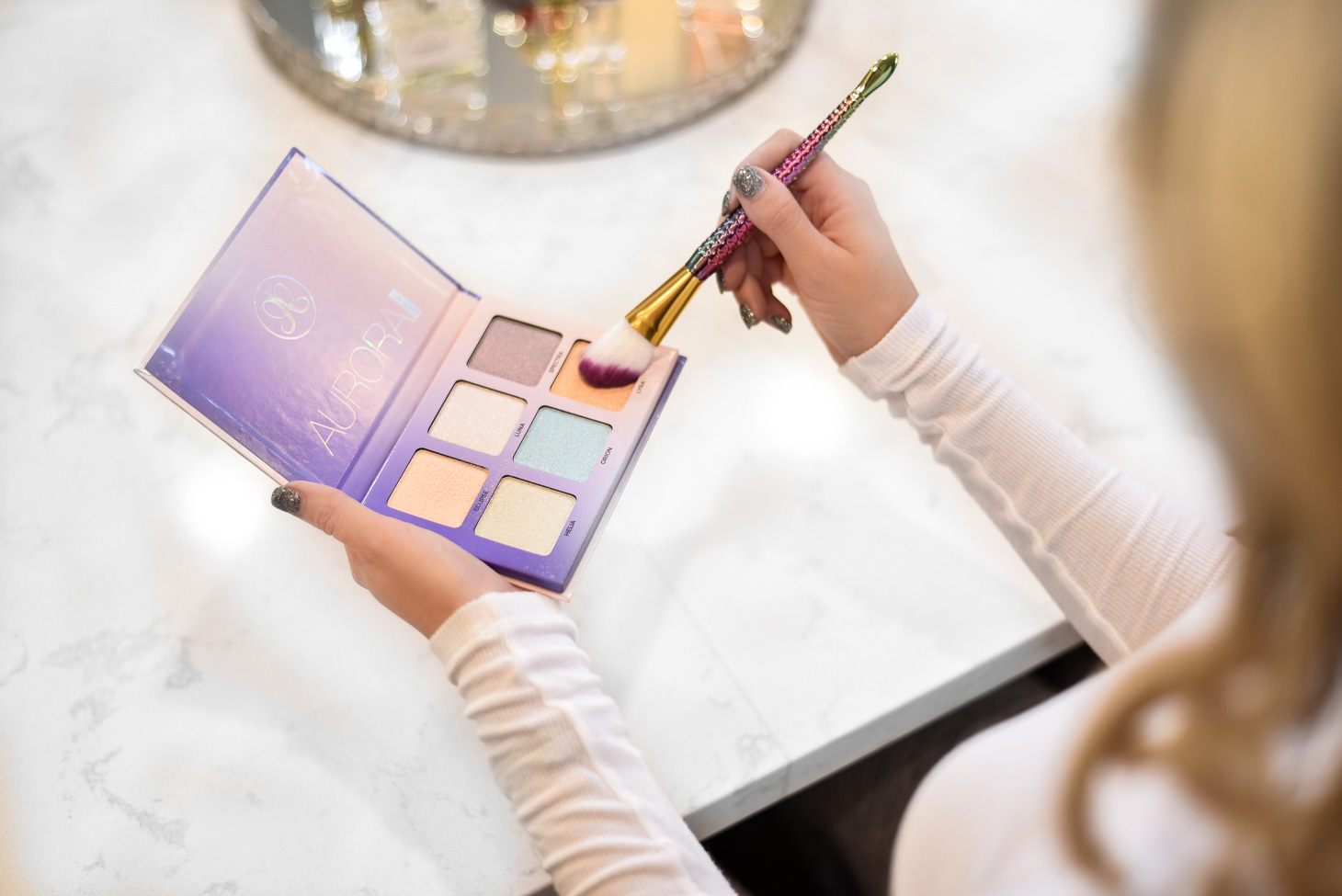 Brushes
Is it possible to be addicted to new makeup brushes?! I am starting to think so. There's something about new brushes that gets me super stoked to do my makeup. I recently got the cutest colored Mermaid brushes from My Brush Set and they just make me smile when I'm using them. I love the colors! Snag these or another set of brushes for 10% off with code SAVEWITHWINK_AND_A_TWIRL.
Shop Brushes
It Kabuki Powder Brush // Mermaid Brush Set c/o My Brush Set (10% off with code SAVEWITHWINK_AND_A_Twirl)
Thank you My Brush Set for contributing to this post.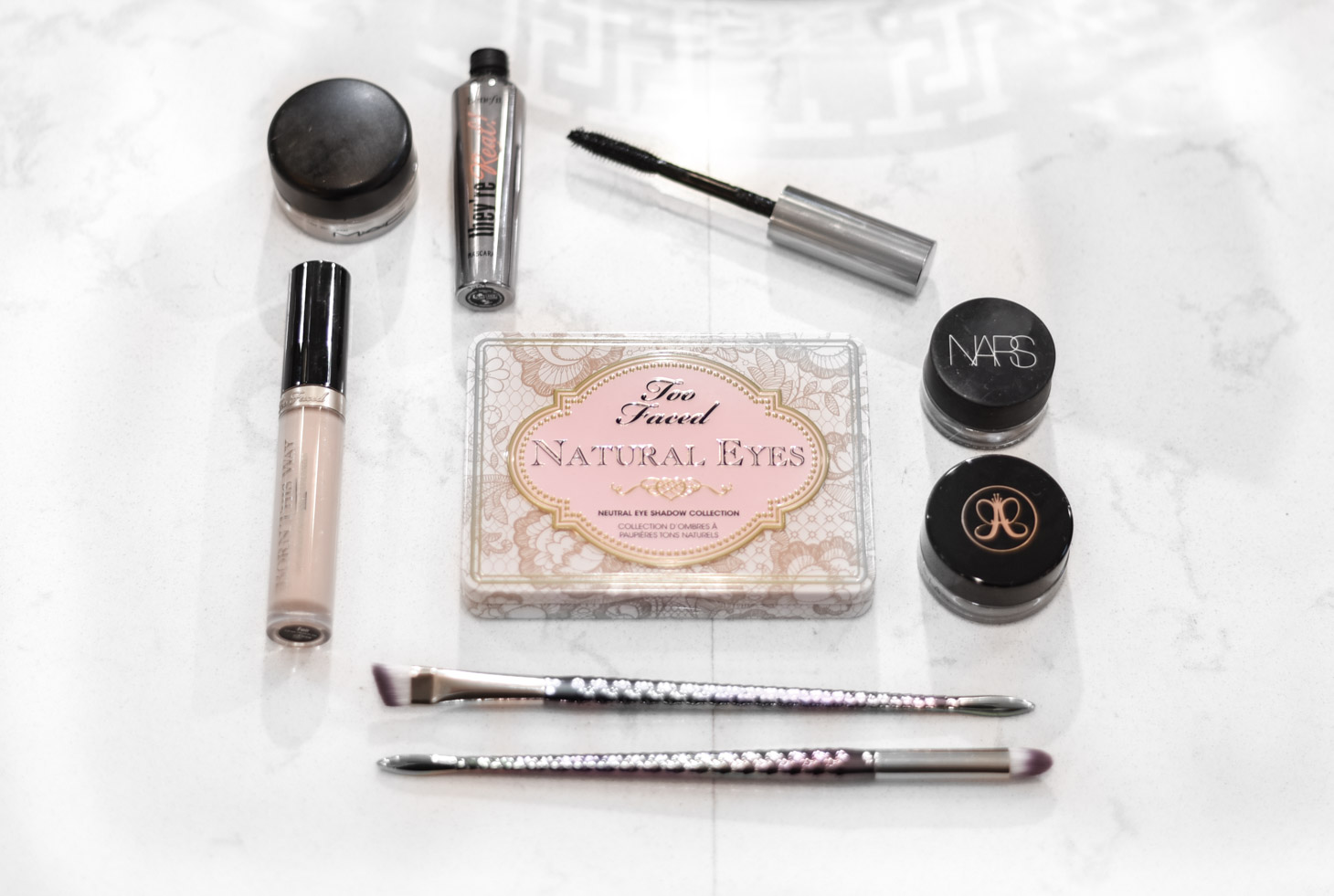 Mac Prolong Paint Pot // Too Faced Born This Way Concealer (I wear Fair ) // Too Faced Natural Eyes Palette // Anastasia Dipbrow (I wear Blonde) // Nars Eyeliner // They're Real Mascara
Eyes
Inner beauty is great, but a little mascara never hurt anybody.
For my eye makeup, I like to keep things very neutral. I'm currently loving the Too Faced Natural Eyes palette. I've always been an eyeliner kind of girl, however just recently I've switched over to using brown instead of black. I love that it makes my eyes appear more natural. Black is always great for a more dramatic look for a night out on the town!
Shop Eye Products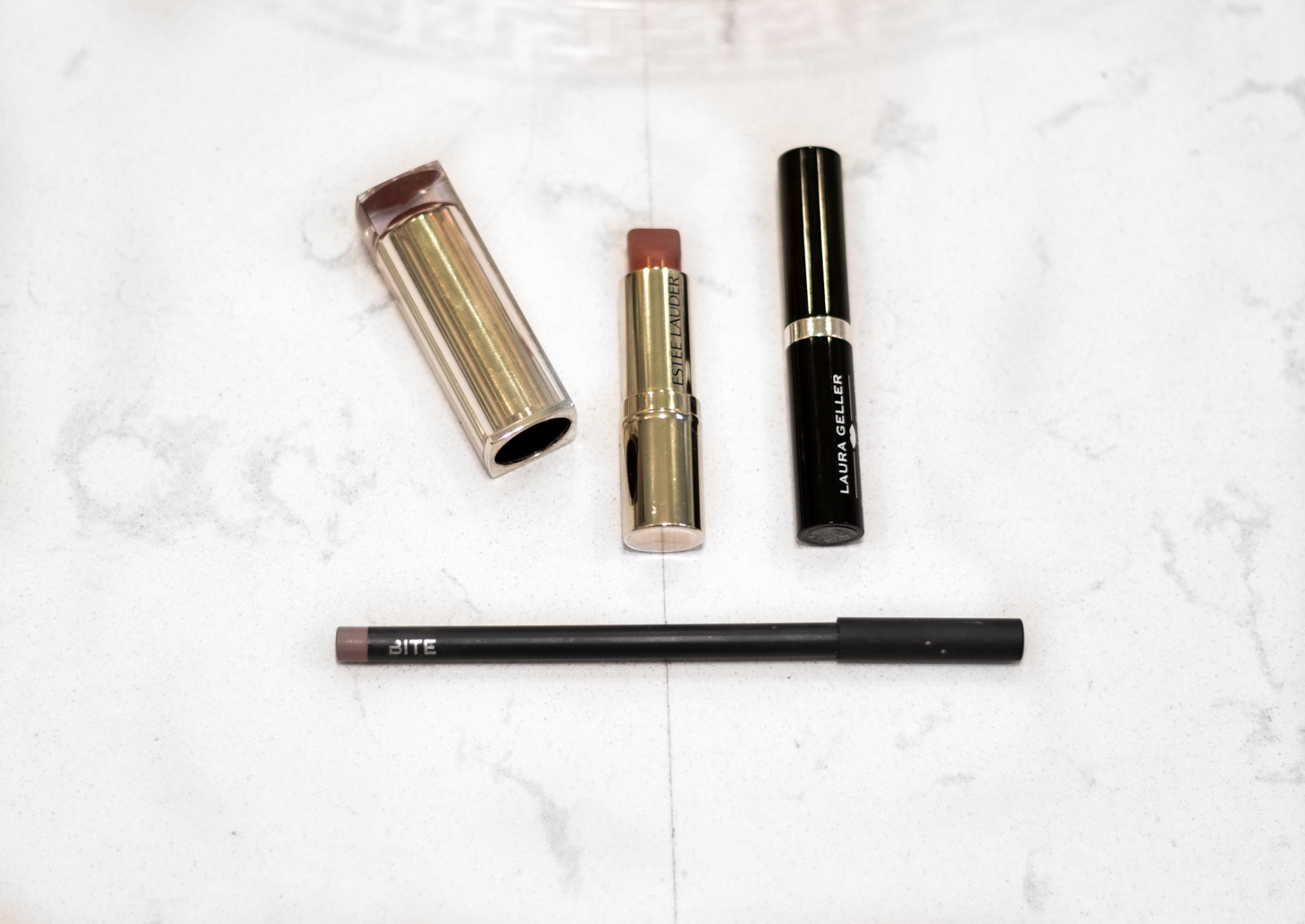 Laura Gellar Supreme Lip Spackle // Bite #012 Lip Liner  // Estee Lauder Raw Sugar Lipstick
Lips
Life is short, buy the lipstick.
This is probably the one area I don't spend a lot of time or money on. I'm not a huge lipstick person (probably because the hubby isn't a big fan 😏). If I wear lipstick, you'll find me rocking the nude lip. My favorite lip product is the Laura Gellar Supreme Lip Spackle. I put it on before applying lipstick and it helps to create a smoother base on my lips. It makes lipstick look so much better!
Shop Lip Products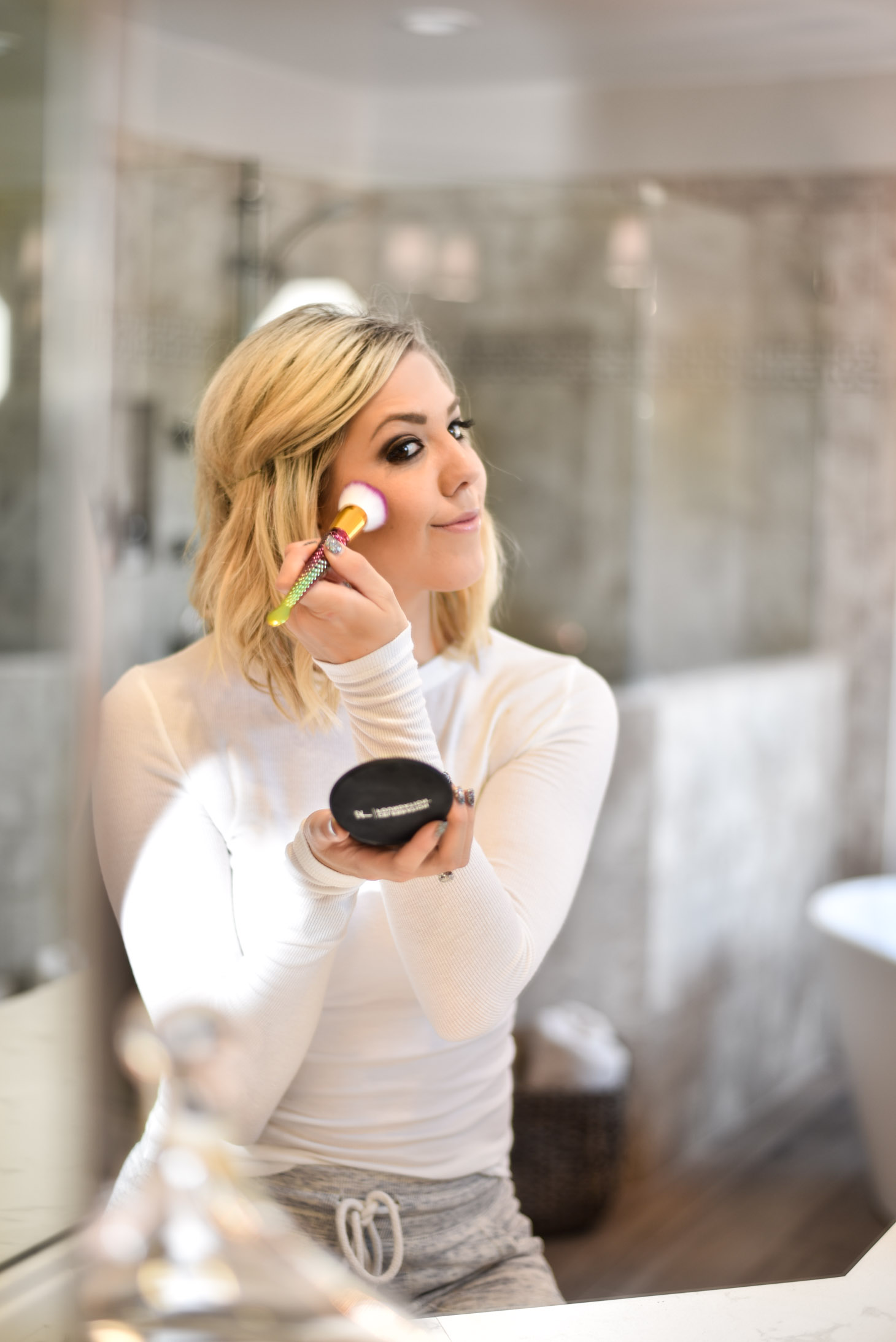 Long Sleeve Tee // Similar Sweats // Slippers // Vanity Mirror // Apothecary Jars // Similar Round Perfume Tray // Bathtub Caddy // Similar Vanity Stool // Bath Towels // Hand Towels // Accent Towels (they are white…bad picture) // Bath Rugs (also white) // Bath Accessories Set
Whenever I am getting ready, I always like to feel comfortable and cozy! You will likely see me in slippers this time of year. I just love these sparkly slippers! I am going to link up the other items I'm wearing, as well as some of the products around my bathroom!
Shop My Outfit

Shop My Bathroom

I want to end today's post with my Holiday Beauty Lover Gift Guide. I've rounded up a bunch of awesome gift ideas for the lady in your life that loves all things makeup, hair and relaxation! Happy Shopping!
Beauty Lover Gift Guide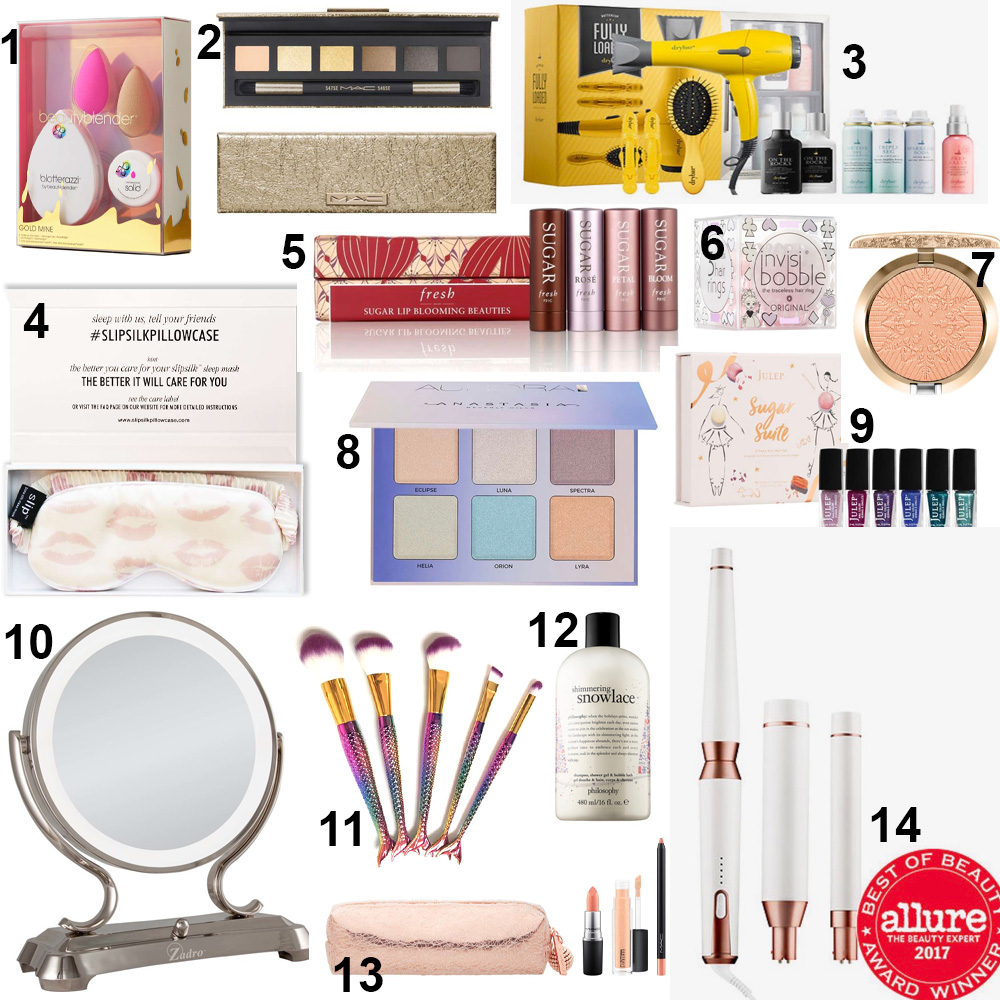 1. Beauty Blender Gift Set // 2. Mac Snowball Eye Compact // 3. Drybar Set // 4. Silk Sleep Mask // 5. Sugar Lip Collection // 6. Traceless Hair Ring // 7. Mac Glare Powder // 8. Anastasia Glow Kit // 9. Julep Mini Nail Set // 10. Lighted Vanity Mirror // 11. Mermaid Brush Set (10% off code SAVEWITHWINK_AND_A_TWIRL) // 12. Snowlace Bath Bubbles // 23. Mac Nude Lip Set // T3i Trio Curling Wand
Shop the Gift Guide

SaveSave
SaveSave
SaveSave
SaveSave
SaveSave
SaveSaveSaveSave
SaveSave