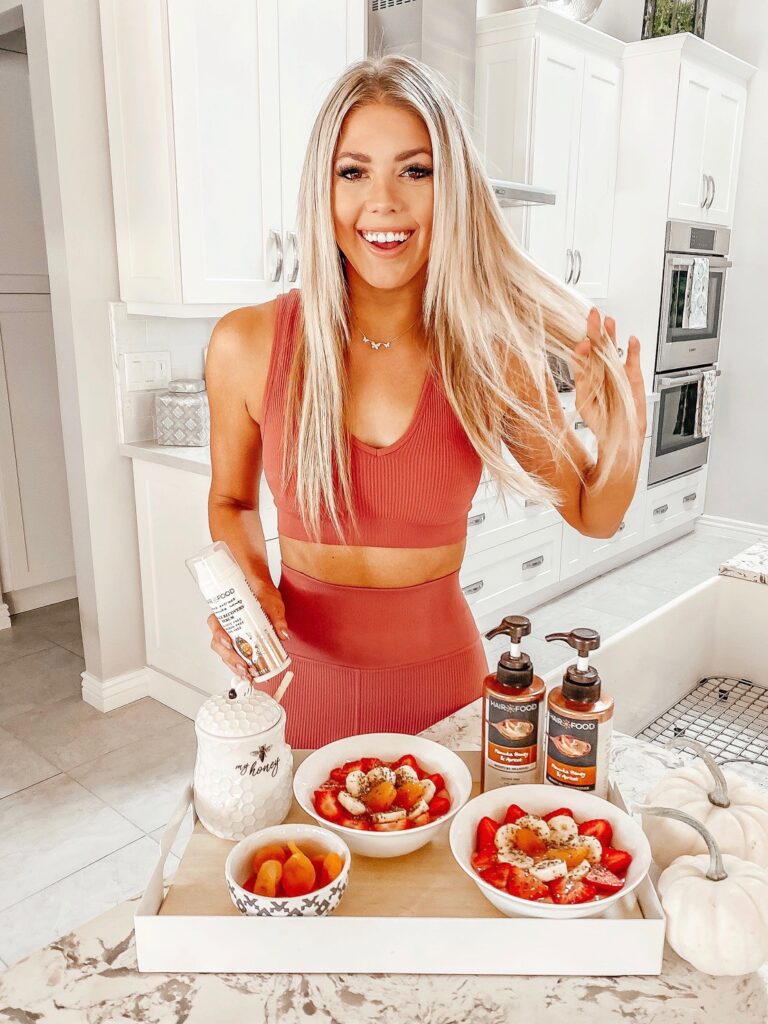 This is a sponsored post written in partnership with Hair Food. All opinions are my own.
If you've been following along with me for a while, you know that I live a genuinely healthy lifestyle. I love to keep active each day and prepare healthy and nutritious meals in the kitchen. I also try to make good choices when I'm eating meals out and about as well. I put a lot of time and effort into making sure the products I put INTO my body are healthy and valuable. The same goes for what I am putting ON my body too!
I first started using Hair Food products a couple years ago. I was immediately drawn to the natural ingredients (can you say adios to sulfates, dyes, mineral oils and parabens!) that Hair Food uses to formulate their products. I recently began using the Manuka Honey & Apricot Moisturizing Collection and I am already a fast fan!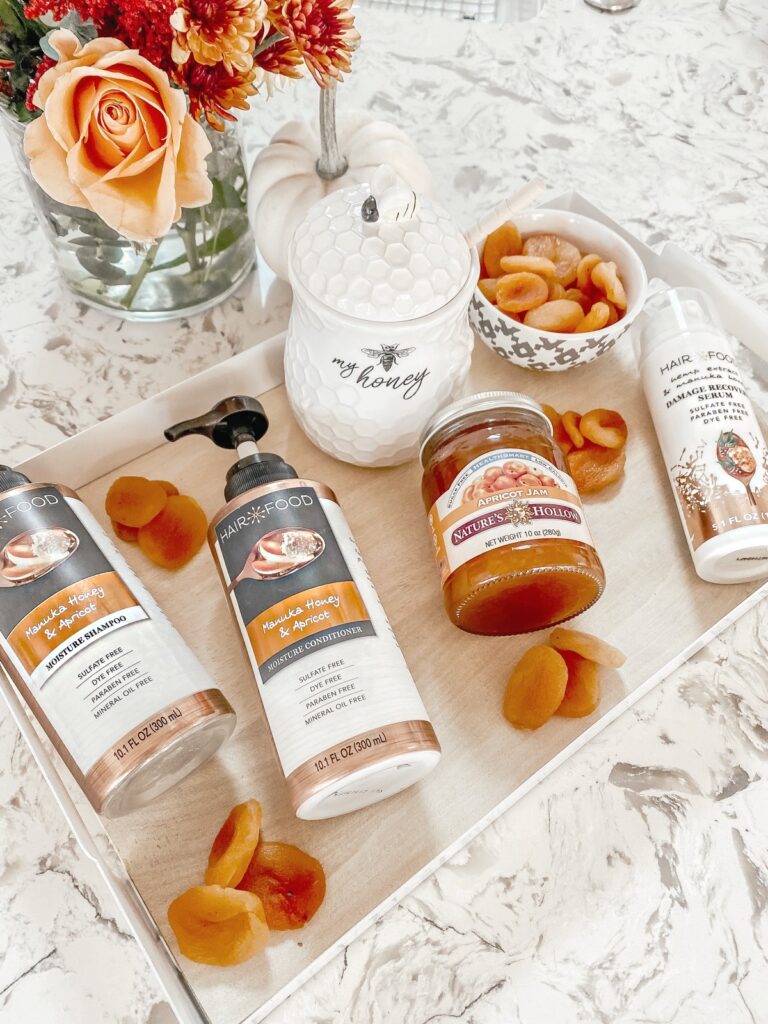 Manuka Honey & Apricot Collection
This shampoo and conditioner line is perfect for moisture-deprived hair! Hello, me! I am constantly tackling dry hair and trying to help it feel more hydrated and nourished. This line of shampoo and conditioner is infused with sweet manuka honey and helps to soften and smooth hair. It leaves your hair feeling vibrant and happy! Plus, the apricot smell is just SO dreamy.
Hemp Extract & Manuka Honey Damage Recovery Serum
This is just the best little product ever! This Hemp Extract & Manuka Honey Damage Recovery Serum has been doing wonders for my dry hair and pesky split ends. Simply comb it through damp hair and blow dry for a silky, smooth finish! When combined with the Manuka Honey & Apricot Collection, you can say peace out to those dry locks!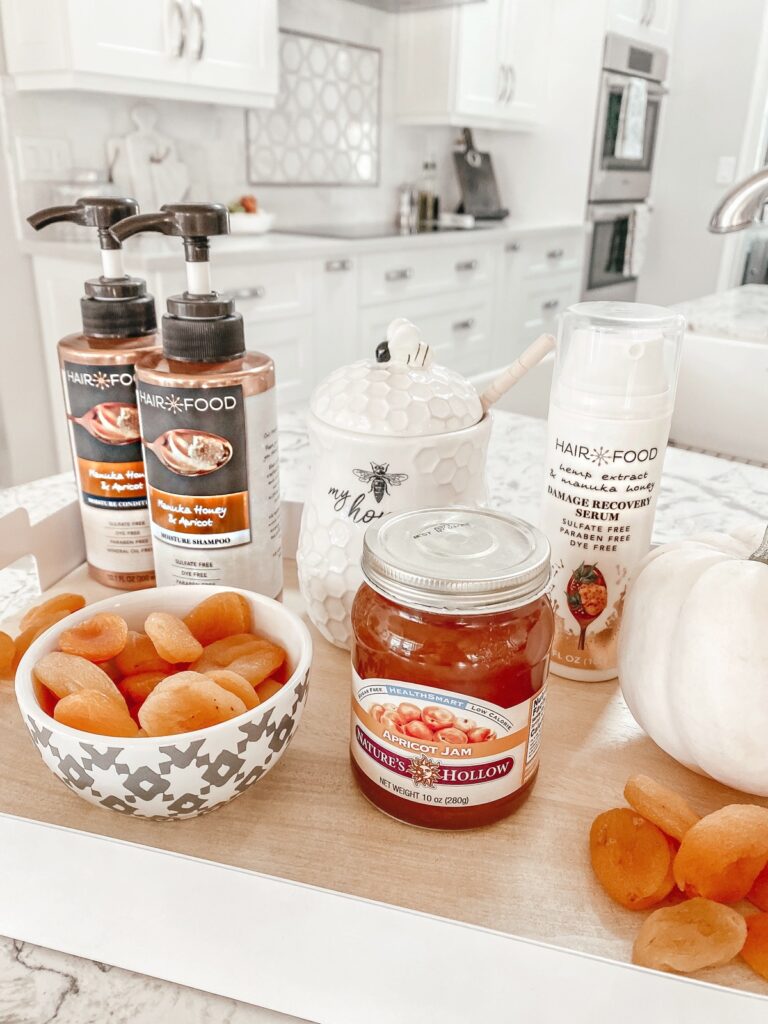 Honey & Apricot Smoothie Bowl – Taking the ingredients to the kitchen!
These new Hair Food products are so delectably delicious in my hair, that I HAD to give these ingredients a try in the kitchen! Who wouldn't want to add some MORE honey and apricot to their daily lives, right?!
One thing that Brad and I have recently started enjoying (hello, covid at home!) are smoothies and smoothie bowls. We love to make a healthy and nutritious snack that we can feel good about eating. Plus, the prettier they are, the better! We will definitely continue to make smoothies and bowls and cannot wait to make them with our children one day. 🙂 I think I will definitely be passing along my love for this bowl (and my love of Hair Food products) for years to come!
I found this smoothie bowl recipe and had to give it a try because it was so pretty! **Apricots are currently off-season so I subbed out whole apricots for an apricot jam**
Apricot & Honey Smoothie Bowl Recipe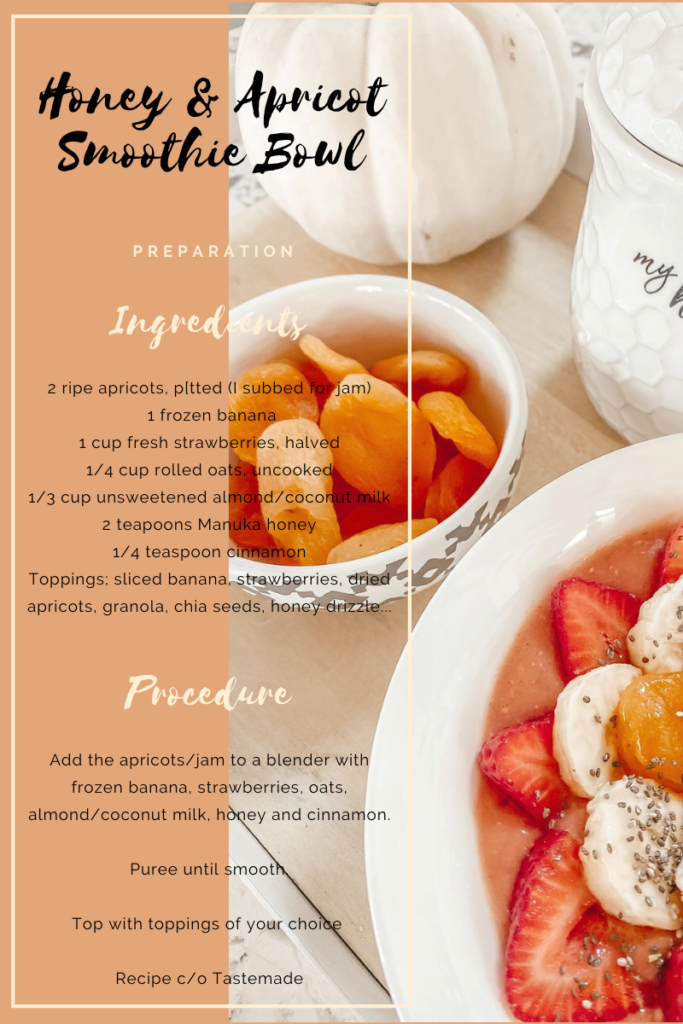 Ingredients:
2 ripe apricots, pitted (I subbed for jam)
1 frozen banana
1 cup fresh strawberries, halved
1/4 cup rolled oats, uncooked
1/3 cup unsweetened almond/coconut milk
2 teaspoons manuka honey
1/4 teaspoon cinnamon
Toppings: sliced banana, strawberries, dried apricots, granola, chia seeds, honey drizzle…
Procedure:
Add the apricots/jam to a blender with frozen banana, strawberries, oats, almond/coconut milk, honey and cinnamon.
Puree until smooth.
Top with toppings of your choice.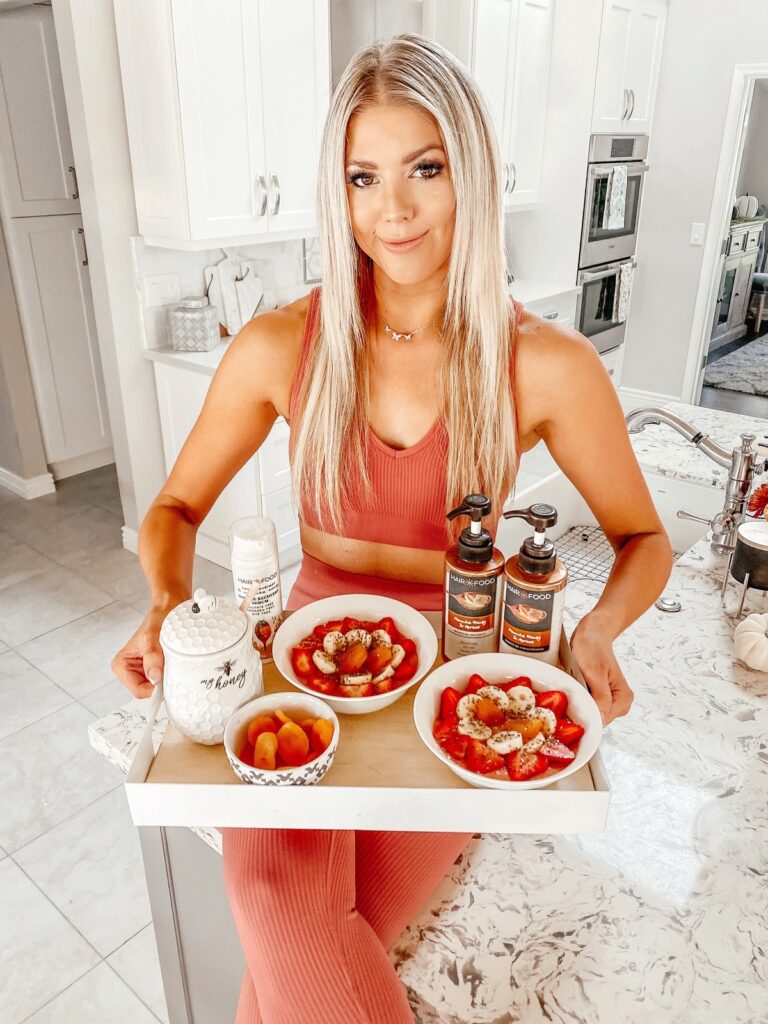 Final Thoughts
It's safe to say that I am a new fan of all things manuka honey and apricots! From how they make my hair feel soft and hydrated in the shower, to balancing out my diet and helping me to feel full and nourished in the kitchen, I am a big fan!
I will be continuing to share my love for Hair Food in the coming months and testing out some more awesome products. Be sure to follow along and always know your questions are welcome. I'm here for you!
Shop the Products from Kroger and Amazon!
Manuka Honey & Apricot Collection
Hemp Extract & Manuka Honey Damage Recovery Serum