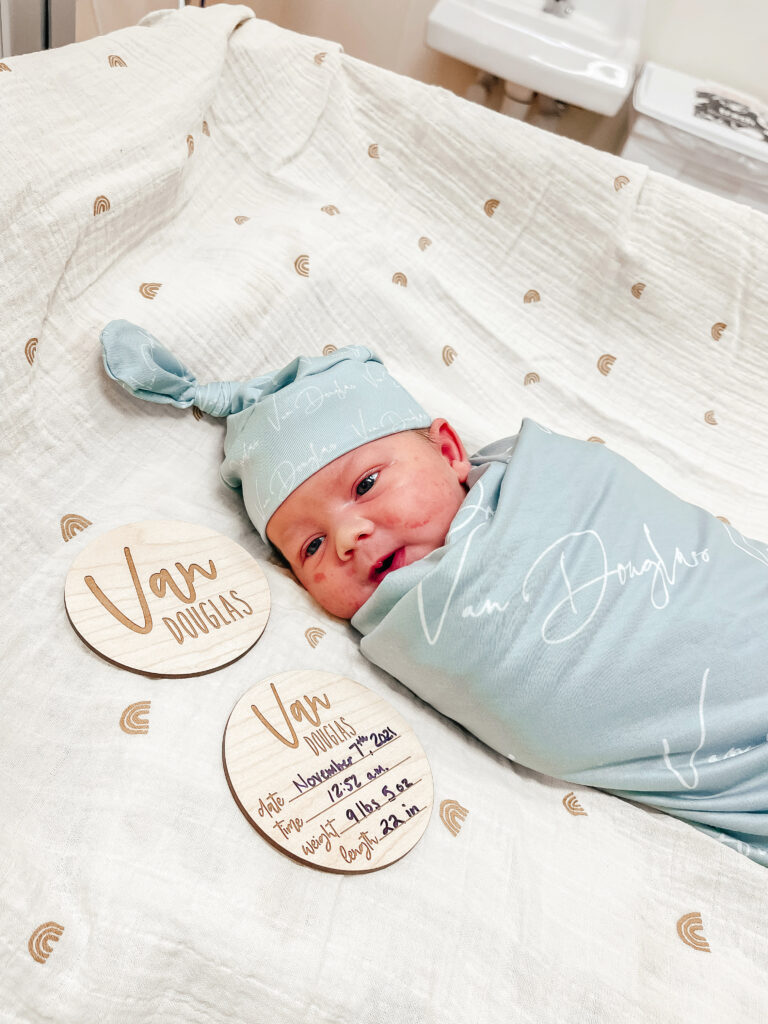 As I sit down to type out your story, my mommy heart is still trying to catch up to all of the love that came rushing into it in the matter of a moment. The moment we saw your face. The first time we held you. Felt your tiny fingers wrapped around ours. When we heard you cry for the first time. When you opened your eyes and gazed into ours. I don't think there will ever be enough words to encompass the love we felt for you in that instant. And the love that will forever define who we are and why we are here. It's all for you, sweet Van. Here is your story. The best story we have ever been blessed by God to tell.
The Night Before You Were Born
The first vivid memory around your birth story was the night before Amanda, our gestational carrier (and your sweet "belly buddy" who carried you in her tummy for us), was scheduled to go in with your Dad and I to HAVE YOU! You were a wee bit past your due date (6 days to be exact) and it was time to help you move along and enter the world! Your Dad and I went to bed the night before eager, nervous and beyond excited to meet you. While I can't say how long we were able to sleep that night, I CAN say that it was the best feeling to lie our heads down on our pillows knowing that when we awoke, it would be the day you were born! We had been waiting a very long time to have you and hold you, sweet boy! There are no words to describe how it felt to be that close to meeting you. It was amazing. We just felt so thankful to God for bringing us to this day!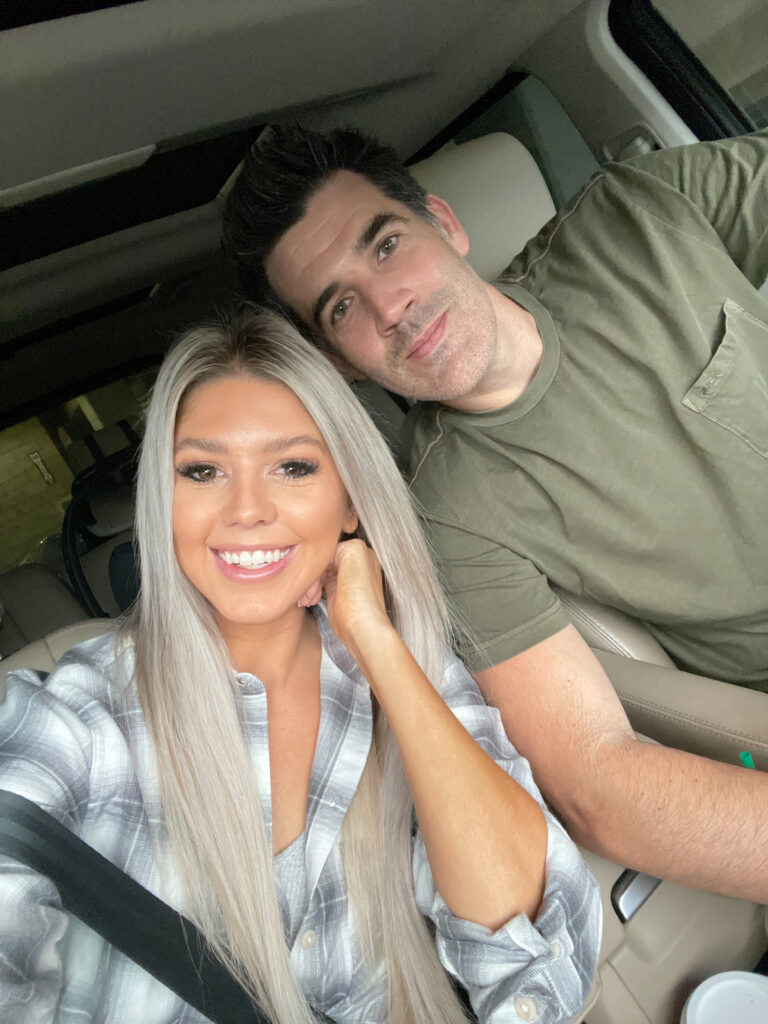 The Day You Were Born
We awoke early the following morning. It was November 6th, 2021. We were all ready to go, with our bags all packed and ready to go already. We even had our clothes laid out (You'll learn that your Mom and Dad are very insane planners). We freshened up, loaded up the car and made our way to the hospital (with a quick stop on the way to Starbucks because we knew we needed caffeine and a breakfast fix first!). When we got to the hospital, we met Amanda and her mom. It was a little before 9 AM. It was so surreal to all get out of the car and talk about the day ahead of us. We were all so excited to go in and have you! We took some photos and then Amanda, your Dad and I walked into the hospital! Amanda's mom waited in the lobby while your belly buddy's husband, Kevin, stayed home with their two boys.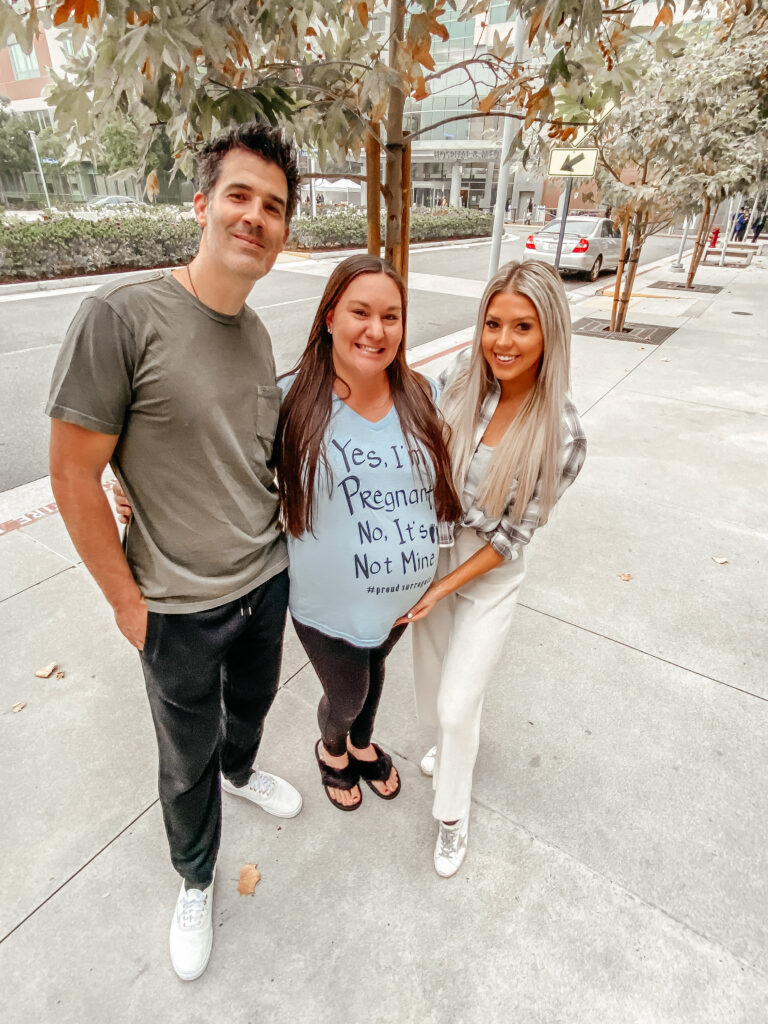 When we got into the hospital, we checked in and Amanda and I went up to the labor and delivery floor to go to triage – where they needed to check Amanda and admit her to to the labor and delivery floor. They only let two people into this area so your Dad waited in the lobby until it was time to get a room for all of us to be together for your birth. Once it was time to move to our nice, big delivery room, your Dad came up and then the three of us were all together again! It was around 11:00-11:30 AM at this time.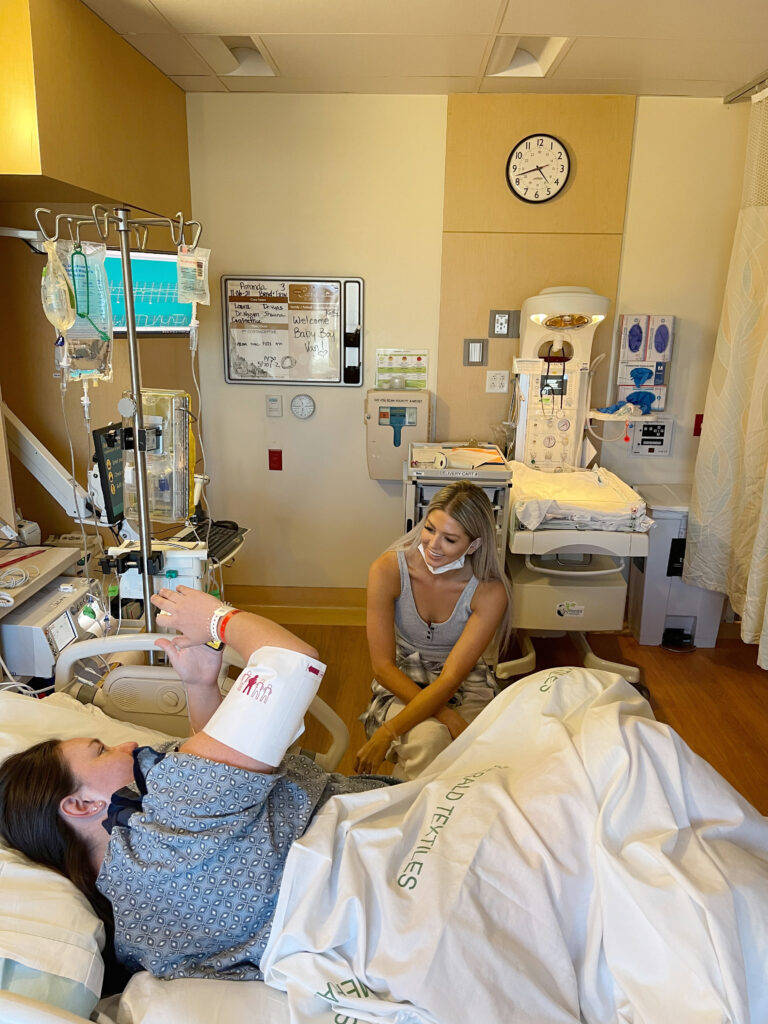 As soon as we were in our room, we were greeted with nurses and a midwife. They welcomed us and got Amanda all hooked up to monitors (where we could watch and hear your sweet little heartbeat). We were ready to get going. We were all SO excited! Around Noon, the anesthesiologist came in to give Amanda an epidural. This would help her to not feel as much pain over the course of the day and to help her be more comfortable. Your Dad stepped out and I stayed with Amanda to help her through getting the epidural. She was such a champ! Especially since she was sick with a nasty cold the entire time.
Once Amanda had her epidural in place and it began to take affect, they started her on Pitocin – something that would help you make your way into the world a little easier. And boy oh boy! That started working quickly! About two hours later, Amanda's water broke – which meant you were getting a lot closer to being born! We discovered at this time that you had gone potty (#2) inside her. But don't be embarrassed at all! This is SUPER common for a baby that is six days past their due date. This meant that there was a worry over you aspirating (breathing in) some of the meconium (that's what it's called) when you were born. It meant having a special team from the NICU in the delivery room just in case there were any issues with your lungs after you were born. The NICU teams take extra special care of babies that need a little more TLC when they are make their way into the world. It made us all feel better knowing they were going to be there too!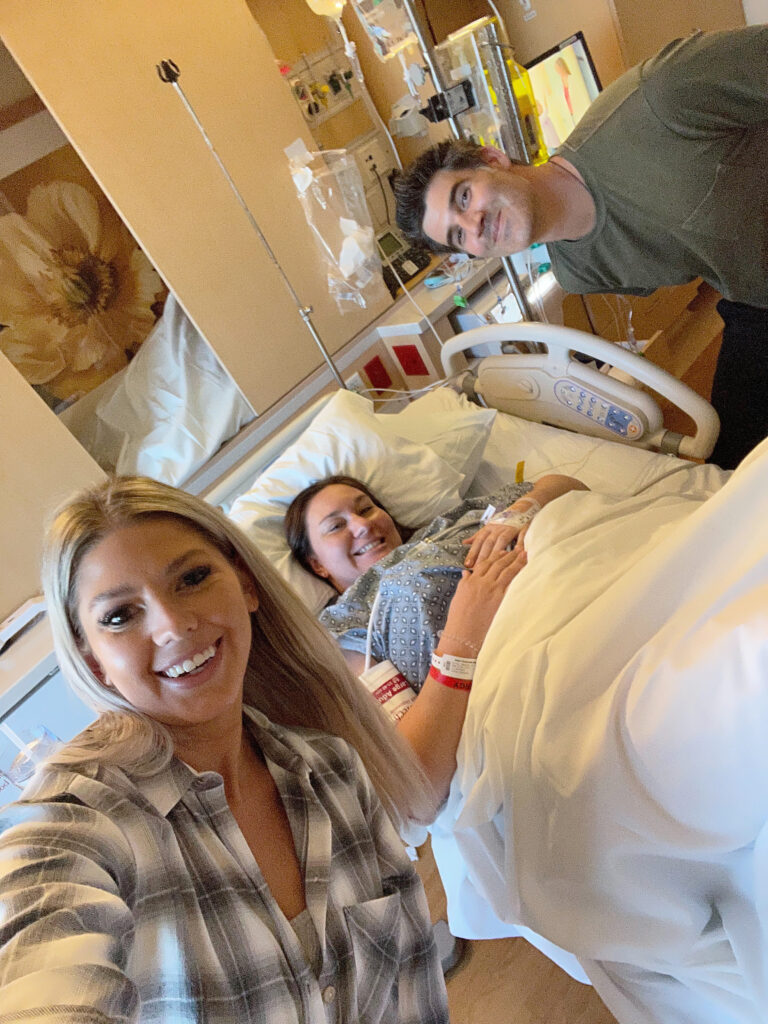 From the time we all got into the delivery room (around 11:00 AM) to about 5:00 PM, Amanda's cervix went from 4 cm to 10 cm. Around 5:00 PM, we were told it was time for Amanda to start pushing. You were going to be born SO soon! We were a serious team in there. Your Dad held one of Amanda's legs and I held the other. We counted and we helped her breathe through every contraction. We were all focused and ready to bring you into the world. We knew God was right there with us – giving us all strength and focus. He was ready to scoop you up into His love – just like we were!
But, it occurred to us quickly after we started getting going, that perhaps we weren't as ready as the nurse had initially thought. Your belly buddy was doing such an amazing job, but part of her cervix was continuously found to be in the way. From the hours of 5:00 PM-11:00 PM, we went through a cycle of pushing and stopping. Every time the Pitocin was pumping, your heart rate would change – telling us you didn't like it too much. And every time we stopped the Pitocin, Amanda's contractions (what helps push you out) would stop. It was a constant back and forth. At this point, our midwife was replaced by a doctor and she really wanted Amanda to be able to push you out naturally, but also said that we may need to a cesarean section to get you out safely if things didn't progress soon. This meant that we may need to go to an operating room where we would need to do a quick surgery to get you out. We all became pretty anxious as we went back and forth all night. We were worried about you and Amanda. We wanted to make sure you were both comfortable and safe at all times!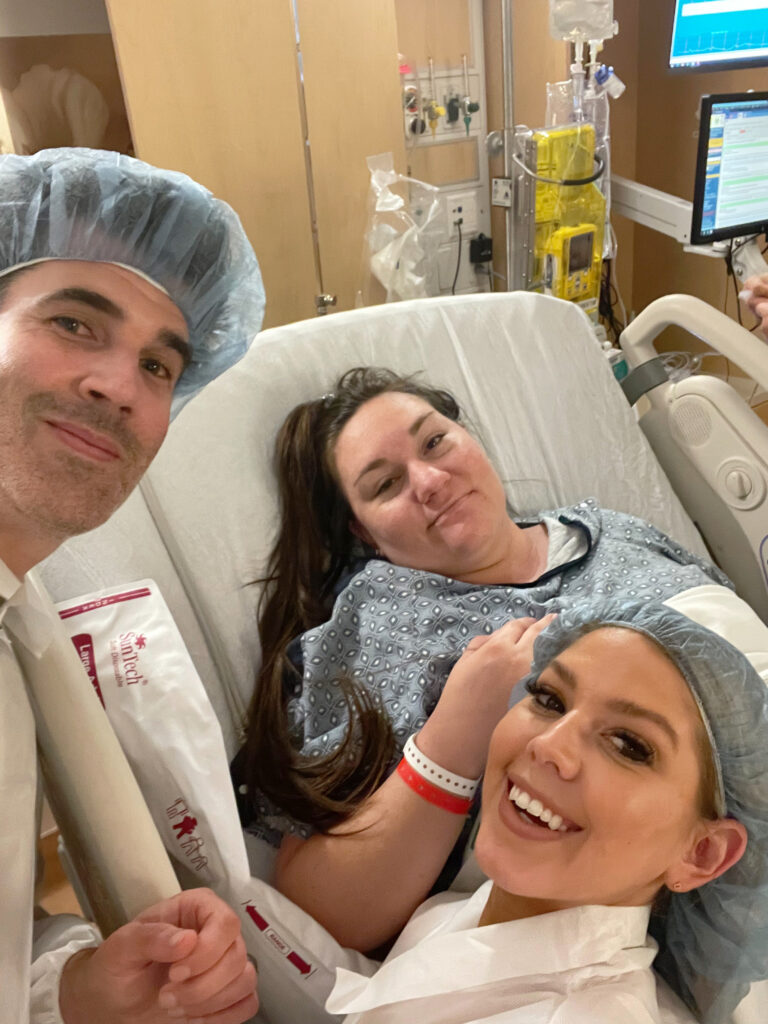 At around 11:30 PM, your belly buddy was exhausted. Her cervix had been out of the way for a while at this point and she pushed so dang hard! But, we were all beginning to think perhaps you were just a tad too big to make your way on your own. You were a big, healthy boy! Our doctor expressed the need to move forward with a c-section at this time. We all knew that we had reached the point that it was the safest and best option to keep you and Amanda safe. So we began to prep for surgery.
It was around this time that Amanda began having some really intense pains. This sent us all into a bit of a panic. Every time she would lie down, the pain in her ribs would become very intense. We would come to find out later that you were just so big and long that you migrated pretty far up into her ribs. Not your fault at all but totally why you were not able to make it out naturally. The c-section was very much needed!
Time for a C-Section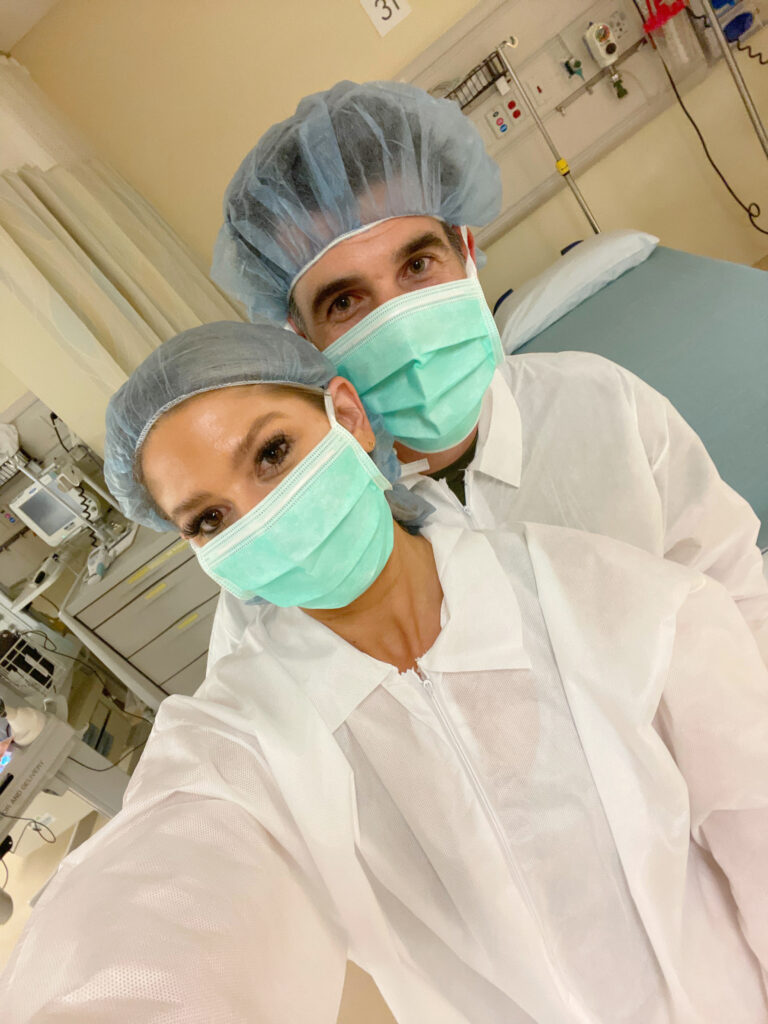 We were all wheeled down to the operating room around 12:15 AM. They took you and Amanda into the room and your Dad and I into a separate room to wait for everything to be ready. We were told it would only be a few minutes but it ended up being over 30 minutes. We were definitely getting anxious about you guys and worried about what was taking so long. But soon enough, a nurse came to get us and we made our way into the operating room. We were beside ourselves that you were about to be here in our arms!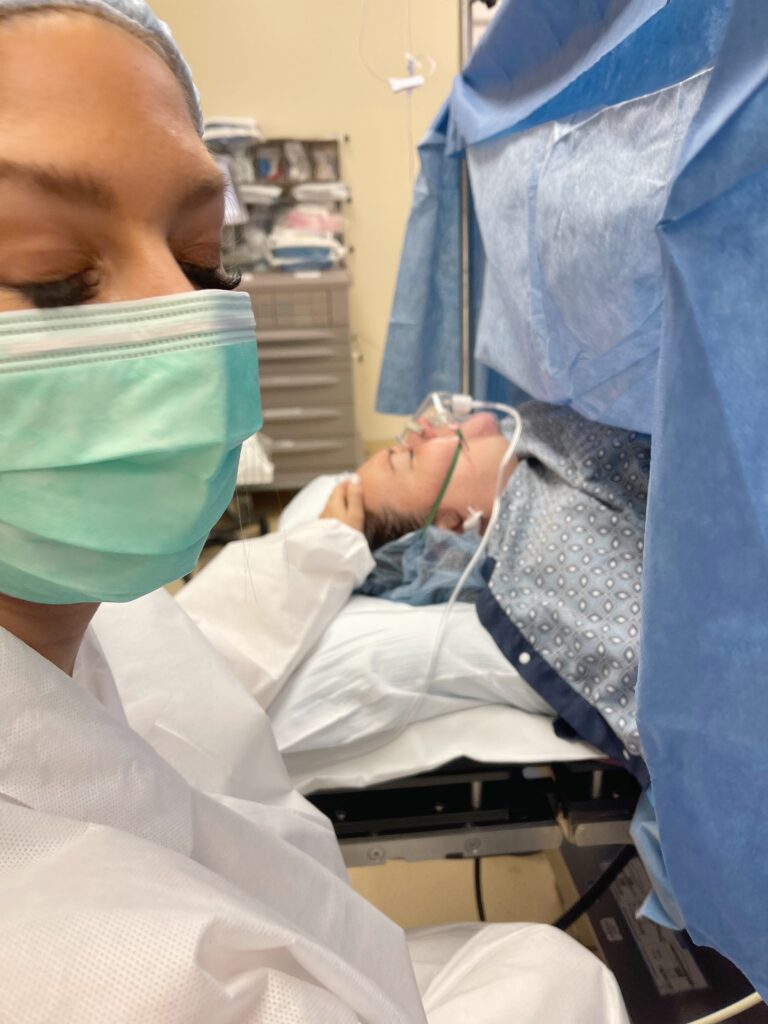 When we entered the room, Amanda was lying down on the operating table and the doctor was ready to get started. We sat down at Amanda's head. I placed one hand on her head, stroking her hair and the other held her hand. Your Dad was right beside me. There was a giant tarp up so that we couldn't see her belly or the doctor who would be operating. Amanda was in a lot of pain still and it made your Dad and I very upset. We began to ask the nurses and anesthesiologist why she was hurting so bad. Your Mom began to get more upset and demanded something be done. I was becoming a mama lion for sure! Soon, they had Amanda fully asleep and they were beginning the procedure. It was the most surreal moment. We were SO dang excited to meet you, bud!
It felt like an eternity waiting, but in reality it had only been a few minutes since we entered the operating room. And now it was all about to begin. It was happening! We heard the doctor working to get you out. We weren't able to visually see anything but heard a lot of commotion – including, "more suction", "he's flipped" and then "happy birthday, Van." I think our hearts did somersaults when we heard those three words!
It was only seconds after the happy birthday cheer that we first saw you emerge from behind the tarp. We saw you for the first time. First of all, we will never forget the moment we first saw you. It was the most intense feeling of love we've ever felt. It was mesmerizing! In the matter of a split second of seeing you for the very first time, we also realized something wasn't quite right.
You weren't moving. You weren't crying. You were blue. We could feel the intensity in the room and knew that there was a need to get you to breathe. We sat there beside Amanda. I was still holding her hand and your Dad and I started to cry. We began to shake uncontrollably. We held each other and talked to God. We encouraged one another that God was going to take care of you. That He was with us and that everything was going to be okay.
We never knew our bodies could react to anything so intensely. We held our breaths for what felt like a lifetime. We watched as they placed a mask over your face. They were putting a tube down your throat. What felt like a lifetime was truly between 45-60 seconds. And then we heard you cry for the first time. The tears just poured out of our eyes. Our bodies finally let in air. We knew you were alive and you were here. We stared across the room at you. We examined every bit of you from afar. Praising God that you were breathing!
You were born on Sunday, November 7th at 12:52 AM.
You weighed 9 pounds, 5 ounces and were 22 inches long.
You were perfect.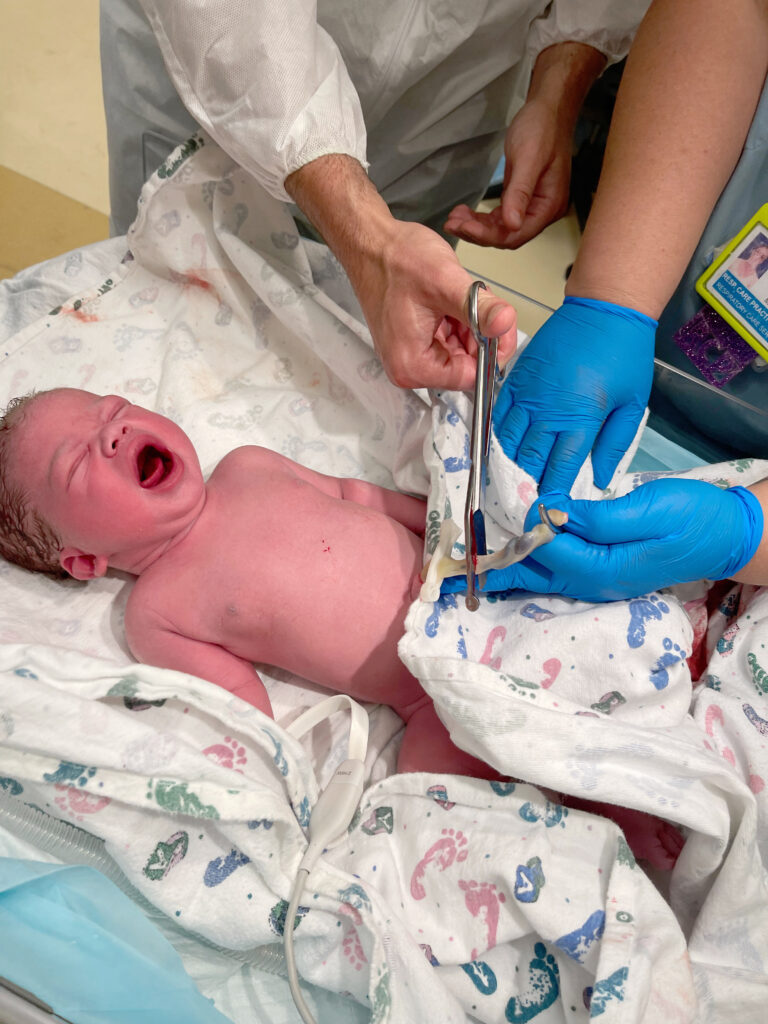 The nurses came over to scoop us up and brought us over to you. You were on a table with the NICU team surrounding you. They had a tube in your throat to suck out all the meconium from your lungs – you aspirated A LOT of it. The next few minutes happened so quickly and parts are still a blur. A nurse rushed me over and held my arms up with my phone, telling me to take pictures of your Daddy cutting your umbilical cord. I couldn't focus on anything but YOU. I kept staring at you, longing to touch you, trying to take pictures of your Dad. I managed to get the shots by the grace of God! Before I knew it, the NICU nurses were motioning for me to take you from them. It was as if I was on a cloud. I vividly remember the moment I saw them hand you over to me. The exact second I felt you in my arms. From that very moment, I have never loved anything more. Your Dad came over to us and we took our very first family picture. Thank goodness for the team of nurses who made sure we had all these moments forever. The tears were streaming and the joy was beyond anything we ever knew possible. We will never forget that moment. In that very operating room, God's story for our family was so clear. He brought it all to fruition. Our hearts were crying with joy and gratitude.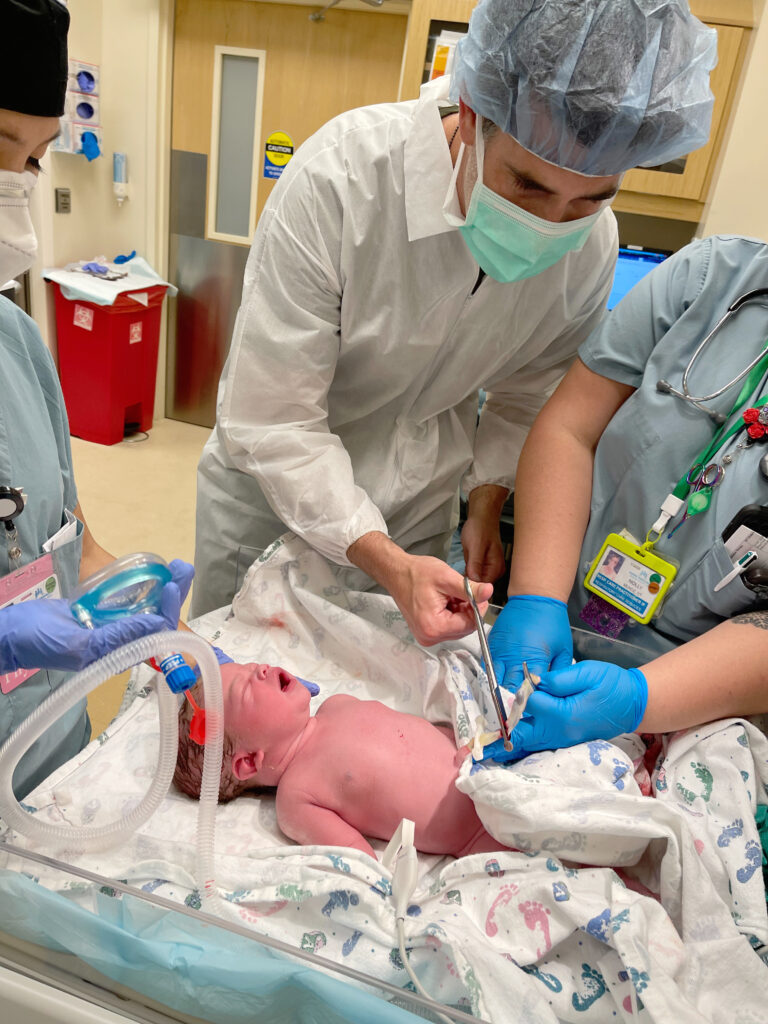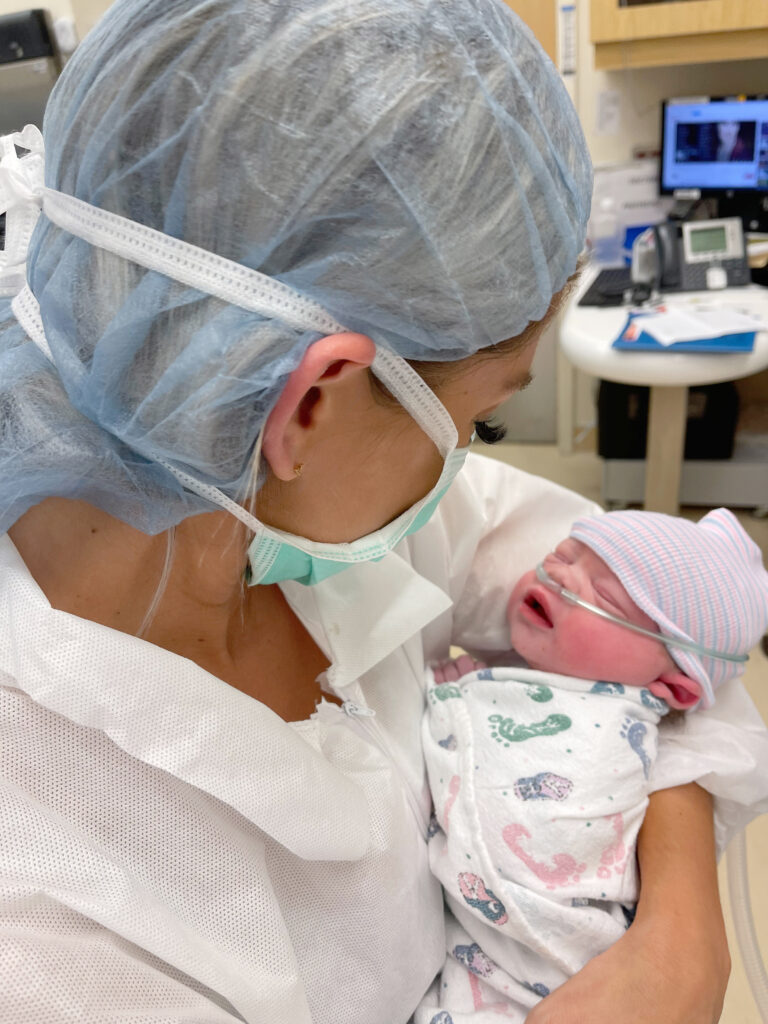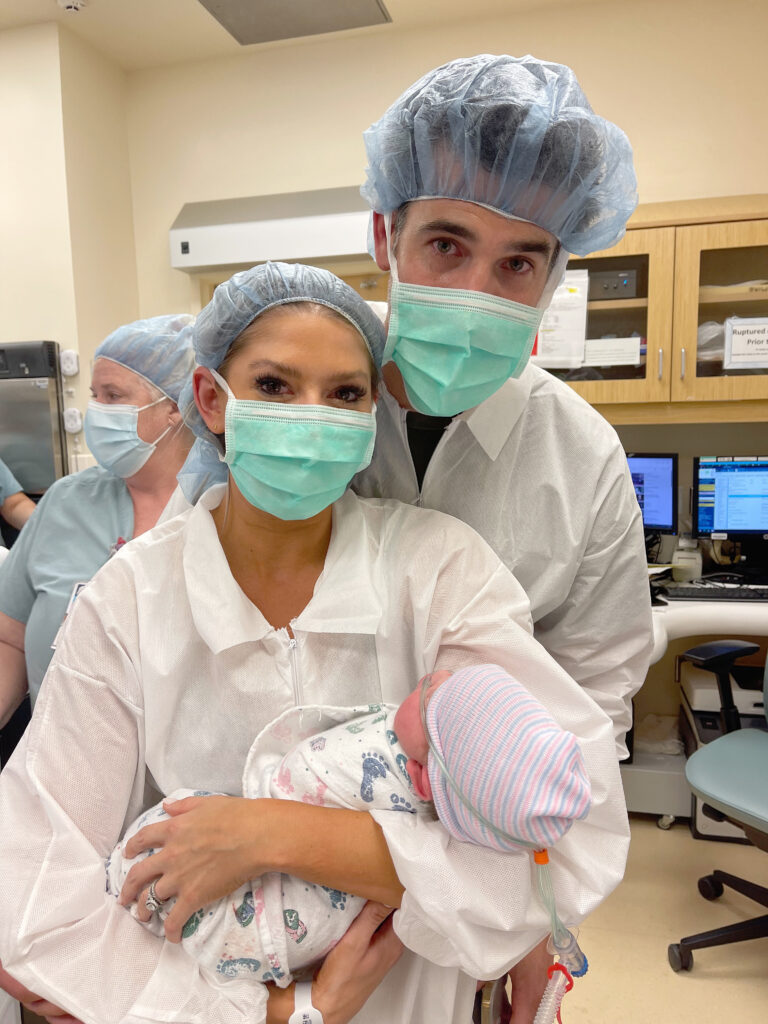 It was only a minute that we were able to hold you before they scooped you back up and placed you in the NICU incubator. I didn't want to let you go but knew you were going to get better once you got there with the doctors and nurses. We knew we needed to get moving. The nurses were so sweet and got us all ready to leave the room. But, your Mom didn't want to leave your belly buddy. They were still operating on her to close her up and get her to recovery. But she had lost a lot of blood and we were so worried about her. I didn't want to leave her alone. I remember the nurses telling us that we needed to go with you but I also knew that I didn't want to leave Amanda. They practically had to shove me out of the room. They continued to reassure me that she was in good hands and they would get her mom from the lobby as soon as she was in recovery. I finally managed to make my way out of the operating room with you, your Dad and a team of nurses. We made our way to the NICU. We knew that we needed to get you there and get a full workup started to see what was going on with you. To make sure you were okay. So we were on our way.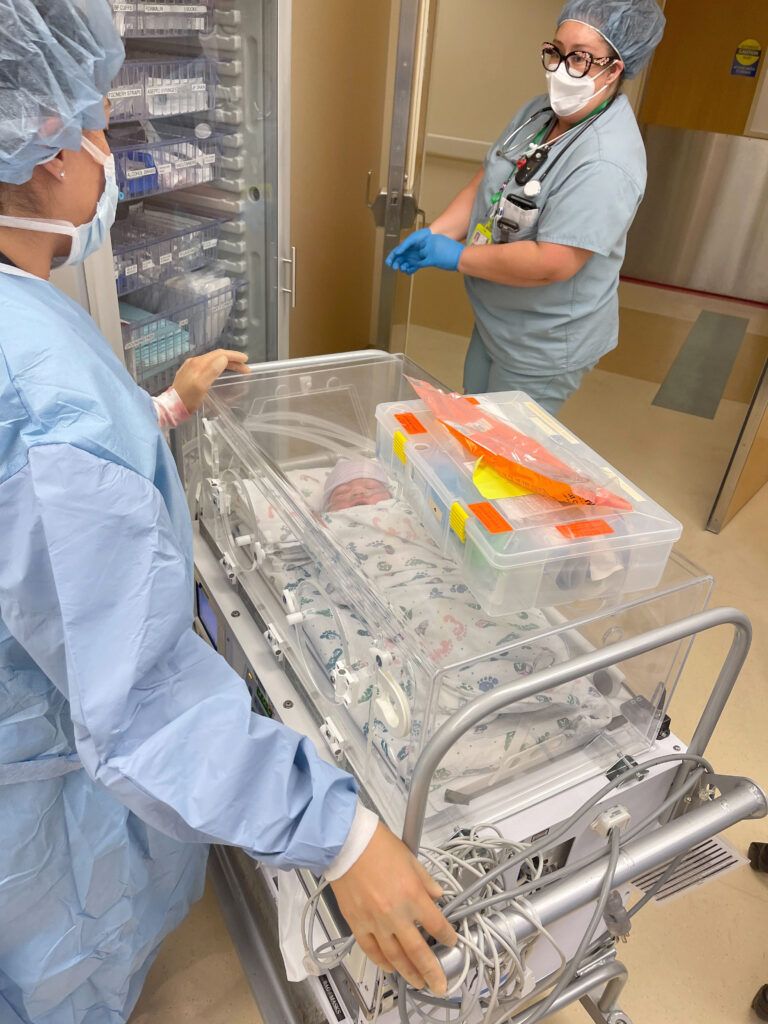 Your NICU Stay
As we walked through the halls of the hospital, we watched your curious little eyes look all around. You were SO alert! Even though the walk wasn't that long, we remember that moment being much longer. Finally getting to walk with you and talk to you… it felt like a beautiful dream. We were just SO happy.
The walk from the operating room to the NICU wing wasn't that far. As soon as we got there, you were whisked into your room and surrounded by a team of doctors and nurses. We were standing on the other side of the glass window and soon became overwhelmed with all the hustle and bustle inside your room. It was scary to watch as they examined and poked you. We tried to listen to hear what was being done and said regarding your status and health. It wasn't long before your Mom started to fall apart. I was so worried about you and needed someone to talk to us – to give us some kind of update on what was going on. I know they were so busy getting you admitted but man, oh man! My mama heart needed to know how you were.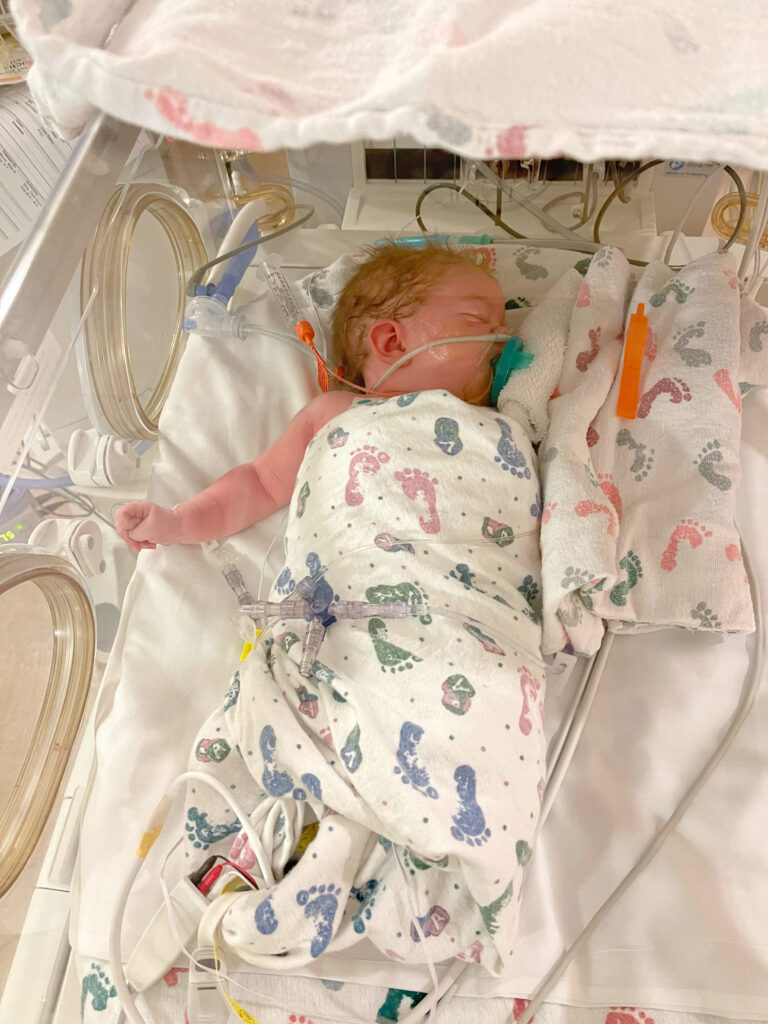 The doctor came out to the hallway to talk with us very briefly. She informed us that your lung function wasn't where it needed to be but you WERE breathing on your own. Which was so important. Thank God! You did need some assisted breathing so they had a little breathing tube in your nose. It was taped to your sweet, little, red face. The doctor also said that your sugar levels were low, so they had you on IV fluids as well.
By this time, it was around 1:30 in the morning. They told us the rest of the night you would be monitored and that we could come back tomorrow. TOMORROW?! We hadn't even been in to see you yet! We also had all of our bags with us and weren't sure where to put them. When we spoke with the hospital about our birth plan in the weeks and months leading up to your birth, they had told us that if there were available rooms the day you were born, we would have our own room with you on the postpartum floor. So at this point, we assumed someone would be taking us to one soon! Well… that was not quite the case because you were in the NICU now. Which meant you weren't going to the postpartum floor. Which meant that there was no room. This is when your emotionally exhausted Mom REALLY fell apart. My heart was breaking because I knew that because I didn't deliver you, I was also not a patient along with you. Which definitely cued my emotions to really go into overdrive. It wasn't fair that we wouldn't be able to stay near you like all the other moms would if it was their baby they just delivered. Safe to say that there were a TON of tears standing there in the NICU hallway. While I totally understand policies, my heart in that moment just couldn't bear it.
We were approached by the sweetest guy named Greg, who was in charge of the NICU floor that night. He came over to see if all was okay. He said he would see what he could do about finding us somewhere to stay. Within 15 minutes, he was back with an open room on the postpartum floor for us. He showed us our room (which would eventually be just several rooms away from your belly buddy's room). The sweetheart even carried our bags over for us. We dropped them off and made our way back to the NICU immediately. We STILL hadn't been alone with you since you were born.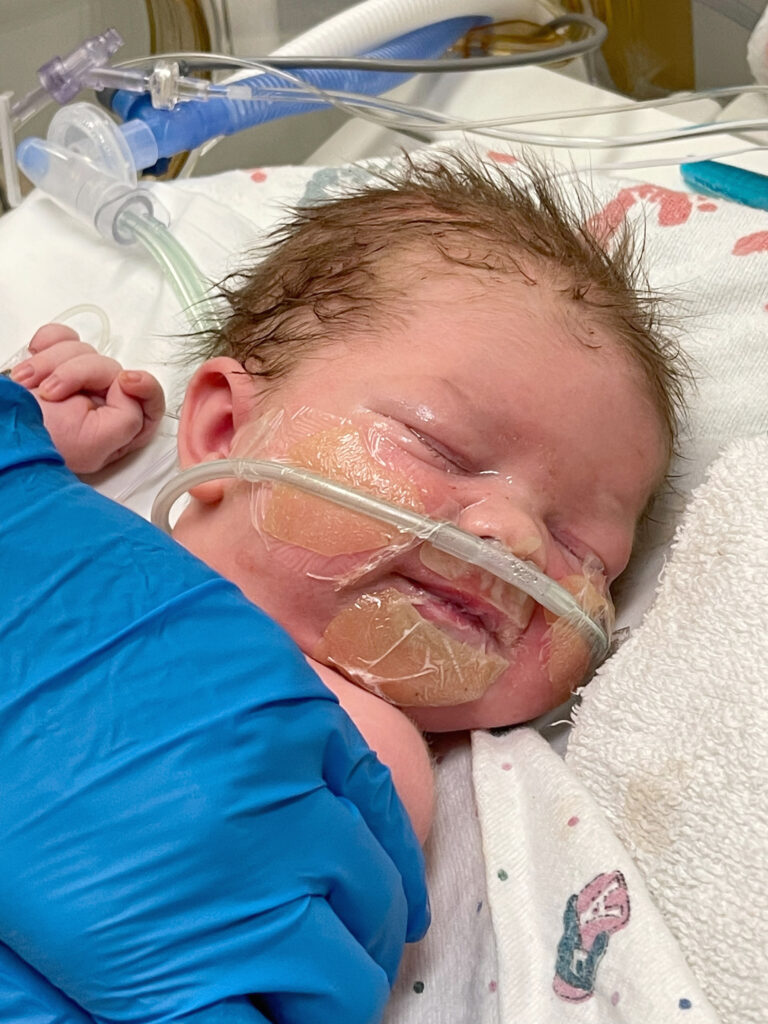 Walking into your NICU room was surreal! We stared at you through the NICU incubator. We were SO mesmerized by you. We couldn't get enough. We talked with you and sat beside you. Nurses filtered in and out. By around 3:30 AM, one of the nurses finally got us to leave and try to get a few hours of sleep. We checked in with Amanda's mom, who had been with Amanda since she got to recovery, and Amanda was doing great! That made us feel so much better as we made our way back to our room. Your Dad and I shared the hospital bed and we just short of passed out. We were exhausted. We were able to get a few good hours of sleep.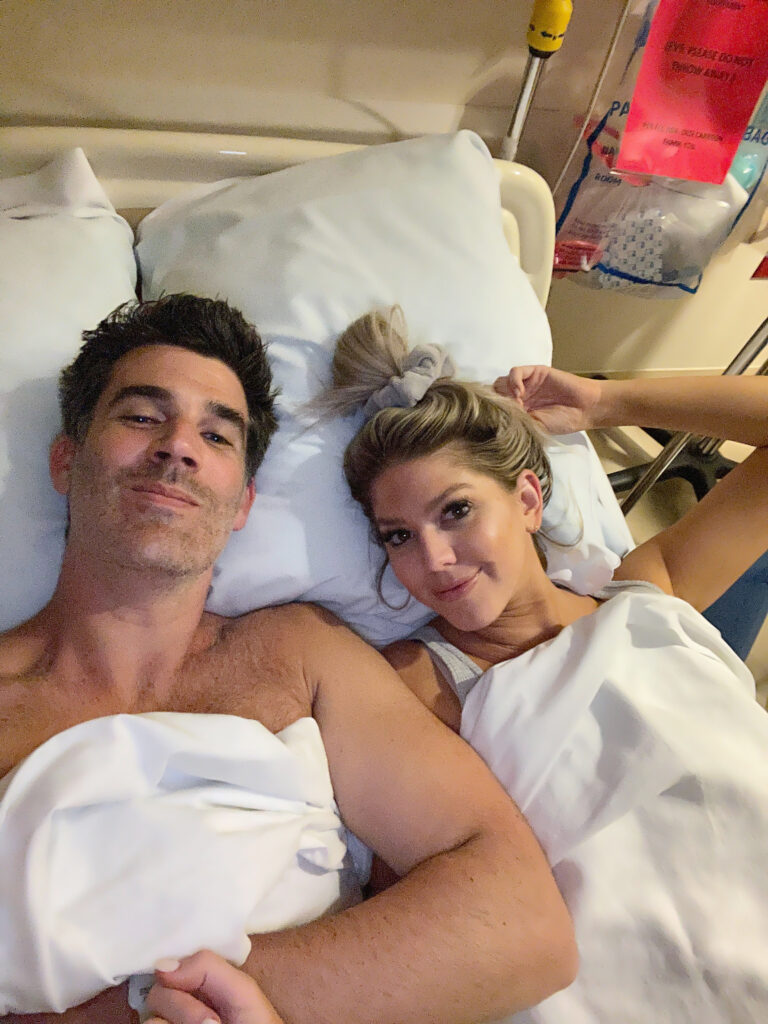 As soon as we woke up, we quickly got dressed and made our way back to see you! We couldn't wait.
**While I'm not going into too much detail regarding this topic, it was an ongoing challenge for us in regards to being acknowledged as Van's parents during our entire time at the hospital. We constantly had to prove and explain that Van was our biological son and why we needed access to the NICU floor, postpartum floor, awkward social worker questioning, etc. It was an emotionally draining thing to go through – especially when all we wanted was to be with you and enjoy your first couple days. The hospital did finally acknowledge this and apologized for our experience. They admitted to not being "prepared for our situation". We did greatly appreciate this acknowledgement!**
Anyway, back to that morning. I was already having major separation anxiety being away from you for just a few hours. When we got to the NICU, we got great news that your breathing had improved and you no longer required the assisted breathing tube. Yay! It was so nice to see you without all that tape on your face. You were just the cutest little thing! Your sugar levels were still low so the IV fluids needed to continue. We were finally able to see you and hold you out of the incubator box. We were in heaven!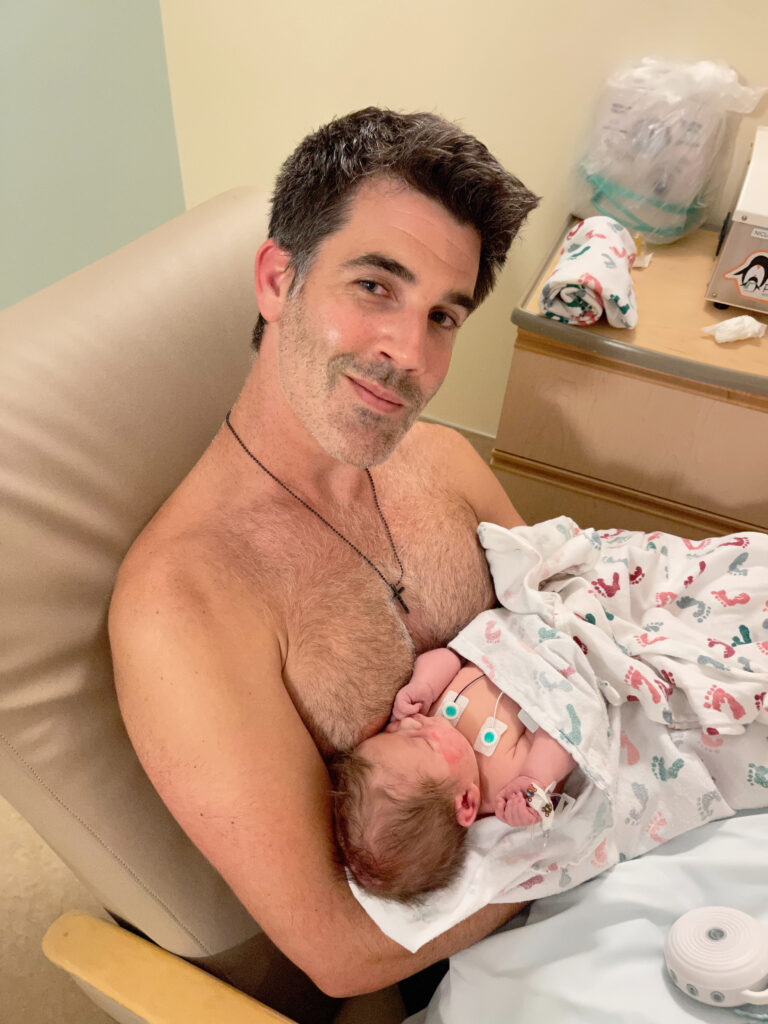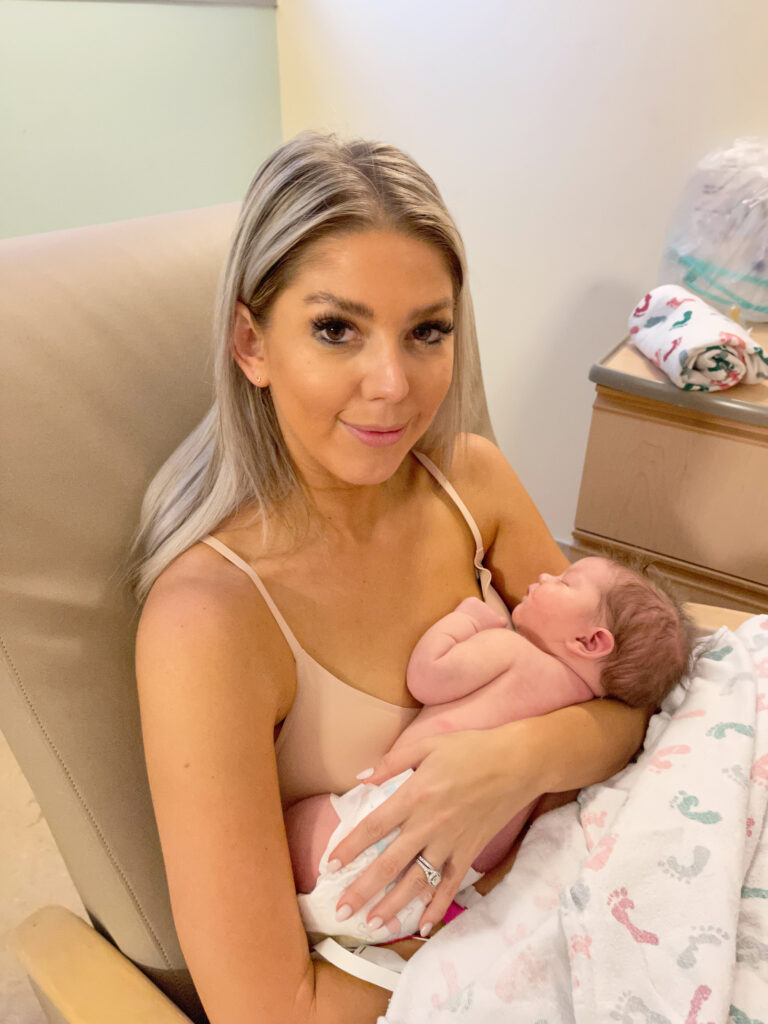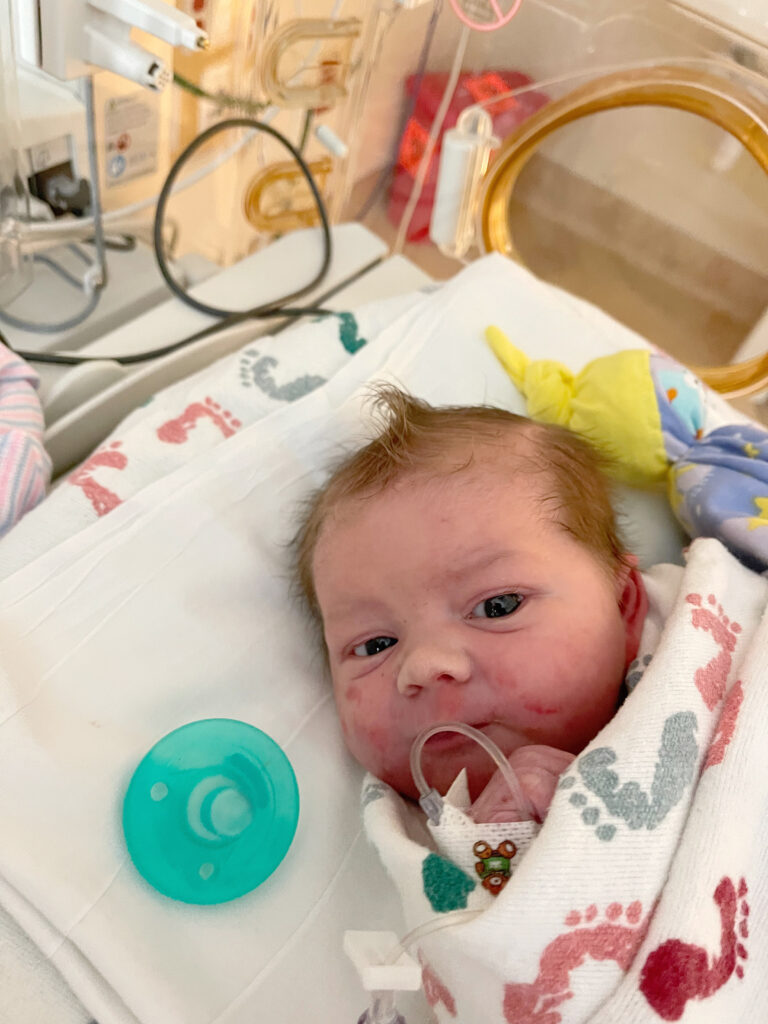 The rest of the day consisted of visiting you and Amanda, on and off. She was having some pain around her incision sight and they were monitoring her iron levels closely, since she had lost a lot of blood during the c-section. She was nothing but smiles though as we showed her all your photos and videos! She was over the moon that you were finally here and that we were a family! She is our angel on Earth. You're going to love her so much!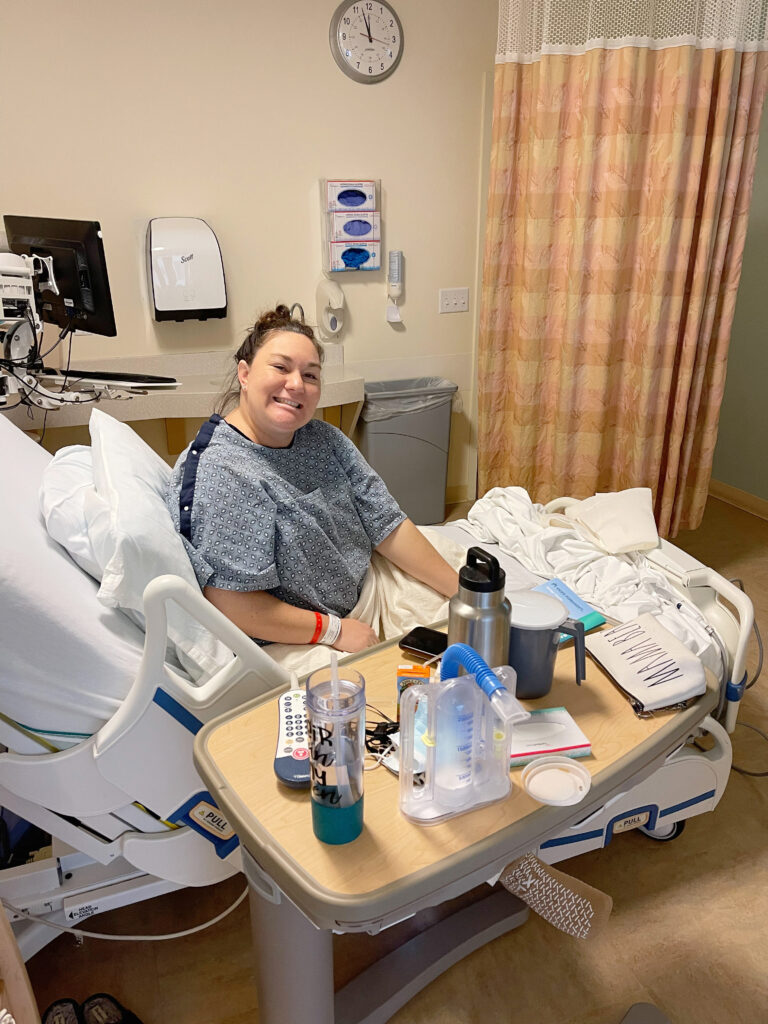 We spent one more night at the hospital and the following day (Monday) was your discharge day! Your sugar levels looked good the day before so you were no longer on an IV. The doctors and nurses began to prep you to go home! You passed your hearing test and went in for your circumcision procedure while your Dad and I went through some educational things with our NICU nurse. She was so sweet. She loved spending time with us because she said we reminded her of her kids and now she felt like we were her kids too. So sweet!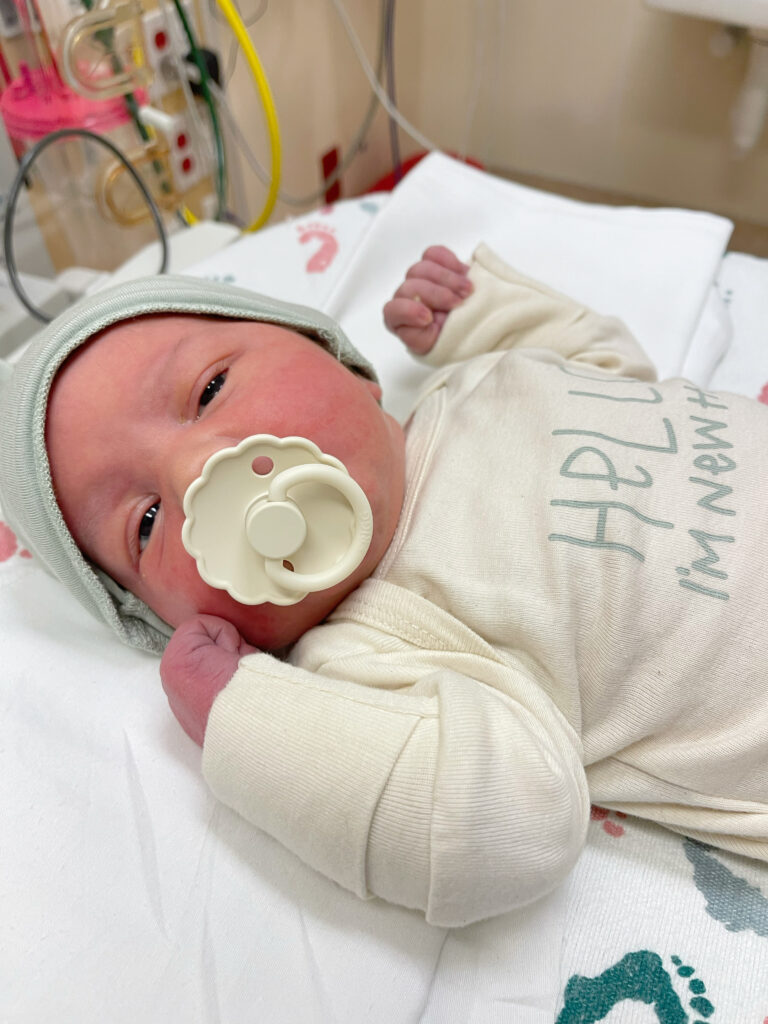 Meeting your Belly Buddy
By about 6:00 PM, we were finally ready to roll! But first, we had the most important stop to make. You needed to meet Amanda! Due to you being in the NICU and Amanda being sick, she was unable to come in to see you. We tried to find different ways to bring you to her (meeting in an empty room, outside, etc) but they weren't having it any way. After sweet talking the staff, they finally agreed to let us bring you to her. It took some hardcore pleading and some tears by me (normally they only let you go from the NICU to the car), but we weren't leaving the hospital until you and your belly buddy had a chance to meet! They said due to the need for the nurse to get back to the NICU, we would only have about five minutes. We weren't overjoyed at this BUT it was the best they would give us. So we took it and got you ready to go!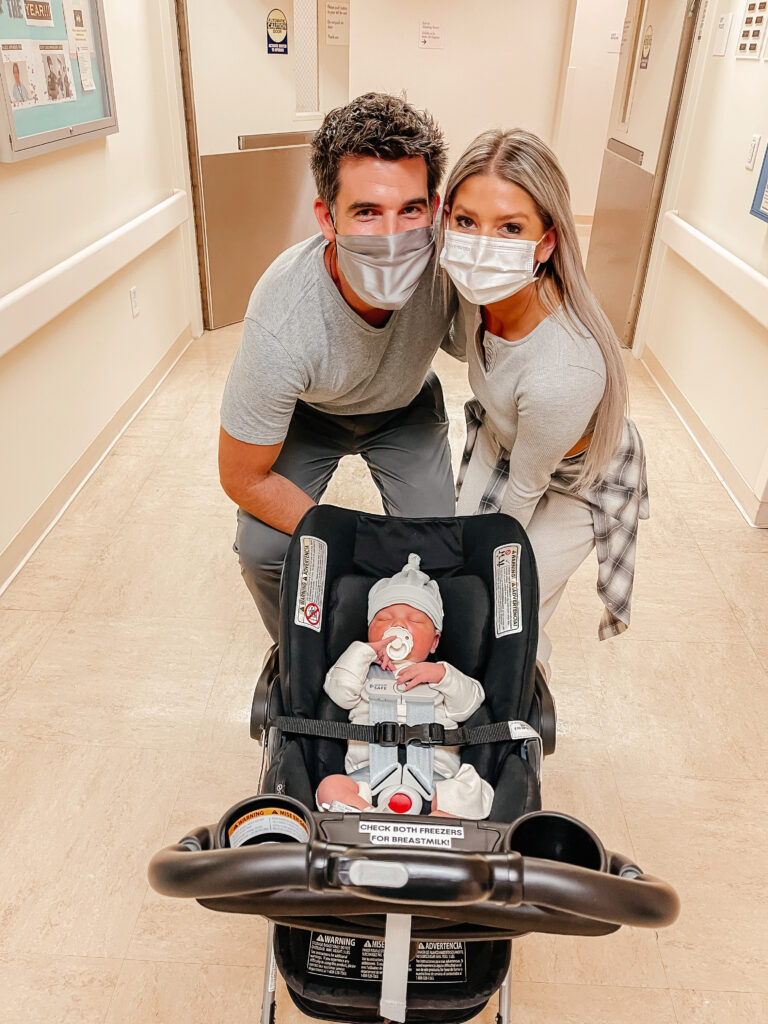 We had the sweetest nurse escort us all up to Amanda's room. As soon as we walked you into your belly buddy's room, we were all filled with such emotion. Your Mom and Dad cried big time in that room as Amanda held you and got to meet you. She definitely cried too. And your Dad even wiped away her tears with a tissue. It was one of the sweetest things I've ever seen him do. I think I fell more in love with him in that moment. It was such a special moment for all of us! I wish there were words to truly describe it to its fullest, but there just aren't. God was in that room with all of us. He was the reason we were. The gratitude and love was off the charts for all of us. You are just so dang loved, Van!
The nurse was so kind and let us stay in her room for over a half hour before it was time that we had to say goodbye for a little bit. It was tough to walk out with you but the love we have for Amanda and vice versa can never be described. She's so amazing and we cannot wait for you to see her again soon!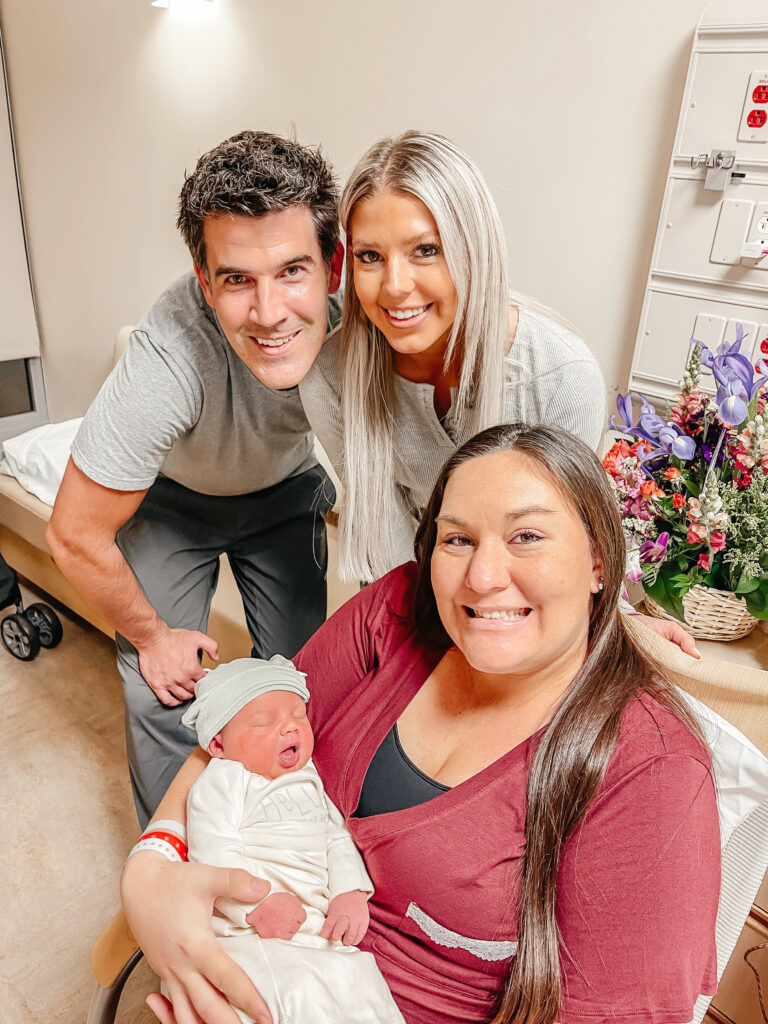 With tear-streamed faces, we made our way to the car.
Leaving the Hospital + Hotel Stay
One of the most surreal moments since you had been born was driving away from the hospital with you. We were actually leaving with our son! Since we were in California (and we live in Arizona), we made our way to our hotel – which was only a short five minute drive (thank goodness). When we got to the hotel, we carried you up and your Dad and I stared at each other in disbelief that we would be spending your first night in the hotel. But, since we we were discharged so late it was the safest option to stay and leave in the morning. No late night driving with our precious cargo!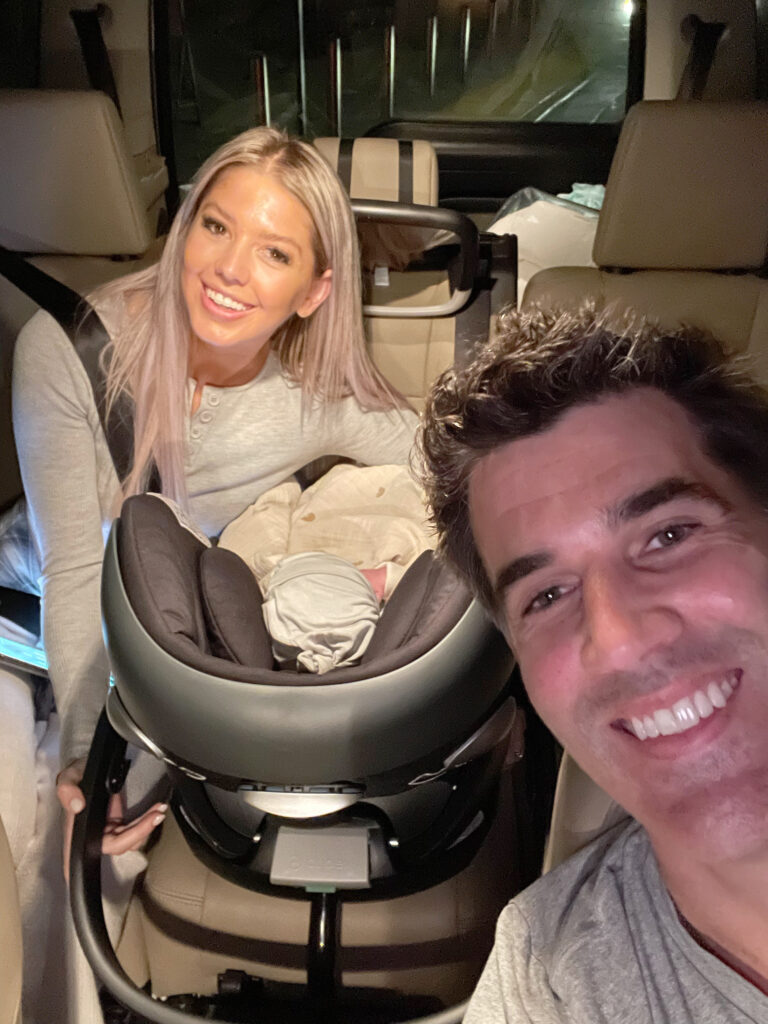 Your Dad loaded up the car so it was ready for the next morning and we put your portable bassinet together and placed it next to my side of the bed. Your Mom didn't want to take her eyes off you! We ordered some dinner and tried to get settled down and asleep.
I think we managed to each get one hour of sleep that night. I slept with my hand on your chest and felt you breathe all night. Your Dad was up most of the night too. We soaked up every bit of you that first night.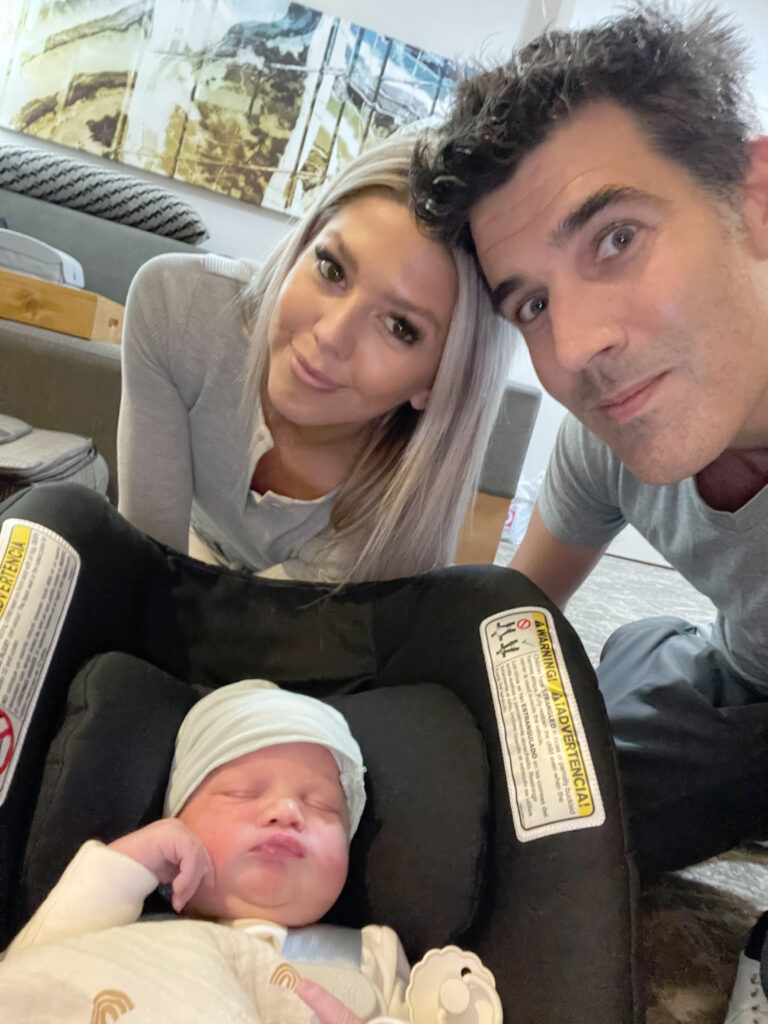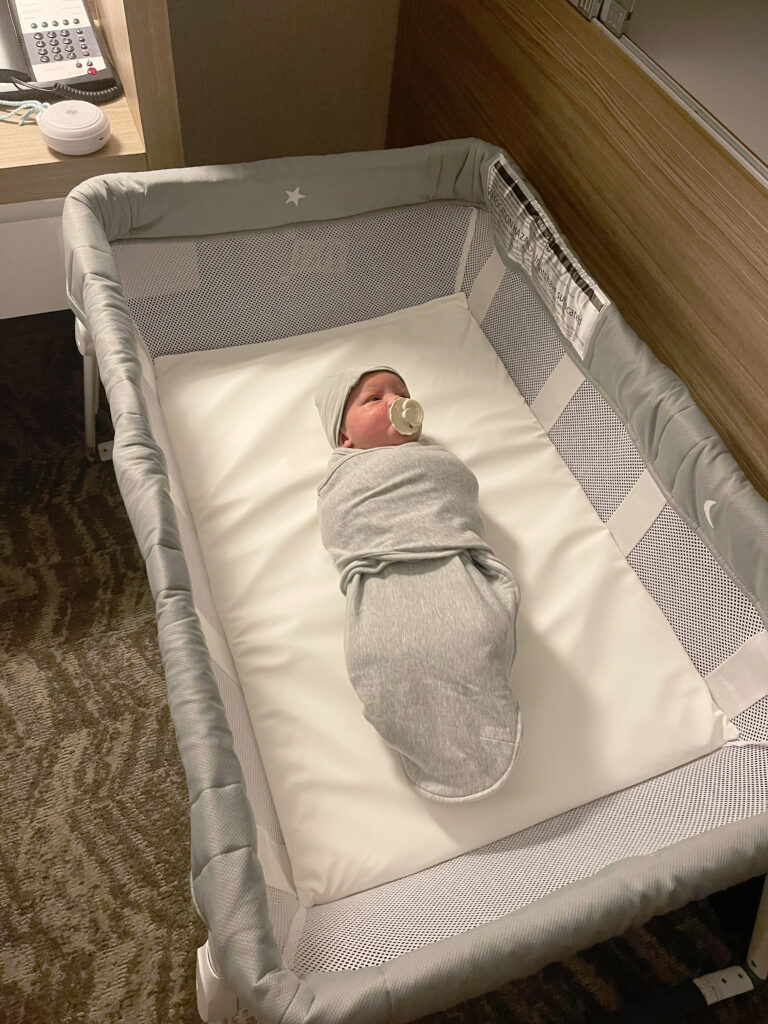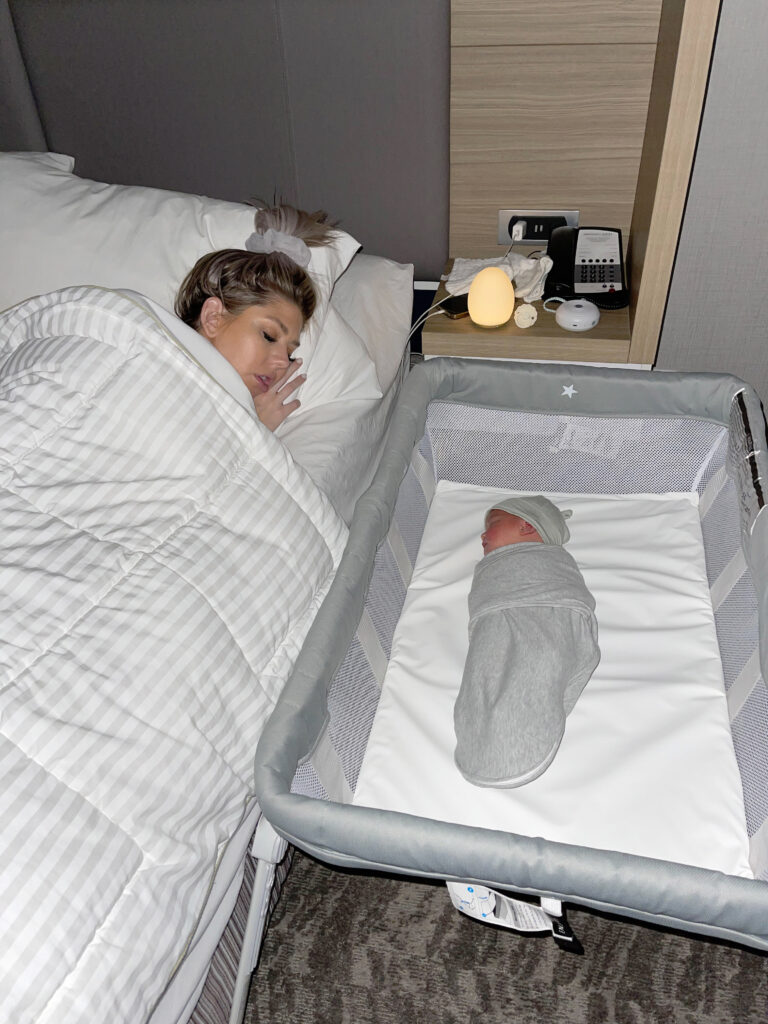 Welcome Home!
The next morning we were up, dressed and loaded up to start our drive home by 5:00 AM. You actually had your first pediatrician appointment that afternoon so we needed to make it back to Arizona in time. I sat in the backseat with you as your Dad drove us home. We stopped two times along the way to change you and feed you. You were such an angel! You slept the entire way home – and I snuck in a little sleep myself (your poor Dad).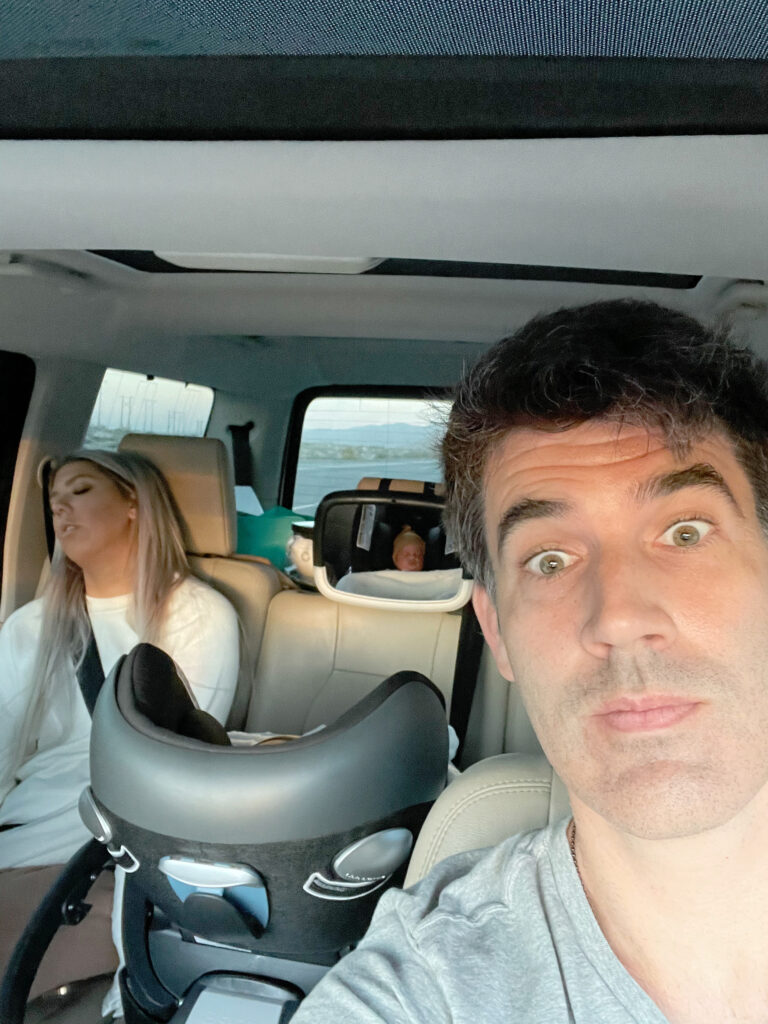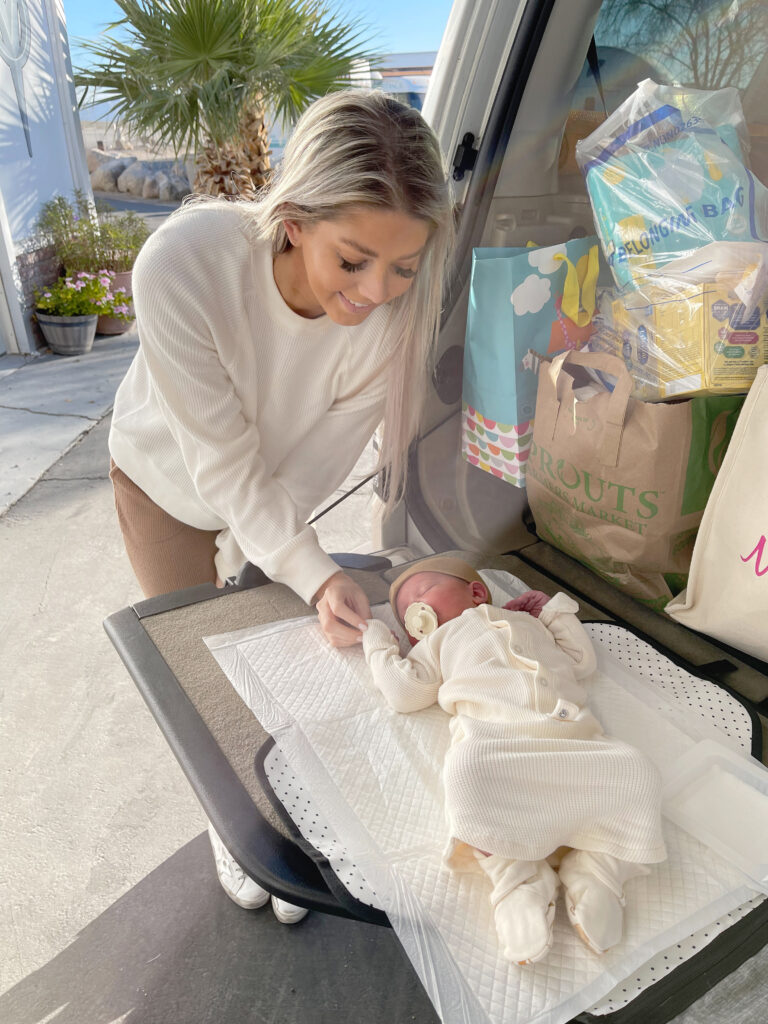 We arrived in Arizona with an hour to spare before your appointment! We couldn't believe we pulled it off. Phew!
Before we went to the doctors, we stopped at home and brought you inside to meet the kitties. Opening the door and bringing you inside our home… YOUR HOME… was one of the happiest moments for your Dad and I. We couldn't believe you were home. We longed for the day to bring you here. And here you are! Asleep next to me as I type your birth story.
The most beautiful story we've ever had the blessing of typing out. A story that took your Dad and I on a five year long journey. A journey to YOU. We love you so much and we are so grateful to God for bringing you safely home.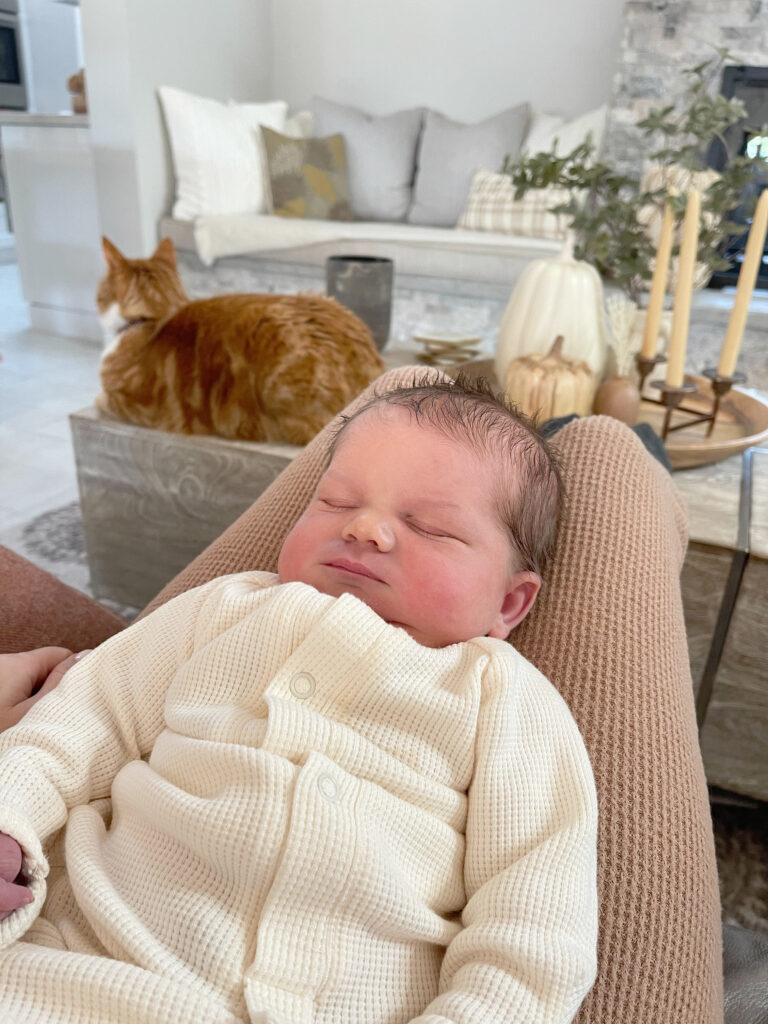 Van Douglas, you are so special. And so very loved. You have our hearts FOREVER and EVER.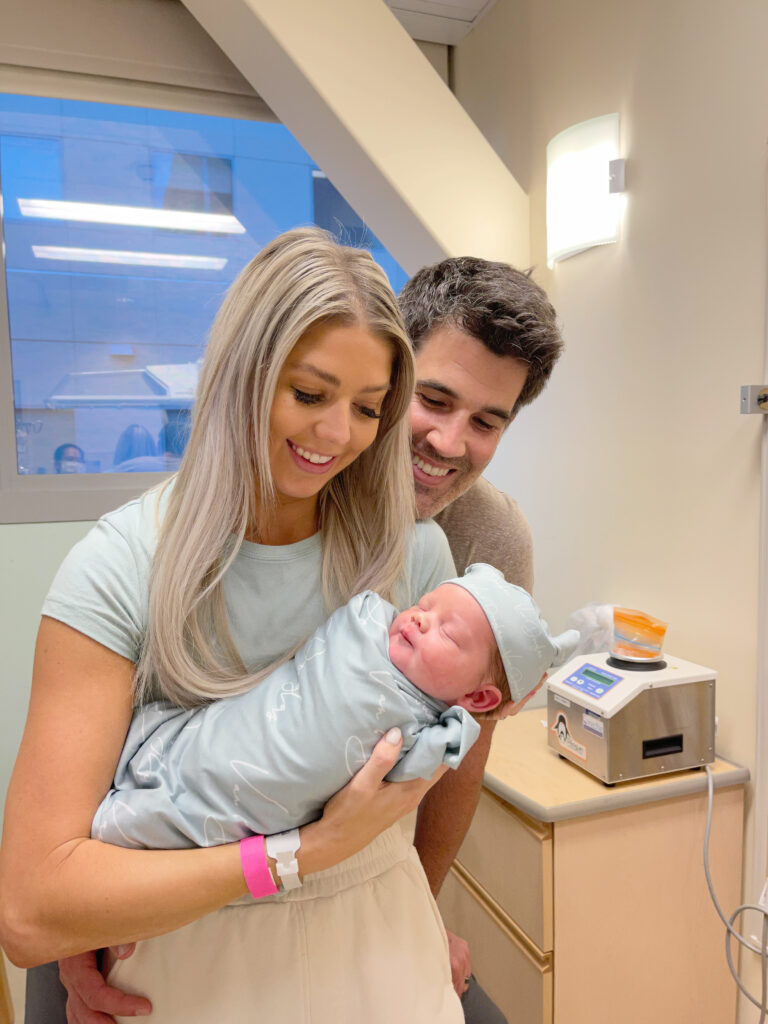 Love, Mom and Dad