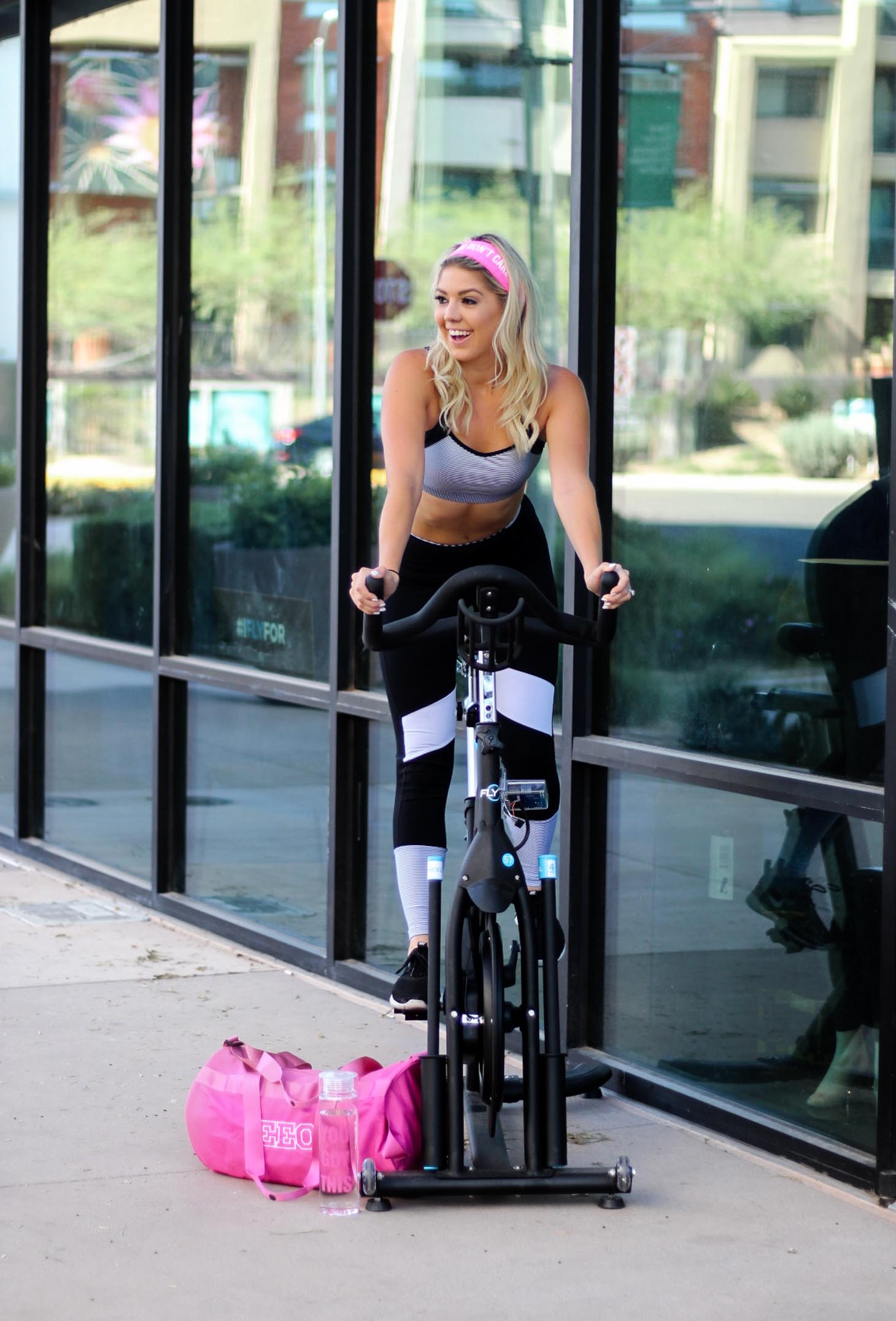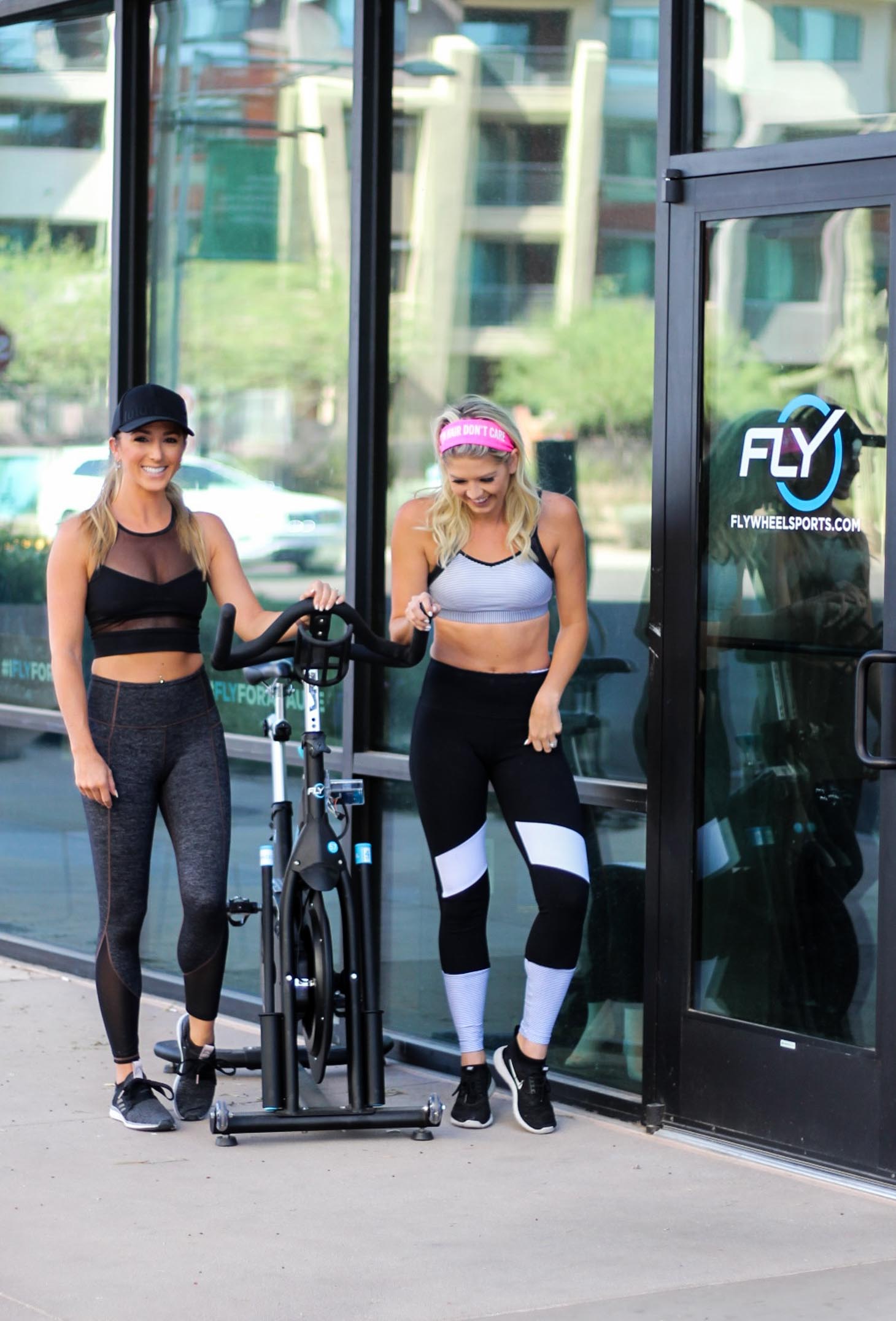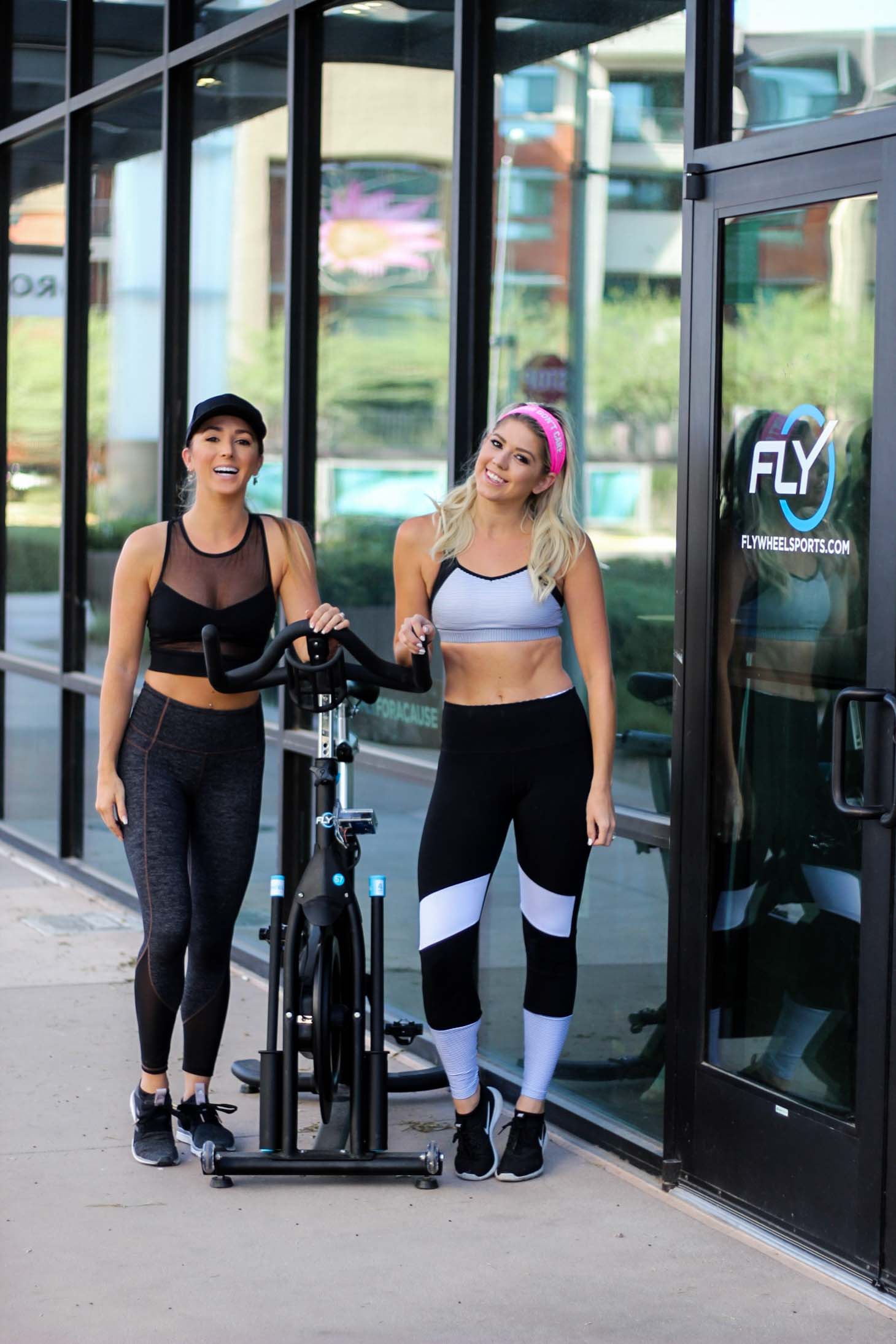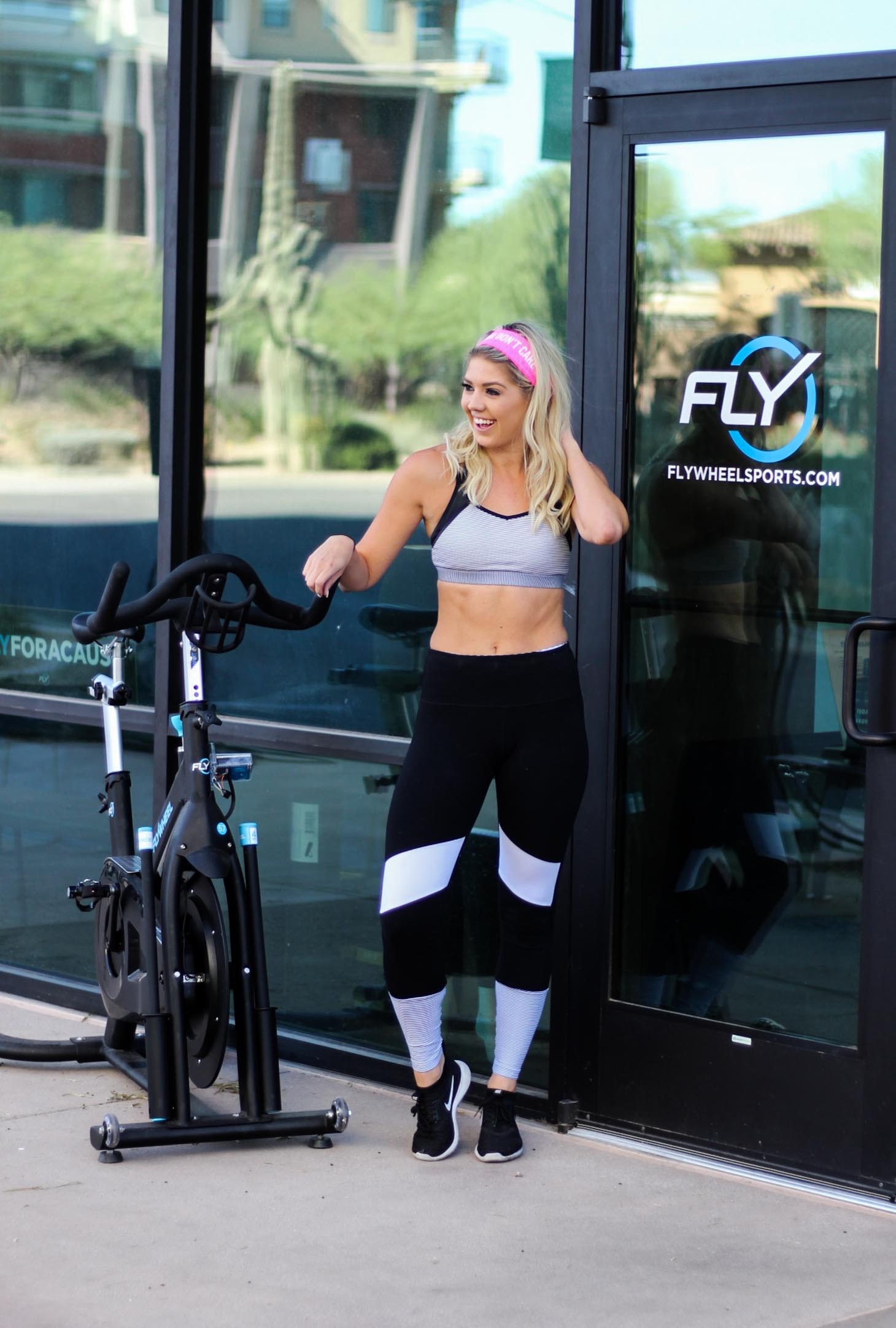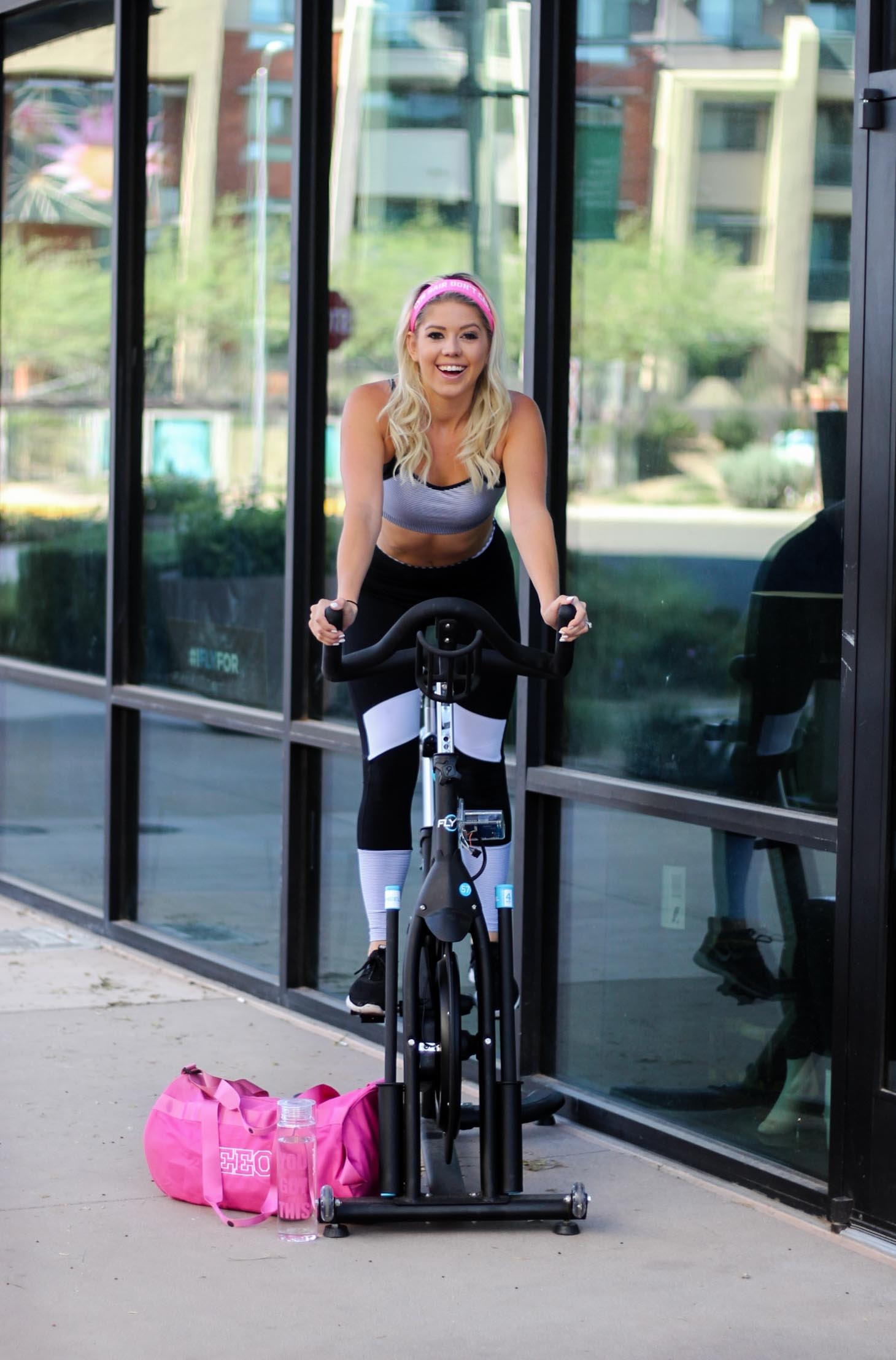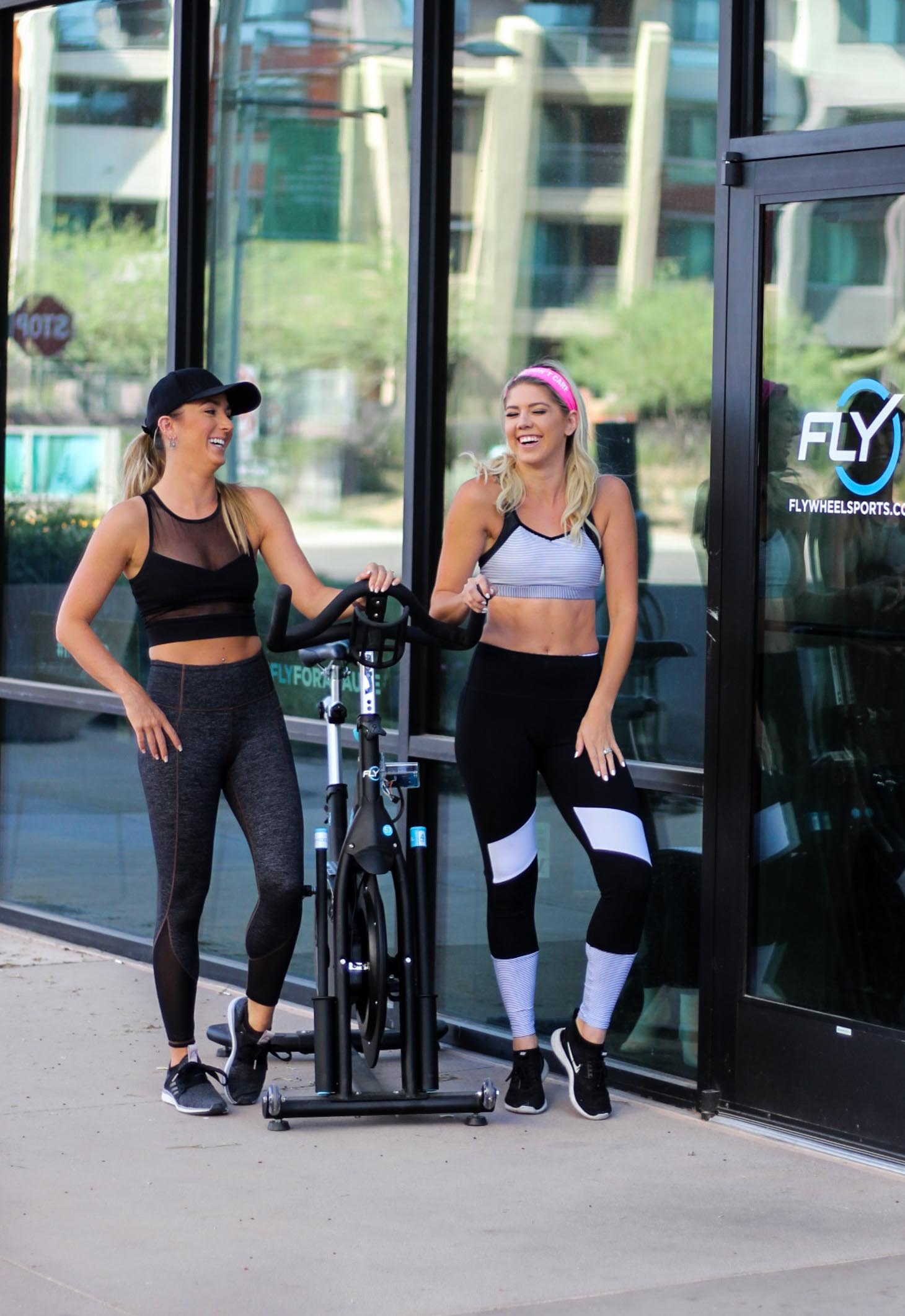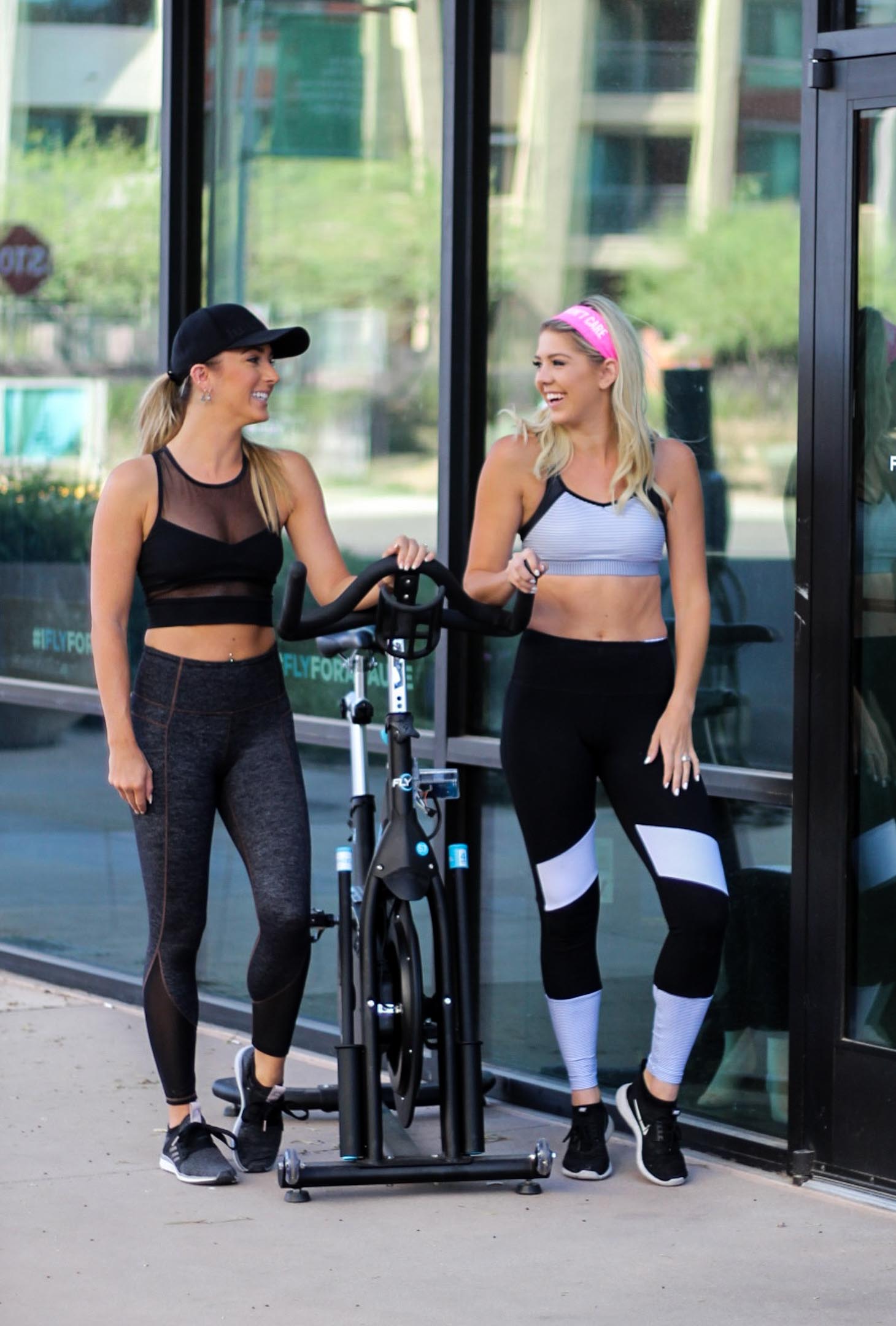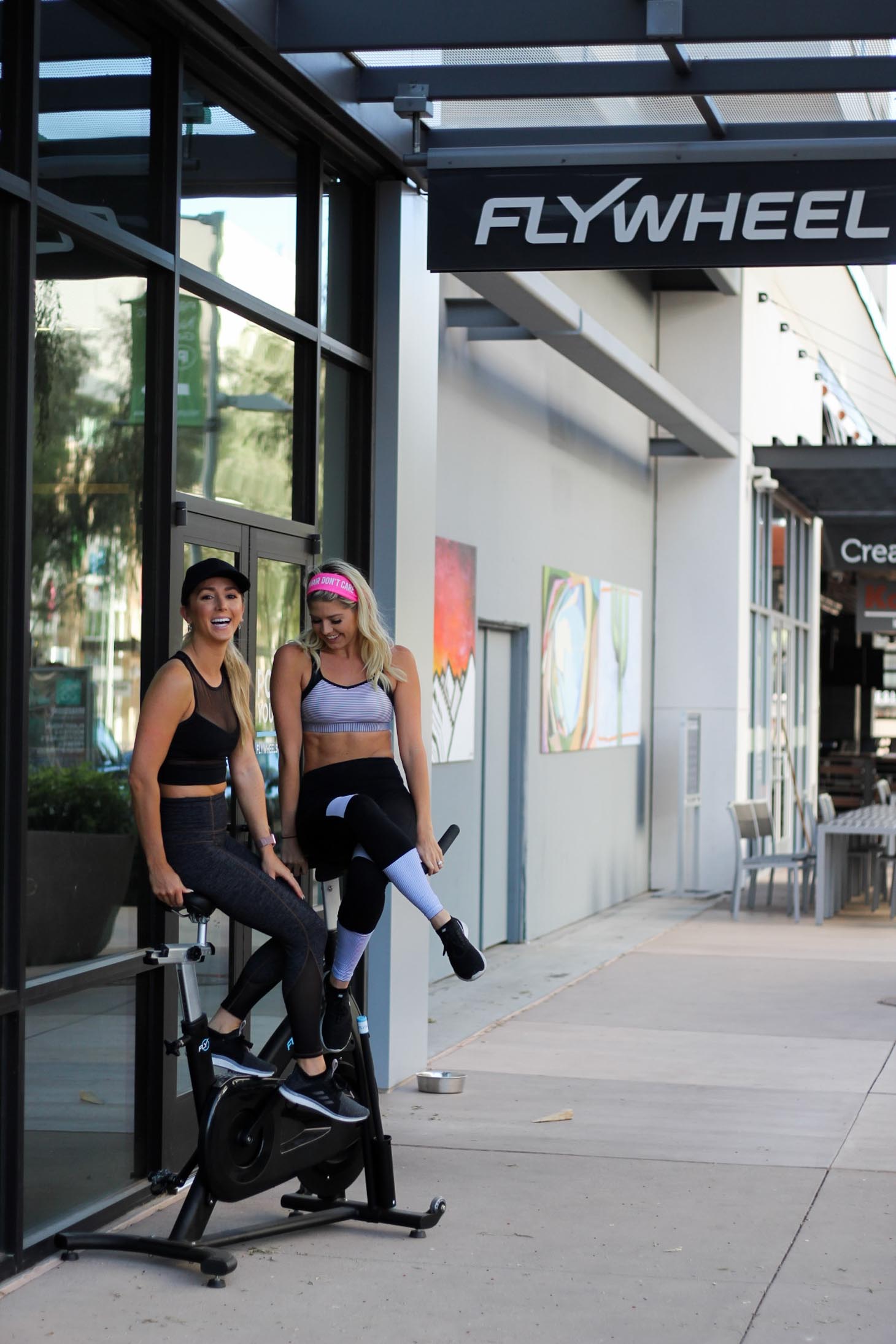 Sports Bra // Leggings // Shoes // Gym Bag, Water Bottle and Sweatband Box c/o Shop I Love Jewelry
Hello, Flywheel! I was on a total cycle high Saturday afternoon after my blogger friend Melissa of Always Meliss and I attended our first Flywheel class at the Scottsdale Quarter. Goooodness, I'm in love! (insert all the heart eyes and bike Emojis)
As you are probably aware by now, I am an avid cycle enthusiast (see my latest post about my at-home cycle workout). However, I've actually never taken a cycle class at a cycle studio! Totally crazy, right?! For a girl that loves to cycle as much as me, this was in desperate need of a change! When Flywheel reached out for us to try their class, I was practically salivating at the mouth. Yes, please!
Melissa and I took the 9:15 class on Saturday morning (we are total morning people if you were wondering). One of my favorite ways to start the weekend is with an intense and sweat-driven workout. I love jumpstarting my day with a boost of energy and confidence! Which is exactly how I left this killer cycle workout.
The Facility and Staff
One thing you probably have learned about me is that I love conveniency. That's what made attending this cycle class so easy. Not only was it nearby (if you live in Scottsdale, it's smack-dab in the middle of town!), but parking was super easy and quick. It's the little things, ya know!?
Upon entering the studio, we were greeted with the cutest and sweetest group of ladies. I instantly felt like I had my own team of cheerleaders shaking their pom pons at me prior to the big game (cue that epic Metallica song. Where are my 90s girls at?!) Not to sound corny at all, but seriously, they were so encouraging! They gave us a quick tour of the studio and set us up with our bike numbers and clip-in shoes.
I loved that the studio provided a space for you to keep your belongings in private locker storage, as well as gave you a place to freshen up and shower off if you choose to after class. The entire studio was clean, organized and running super efficiently. The staff was so present and helpful!
The Studio and Instructor
One of my favorite parts about the facility was the super intense steel-like door at the entrance to the cycle studio. I instantly felt like I was walking into battle! Which is exactly how one wants to feel when they enter a workout, right?! Like a boss!
The studio is formed in a half circle around the instructor's bike platform. The studio is stadium-tiered so that you never feel like you are looking over the person in front of you. I loved that you had adequate distance between you and the people beside you. Another cool feature? My bike was programmed to say my name and allowed me to see my RMP and torque (cadence) digitally throughout my ride.
They also allow you to opt in on the Flywheel app to compete with other riders in class, which is displayed periodically throughout class on the leaderboard screen. You are in charge if you want to compete or not. Hey, if you are there to just ride and have fun, you can just opt out! I love that they don't focus on the leaderboard the entire time, but allow you to check in and see where you are at periodically. Such a great concept! Cycle class should never be discouraging or leave you feeling embarrassed. If you're there, you are a rockstar. End of story!
The Class 
So, the class itself felt like a dance party! I loved that the room was dark and the colored lights took you to another place. Our instructor, Claire, killed it! She did such a great job providing an upbeat and fun environment full of popular dance beats and intense interval training throughout our ride. It was one of the hardest cycles I have ever experienced! In the absolute best way!
I also loved that there was an arm-training portion of the ride where we grabbed our weight bars attached to our bikes and spent some time toning other parts of our body not being fully-equipped during the ride. It burned, but felt amazing afterwards!
The 45 minute class just flew by. I felt so accomplished and successful by the end of it. Like I said, I left on a total workout high. I felt like I could achieve anything that came my way the rest of the day!
My Overall Experience
To say that I am hooked would be an understatement. I think that Flywheel can provide me with the exact cycling experience I have been looking for. Yes, I have my cycle bike at home, but having a place to go to weekly, or multiple times a week, where I can cycle among friends and other cycling enthusiasts and be pushed to my absolute max (if that exists ;), is the exact experience I have been looking for!
Are you interested in trying out Flywheel and live in Scottsdale?! I have a Free First Ride code for you!
Enter FLY-SCOTTSDALE at checkout to get a free ride on the house! 
Workout Gear
In need of some fabulous workout gear for your cycle experience?! You can snag this adorable monogrammed gym bag and fun workout sweatband and water bottle from Shop I Love Jewelry. These items are in their monthly Mono Box for only $22! You can snag yours here!
Thank you to Flywheel for sponsoring this post!
Also, a big thanks to Shop I Love Jewelry for contributing to this post! 
Shop the Post

SaveSave
SaveSave
SaveSave
SaveSave
SaveSave