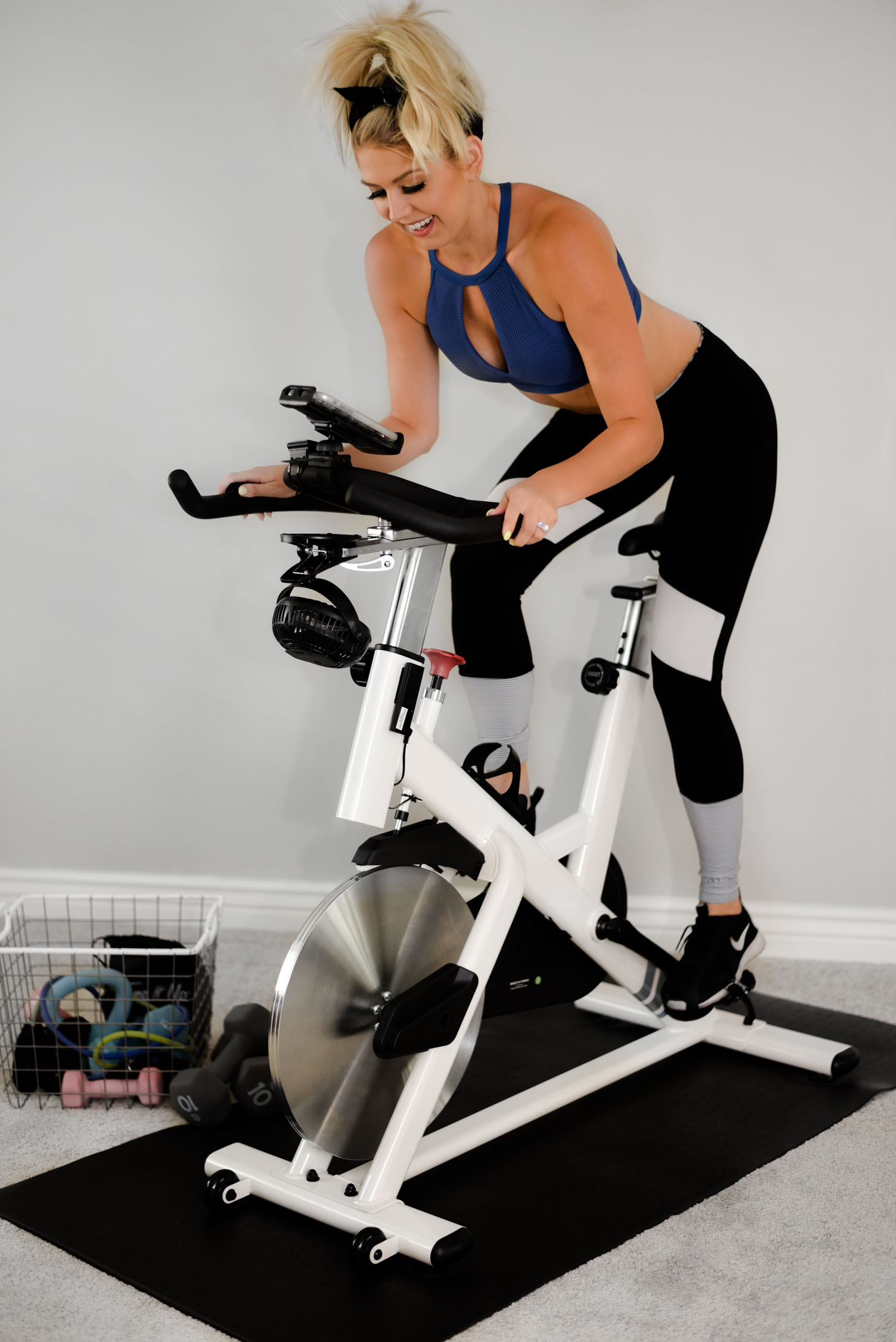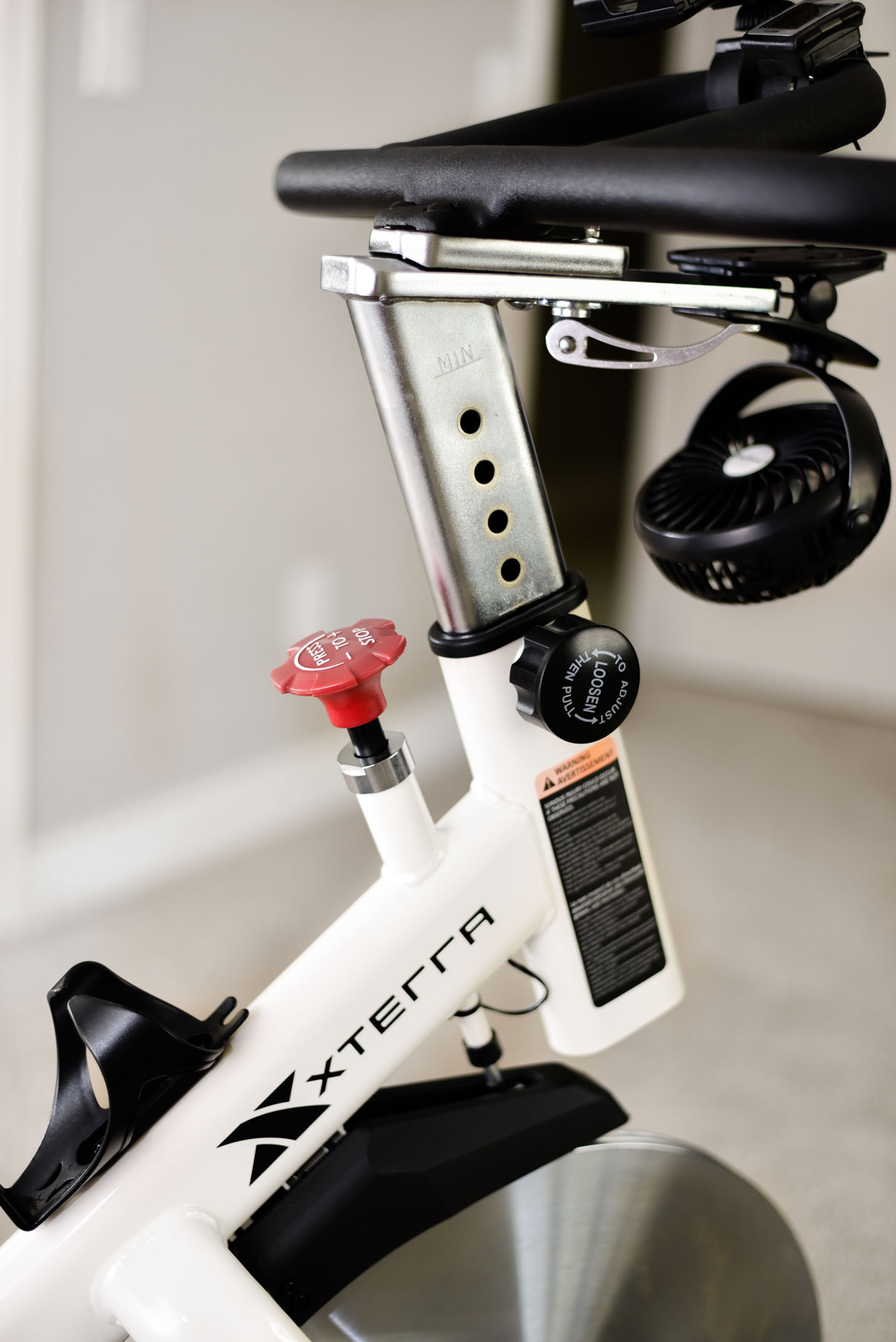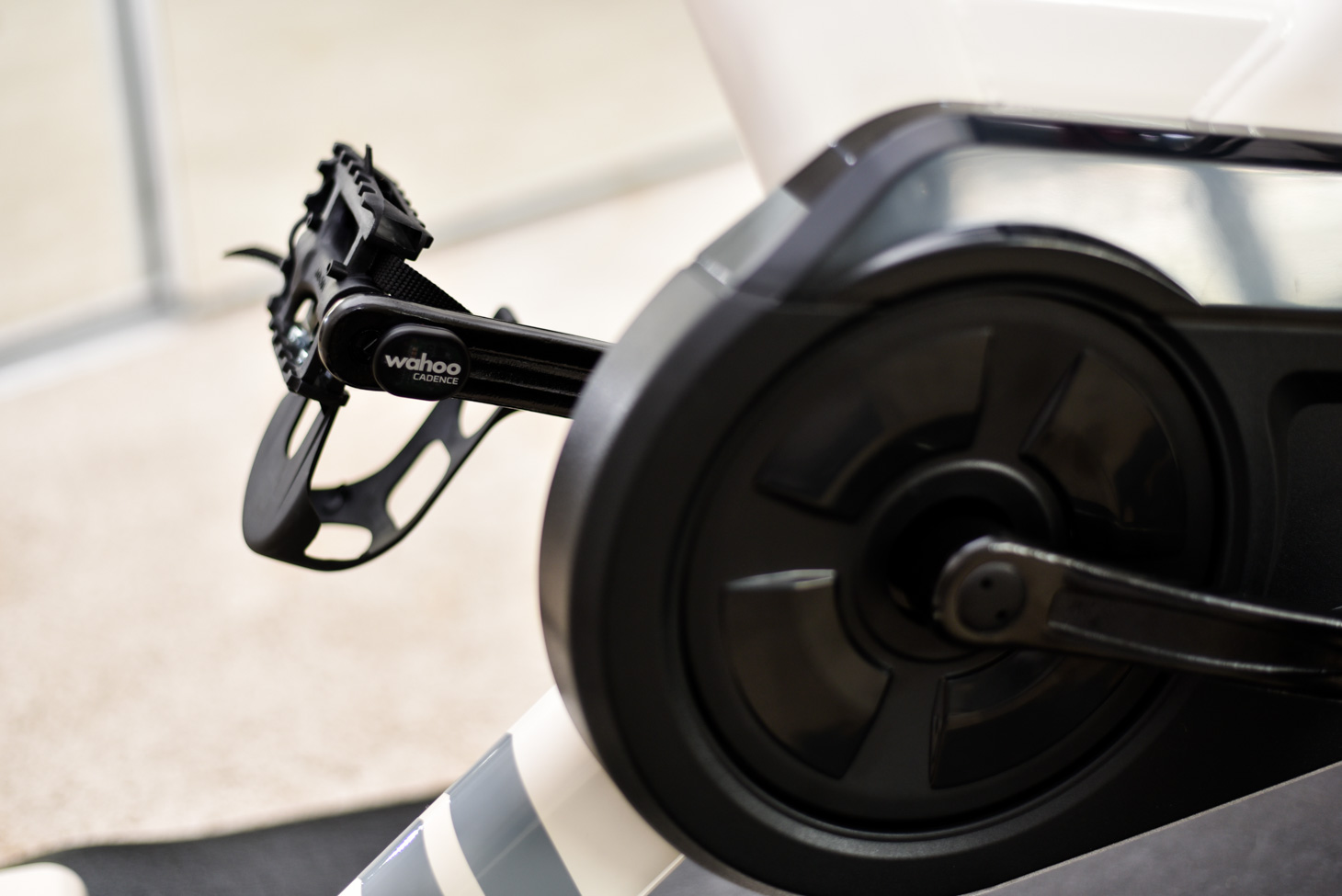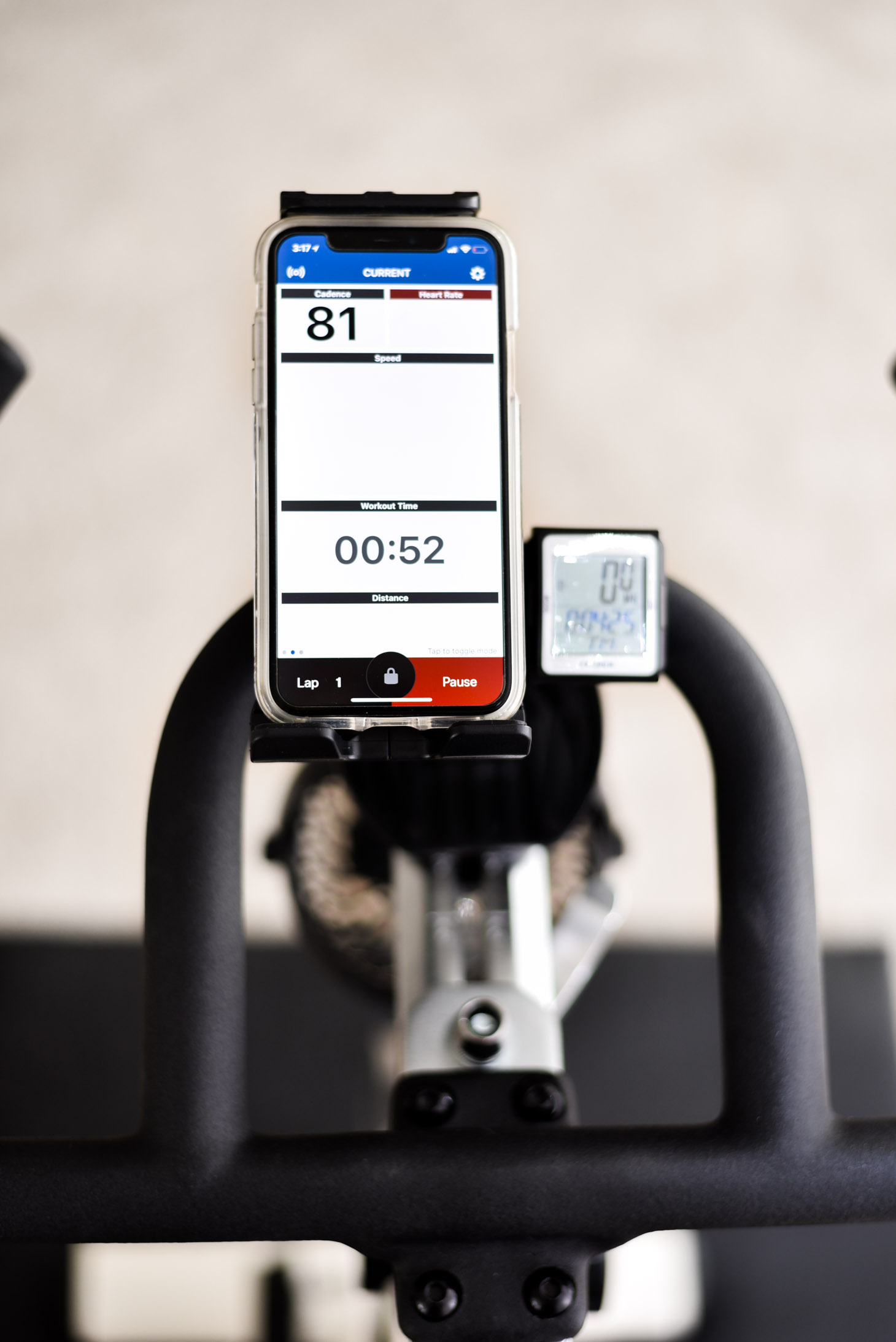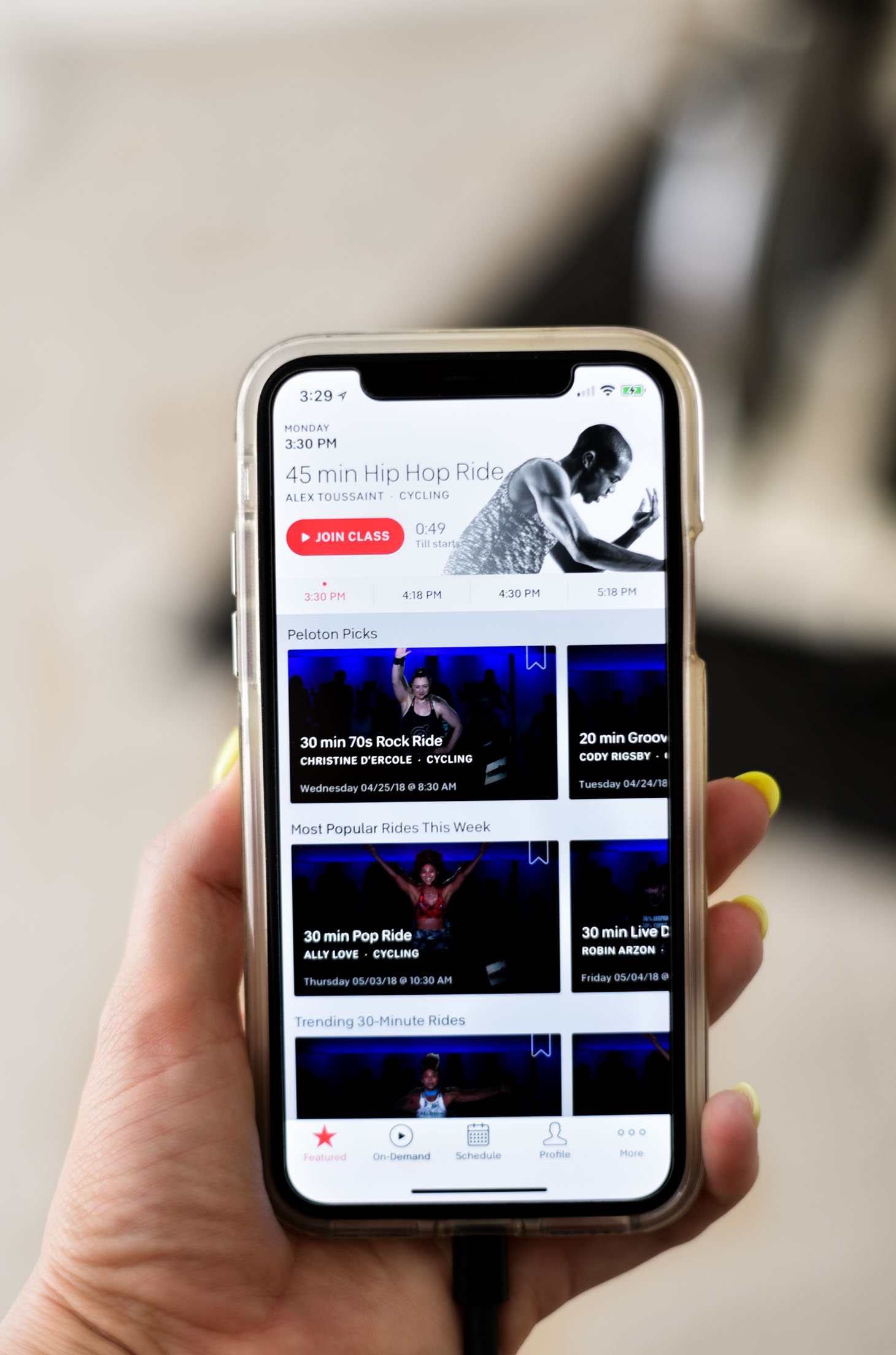 Top // Leggings // Shoes // Cycle Bike // Mat // Wahoo Cadence Sensor // Clip On Fan // Phone or Tablet Clip // Phone to TV Adapter  // Peloton App
Yes, that's right! The caption is not a gimmick to get you to open this post! I truly mean every word of what it says. If you follow along with my Instagram stories, you know that I am pretty into indoor cycling. I got into cycling about a year ago and have become obsessed! Speaking as a person with knee troubles (I dislocated my patella several years back), this exercise is so kind to my joints. It gives me an incredible workout without the harsh impact that running has on your knees. When my gym closed down a week ago, I literally went into a frenzy. What about my cycling classes?! Insert the best at home workout investment I've ever made…
I sat down with Brad and we discussed options. Yes, I could join a cycle studio. However, I knew I also needed to join a regular gym on top of that. That would essentially be like paying for two gyms in a sense. So, we began thinking ahead a bit… As you probably know, Brad and I are currently trying to get pregnant, so thoughts to the future began to stir. I thought that investing in a cycle bike for at home would be smart. Once baby arrives, I know it will make working out a tad more challenging, so best to have an at home option under my belt! This began our search for the best cycle bike…
Immediately, I thought of the Peloton bike. I have heard nothing but great things! However, the startling price tag + the yearly membership just seemed a tad outrageous! I mean, if you can swing that, all power to you. It's an amazing bike! For us, we began to research other options. We quickly learned that the Peloton app is available to anyone, regardless of having their cycle bike or not! For only $12 a month, you get unlimited access to the live and on demand classes just like anyone who has the Peloton bike. What?! You can purchase any cycle bike and hook up the app to your TV and enjoy all the classes you want!
There are a couple things to keep in mind however…
First of all, your resistance knob will not match perfectly with the resistance the instructors tell you to throw on during class. This is not a huge deal! Once you start using your cycle bike, you will begin to learn what it means to set your resistance to match the instructor. A couple hints are to look at how quickly/slowly their revolutions are (how fast they are pedaling), as well as meeting their cadence (RPMs).
Speaking of cadence, that's the next big piece of information. Cadence is your RPMs. This number will get higher the harder and faster you pedal and lower when you are going slower with harder resistance. Most cycle bikes do not have any built-in way to track your cadence. We purchased the Wahoo Cadence Sensor and installed it on the bike in just a few minutes. It connects to an app on your phone. Simply clip your phone to your bike with a clip on attachment and track your cadence to match what the instructor tells you to meet during your ride. It's so simple and easy to stay right on track with your instructor!
Last important piece of information…How to watch your class. It's so easy, ladies! All you need is the app running on a device (your phone, tablet, etc.). If you have a smart TV, you can just open the Peloton app on your TV. We set up our bike in one of our guest rooms. We have a regular TV in there instead of a smart TV. Have no fear if this is your situation! If your TV has HDMI connection (which most do), simply plug your phone into this adapter and connect it to your TV. It will play your class right on the screen! Boom! You are live and ready to go.
The great thing about the Peloton app? If you can't make one of their live classes, they have thousands of on demand classes you can take at any time. This allows you to workout whenever you feel like! I just love the flexibility of this program! They even have cycle classes that incorporate weights, stretching and yoga classes, and more. It goes beyond just cycling!
I just want to disclose that this post is in no way sponsored by Peloton. I'm just super impressed with it! Feel free to shoot me a comment, email or DM if you have any further questions. I'd be happy to share more insight and answers!
Stay tuned for more at home workout routines and posts! I've linked up some of the workout gear I'll be incorporating into these routines below, as well as all my cycling items.
Shop Workout Look

Shop Cycle Gear

Shop Other Workout Items 

SaveSave
SaveSave
SaveSave
SaveSave