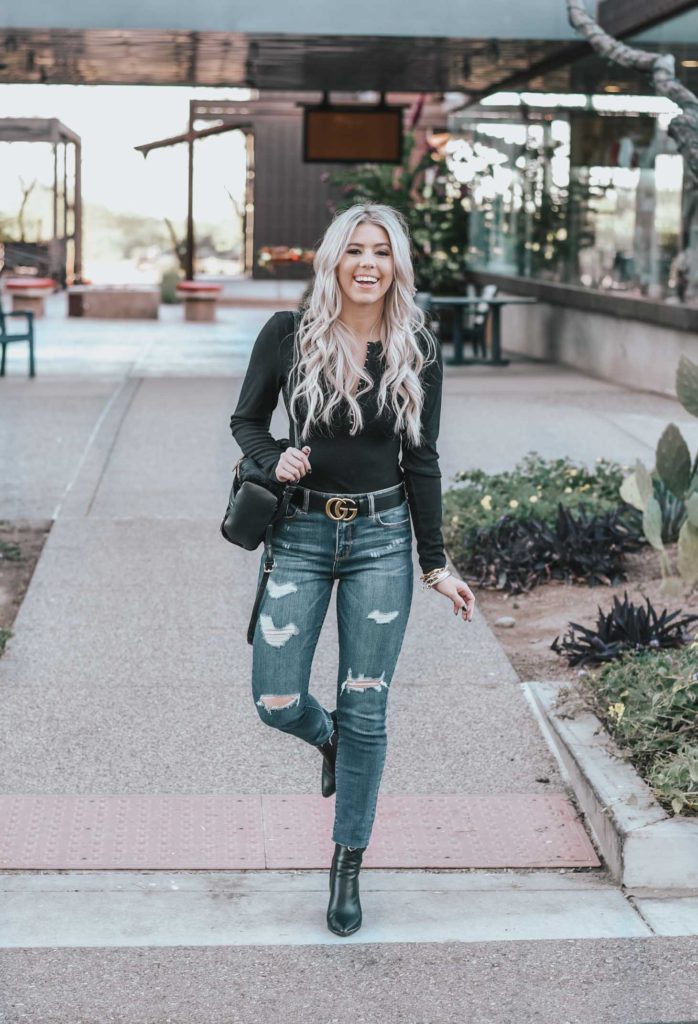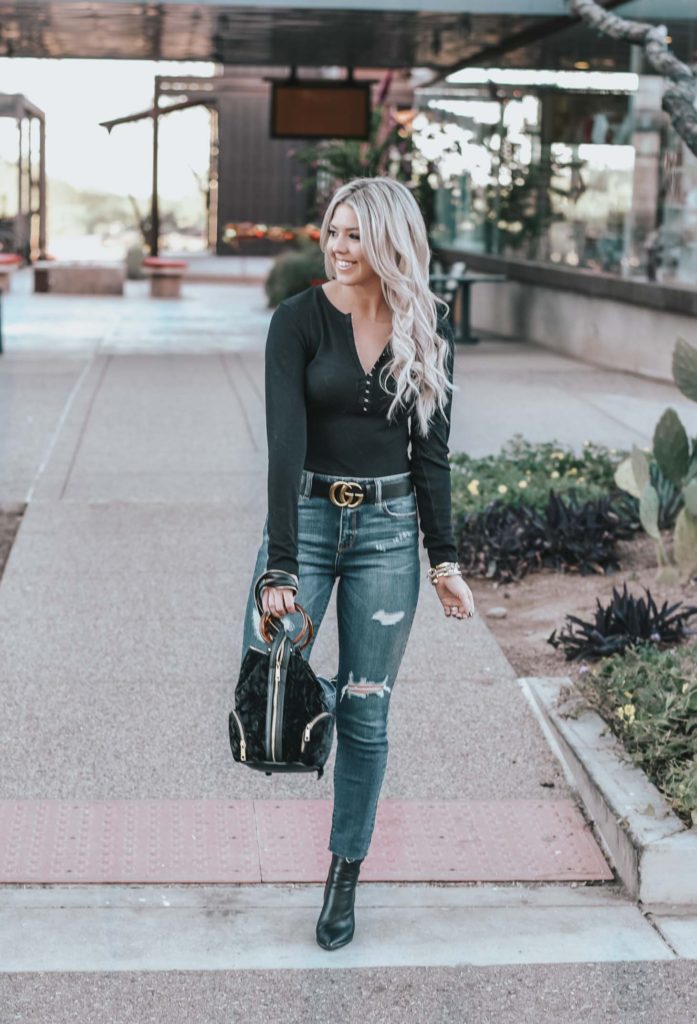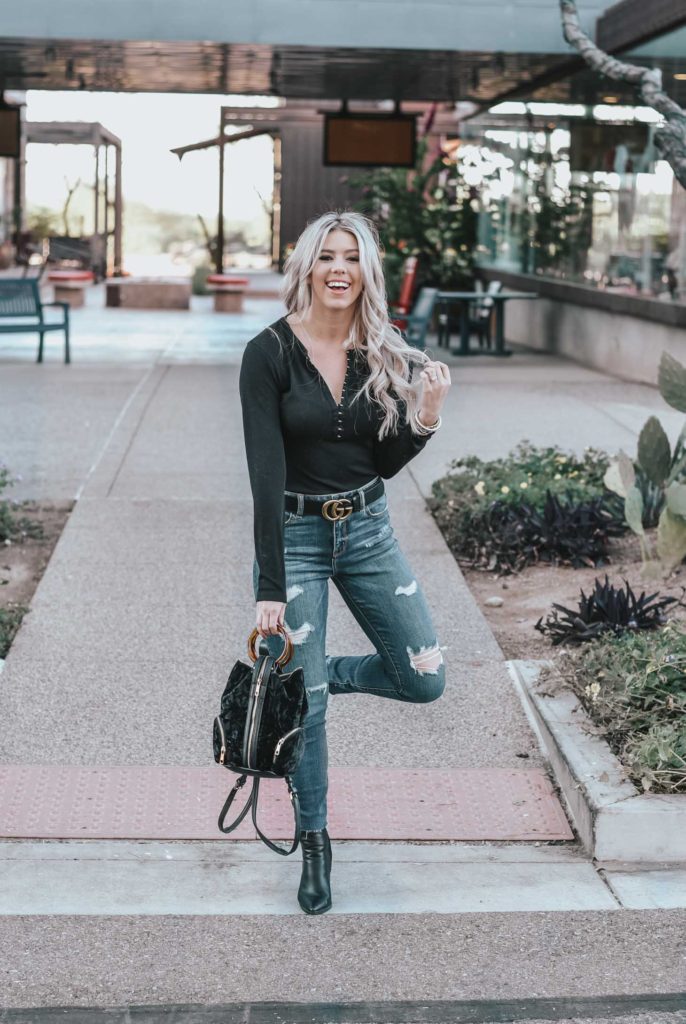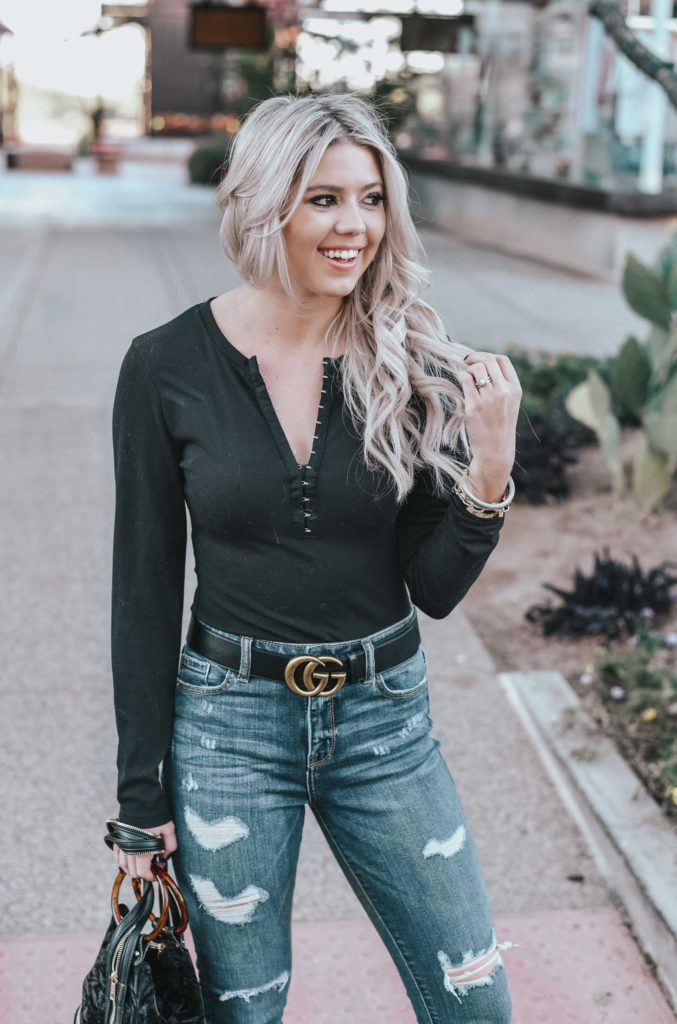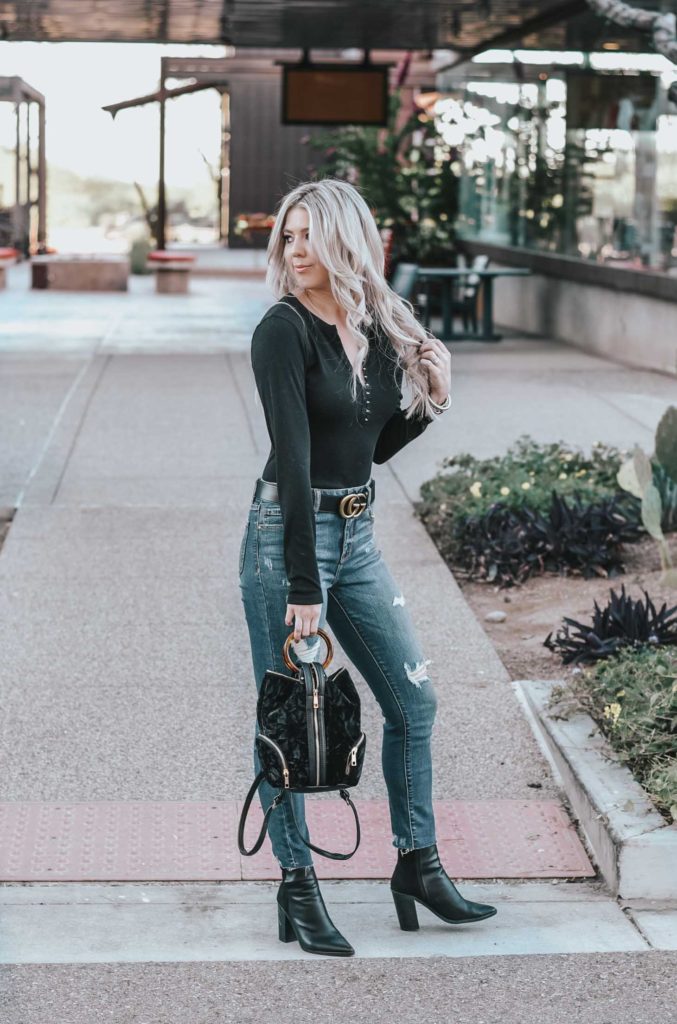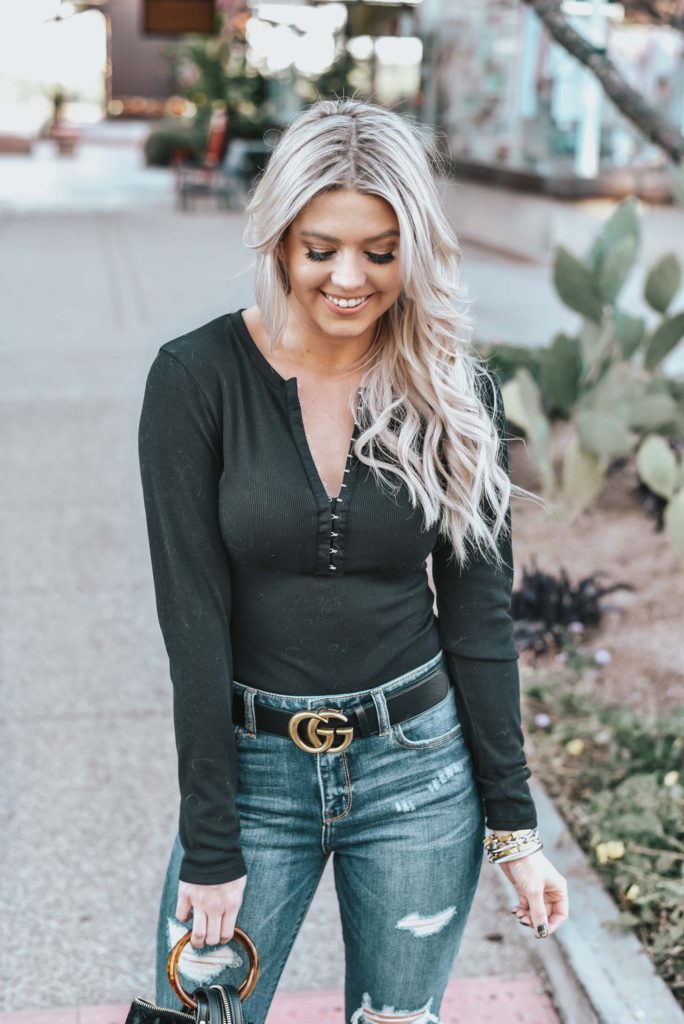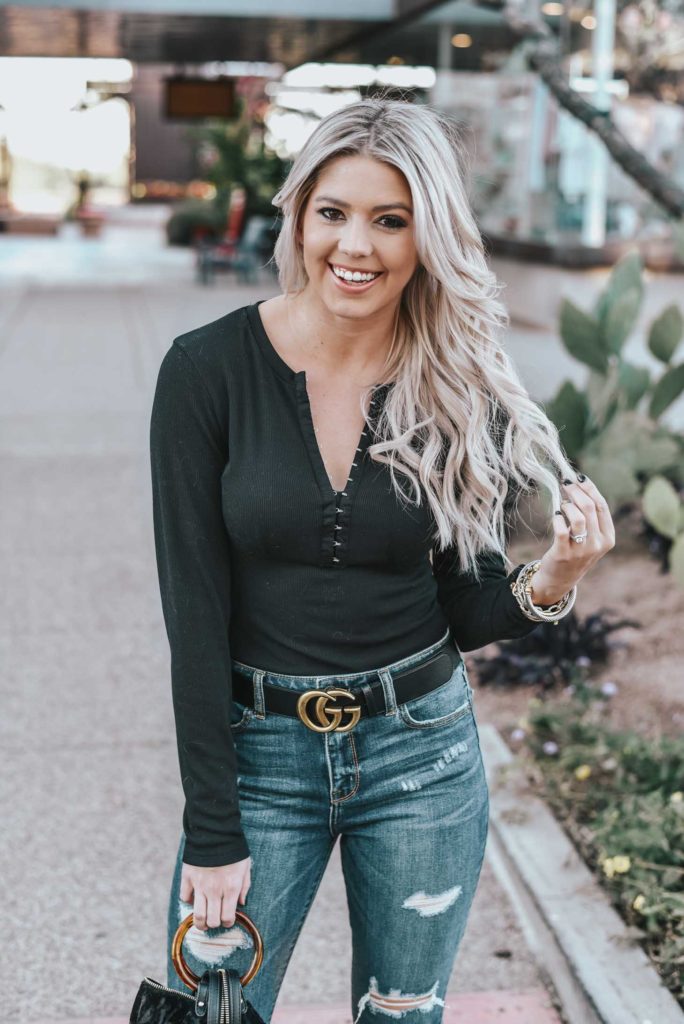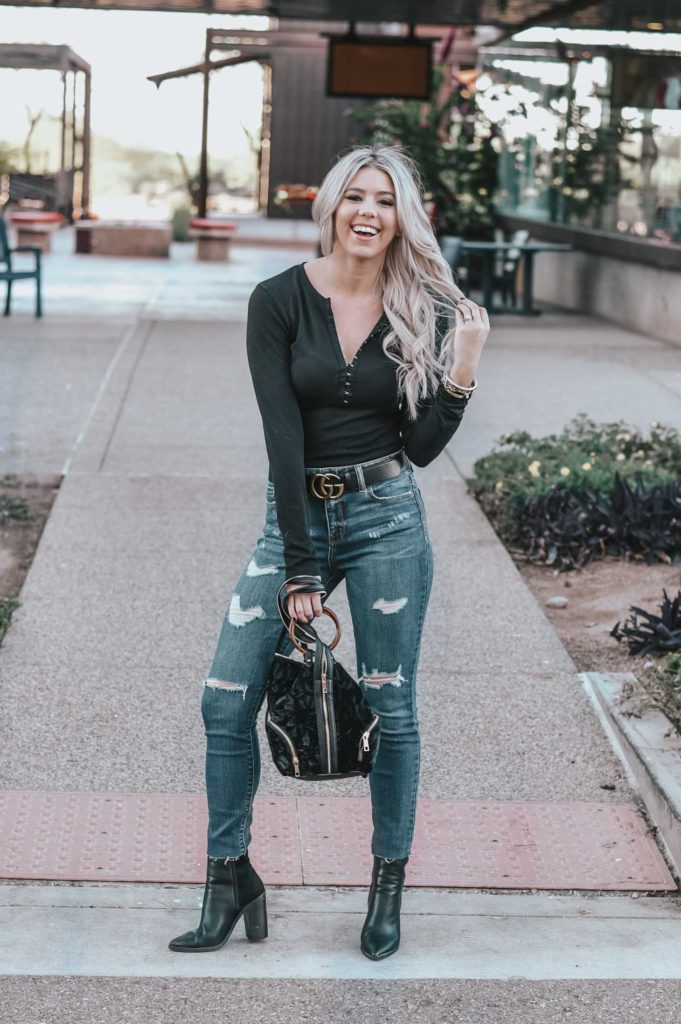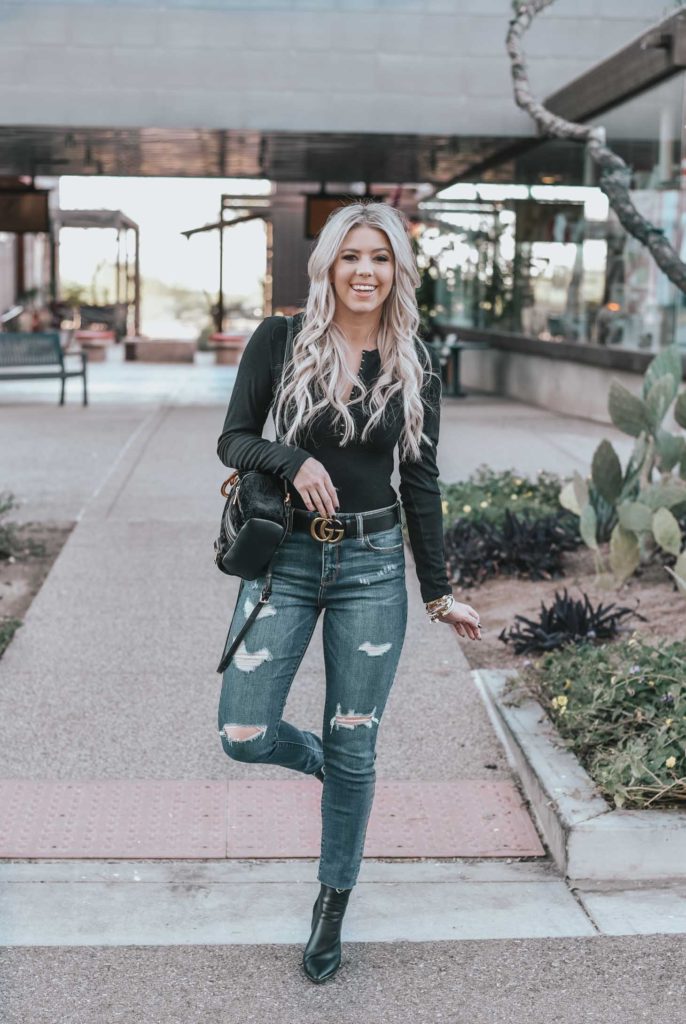 Lulus sent me this cute look to style!
Top (two colors), Jeans, Booties and Bag c/o Lulus
Happy 2019! What better way to ring in the new year, than with a great look from Lulus! Especially when it's casual and comfortable like this one. This simple black top is super soft and easy to throw on with a great pair of jeans. I love this high waist pair. Perfect wash and fit! I felt so comfortable walking around in this look while B and I were out and about last weekend!
Speaking of walking around, it's really easy to do with this pair of booties! They are hands down my favorite pair and I wear them constantly! I added my go to black backpack and this look was complete. A casual and comfortable look!
My 2018 Reflection
Wow, where does one even begin. I've spent the last several hours scrolling though Instagram and seeing everyone's "Top 9" posts and story highlights of what happened throughout 2018. There were so many amazing experiences had and events that took place for everyone all over the World. My heart was overjoyed and humbled to be reminded that God is always providing. Especially when I was having a hard time coming up with highlights of my own to share. Which got me to thinking…
The brain is so one-tracked sometimes. When we want something so bad and don't receive it, we are left with the feeling that we are without. We are unable to see all the amazing blessings that we DO have in our lives. We push them all aside and only focus on what we lack. Yes, B and I thought 2018 would be the year for a baby. But it wasn't. We thought 2017 would be the year for a baby. But it wasn't. Heck, even 2016 wasn't. But hey, that's life! While we ARE hoping that 2019 is the "year for a baby", I am starting the year with the understanding that it might not be. All we can do is push forward, pray and wait for God to provide. In HIS timing. Not our own.
In the meantime, I am able to look back on 2018 and be thankful for the blessings received and the experiences had. There were some amazing times spent this past year and I am so thankful for them all. Here are a few things that made 2018 special:
My 2018 Top 9
Faith – Without this, I don't know how I would have made it through. So thankful for my faith and relationship with God!
Marriage – I got to grow our marriage another year with Brad. We are celebrating our four year wedding anniversary this week!
Family – Being surrounded by family that loves and supports us has been so pertinent this past year.
New Friendships – I have met some amazing new blogger friends – my bestie being Jessica. So thankful for her friendship!
Fertility – Beginning the start of IVF and looking forward to our embryo transfer coming up.
Cat Mama – Taking care of our fur babies brings my heart so much joy. They are the best little kitties to take care of!
Blogging – I have been able to continue growing my blog and striving towards the next phase of where I want it to go.
Travel – The many adventures that B and I took this year such as Seattle, Leavenworth, Sedona, Flagstaff and more!
Wishing you all an amazing 2019 full of joy, love and dreams come true!
Thank you to Lulus for sponsoring this post!
Shop the Post