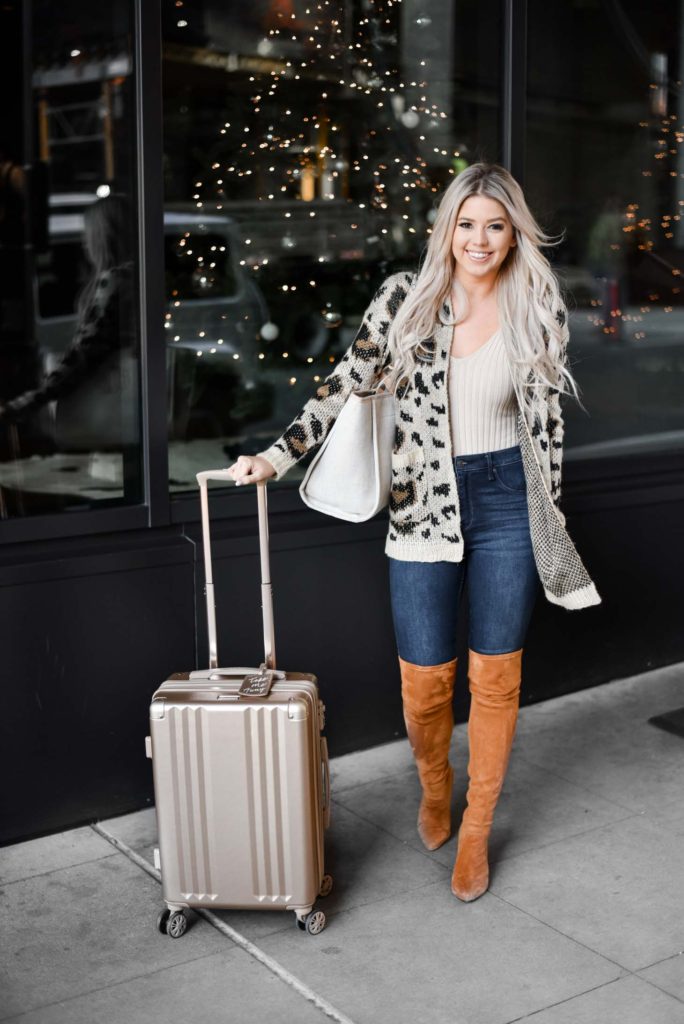 Similar Cardi (use code ERIN15) // Bodysuit // Jeans (on sale for $39) // Boots (use code WINKANDATWIRL) // Suitcase

Background On Our Trip
When I first mentioned to Brad that we should do some kind of getaway right before Christmas, I shared that I've always wanted to go somewhere "Christmasy" around the holidays. Growing up in Illinois until I was 16, I was used to a cold and white Christmas. While I don't like the snow longer than the Christmas season, I truly do miss it in Arizona this time of the year. I know, I'm complicated! I haven't had a white Christmas for the past 15 years. So, I shared my desire to perhaps go somewhere cold on our trip. B decided to take it upon himself to plan an entire surprise trip and not tell me where we were going! I know, so cute, right?!
I knew that I was to pack "stuff for the cold" and knew roughly how long the flight was (B told me it was around three hours). On the morning of the trip, we arrived at the airport and B handed me my boarding pass. SEATTLE. We had both never been! Brad went on to tell me that we would be staying in downtown Seattle for one night, before heading to our actual location for the rest of the trip. So off we went!
Seattle, Washington
Downtown Seattle was such a cool place! While all I could think of when I saw the ferry boats go across the water was Greys Anatomy. Hah! Couldn't help it! B and I checked in, dropped off our bags, and went to explore the Pike Place Market – a great place to go if you're a tourist and looking for yummy food and lots of cool things to see. 
We saw market stands full of the wild caught fish, delicious produce, souvenirs and the most beautiful floral arrangements. It was fun to walk around the pier and take in the sights and smells of the ocean. We saw a lot of "sidewalk acts", including a man dressed as a cat playing an accordion. Lots to see at the market!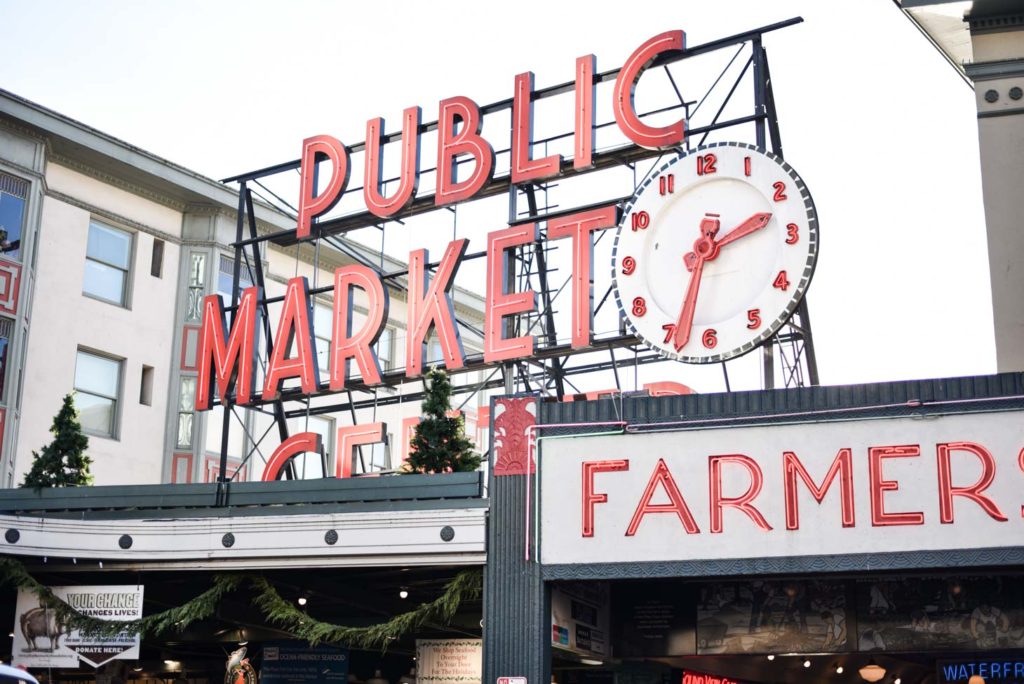 Lowell's Restaurant
One thing that Brad was craving while we were exploring was a great bowl of clam chowder. The perfect thing to get in Seattle right on the water! We stopped at Lowell's and sat down to both enjoy a bowl. It was heavenly! We had a view of the ocean and the most delicious little lunch!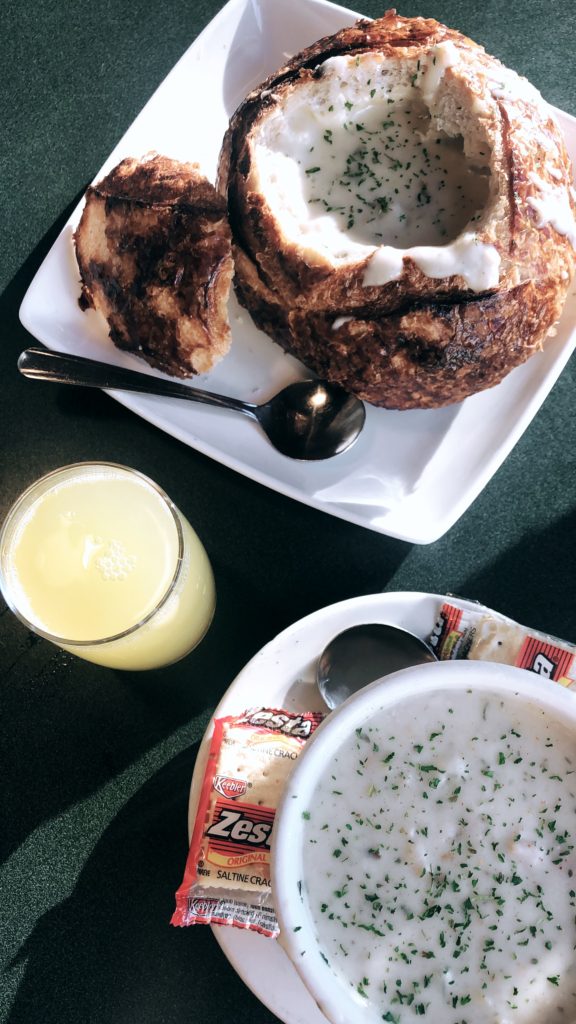 Thomspon Seattle
We stayed at the Thompson Seattle for the night. A trendy, swanky hotel right in the heart of downtown. We had a short five minute walk to the market, as well as restaurants, coffee shops and boutiques. The perfect location!
We booked this cute room with an ocean view. I loved the trendy flare and clean lines of the room. The hotel provided just what we needed as far as our stay. They have the most helpful and polite staff of any hotel I've ever been to! I was really impressed.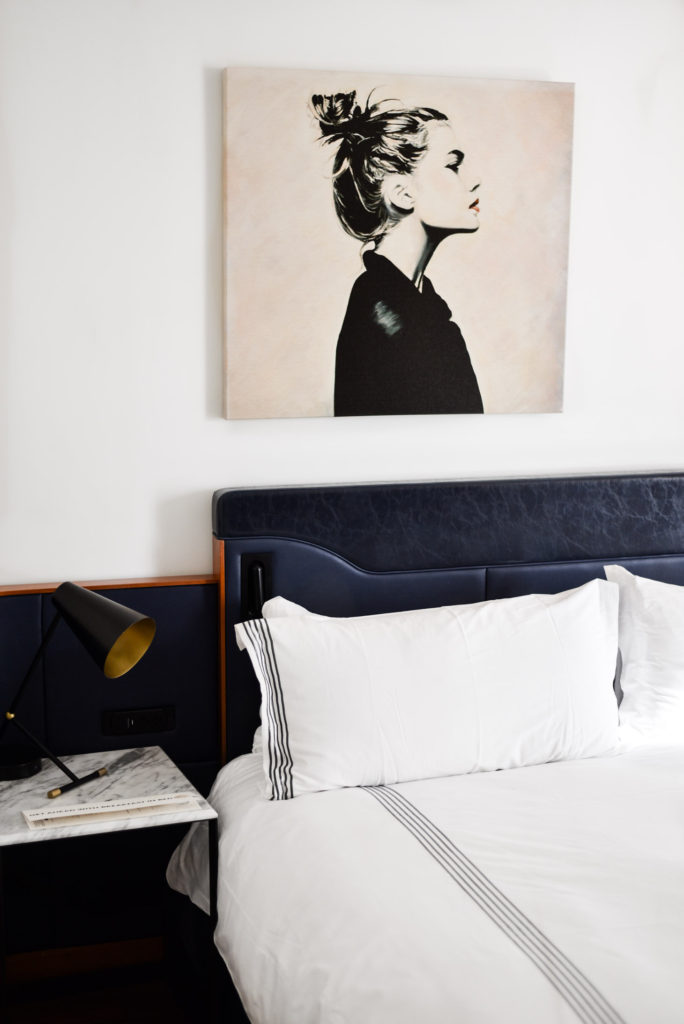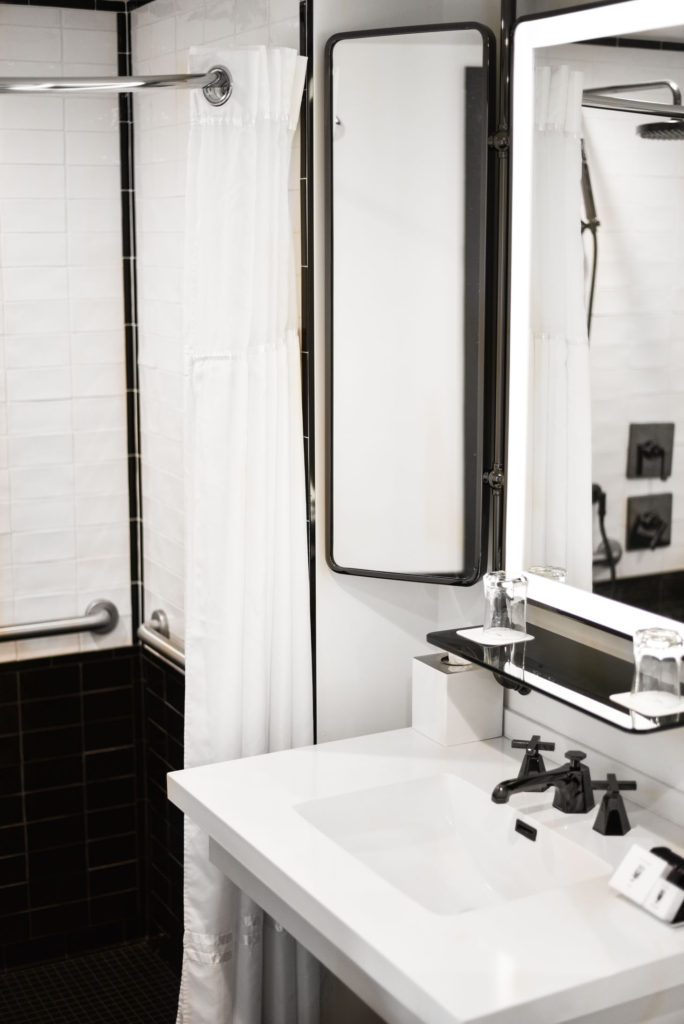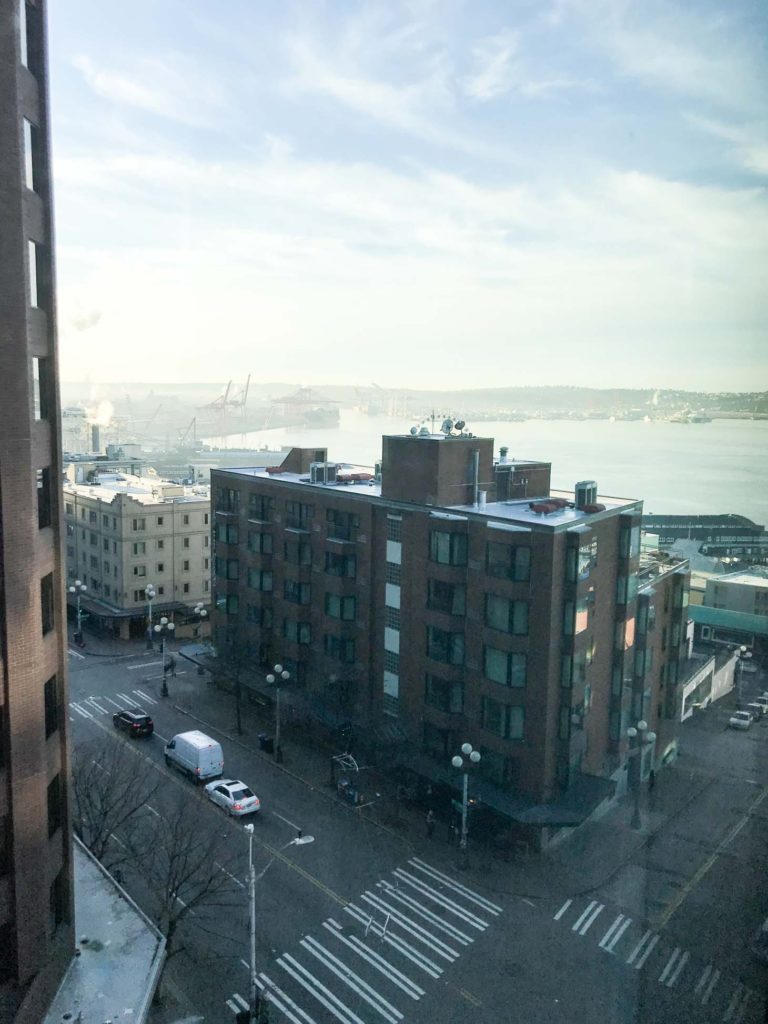 Scout PNW & The Nest at Thompson Seattle
Once we were done exploring for the day (and getting a quick nap in…cause that's B and I to a T), we went to dinner at the hotel restaurant: Scout PNW. This upscale dining experience was delicious. While the portions were on the smaller size for the price, they were really amazing. We loved their handcrafted cocktails and quaint decor! 
After diner, we took the elevator up to the rooftop bar: The Nest. This 21+ bar is at the top of the hotel and has the most gorgeous views of downtown Seattle, the ocean and the Ferris wheel. It was absolutely stunning! And of course the cocktails were out of this world! B and I sat on a couch overlooking the water and enjoyed some delicious drinks. It is such a fun and romantic place!
Overall, I was super impressed with our stay at the hotel. I love that it has everything right there at your fingertips. We were getting used to the cold, so being able to stay warm and cozy but still "go out" for the night was awesome!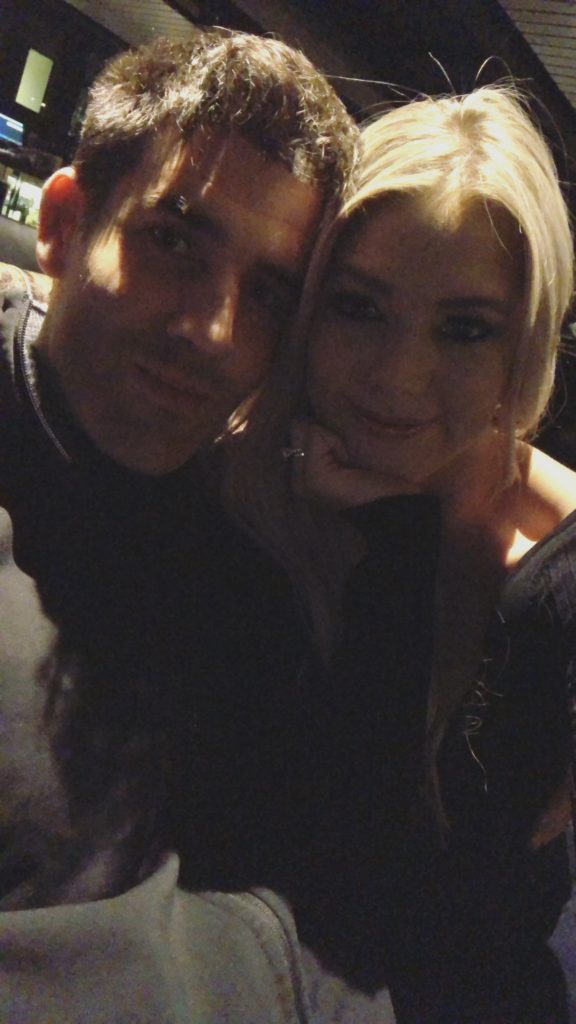 Jacket // Bodysuit // Jeans // Similar Boots // Similar Bag

Leavenworth, Washington 
The next morning, B and I checked out and hopped in the rental car. We were off to our "mystery location!" As we drove, I saw the scenery change and the temps drop. Pretty soon we were driving through gorgeous snow-capped mountains and roads. I started to get really excited! Winter Wonderland here we come!
After about a three hour drive, we pulled into Leavenworth, Washington. Wishing a minute we were at our hotel. While I couldn't tell exactly where we were or what we would be doing in this little town, B said, "Just wait." 
As we pulled into the hotel parking lot and parked, Brad got on his phone and pulled up Google Images (of course). He proceeded to tell me that he did all this research on the "most Christmasy town" in all of the United States, and he found it! Leavenworth! He went on to explain that people come from all over the world to attend their Christmas Festival. At this point, I was so excited and appreciative of all that B did!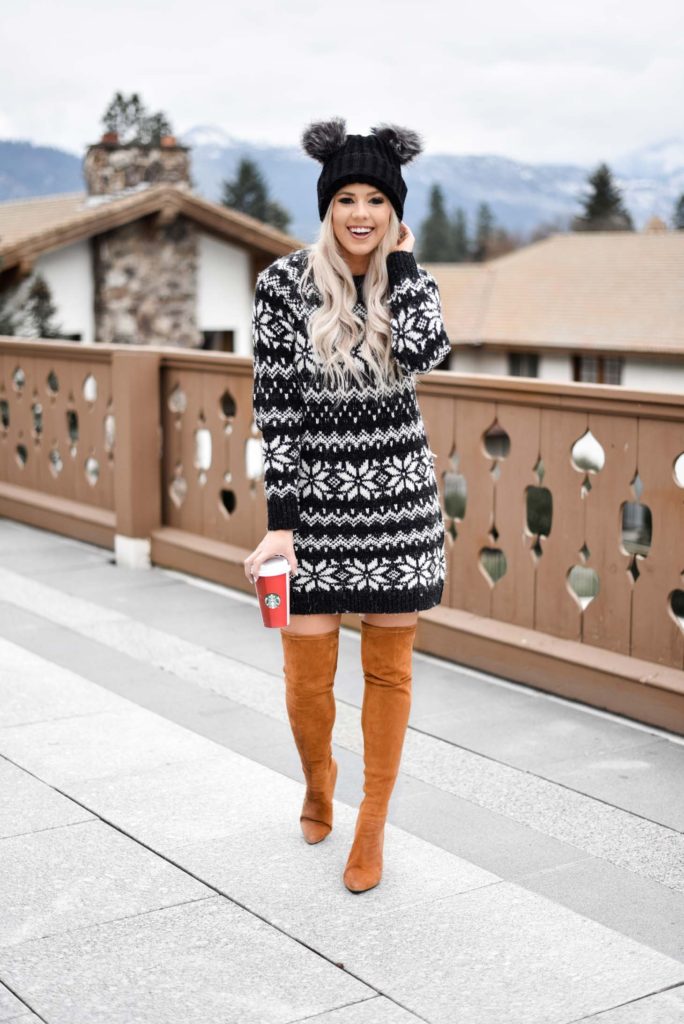 Beanie // Dress // Boots (use code WINKANDATWIRL)

Enzian Inn
Just a short five minute walk to the festival in downtown Leavenworth, we stayed at the Enzian Inn. This German-inspired hotel was so cute and quaint. With carolers coming in to sing Christmas carols, to homemade candied nuts being made right in the lobby, I felt like I was staying at someone's home. It was so cozy and Christmasy! Plus, you can't beat the mountain views!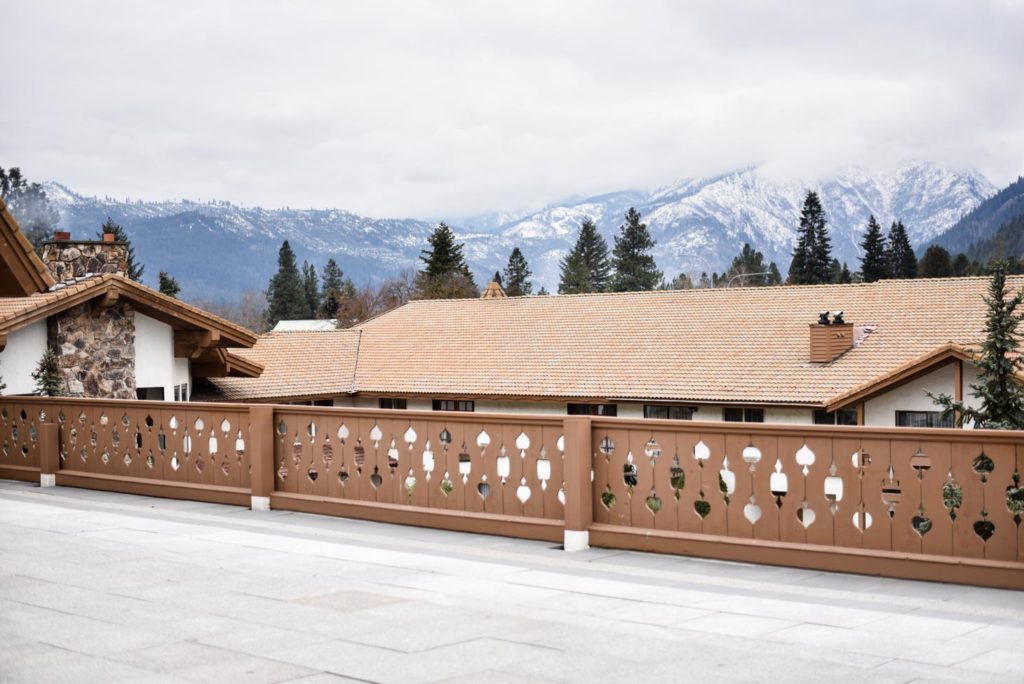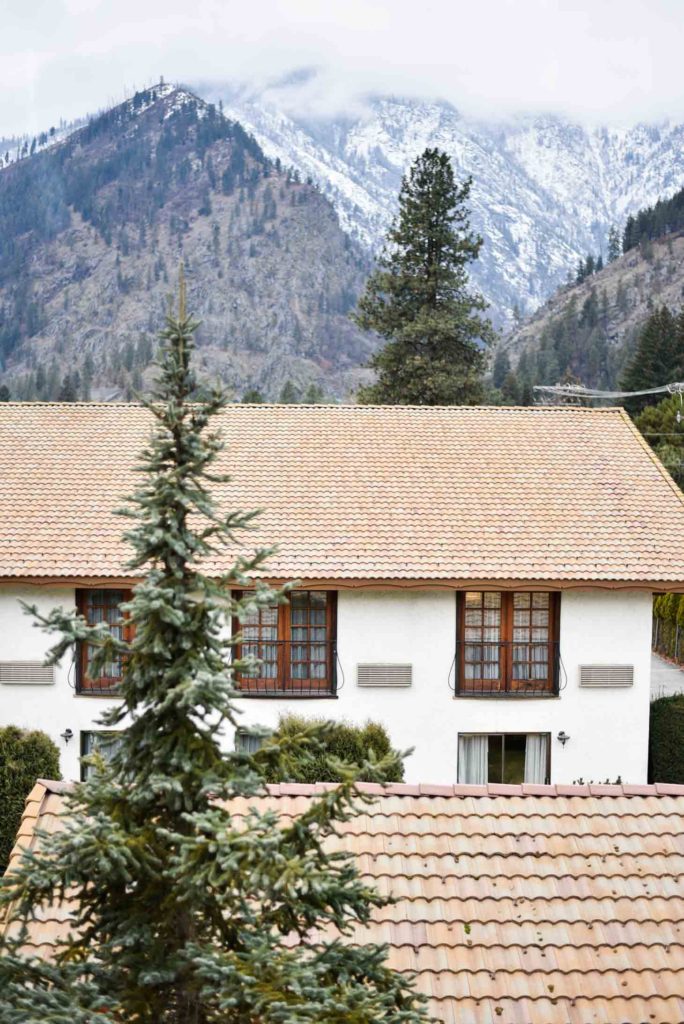 B and I had stayed in one of the hotel suites. With a private patio shared with one other suite (see above), we could step right out and enjoy the amazing mountains backdrop! It was gorgeous!
Our suite included a living room space (with a fireplace), as well as a bedroom and huge jacuzzi tub. It was the. most romantic little suite we have ever stayed in!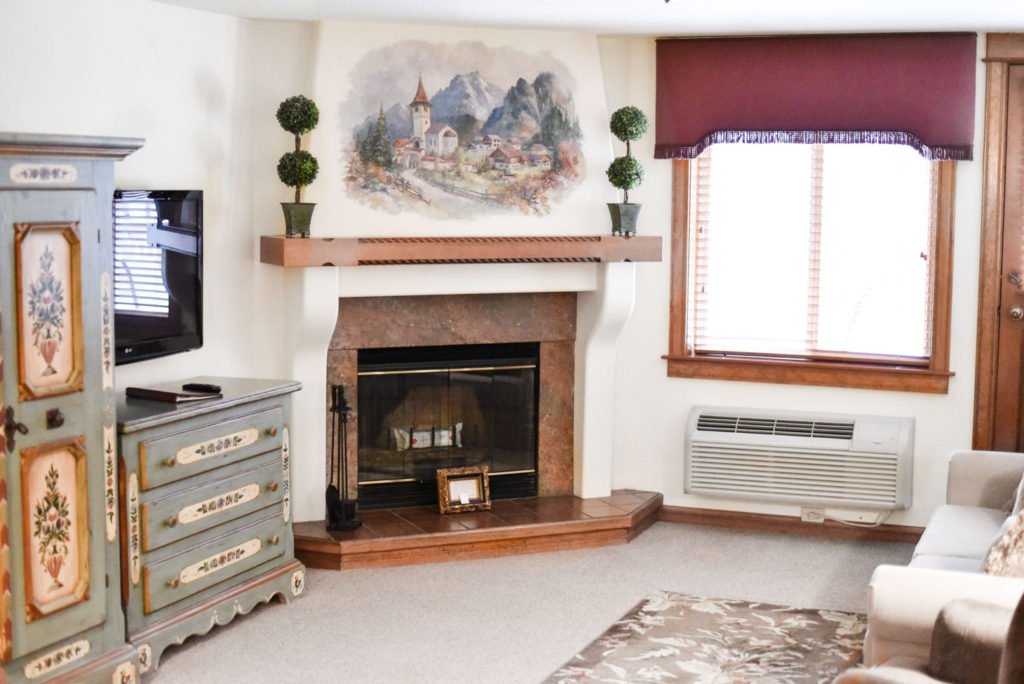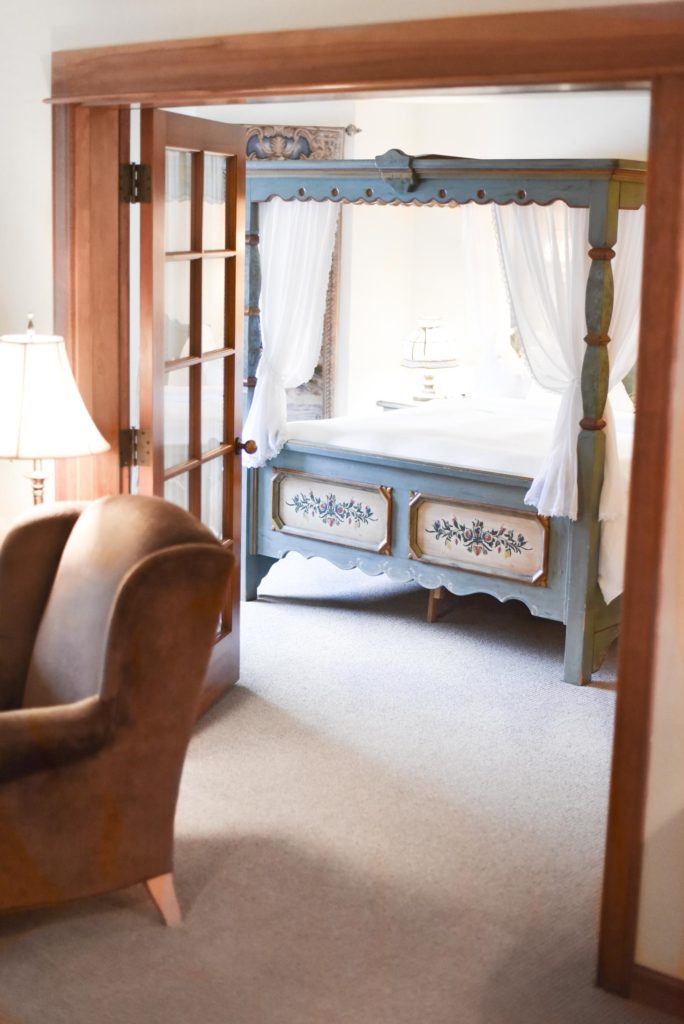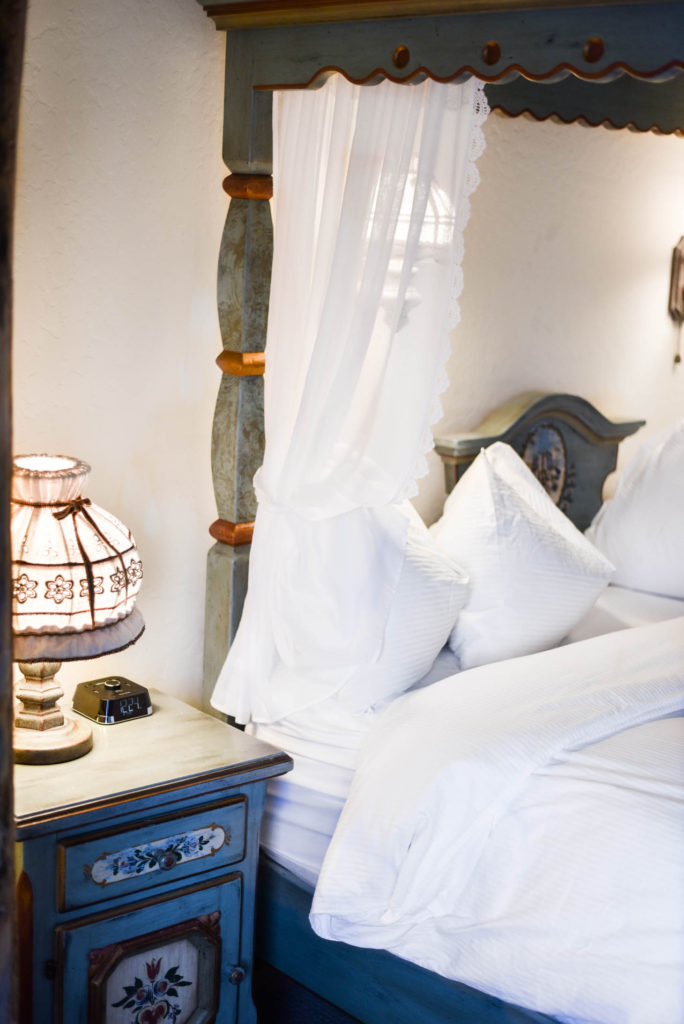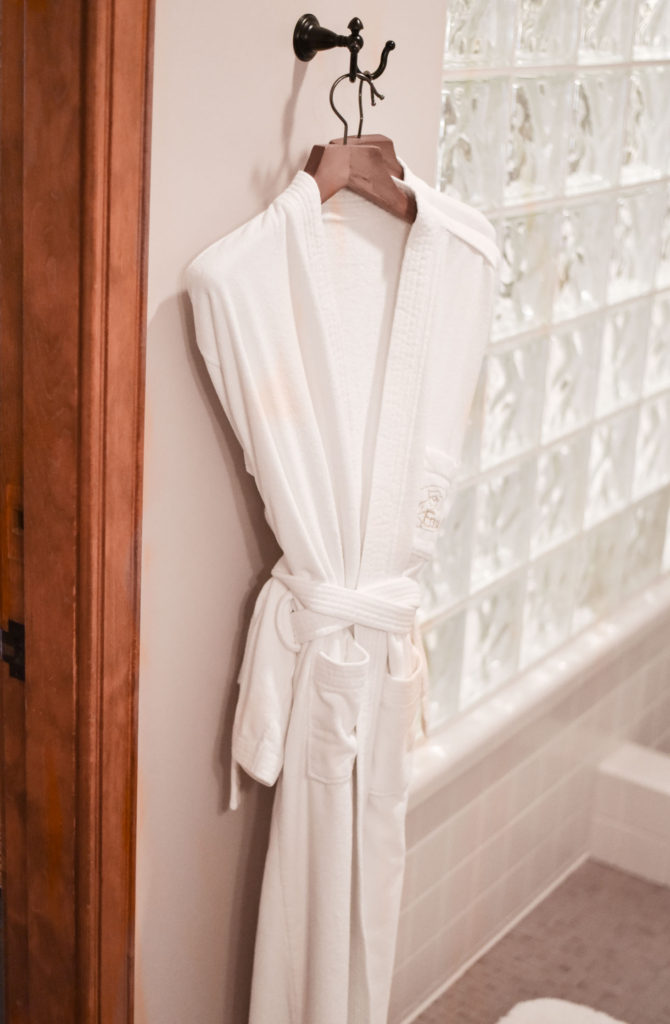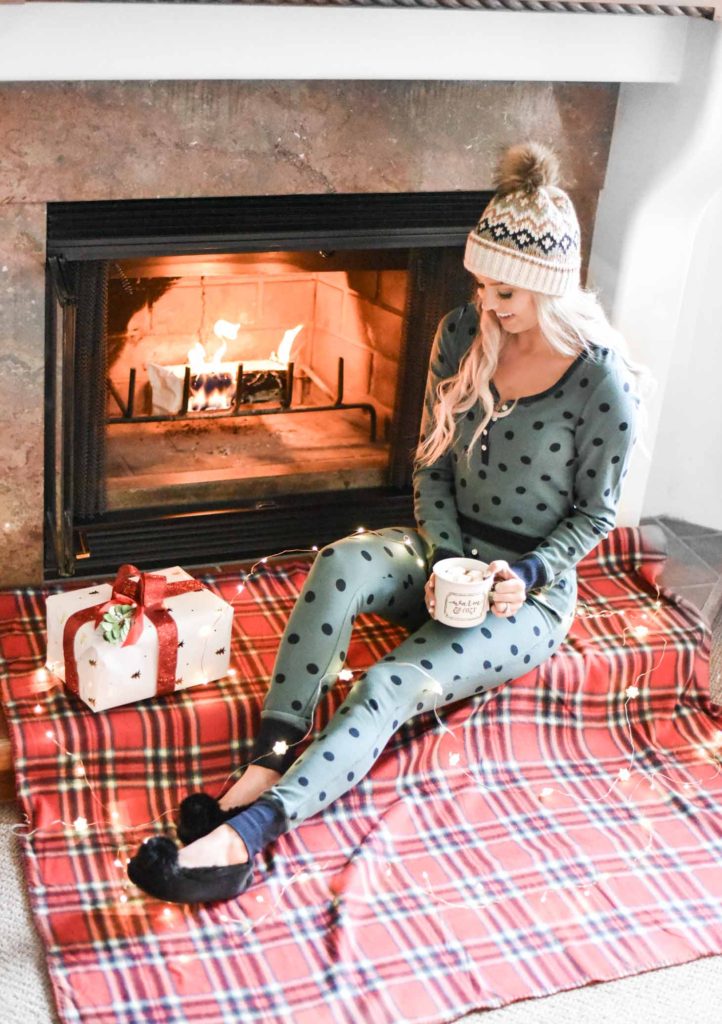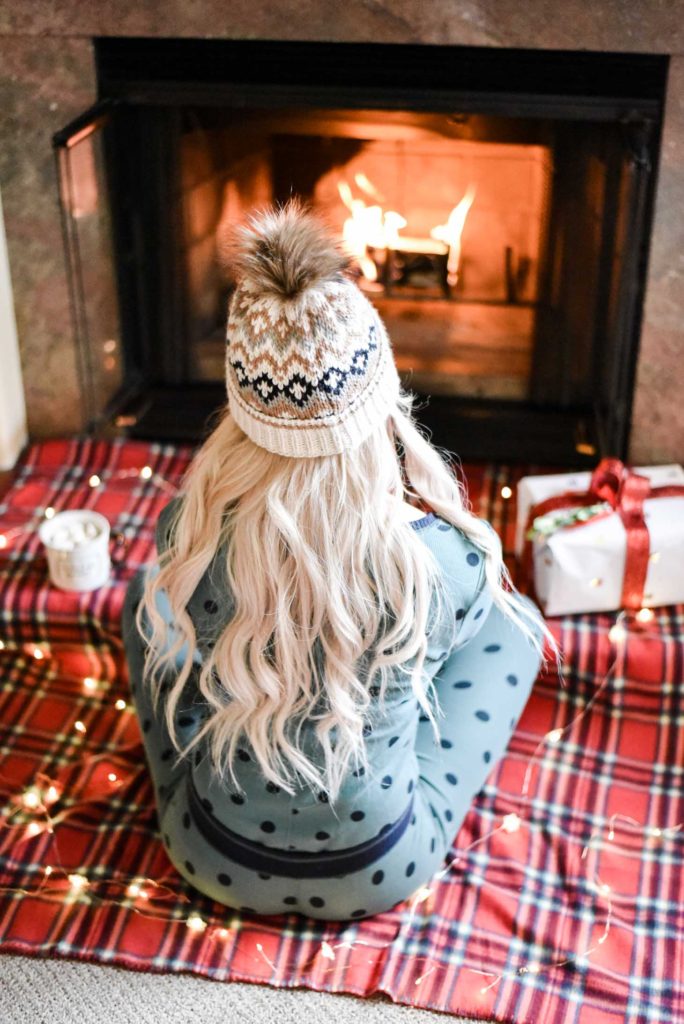 Jammies Sold Out // Slippers // Beanie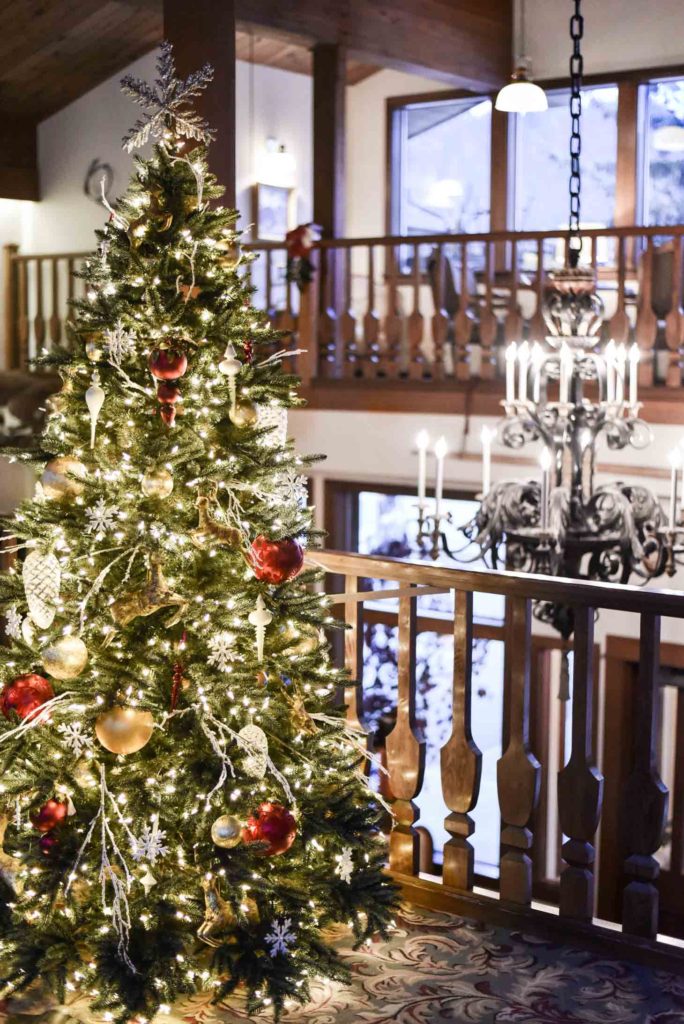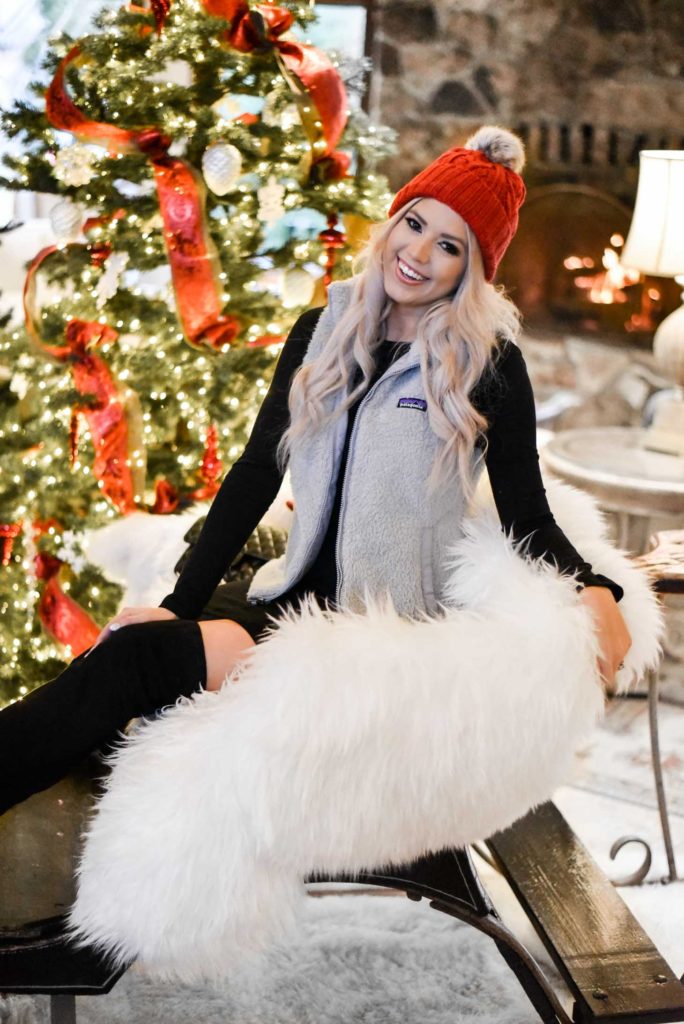 Beanie // Dress (use code ERIN15) // Vest // Similar Boots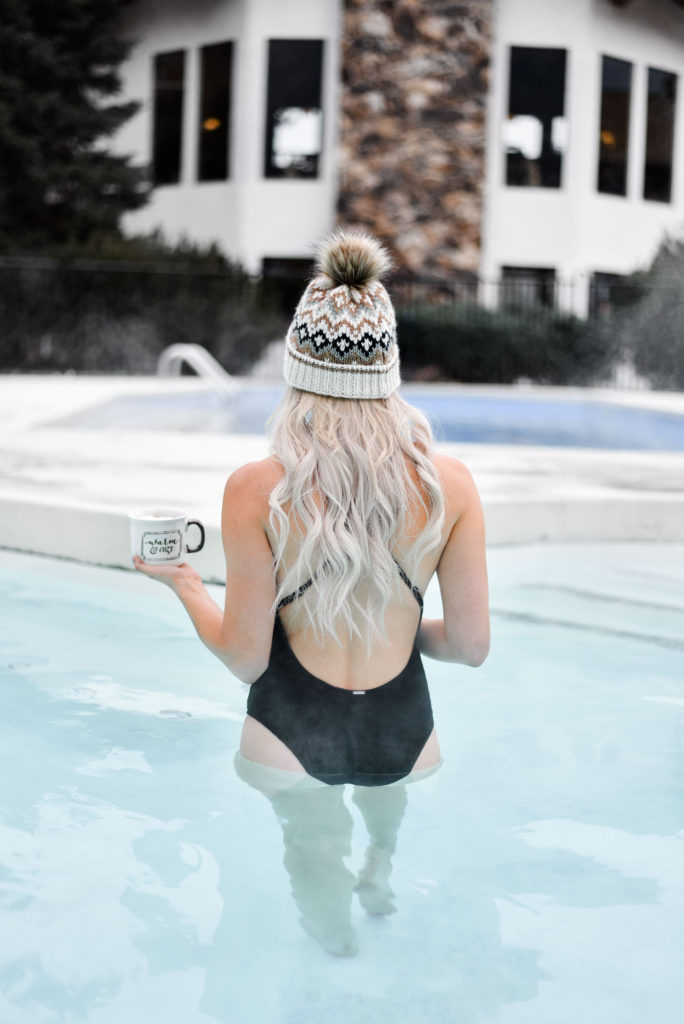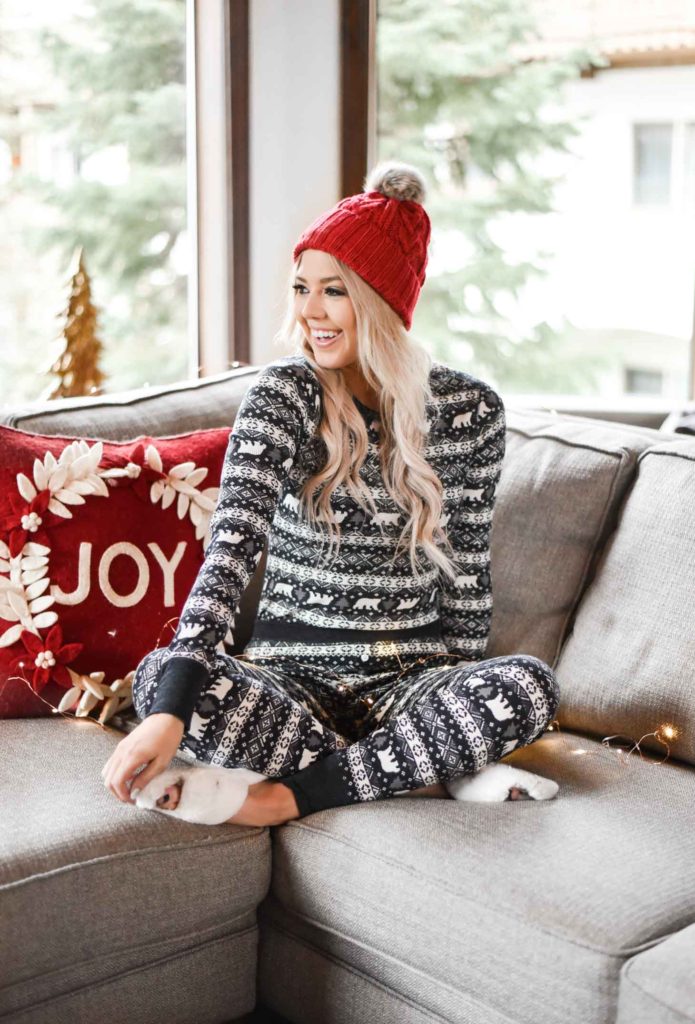 Top // Bottoms // Slippers // Beanie

The Town of Leavenworth
This was just the cutest and dreamiest little Christmas town. Once a logging town, the people of Leavenworth knew they needed to find a way to attract a tourist industry to their town as a means to make money for their small businesses. They formed the idea of creating a German-inspired town to attract people to visit. The heart of Germany right here in the US! 
From the cute European buildings and food, to the gorgeous Christmas decor everywhere you turned, I truly felt as if we were walking around in a Hallmark movie. I'm not even kidding! I cannot believe how many Christmas lights there were in this town! I think they set some kind of record! It was so gorgeous!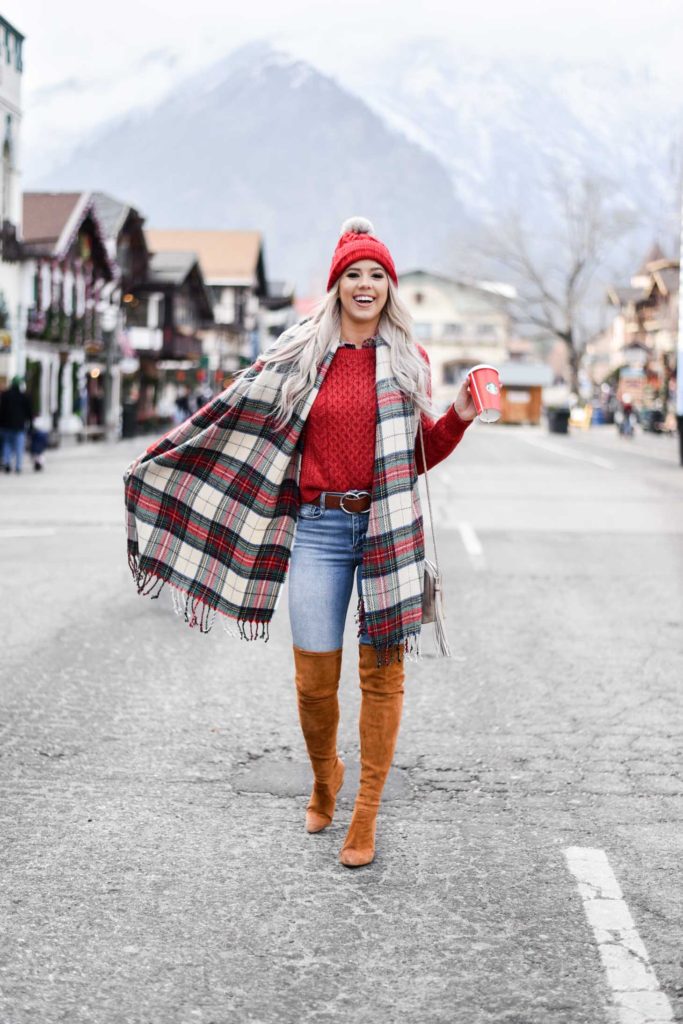 Hat // Shirt // Sweater // Jeans // Scarf // Boots c/o Goodnight Macaroon (use code WINKANDATWIRL for 30% off) // Belt // Similar Bag

The Alley Cafe
There wer so many delicious places to stop in and eat! On one day, B and I were craving some delicious pasta. We stopped in the
Alley Cafe
and shared a plate of spaghetti and sipped on some yummy cocktails. It was the cutest little Italian cafe!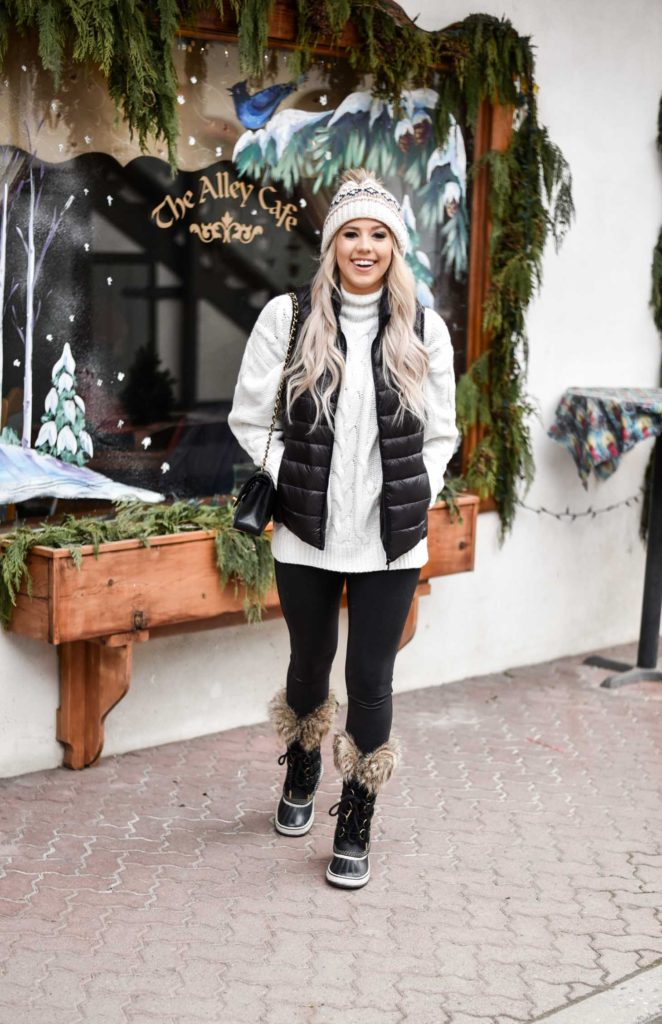 Similar Beanie // Vest // Sweater // Leggings (use code WINK15) // Boots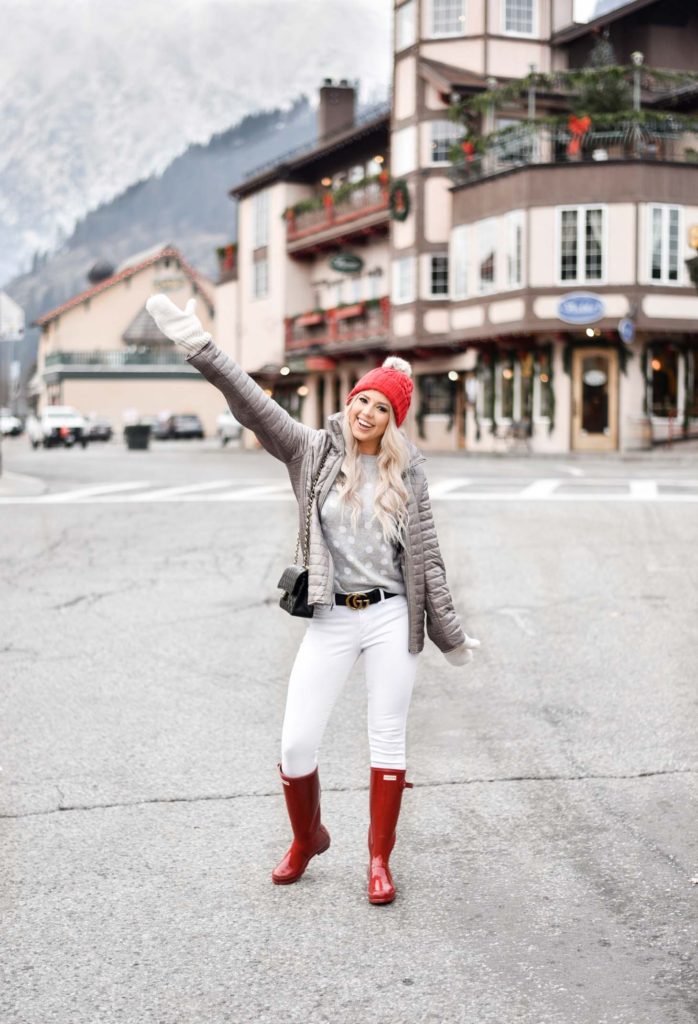 Beanie // Jacket c/o Johnston & Murphy // Sweater // Pants // Boots // Similar Bag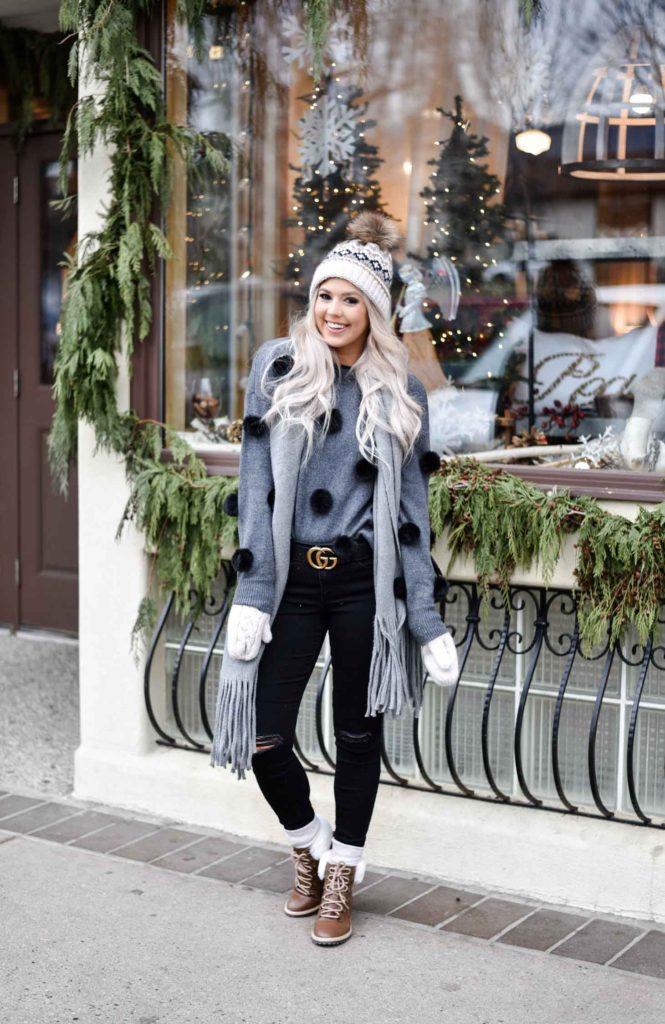 Similar Beanie // Sweater // Scarf // Pants // Socks // Boots

Baren Haus
The place we ate at the most! We loved the laid back feel of the Baren Haus. This is where we stopped right when we got into town, and a couple more times throughout the trip. We had our first schnitzel and sipped on yummy hot toddies! They also had live music at night where you can request songs. It was such a fun atmosphere!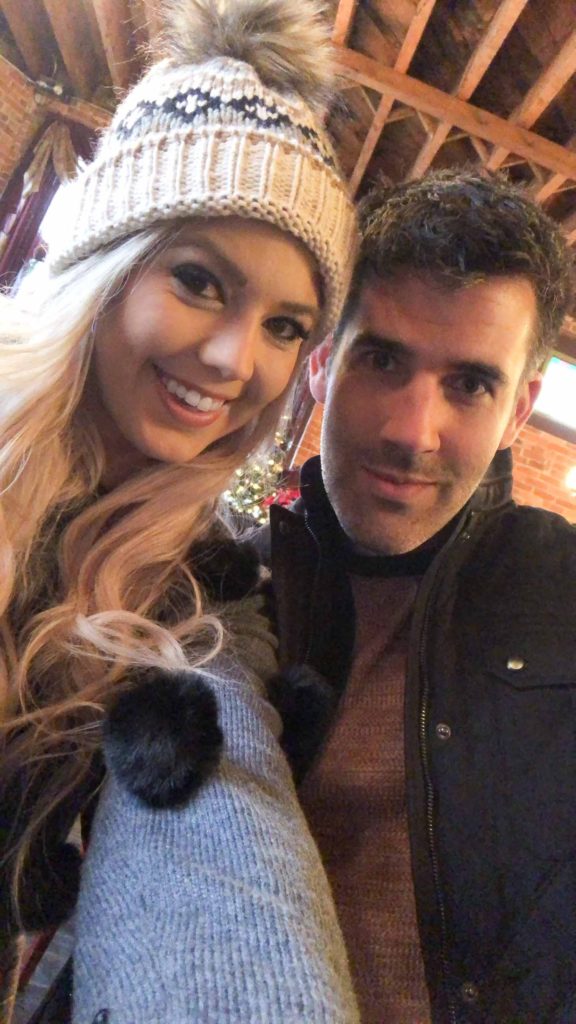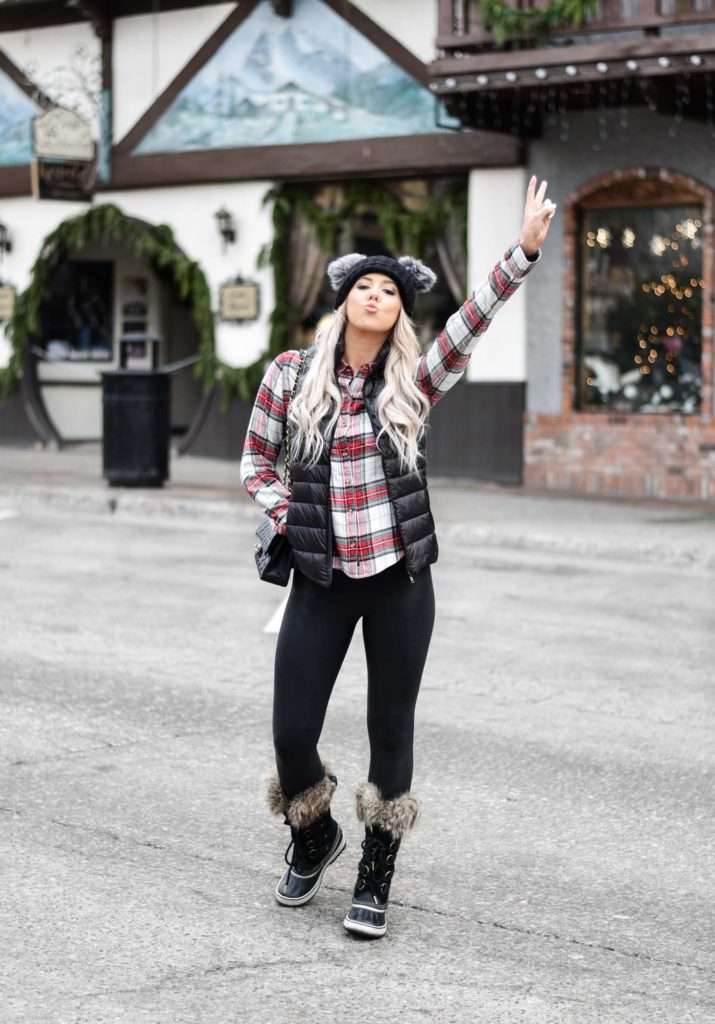 Vest // Shirt (50% off) // Leggings (use code WINK15 to snag for only $83) // Boots // Beanie // Similar Bag

Winter Wonderland
While it didn't snow for the majority of the trip (out of character for Leavenworth this time of year), we did get some snowfall the last day we were there. I was excited to get to experience some snow before heading back to Arizona! Brad promised me snow. He delivered!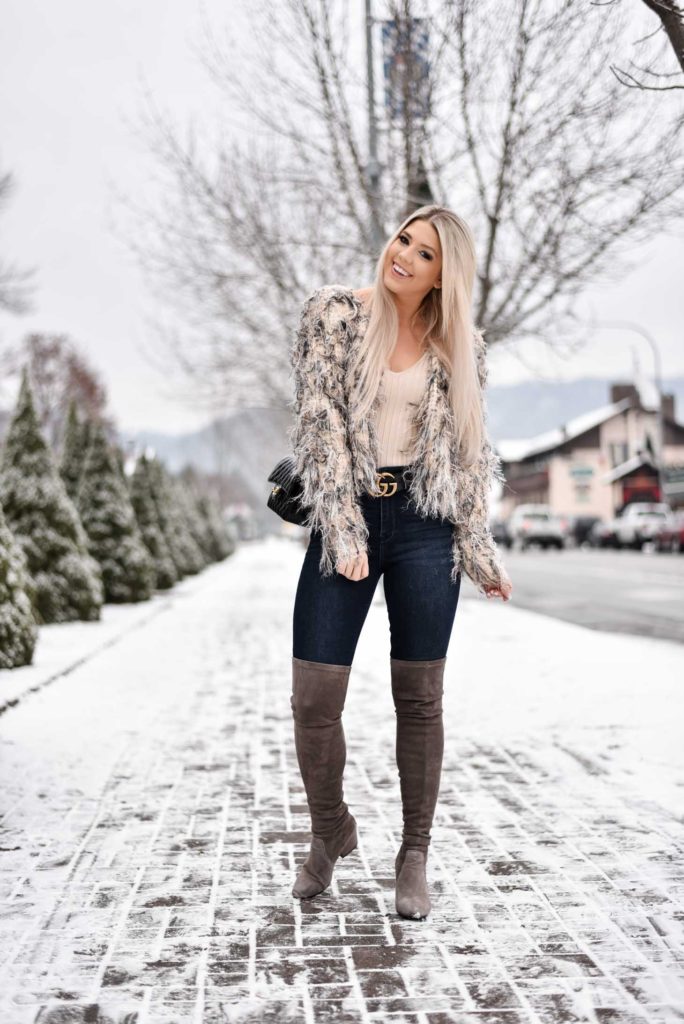 Coat and Bodysuit c/o Windsor // Jeans // Boots (use code WINKANDATWIRL) // Belt // Similar Bag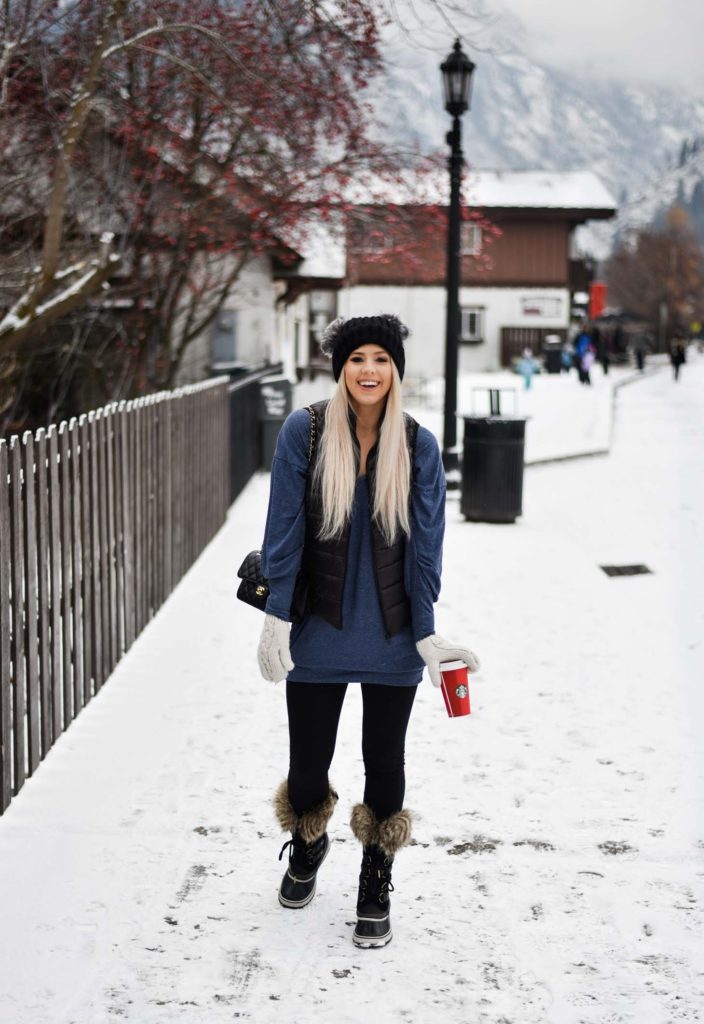 Vest // Tunic // Leggings // Boots // Similar Bag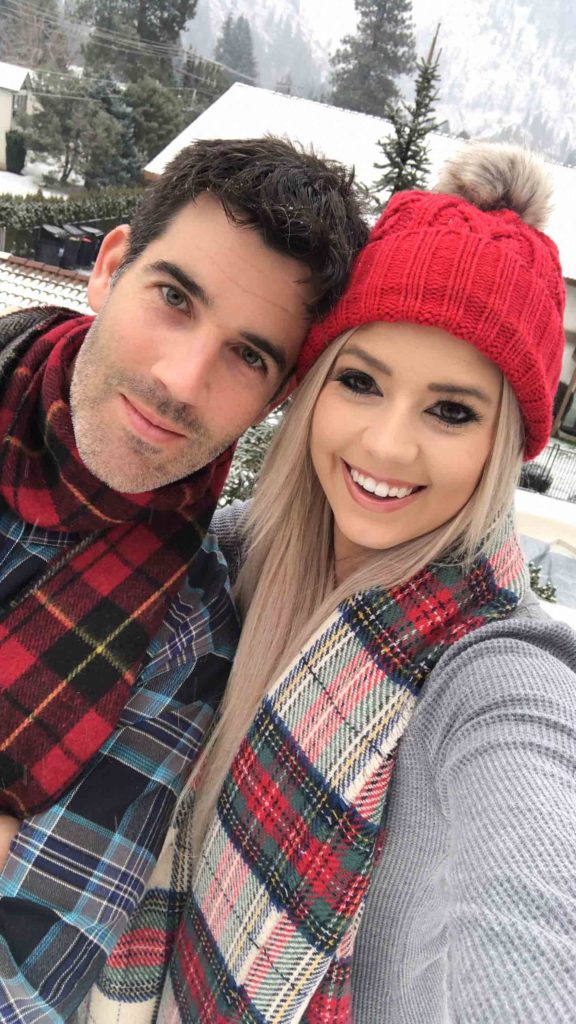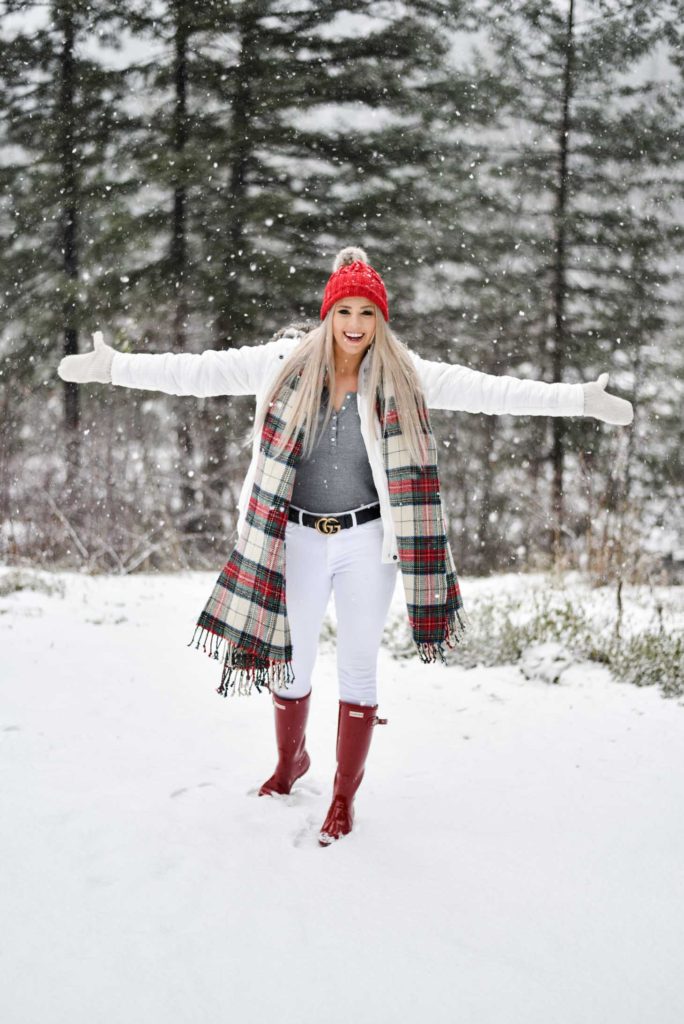 Similar Jacket // Top (50% off) // Pants (50% off) // Hat // Scarf (50% off) // Mittens (50% off) // Boots // Belt

Overall Experience 
Wow. When we got home, my mind was just spinning! I am so lucky to have experienced such an amazing trip with B. I am so thankful for all he did to make our little getaway romantic and fun! If you're looking to go somewhere "Christmasy" next year, look into Leavenworth! The hotels book up a year in advance (we got lucky with a cancellation!), so be sure to book your trip early! Enjoy!