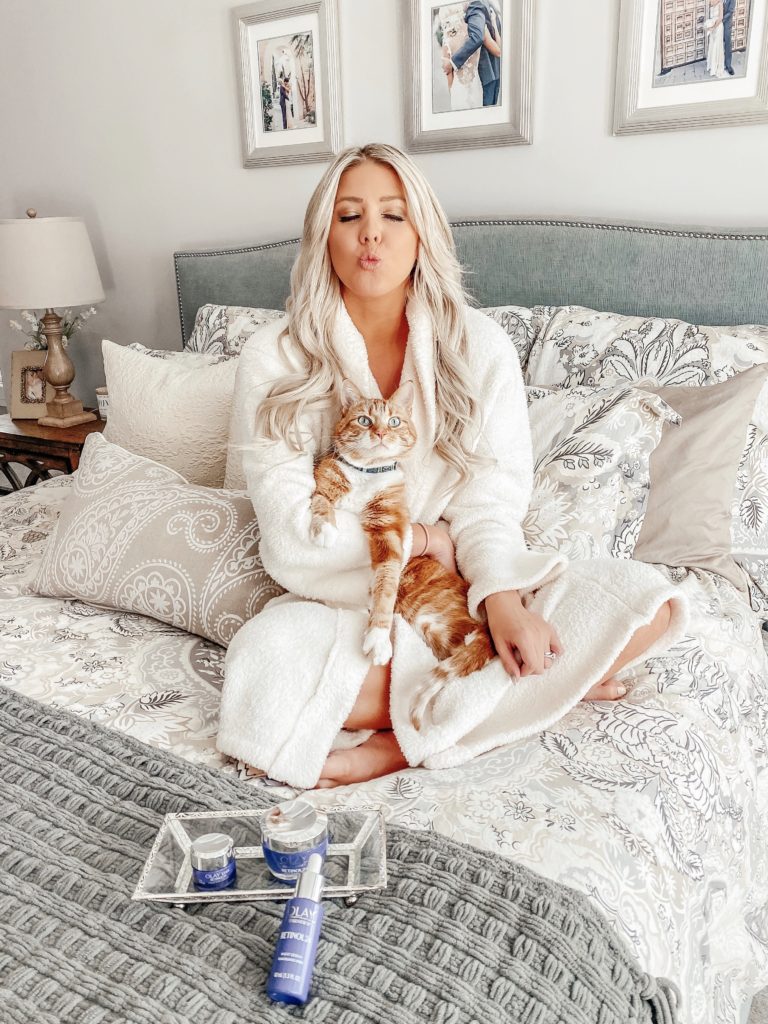 Nothing beats coming home from a long day, putting your fuzzy robe on and taking your makeup off. There's something so invigorating about stripping your skin of all the daily grime and caked on makeup! It's also the perfect time to take a few minutes to apply a skincare routine. Especially one that is quick and easy to use! Today, I am sharing about a new retinol line that I have been implementing for the past four weeks. Let's dive in!
So Retinol, Huh??
I've heard a lot of things about retinol when it comes to skincare. "It leaves your skin irritated." "Be careful with retinol because it's super harsh on the skin." "Retinol is SO expensive." And many other claims and worries. So when I first decided to try out the Olay Retinol24 products I was a tad nervous. I have fairly clear and healthy-looking skin for the most part, but I am always interested in products that help with aging and eliminating fine lines and wrinkles. When I found out that this line could not only help with these concerns, but also help to brighten and tighten my skin, as well as minimize the size of my pores, I was sold. The products also claim that they are non-irritant and will not be harsh on the skin. With all of this info, I was ready to give it a try!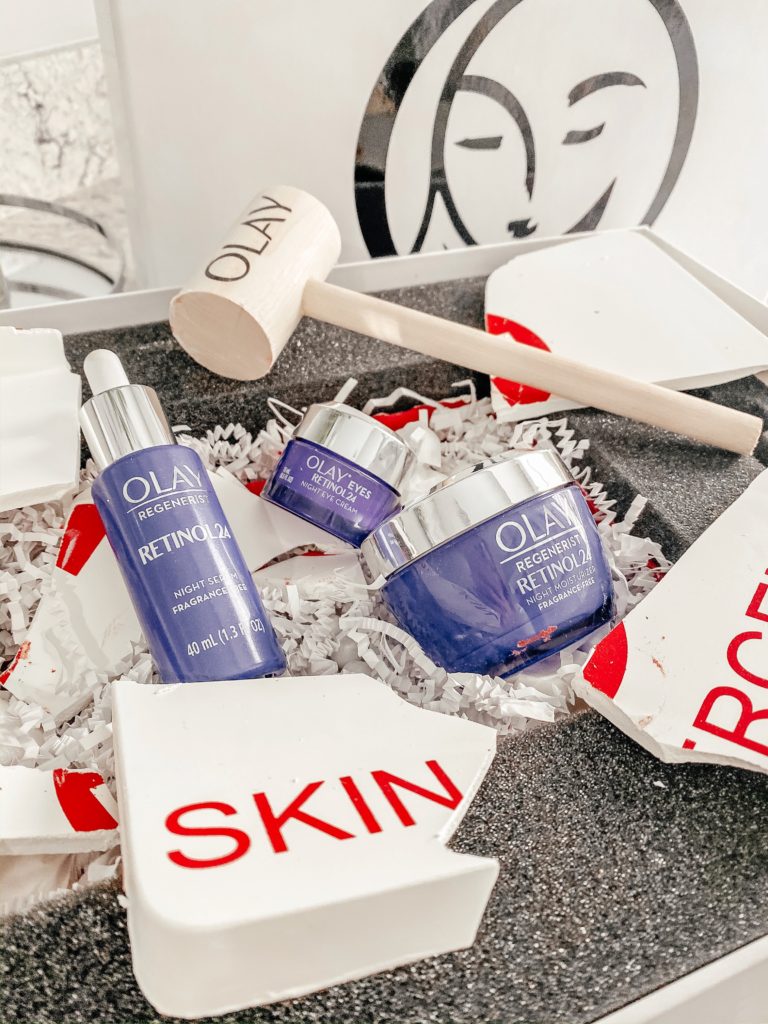 So How Does Retinol Work?
Retinol is super cool! It encourages your skin cells to turn over faster than they normally would on their own. This promotes new skin cells to grow in their place and leaves your skin new and fresh! Retinol is a form of Vitamin A that helps to brighten and smooth the skin while helping to eliminate damaged skin in the process. Sounds dreamy, right?! That's what I thought too!
When I received the products in the mail, I was super pumped to get started using them! While I did incorporate all these products into my nightly routine, I want to focus on one product in particular: The Retinol24 Night Serum
With 90% of women noticing a visible, positive change in their skin after ONLY a 24-hour use, I too noticed that my skin was left feeling brighter, tighter and more hydrated. I love that the formula isn't greasy and is fragrance free. Great for those who may have more sensitive or oily-prone skin!
Over the past four weeks, I have paid close attention to my skin and looked for any signs of irritation. But they never came! I looked into each product thoroughly to see which products had more retinol (just in case) but have learned that the amount of retinol does not actually matter. It's how the retinol is combined with other ingredients! Olay's special formula with vitamin B3 plus retinoid complex actually hydrates better than the top selling retinol product on the market! And you can snag it at an affordable price. It's a total win!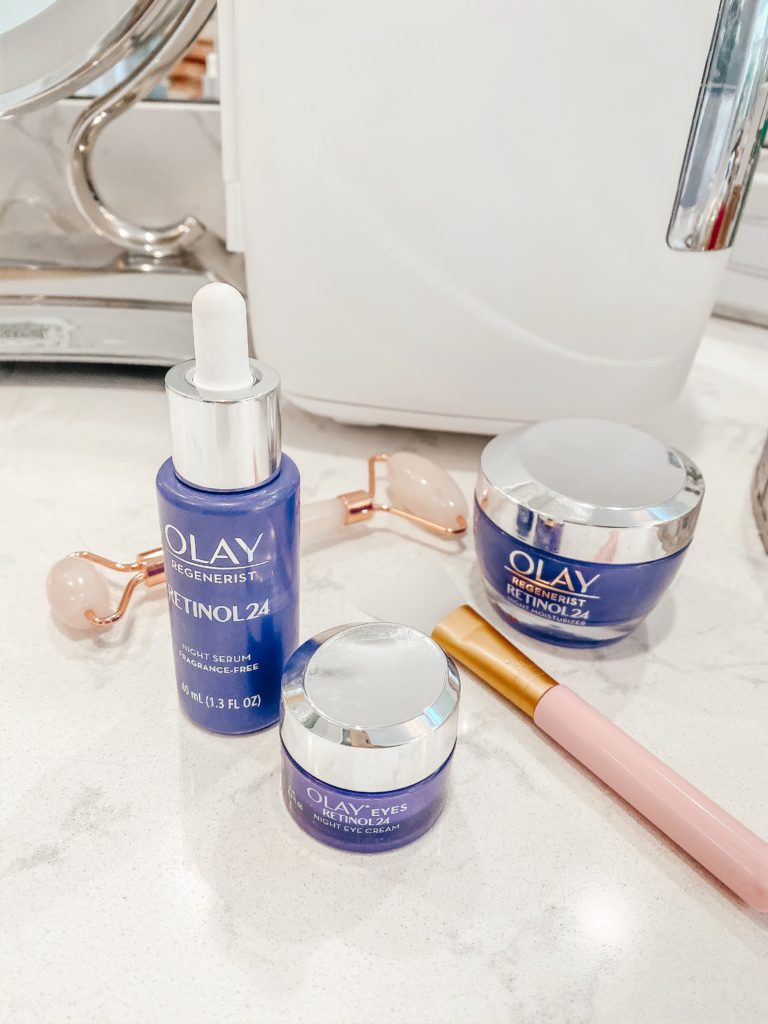 Applying the Olay Retinol 24 Night Serum
I love how the Retinol24 serum feels on my skin! I recently snagged myself a skincare fridge that I keep in my bathroom. I love storing my night serum and eye cream in there. When it's time for my nighttime skincare routine, I always cleanse and dry my face first. Then I reach for my Retinol24 serum.
I first apply the night serum. When I apply the serum, I use a rose quartz roller to help roll the product deep into my pores. It feels so dreamy! I love the cool and tightening sensation the serum leaves on my skin. I can just tell that it's working as soon as it touches my face!
It is so easy to add this retinol product my routine. And the results are so fast! Within just 24 hours I noticed a visible difference to my skin! I can even tell a difference when I apply my makeup the next day. It seems to go on smoother and looks more polished due to how soft and fresh my skin is! I love how these products continue to work in your skin for up to 24 hours – just in time for your next application!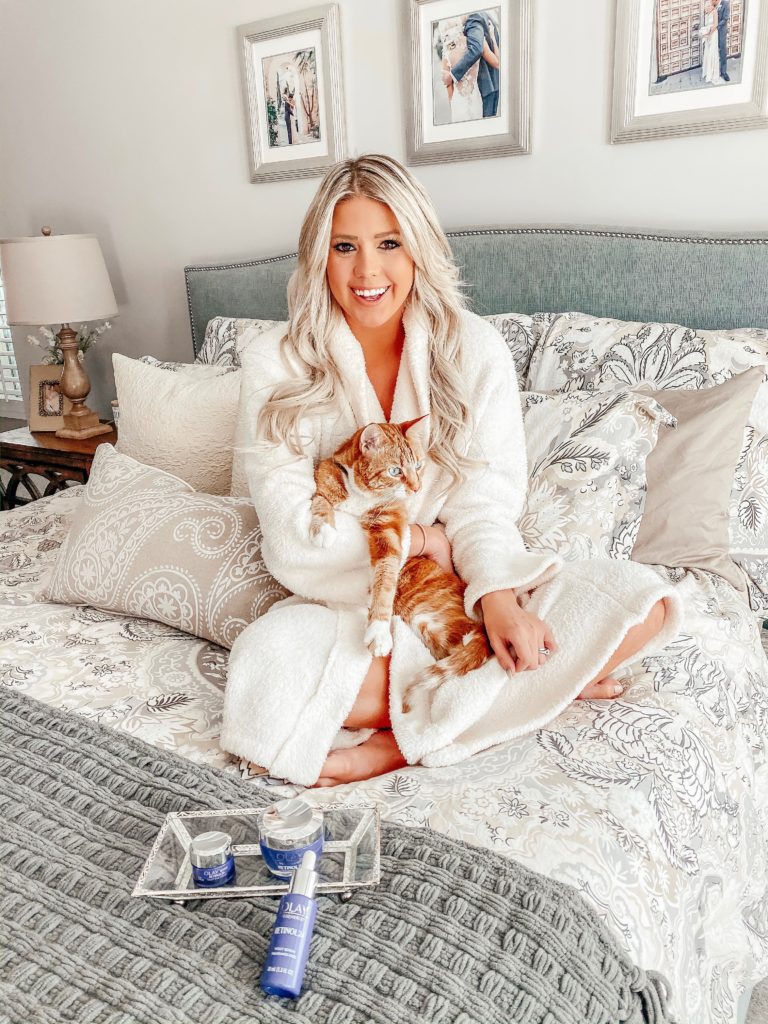 My Overall Experience
Overall, I am a big fan of the Olay Retinol24 products. I truly love an easy to use skincare routine. This is just that! It's quick, simple and the results are amazing! While I used to be afraid of the term "retinol", it's safe to say that I am now educated and well-experienced with it. Retinol24 does not leave my skin feeling irritated. My skin is left feeling brighter, softer and definitely more hydrated!
I can honestly tell a visible difference in my skin. It just looks and feels happier! I am super pleased that I started using this line. If you are looking to implement an easy but rewarding nighttime skincare routine, I highly recommend giving these products a try!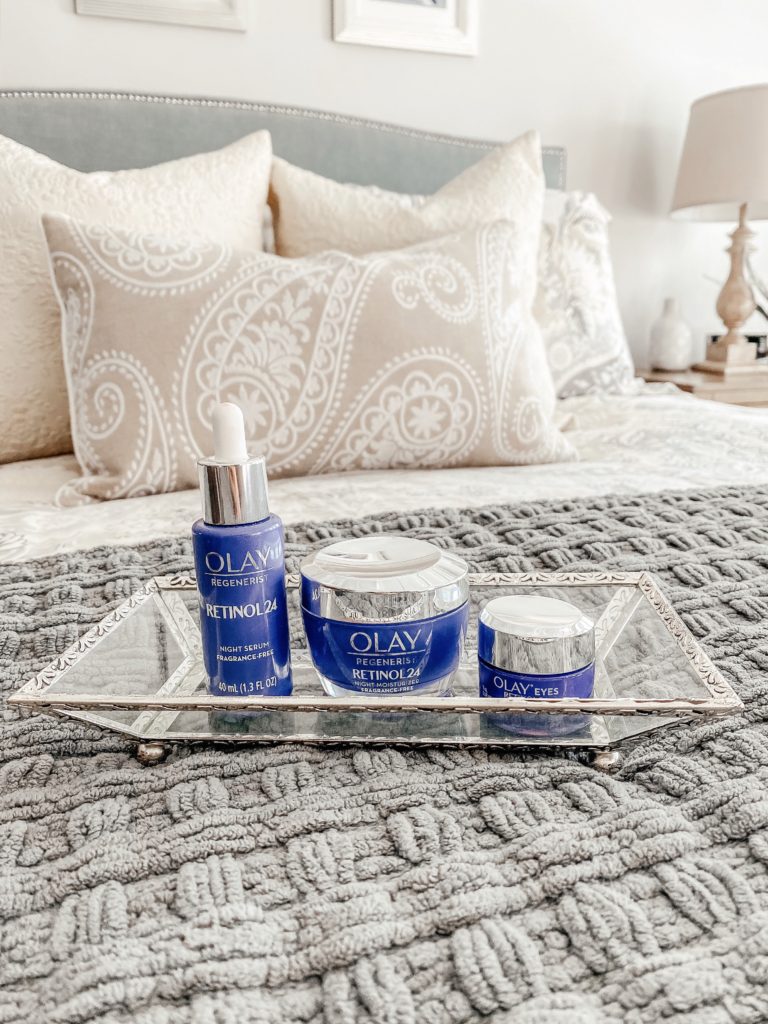 Shop Olay Retinol24 Products here!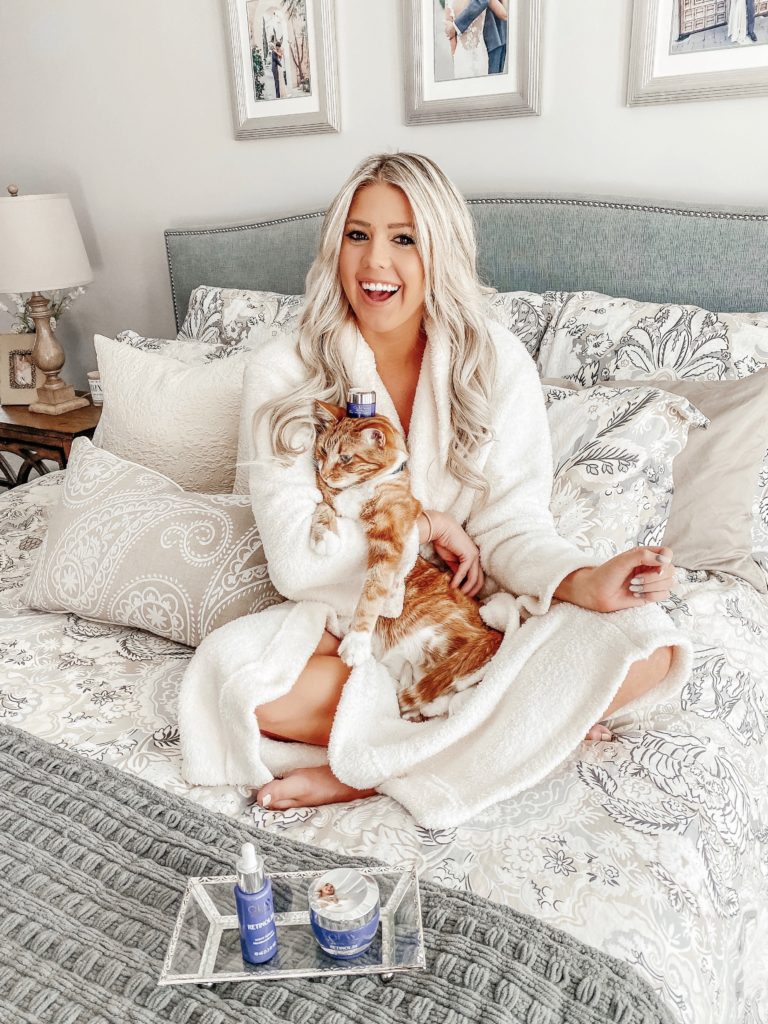 Even Kota was excited about the new Olay Retinol24 products! Although he went for the eye cream. Okay, Okay….I kid, I kid.
This post is sponsored by Olay. All opinions are my own.