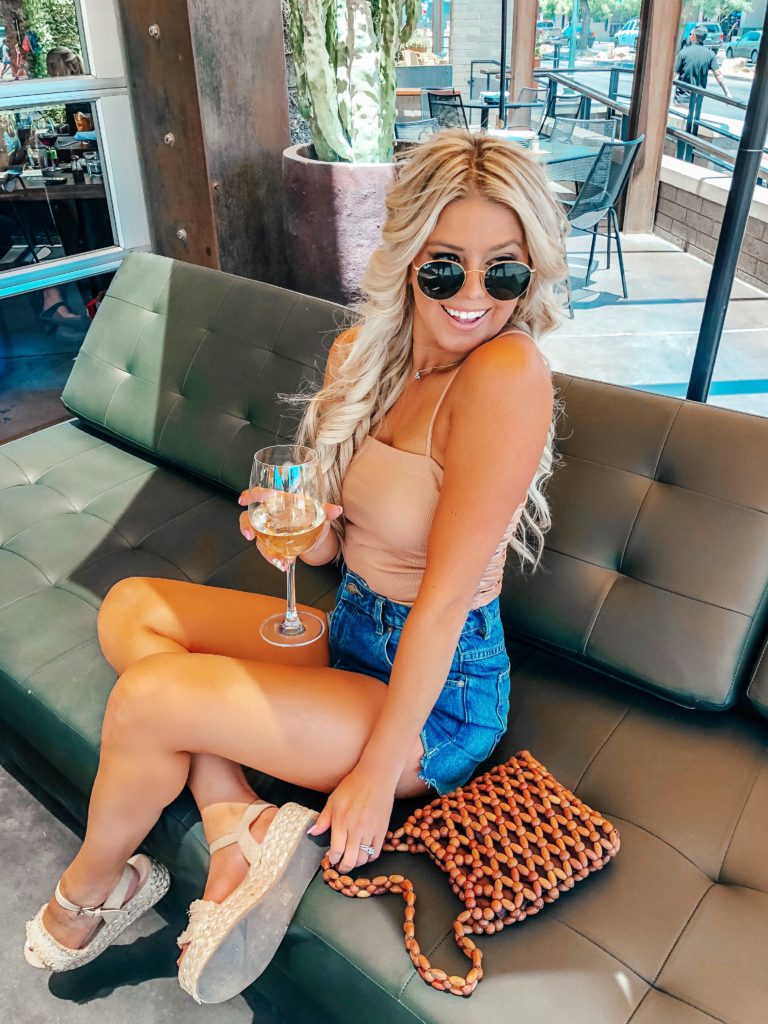 Outfit c/o Lulus – Bodysuit // Shorts // Sandals // Bag
When it comes to Scottsdale recommendations, my inbox is always flooded with requests for cute happy hour spots. I thought I would share a few places that I love to go to!
Scottsdale Happy Hour Spots
Postino Wine Cafe – If you are a bread lover like me, you HAVE to check out Postinos. They have the best bruschetta boards. SERIOUSLY. They are so good. Trying to be good about what you're eating this summer? Little hack: Ask for thin sliced bruschetta. 😉 Can't make HH? They have $5 wine and beer till 5!
Sorso Wine Room – The cutest little spot at Scottsdale Quarter. It's one of my go to spots with my girls! They have the yummies dip and really tasty charteruie boards too.
The Montauk – This place has all the downtown Scottsdale feels! It's super trendy and has some fabulous drink specials under $5!
Ajo Als – Need to get your Mexican food fix? This is one of our favorite casual places. You HAVE to get a skinny margarita AND the bean dip. You'll be hooked!
Kona Grill – The perfect spot if you need a cocktail and some sushi! They also have an awesome patio. It's huge! I am a big fan of their Las Vegas roll.
Culinary Dropout – Who loves cheese fondu?! You MUST go there and order it. It's literally amazing! Great drink prices too.
Paul Martins – B and I love this spot for happy hour. It's a more upscale restaurant, but at HH, a steal! They have a great menu for shareable things. And they have yummy drinks!
Tommy Bahamas – One of my favorite spots! This has all the resort/vacay feels. Love their indoor/outdoor seating options and their drinks will transport you to another place!
Farm and Craft – One of the longer happy hours in Scottsdale. Starts at 2?! Yes, please! Be sure to try one of their kombucha cocktails too.
While this doesn't even BEGIN to scratch the surface for awesome HH spots in Scottsdale, these are some of our favorites! You can't go wrong with any of these local gems! 😉
Shop the Look
Bodysuit // Shorts // Sandals // Bag
Thank you to Lulus for sponsoring this post!