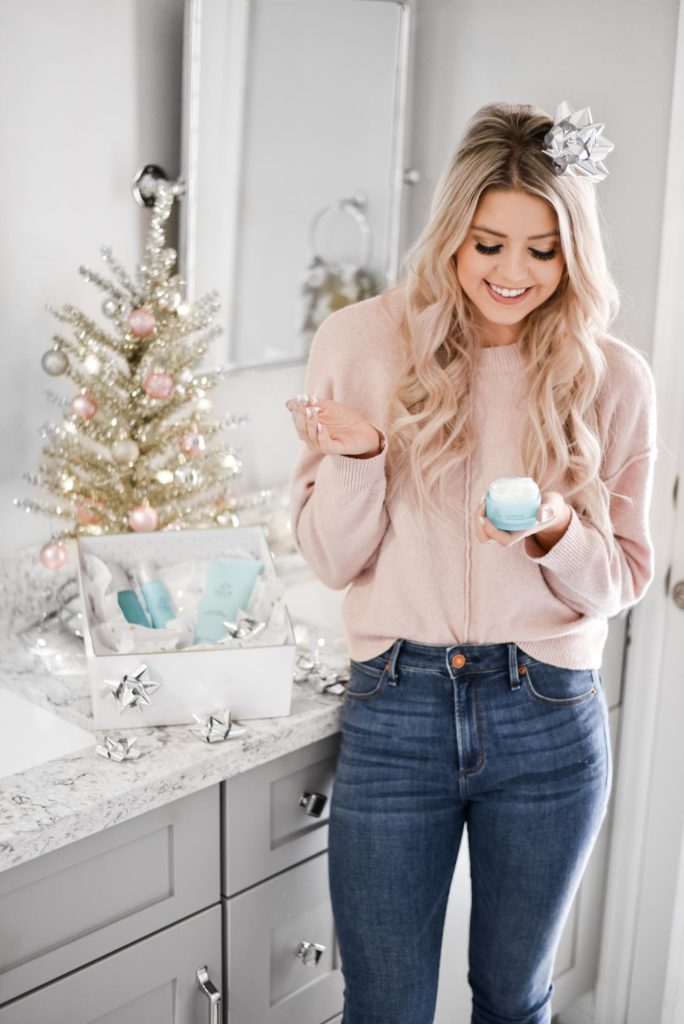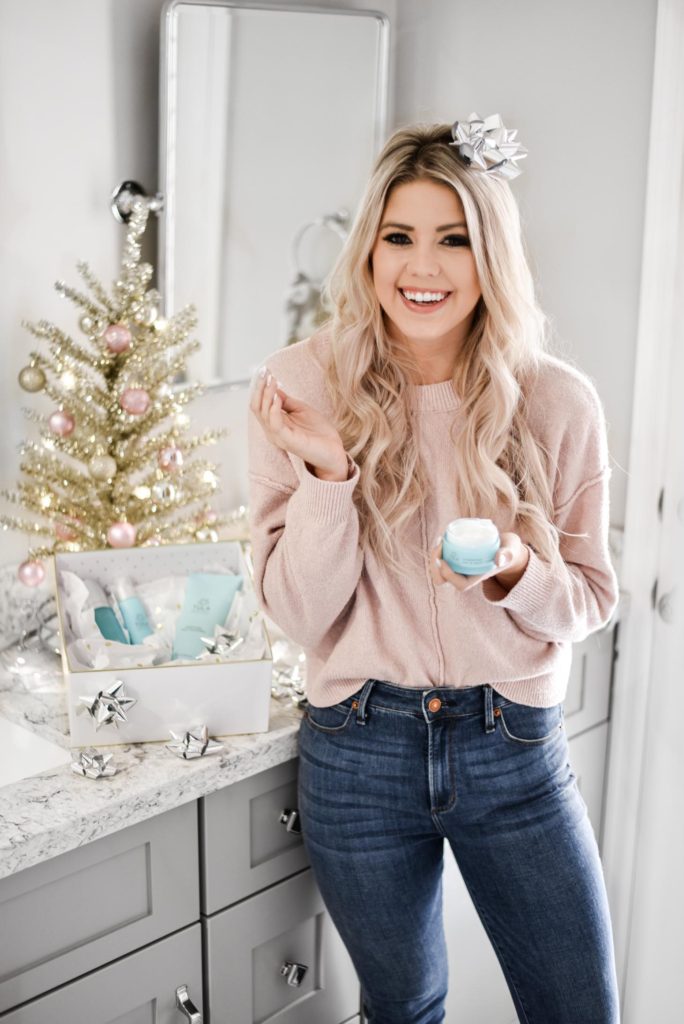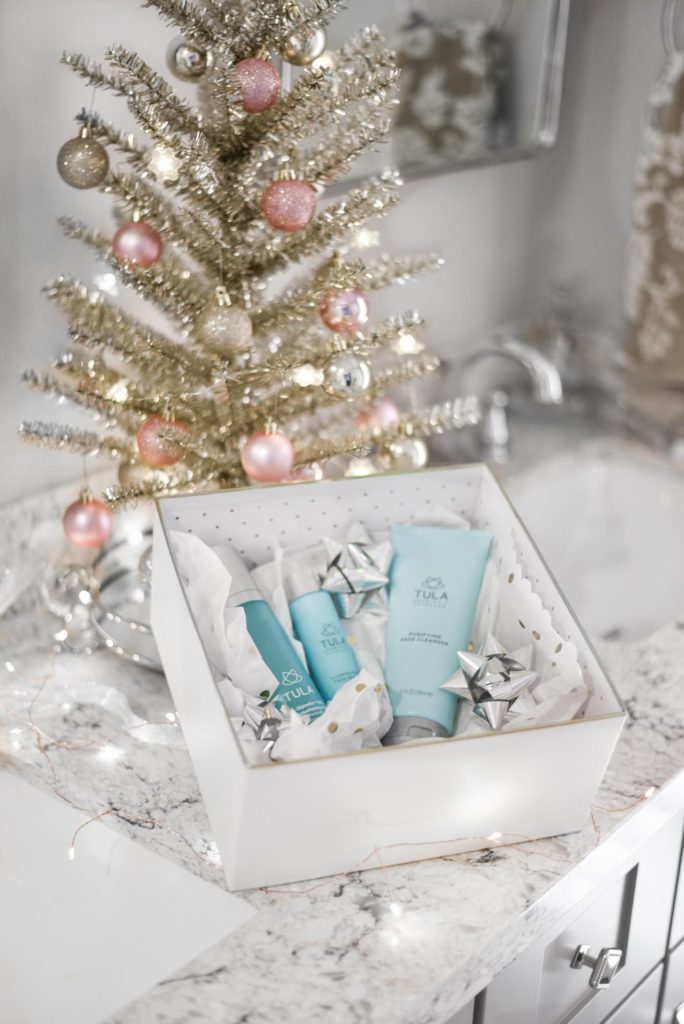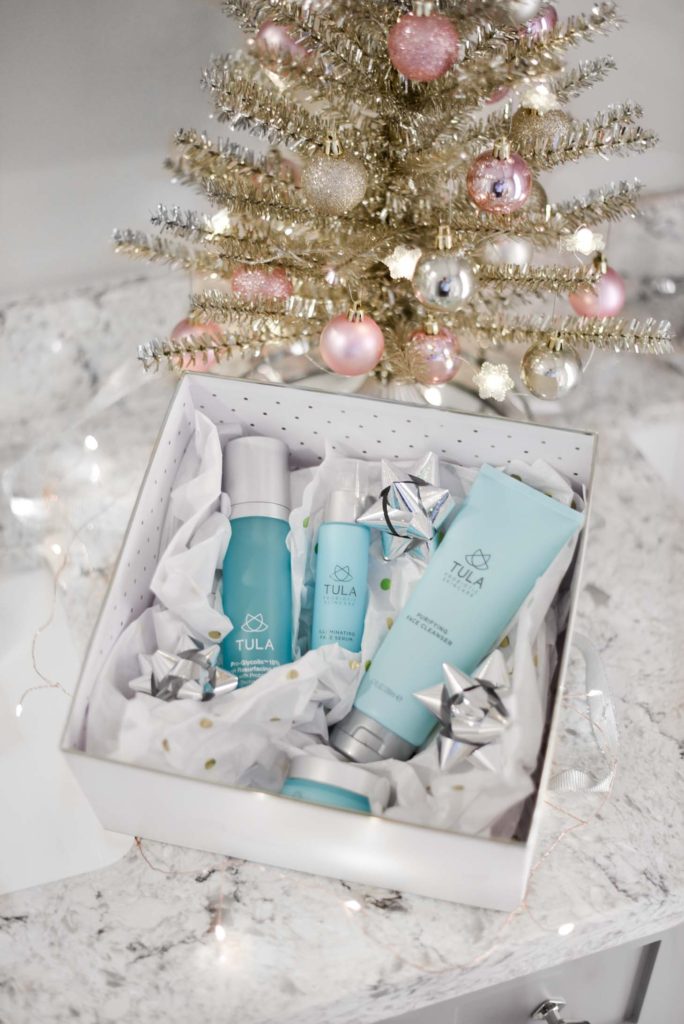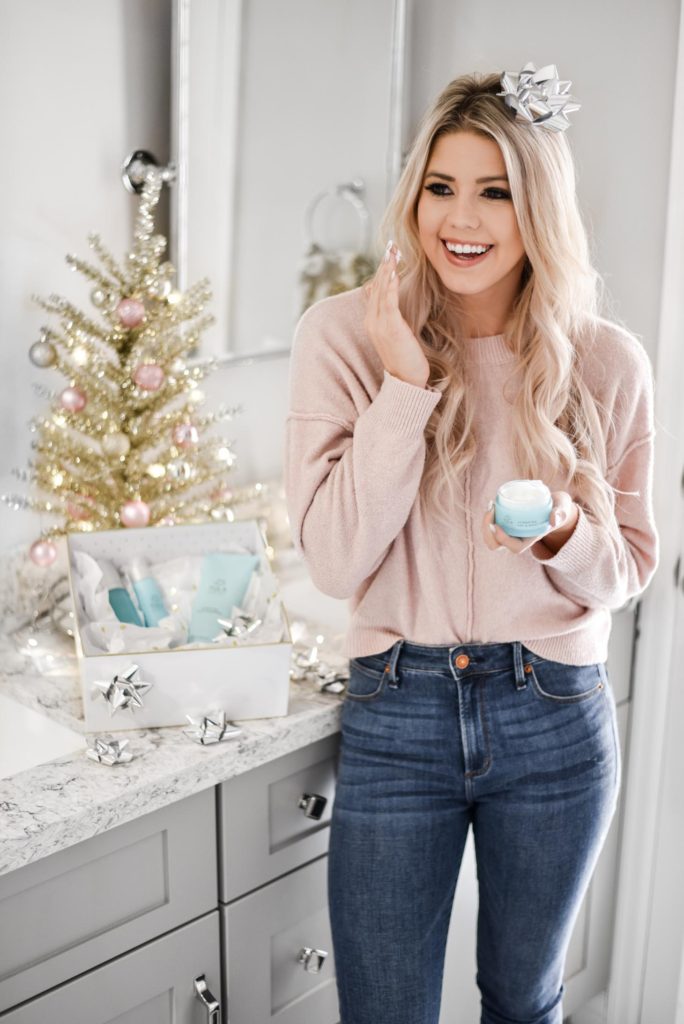 Shop My Look
Similar Sweater // Jeans // Tree // Ornament

Today, I am excited to share about the new skincare line I have been using for the past couple weeks! I have seen the brand Tula being used by other bloggers and on social media for months now. I kept thinking, I really need to try out that brand! Well, ladies, I have finally done it! I am kicking myself for not trying it sooner. It's the best line!
Why is Tula different?
First of all, I love that Tula uses probiotics as the foundation of all their products! Probiotics help to promote the look of your skin's natural balance. They help lock in moisture and leave your skin more hydrated and without inflammation. Tula products are also free of phthalates, parabens, propylene glycol, petrolatum, gluten and mineral oil. Say, what?! Can you believe all these harmful ingredients are in other products we use?!
On the flip side, Tula incorporates natural and healthy ingredients instead! Aside from probiotics, they incorporate blueberry, turmeric, flaxseed, white tea, chicory root, and vitamins A, C and E. These product formulations are well-constructed and super healthy for you and your skin!
What products should I try?
Being a new Tula user, I spoke with someone and explained my skincare concerns and what I was looking to target in a skincare line. Based on my own complexion, I suggested products that aided in anti-aging and providing a glowing finish to my skin! I wanted my skin to glow!
These are the products that I've been using:
Purifying Cleanser
Working to dig in deep and remove dirt from your pores and condition skin without leaving it dry or stripped of it's natural oils. This cleanser is refreshing and easy to lather and apply after removing your makeup (it even helps to remove that leftover eye makeup). I even saw that my skin had more glow to it after only using it a few times! It's suitable for all skin types and is a great first product to try! $22 with code WINKTWIRL
Resurfacing Gel
This toner gel helps to gently exfoliate your skin, leaving it smoother and more hydrated. Over several weeks, this product is supposed to help even out your skin tone and diminish fine lines and wrinkles too! $27 with code WINKTWIRL
Illuminating Serum
This amazing serum targets those dark skin spots and helps reduce their appearance. It helps get rid of dull skin, leaving your skin hydrated, bright and fresh! You will notice your skin being more radiant and smooth over time. Yes, please! $62 with code WINKTWIRL
Day & Night Cream
Delivering deep hydration and leaving your skin with a young and youthful glow! A miracle cream, right?! Apply it twice daily and sit back to enjoy the results. I am excited to continue using this product and see my wrinkles and fine lines diminish (which many women have noticed after using for a longer period of time)! $41 with code WINKTWIRL
My Overall Opinion
Overall, I am super impressed with the quality of the Tula products. I love that they use probiotics and all-natural ingredients to help change the appearance of fine lines, wrinkles, and leave your skin hydrated and glowing! I already have another list of products I want to try!
Shop My Skincare
Use code WINKTWIRL for 20% off!
*Shipping deadline for Christmas delivery is this Sunday, December 16th!*
Purifying Cleanser // Resurfacing Gel // Illuminating Serum // Day & Night Cream

Looking to try out Tula or know someone who may like it?! Here are a few of their holiday gift sets and special deals going on right now!
Holiday Gift Sets + Deals
Use code WINKTWIRL for 20% off!
Moisture Magic Stocking Stuffer // Rockin Radiance Kit // Dual-Phase Skin Reviving Treatment // Let It Glow Kit // Complete Body & Beauty Routine Set // Supersized Day & Night Cream

*Shipping deadline for Christmas delivery is this Sunday, December 16th!*