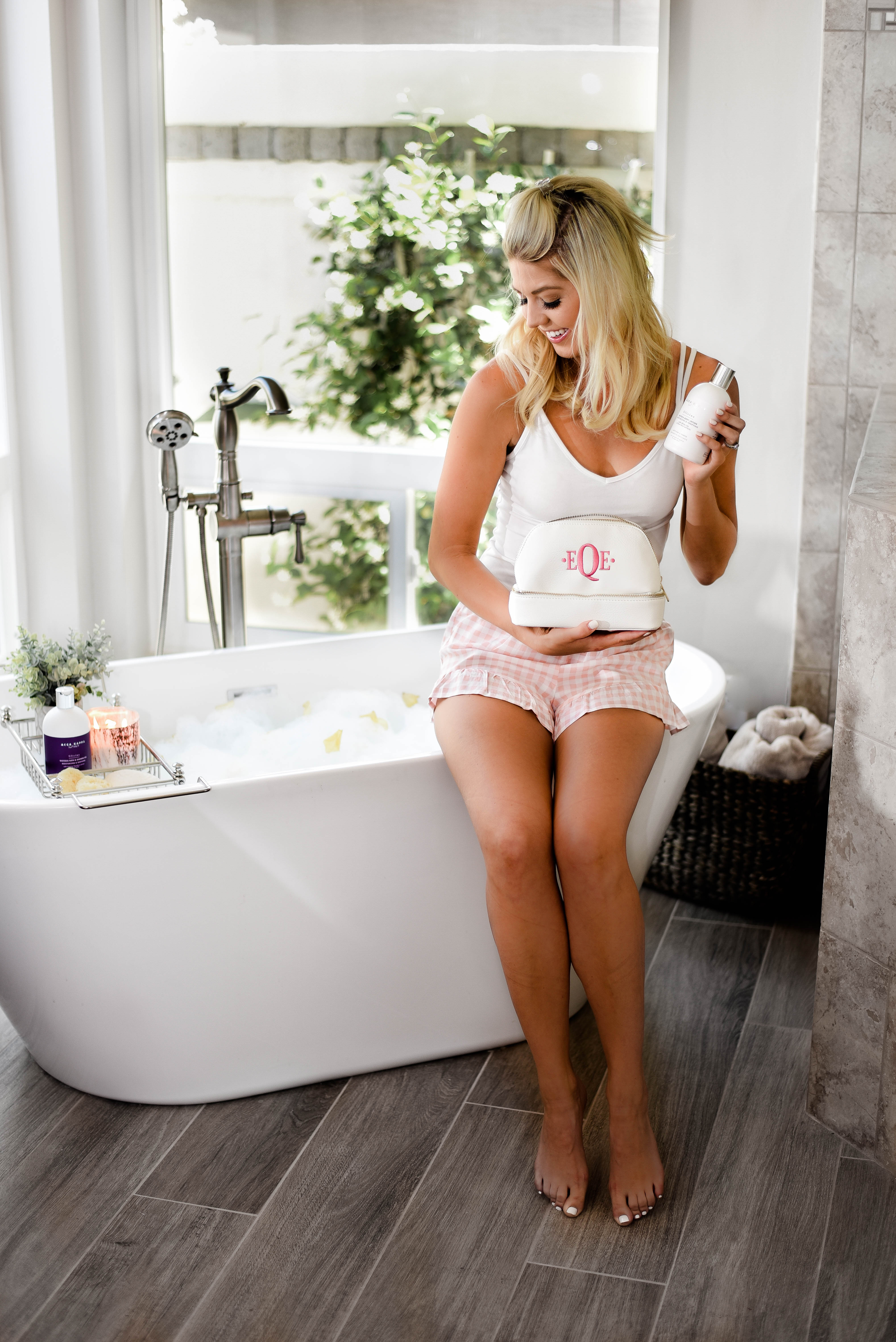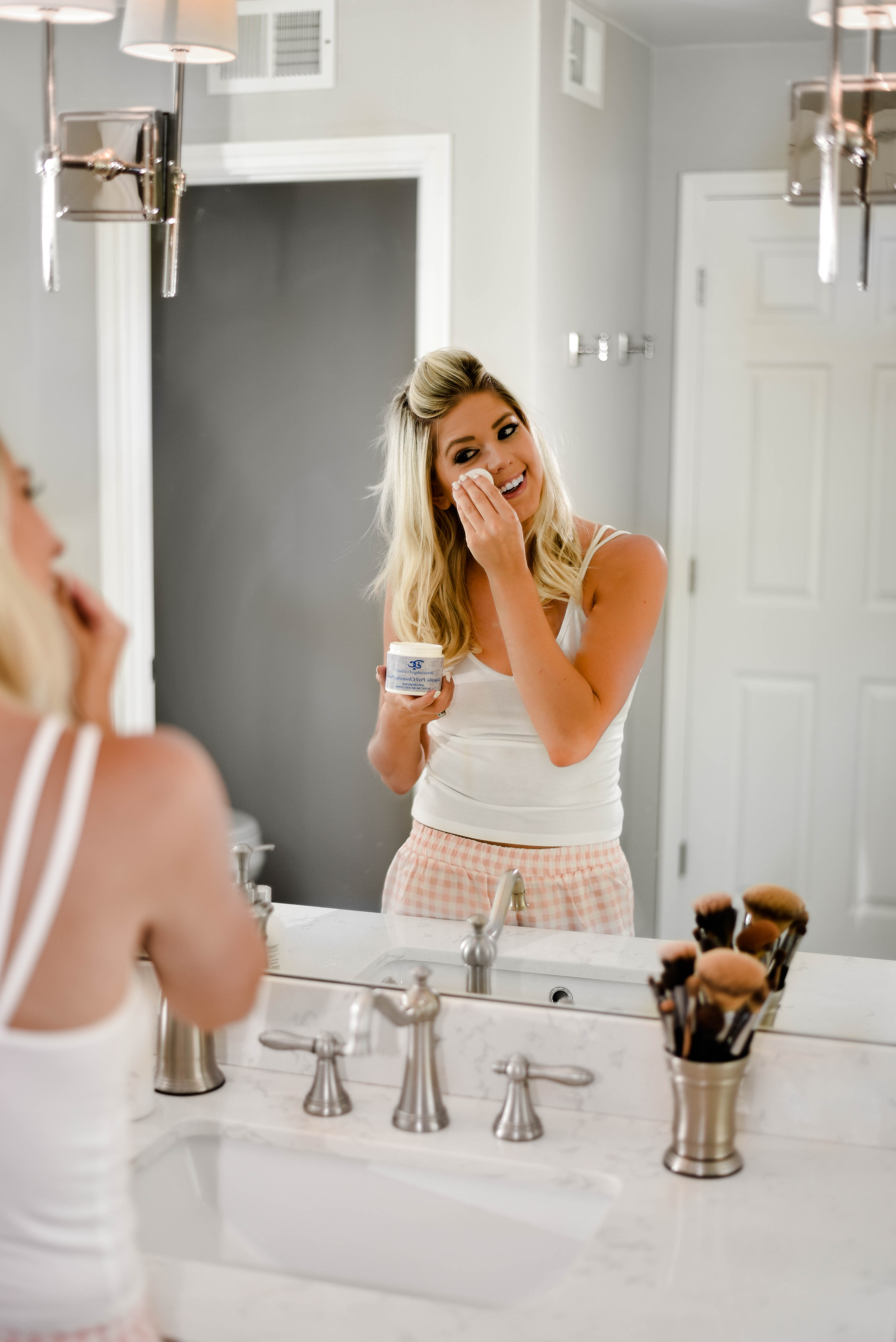 Tank // Shorts // Bath Caddy // Similar Towel Basket // Cosmetic Bag c/o I Love Jewelry // Bath Wash and Body Lotion c/o Acca Kappa // Face Cleansing Pads c/o Dermatologist's Choice
With Springtime here and Summer right around the corner, I thought I would share my current Springtime beauty picks! From lotion to makeup, perfume to self tanner, this beauty guide is tried and true. I seriously love each and every product I am sharing with you today. While I am by no means a beauty expert, I have tried out a large variety of products in my day, and these are some of the best I have ever owned. Be sure to shoot me a comment, email or DM if you have any questions! Enjoy!
Skincare/Body Products
Body Wash and Lotion (both on sale) // Self Tanning Oil //  Face Cleansing Pads // Face Moisturizer // Priming Moisturizer // Perfume
Product Spotlight – I recently received this body wash and lotion set from Acca Kappa. Made with Hawthorne extract and shea butter, this body wash is the perfect addition to any bath or shower. Finish up with their Wisteria lotion made from Lily extract. It's sure to leave your skin feeling soft and smooth! (both products are currently on sale)
Product Spotlight – I've also been using these glycolic cleansing pads from Dermatologist's Choice. It will help exfoliate your skin, aid in anti-aging, and leave your skin feeling cleansed and glowing. They are so quick and easy to use too!

Face Products
Foundation //  Concealer // Setting Powder // Another Setting Powder //Highlighter Drops //Bronzer // Blush // Setting Spray
Product Spotlight – I have been absolutely loving the Marc Jacob's coconut highlighter drops. You can mix it with your foundation or apply directly onto your skin post foundation. It provides the prettiest summer glow that will last all day!

Eye Products
Eyeshadow Palette // Eyeliner // Eyebrow Liner // Eyebrow Gel // Falsies // Mascara // Eyelash Curler
Product Spotlight – Out of all the different kinds of makeup products, I've probably tried the most mascaras. There are just so many to pick from. However, my absolute favorite right now is the Benefit They're Real mascara. It's crazy how much longer and thicker my natural eyelashes feel after applying it!

Lip Products
Lip Mask // Lip Liner ("the nudest") // Lipstick // Lipgloss ("soft blush")
Product Spotlight – Hands down, the Laneige Lip Sleeping Mask is my current favorite lip product! I have always suffered from dry, chapped lips. This product is applied before going to sleep, leaving your lips feeling soft and hydrated in the morning. Plus, it smells amazing!

Hair Products
Blow Drier // Curling Wand Set // Shampoo and Conditioner //Purple Shampoo //  Leave-In Conditioner // Hair Mask // Shine Mist // Texturize and Refresh Spray // Detangle Spray
Product Spotlight – I have been using this Olaplex Hair Perfector Mask for several years. First given to me by my hairdresser, this product is a game changer. Apply it to hair once a week in the shower and it will help to strengthen hair and prevent breakage in-between hair appointments. I cannot say enough good things about this product!

Thank you to Acca Kappa and Dermatologist's Choice for contributing to this post!
SaveSave
SaveSave
SaveSave
SaveSave
SaveSave
SaveSaveSaveSaveSaveSaveSaveSaveSaveSaveSaveSave