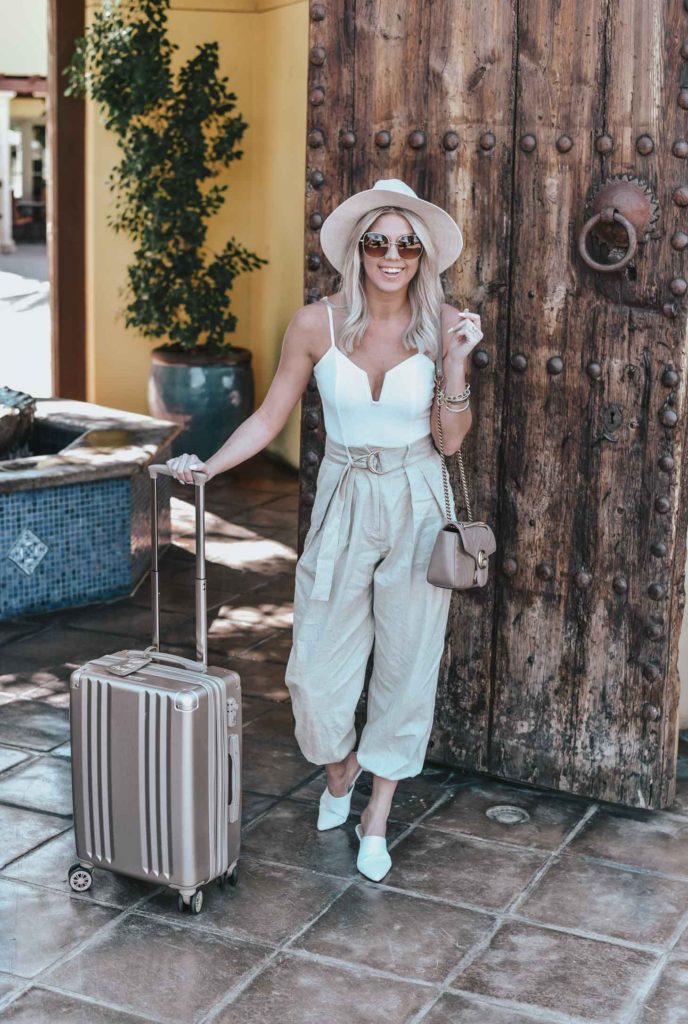 A couple weekends ago, B and I attended a Wedding Reunion weekend at the Omni Resort and Spa at Montelucia. We were married on these beautiful grounds just four years ago. We had the privilege to come back for a weekend full of good food, even better company and three days of memories that will last a lifetime!
Upon arrival, we were immediately immersed in the beautiful Spanish-inspired grounds. With every turn and step, we were taken back to our special day and the paths we walked that day. It was like walking through our wedding album. It gave us all the feels.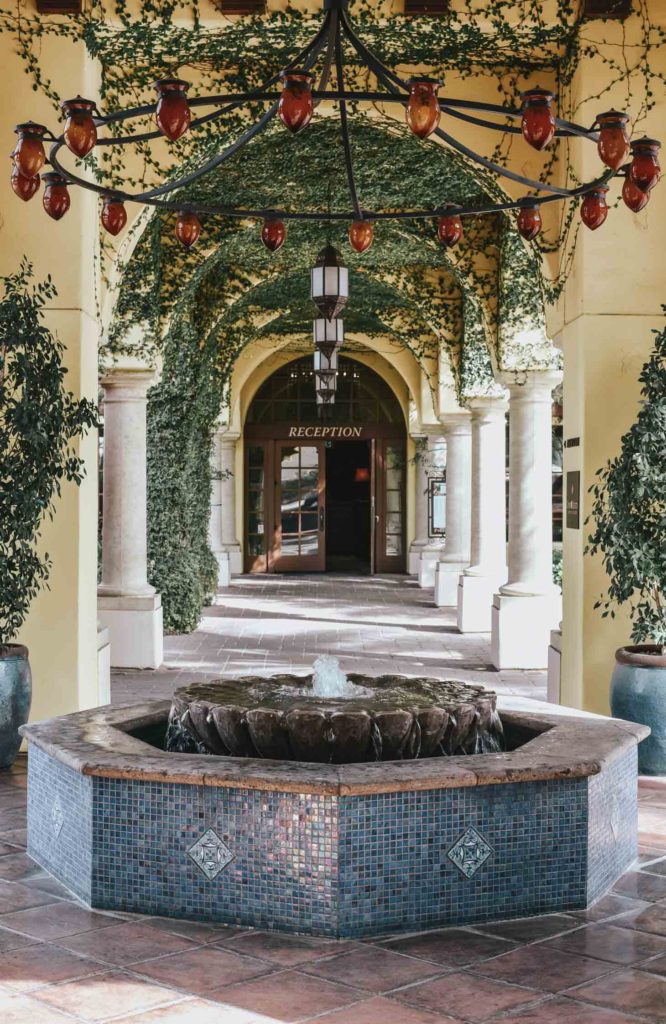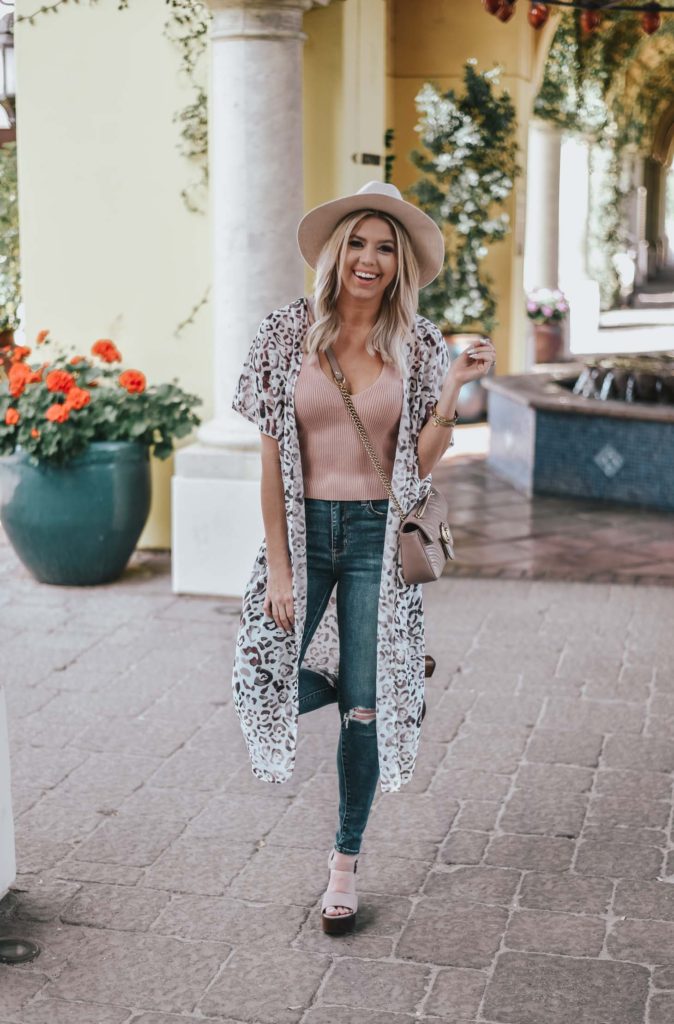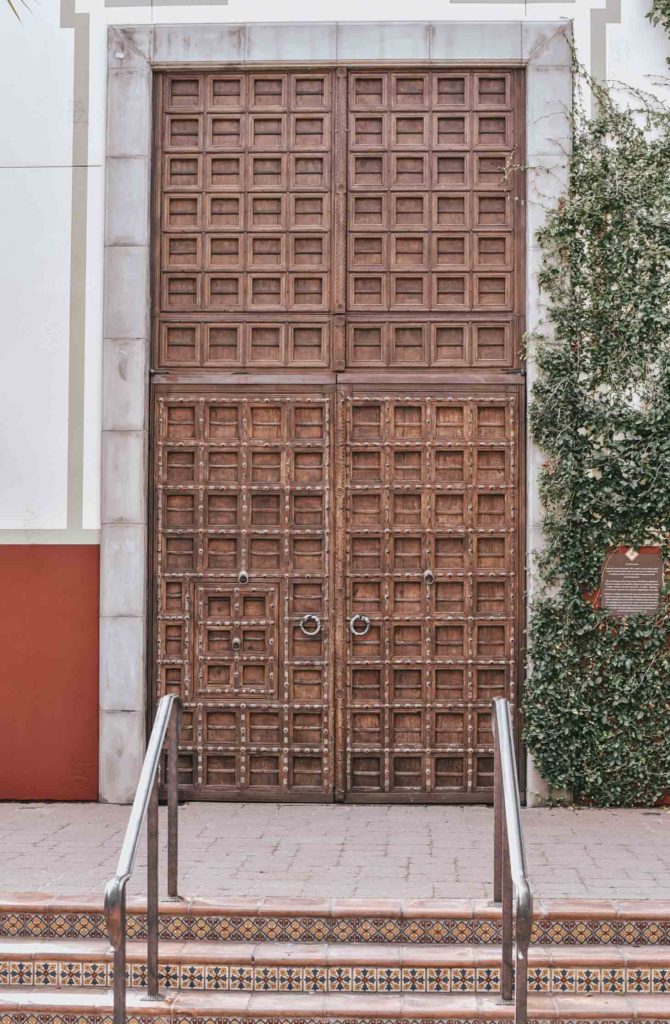 Mountain View Room
As soon as we got on site, we received acknowledgement that our room was already ready. We had requested an early check in service and they delivered! Our room was absolutely spectacular. Can we say gorgeous mountain views?! The walkout balcony brought the outdoors indoors. It was bright, cheery and furnished beautifully. The perfect Spanish-style space.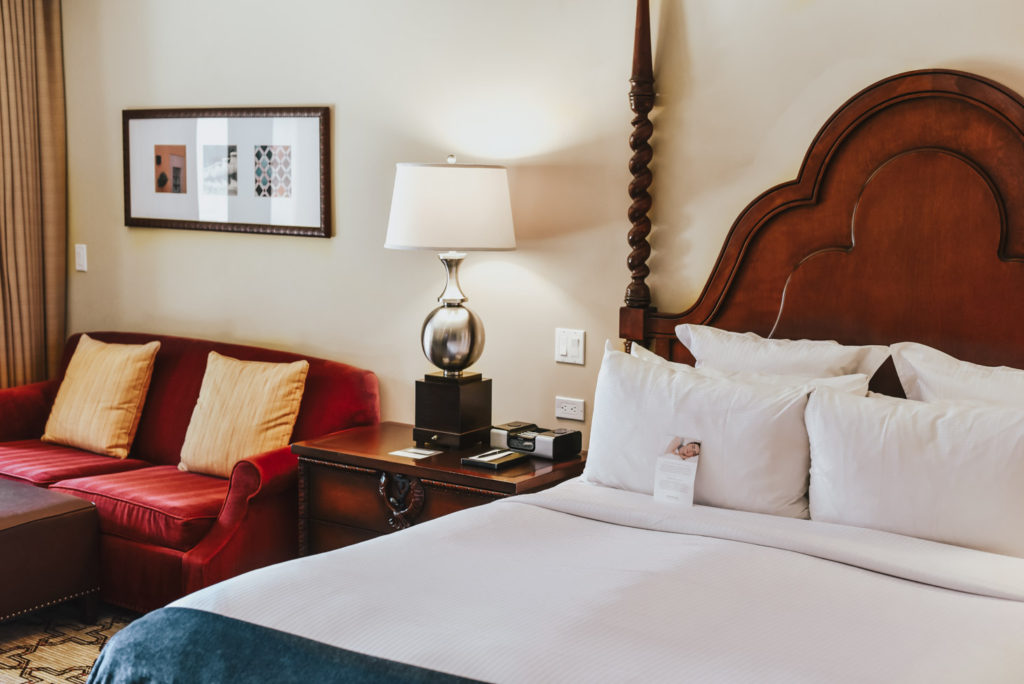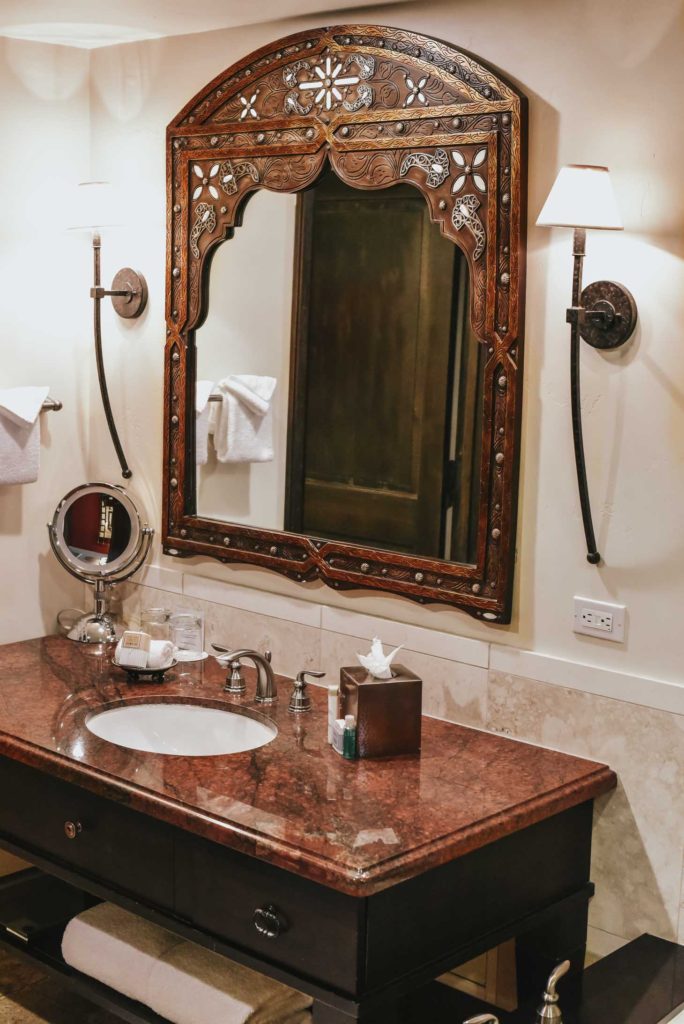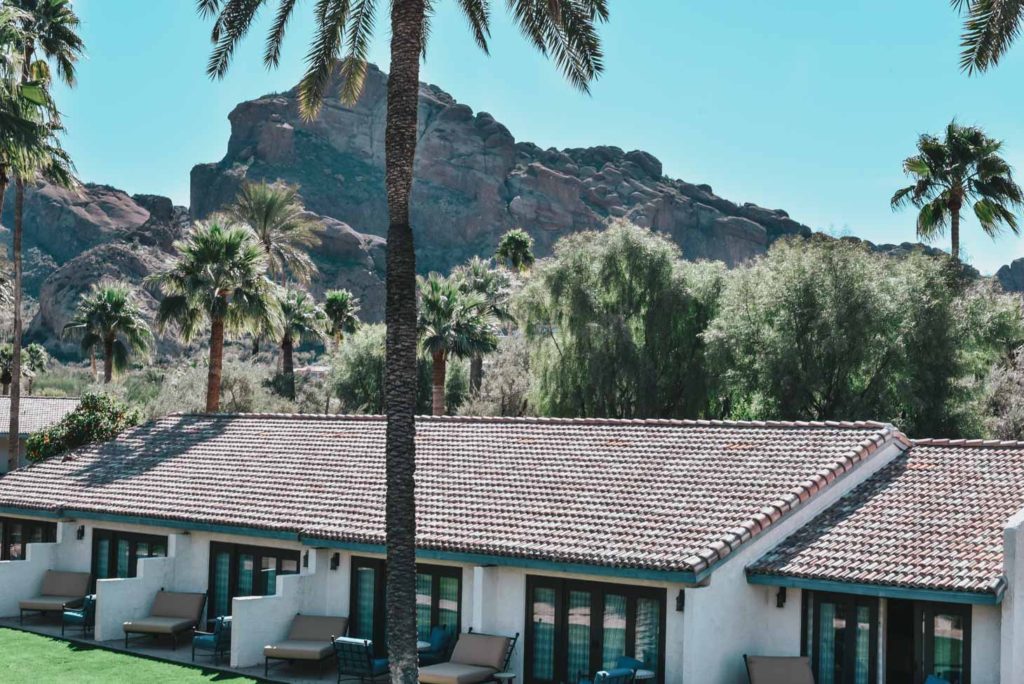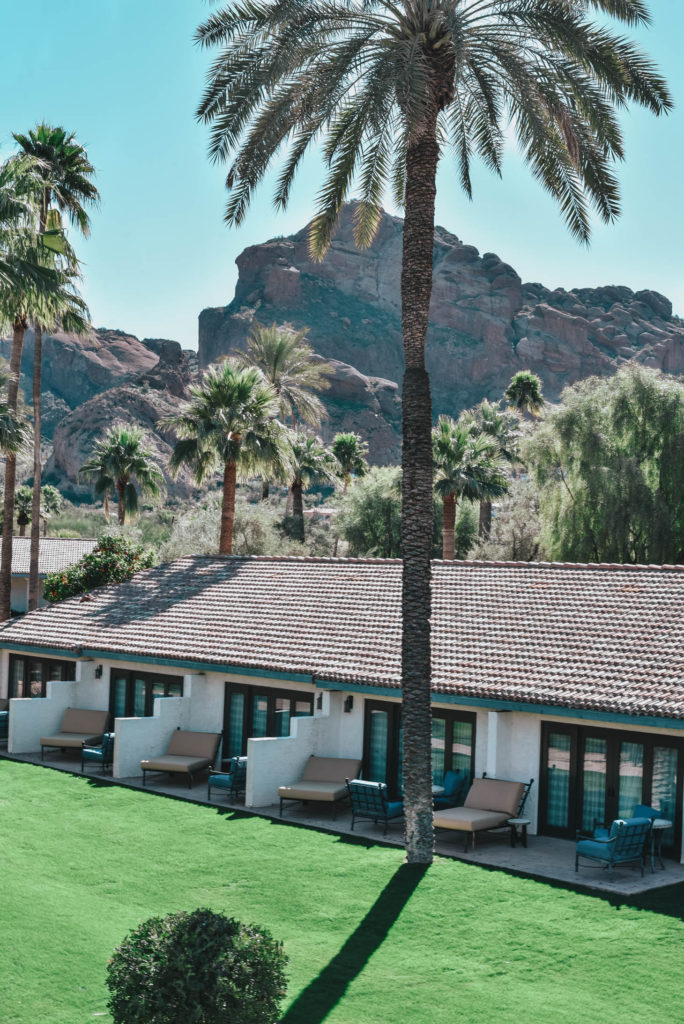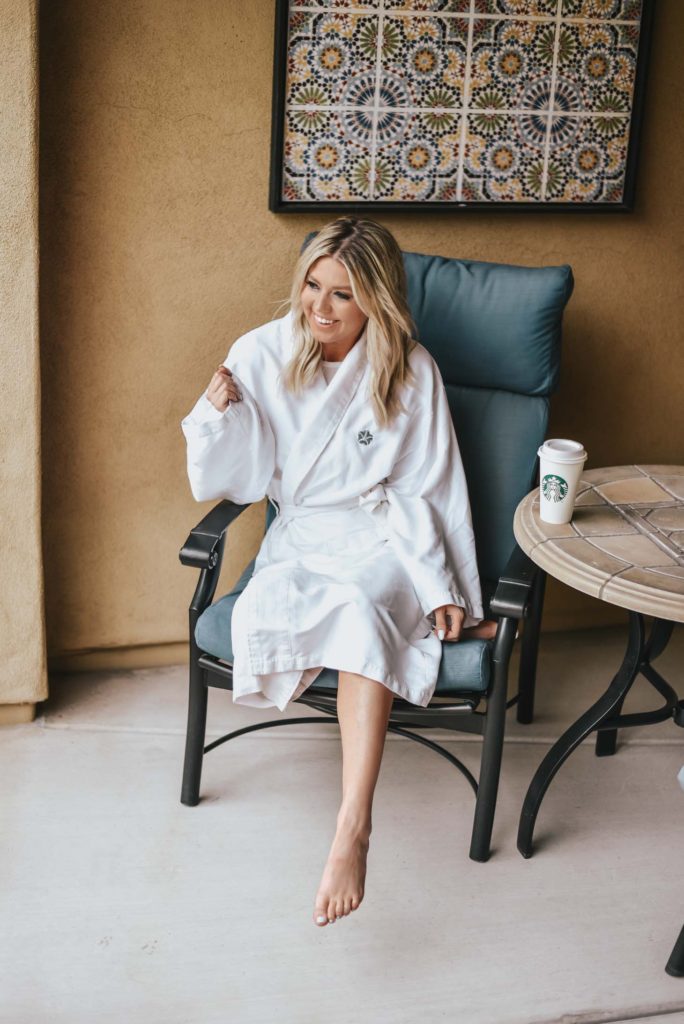 The Grounds
It's safe to say that every inch of the resort is beautiful! It was the perfect backdrop for a ton of style shoots that B and I did while on the property. From lush garden areas to beautiful staircases and fountains, the resort is picturesque.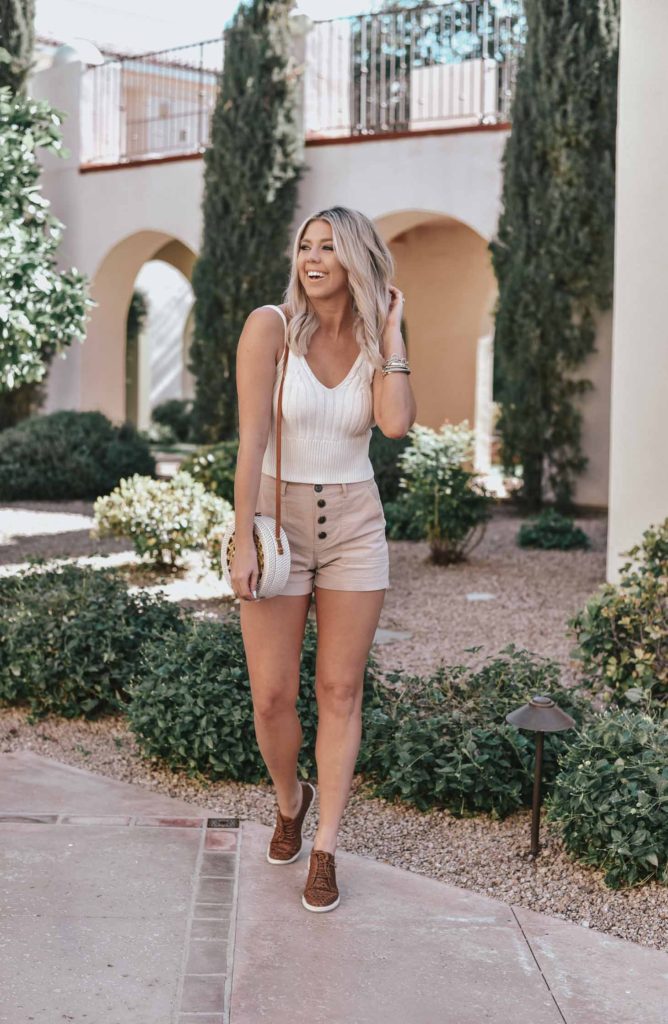 Tank // Shorts // Shoes // Bag all c/o Lulus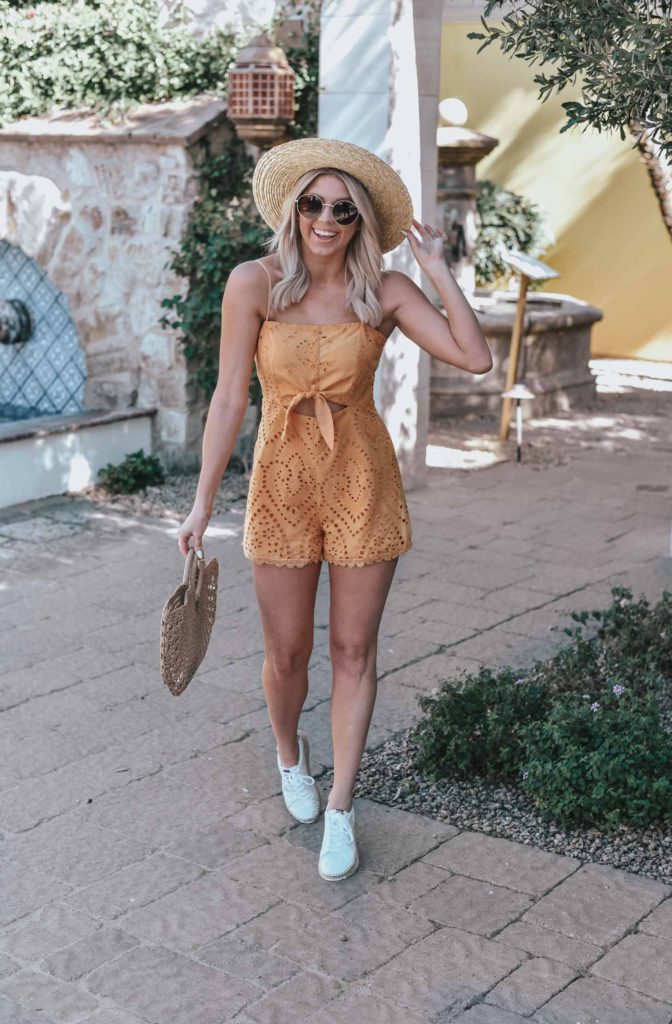 Romper // Shoes // Bag all c/o Lulus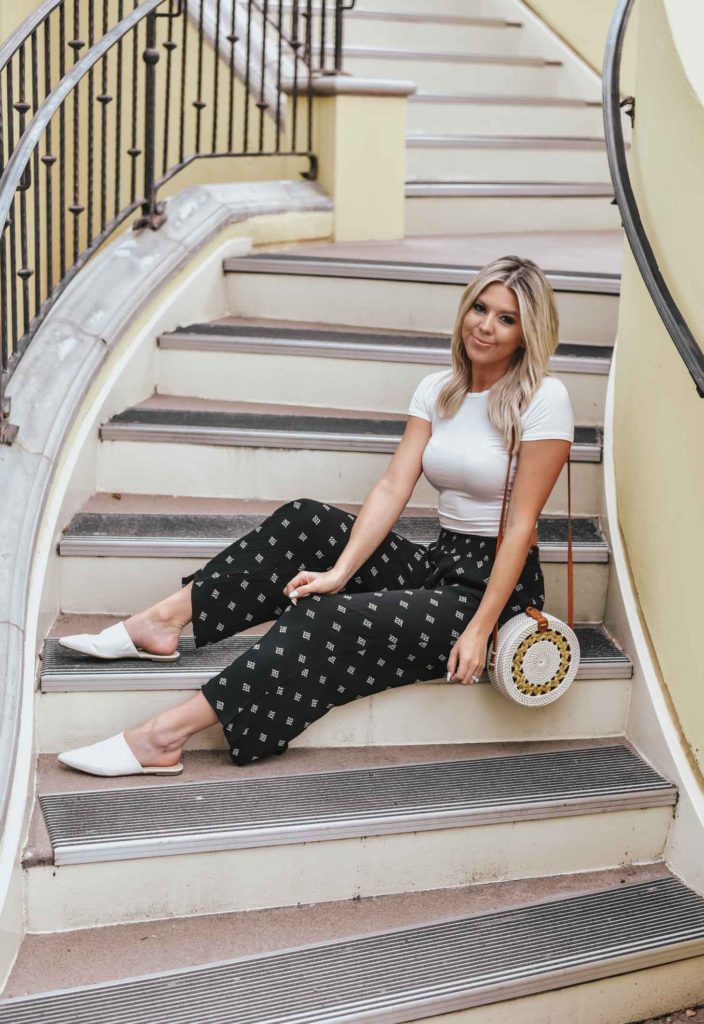 Top // Pants // Bag all c/o Lulus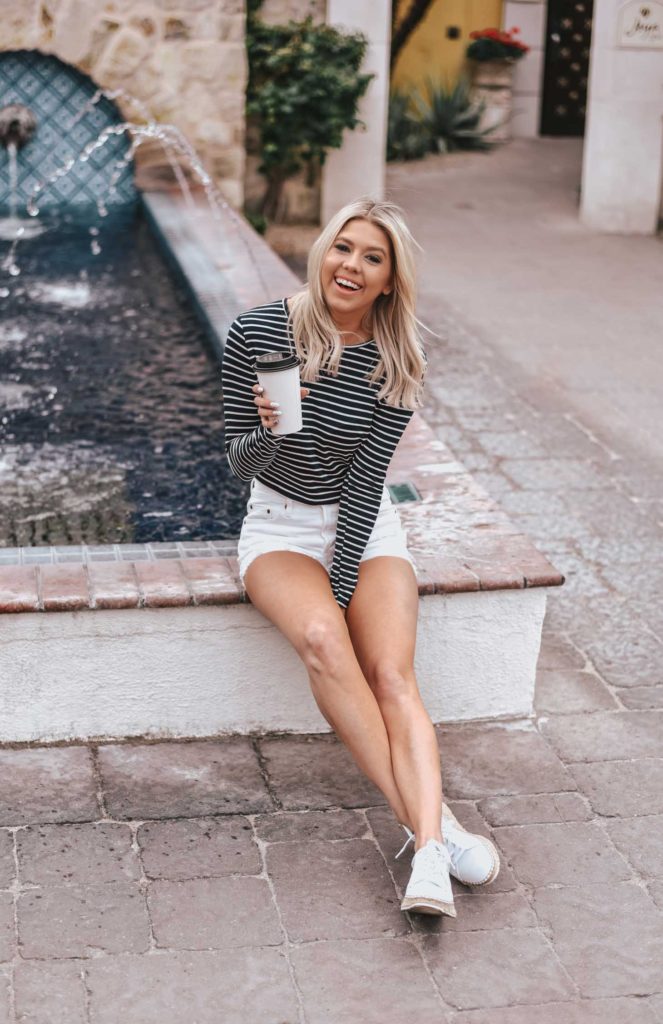 Taqueria Centro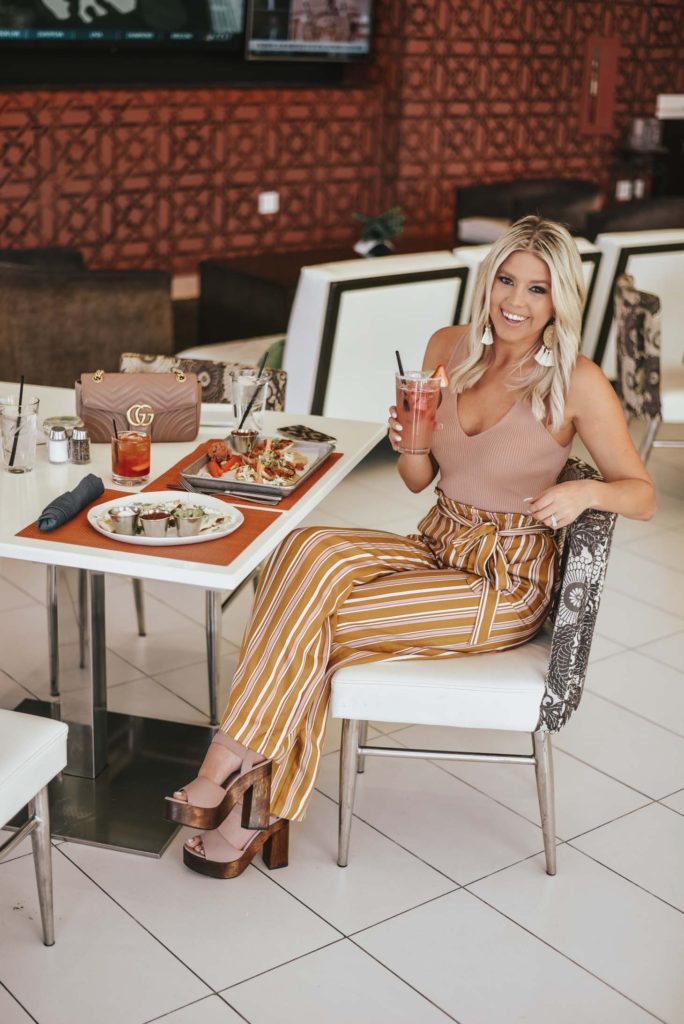 Our first meal on site was at Taqueria Centro – a bright and fun Mexican restaurant. They had the most delicious margaritas. B had his favorite – a cheese quesadilla and I enjoyed the fish tacos. We both left feeling satisfied and impressed with our lunch!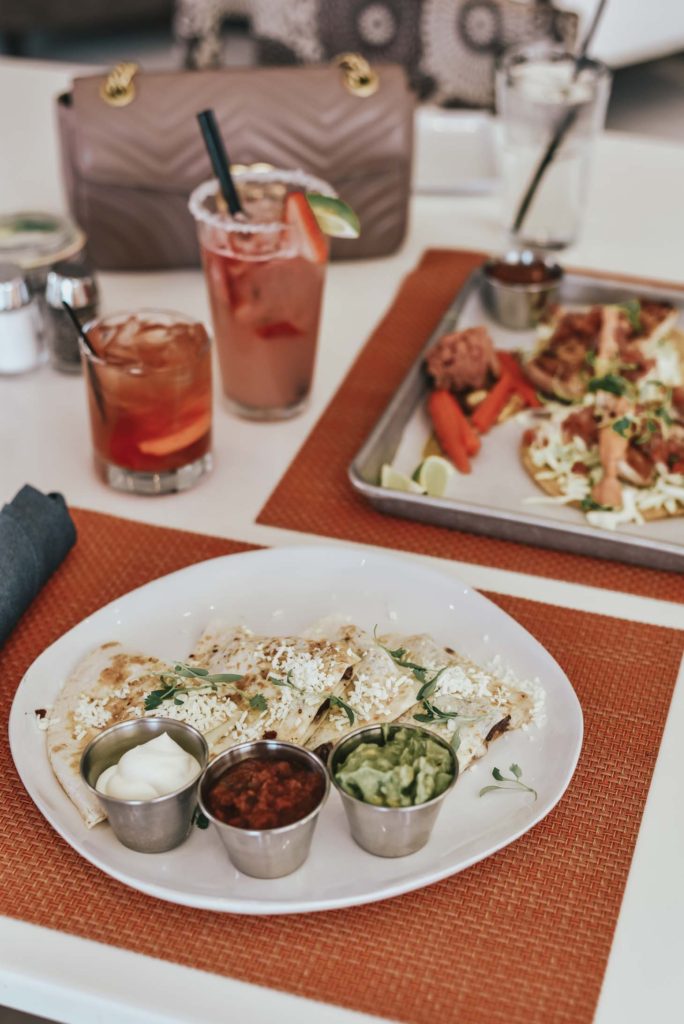 Pool Time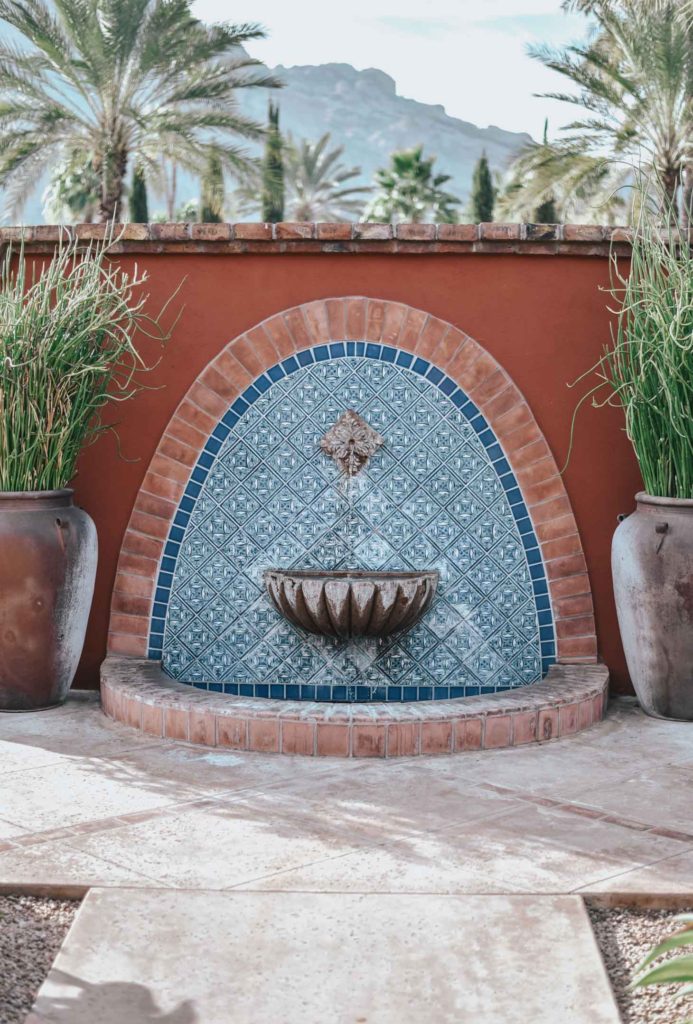 The resort has two beautiful pool areas (aside from the private pool at the spa) to lounge at and relax. We had one good day of weather during our stay. The other two were a tad cold and rainy, but we did make good use of the hot tub those days.
The day we got to sit poolside and enjoy the sun was perfect! The resort has an amazing poolside service. We ordered tasty tropical drinks and a delicious lunch. We soaked in the sun and enjoyed how quiet and peaceful the pool area was. This is something we value at a resort!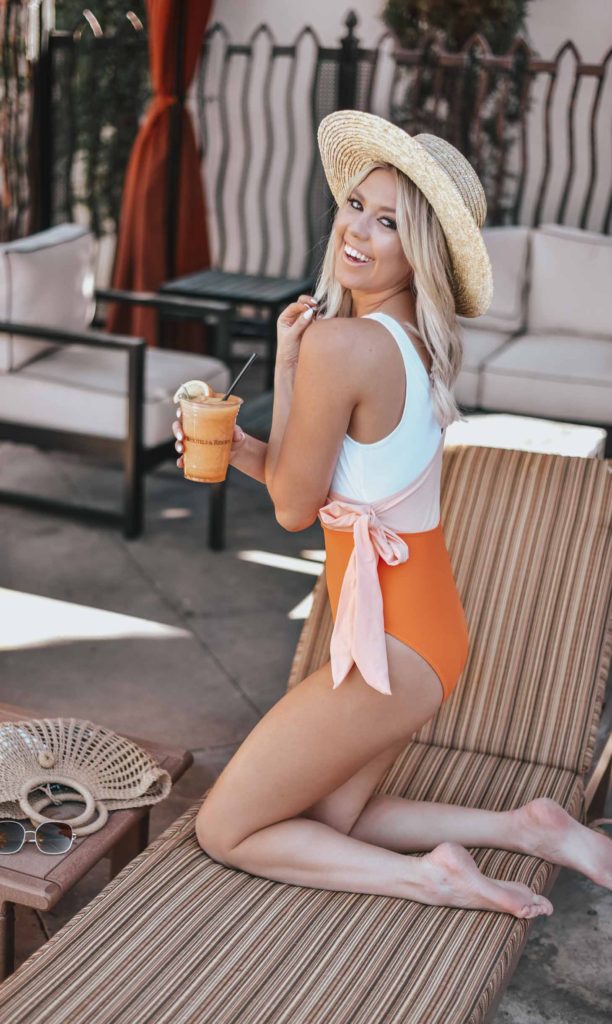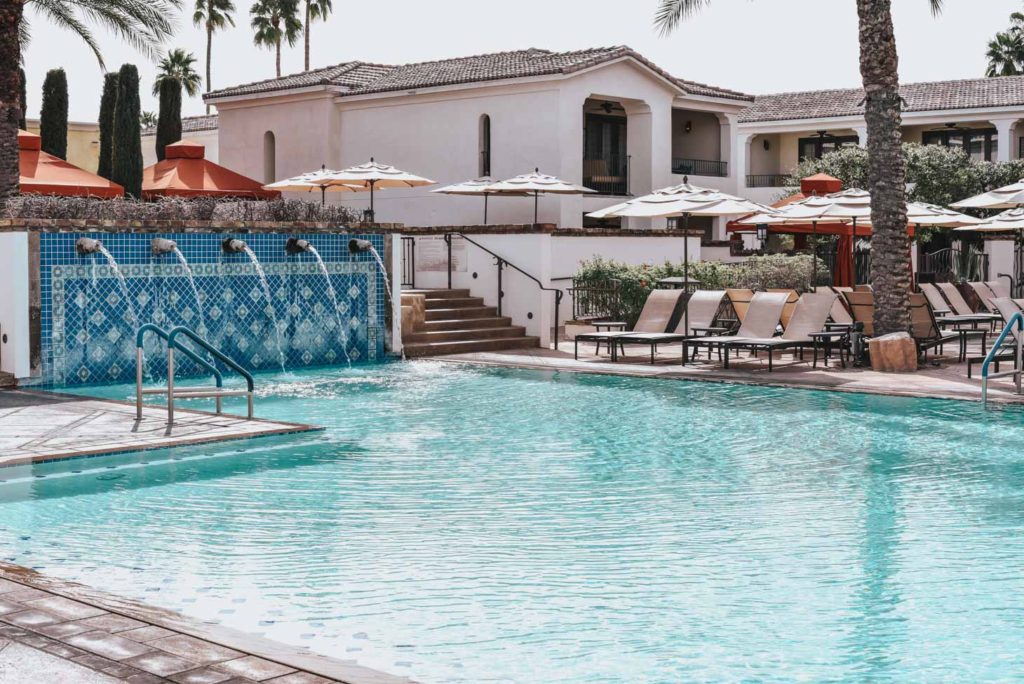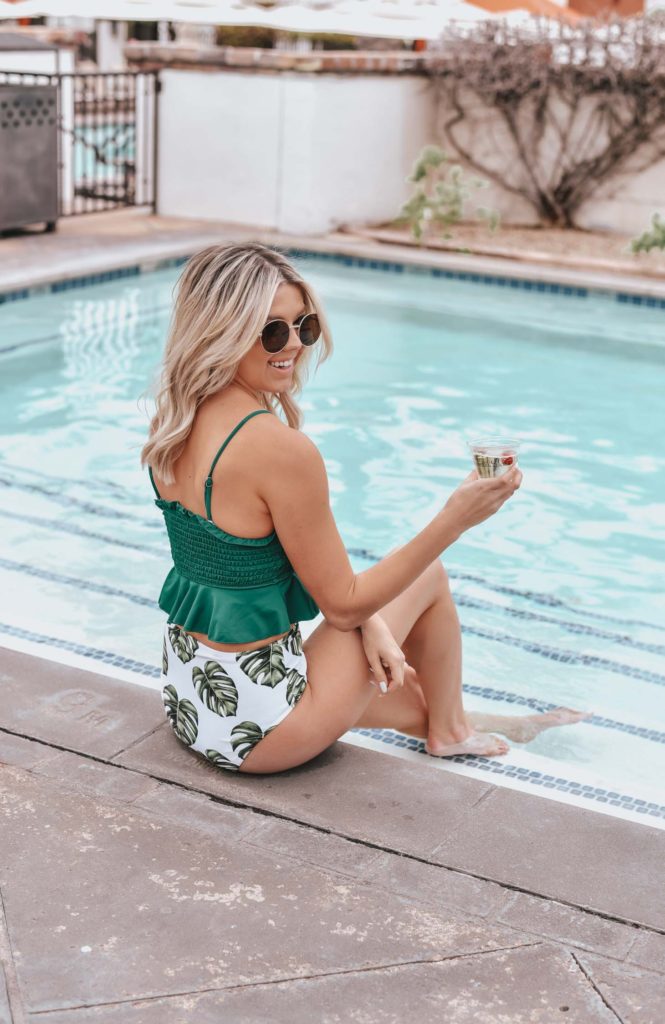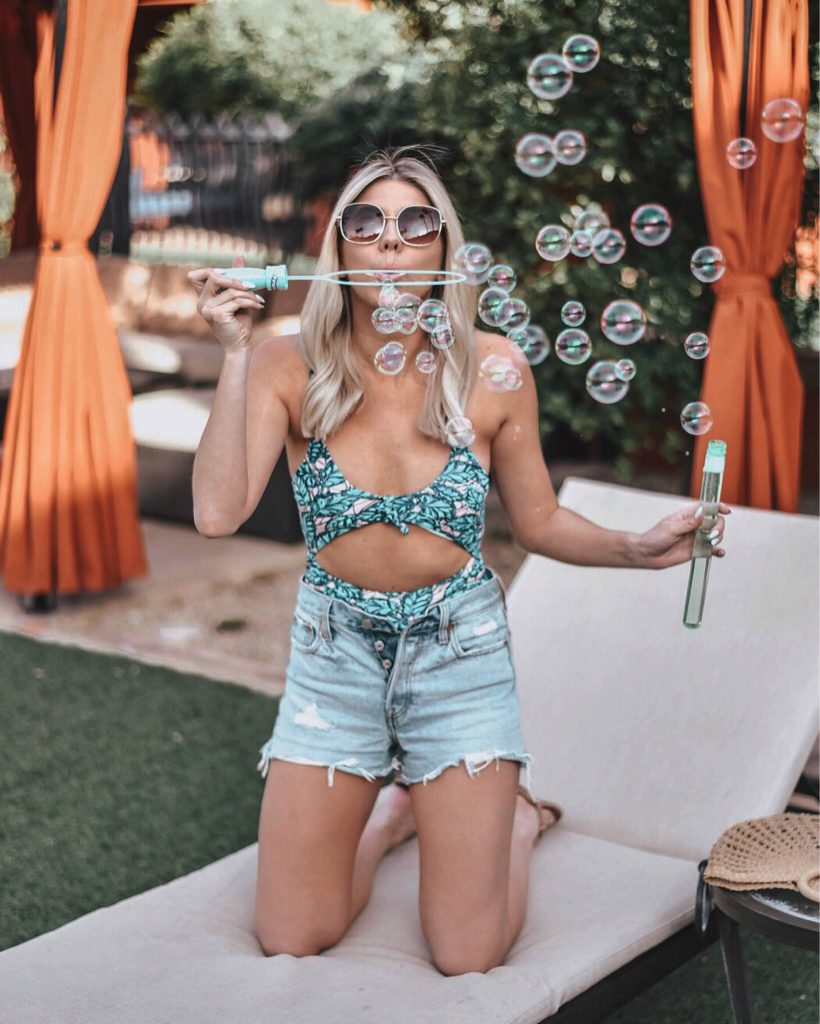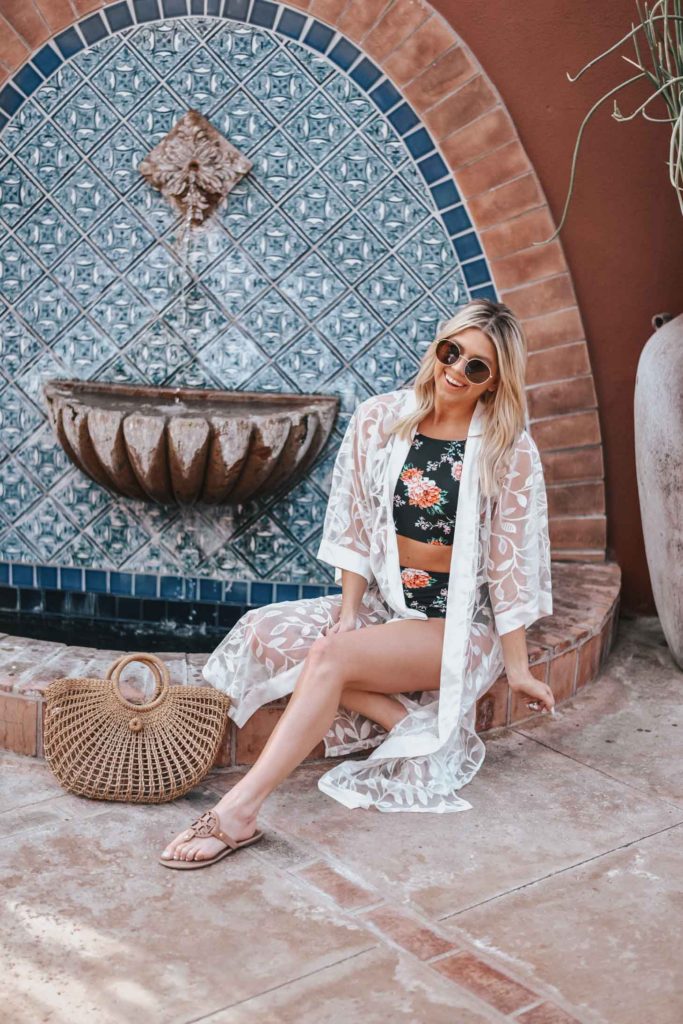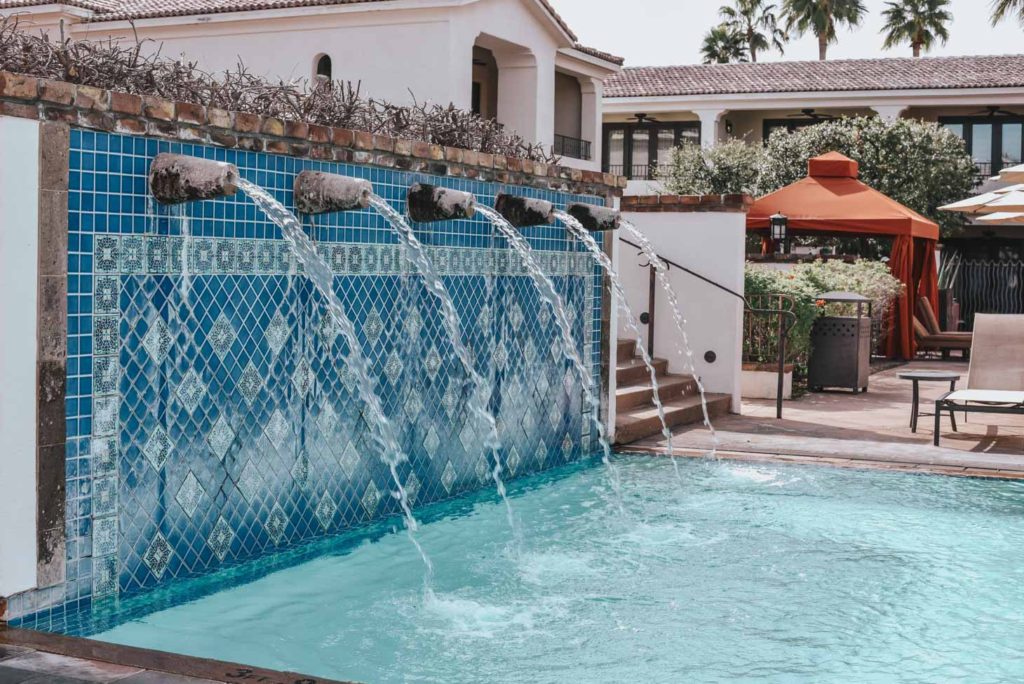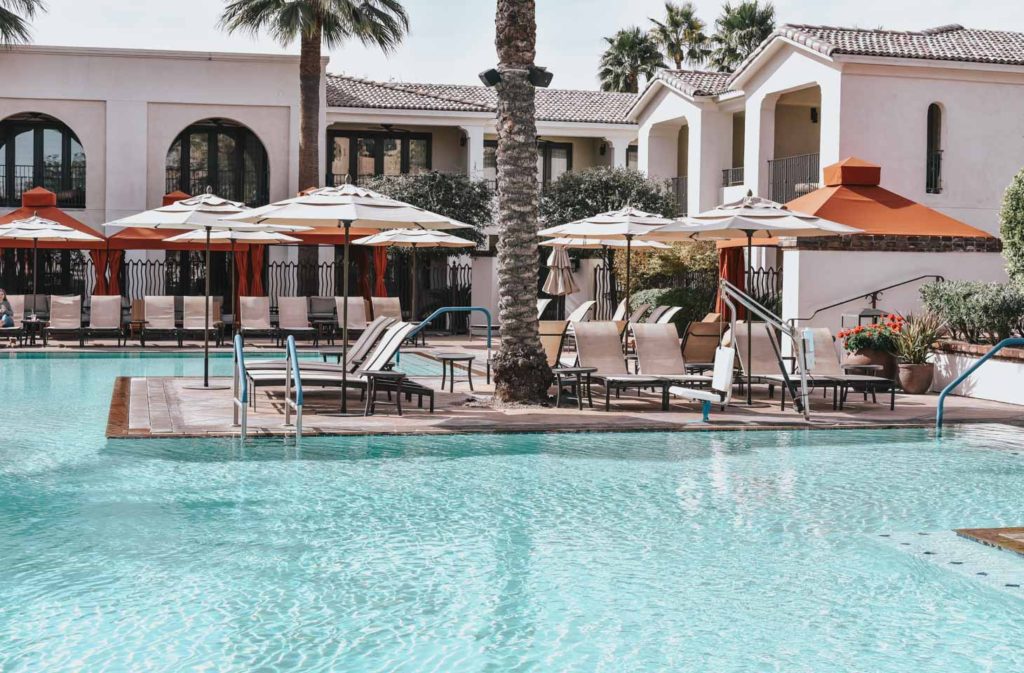 Prado Restaurant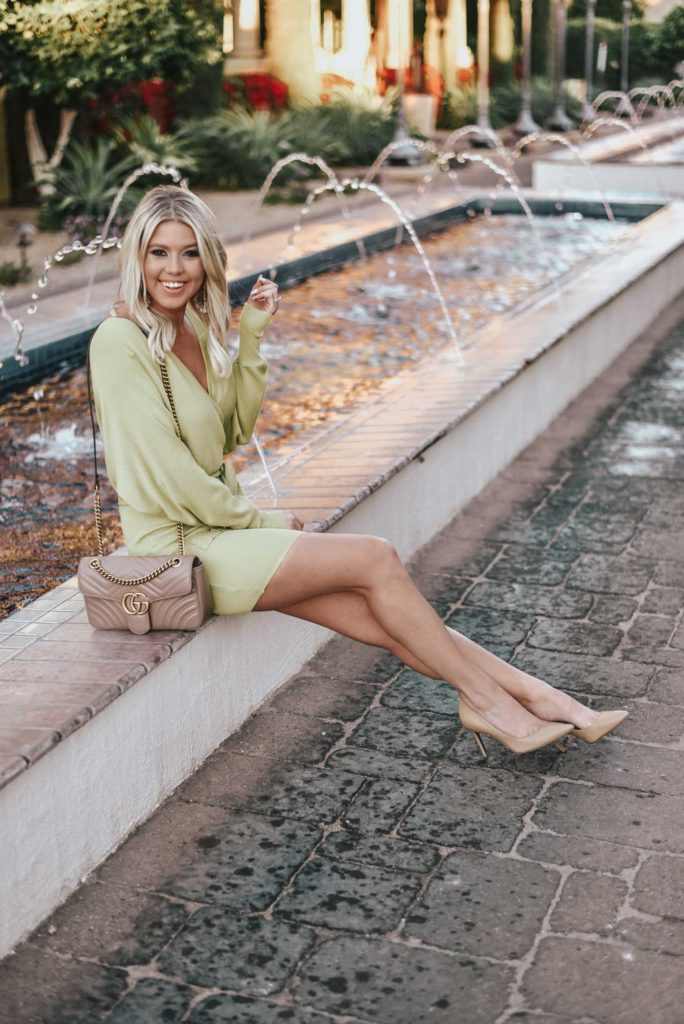 Our first night, the resort hosted all the wedding reunion couples for tapas and happy hour at Prado – the resort's main restaurant. This upscale dining experience was spectacular. The chef created an unbelievable assortment of tapas to try. It was a great evening full of good conversation with the other couples. It was so fun to reminisce about our special days together!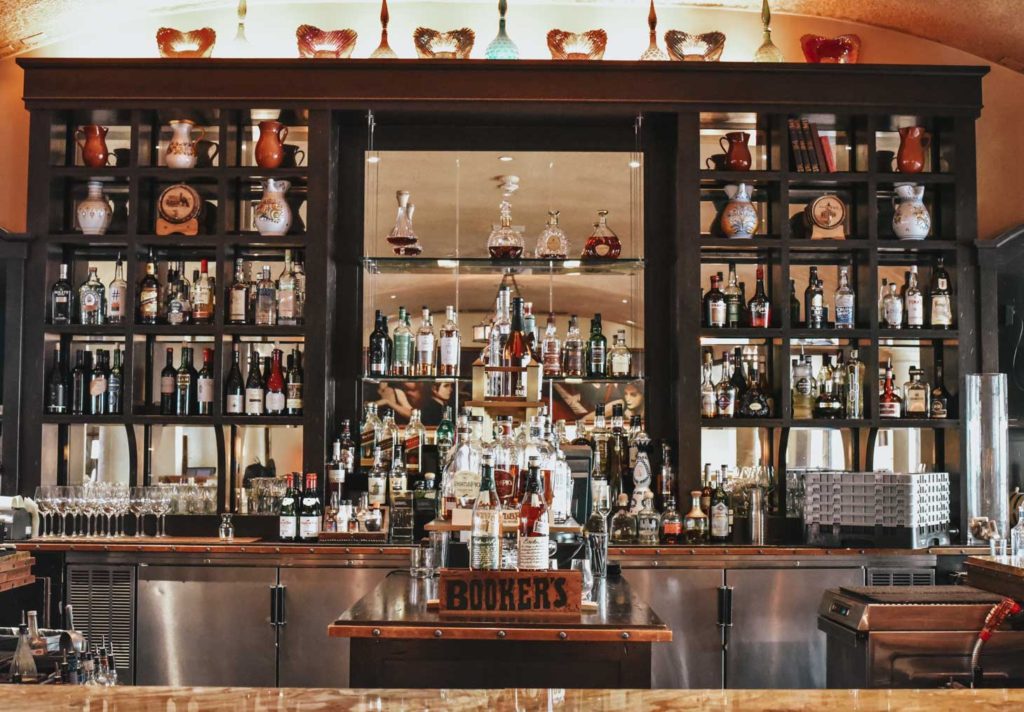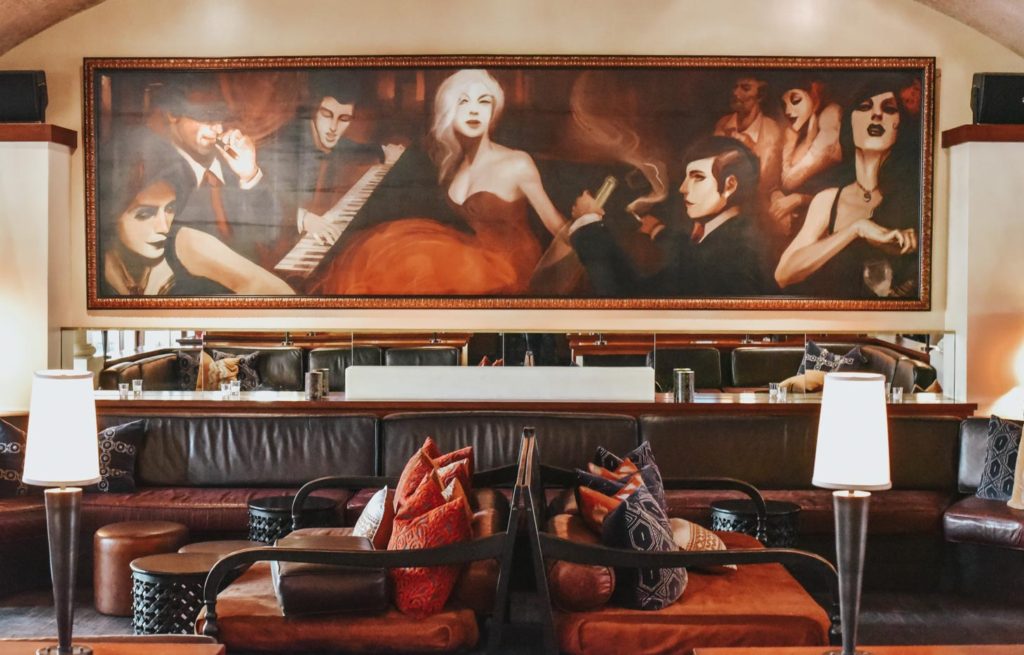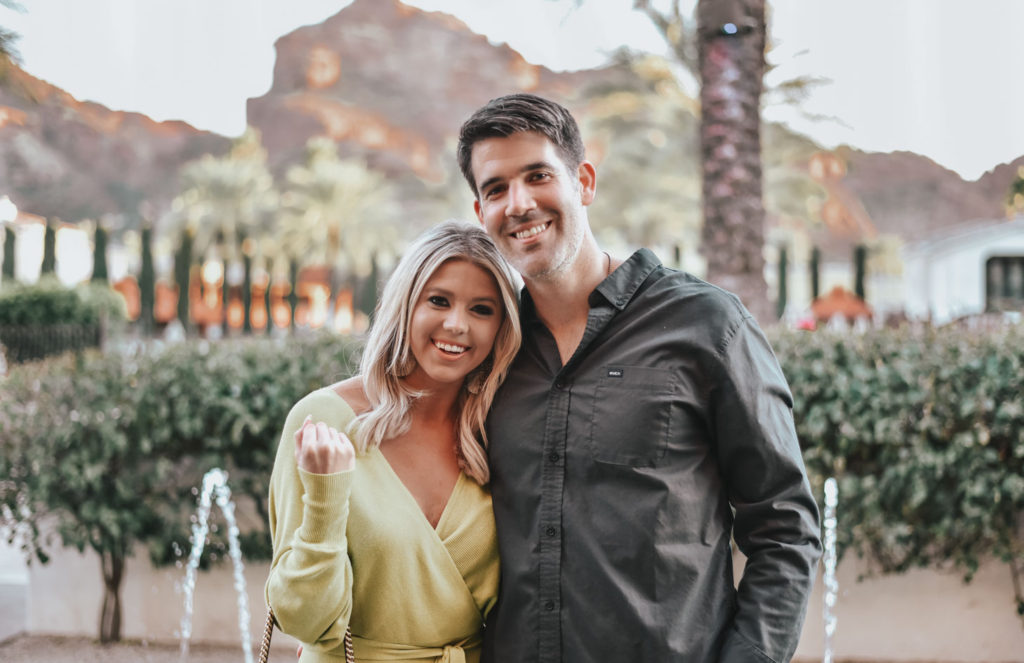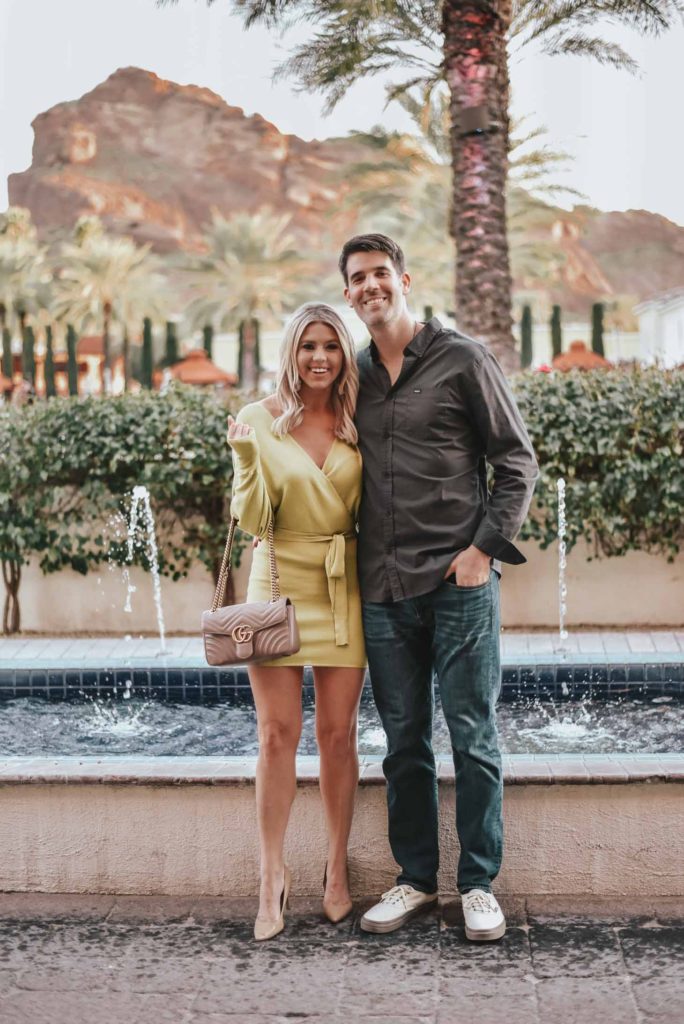 Crave Cafe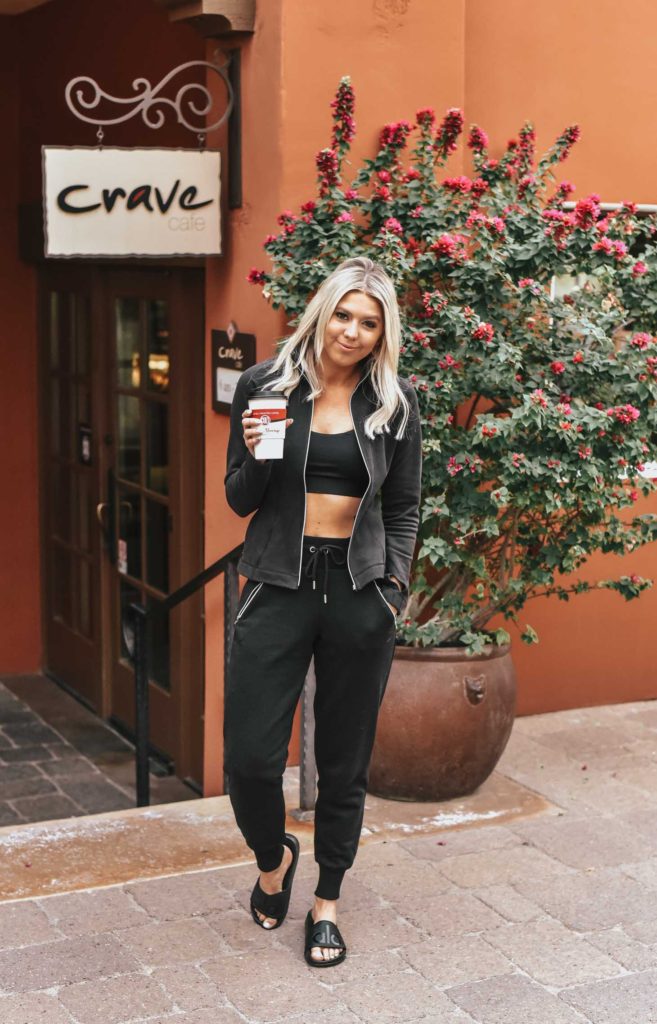 Jacket and Pants c/o Rohnisch // Slides
The resort truly has it all! Everything you need is on site – making it super easy and convenient if you are staying from out of town. There is even a super cute coffee shop called Crave Cafe. We enjoyed the most delicious breakfast burritos and lattes on a super chilly morning!
Joya Spa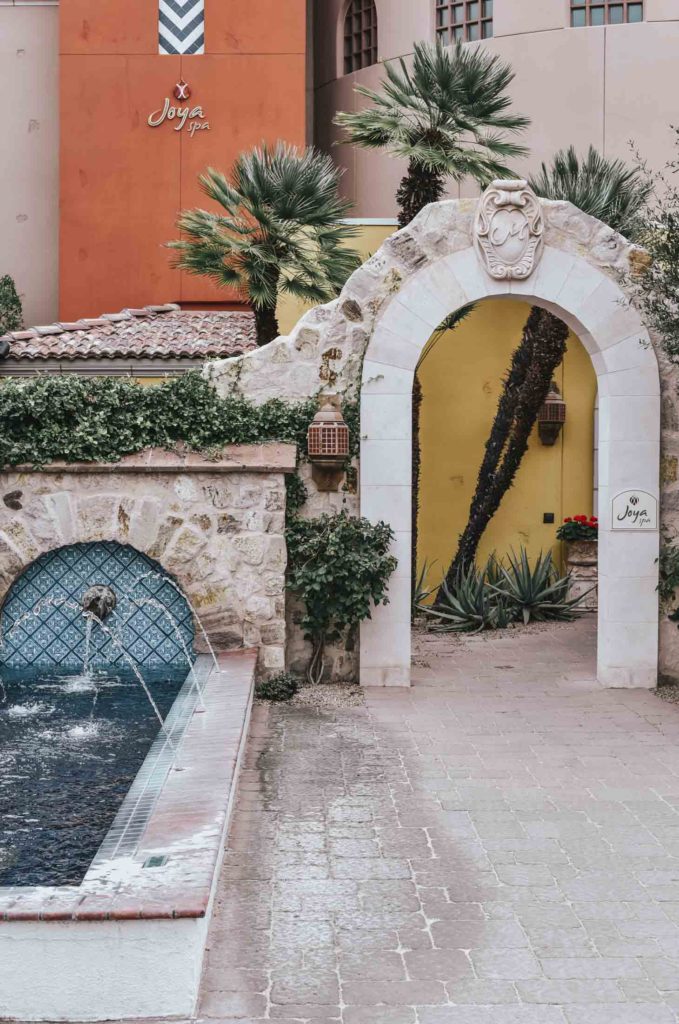 Our second day at the resort was cloudy and cold – the perfect day to be cooped up and pampered at the Joya Spa! The hotel was gracious enough to host Brad and I for the most incredible sixty minute couples massage. I still can't get over how incredibly beautiful the space was inside.
Upon arriving at the spa, we were greeted by a Joya Journey Coordinator. She took us into the spa and to our first stop – the Joy of Intention room. It is here that we were asked to choose from five different healing stones. This choice would be your main focus for the day. An area you want to focus on during your time at the spa. I love that you are put into a good and positive mindset before you go in.
Next, we made our way to the Joy of Purification room. Within this space is a 55 lb crystal that once touched, is said to help relieve tension before entering the spa. The ceiling is lit up by tiny lights to represent stars. It is the exact number of stars in a city in Spain from the night the resort opened. I love that little touch!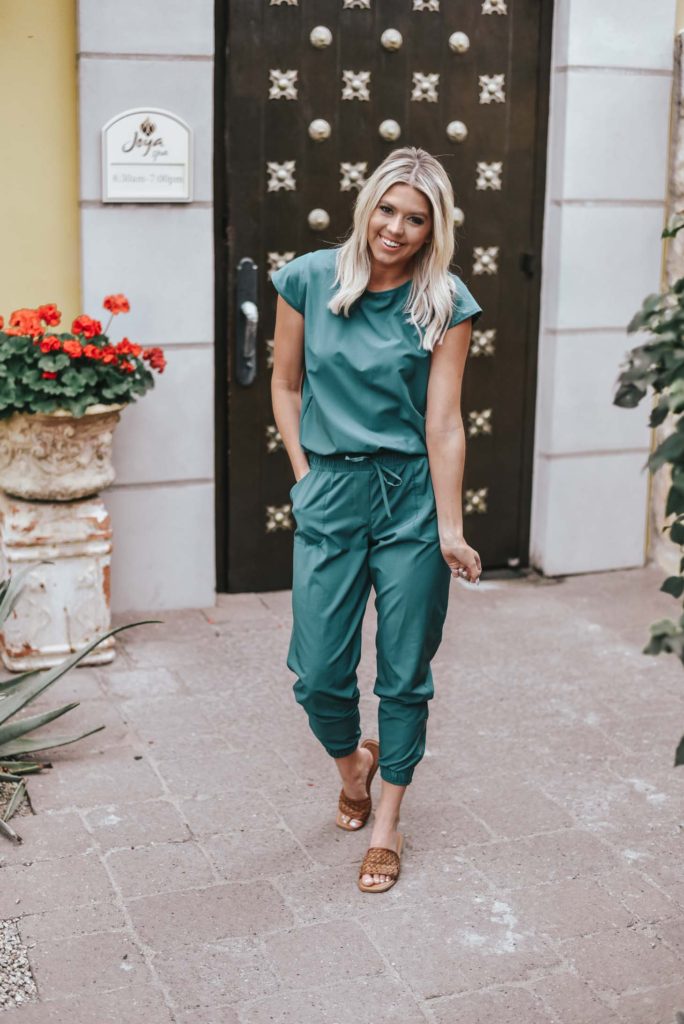 Jumpsuit c/o Albion Fit (use code WINK15)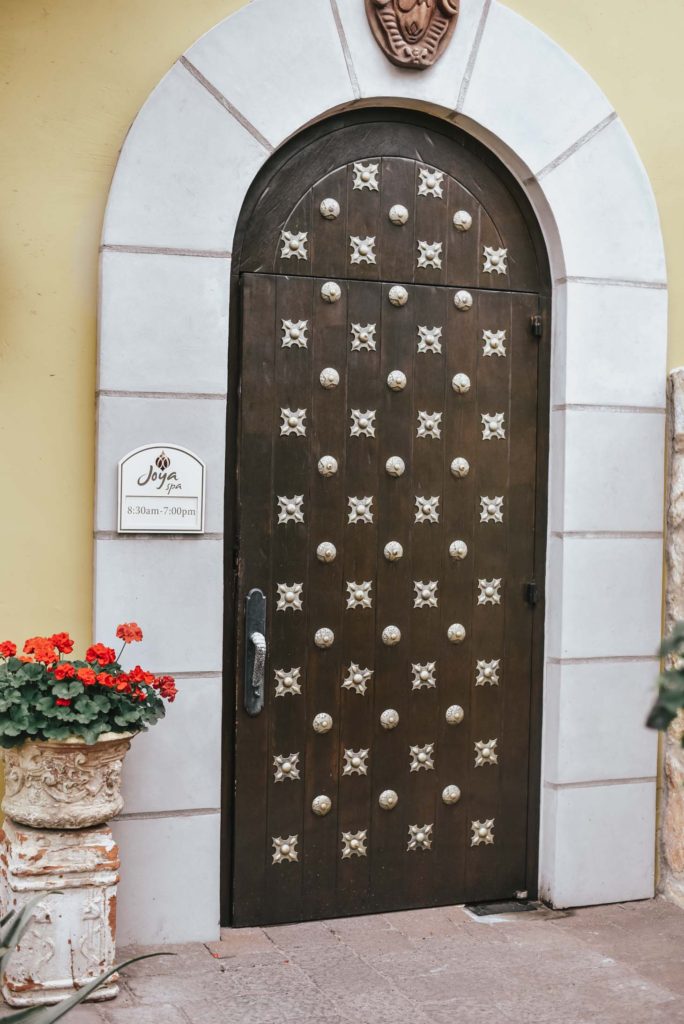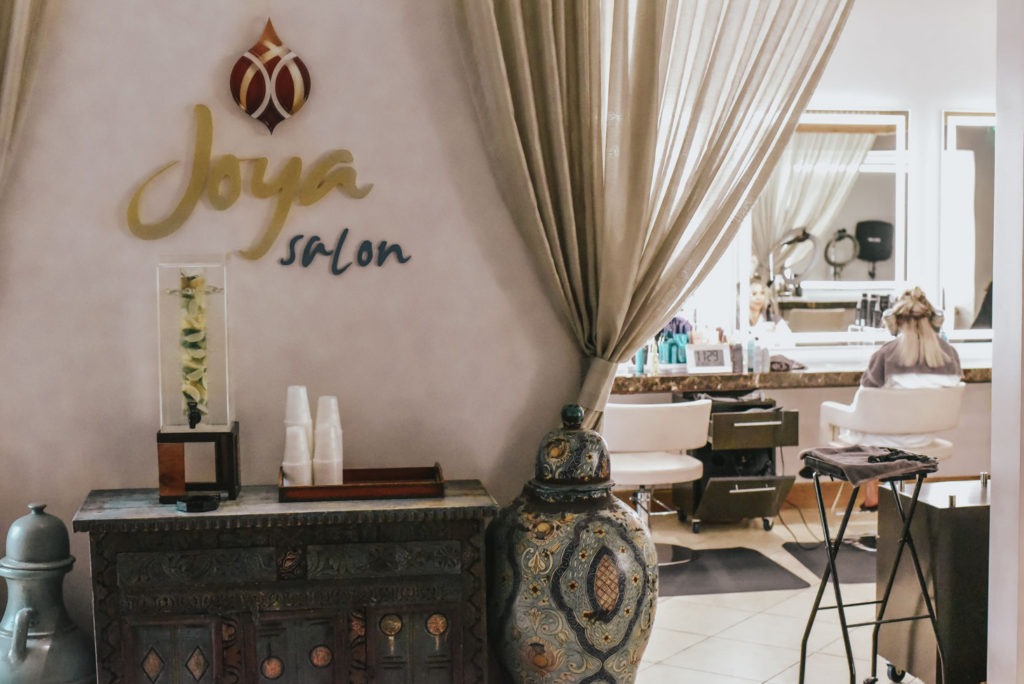 After our amazing couple's massage, I made a quick pitstop at the Joy Salon for a blow-dry and style. The perfect way to end our spa experience!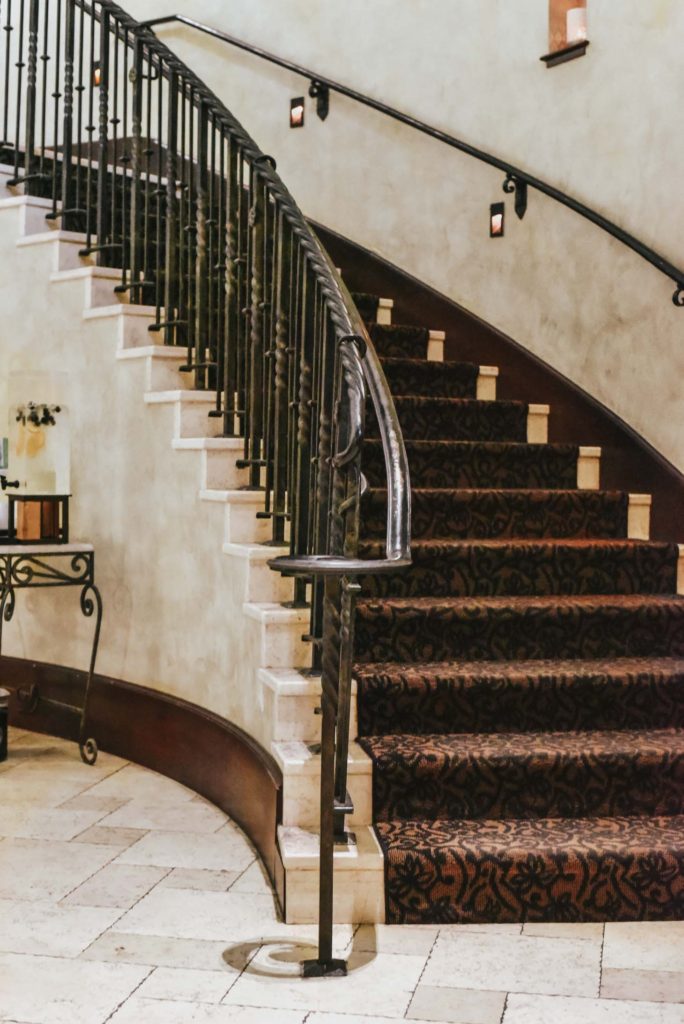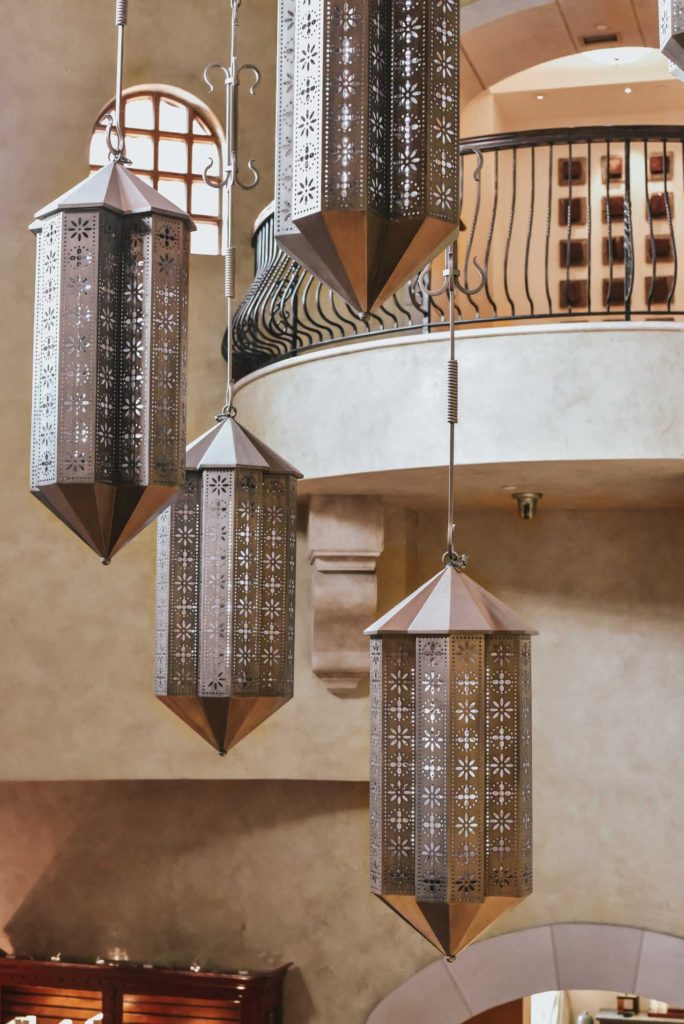 Hosted Dinner at Chef's Kiten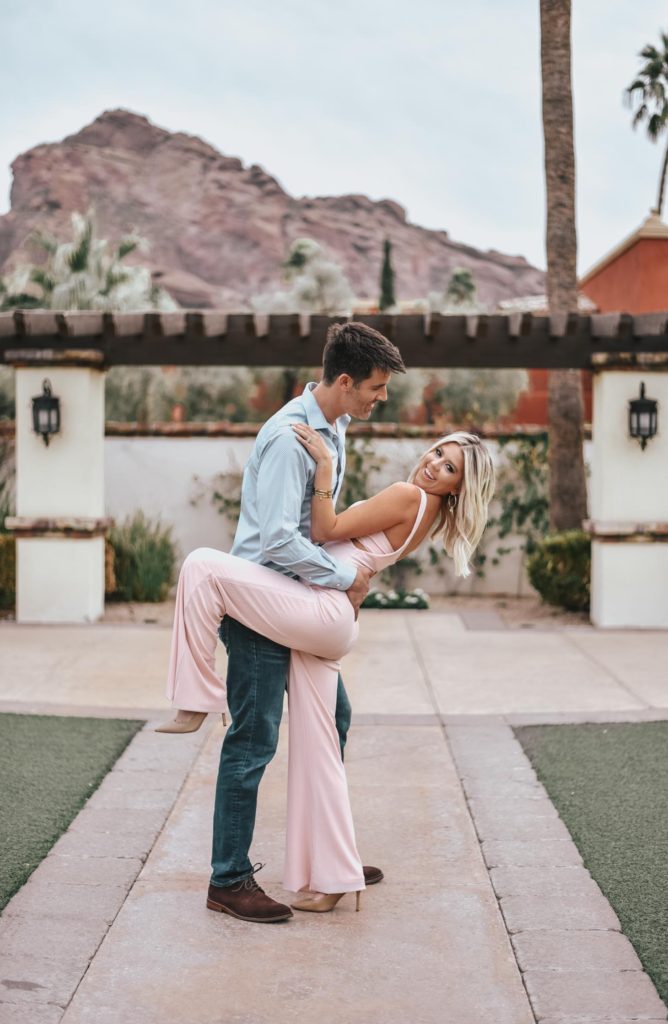 Our last night at the resort was incredible! While we didn't snap any pics because it was pretty dark by the time the events began, we snapped the above pic on our way to the most incredible dinner experience! (*We did get a lot of footage on our YouTube video – check it out here!)
The night began with a brief cocktail hour with the other couples at Taqueria Centro. We sipped on champagne and Old Fashions and got the night going. From there, we walked over to the Chef's Kitchen – a private dining space that you can rent out. It's absolutely gorgeous! Inspired by Julia Childs and her home, you truly feel like you are dining at someone's house. It was absolutely amazing!
After a delicious meal (with live music), the night concluded with a flamenco dance class! It was so fun to be immersed into another culture and experience that firsthand. We truly had the best time dancing the night away!
*You can see the entire night (with a little bit of B dancing) on our YouTube recap of the weekend. You can watch it here.
Tiffany & Co Farewell
The next morning, we enjoyed a delicious buffet breakfast at Prado and then headed over to Tiffany & Co at Scottsdale Fashion Square for a farewell champagne toast and time to shop the store. We were sent off with the sweetest little memento to remember our weekend – two beautiful T&C champagne flutes. The perfect wedding gift! Such a sweet way to end the weekend.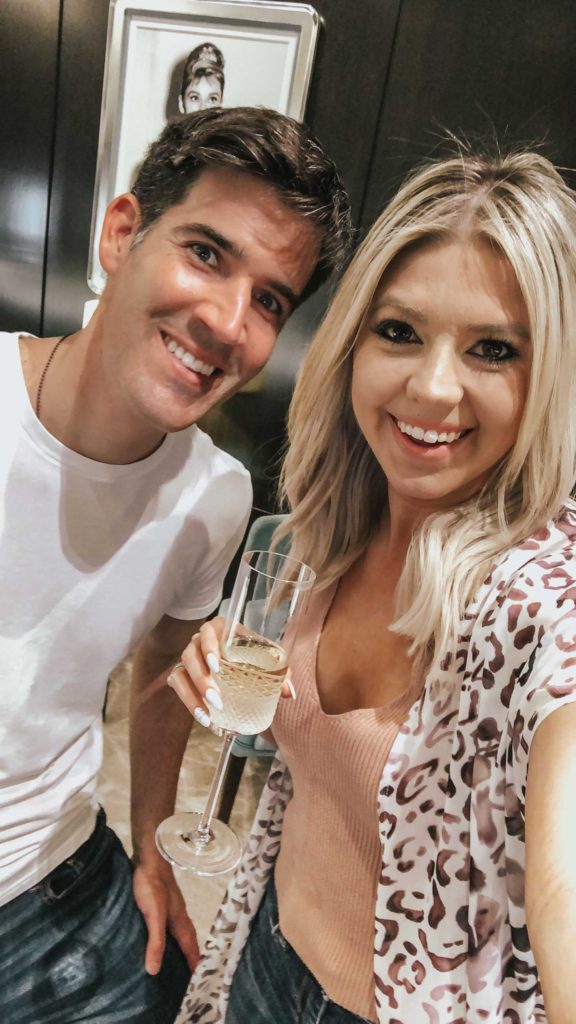 Overall Experience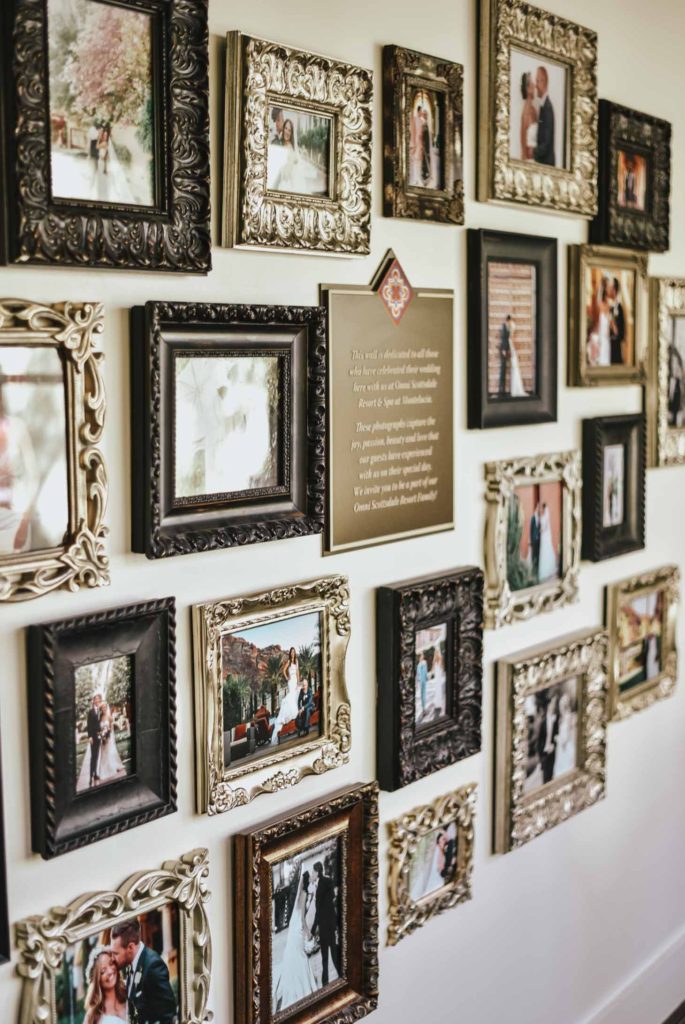 Where do we even start with this! We cannot express just how amazing this weekend was for us. From the wedding wall with our photo (see above) to the amazing hospitality and hosting by the marketing and resort staff, we were completely blown away!
The fact that the resort put on this weekend to begin with is truly so special. They are going to continue to host these wedding reunion weekends for years to come – a time that B and I will be marking on our calendar year after year.
We are so thankful that we chose to get married at the Omni Resort and Spat at Montelucia. Not only did they create the most beautiful wedding day for us, but they continue to support our marriage and create beautiful events and experience for us to come back and enjoy. Truly a one of a kind place to be married. We feel so blessed and special to have them be a part of our journey!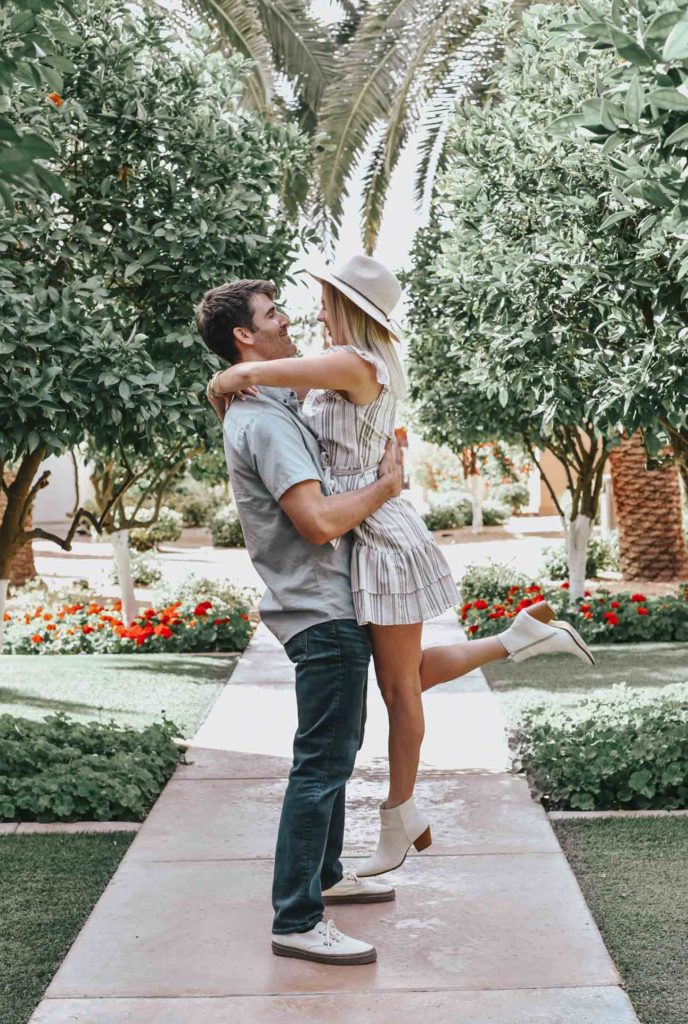 Thank you to the Omni Resort and Spa at Montelucia for hosting us this weekend!