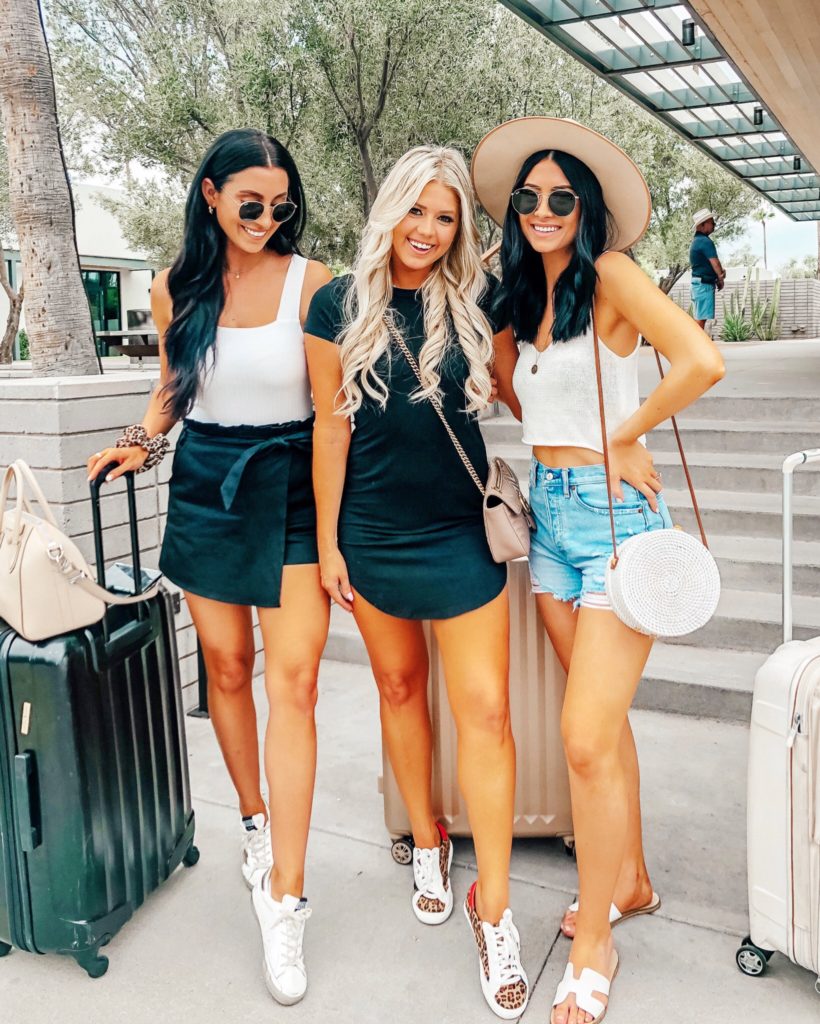 Last week, I had the privilege of having a much needed staycation with my favorite babes at the Andaz Scottsdale Resort and Bungalows. I spent three days with the sweetest and most supportive girls: Jessica Hall and Nicole Carlson. We arrived on Monday afternoon and were instantly whisked away to a desert oasis for some R&R!
The Bungalow
One of my favorite things about the Andaz is that they have bungalows. This truly makes you feel like you are staying in a home. It has a ton of extra space and a wonderful homey vibe. Our bungalow consisted of a bedroom, living room space (with a murphy bed) and two bathrooms. There was no fighting over bathroom space between us girls! 😉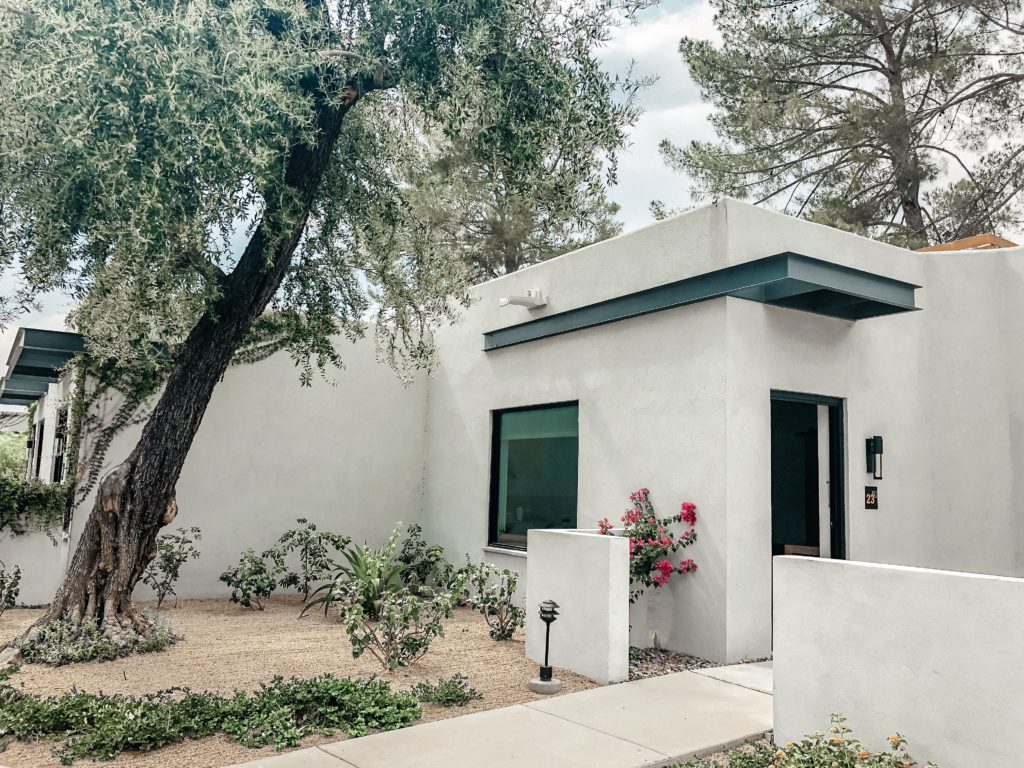 I love the vibe of this space. From the rustic wooden beams to the midcentury modern decor, this space was balanced and relaxing to spend time in. Obsessed!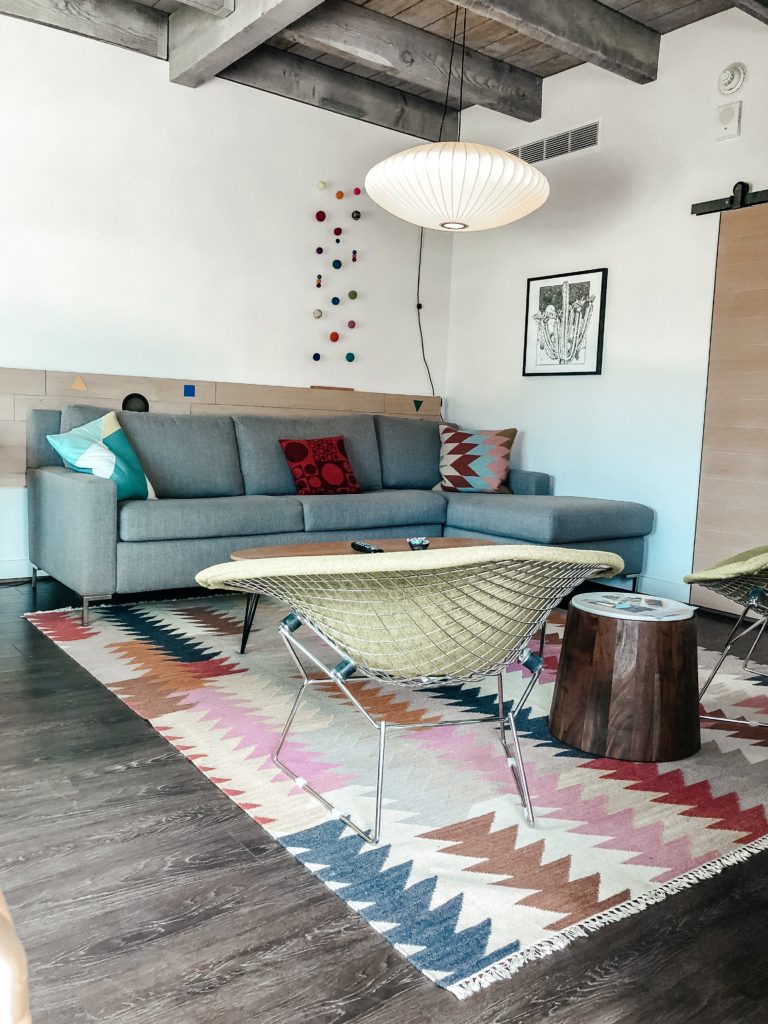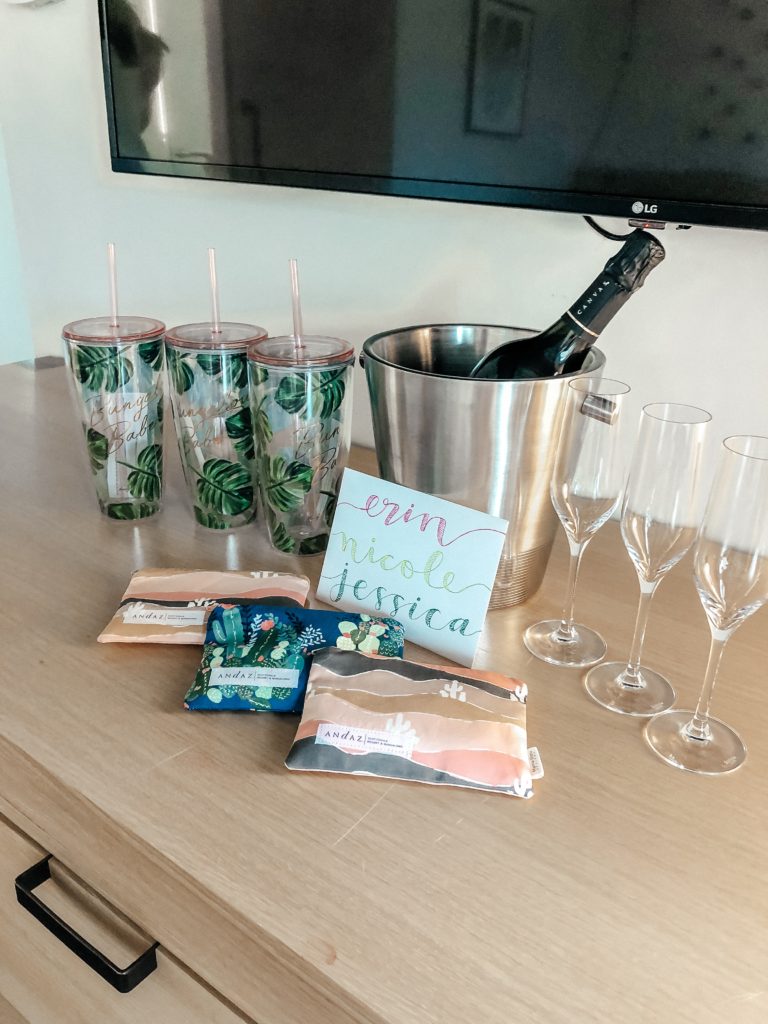 We were greeted with the sweetest little welcome gift from our friends at Andaz. We toasted with this champagne and took these adorable tumblers to the pool. Such a sweet thing to do! 🙂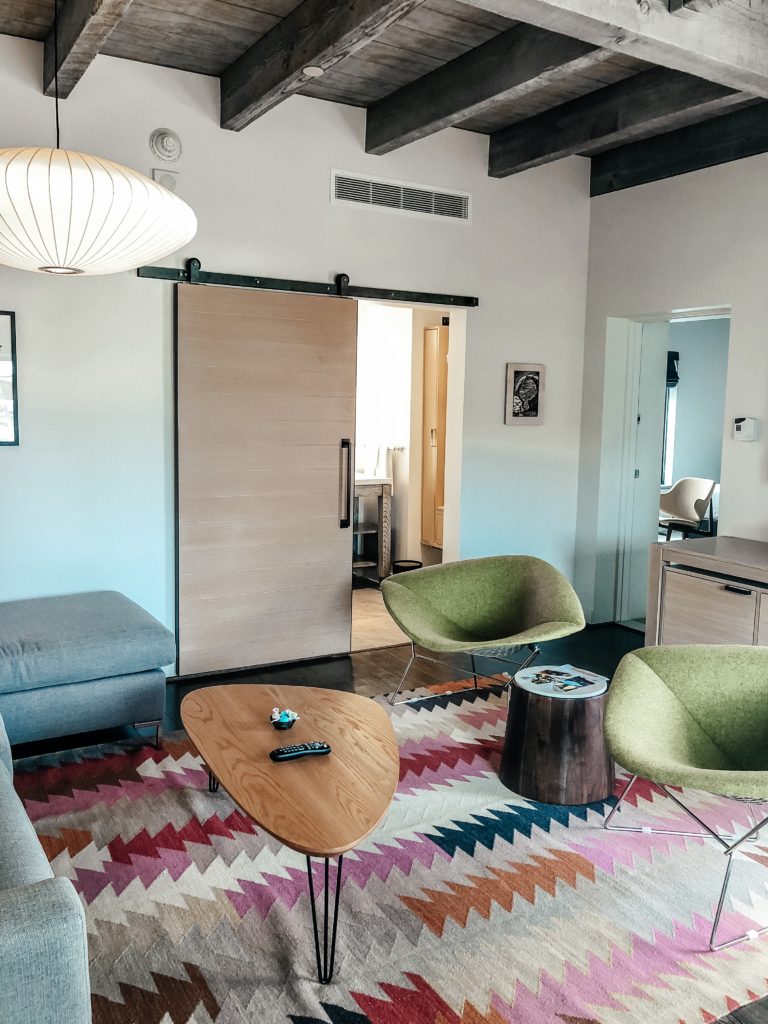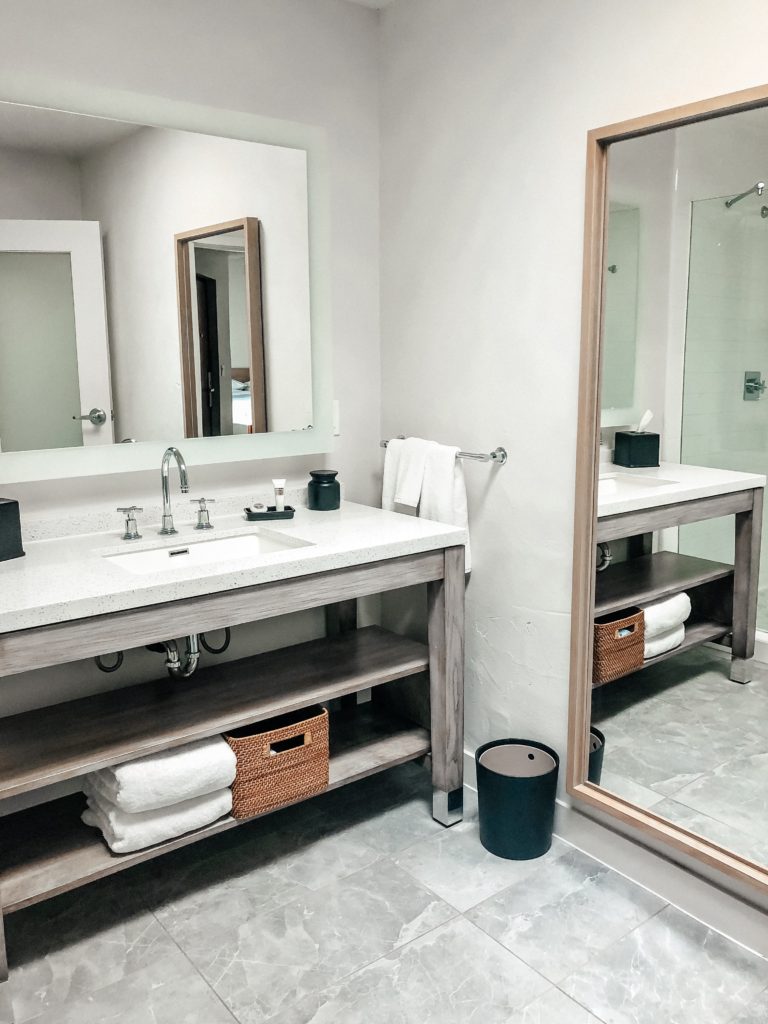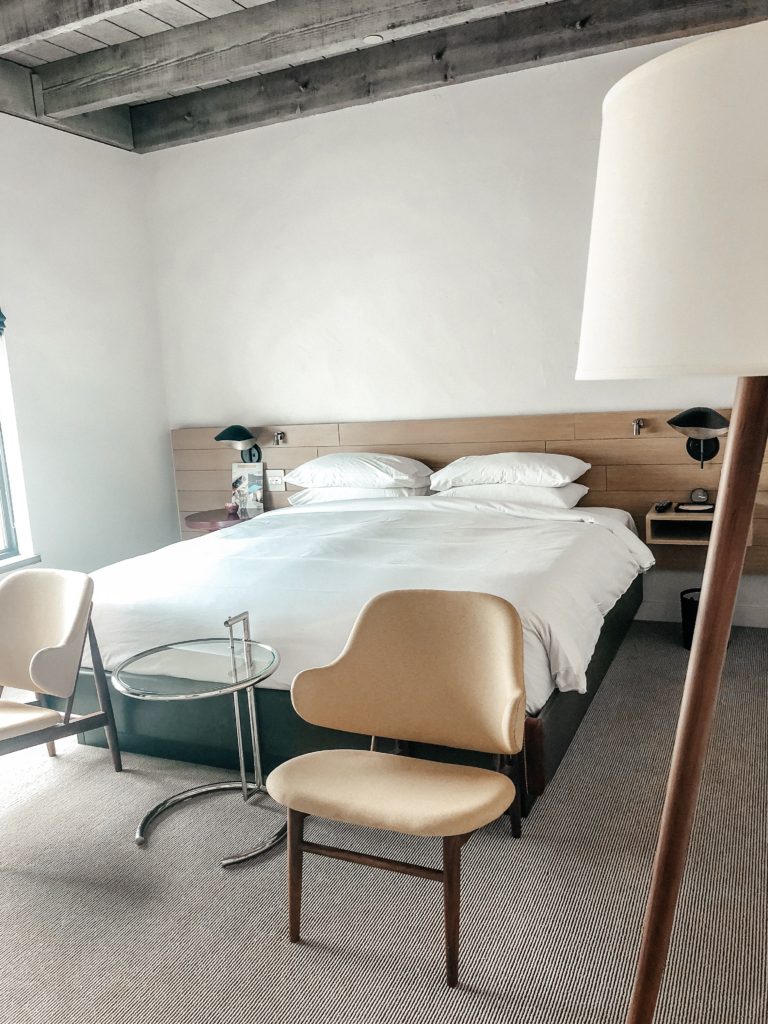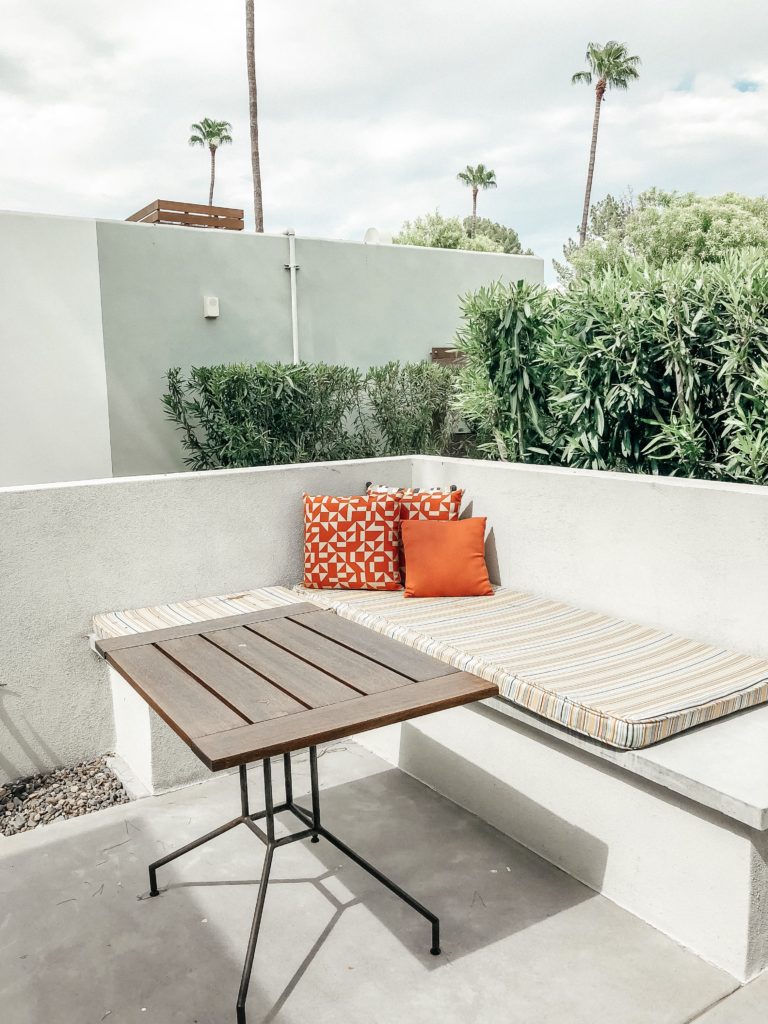 This bungalow also came with two patio spaces! We had this darling little seating nook off the front door (there is also another one on the other side of the bungalow) with this gorgeous view of the pool grounds. It is such a beautifully landscaped resort. All the Arizona feels!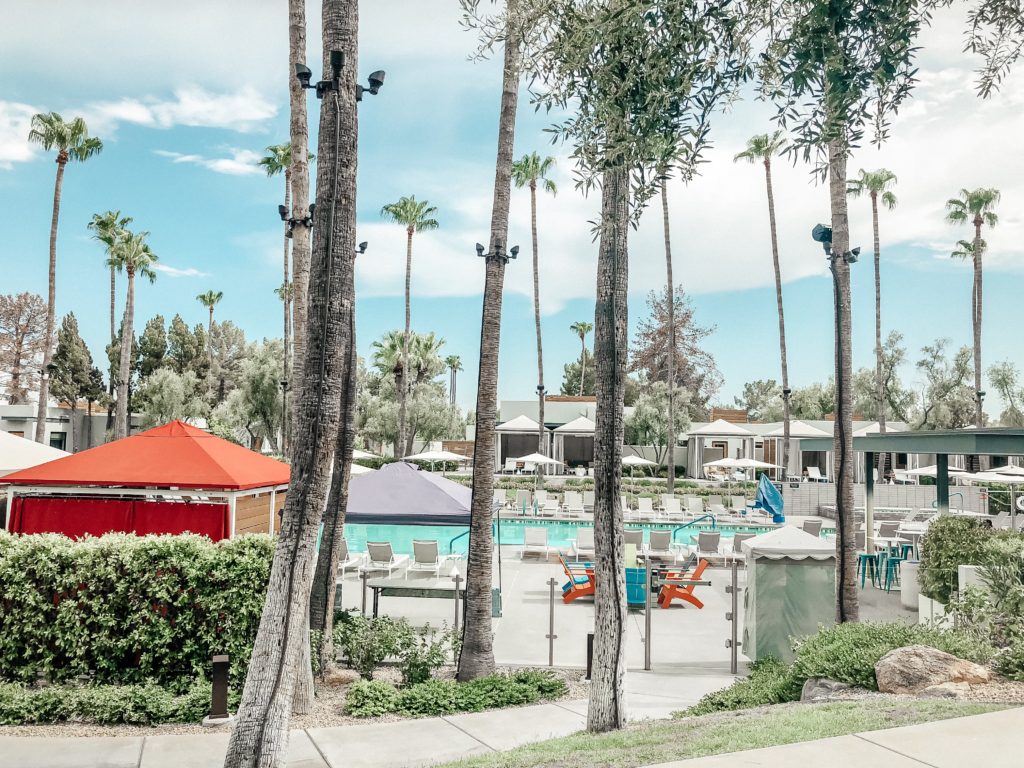 Monday – Drinks at Weft & Warp Art Bar and Kitchen + Dinner Out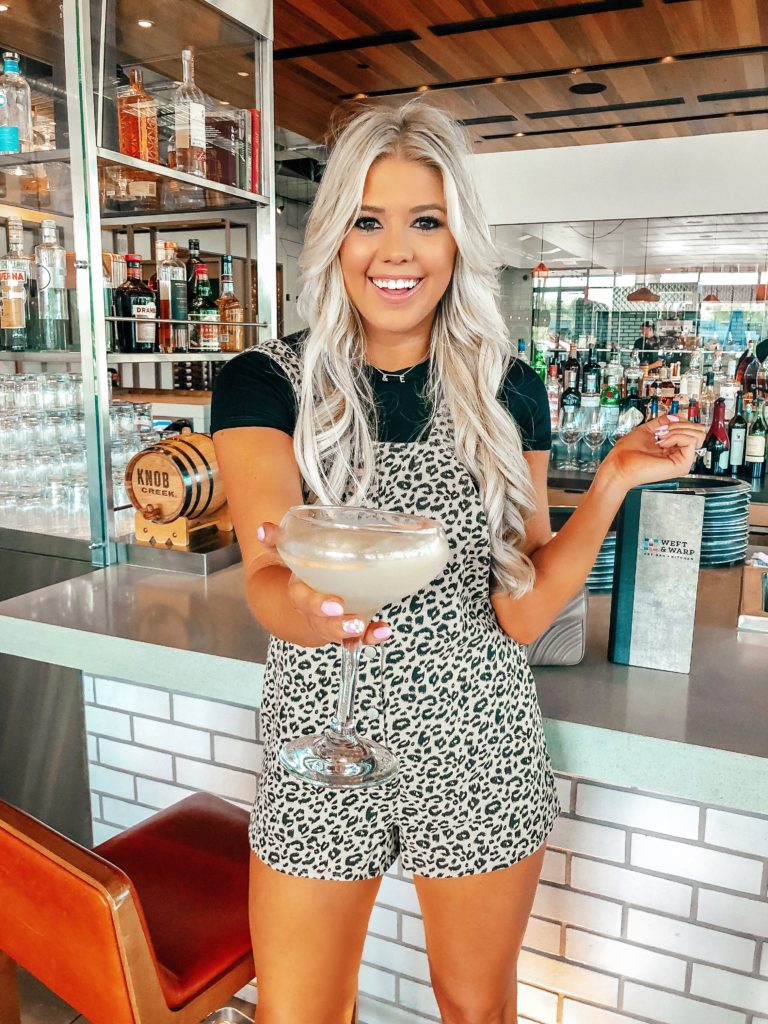 After we got unpacked and settled in, we changed for a quick happy hour at Weft & Warp Art Bar and Kitchen. This is one of my favorite places on the property. And no, not just because the food and drink is delicious, but because it has the coolest vibe inside! The staff is so friendly too!
Happy Hour is held daily from 3:00-5:00 and the bar menu is available from 3:00-10:00. Perfect for a night cap!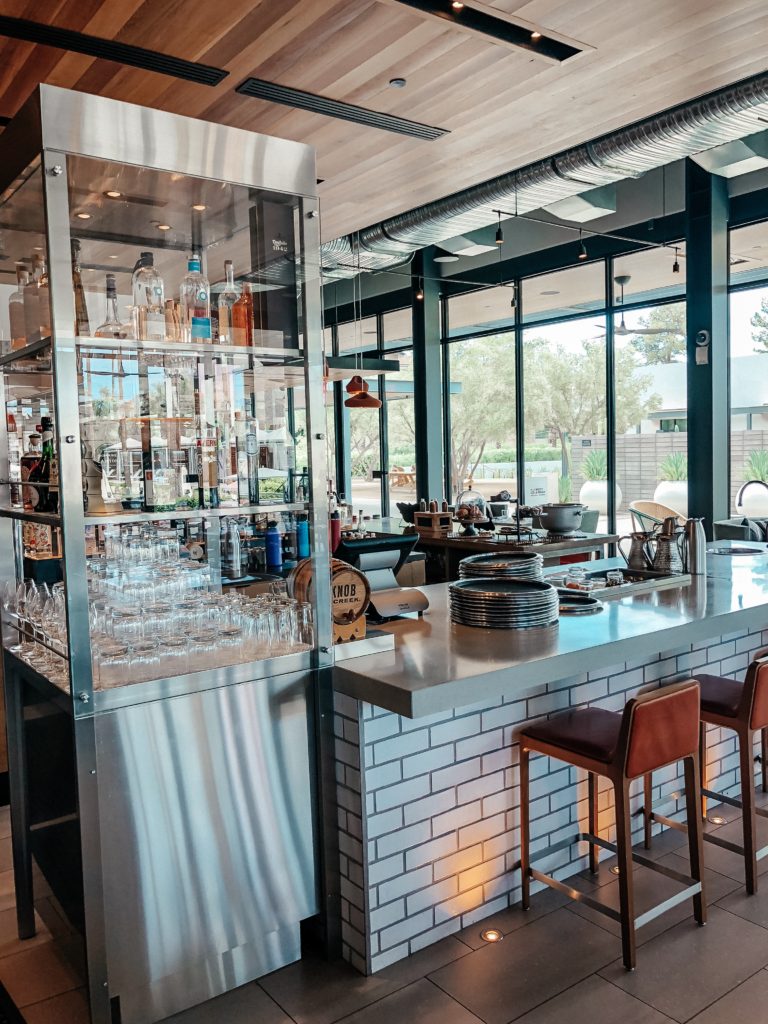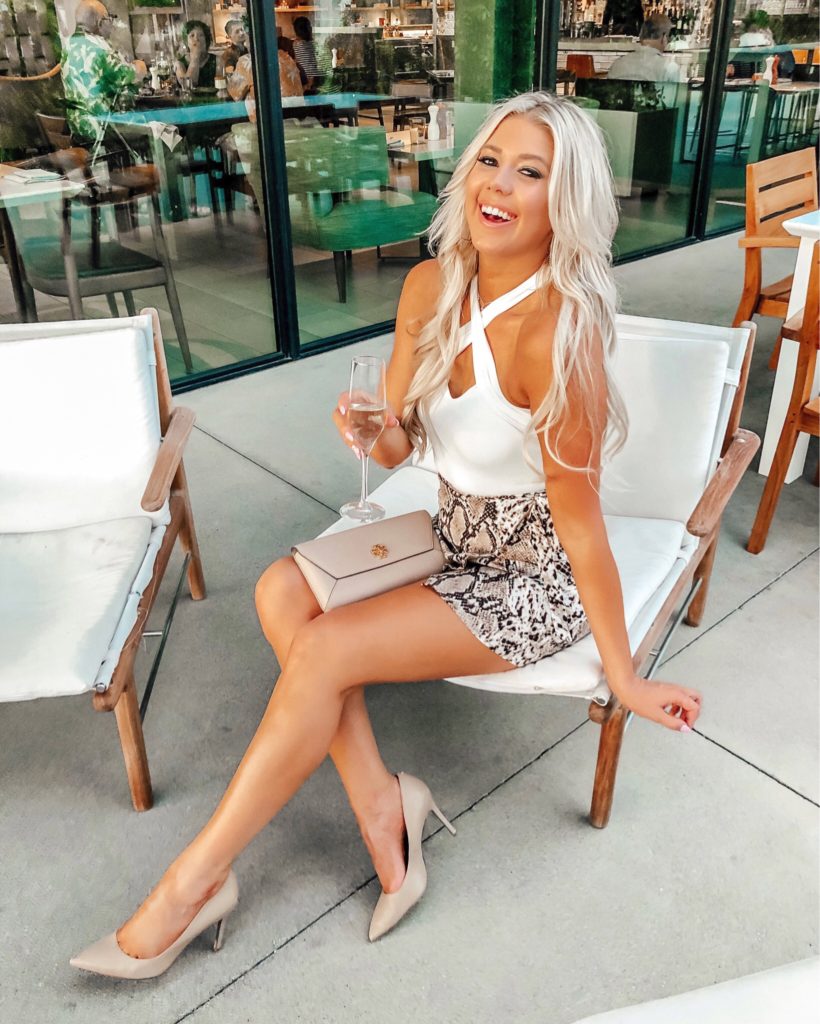 After happy hour, the girls and I changed for dinner out. This is the only time we left the property during our stay. When you stay at the Andaz, you really don't have to go anywhere. Everything you need is right there at your fingertips!
Tuesday Morning – Brunch at Weft & Warp Art Bar and Kitchen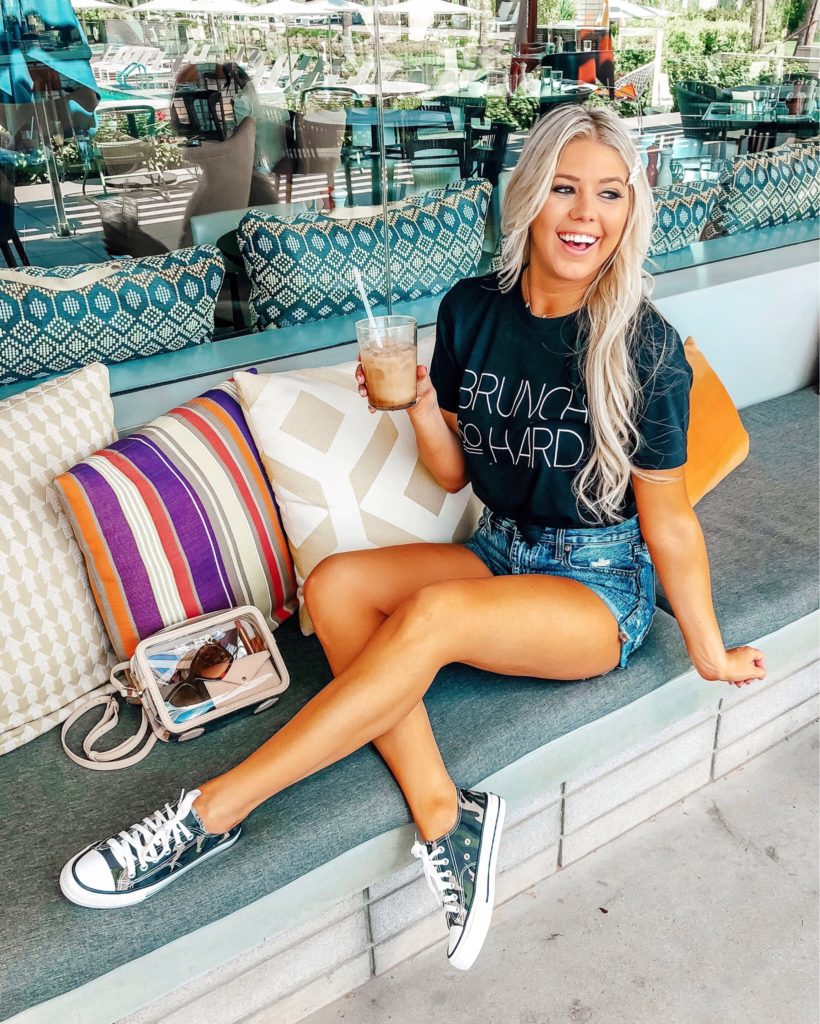 You all know how much I love a good brunch! I was probably most excited to hit Weft & Warp for this meal. You just can't meat an iced coffee, mimosa and some eggs benedict!
Breakfast is served everyday from 6:30-11:00, followed by their brunch from 11:00-3:00. I LOVE that you can get your hands on this meal all day long!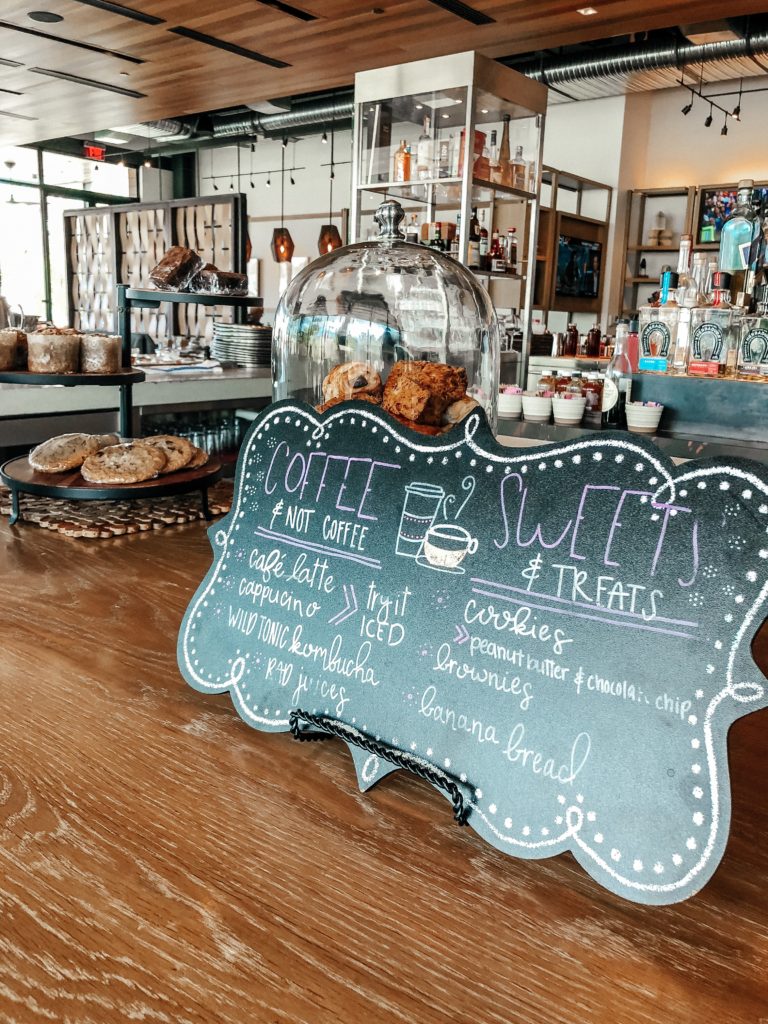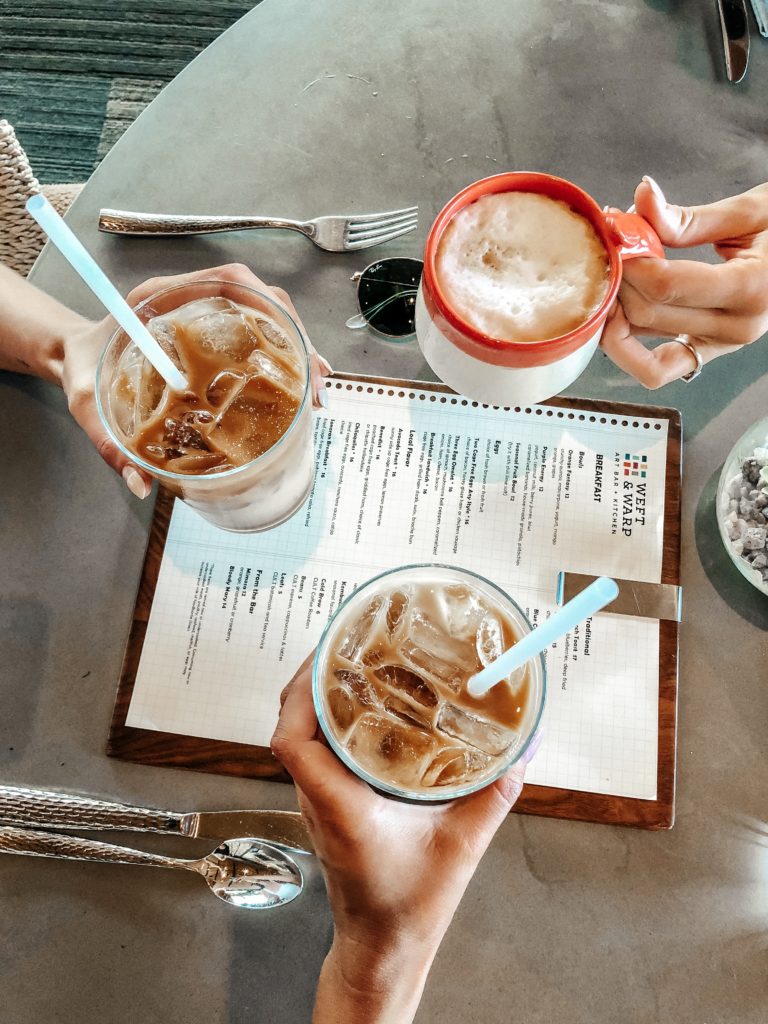 We were completely obsessed with their lattes! Jess and I stick to iced, but Nicole loves hers hot and frothy. SO GOOD!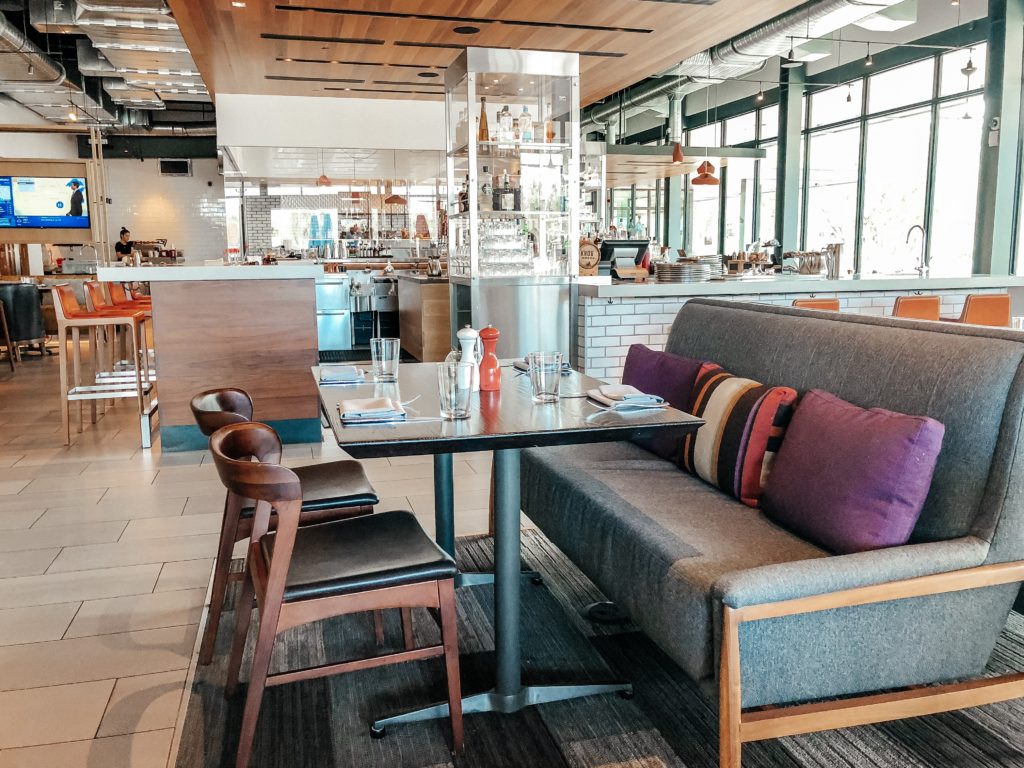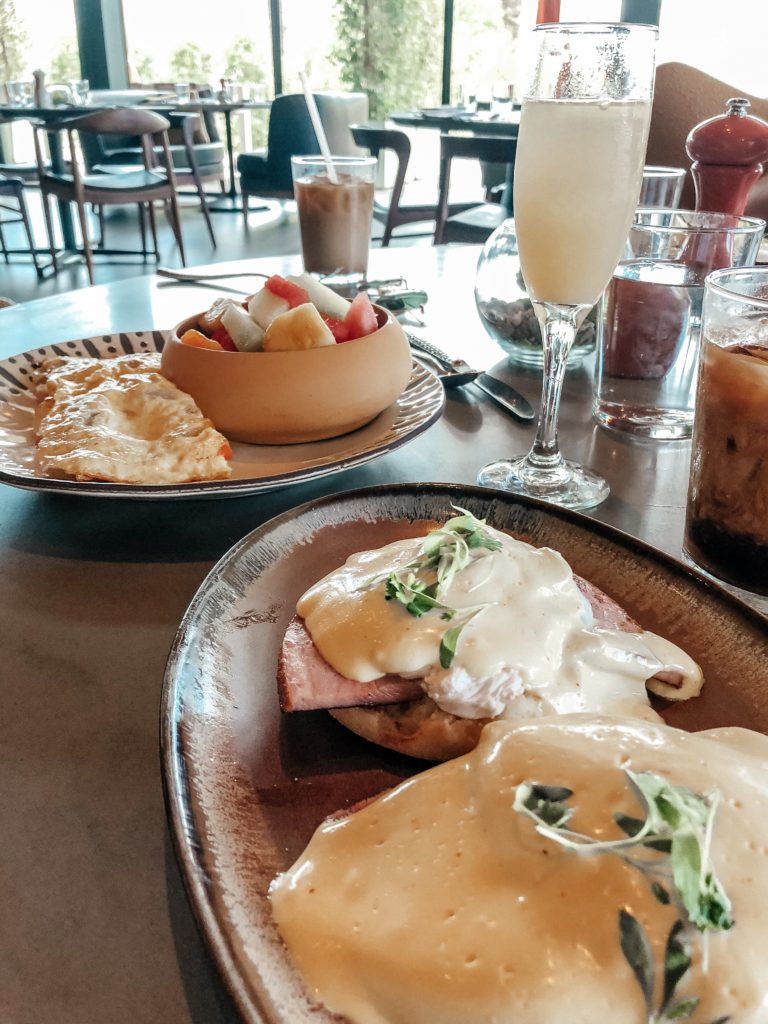 Tuesday Afternoon – Poolside Fun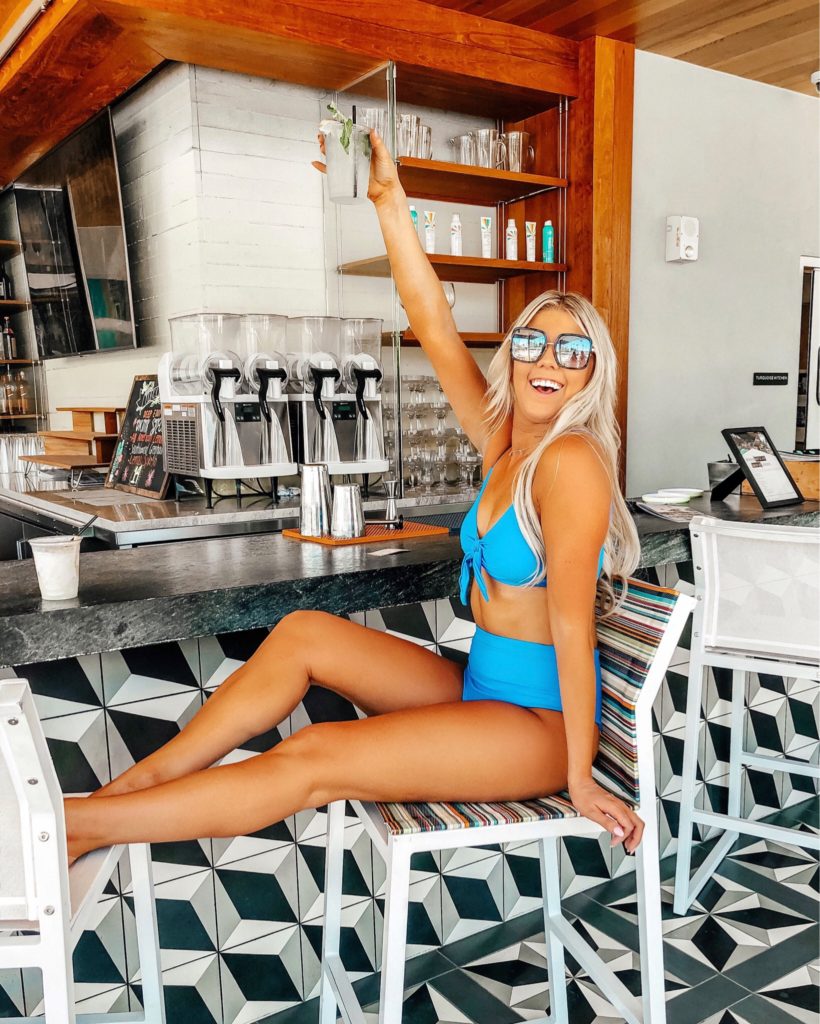 After brunch, we did a quick change for the pool! Our bungalow came with our own cabana. In the cabana, we had a Yeti filled with iced water and a complimentary salsa and guacamole with chips. We sipped on yummy poolside drinks and spent the afternoon basking in the sun. We loved the quiet vibe of the pool area. It was right up our alley!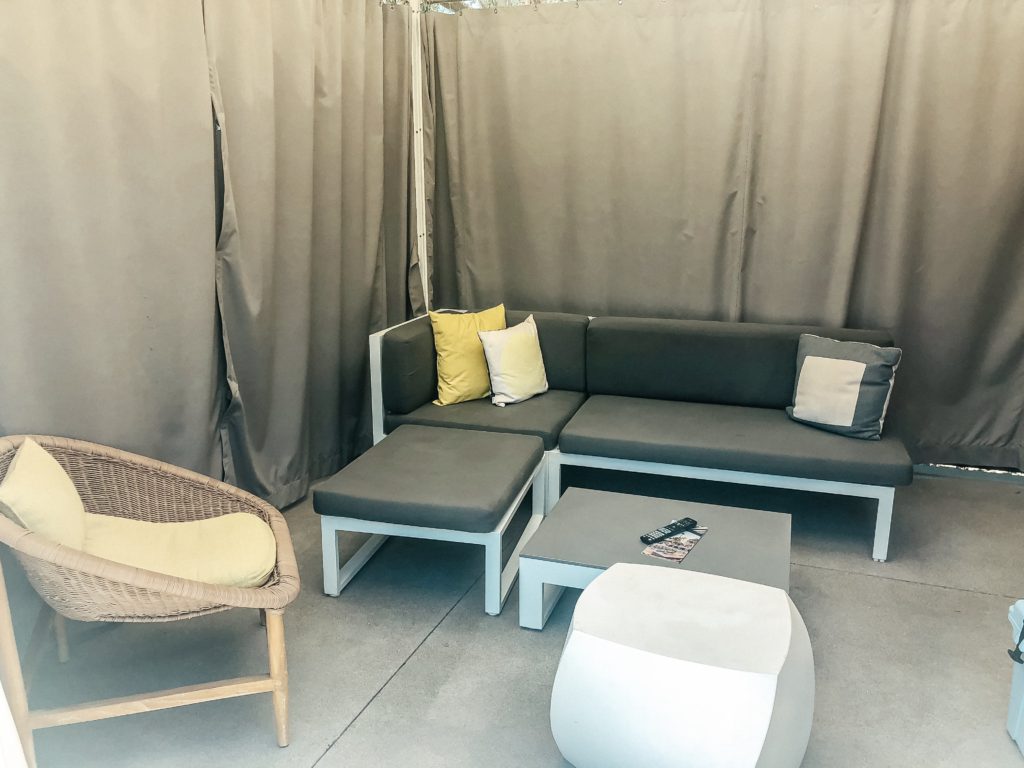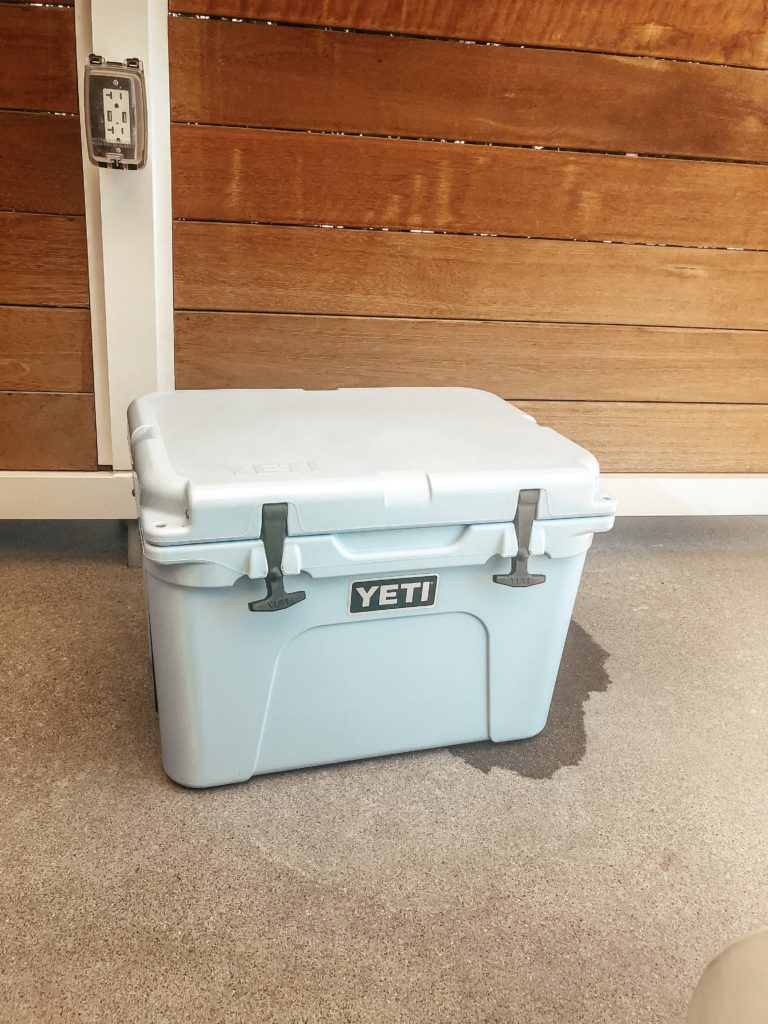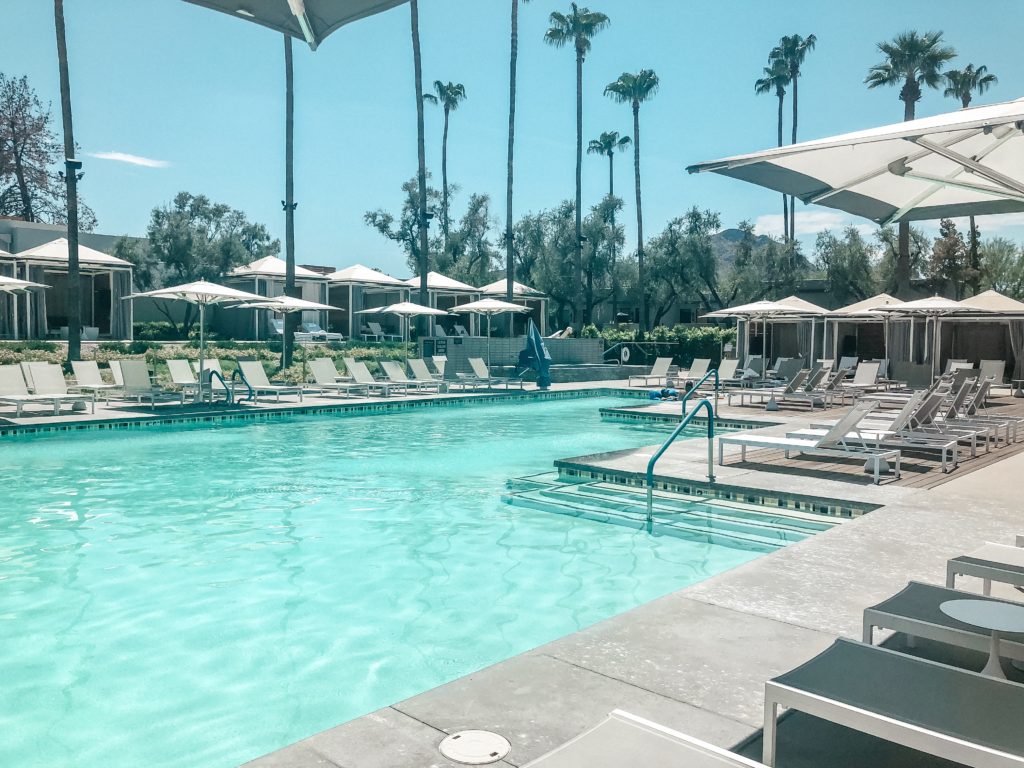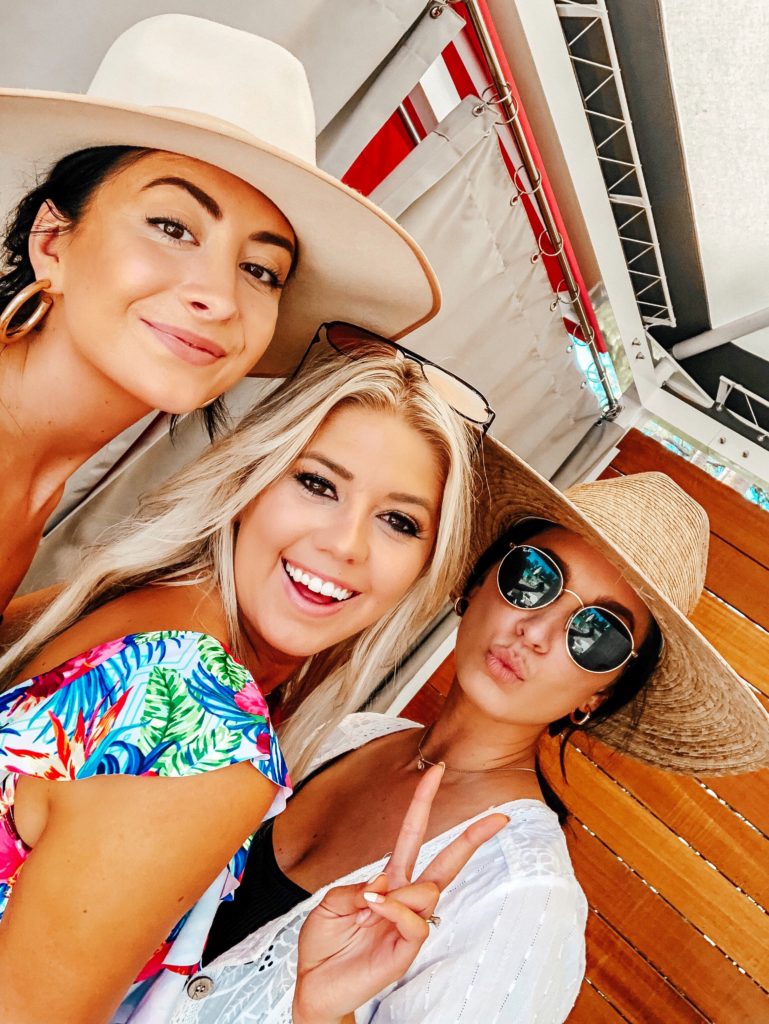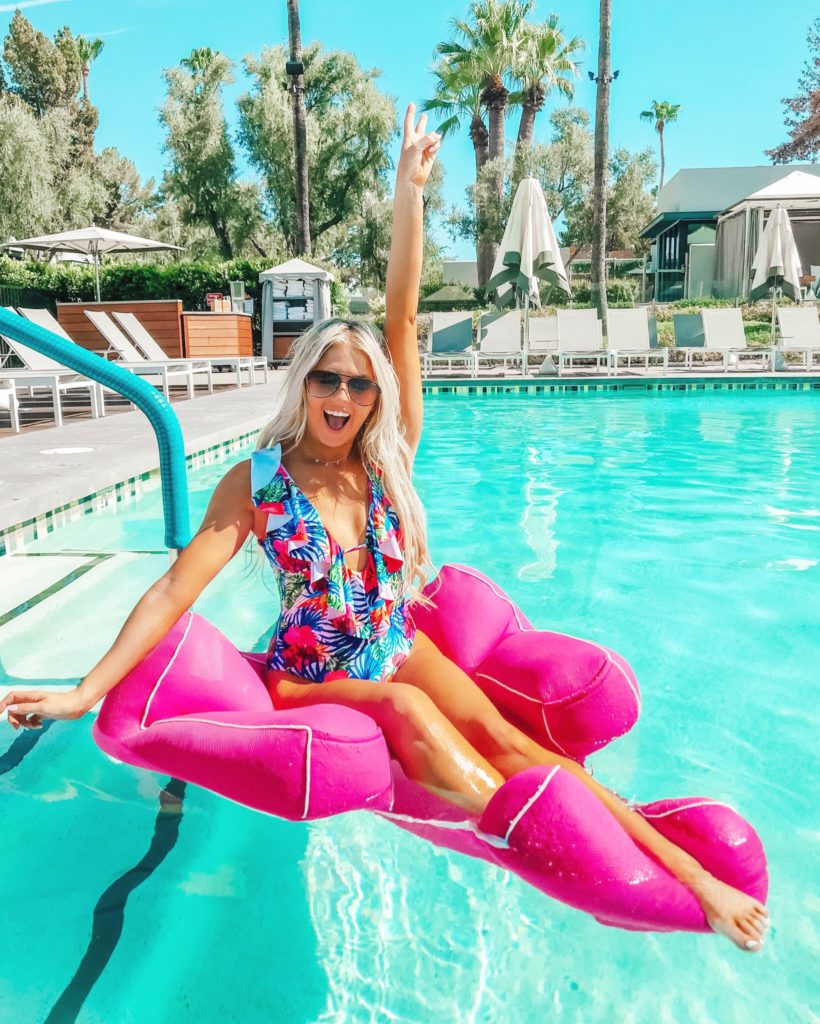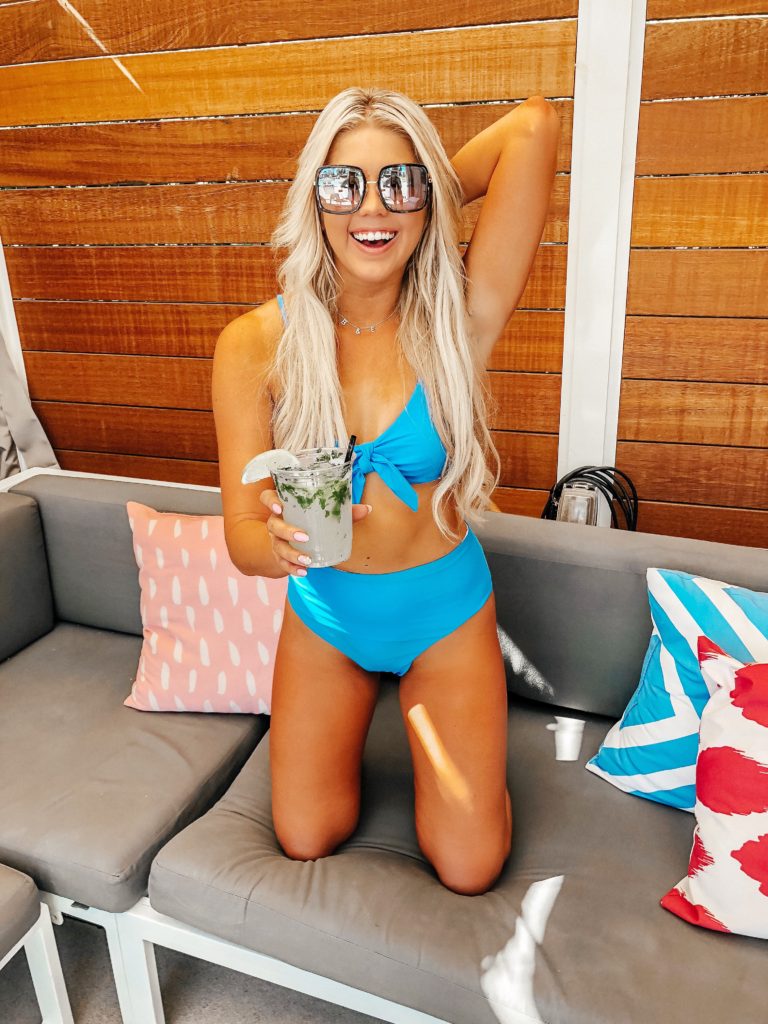 Tuesday Night – Dinner at Weft & Warp Art Bar and Kitchen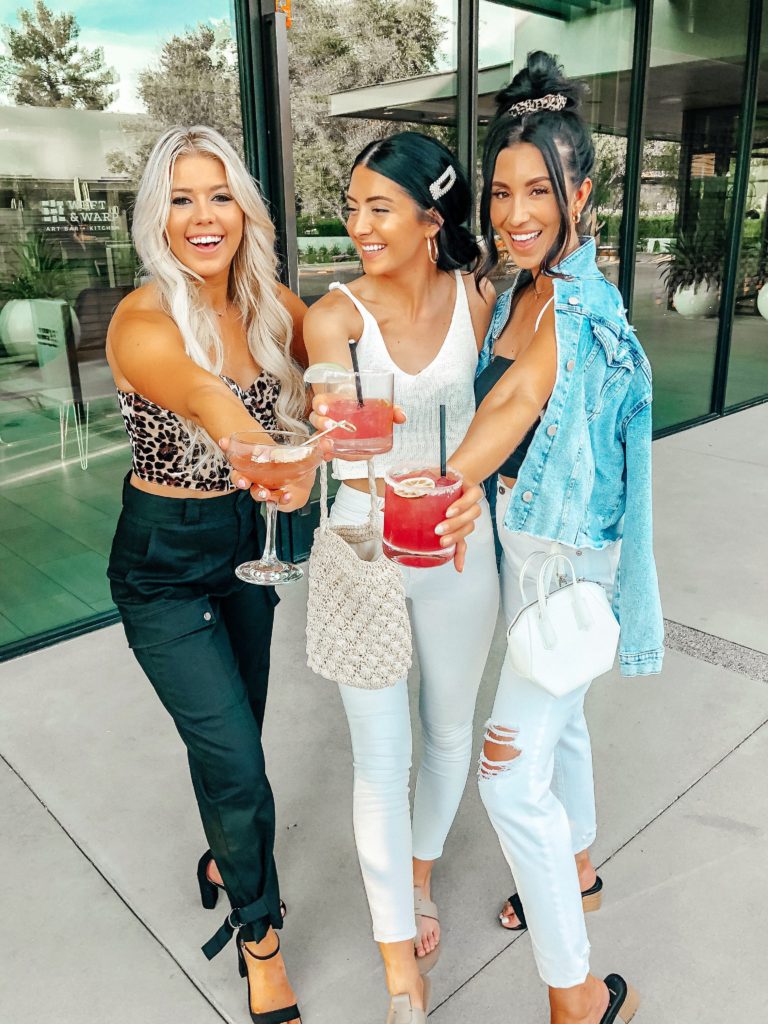 After our poolside fun, we freshened up and made our way back to Weft & Warp for dinner. We were completely blown away by our experience there. From the open kitchen surrounded by glass to the beautiful Arizona sunset backdrop from our table, we felt truly blessed to be sitting there enjoying our friendship in such a beautiful space.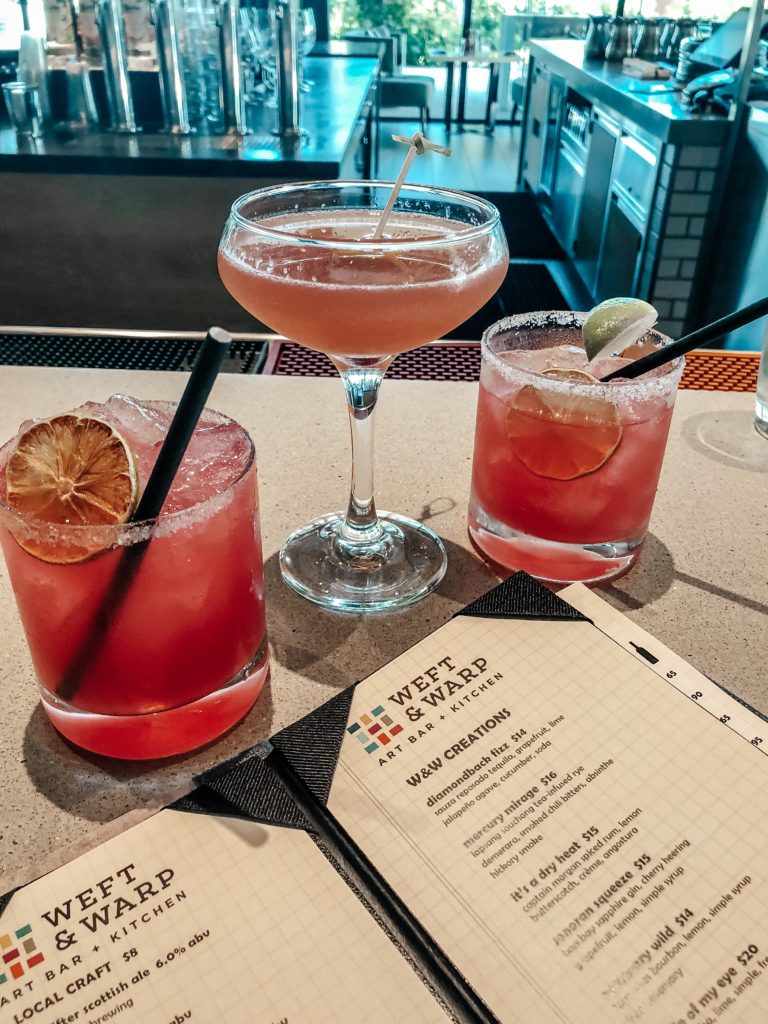 We began with a round of drinks at the bar. I sipped on the Sonoran Squeeze and the girls both had a Prickly Pear Margarita. So tasty!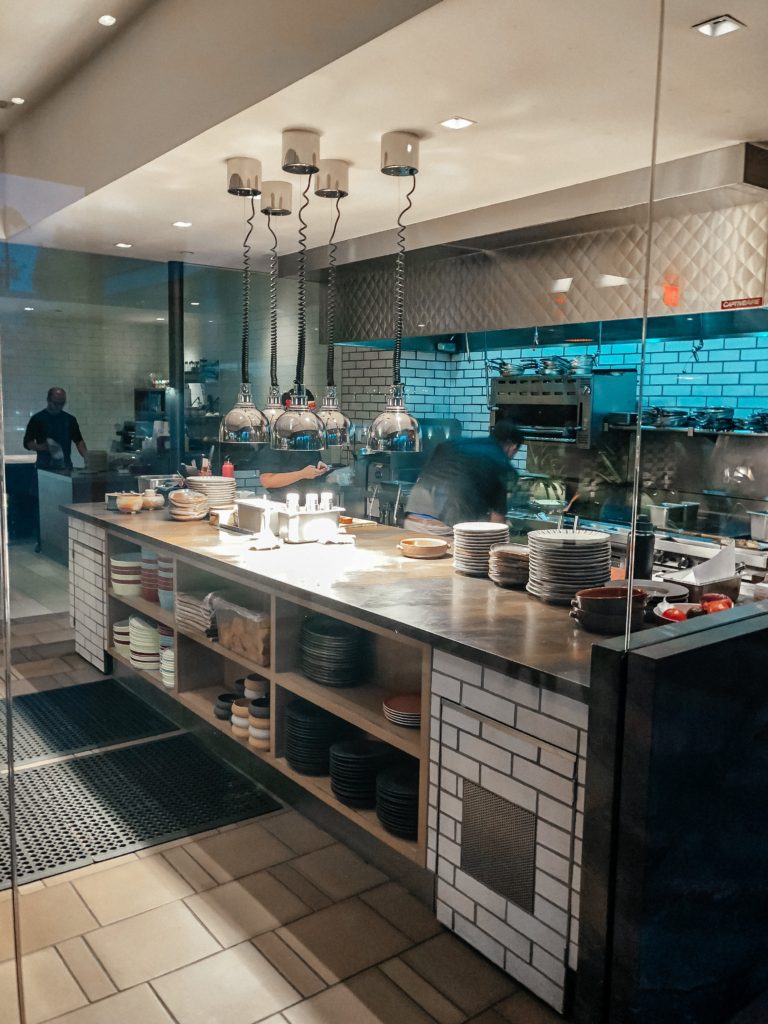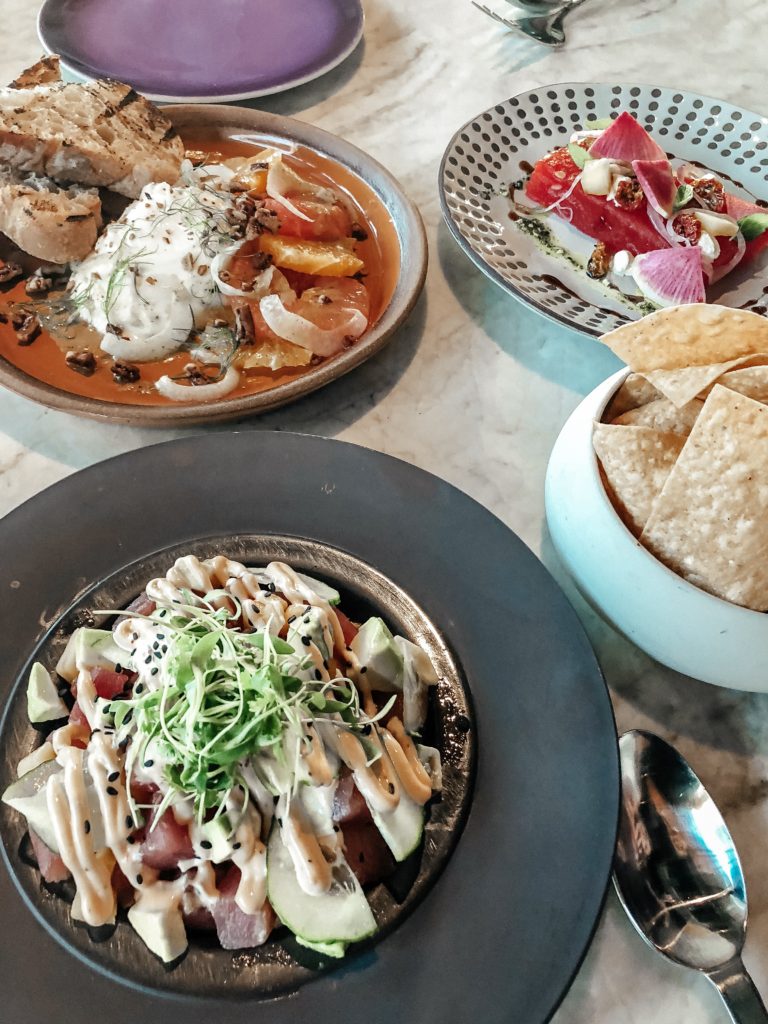 We enjoyed a three course meal where we sampled a few items available for each course. The chef was so welcoming and kind, coming to our table to explain how she created each dish and what it represents. I loved learning the culinary design behind our meal. It was so cool!
We started with some amazing appetizers:
Ahi Tuna Tartar with mango cucumber and smoked chili aioli (my fav!).
Citrus Salad with burrata, fennel and candied pecans with a mint vinaigrette ciabatta.
Compressed Watermelon Salad with goat cheese, pear tomato radish, pickled rind and mint.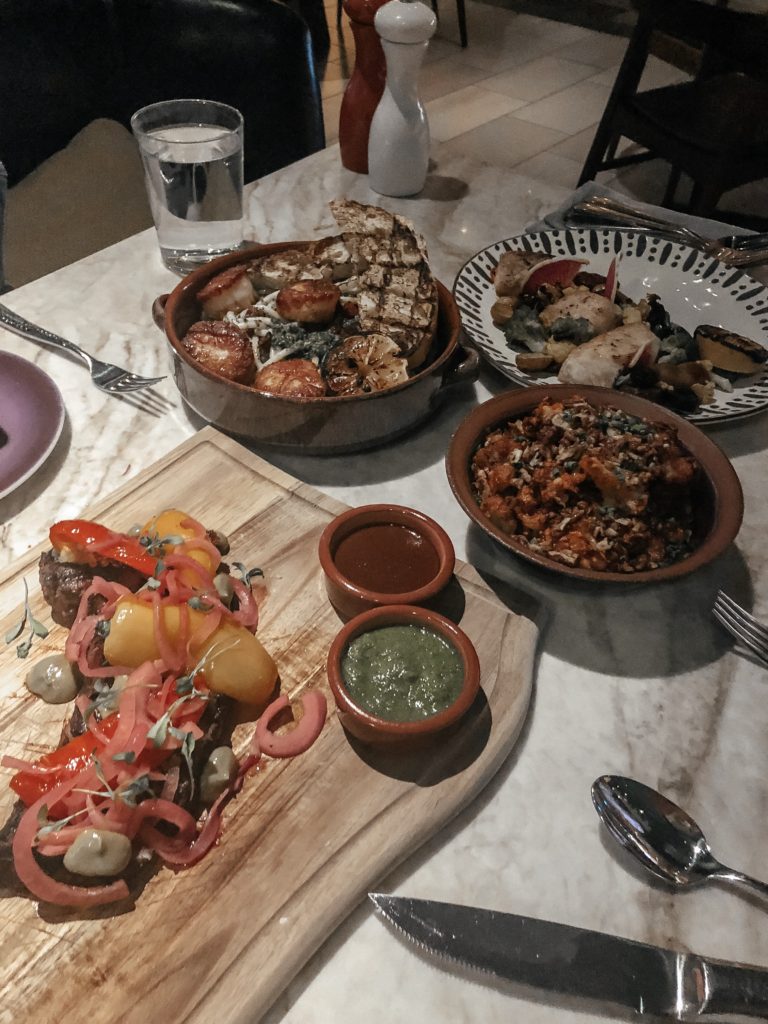 The bar was set super high after our beautiful and tasty apps! When the main course came out, our mouths were watering as the chef explained what we were about to enjoy. Man did we enjoy it too!
Our main course included:
New York Strip with mole, sweet peppers, pickled onions, chimichurri and avocado mousse.
Pan Seared Scallop Pasta with bucatini, chorizo, cherry tomato basil pesto and grilled ciabatta (my fav!).
Market Fish (Seabass) with rainbow cauliflower, fingerling potato and cress grilled lemon.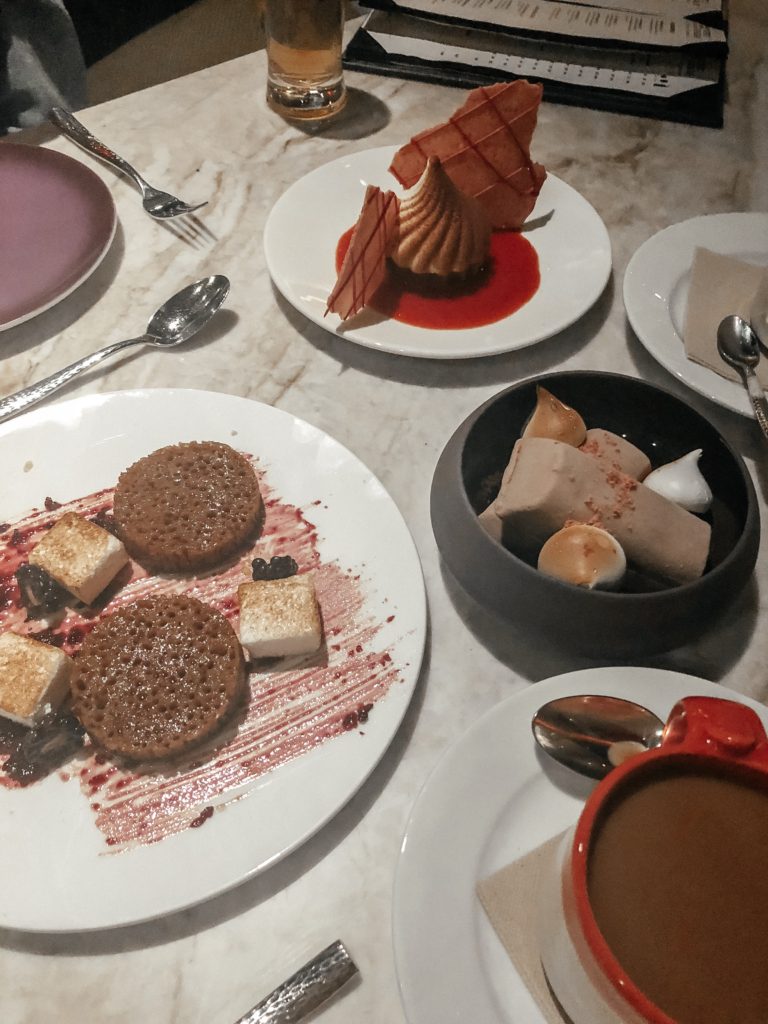 And when we thought we couldn't possibly eat anymore… DESSERT! These were some of the most beautifully presented desserts I've ever had the privilege of experiencing. We were blown away by the culinary talent of the Andaz Scottsdale!
Our desserts included:
Honeycomb Cake with blackberry compote, fresh blackberries and lavender marshmallow.
Chocolate Strawberry with white chocolate mousse, milk chocolate ganache and strawberry cracker.
Strawberry Ice Cream with toasted marshmallows (my fav!).
And of course some after dinner coffee!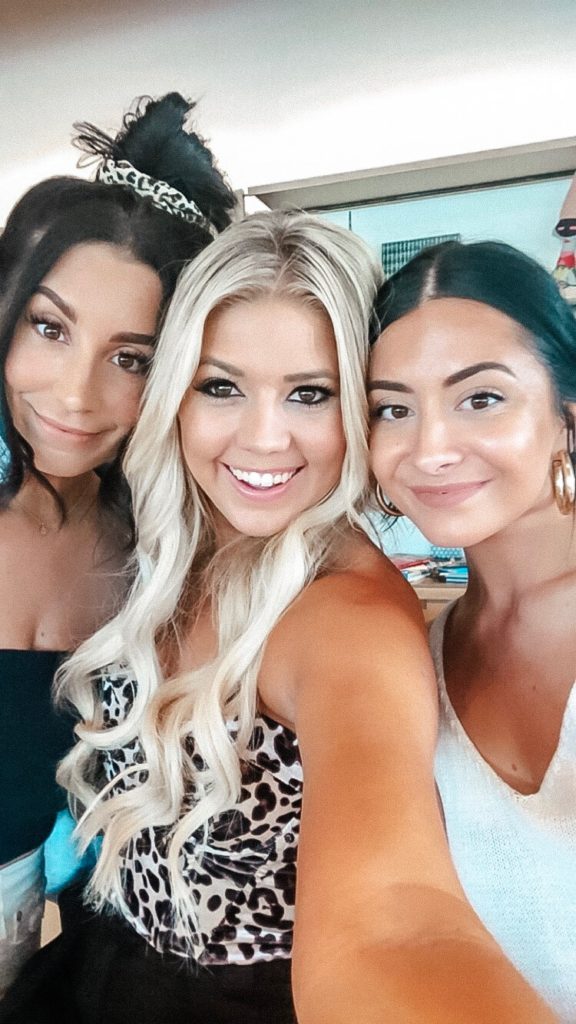 We left dinner feeling so full and happy! We had the best time chatting over the most beautiful setup and meal. Thank you to the chef and staff at Weft & Warp for such an incredible experience!
Wednesday Morning – Yoga + Breakfast at Weft & Warp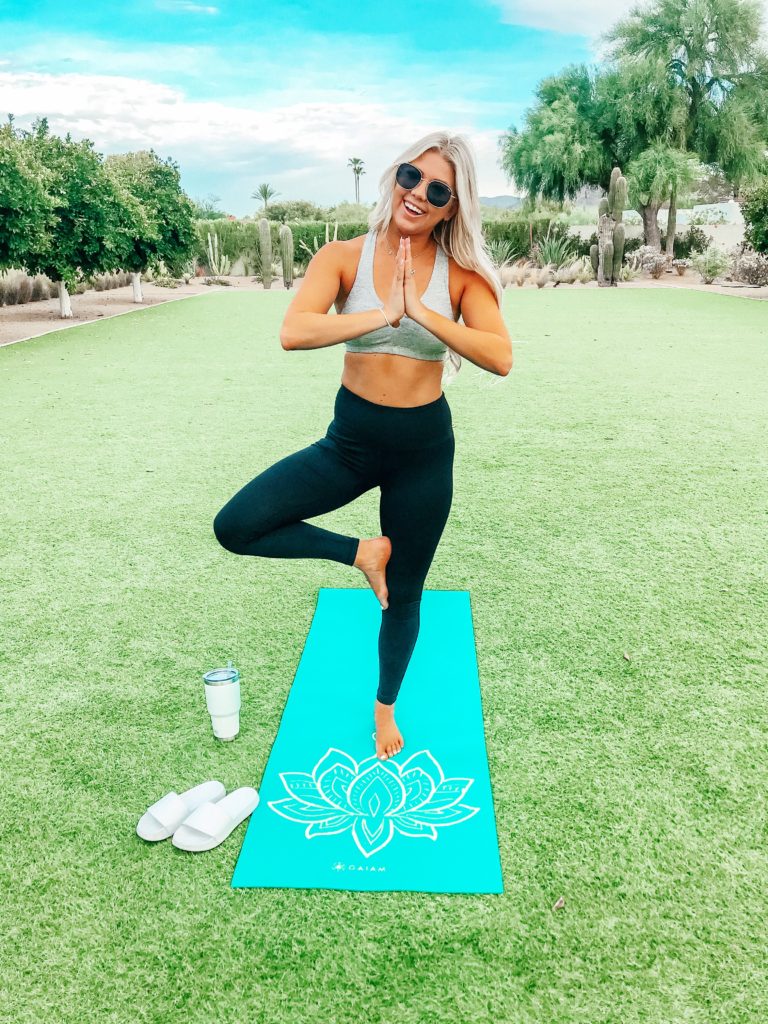 The next morning, we got up early and hit yoga! Love that the resort provides yoga a few times a week. We had our own yoga instructor. It was a private class for just us!
Yoga not your thing? They have a full fitness center at your disposal!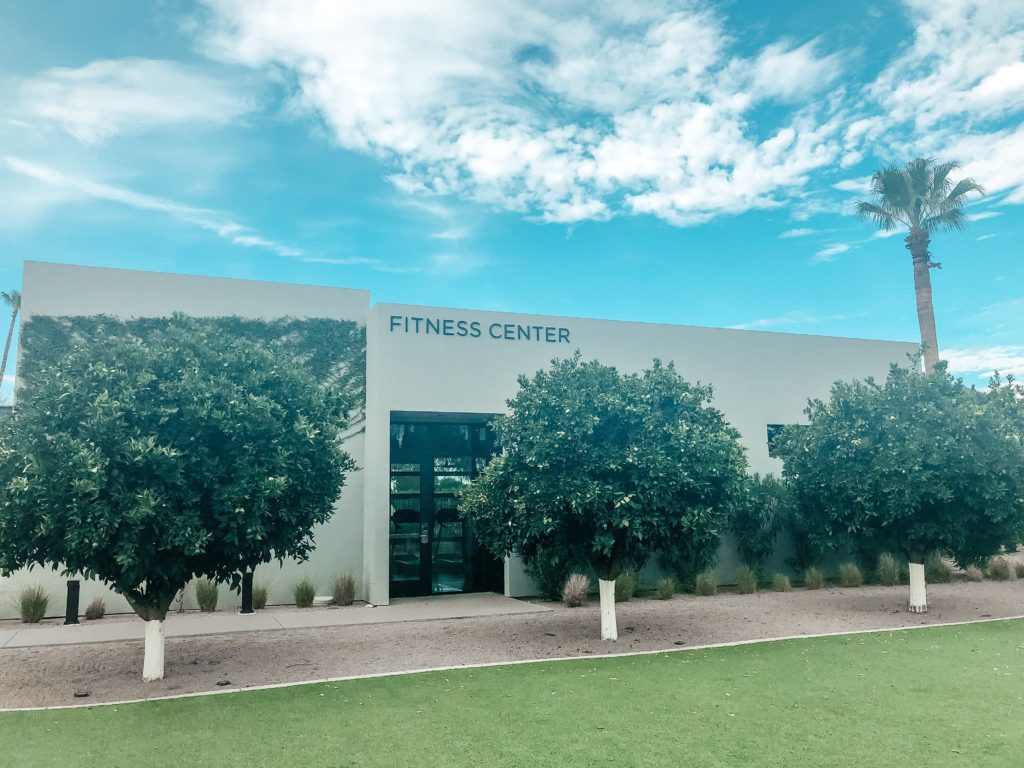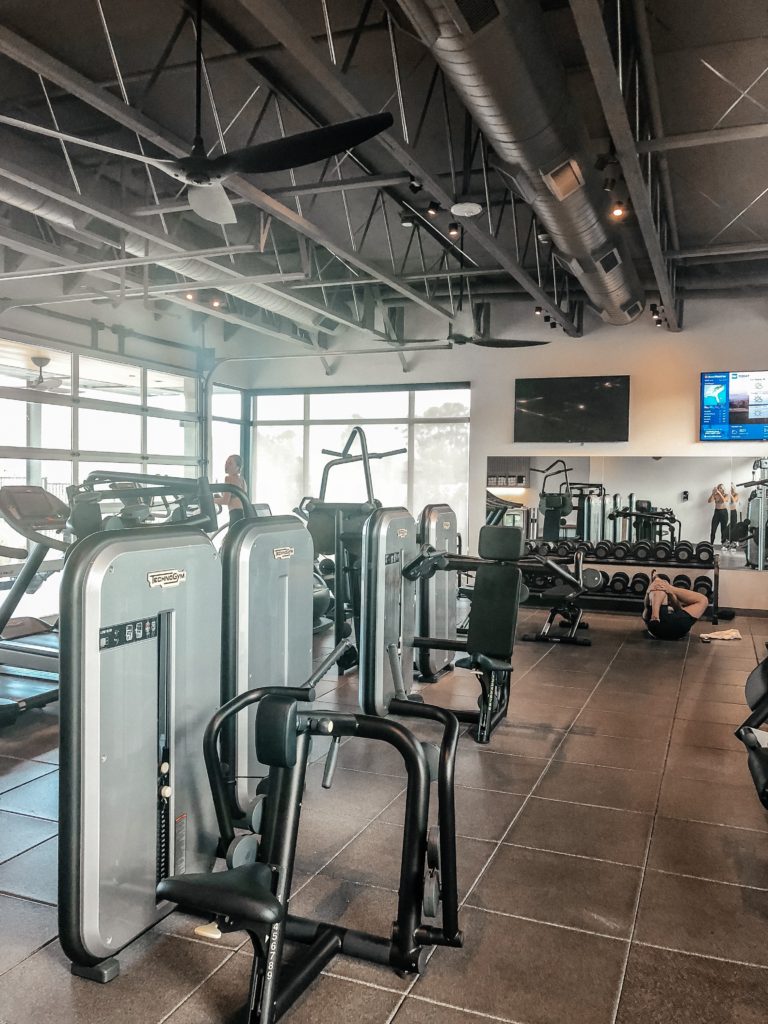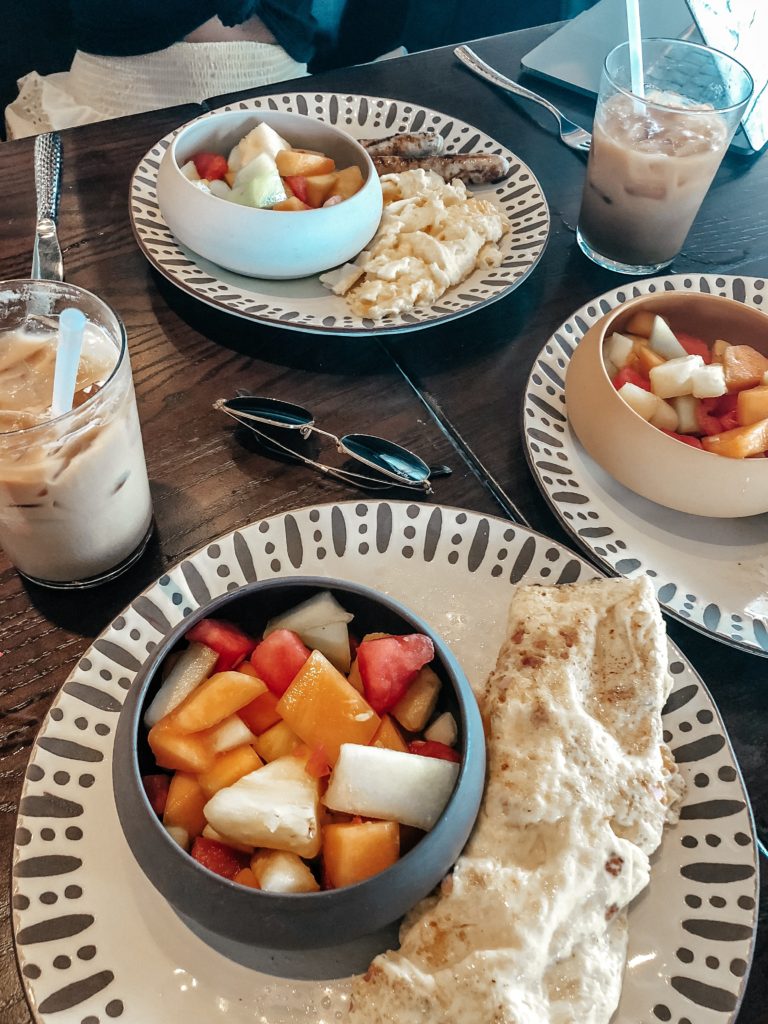 After our yoga sweat session, we hit breakfast at Weft & Warp to refuel and recharge. Omelets and fruit all around. And those lattes of course. 😉
Wednesday Afternoon – Palo Verde Spa & Apothecary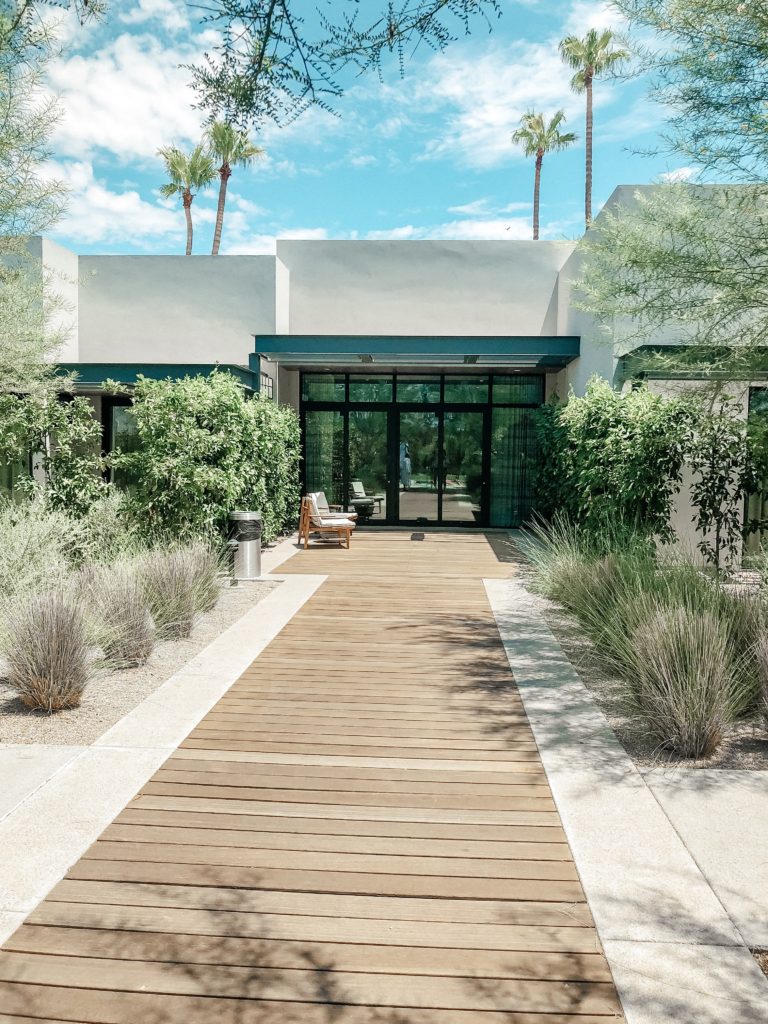 After breakfast, the girls packed up and left. My mom came and joined me at the Palo Verde Spa and Apothecary for a little more R&R before I checked out.
I love a fabulous spa day. From the moment we walked into the spa, we were instantly relaxed. We were greeted with ice water and offered a complimentary glass of champagne or wine. Such a sweet welcome!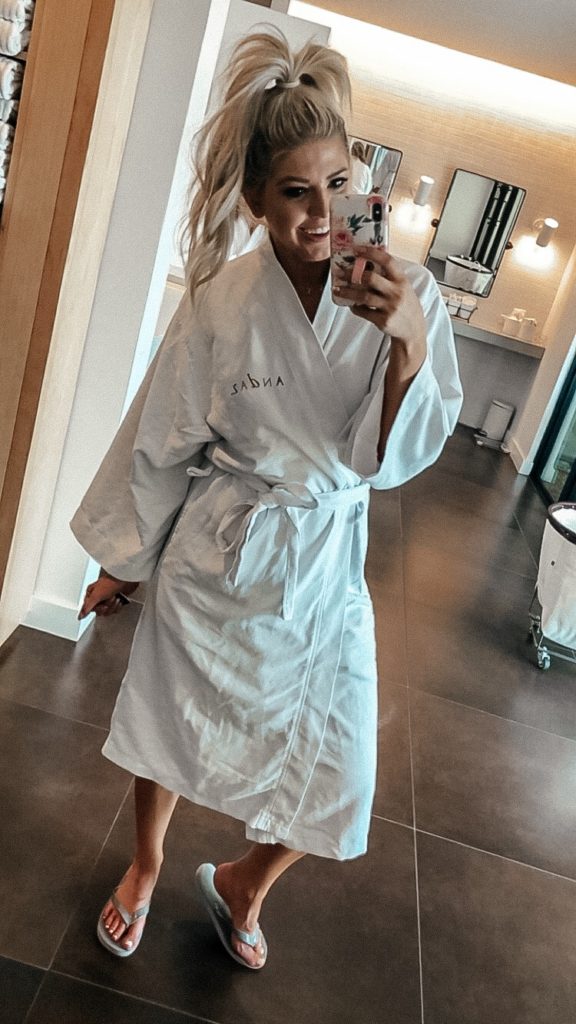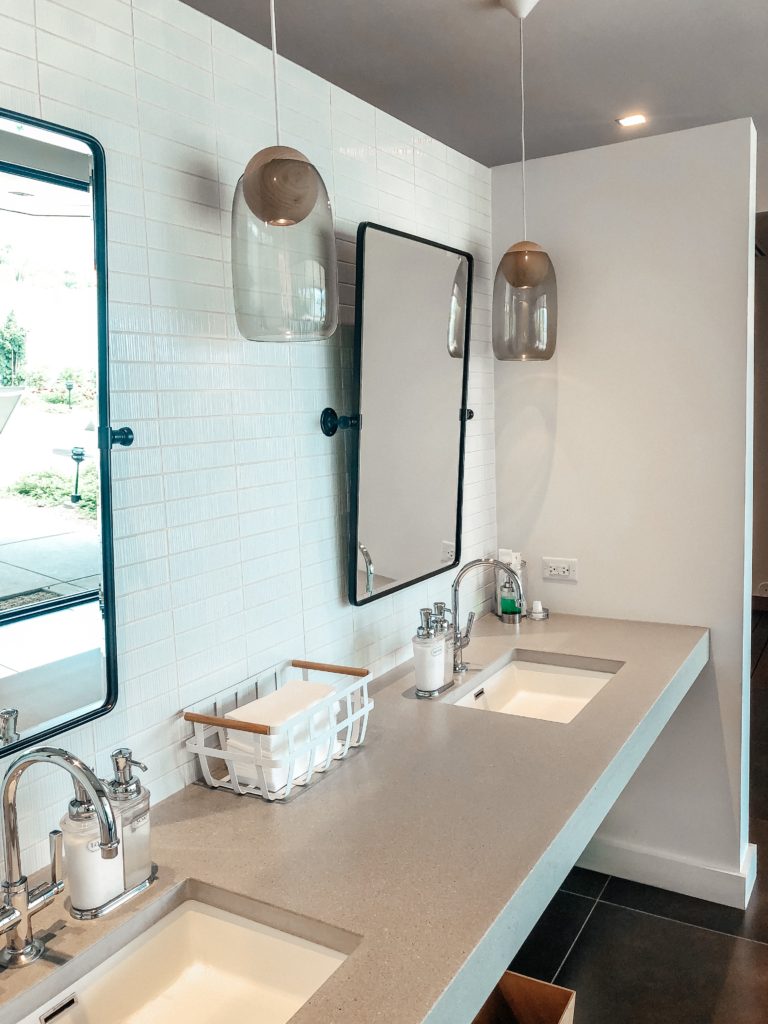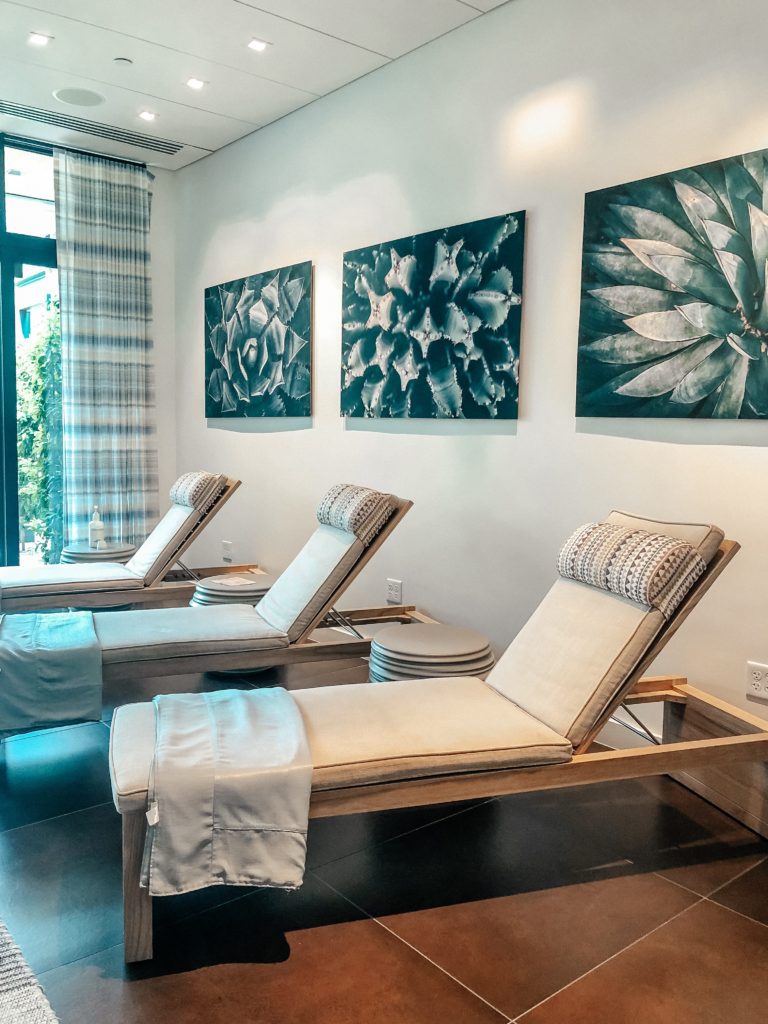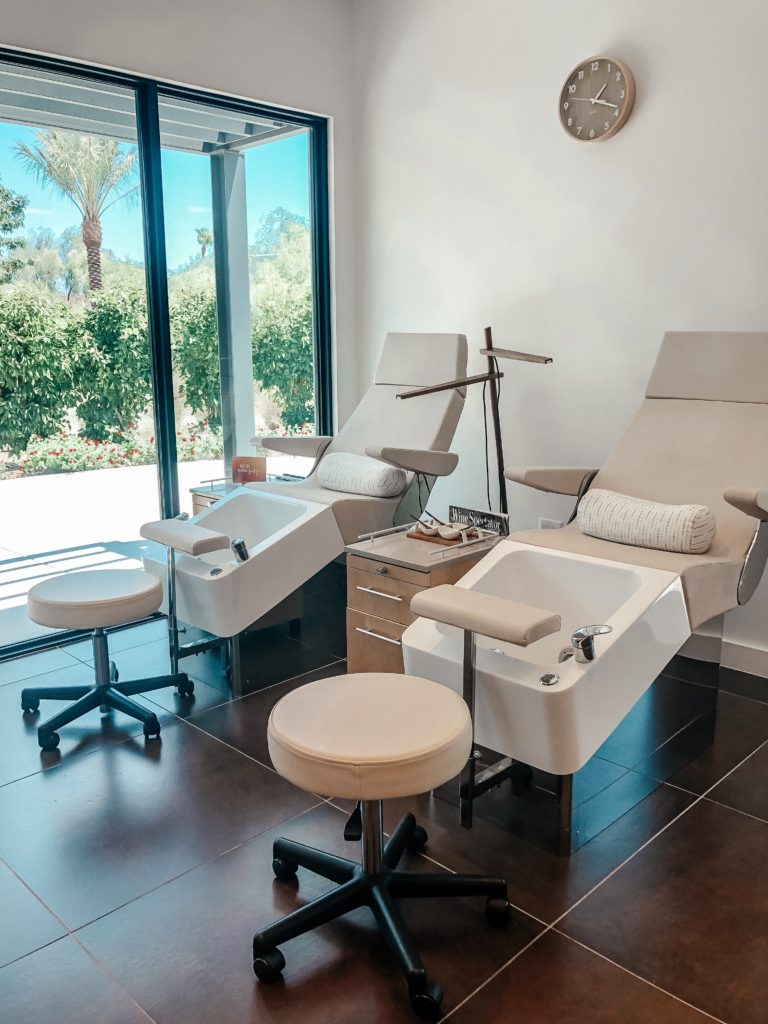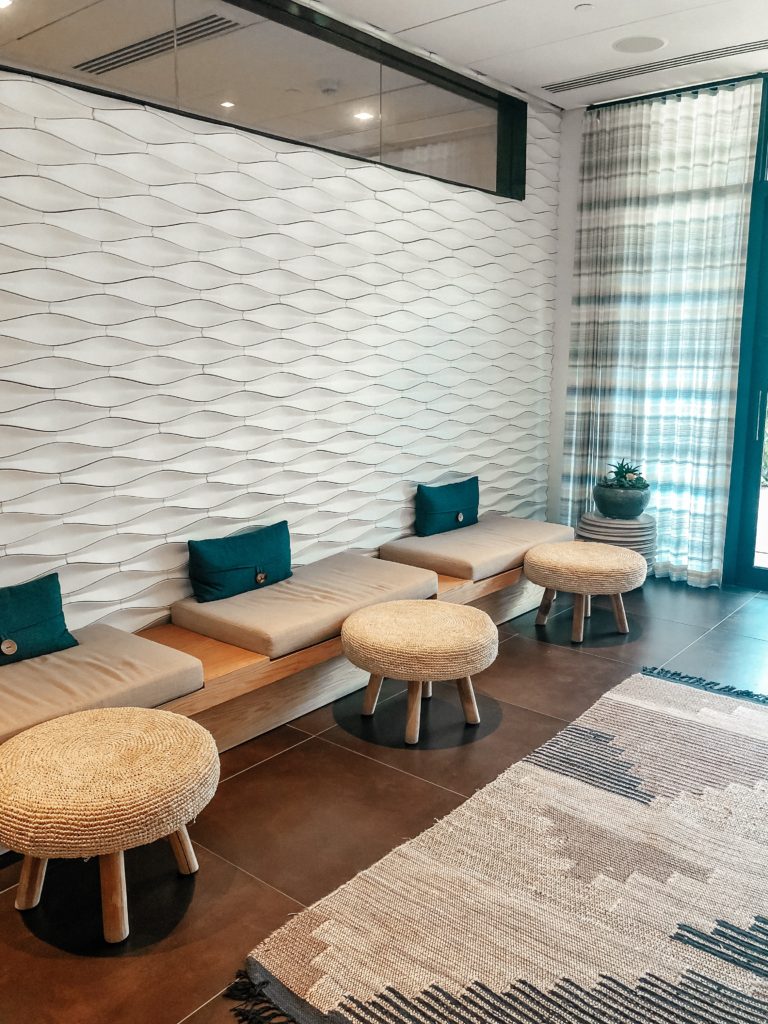 The space was beautiful. From the modern, clean lines of the locker room space to the tranquil meditation lounge and private pool, it was an absolute dream!
We changed into our robes and flip flops and made our way to the meditation lounge for our treatments. We both had the Camelback Custom Massage. You get to customize your massage with a choice of oil scent that speaks to you and your needs. I chose the prickly pear scent and it was so yummy. Just like my massage!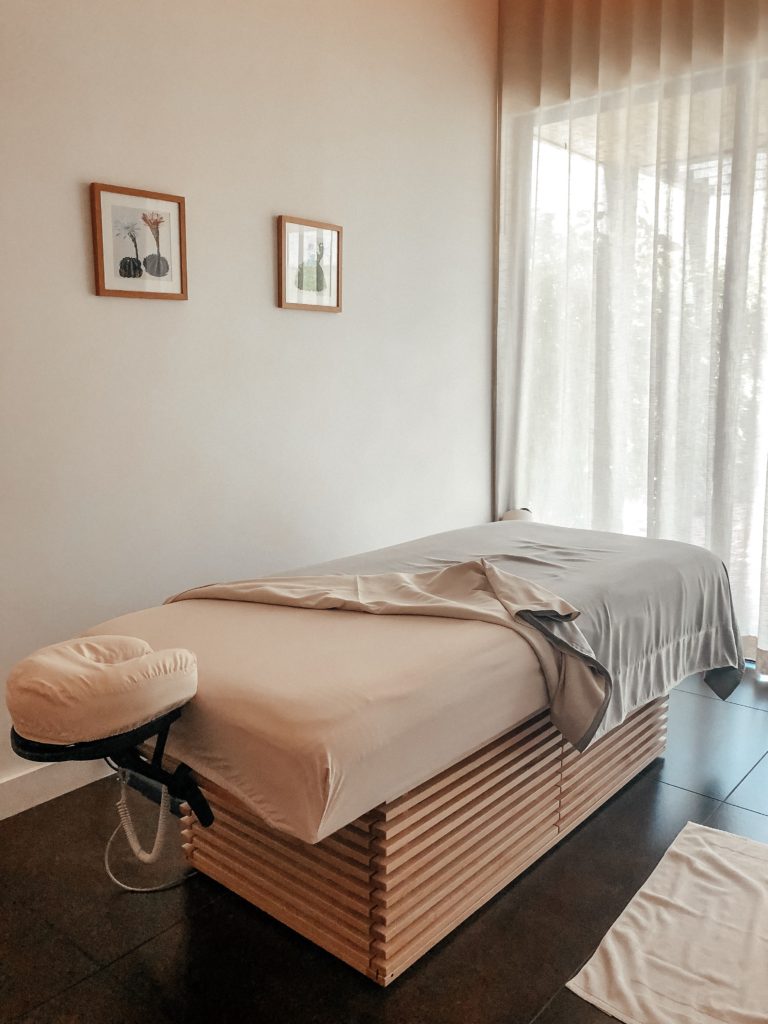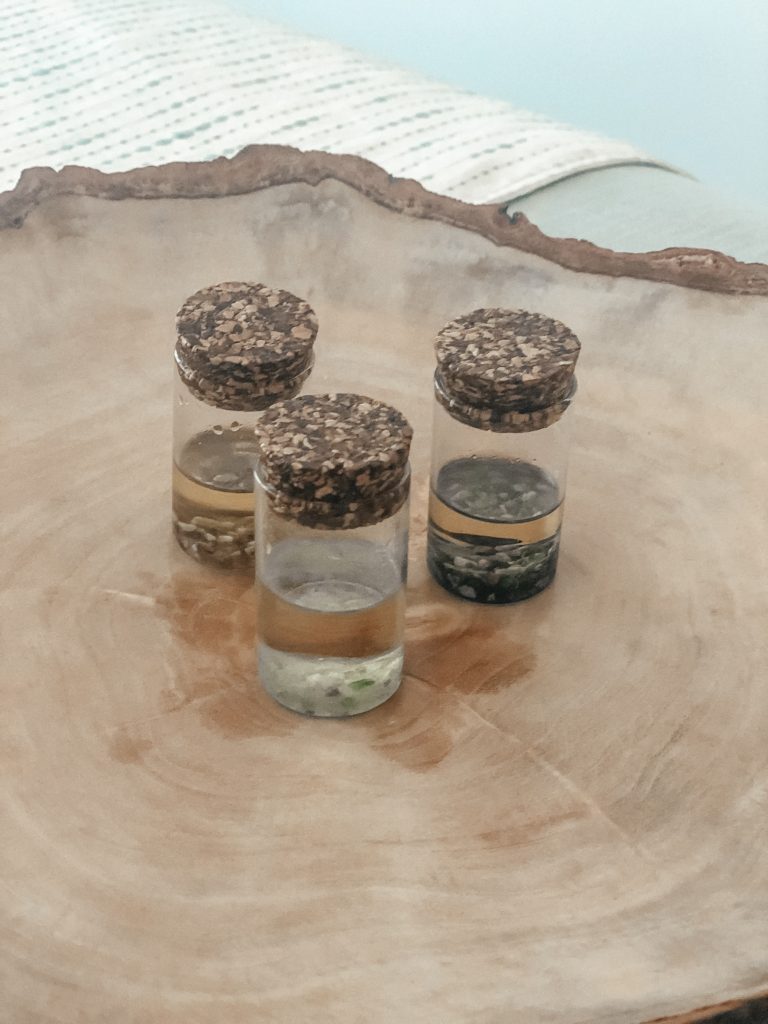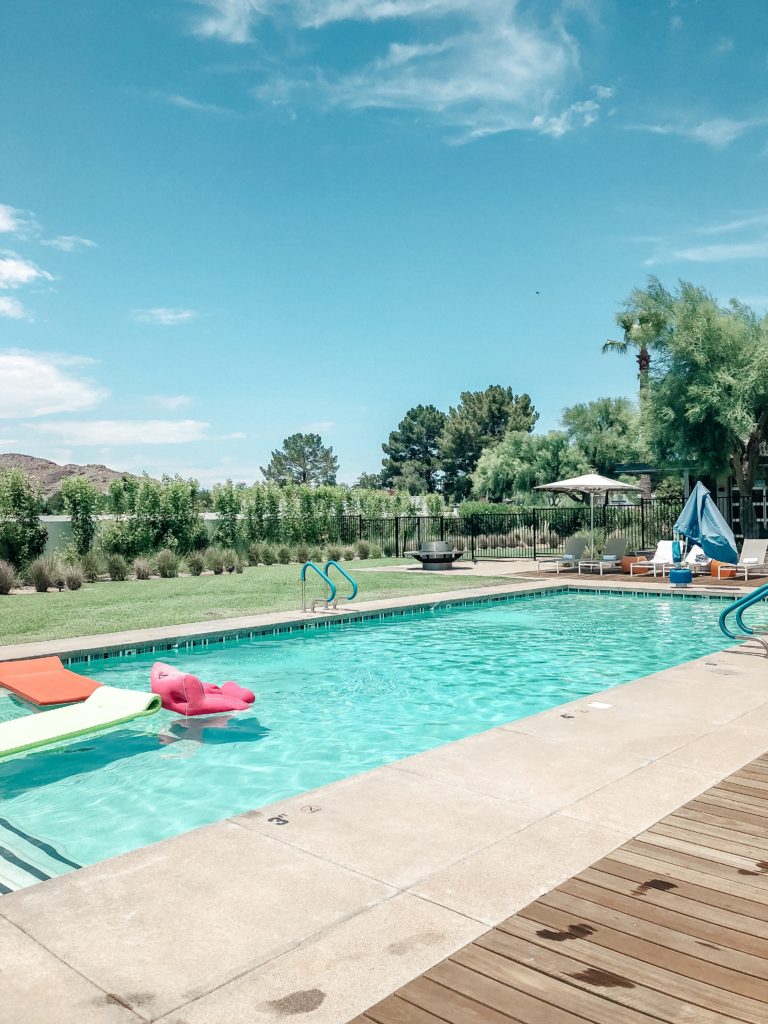 After our massage, we took our glass of champagne out to the private spa pool. It was so relaxing and peaceful, with a beautiful backdrop of Mummy Mountain. I could have stayed there all day!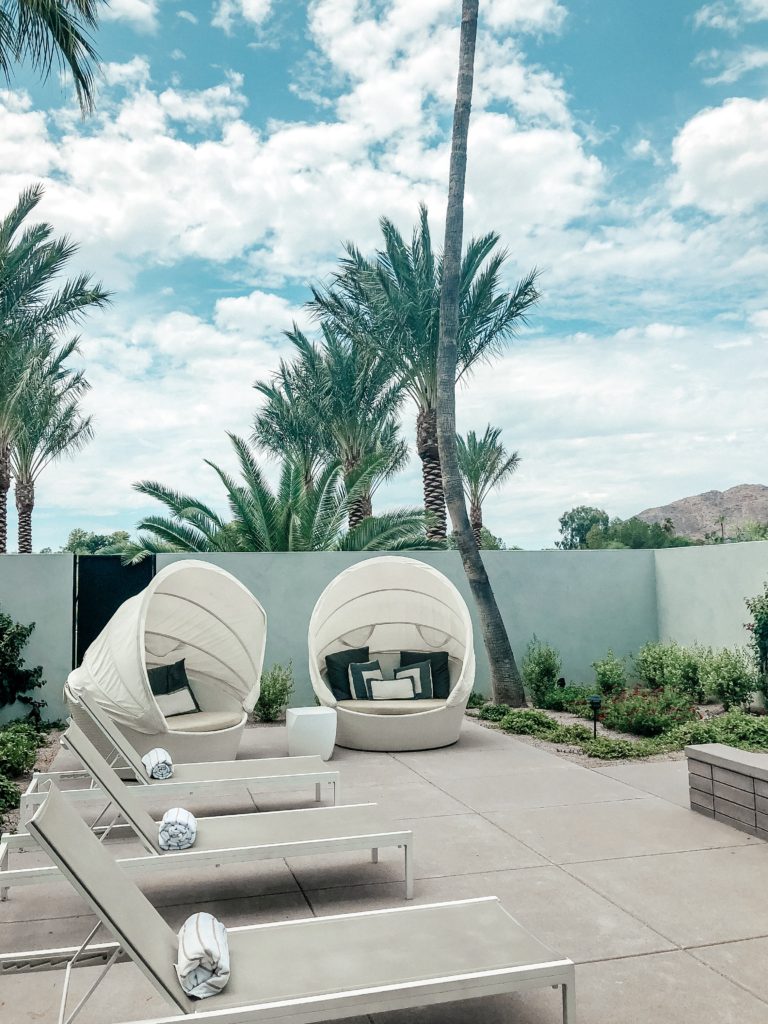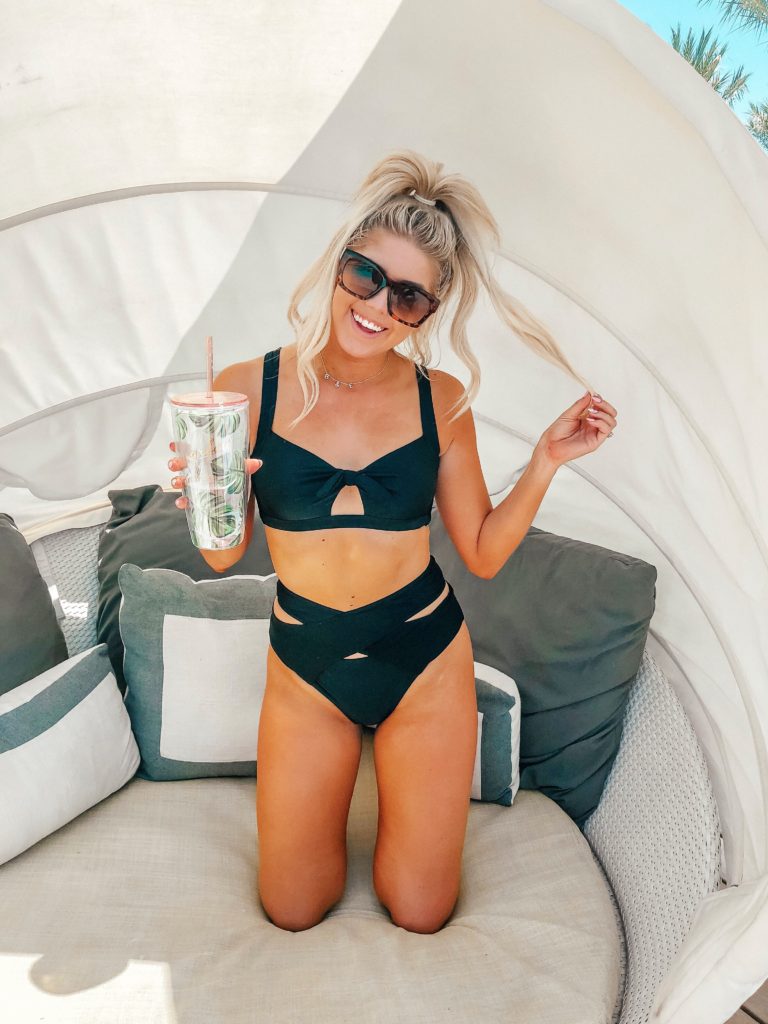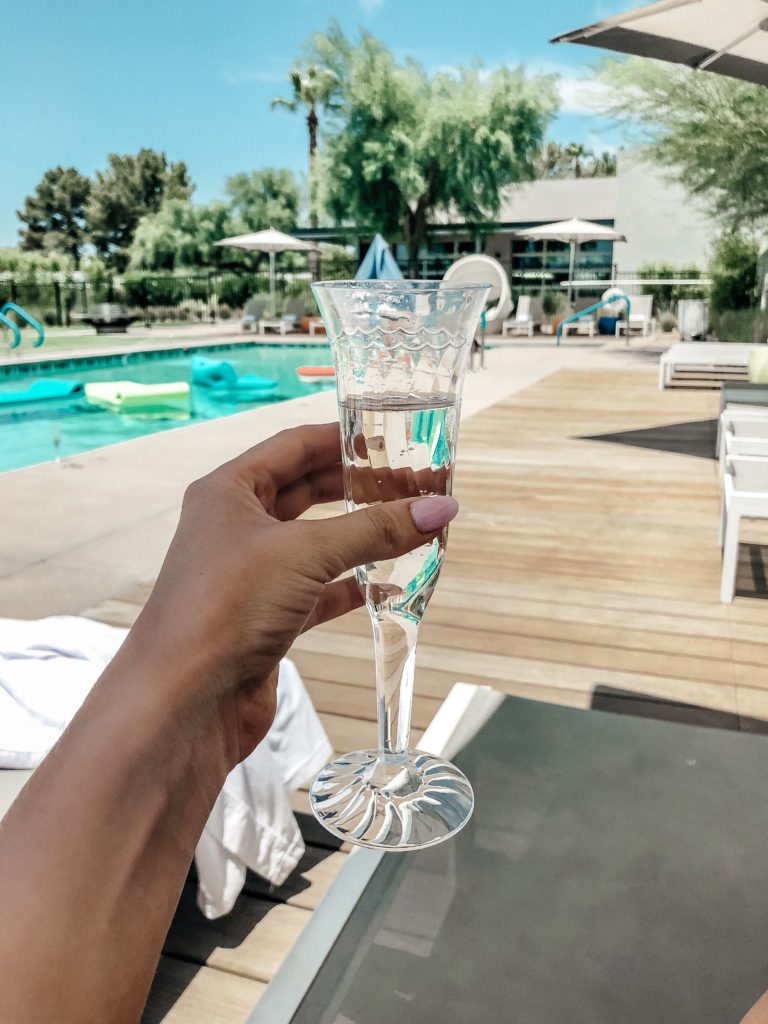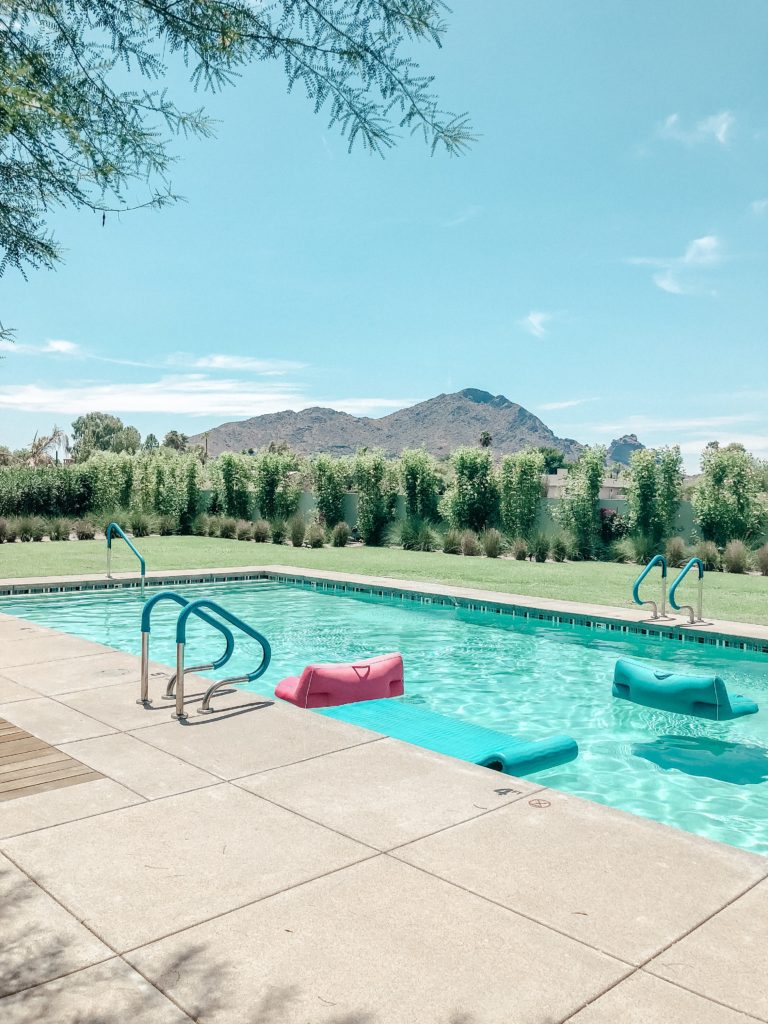 The Summer Package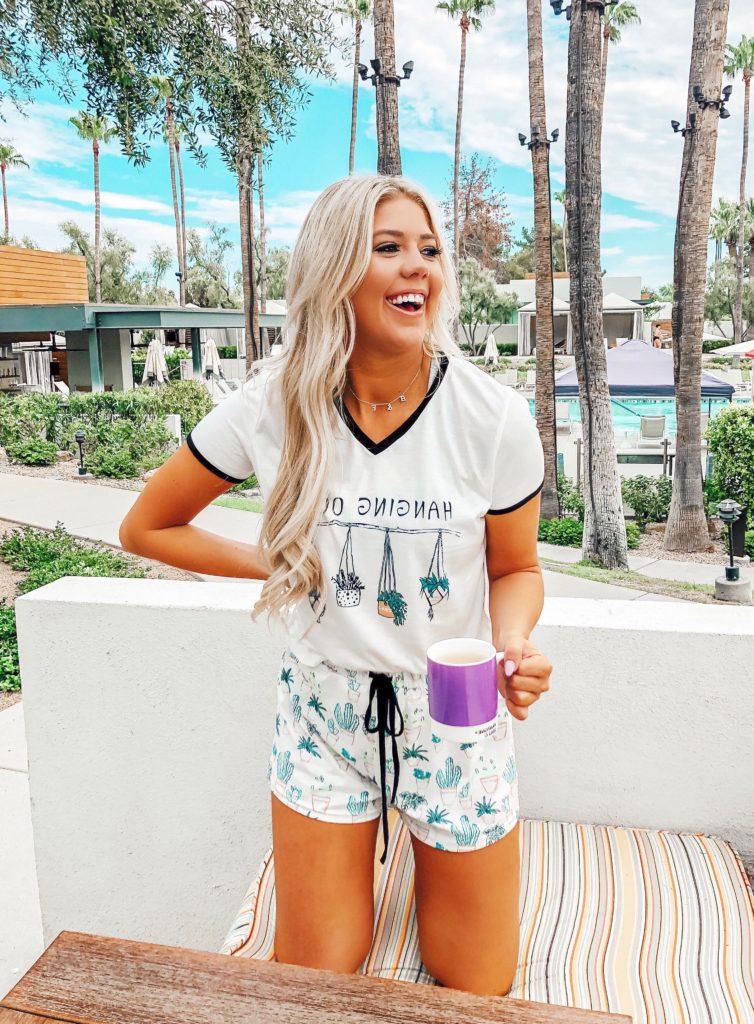 This is my second time staying at the Andaz Scottsdale Resort and Bungalows. I stayed there one other time with Brad. You can check out that post here. I am so blown away by how amazing this resort is!
When we thought about where we wanted to have a girl's staycation, I knew the Andaz would be the perfect spot! I also love that they currently have an amazing Summer Package special right now!
Summer Package includes:
Low resort rates
Waived resort fees
Daily breakfast for two at Weft & Warp
Four daily cocktails
Local in-room treats
Complimentary valet
25% off spa services
You just can't beat a great deal at a beautiful place like the Andaz! If you are traveling to Scottsdale or just need a little R&R staycay, I highly recommend staying here!
Thank you to the Andaz Scottsdale Resort & Bungalows and Weft & Warp Art Bar and Kitchen for hosting us!